WERA WEST PRESENTED BY LUCAS OIL END OF THE SEASON RECOGNITION
Racing on November 21-22 in the desert at Willow Springs Raceway may seem crazy to some but as it turned out we had a spectacular weekend!  Cool mornings and warm afternoons.  Good, safe racing, and some milestones for some special folks.
We have to thank Lucas Oil for supporting WERA Motorcycle Roadracing on the West Coast since 2014.
Thank you to Fresh n' Lean, 61DTC, Calishine and Cha Cha Cha Motorsports for putting up a purse in the A (1000cc) and C (600cc) Expert Superbike Classes for 2020.
The year-end Championship Bonuses were paid at Willow and in the 1000 Class Sahar Zvik took 1st with $800.00 Championship Bonus Money: Terry Heard took 2nd and received $500.00 in bonus money with Anthony Norton taking 3rd and $300.00. In the 600 Class 1st place and $800.00 went to Mookie Wilkerson with 2nd place and $500.00 for Terry Heard and 3rd place with $300.00 went to David Henderson.  These Bonus Payouts and the weekend purse of $500.00; for 1st; $330.00 for 2nd and $250.00 for 3rd in each class made for a nice weekend for some riders.  You can find the race results on wera.com and see who took home bunches of dollars!
This weekend also saw two riders who will begin new chapters in their lives.  Longtime WERA racer Tony Serra, who turned 81 in September this year and ran in the F (250) Superstock Class, will retire with the promise to still come out to the events. Tony is one of the finest men you will ever know. He always took care of us girls in Registration with cookies, fruit, flowers, and drinks when he was at the track.  We will miss him on the track but look forward to seeing him in the paddock.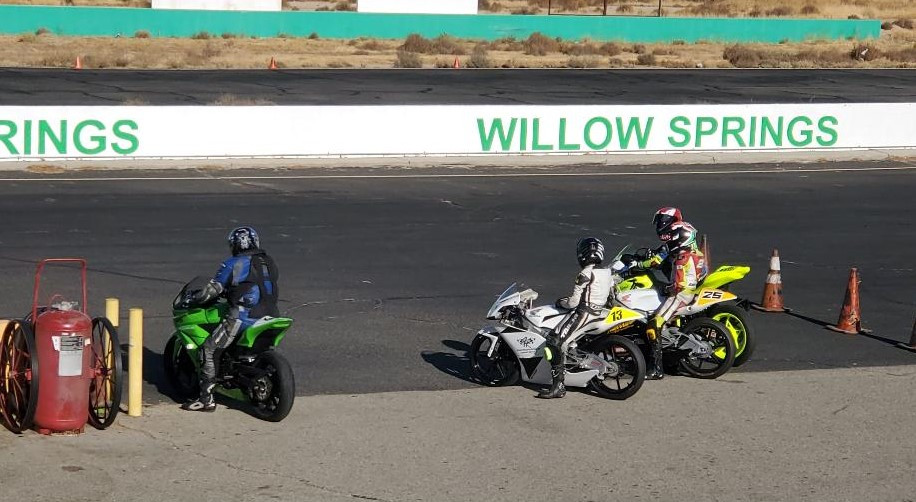 Another rider is joining the Army in January, and we will miss her at the events but know that we will see her whenever possible.  Veronica "Roni" Schuetrum-Kenefick, who ran in the E Superstock Class among others, will be going to Fort Benning in Georgia for Boot Camp January 5th, pursuing Psych Ops in the Army.  This young lady came to us a shy young girl and is pursuing her dreams as a badass young lady!  We wish her all the best in this new chapter!
The 2021 schedule has been released and we look forward to seeing all our WERA Motorcycle Roadracing riders next season and wish you all a blessed and happy holiday season!
WERA Motorcycle Roadracing was founded in 1973 and remains the foremost place to develop talent in the sport of motorcycle Roadracing.  The legacy of Pro riders on a National and World level is legendary.  All events are run by WERA Motorcycle Roadracing with a co-sanction by the AMA and they go coast to coast offering entry level racing with the WERA Sportsman Series as well as a Pro-Am Series with the WERA National Challenge Series, WERA Motorcycle Roadracing also offer Vintage Racing and limited Endurance Racing with Track Day Partners N2 and Sportbike Track Time.  WERA Motorcycle Roadracing was voted the 2017 AMA Track Organizer of the Year.
For more information on WERA Motorcycle Roadracing please check out our web site at wera.com!
More, from a press release issued by Lindemann Engineering:
World's Oldest Champ Retires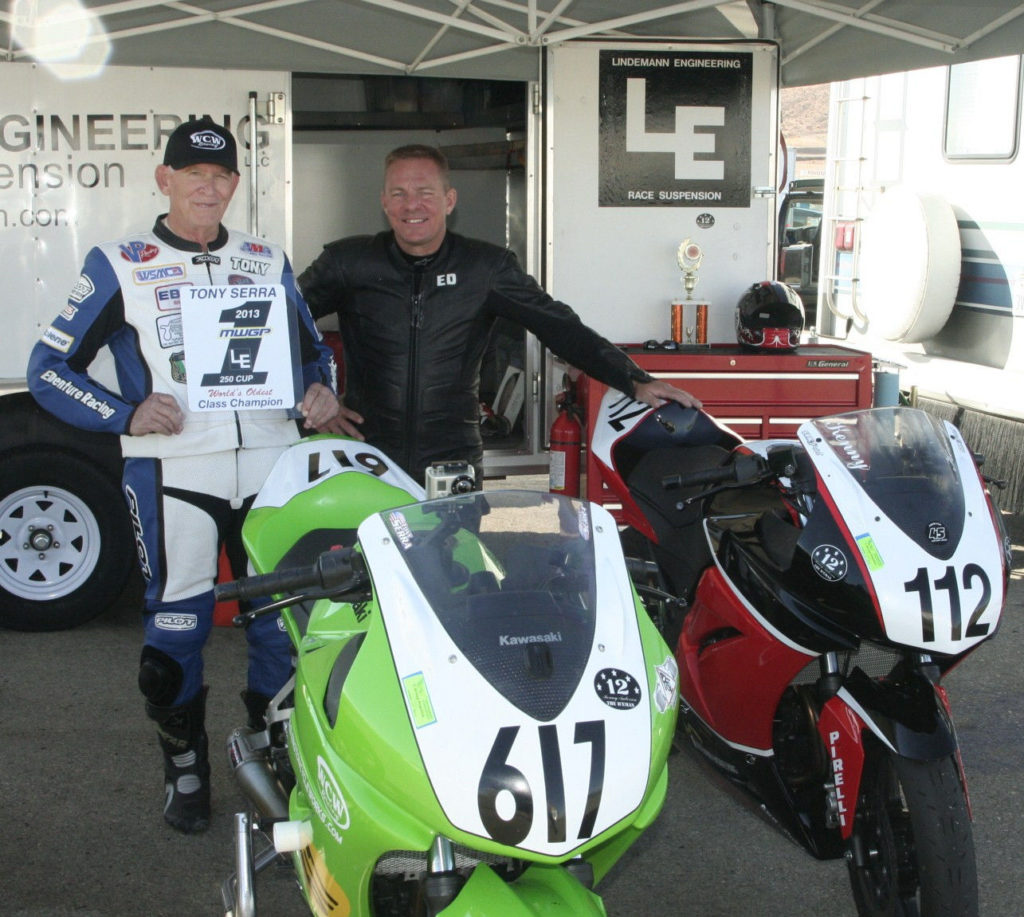 81-year-old Tony Serra clinched his sixth club level class championship at Willow Springs on November 26th, concluding a racing career that spanned seven decades.
Part one of Serra's career started in 1964 with the Association of American Motorcycle Road Racers and concluded in 1970. A highlight for Serra was racing in the Junior Class of the 1968 Canadian GP at Mosport.
Part two of Serra's career began in 2008 at the age of 68 when he rented a 250 Ninja from Race Bike Rentals for track days and Willow Springs Motorcycle Club races.  Serra purchased that motorcycle and hired Lindemann Engineering's Ed Sorbo as his Crew Chief & Coach. Serra is heavier than the kids he raced against and wanted more power for his 250 Ninja. Because adding a turbo to a 250 Ninja is impractical Sorbo offered his 1990 TZ 250.  Serra used it to earn his first club level championship.  In the 2010 WSMC Novice 250 GP Class, thus, becoming the world's oldest motorcycle club level class champion at 71.  In 2011 Serra earned both the Novice 250 GP and Novice Ninja Cup Championships with WSMC. By 2013 Serra was an expert and clinched the Moto West GP Lindemann Engineering 250 Ninja Cup Championship.  In 2019 Serra earned the WERA West F Super Sport Expert Championship and in 2020 he concluded his second career by again earning the WERA West F Super Sport Expert Championship.
Of note:  Serra's best TZ lap at Willow Springs is 1:44 and his best 250 Ninja lap is 1:47. Serra's racing accomplishments are unlikely to be matched however he wants to encourage everyone to pursue their dreams. The Serra Challenge does not require extraordinary skills.
Tony Serra encourages you to do the thing that challenges you regardless of age and if it's motorcycling, all you have to do to join Tony is go racing anytime between the ages of 68 and 81 years young.
About Lindemann Engineering: Lindemann Engineering has been racing and enabling dreamers since 1982.