Matt Tisdale and Chris Duran took the headlining Formula One wins at the WERA Sportsman Series/WERA West Presented by Lucas Oil Products doubleheader round at the 2.5-mile Willow Springs main circuit on June 27-28.
Saturday saw triple-digit temperatures early, and the famous Antelope Valley wind kicked up in the early afternoon. Riding his Dunlop-shod Kawasaki Ninja ZX-10R, Tisdale, who started road racing with WERA West only 11 months ago, got to the front of the Formula One race quickly and powered in a best lap of 1:24.247. He finished 6.365 seconds ahead of David Price, with Cesar Meza finishing third, less than a tenth of a second behind Price.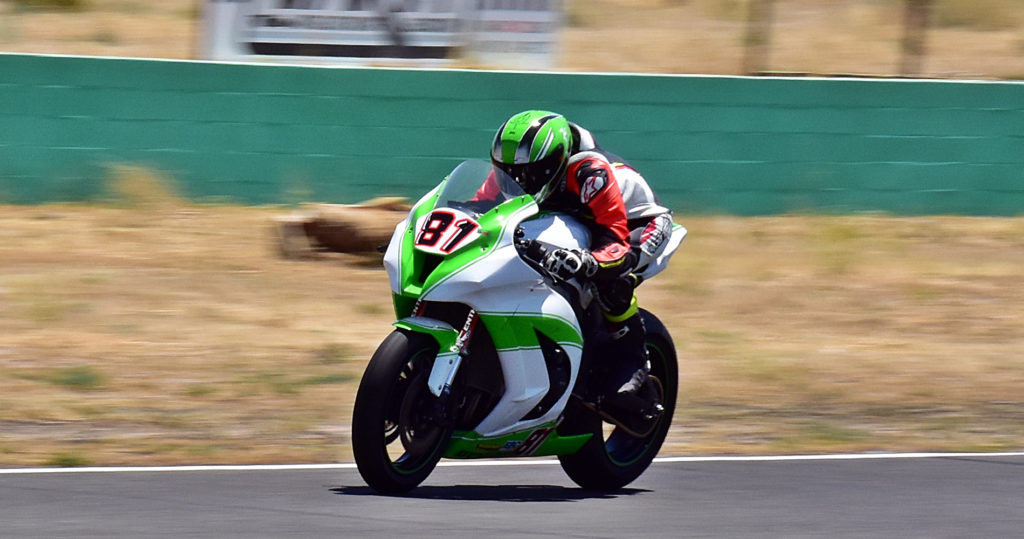 Duran took the A Superbike race, in which Tisdale and Meza crashed in the Willow's ultra-fast Turn Eight, fortunately with no serious injuries. Anthony Norton was second, ahead of Price. Duran's best lap was 1:24.267, and he finished 3.668 seconds ahead of Norton. Norton won the A Superstock race ahead of Sahar Zvik and Tyler Bengford.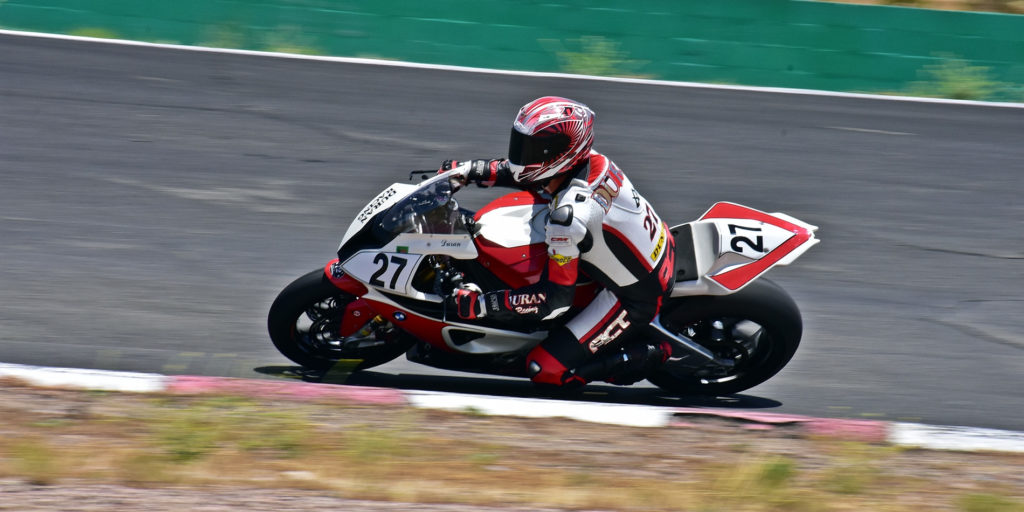 Sunday's temperatures were cooler, but the winds increased, with gusts well over 40 miles an hour and tumbleweeds firing across the track during the races. On his Dunlop-shod BMW S1000RR, Duran took the Formula One race with a best lap of 1:25.473 and a 2.297 second gap over Zvik, with Norton third. Duran also won the A Superbike race, lowering his lap time to a 1:24.297, over Zvik and Norton. Zvik won the A Superstock race over Norton and Ben Gary.
SATURDAY:
FORMULA ONE EXPERT:
Matt Tisdale (Kaw ZX-10R)
David Price (Suz GSX-R1000)
Cesar Mesa (BMW S1000RR)
Chris Duran (BMW S1000RR)
Anthony Norton (Kaw ZX-10R)
Sahar Zvik (Kaw ZX-10R)
FORMULA ONE NOVICE:
Dexter Stuart (Apr RSV4)
V8 HEAVYWEIGHT:
Wayne Gann (Yam YZF-R6)
John James (Hon CBR600RR)
Jacob van Rensburg (Yam YZF-R6)
C SUPERBIKE EXPERT:
Cesar Meza, Jr. (Yam YZF-R6)
David Henderson (Yam YZF-R6)
Mike Pond (Yam YZF-R6)
Mookie Wilkerson (Yam YZF-R6)
Max Zeronian (Yam YZF-R6)
Fillon Curtis (Yam YZF-R6)
C SUPERBIKE NOVICE:
John Butler (Yam YZF-R6)
Lee McNutt (Yam YZF-R6)
Terry Stephenson (Yam YZF-R6)
Joe Bastin (Kaw ZX-6R)
Edgar Dominguez (Yam YZF-R6)
Victor Micarone (Kaw ZX-6R)
D SUPERBIKE EXPERT:
Owen William (Kaw Ninja 400R)
Laura Orozco (Mor 250)
E SUPERSTOCK EXPERT:
Brian Bartlow (Kaw Ninja 400R)
Alex Ricci (Kaw Ninja 400R)
Shiree Cano (Kaw Ninja 300R)
Tony Serra (Kaw Ninja 250R)
Roni Schuetrum (Kaw Ninja 250R)
Peter Switzer (KTM 390)
E SUPERSTOCK NOVICE:
Jeremiah Martin (Kaw Ninja 300R)
LIGHTWEIGHT TWINS SUPERSTOCK EXPERT:
Ed Sorbo (Suz SV650)
Eric Stahl (H-D 1200)
David Anderson (Kaw Ninja 650R)
LIGHTWEIGHT TWINS SUPERSTOCK NOVICE:
Eugene Begadon (Suz SV650)
A SUPERBIKE EXPERT:
Chris Duran (BMW S1000RR)
Anthony Norton (Kaw ZX-10R)
David Price (Suz GSX-R1000)
Sahar Zvik (Kaw ZX-10R)
Tyler Bengford (Kaw ZX-10R)
Ben Gary (Apr RSV4)
A SUPERBIKE NOVICE:
Tom Luby (Suz GSX-R1000)
Cliff Coglietti (BMW S1000RR)
Rayme Jelski (Suz GSX-R1000)
Stephen Ledesma (Hon CBR1000RR)
D SUPERSTOCK EXPERT:
Alex Ricci (Kaw Ninja 400R)
Brian Bartlow (Kaw Ninja 400R)
Shiree Cano (Kaw Ninja 300R)
Roni Schuetrum (Kaw Ninja 300R)
Andrew Kenefick (Kaw Ninja 250R)
D SUPERSTOCK NOVICE:
Jeremiah Martin (Kaw Ninja 300R)
LIGHTWEIGHT TWINS SUPERBIKE EXPERT:
Ryan Fritz (Suz SV650)
Lance Lewman (Suz SV650)
Ed Sorbo (Suz SV650)
Anthony Morrison (Suz SV650)
Michael Gougis (Suz SV650)
David Anderson (Suz SV650)
LIGHTWEIGHT TWINS SUPERBIKE NOVICE:
Eugene Begadon (Suz SV650)
B SUPERBIKE EXPERT:
David Henderson (Yam YZF-R6)
Mike Pond (Yam YZF-R6)
Max Zeronian (Yam YZF-R6)
Mookie Wilkerson (Yam YZF-R6)
Keir Leonhardt (Yam YZF-R6)
Moises Castaneda (Hon CBR600RR)
B SUPERBIKE NOVICE:
Lee McNutt (Yam YZF-R6)
John Butler (Yam YZF-R6)
Edgar Dominguez (Yam YZF-R6)
Arnold Munoz (Suz GSX-R600)
CLUBMAN EXPERT:
Brian Bartlow (Kaw Ninja 400R)
Alex Ricci (Kaw Ninja 400R)
Laura Orozco (Mor 250)
Owen Williams (Kaw Ninja 400R)
Peter Switzer (KTM 390)
CLUBMAN NOVICE:
Selin Buyuksonmez (Kaw Ninja 250R)
F SUPERSTOCK EXPERT:
Shiree Cano (Kaw 300)
F SUPERSTOCK NOVICE:
Jeremiah Martin (Kaw 300)
A SUPERSTOCK EXPERT:
Anthony Norton (Kaw ZX-10R)
Sahar Zvik (Kaw ZX-10R)
Tyler Bengford (Kaw ZX-10R)
Ben Gary (Apr RSV4)
Thomas Asseo (Yam YZF-R1)
Steve Luckert (Kaw ZX-10R)
A SUPERSTOCK NOVICE:
Rayme Jelski (Suz GSX-R1000)
Cliff Coglietti (BMW S1000RR)
Rich Hua (Kaw ZX-10R)
HEAVYWEIGHT TWINS SUPERBIKE EXPERT:
Michael Gougis (Suz SV650)
Johnny Edwards (Duc 748)
Eric Stahl (H-D 1200)
HEAVYWEIGHT TWINS SUPERBIKE NOVICE:
Anthony Solima (H-D 1200)
C SUPERSTOCK EXPERT:
Cesar Meza Jr. (Yam YZF-R6)
Mike Pond (Yam YZF-R6)
Keir Leonhardt (Yam YZF-R6)
Fillon Curtis (Yam YZF-R6)
Steve Luckert (Suz GSX-R600)
Rene Werner (Yam YZF-R6)
C SUPERSTOCK NOVICE:
John Butler (Yam YZF-R6)
Lee McNutt (Yam YZF-R6)
Edgar Dominguez (Yam YZF-R6)
Joe Bastin (Kaw ZX-6R)
Mike Subjak (Yam YZF-R6)
Victor Micarone (Kaw ZX-6R)
FORMULA TWO EXPERT:
Ryan Fritz (Suz SV650)
Anthony Morrison (Suz SV650)
Ed Sorbo (Suz SV650)
V7 MEDIUMWEIGHT:
Johnny Edwards (Duc 748)
SENIOR SUPERBIKE HEAVYWEIGHT EXPERT:
Fatih Buyuksonmez (Duc 1000)
Don McClary (BMW S1000RR)
SENIOR SUPERBIKE HEAVYWEIGHT NOVICE:
Cliff Coglietti (BMW S1000RR)
SENIOR SUPERBIKE MEDIUMWEIGHT EXPERT:
David Henderson (Yam YZF-R6)
Mookie Wilkerson (Yam YZF-R6)
Moises Castaneda (Hon CBR600RR)
SENIOR SUPERBIKE MEDIUMWEIGHT NOVICE:
Victor Micarone (Kaw ZX-6R)
B SUPERSTOCK EXPERT:
Rene Werner (Yam YZF-R6)
B SUPERSTOCK NOVICE:
Edgar Dominguez (Yam YZF-R6)
John Gilley (Yam YZF-R6)
V8 MEDIUMWEIGHT:
John James (Hon CBR600RR)
Moises Castaneda (Hon CBR600RR)
Wayne Gann (Yam YZF-R6)
David Anderson (Suz GSX-R600)
Nick Zaan (Suz GSX-R600)
Jacob van Rensburg (Yam YZF-R6)
SUNDAY:
FORMULA ONE EXPERT:
Chris Duran (BMW S1000RR)
Sahar Zvik (Kaw ZX-10R)
Anthony Norton (Kaw ZX-10R)
Fatih Buyuksonmez (Duc 1000)
Mario Orozco (BMW S1000RR)
FORMULA ONE NOVICE:
Rich Hua (Kawasaki ZX-10R)
Dexter Stuart (Apr RSV4)
V8 HEAVYWEIGHT:
John James (Hon CBR600RR)
Jacob van Rensburg (Yam YZF-R6)
C SUPERBIKE EXPERT:
Cesar Meza Jr. (Yam YZF-R6)
Terry Heard (Suz GSX-R600)
David Henderson (Yam YZF-R6)
Mookie Wilkerson (Yam YZF-R6)
Mike Pond (Yam YZF-R6)
Gerardo Flores (Kaw ZX-6R)
C SUPERBIKE NOVICE:
Lee McNutt (Yam YZF-R6)
Joe Bastin (Kaw ZX-6R)
Victor Micarone (Kaw ZX-6R)
D SUPERBIKE EXPERT:
Owen Williams (Kaw Ninja 400R)
Laura Orozco (Mor 250)
E SUPERSTOCK EXPERT:
Brian Bartlow (Kaw Ninja 400R)
Alex Ricci (Kaw Ninja 400R)
Roni Schuetrum (Kaw Ninja 300R)
E SUPERSTOCK NOVICE:
Jeremiah Martin (Kaw Ninja 300R)
LIGHTWEIGHT TWINS SUPERSTOCK EXPERT:
Ed Sorbo (Suz SV650)
Eric Stahl (H-D 1200)
David Anderson (Kaw Ninja 650R)
LIGHTWEIGHT TWINS SUPERSTOCK NOVICE:
Eugene Begadon (Suz SV650)
A SUPERBIKE EXPERT:
Chris Duran (BMW S1000RR)
Sahar Zvik (Kaw ZX-10R)
Anthony Norton (Kaw ZX-10R)
Terry Heard (Kaw ZX-10R)
Ben Gary (Apr RSV4)
Steve Luckert (Kaw ZX-10R)
D SUPERSTOCK EXPERT:
Brian Bartlow (Kaw Ninja 400R)
Alex Ricci (Kaw Ninja 400R)
Roni Schuetrum (Kaw Ninja 300R)
Andrew Kenefick (Kaw Ninja 250R)
D SUPERSTOCK NOVICE:
Jeremiah Martin (Kaw Ninja 300R)
LIGHTWEIGHT TWINS SUPERBIKE EXPERT:
Ryan Fritz (Suz SV650)
Ed Sorbo (Suz SV650)
Anthony Morrison (Suz SV650)
David Anderson (Kaw Ninja 650R)
LIGHTWEIGHT TWINS SUPERBIKE NOVICE:
James Snow (Suz SV650)
Eugene Begadon (Suz SV650)
V7 MEDIUMWEIGHT:
Johnny Edwards (Duc 748)
B SUPERBIKE EXPERT:
David Henderson (Yam YZF-R6)
Mookie Wilkerson (Yam YZF-R6)
Mike Pond (Yam YZF-R6)
Keir Leonhardt (Yam YZF-R6)
Gilbert Silva (Kaw ZX-6R)
David Guerrero (Yam YZF-R6)
B SUPERBIKE NOVICE:
Lee McNutt (Yam YZF-R6)
John Butler (Yam YZF-R6)
Jimmyjam Salters (Kaw ZX-6R)
Arnold Munoz (Suz GSX-R600)
CLUBMAN EXPERT:
Owen Williams (Kaw Ninja 400R)
Brian Bartlow (Kaw Ninja 400R)
Alex Ricci (Kaw Ninja 400R)
Laura Orozco (Mor 250)
CLUBMAN NOVICE:
Selin Buyuksonmez (Kaw Ninja 250R)
F SUPERSTOCK EXPERT:
Tony Serra (Kaw Ninja 250R)
F SUPERSTOCK NOVICE:
Jeremiah Martin (Kaw Ninja 300R)
A SUPERSTOCK EXPERT:
Sahar Zvik (Kaw ZX-10R)
Anthony Norton (Kaw ZX-10R)
Ben Gary (Apr RSV4)
Steve Luckert (Kaw ZX-10R)
Jeremy Sims (BMW S1000RR)
Mario Orozco (BMW S1000RR)
A SUPERSTOCK NOVICE:
Cliff Coglietti (BMW S1000RR)
C SUPERSTOCK EXPERT:
Cesar Meza Jr. (Yam YZF-R6)
Mike Pond (Yam YZF-R6)
David Guerrero (Yam YZF-R6)
Keir Leonhardt (Yam YZF-R6)
Nick Zaan (Suz GSX-R600)
David Anderson (Suz GSX-R600)
C SUPERSTOCK NOVICE:
Lee McNutt (Yam YZF-R6)
Joe Bastin (Kaw ZX-6R)
Mike Subjak (Yam YZF-R6)
Jimmyjam Salters (Kaw ZX-6R)
Victor Micarone (Kaw ZX-6R)
FORMULA TWO EXPERT:
Ryan Fritz (Suz SV650)
Anthony Morrison (Suz SV650)
FORMULA TWO NOVICE:
James Snow (Suz SV650)
HEAVYWEIGHT TWINS SUPERBIKE EXPERT:
Johnny Edwards (Duc 748)
Michael Gougis (Suz SV650)
SENIOR SUPERBIKE HEAVYWEIGHT EXPERT:
Don McClary (BMW S1000RR)
Donald Martins (BMW S1000RR)
SENIOR SUPERBIKE HEAVYWEIGHT NOVICE:
Cliff Coglietti (BMW S1000RR)
SENIOR SUPERBIKE MEDIUMWEIGHT EXPERT:
Mookie Wilkerson (Yam YZF-R6)
David Henderson (Yam YZF-R6)
Moises Castaneda (Hon CBR600RR)
Gerardo Flores (Kaw ZX-6R)
SENIOR SUPERBIKE MEDIUMWEIGHT NOVICE:
Victor Micarone (Kaw ZX-6R)
V8 MEDIUMWEIGHT:
Moises Castaneda (Hon CBR600RR)
John James (Hon CBR600RR)
Nick Zaan (Suz GSX-R600)
David Anderson (Suz GSX-R600)
Jimmyjam Salters (Kaw ZX-6R)
Arnold Munoz (Suz GSX-R600)