MotoAmerica: Results from VIR for the Altus Motorsports WPS FLY Racing Team
(Alton, VA) Hot and humid temperatures greeted the MotoAmerica racers when they arrived at Virginia International Raceway in Alton, Virginia. The weather made for greasy track conditions with everyone struggling for grip. The Altus team was no exception.
"The team had some challenges this weekend but we continue to see improvements from both Brandon and Jaret. It was great to see Justin and Kayla come back from big crashes and ride well," said team owner George Nassaney.
Superbike Cup & Stock 1000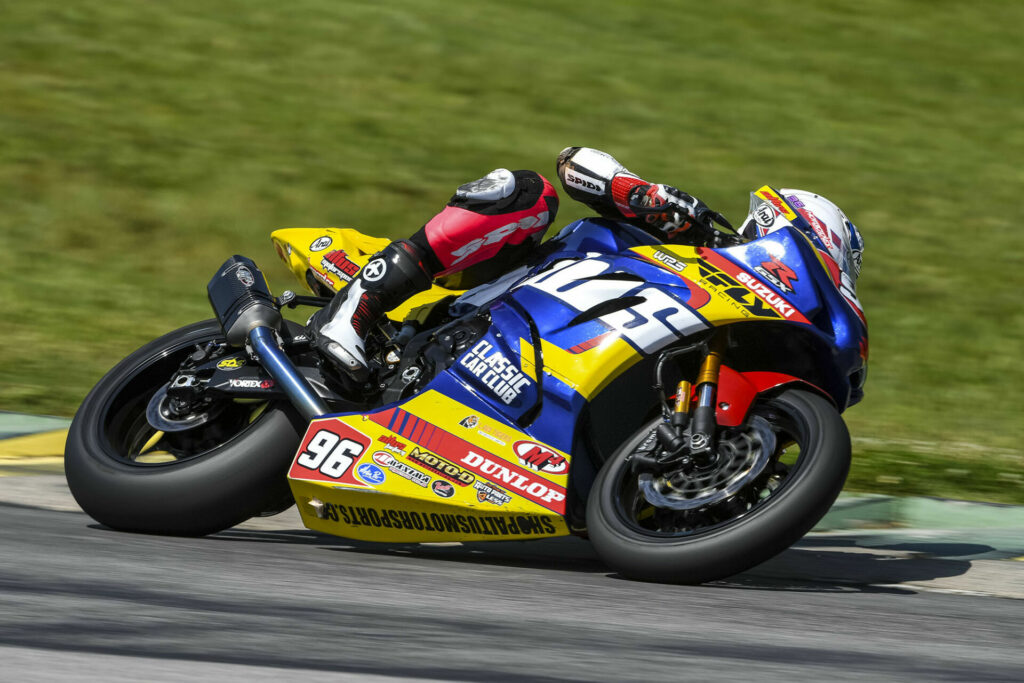 Brandon Paasch continues to learn on the Altus Motorsports GSX-R1000. He qualified in 9th for the Stock1000 races and finished the first race in 8th and the second race in 6th. In the Superbike races, he started both in 19th place. In the Saturday race, he crossed the finish line in 14th and was the top Superbike Cup competitor. On Sunday, he finished 16th and 3rd in the Superbike Cup.
"Not thrilled with the results or the lap times but I learned a lot. This weekend was the first time I've had a chance to put in a lot of laps on the 1000. I missed CoTA with injury and was still recovering and had the flu in Atlanta. You can't tell from the results but this was a really good building weekend. I had a big step forward on Sunday. As a result, I am very positive about the rest of the season and I am looking forward to Road America," said Brandon Paasch.
Supersport 
Jaret Nassaney made the move to the GSX-R750 for the VIR Round. He qualified for both Supersport races in 12th. In Race 1, the bike felt good. He spent the race moving through the pack. At the end of Lap 1, he was in 10th. By Lap 6 he was in 8th. On the 10th lap, he slotted into 6th place and ultimately finished in 5th—his best finish in the class. For Sunday, the team made some suspension changes, and, unfortunately, they were in the wrong direction. Nassaney struggled with the bike for the entire race until he suffered a crash on Lap 11 resulting in a DNF.
"VIR had the highest of highs and the lowest of lows. Raced my tail off to my personal best finish of a P5 in race one. Which I'm beyond stoked about. For race two we made a few changes to hopefully go faster but unfortunately, it didn't work out. We went down in race two and weren't able to rejoin. We live and we learn. Big thanks to my team for putting an awesome bike under me this weekend!! We are ready for battle again at Road America in just two weeks!" said Jaret Nassaney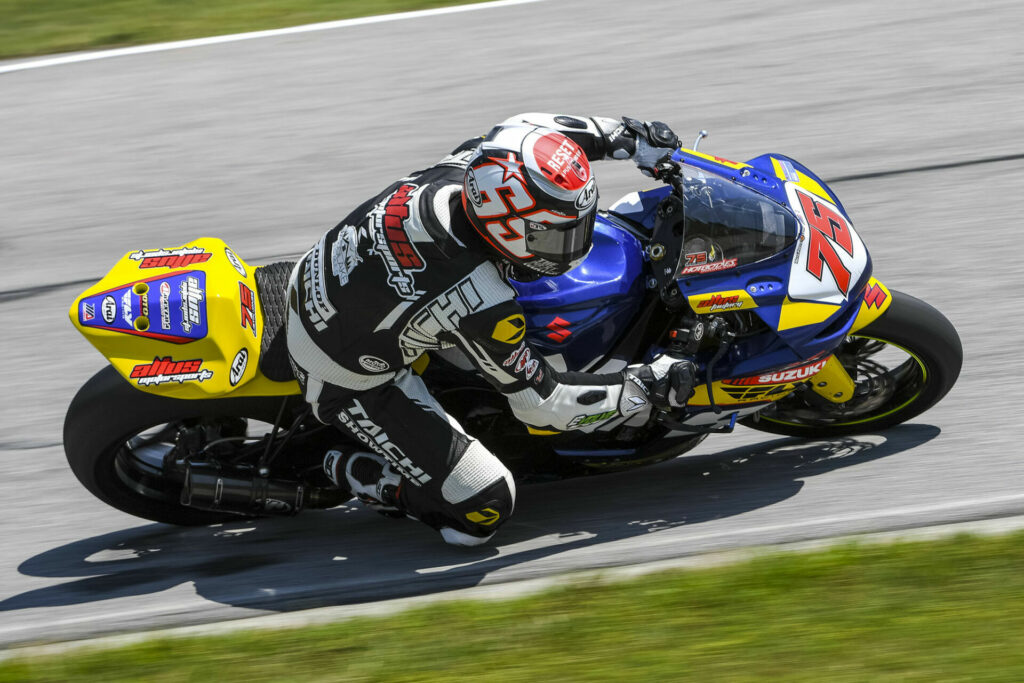 Justin Jones struggled for grip in the hot, greasy conditions. In spite of a massive crash on Friday during the Q1 session, he qualified 17th. In the first Supersport race, he finished 19th. On Sunday, he improved and crossed the stripe in 10th place.
"It was a pretty frustrating weekend. I came to VIR confident. It's a track I've gone fast at in the past and expected to be solidly in the top 10. Friday and Saturday we could not find a setup that worked. For the race on Sunday, we made some changes. It wasn't where I wanted it but it was race-able. I managed to salvage a 10th place in the race," said Justin Jones.
Junior Cup
Kayla Yaakov continues to impress. Kayla started the two Junior cup races from 9th. In the Saturday race, she went with the first group and had the pace to compete for the podium until a tank slapper caused her calipers to spread and she went into a corner with no brakes. She shot off the track and into the air fence. MotoAmerica deemed her 'fit to ride' for Sunday and she picked up where she left off. For the entire race, she fought in the top group and led the race several times. She crossed the line in 5th but was elevated to 4th when the winner was disqualified.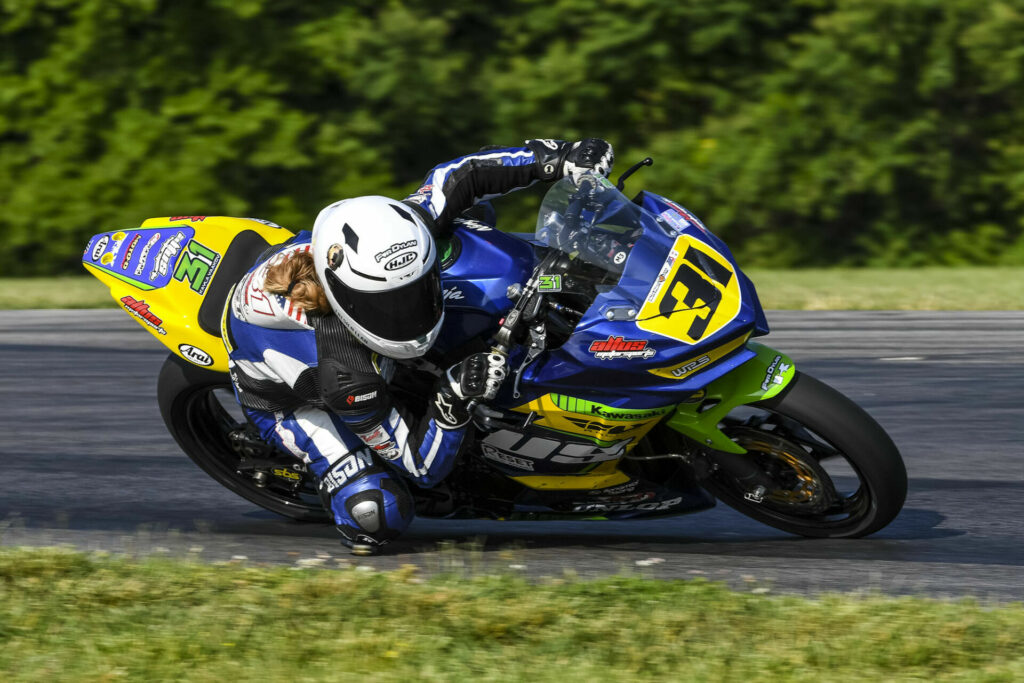 "This weekend is why I love to be at the track. Our team rocks! To watch my son Jaret get his first top 5 finish was so awesome. When two of our riders had big crashes, our team pulled together to get the bikes fixed and back on the grid. Lastly, it's fantastic to see Brandon continually improve every time he got on the track. That motivates our team to come back with more fire!" said team owner George Nassaney.
The Altus Motorsports team is supported by our great family of sponsors: Altus Motorsports, FLY Racing WPS, Suzuki Motor Corporation, Moto-D Racing, Bonamici, Hot Bodies Racing, M4 Exhausts, Vortex EK, Motion Pro, Barnett, Maxima Racing Oils, SBS Brakes, Galfer USA, Ohlins, K-Tech, RS Taichi, Arai, Law Tigers Oklahoma, and Altus Factory Racing.
More, from a press release issued by Geoff May Racing and Team Vision Wheel/Discount Tire/Amsoil/KWS/Honda:
Virginia International Raceway, Round 3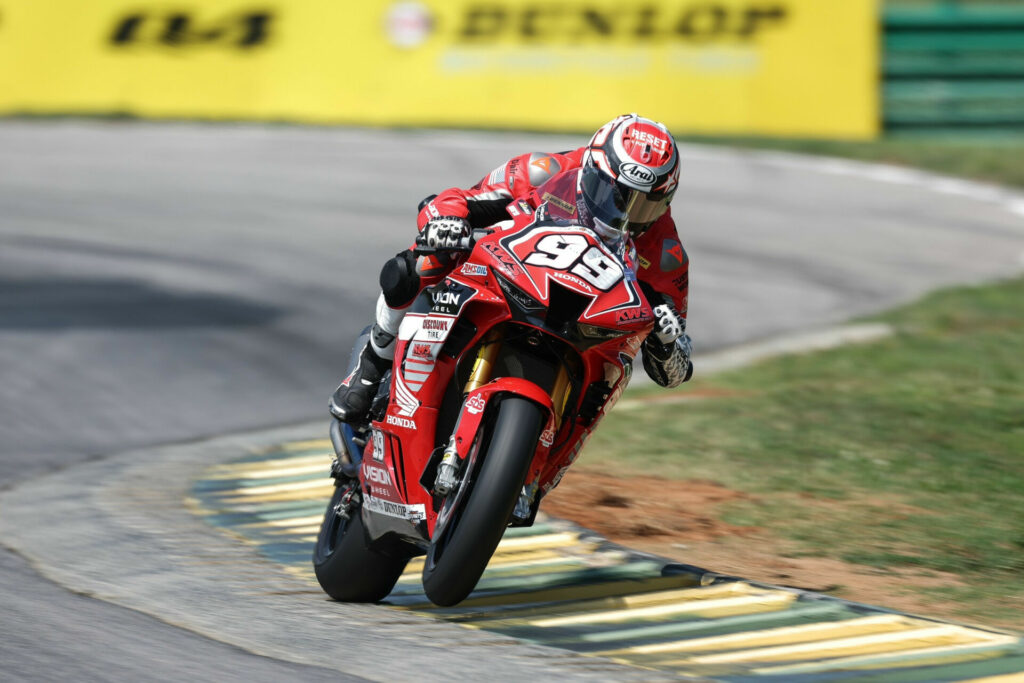 After Road Atlanta, the Stock 1000 bike needed to be completely rebuilt from the ground up. Mike Godin was able to successfully put the CBR1000RR-SP back together, with support from American Honda. Going into the weekend the team had high hopes of a strong performance on familiar territory. Geoff was fast right out of the gate showing no ill effects from the Road Atlanta crash. The team set out to gain as much data and set up knowledge as possible with the time given. Qualifying second for the stock 1000 double header, the team knew this was a valuable opportunity to get back in the hunt for the championship. With High hopes and great racing, the team was able to come away with 2, second place finishes. Thus, putting Geoff in second in the Stock 1000 championship running.
Geoff commented "The competition has really stepped up this year. It is really tight at the front, with only tenths separating the top 5. I am extremely happy with the performance of the CBR1000RRR. I am happy to come here and finish on the podium in both races. I cannot wait for the next race! I cannot thank Vision Wheel, Discount Tire, KWS Motorsports, Amsoil, and Honda North America enough for this opportunity.
Geoff May Racing would also like to thank all our supporting and technical sponsors for their contributions and long-standing relationships as well. The Team is currently sponsored by SBS Brakes, Arata Exhaust, Evol Technologies, Ktech Suspension, Orient Express, Thermosman, Arai Helmets, Dainese, BikeSports Oldsmar, Flex Racing, T13, and Rob Pippins Design.
We are always looking for supporting and technical sponsors to partner with. Please send sponsorship inquiries to [email protected]
More, from a press release issued by Hayden Bicknese Racing:
Hayden Bicknese races to another top six finish in MotoAmerica Junior Cup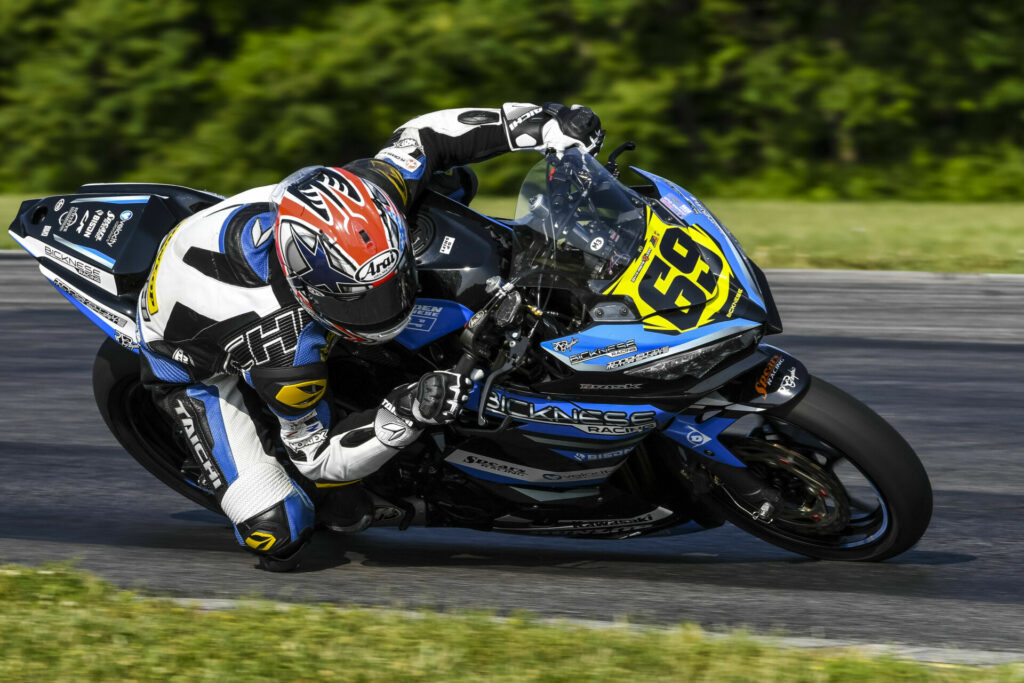 Hayden Bicknese added another double top ten finish to his 2022 MotoAmerica Junior Cup results sheet in the latest round of the series at Virginia International Raceway this past weekend.
Bicknese, who has been a front runner since this year's championship got underway a few weeks ago, was once again in the mix throughout the event at the 2.25-mile circuit affectionately known as VIR.
Third in Free Practice on Friday, the talented teen qualified fifth before finishing a respectable ninth on Saturday, a mere second from the win. He crossed the line sixth Sunday.
The results mean Hayden heads to Road America in less than a fortnight tenth overall in the standings.
Hayden Bicknese: "I felt confident after finishing P3 in opening practice and I was excited for qualifying. I struggled in Q1 but a crazy lap at the end saved me. I ended up fifth after final qualifying and was looking forward to the races. Both races were rough and for some reason I couldn't seem to find any pace compared to Friday. We were chasing set-up and I was a little frustrated as I couldn't hold on to the group as I had hoped. VIR is not my favourite track so to come away with two solid results at the flag gives me confidence for Road America – a track I was pretty fast at last year."
More, from a press release issued by 3D Motorsports:
3D Motorsports' Power, Mariniello amass more top-10 finishes May 21-22 at MotoAmerica round at VIR
Australian duo now eighth, 12th in MotoAmerica Supersport, Junior Cup standings
 
ALTON, Va. — 3D Motorsports LLC riders Luke Power and Joe Mariniello had their work cut out for them this past weekend at the MotoAmerica Superbikes at Virginia round, but the Australian duo put in another good performance in their first time racing at VIRginia International Raceway.
Though the tight, twisty 2.25-mile North Course at VIR can be a challenge to learn, both riders scored at least one top-10 finish at the May 20-22 event. Despite a downer end to his weekend, Power is now eighth in the Supersport points standings. And Mariniello recovered from struggling during qualifying to finishing in the top 10 in both Junior Cup races.
Power and Mariniello had positive starts to the VIR round. Power finished Friday practice ninth-fastest and was 10th in the first of two qualifying sessions. Qualifying wrapped up Saturday morning with Power having secured ninth on the grid for the round's two Supersport races. Mariniello struggled a little in Friday practice, finishing that session in 13th. He also was 13th when Qualifying 1 ended on Friday afternoon and had shaved about four seconds off his best lap time from practice. Mariniello was unable to set a better lap time in Saturday morning's Qualifying 2 and had to settle for 14th on the Junior Cup starting grid.
Boyce struggled from the start of the weekend, though Shakespeare came close to qualifying for the event's two Stock 1000 contests. Shakespeare and Boyce finished Friday practice 30th and 40th, respectively. Later Friday, Shakespeare wrapped up Qualifying 1 in 33rd and Boyce in 36th.  Neither of the pair took part in Saturday morning's Qualifying 2 session and were unable to take part in the round's racing action.
Power had an excellent outing in Saturday's Supersport race despite almost not being allowed to start. As the 22-rider Supersport field was lining up for the start of the race, a technical problem with Power's motorcycle delayed the start and the team was able to correct the issue in time for Power to take part in the second warm-up lap. When the lights went out, Power got off the line well and finished the first lap in eighth place. He spent most of the race in a battle with another rider for eighth , though he was able to move up to seventh in the running order with four laps to go. A late race crash by one of the frontrunners promoted Power to sixth place, which is where he finished the race.
Mariniello struggled a little at the start of the Junior Cup contest, but he made the most of a race stoppage. The Australian got a good start but was shuffled back to 15th place on the opening lap of the race, which is where he was running when the red flag came out. He took the restart from 12th on the grid and had advanced to 10th place by the end of Lap 1. Though he fell back to 11th on Lap 3 of the shortened five-lap race, Mariniello ground out a 10th-place finish – his second top-10 result of the season.
Sunday proved to be a challenge for Power but another bright spot for Mariniello. In the Sunday Supersport race, Power got an OK start but had lost one position by the end of the first lap. He ran as high in the running order as seventh on Laps 6-8 before an on-track incident forced him to retire from the race. Mariniello didn't get the best start in the Sunday Junior Cup race and was running as low as 16th during the first few laps. As the contest went on, Mariniello gradually found his rhythm, and attrition farther up the running order helped him clinch a ninth-place finish.
The 3D Motorsports team now has a weekend off before the next MotoAmerica round, which is slated for June 3-5 at the historic Road America circuit in Elkhart Lake, Wis.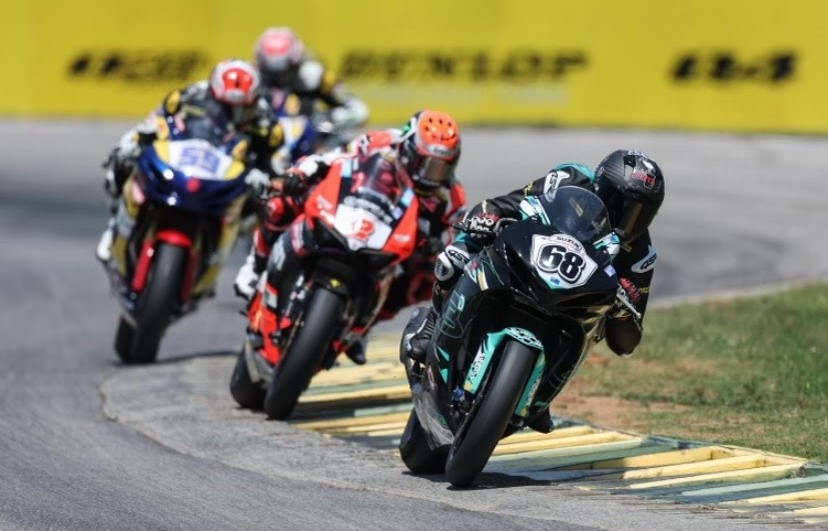 Luke Power / No. 68
"It was a tough start to the weekend, as I was delayed in arriving from London until midnight on Friday. Saying I was tired would be a severe understatement. We made some improvements to our setup for Qualifying 2, but the field is really close this year and I ended up qualifying ninth. The bike felt really good in Race 1, and actually started feeling better as the tires started to fade. I was super happy to finish in sixth that race. For Race 2, we made another adjustment to the bike that felt brilliant during the race. I was feeling really comfortable and confident and was running in seventh when I had an off in Turn 1. All in all, I'm super happy with how the weekend went. Despite the DNF, we showed we have a lot of potential and I'm very excited to be racing at Road America next!"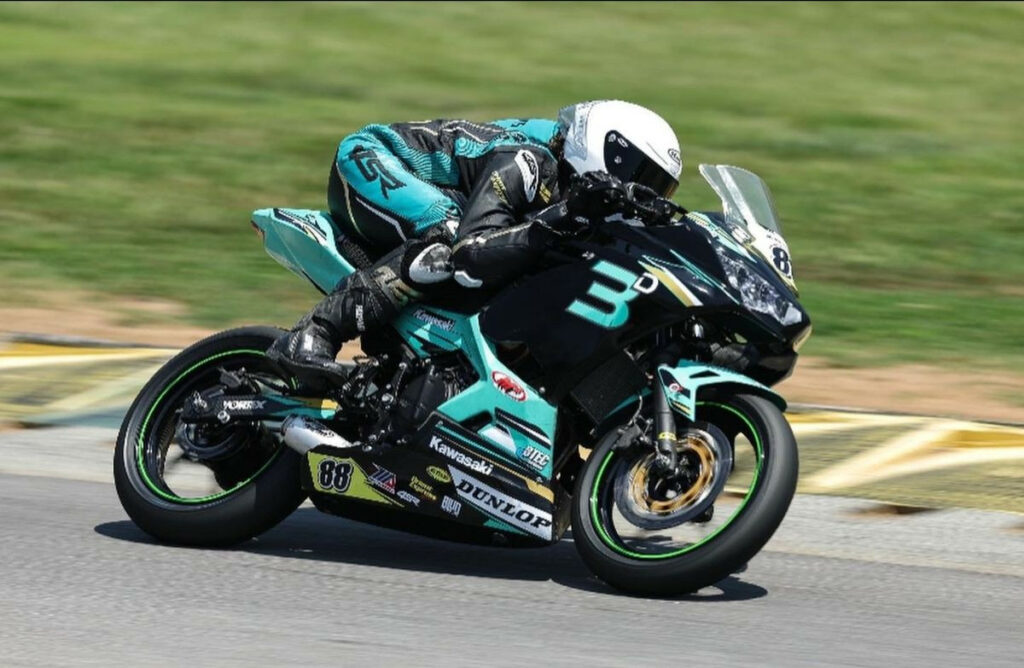 Joe Mariniello / No. 88
"Overall, the weekend at VIR was an improvement from Atlanta. I'm starting to come to grips with American tracks and the Dunlop tires as I get more seat time. The 3D Motorsports team worked super hard all weekend to give me the best bike possible. We had some unlucky moments at crucial times, but that's racing. I think we're heading in the right direction, and I can't thank the team enough for their efforts at VIR. Hopefully I'll be able to repay them with some stronger results at Road America."
3D Motorsports' sponsors for the 2022 MotoAmerica season include Orient Express, K-Tech, BTEC Turbines, 4SR USA, Blud Lubricants, CG Law, Evol Technologies, AF1 Racing, Southern Adrenaline, M4 Exhaust, Valor Farms, Second Hand Motorsports, LS2, Motorcycle Dealer Services and DrippinWet.