CAUTION: Includes graphic image.
Danilo Petrucci suffered injuries when he crashed at 174 mph after taking the checkered flag at the end of MotoAmerica Medallia Superbike Race Two May 22 at VIRginia International Raceway.
Petrucci was attempting to overtake Westby Racing Yamaha's Mathew Scholtz for second place in the final run to the checkered flag but came up 0.020 second short and crossed the finish line in third.
It wasn't caught on camera, but an instant after crossing the finish line at 174 mph, Petrucci tucked the front end of his Warhorse HSBK Racing Ducati NYC Panigale V4 R and went for a long slide and tumble alongside the front straightaway toward Turn One.
Petrucci was seen on video coverage — 56 seconds after he crossed the finish line — walking away from the crash scene, but he skipped the podium ceremony and instead went to the track's medical center seeking aid.
The official post-race press release issued by Ducati North America made no mention of Petrucci's crash or injuries, but Sunday night the Italian rider posted the following on his Instagram feed.
"Just to inform you, I crashed at 280 km/h under the finish line that's on a sixth gear corner for avoid touching another rider. I hit three sponsors signs with my body, multiple burns, multiple hematomas and a deep cut on the ankle with five stitches. I rolled for over 100 meters, maybe one of the worst crash of my entire career. And I lying down for over two minutes with no assistance, hearing the bikes passes next to me, till I stand up by myself and went alone to the medical center."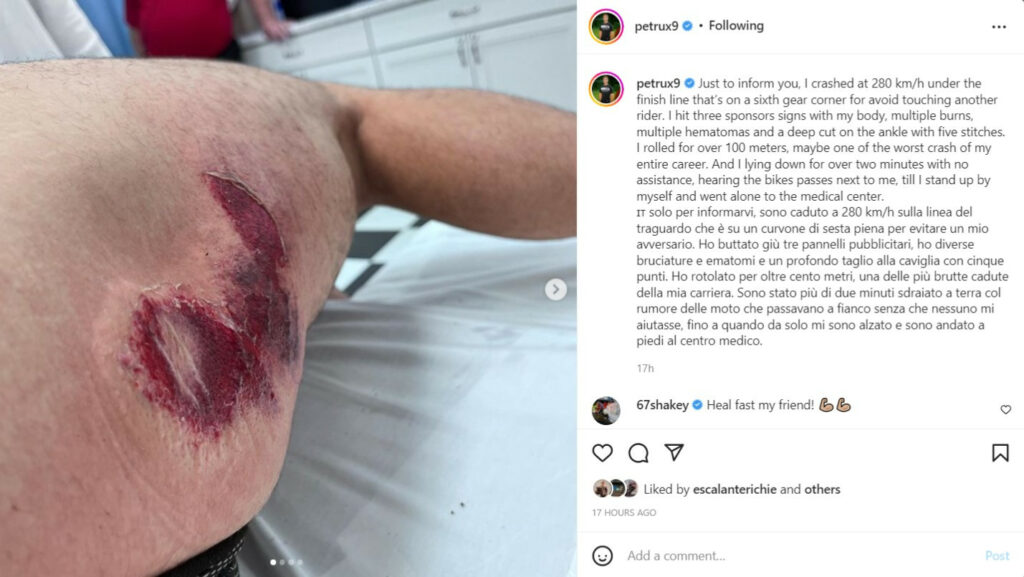 Attempts by Roadracingworld.com to contact Petrucci were not successful.
Fresh N Lean Progressive Yamaha's Cameron Petersen, who crossed the finish line 1.5 seconds after Petrucci, caught a glimpse of the incident.
"I kind of caught it right at the top of my vision," Petersen told Roadracingworld.com. "I think what happened was I think Petrucci being so close to Matty [Scholtz] on the outside going at that speed, I think the outside of the track came up way faster than what he was expecting. We're going 175-180 mph at that point, and I think the outside of the track just came up way faster than he expected.
"Honestly, Matty didn't do anything wrong. He held his line. It's not like he swerved, ran wide, or anything. I think just Petrucci being on the outside there just the outside of the track came up so fast and he tried to give it a little more lean angle and ended up pushing the front. There's the little drop away there [change in track elevation] and there was a breeze coming from the side. I think a combination of all those things didn't help him."