DOUBLE-PODIUM WEEKEND FOR TYLER SCOTT  AND VISION WHEEL M4 ECSTAR SUZUKI IN VIRGINIA
New to Class Suzuki GSX-R750s Immediately Competitive in Supersport
BREA, Calif., May 23, 2022 — Suzuki Motor USA and Team Hammer enjoyed another trophy-winning performance as Round 3 of the 2022 MotoAmerica AMA/FIM North American Road Racing Championship concluded on Sunday at Virginia International Raceway.
For the second consecutive day, that podium was delivered by 16-year-old MotoAmerica Supersport rookie Tyler Scott. The fast-rising Vision Wheel M4 ECSTAR Suzuki star again battled for the win deep into the contest with a pair of premier-class champions before ultimately guiding his GSX-R750 to a third-place finish.
"The bike felt great all race," Scott said. "We made some changes overnight and they helped, but the pace was faster today. Overall, it was a great weekend. The team has been amazing. The GSX-R750 was outstanding, and I'll just keep working on my riding."
Scott's Vision Wheel M4 ECSTAR Suzuki teammate, Sam Lochoff, rebounded from a chaotic Saturday to come home one spot further back in fourth. The South African did so despite suffering from a lower leg injury and the intense heat to keep his title hopes very much alive.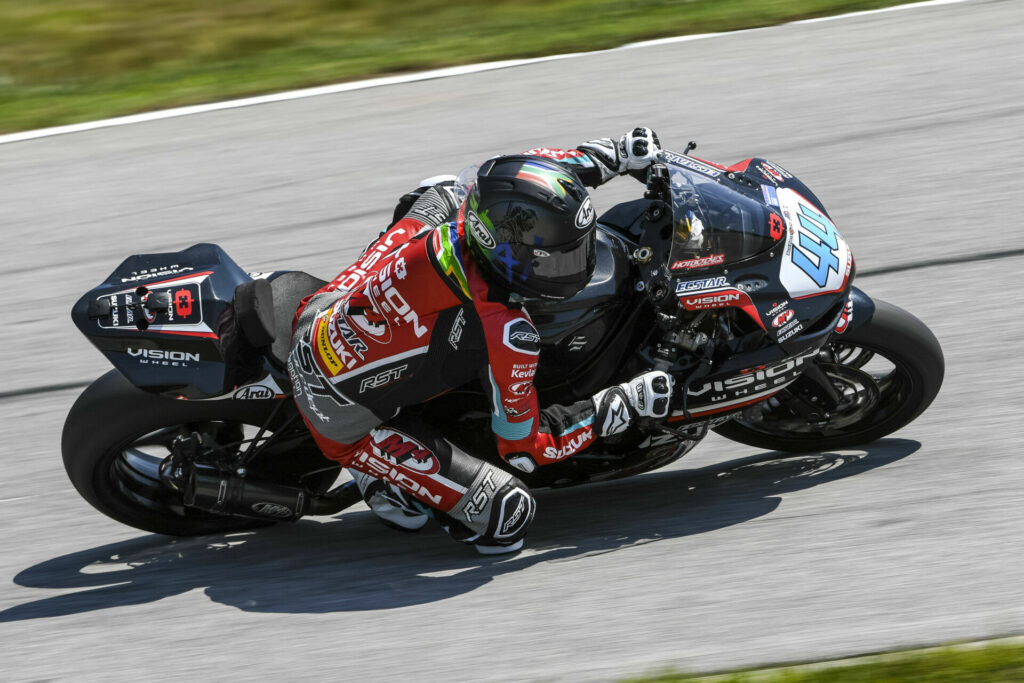 Lochoff said, "I'm extremely happy about the work my crew has put in on this GSX-R750. I think we're nearly there, and we just need to do a bit of fine-tuning now. I'm sure we're going to win some races on it this year.
"I was hurting from yesterday's crash today, but we're coming out swinging at Road America," continued Lochoff.
While third Vision Wheel M4 ECSTAR Suzuki Supersport pilot Liam Grant crashed out of contention early, Altus Motorsports Suzuki's Justin Jones made sure three Team Hammer-built GSX-Rs finished inside the top ten with a tenth-place performance.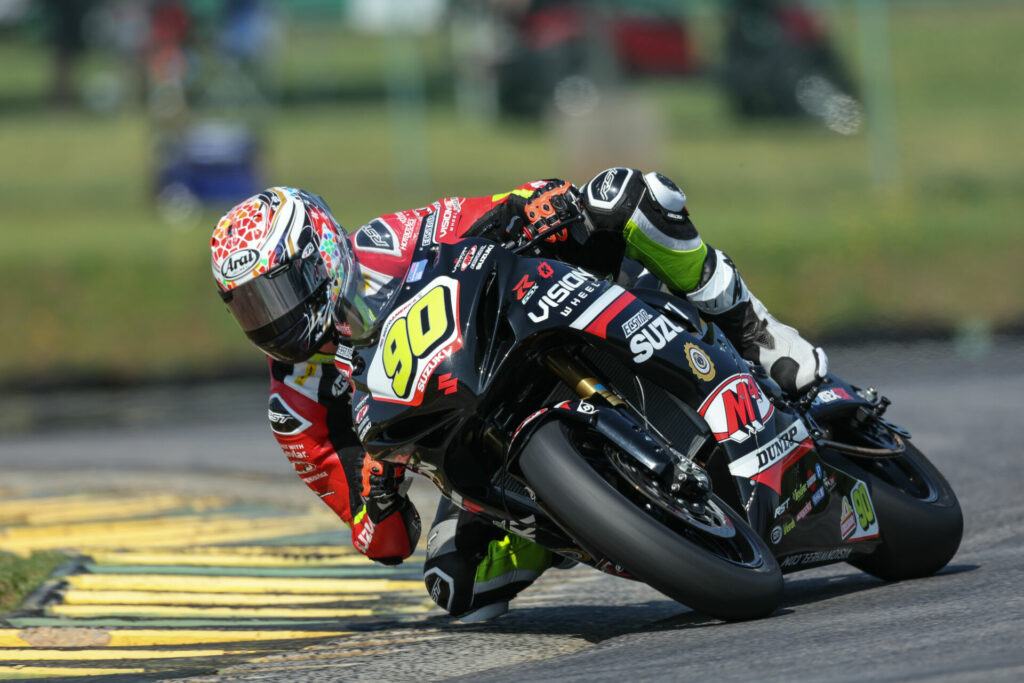 Meanwhile, Vision Wheel M4 ECSTAR Suzuki Superbike teammates Richie Escalante and Jake Lewis spent the bulk of the contest embroiled in an intra-team fight for sixth position. Their battle nearly carried them to the top five, as together they, mounted on their Suzuki GSX-R1000R race bikes, drew in on the position late before running out of laps to challenge for the spot.
In the end, rookie Escalante finished in sixth with reigning Stock 1000 champion Jake Lewis close behind in seventh.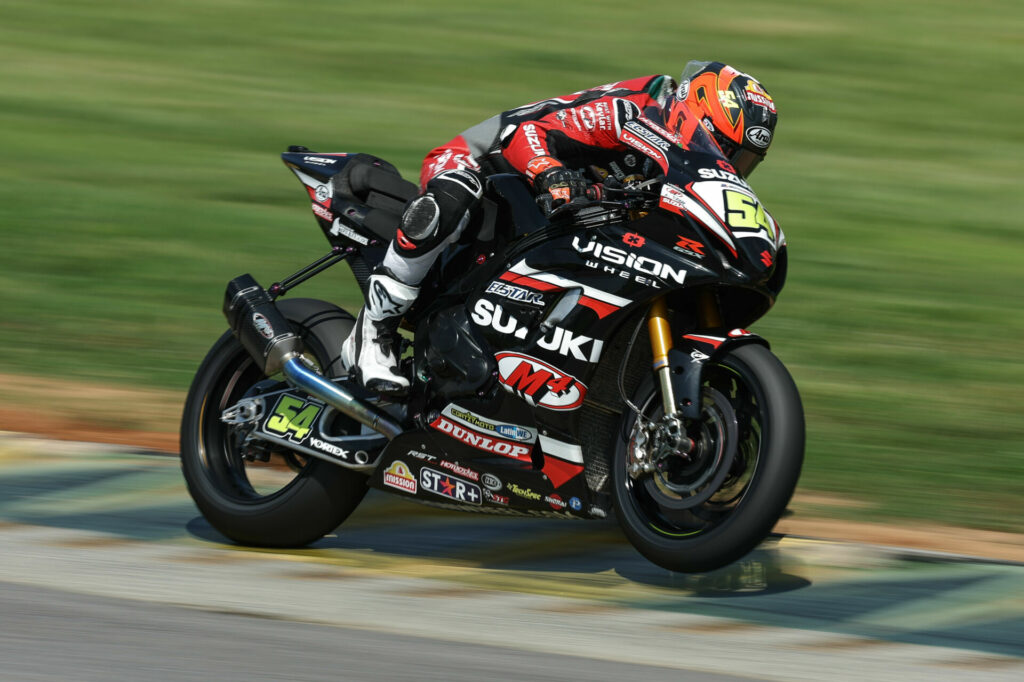 Escalante said, "Today was much better. I started both races very well, which is important to stay close with the front group. I didn't have the pace to go for the podium, but I raced for fifth the whole race.
"I continue to work to adjust my riding style to help the bike work a little better, especially on corner exit. I'm really happy with the process. I'm getting closer over one lap and race distance. I'm pretty happy with that and I'll keep working to find the next step."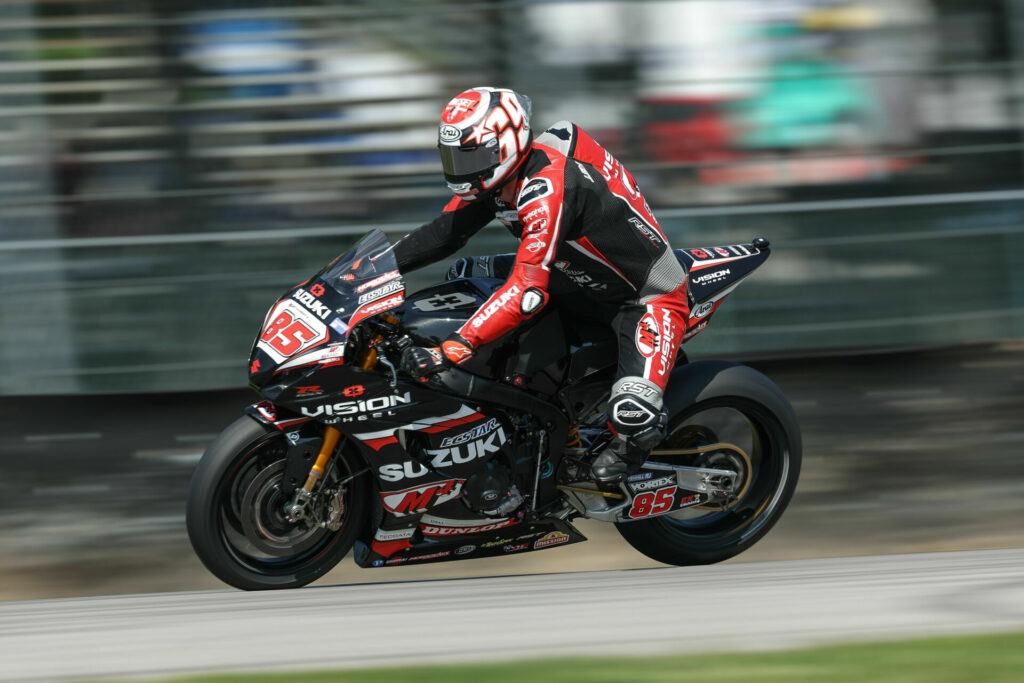 Team Hammer will be back in action at the high-speed Road America at Elkhart Lake, Wisconsin, on June 3-5.
Suzuki Motor USA would also like to recognize Hayden Gillim aboard his GSX-R1000R for taking double wins in the Stock 1000 class.
ABOUT TEAM HAMMER 
The 2022 season marks Team Hammer's 42nd consecutive year of operating as a professional road racing team. Racebikes built and fielded by Team Hammer have won 128 AMA Pro and MotoAmerica National races, have finished on AMA Pro and MotoAmerica National podiums 332 times, and have won 11 AMA Pro and MotoAmerica National Championships, as well as two FIM South American Championships (in Superbike and Supersport.) The team has also won 137 endurance races overall (including seven 24-hour races) and 13 Overall WERA National Endurance Championships with Suzuki motorcycles and holds the U.S. record for mileage covered in a 24-hour race. The team also competed in the televised 1990s Formula USA National Championship, famously running "Methanol Monster" GSX-R1100 Superbikes fueled by methanol, and won four F-USA Championships.
ABOUT VISION WHEEL
Founded in 1976, Vision Wheel is one of the nation's leading providers of custom wheels for cars and trucks, and one of the first manufacturers of custom wheels and tires for ATVs, UTVs, and golf carts. Vision Wheel looks beyond the current trends and to the future in developing, manufacturing, and distributing its wheels. Vision's lines of street, race, off-road, American Muscle, and Milanni wheels are distributed nationally and internationally through a trusted network of distributors. Vision Wheel also produces the Vision It AR app to allow users to see how their wheel of choice will look on their vehicle before purchase and installation. For more information on Vision Wheel, visit www.visionwheel.com.
ABOUT SUZUKI
Suzuki Motor USA, LLC. (SMO) distributes Motorcycles, ATVs, Scooters, Automotive Parts, Accessories, and ECSTAR Oils & Chemicals via an extensive dealer network throughout 49 states. Suzuki Motor Corporation (SMC), based in Hamamatsu, Japan, is a diversified worldwide manufacturer of Motorcycles, ATVs, Scooters, Automobiles, Outboard Motors, and related products. Founded in 1909 and incorporated in 1920, SMC has business relations with 201 countries/regions. For more information, visit www.suzuki.com.
More, from a press release issued by Tytlers Cycle Racing:
PJ Jacobsen, Hector Barbera and Travis Wyman bag multiple top ten finishes at VIR
Tytlers Cycle Racing raced to multiple top ten finishes in the latest round of the 2022 MotoAmerica Superbike championship at Virginia International Raceway with riders PJ Jacobsen and Hector Barbera achieving a best of fifth and sixth respectively across the weekend.
Their BMW M1000 RR machines once again performed superbly allowing both riders to fight for the front running positions on Saturday and Sunday.
For Jacobsen, who missed Road Atlanta through sickness, it was a positive return to the track, the #66 coming out on top of a three-way fight for P5 in the opening race on Saturday before racing to seventh on Sunday.
Spain's Hector Barbera maintained his point scoring record with sixth and ninth, adding seventeen points to his already impressive tally for the season. He remains fifth overall in the standings.
Travis Wyman, one of the team's Stock1000 regulars was also in action in the Superbike category. He finished tenth in both races.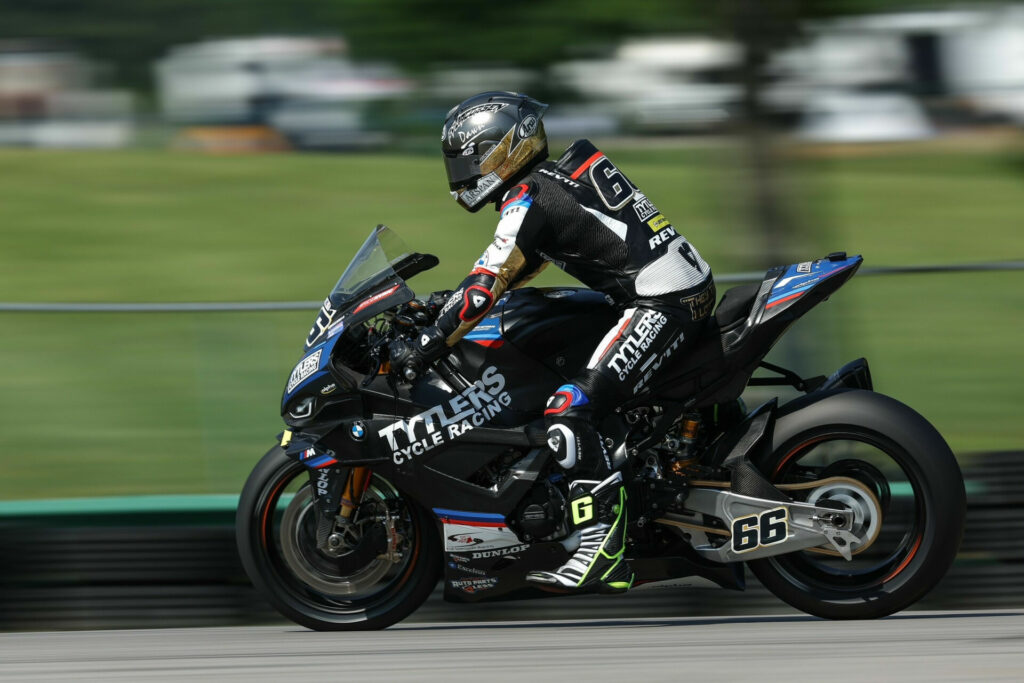 PJ Jacobsen: "The opening race was difficult. I suffered with rear grip, and it was hard to manage. I did what I could, and it was pretty uncomfortable by half race distance. We knew we could lap faster and so we regrouped overnight before Race 2. Sunday was better. We were able to fix a lot of things and I was happy to bag a P5 finish. I was not happy with what happened on Saturday, but the team did a great job, and we were able to show our potential. It's a brand-new team and a brand-new bike so the data we gathered here will certainly help us in the coming races."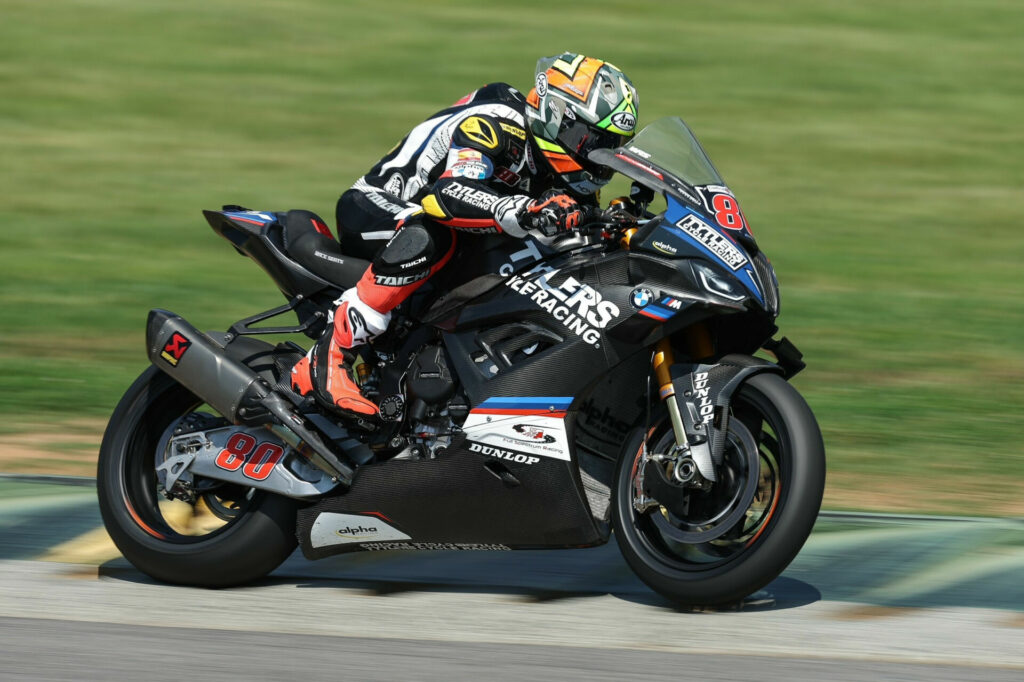 Hector Barbera: "All weekend, because of the heat, I struggled to get the feeling I wanted with the front tyre and so the races were quite difficult. When we improved the front, it made the rear worse. In Race 1 I was spinning everywhere. I tried my best, passed a few riders and was able to finish sixth. Race 2 I had problems with the tyre, and I couldn't fight for a better position. We will continue to test and continue to work hard, and I am sure we can arrive at the front soon."
More, from a press release issued by Tytlers Cycle/RideHVMC Racing:
Travis Wyman delivers another Stock1000 podium as Zac Schumacher makes progress and Corey Alexander avoids serious injury
Corey Alexander, Zac Schumacher, and Travis Wyman were back on track at VIR this past weekend for the Tytlers Cycle Racing powered by Ride HVMC squad in the latest round of the MotoAmerica Stock1000 championship with Wyman delivering another podium for the squad in Saturday's opening race.
Qualifying fifth, Wyman ensured he was in the mix from the off taking a well-earned P3 at the end of the nine-lap encounter. He finished eleventh on Sunday.
Zac Schumacher was racing at another new circuit. He progressed well throughout the weekend finishing nineteenth and eighteenth respectively to ensure another double top twenty finish.
Round 1 winner Alexander had a nasty looking spill early in the weekend after running strongly in practice. Crashing hard he thankfully escaped serious injury but missed both races. He will be back on track at Road America.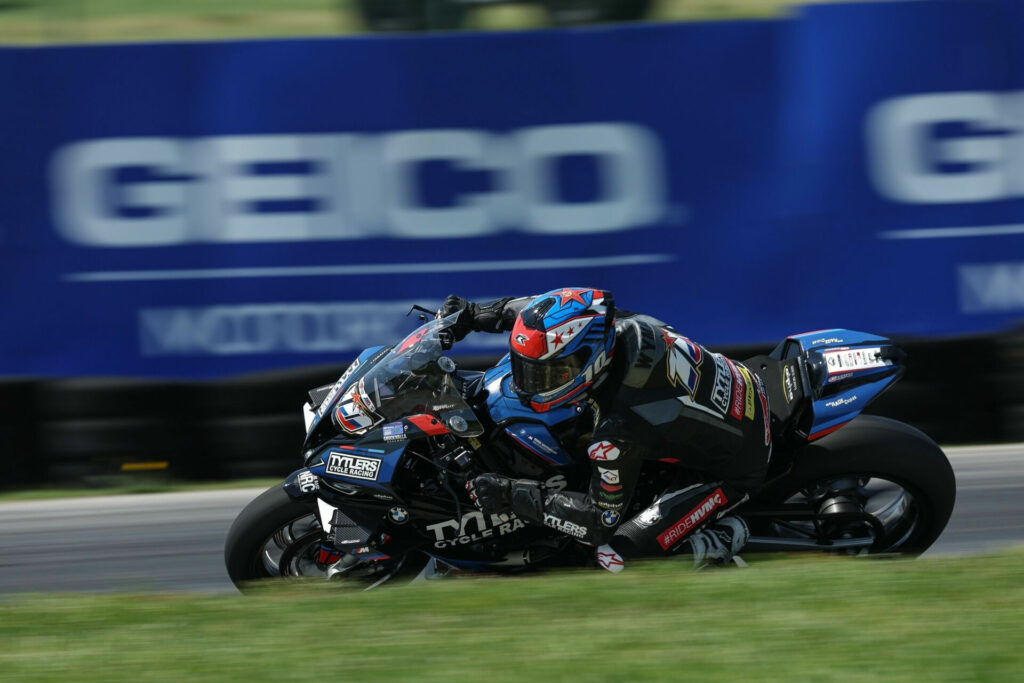 Travis Wyman: "After missing most of practice and qualifying we ended P5 on the grid which I was super happy about. I made a great start in Race 1 and after a race long battle was able to bring it home in third for another podium. I was in the lead group off the start again in Race 2 but unfortunately with about four laps to go I crashed after making a pass for second place. I tucked the front but was able to get going again and finish eleventh, salvaging some points which may make all the difference at the end of the season. See you all at Road America."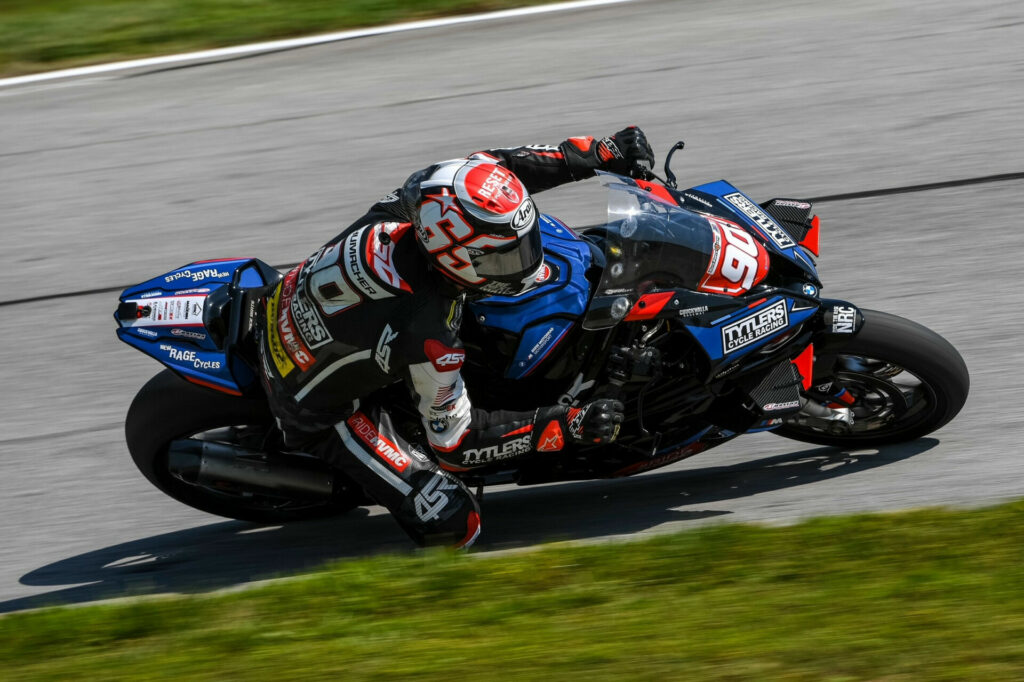 Zac Schumacher: "It was my first time at VIR. I crashed in FP1 and missed the entire session which meant I was still learning the track in qualifying. I qualified twenty-ninth and was able to finish P19. Race 2 was a little better. We a couple of changes overnight and found the feeling I had been searching for. I started twenty-seventh and was able to pass several riders, eventually finishing P18. I want to say a huge thanks to the Tytlers Cycle guys. Without them my weekend would have been over."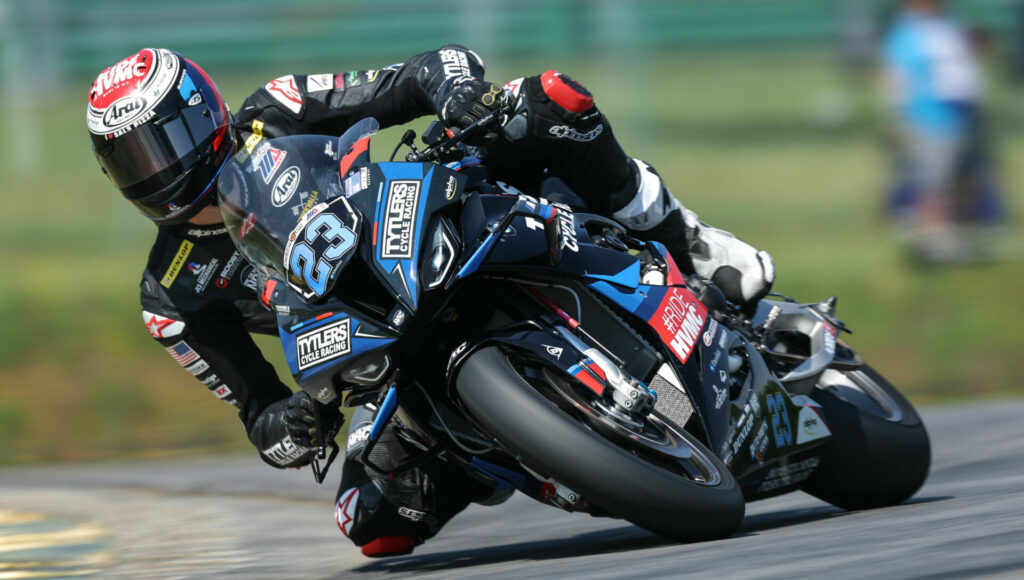 Corey Alexander: "I am bummed to have missed both races this weekend but am very thankful to have walked away as well as I did. I'm just recovering with some road rash and a couple bruises as well as some fog from the concussion I suffered but otherwise my Arai Helmet, Alpinestars suit with Tech-Air bag and the Road Racing World Action Fund Air Fence surely saved my life. I am hopeful to return to Road America and pick up where we left off prior to the crash. Thanks to everyone for the messages and support."
More, from a press release issued by Aprilia:
MOTOAMERICA TWINS CUP CHAMPIONSHIP CONCLUDES AT VIR WITH A PAIR OF LAST LAP WINS FOR JODY BARRY AND HIS VELOCE RACING APRILIA RS 660
BARRY EXTENDS HIS CHAMPIONSHIP LEAD LEAVING VIRGINIA AND BREAKS HIS OWN LAP RECORD SET AGAIN ON THE RS 660
ALTON, VA – 23 MAY 2022 – MotoAmerica Twins Cup arrived at Virginia International Raceway this weekend for the third round of the championship. 35 riders lined up to grid for race one, as the participation and competition of the Twins Cup class continues to grow in the series.
Leaving the second round in Atlanta, a single race weekend for the Twins Cup, the stakes were high upon arrival in Virginia for the teams, knowing there was a potential 50 points up for grab in the weekend's two races. When Qualifying 2 had completed, the story was reminiscent of 2021, with Jody Barry, besting his best time and lap record set last year on his RS 660 of 1:30:823, with a pole position secured with a time of 1:30:082 on his Veloce Racing RS 660 on Saturday morning.
In race one of the weekend, after 13 complete laps, it came down to the line with a photo finish victory that showing Jody Barry across the line just inches ahead of the next rider.
Race 2 had an early red flag which forced a restart, but with a similar battle to Saturday's race, Sunday proved to be another last lap dash to the line, where Jody Barry locked up his second win of the weekend, and third of season.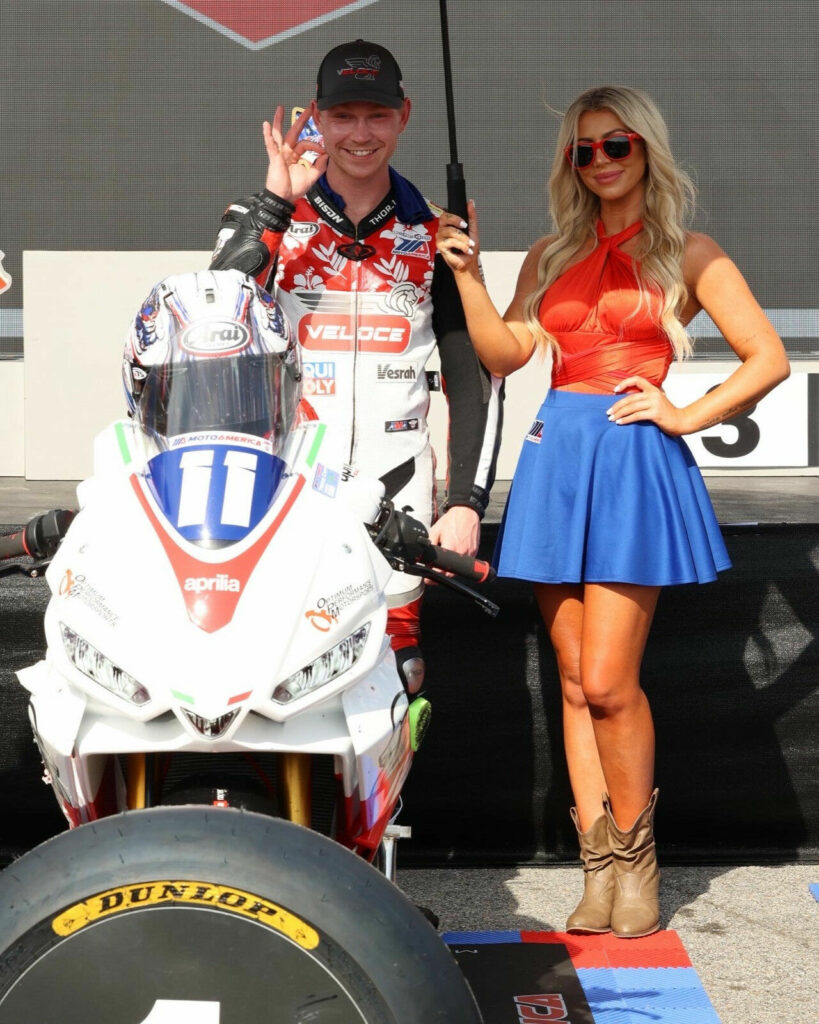 Jody Barry, Veloce Racing
"I've always loved this track. I had confidence coming out of Road Atlanta, and we started the weekend quick, getting the setup dialled in. By the end of both races, it was a chess game, working with grip, pushing the front end and working with track conditions.
I have a lot of confidence working with the Veloce team, which makes it easy for me to relax and focus on my riding. I feel comfortable with the RS 660 and finding any solutions with the team to keep it up front. I have to thank the whole Veloce team, and all the sponsors and partners that support putting a bike under me, including CycleTune, LiquiMoly, Vesrah, Arai, Bison, and Aprilia which help us compete and get these wins.
I am excited for Road America, my home track. Last year didn't go how we wanted, with a flight to the hospital, but we won't repeat that this year. My family will be there, the vibes will be cool, and we're looking forward to it."
MotoAmerica heads to Road America, June 3-5. Championship Schedule, Competitor information, and Class Rules can be found at https://motoamerica.com/
More, from a press release issued by Robem Engineering:
Robem Engineering Aprilia riders score three top-10 finishes at MotoAmerica round at VIR
Hobbs, Gloddy finish May 20-22 round second, eighth in Twins Cup points standings
ALTON, Va. — The 2022 MotoAmerica Superbikes at Virginia round turned out to be a struggle for Robem Engineering Aprilia riders Teagg Hobbs and Ben Gloddy. Yet, the duo limited the damage to their championship aspirations at the May 20-22 event by scoring a total of three top-10s in two Twins Cup races at VIRginia International Raceway.
Despite a challenging weekend on track, both remain in the hunt to claim Robem Engineering's second Twins Cup title in two years. Hobbs did enough to hold onto second place in the standings with 63 points. Gloddy is in eighth place with 40 points.
The VIR round started well for both riders. Hobbs topped the time sheets and Gloddy was sixth in Friday practice. The first of two qualifying sessions took place Friday afternoon, and Hobbs and Gloddy finished that session third and eighth, respectively. Saturday's Qualifying 2 session didn't go as well, as both riders lost some pace to the other Twins Cup front runners and ended up qualifying eighth and 10th.
In Saturday's Race 1, both Hobbs and Gloddy got good starts and had advanced one position in the running order by the end of Lap 1. Hobbs was running as high as sixth before he dropped to 12th on Lap 8, but continued to push hard to make up the positions he lost and finished the race in 10th. Gloddy's pace improved relative to the riders around him as the race went on. Though he dropped as low as 11th on Laps 3-5, Gloddy steadily worked his way up the running order to secure a seventh-place finish.
Sunday's Race 2 proved to be a struggle. The pair got off the line well, with Hobbs finishing the first lap in seventh and Gloddy in eighth. The race was stopped at the beginning of Lap 3 due to a crash at Turn 1, and Hobbs made an error while slowing down for the race stoppage and crashed at Turn 1. He was able to get his Aprilia RS 660 running again and had to slowly make his way around the 2.25-mile course to pit lane. Hobbs' delayed arrival in the pits caused him to miss the sighting lap for the race restart, and he had to take the restart from the back of the grid.
When racing resumed, Gloddy tried to work his way up the running order quickly and was running in fifth place during the first lap. Hobbs did his best to make up track position on the opening lap and advanced past 13 riders on the first lap of the restarted race. Though Gloddy was pushing his RS 660 hard, he lost several positions as the nine-lap race went on and had to settle for a 10th-place finish. Hobbs' charge up the running order slowed as the race progressed, though he managed to work his way up to 12th place aboard his damaged bike by the end of the race.
The Robem Engineering Aprilia team will be back in action at the next MotoAmerica round, which takes place June 3-5 at the Road America circuit in Elkhart Lake, Wis.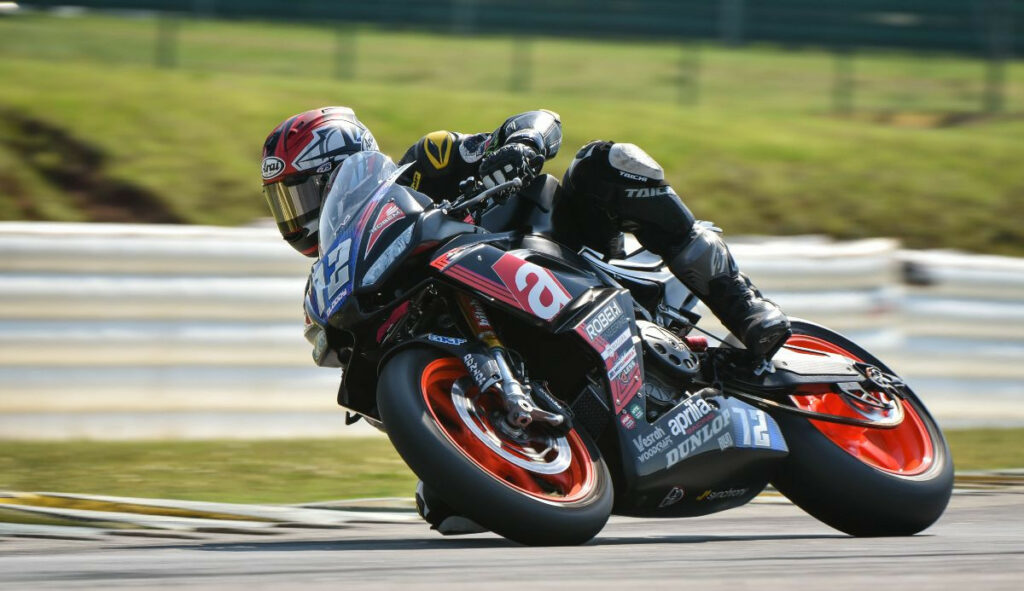 Ben Gloddy / No. 72
"I had an amazing weekend overall and can't thank the Robem Engineering team enough for everything they did to help me this weekend. We struggled a little bit on Friday and Saturday, but had a better race on Sunday. We just couldn't quite hang with the leaders this round. We did get some things figured out with our Aprilia RS 660s, and I can't wait to do it all again in a few weeks at Road America."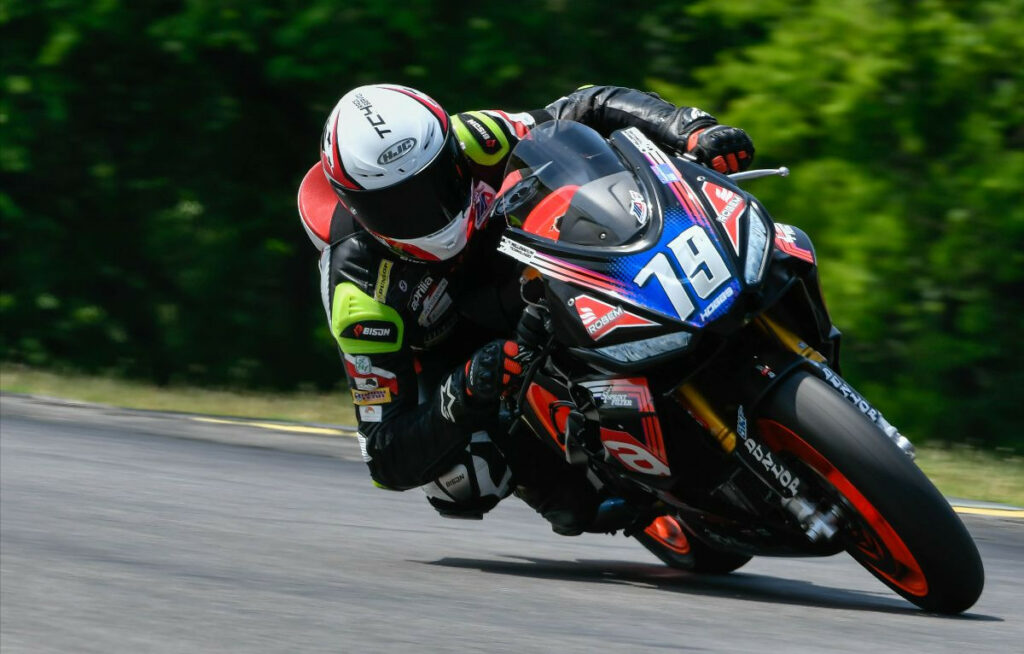 Teagg Hobbs / No. 79
"This weekend had the highest of highs and the lowest of lows. We led a few sessions and found a good setup for our Aprilia RS 660. Unfortunately, both races were pretty rough. All we can do is move on to the next round, and I can't think Robem Engineering enough for working tirelessly through the whole weekend. Now it's on to Wisconsin in a few weeks!"
Robem Engineering's technical partners for 2022 include Aprilia Racing, Piaggio Group Americas, The Center for Plastic Surgery, Synchrony, Velocity Calibrations, Bitubo Suspension, Dunlop, Woodcraft Technologies, Dymag, Vesrah, Sprint Filter, DID, Magura USA, Sara Chappell Photos, NGK/NTK, Blud Lubricants, Millennium Technologies, Motovation USA and SC-Project.
More, from a press release issued by Pure Attitude Racing:
Chase Black delivers Junior Cup front row start and top six finish. Liam MacDonald bags Twins Cup points at VIR as Trevor Standish bounces back on Sunday
Virginia International Raceway was the setting for the latest round of the 2022
MotoAmerica Championship and Pure Attitude Racing was once again on the grid in both the Twins Cup and Junior Cup classes.
Teenager Chase Black, in only his second race weekend for the team performed superbly throughout the weekend. Running strongly on the opening day before qualifying on the front row of the grid in third in Junior Cup, for the first time in his career. He finished 8th in Saturday's opening race before taking a brilliant fifth on Sunday.
Twins Cup continues to be one of the most competitive categories in MotoAmerica this year. Armed with the latest Yamaha R7 machines and Liam MacDonald and Trevor Standish were once again in the mix for points in both races. A DNF on Saturday for Trevor was a little disappointing, the #16 bouncing back on Sunday to finish seventeenth at the flag. Macdonald raced hard, understanding how to ride the Yamaha, which is a new challenge for him, with every lap completed. He added three more points to his championship tally with a thirteenth-place finish in the Race 1 before narrowly missing a second points scoring finish on Sunday. He crossed the line P16 after a race long battle with several riders including his team mate. With more data gathered the pair look forward to another strong showing next time out at Road America.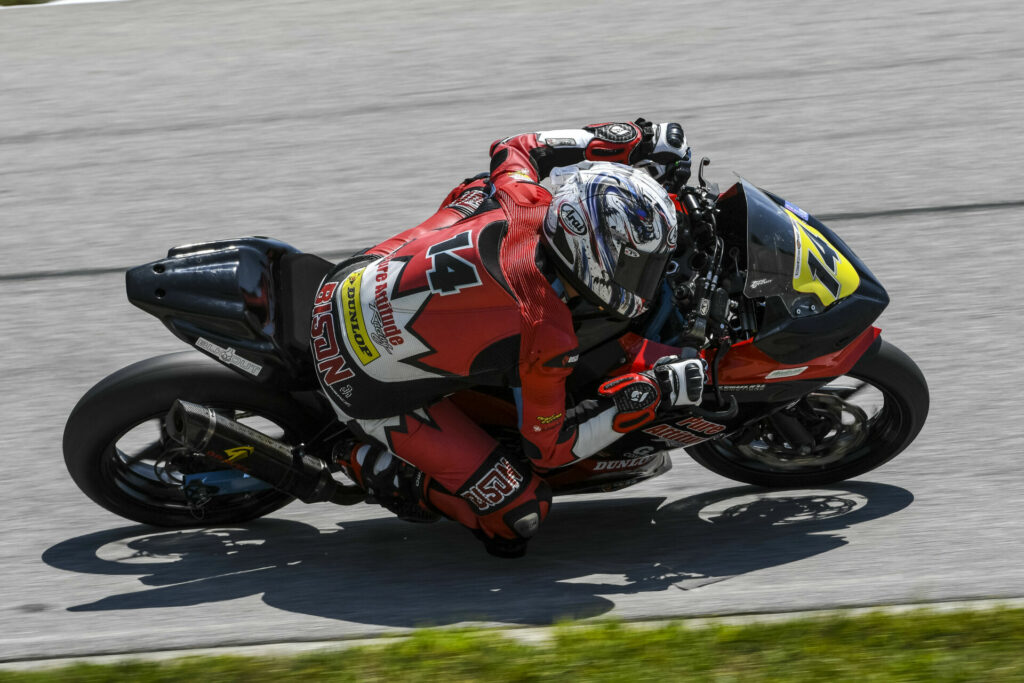 Chase Black: "I qualified on the front row for the first time in my MotoAmerica career after a great run in qualifying. I made a good start in Saturday's first race but after a few laps I started to lose touch with the group and ended P8. Sunday's second race was awesome, and I had so much fun. I was much closer to the front, and I was able to make some nice moves. I saved a possible high side and that cost me a shot at the podium but when I look back at the weekend, to leave with a front row and a top six in only my second race with the team is pretty good."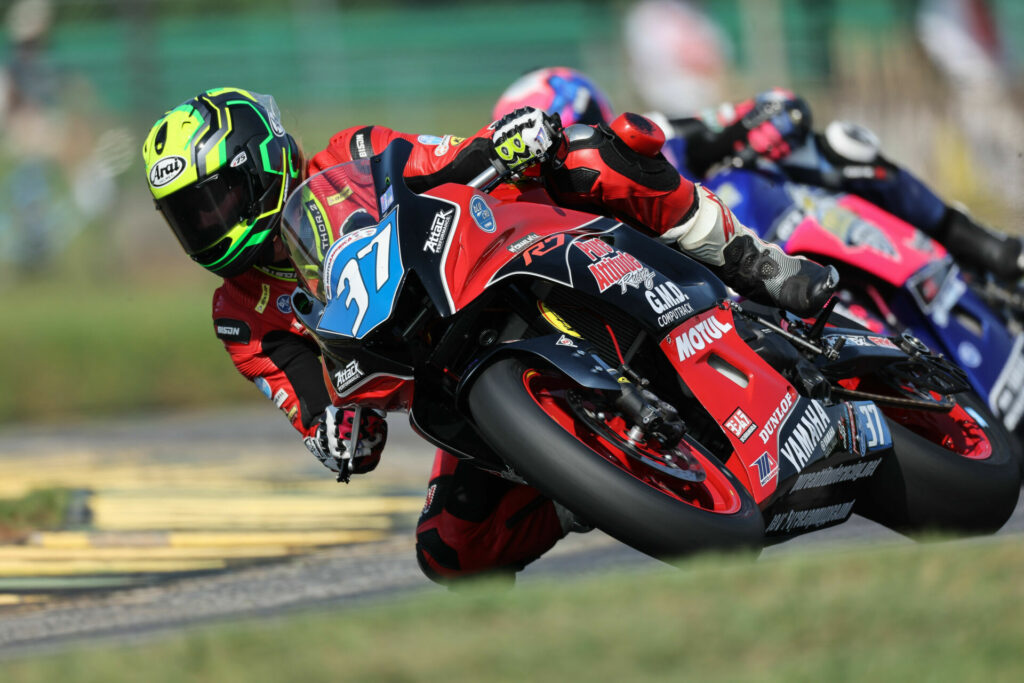 Liam MacDonald: "It was great to ride at VIR this weekend and satisfying to come away with more points in Race 1. We made a few changes especially with the geometry of the bike and it gave me much more feel. I had a big moment early on, but I managed to stay on board and bring it home in thirteenth. Sunday was a bit more difficult but nevertheless I had a great race with Trevor and a couple of other guys and whilst I just missed out on other points finish it was a good race and to beat my team mate for the first time since I came to MotoAmerica is a nice little bonus."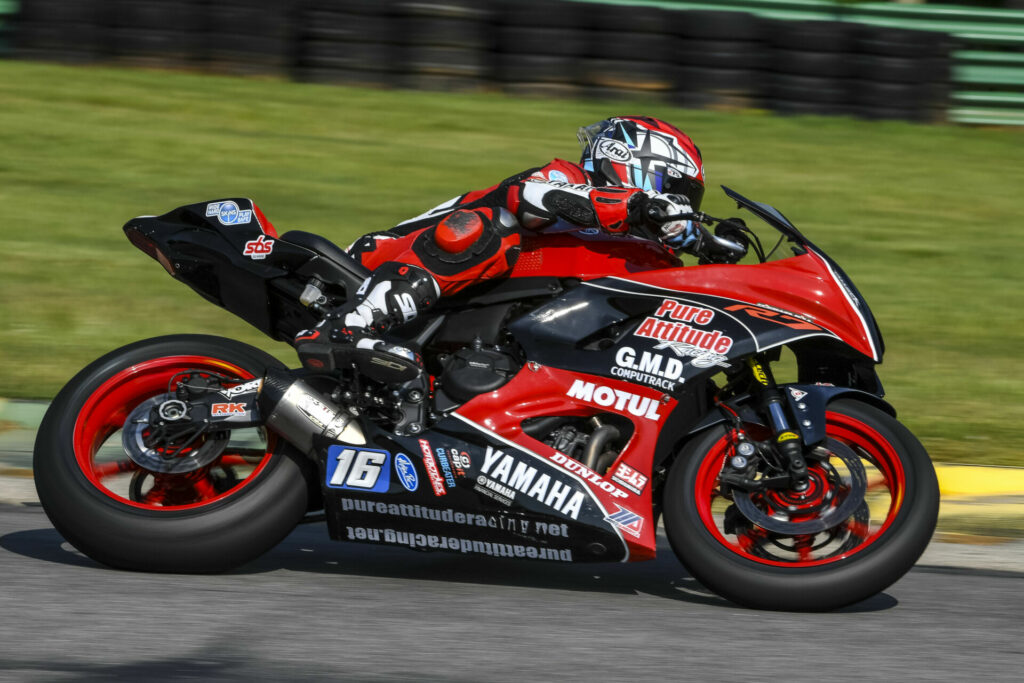 Trevor Standish: "We found an issue between Q2, and the first race related to the fueling, but we were able to resolve it. However, the problem came back on the warm up lap, and it turned out to be an issue with the clutch. I started at the back of the grid, but the problem got worse and that was the end of the race for me, so I decided to call it a day for safety reasons. On Sunday I was running well in the first start but then the red flag was thrown. In the restart I struggled with grip and fought hard with Liam and a couple of other guys, but I made a few mistakes and wasn't able to stay with them. I closed the gap but just ran out of time. I am really bummed to leave VIR with no points, but we will go again at Road America where hopefully we will be able to further improve the bikes as we are still not at 100% yet."
More, from a press release issued by Levi Badie Racing:
First MotoAmerica points for Levi as he makes history by becoming the Belgian to score points in the US national series
Levi Badie made history at VIR this past weekend by becoming the first Belgian rider to score points in the MotoAmerica series.
Racing for Bartcon Racing in a Kawasaki in Junior Cup, Levi qualified eleventh on his debut at the circuit. Learning the circuit with every lap the talented teen was in the mix throughout Saturday's opening race, claiming seventh at the flag – a mere 0.9s from the win.
Sunday saw another spirited effort from the #31 but his race was cut short after he was unable to avoid a rider that fell in front of him.
Despite his third DNF of the season Levi continues to be one of the most talked about riders – bringing his European flair to the US national series.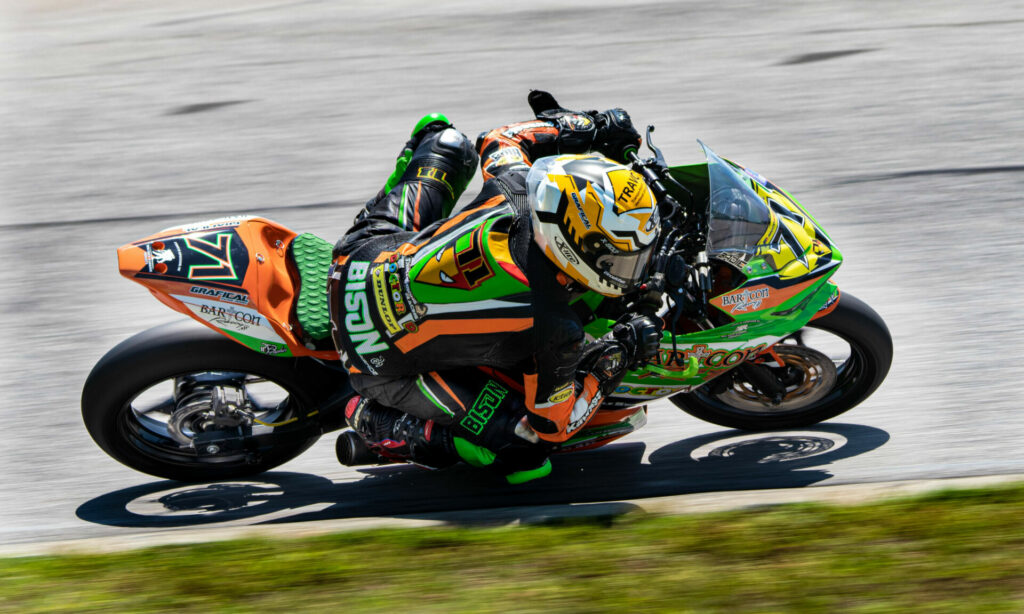 Levi Badie: "It wasn't a bad first race given the circumstances. I made a bad start, but I was able to close the gap to the leading group, I even set the fastest lap at one point. It was hot conditions, and the race was reduced to five laps after a red flag. I had been told by the team that there's always crazy riding in VIR and people getting taken out and so I wanted to stay calm and get some decent points which I did. I was not so far from the podium – only 0.9s from the win. I made some steps in Sunday's warm-up session and then I was running quite strong in Race 2 on Sunday until one of the other riders fell and I had nowhere to go. I need to work on my starts, but I have shown I am fast, and the team is working well so hopefully at Road America I can show our real potential. The circuit is the most dangerous I have ever raced – very different to Europe and so when I took to the grass, I was happy to not be hurt. I want to thank everyone who is supporting me and look forward to riding at Road America. It looks like an amazing track and one that I think I can be fast at."