By David Swarts
When the 2020 MotoAmerica Superbike Championship begins there will be some familiar faces on the grid, but there will also be a whole lot of newness: New bikes, new teams, new crew chiefs, and new classes.
To help preview the season, we've enlisted the help of Josh Hayes.
Not only has Hayes won four AMA Pro Superbike Championships, he's won a total of 83 AMA Pro/MotoAmerica races and three support class titles; raced in the Endurance World Championship; run at the front in Supersport World Championship races; and finished seventh while competing in his first MotoGP race as a substitute rider at Valencia in 2011.
More recently, Hayes won two races at the International Island Classic vintage event in January of this year at Phillip Island; raced at the front throughout the 2019 Daytona 200 and was on provisional pole position for the 2020 Daytona 200; and finished on the podium in the MotoAmerica Supersport class in 2019.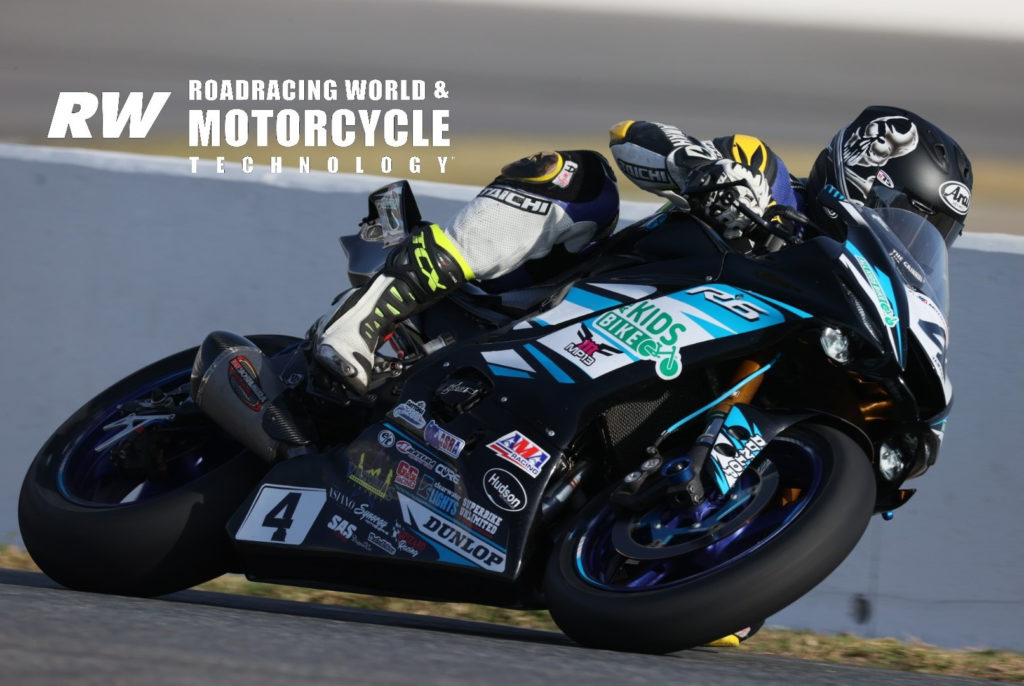 When he's not racing, Hayes is a rider coach for top competitors, including Bobby Fong and Jake Gagne, as well as working with Garrett Gerloff.
And if these weren't enough qualifications to preview the upcoming season, Hayes rode in place of injured Mathew Scholtz on Westby Racing's 2020-model Yamaha YZF-R1 Superbike during the official MotoAmerica pre-season test at Barber Motorsports Park in March. So, he's had a close look at most of the field.
This preview series is highlighting one Superbike or Superbike Cup/Stock 1000 rider each day, but it will not feature every rider entered in the two classes. Riders will be listed in the order they finished the 2019 Superbike Championship with riders who were not in the 2019 Superbike Championship listed in alphabetical order.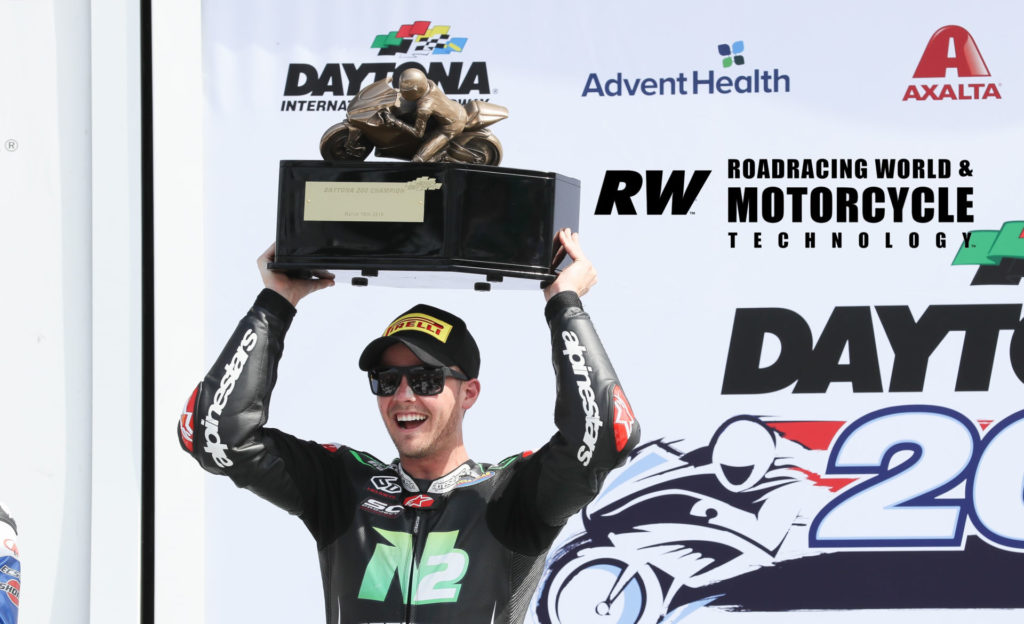 Kyle Wyman
After spending most of his youth as a dirt track racer based in his native New York, Kyle Wyman switched to road racing and soon found himself in the AMA Pro Harley-Davidson XR1200 series. Although Wyman never won the title, he won several races across several seasons and built up his own team, fielding as many as nine riders at a single event.
Wyman switched to racing in the AMA Pro Daytona Sportbike Championship in 2014, but at the end of 2015, he decided to run a Yamaha YZF-R1 in the MotoAmerica Superstock 1000 class at the season finale at New Jersey Motorsports Park (NJMP), which is essentially his home track. Wyman finished second and fourth in the two Superstock 1000 races at that event.
Loving the bigger bike and seeing the incentives that MotoAmerica offered in the Superbike class, the team owner side of Wyman led him to take his Superstock-spec Yamaha and move up to the MotoAmerica Superbike Championship in 2016, when he finished in a tie for 12th.
Wyman upgraded his Yamaha with some Superbike parts for 2017, and even though his R1 was still closer to Superstock trim than it was to a factory Superbike, Wyman took four top-five finishes, including finishing second in Superbike Race Two at NJMP, nearly beating factory rider Roger Hayden for the win.
Wyman placed 10th in the 2017 MotoAmerica Superbike Championship, even though he missed the final two races of the season due to injury.
In 2018, Wyman improved to eighth in the MotoAmerica Superbike Championship with a highlight of a fourth-place finish in the rain at Road Atlanta.
Wyman then made a bold move for 2019. Rather than continue to sharpen his Yamaha and utilize the readily available parts and tuning information for the machine, Wyman chose to race with the new Ducati Panigale V4 R.
While on paper the machine looked ready to win races right out of the crate, this was not actually the case, as Wyman found out in the little time he had to prepare his machines for the 2019 season.
For starters, Wyman had to come up with a solution to increase fuel capacity to complete the full distance of MotoAmerica Superbike races, and then there was the matter of acquiring race kit electronics and software. Fortunately, Wyman won the Daytona 200 on a N2 Racing/BobbleHeadMoto/KWR Yamaha R6 at the start of the season, making it possible for him to afford Superstock-level electronics for his new Superbike.
In spite of this and the willing support of the Ducati Corse department in Italy, developing the Kyle Wyman Racing Ducati into a finely tuned weapon was still challenging. A mid-season crash and injury that kept Wyman out of a few rounds did not help the cause, either.
Wyman was able to return to action before the end of 2019, and he ended the season with his best performance yet at Barber Motorsports Park. There, Wyman finished 7th in Superbike Race One and in Race Two he was in the hunt for a podium position for most of the race and was demoted to fifth place by Toni Elias on the final lap.
During this past off-season, Wyman underwent surgery to replace a herniated disc in his neck that had causing him pain and a lack of movement for a long time, and after the surgery he said he immediately felt better than he had in years.
In the meantime, Wyman's Ducati has been fitted with new chassis parts, improved electronics, and a new fuel tank with a better shape for its rider. And Wyman also has a new, Ducati Corse Superbike engine ready to install for the start of the 2020 race season to replace the Superstock engine he used throughout last year.
Now with a healthy body and the steepest part of the Ducati development curve behind him, 30-year-old Wyman could be challenging on the factory riders more frequently in 2020.
"It's a little bit hard to tell on some of these things because I'm on the outside to some extent," said Hayes. "But that being said, we've seen Kyle have some flashes of brilliance, like his ride [to second place] at New Jersey.
"We know he's gotten himself into the mix whatever type of motorcycle he's ridden, whether it's a Harley or a 600. But again, like David Anthony, Kyle's also a businessman and team owner, so that's always going to add to his complications. A lot is going to depend on how much trust he can put into his crew to handle all of the business side of things at the track so he can focus on the riding part of things.
"Again, his talent is not in question. Look at what he's done. He won the Daytona 200 last year. He and his team took a brand new bike [Ducati Panigale V4 R] that no one has any information on and was able to get in there and actually make it look pretty good against factory Superbikes several times during the season.
"However, it's always difficult to be the lone wolf on a motorcycle that doesn't have a lot of information available. And how much of the information is actually relevant? Every other Ducati V4 in the world that I know of running any kind of Superbike series is on Pirellis. So, if information comes from Ducati Corse, it's likely coming from World Superbike and Pirelli tires, and I can tell you from what I learned about the Yamaha World Superbikes and our Superbikes that's a huge gulf to try and navigate! So, Kyle and his team have an uphill battle.
"Now, with a year of experience, I would say that there's probably quite a bit of weight on Kyle's shoulders to get up there and show what he can do. It's getting to where Kyle has been in the paddock for quite a while and he needs to show what his prowess is and that he can figure out how to get there.
"I think he needs a breakthrough performance for his confidence. If he can make that happen early in the season and battle with the front-runners, get on the podium and be within a second or two of the win, that confidence could take him to the next level where the bike starts becoming less and less of the issue of him being at the front.
"At some point your confidence can take over. That's what happened with Garrett Gerloff. He had the machine and he was always searching for a setting, but once he won his first race and his confidence started to come around, he believed that he belonged there. One of his crew members told me, 'We couldn't mess up the setting on the bike if we wanted to. No matter what we do, he just goes fast.'
"I think with Kyle it could be the same scenario. I think if he could make a statement with a breakout ride early in the season, we could be talking about Kyle Wyman a whole lot more in 2020."