By David Swarts
When the 2020 MotoAmerica Superbike Championship begins there will be some familiar faces on the grid, but there will also be a whole lot of newness: New bikes, new teams, new crew chiefs, and new classes.
To help preview the season, we've enlisted the help of Josh Hayes.
Not only has Hayes won four AMA Pro Superbike Championships, he's won a total of 83 AMA Pro/MotoAmerica races and three support class titles; raced in the Endurance World Championship; run at the front in Supersport World Championship races; and finished seventh while competing in his first MotoGP race as a substitute rider at Valencia in 2011.
More recently, Hayes won two races at the International Island Classic vintage event in January of this year at Phillip Island; raced at the front throughout the 2019 Daytona 200 and was on provisional pole position for the 2020 Daytona 200; and finished on the podium in the MotoAmerica Supersport class in 2019.
When he's not racing, Hayes is a rider coach for top competitors, including Bobby Fong and Jake Gagne, as well as working with Garrett Gerloff.
And if these weren't enough qualifications to preview the upcoming season, Hayes rode in place of injured Mathew Scholtz on Westby Racing's 2020-model Yamaha YZF-R1 Superbike during the official MotoAmerica pre-season test at Barber Motorsports Park in March. So, he's had a close look at most of the field.
This preview series is highlighting one Superbike or Superbike Cup/Stock 1000 rider each day, but it will not feature every rider entered in the two classes. Riders will be listed in the order they finished the 2019 Superbike Championship with riders who were not in the 2019 Superbike Championship listed in alphabetical order.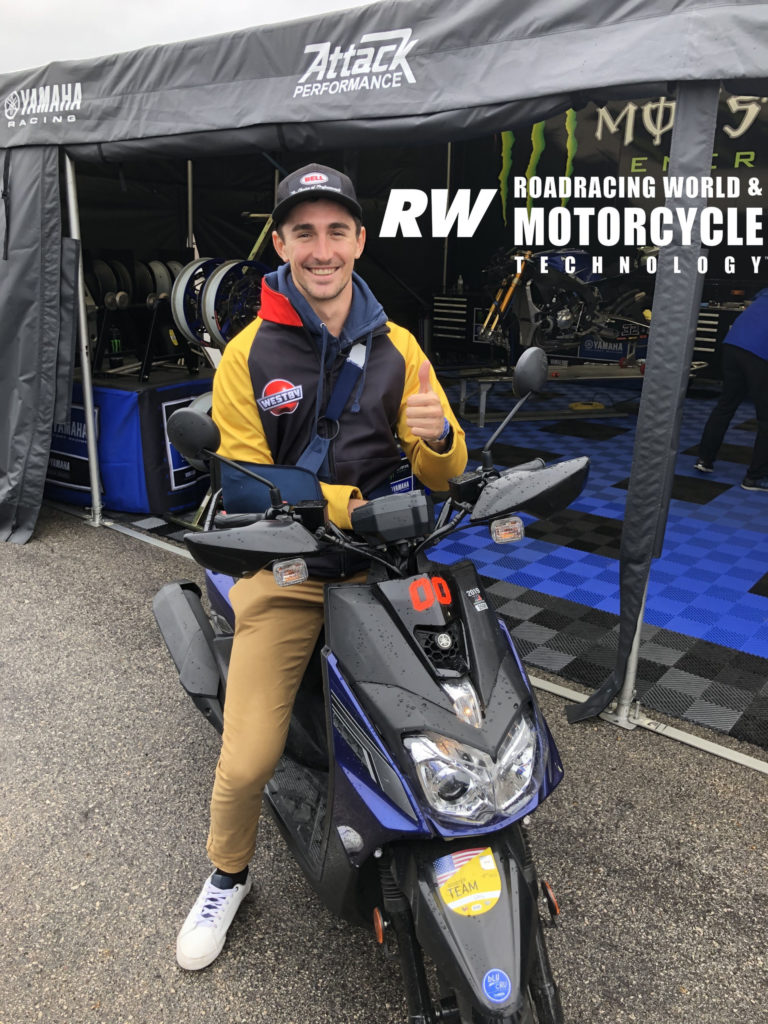 Mathew Scholtz
After competing in a variety of motorcycle racing disciplines as a youth in his home country of South Africa, Scholtz was selected to join the Red Bull MotoGP Rookies Cup in 2008.
Starting at the age of 15, Scholtz spent three years in the Red Bull MotoGP Rookies Cup, winning one race, earning several podium results, and finishing as high as sixth in the 2008 point standings.
Scholtz moved on to the CEV Moto2 Championship in 2011, where he earned four top-10 race finishes, including a fourth, and got sixth in the final point standings. Thanks to continued sponsorship from his father's trucking company, Scholtz raced for two seasons in the FIM Supersport World Championship, but was unable to achieve any standout results on the equipment available to him.
He returned home to race in South Africa and nearly won a Supersport Championship in 2014, before switching to the South African SuperGP (Superbike) class, where he blossomed and won the 2016 South African SuperGP Championship on a Yamaha.
During his Championship-winning season in 2016, Scholtz also got the opportunity to fill in for injured countryman Sheridan Morais on the Rabid Transit Yamaha team in the MotoAmerica Superstock 1000 series.
Scholtz showed up at Road America, a track he had never seen before, and put the unfamiliar Yamaha on the podium in his debut MotoAmerica Superstock 1000 race. He repeated the same feat the following weekend at Barber Motorsports Park.
All of this attracted the attention of Westby Racing, which had recently seen its rider Josh Day sidelined by a head injury. The year prior to that, the team had lost rider Dane Westby, the son of Team Owner Tryg Westby, in a tragic, fatal streetbike accident.
Westby Racing contracted Scholtz, and he immediately repaid the team by finishing second in his first race, in Utah. Scholtz finished the 2016 season with Westby Racing, ended up sixth in the final point standings despite missing the first eight races of the season, and earned a full-time ride with the team in 2017, and which continues through 2020.
In 2017, Scholtz won 10 races, finished on the podium 19 times in 20 races, and won the MotoAmerica Superstock 1000 Championship one round early in New Jersey. And if winning the title wasn't enough, Scholtz finished the season by taking the overall race victory in the final combined Superbike/Superstock 1000 race of the season, making him the first rider to ever accomplish that feat on a Superstock machine and the first South African to win a MotoAmerica/AMA Superbike race.
Westby Racing rewarded Scholtz with more parts on his Yamaha YZF-R1 and a move from Superstock 1000 up to the Superbike class in 2018, when the lean, 6-foot-1 rider claimed another Superbike race win, eight podium finishes, and fourth place in the final Championship rankings.
Westby Racing upgraded its YZF-R1 again for the 2019 season, adding advanced Magneti Marelli engine electronics and other pricey parts, but the results went in the wrong direction. Scholtz still managed 6th in the 2019 MotoAmerica Superbike Championship with four podium finishes in 20 races.
While Scholtz, now 27, has shown with his race wins and multiple pole positions that he has the equipment and talent to challenge for MotoAmerica Superbike Championship, he has also shown inconsistency with some crashes and poor race starts that have been counterproductive.
And although he missed the official MotoAmerica pre-season test at Barber Motorsports Park in March due to a broken collarbone he suffered in a crash while training just before the test, Scholtz has had as much — if not more — off-season testing time than any of his competitors. That combined with the fact he is entering his fourth season with the same team could give him an early advantage over some others in the class, and the delay to the start of the season is definitely helping Scholtz return to full fitness.
"The one thing with Mat is we've seen him win and we've seen him be fast week in and week out, but we've never seen him fulfill that final bit of potential he has," said Hayes. "As a guy sitting on the side of the track watching, I have some ideas of where I think he could clean up some of it, but as I've found with a lot of racers and even when coaching guys, it has to come from that own rider's ideas. It has to be their idea. That's the only way you enact change.
"I think he has a team behind him that is giving him a good tool to go out and battle with, but one thing that happens is you look at the guys around you and you say, 'I don't think that they're better than me.' Then you start looking and getting caught up in how complicated these motorcycles are and how to fix every problem.
"I'm not deep enough into the team to know that's the problem. I've been there enough times and seen him on the podium looking at the bikes in front of him and saying, ah, I don't have this, this, and this, and look, I'm here. And he's correct.
"But there's also some benefit to having a simple motorcycle and being able to focus on what's really important rather than coming in and constantly messing with the motorcycle. You work on you and getting the most out of the things you have underneath you.
"With Mat, I think it was a situation that worked for him, because look at what he was able to do with standard YEC [Yamaha race kit] electronics on a Superbike. He was able to go out and win a couple of races. Conditions weren't always perfect, but he was able to focus on a lot of the important things and put things together.
"It's almost a case of be careful what you wish for, because when you get complicated electronics you get a lot of complicated problems that come along with them. Every lap you do is scrutinized and haggled over and discussed. The amount of options you can change in the machine are limitless compared to the YEC, where at some point you go, 'We've gotten about everything out of it that we can. It's on you now, buddy.'
"I've seen Mat a little bit this off-season. I know he's been working hard. There's never been a question how hard he works on the physical side of things. But I hope he's been paying attention to racing and races and trying to figure out a little bit of how to play the chess board better.
"So, how can he improve as a rider? What areas was he weak at? I saw him qualify fairly well a couple of times only to get miserable starts and be pretty far back into Turn One. So, starts need to become a priority to give himself the best chance possible.
"You're going to be hard pressed to catch up to guys like Toni [Elias] and Cameron [Beaubier] to learn what they're doing, but if you can go with them from the beginning or even attack them in the beginning there's a lot longer time frame to figure out how they are doing what they're doing and evaluate things and actually make progress.
"That's just a few key areas. There's no question about how much he wants it or how deep he's willing to dig. I think at his age that's a great thing and something I would want in a rider if I was choosing to have one on a team of my own."