By David Swarts
When the 2020 MotoAmerica Superbike Championship begins there will be some familiar faces on the grid, but there will also be a whole lot of newness: New bikes, new teams, new crew chiefs, and new classes.
To help preview the season, we've enlisted the help of Josh Hayes.
Not only has Hayes won four AMA Pro Superbike Championships, he's won a total of 83 AMA Pro/MotoAmerica races and three support class titles; raced in the Endurance World Championship; run at the front in Supersport World Championship races; and finished seventh while competing in his first MotoGP race as a substitute rider at Valencia in 2011.
More recently, Hayes won two races at the International Island Classic vintage event in January of this year at Phillip Island; raced at the front throughout the 2019 Daytona 200 and was on provisional pole position for the 2020 Daytona 200; and finished on the podium in the MotoAmerica Supersport class in 2019.
When he's not racing, Hayes is a rider coach for top competitors, including Bobby Fong and Jake Gagne, as well as working with Garrett Gerloff.
And if these weren't enough qualifications to preview the upcoming season, Hayes rode in place of injured Mathew Scholtz on Westby Racing's 2020-model Yamaha YZF-R1 Superbike during the official MotoAmerica pre-season test at Barber Motorsports Park in March. So, he's had a close look at most of the field.
This preview series is highlighting one Superbike or Superbike Cup/Stock 1000 rider each day, but it will not feature every rider entered in the two classes. Riders will be listed in the order they finished the 2019 Superbike Championship with riders who were not in the 2019 Superbike Championship listed in alphabetical order.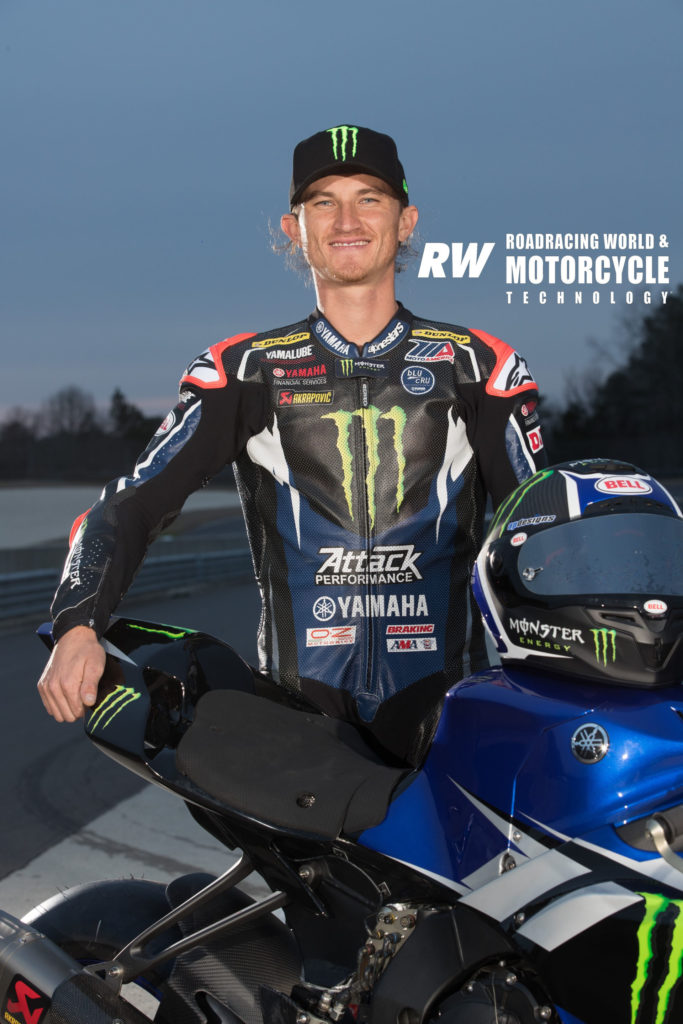 Jake Gagne
Jake Gagne, of Ramona, California, went straight from racing in youth motocross to the Red Bull MotoGP Rookies Cup, and he won the Red Bull MotoGP Rookies Cup Championship in 2010. Gagne tried to continue his road racing career in Europe but ultimately had to come home and find a ride in America.
Shortly after returning to race in the U.S.A., Gagne hooked up with former racer and long-time dirt-track riding instructor Danny Walker, who formed a Yamaha-equipped road racing team around Gagne.
Gagne progressed and went from being the only rider to beat Cameron Beaubier during the 2013 AMA Pro Daytona Sportbike season to winning the same Championship on his YZF-R6 in 2014. Gagne then followed that up by winning the 2015 MotoAmerica Superstock 1000 title on a Yamaha YZF-R1, while sometimes beating factory riders on Superbikes in the then-combined races.
For 2016, Gagne's team moved him up to the MotoAmerica Superbike class, but things did not go well as the team struggled to get advanced Magneti Marelli electronics working smoothly on the Yamaha. When Walker switched his team over to be a factory-backed Honda effort in 2017, the struggles continued somewhat, especially early in the season, in spite of Gagne's team reverting to simpler engine electronics.
Gagne, however, showed enough promise that Honda chose him to fill in on the Red Bull Honda World Superbike team at Laguna Seca following the tragic death of Nicky Hayden in a bicycle accident. Gagne did well enough that the Red Bull Honda team invited him to ride at more rounds late in the season, and then hired him full-time to ride in the 2018 FIM Superbike World Championship.
It was a big learning year for Gagne. There was a new team, new tires, new tracks, a new way of living, and new advanced electronics to learn. Gagne did relatively well, earning four top-10 finishes and scoring 64 points. But it wasn't good enough to keep his ride, and Gagne returned to America once again.
Heading into the 2019 season, Gagne signed with Scheibe Racing to ride the team's powerful BMW S1000RR Superbike, but during the off-season, the Californian badly broke his right leg while training. Unfortunately, the injury took much longer to fully heal than anticipated, hindering Gagne's early results.
Just as Gagne regained full fitness and started competing near the front and getting top-six race finishes, the 2019 season was over. Gagne ended up eighth in the final Superbike Championship point standings, but his potential was not overlooked.
Once it was announced that Garrett Gerloff was moving up to the GRT Yamaha Superbike World Championship, Yamaha quickly hired Gagne to replace Gerloff on the Monster Energy Attack Performance Yamaha factory team for 2020.
At that same time, that means that Gagne will need to adjust to another new team and the new, 2020-model Yamaha YZF-R1 Superbike. But during pre-season testing, 27-year-old Gagne has appeared as confident and as quick as ever and looks like he could be a title contender in 2020.
"If you look at Jake's career he's been very competitive at every level, but he spent a lot of it with the one [Danny Walker's] team," said Hayes. "Jake's experience in road racing was still very limited up until he went to World Superbike. He had the same crew chief through most of his career and most of the same team members and the same ideas and same process.
"I think his World Superbike experience was his first real test, and it's always difficult for an American to step into a European team and feel like one of them. So, it was probably a bit of a whirlwind for him.
"Then for him to come back and get the opportunity on the Scheibe BMW but spend half the season injured was another hard road for him. He did show some promise at the end of the season, however, and Keith McCarty and Jim Roach [at Yamaha Motor Corp., U.S.A.] have always looked at Jake as part of the Yamaha family from all his past success.
"With all of those credentials there's no question about Jake's talent. I think that there's not much of a question if Jake is going to get to the front. It's just going to be a matter of how well he adapts to a new team, a new way of going racing, a much more complicated motorcycle, and new pressures that he probably hasn't felt before. Because he is jumping on a Championship-winning motorcycle right next to the four-time Champ [Beaubier], who also finished second in two other Championships.
"It's going to be pretty tough to fill those shoes when Gerloff was winning on his way out and to figure out how all these pieces work.
"Fortunately, Gagne has been able to do a fair bit of riding, and he's been able to see a little bit of what Cameron is doing and what his process is and learn how the team works. Come the first race, it'll be interesting to see where all that kind of slots into place and how quickly he can get himself near the front guys. Then we'll see how long it takes for him to stay there and be a regular part of the front group.
"I have no doubts that he will be there. It's just a matter of how quickly and how steadily he'll be there in this first season."