By David Swarts
When the 2020 MotoAmerica Superbike Championship begins there will be some familiar faces on the grid, but there will also be a whole lot of newness: New bikes, new teams, new crew chiefs, and new classes.
To help preview the season, we've enlisted the help of Josh Hayes.
Not only has Hayes won four AMA Pro Superbike Championships, he's won a total of 83 AMA Pro/MotoAmerica races and three support class titles; raced in the Endurance World Championship; run at the front in Supersport World Championship races; and finished seventh while competing in his first MotoGP race as a substitute rider at Valencia in 2011.
More recently, Hayes won two races at the International Island Classic vintage event in January of this year at Phillip Island; raced at the front throughout the 2019 Daytona 200 and was on provisional pole position for the 2020 Daytona 200; and finished on the podium in the MotoAmerica Supersport class in 2019.
When he's not racing, Hayes is a rider coach for top competitors, including Bobby Fong and Jake Gagne, as well as working with Garrett Gerloff.
And if these weren't enough qualifications to preview the upcoming season, Hayes rode in place of injured Mathew Scholtz on Westby Racing's 2020-model Yamaha YZF-R1 Superbike during the official MotoAmerica pre-season test at Barber Motorsports Park in March. So, he's had a close look at most of the field.
This preview series is highlighting one Superbike or Superbike Cup/Stock 1000 rider each day, but it will not feature every rider entered in the two classes. Riders will be listed in the order they finished the 2019 Superbike Championship with riders who were not in the 2019 Superbike Championship listed in alphabetical order.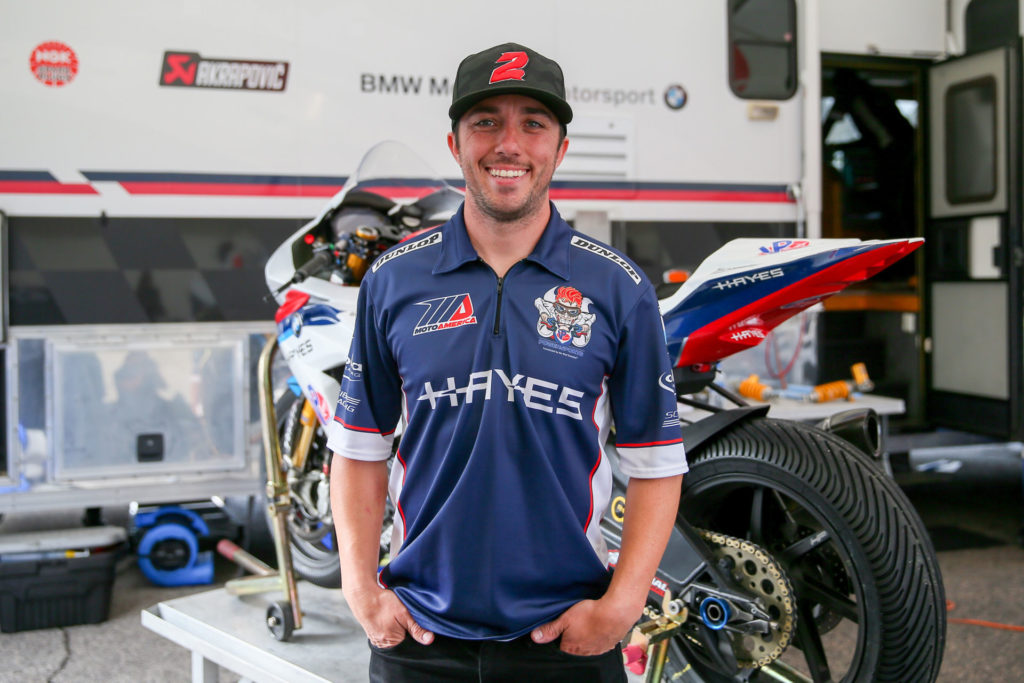 Josh Herrin
Originally from California, 29-year-old Josh Herrin turned pro at the age of 16 in 2006, and he's had a roller-coaster of a career since then. His career started on a steep climb, with Herrin winning 600cc races beginning in his sophomore season and the Daytona 200 at age 19 (making him the second-youngest winner) in 2010.
He finished as runner-up in the 2009 AMA Pro Daytona Sportbike Championship and third in the same Championship the following year, winning a combined nine races over the two seasons.
This earned Herrin a ride on the factory Yamaha Superbike team, where he won the 2013 AMA Pro Superbike Championship while winning four races.
The following season, 2014, Herrin landed a ride on the Caterham Air Asia Moto2 team, which also fielded Johann Zarco. That move turned into a nose dive. Herrin failed to score any World Championship points in the few races he ran and the team failed to pay Herrin his contracted salary, leading to the breakup of the relationship mid-season.
Herrin returned to America and rebooted his career by joining a private Yamaha team, Meen Motorsports, racing in the MotoAmerica Supersport category. Herrin stayed with the same team in 2016, moved up to the Superstock 1000 class, won eight races, and earned the Championship. Meen Motorsports tried to step up to the Superbike class in 2017 and Herrin managed to score a podium finish at Laguna Seca on what was largely a Superstock-spec motorcycle, but financial issues saw the Meen Motorsports team fold up before the season ended.
Herrin pulled out of that dive by partnering with Attack Performance owner Richard Stanboli to field a privateer Yamaha in the 2018 MotoAmerica Superbike Championship. The season got off in true underdog fashion when the Attack Performance semi suffered a mechanical breakdown on its cross-country journey from California to Road Atlanta and Herrin decided to do the opening round of the Superbike Championship on his lightly modified Yamaha streetbike, finishing an incredible sixth in Race Two and scoring 16 points on the weekend. In his first race on the actual Attack Performance Yamaha Superbike, Herrin took a second place at Circuit of The Americas, going from underdog to title contender in an instant.
Herrin went on to win two races and place third in the 2018 MotoAmerica Superbike Championship, thrilling his legions of fans and earning him the opportunity to replace retiring Roger Hayden on the Yoshimura Suzuki team for the 2019 MotoAmerica Superbike Championship.
Herrin won a race at Circuit of The Americas early in the 2019 season and added another victory and two podiums later on, but he also finished seventh four times as he struggled to fully mesh with the Yoshimura Suzuki GSX-R1000.
For 2020, Herrin has signed to ride for Scheibe Racing on a BMW S1000RR Superbike. While the Scheibe machine is not the newest-generation S1000RR, it has proven to be fast and capable of running up front – at least at times — in the hands Jake Gagne in 2019 and Danny Eslick in 2018. And team owner/crew chief Steve Scheibe is a successful engineer who has been constantly improving his Superbike and program and doing it without any significant support from BMW.
So, Herrin's back in the position of underdog, where he has done some of his best work and attracted much of his passionate fan base.
"There's no question this could be a difficult time for Josh, but the Scheibe Racing team going with him with his results sheet was a no-brainer," said Hayes, a former teammate of Herrin. "I don't think anyone questions if he is able to get the most out of something, but that being said, this is going to be his first time kind of being the only guy on a team.
"There are no other resources to look to, [like] other guys who have figured things out on that BMW. On the Yamaha, there was so much information out there on how to make a Yamaha work. When he jumped onto the Suzuki, he jumped onto the best one in the paddock and potentially one of the best ones in the world. So, those things [Yamaha and Suzuki] were both proven winners.
"This is definitely going to be more of an underdog story. The Scheibe Racing BMW has had some success. I guess it comes down to how you decide to measure it. They've been competitive for quite a bit of a race in good conditions at the right tracks when guys had everything fall into line. I think everyone looks at it and goes, 'There's some potential there. What could we see happen?'
"From what I know of Josh Herrin, his experience has still been a lot of time on mostly the best equipment there was on offer. And so, stepping into a position where he doesn't have every resource available to him that a factory team has is always going to be difficult, and he's going to have to figure out how to get the most out of what he's got. I think he does that fairly well, but I think week in and week out it's going to be more difficult to figure out how to do that.
"We'll just have to see. There will be races where he will feature for a while and get in there and battle with the front guys, but I think over race distance and the course of the season I am hard pressed to believe he will have what he needs to challenge for the Championship."
As far as Herrin enjoying and even thriving in the role of an underdog, Hayes said, "Everybody is comfortable in that underdog position because there's no expectations on you and everything that you do good makes you look like a hero. Of course, there's joy and there's fun in that, but that's different than making yourself a contender.
"Immediately, if he goes out there and starts running at the front, that underdog mentality could change really quickly. It did when he was on the Attack Yamaha, I believe. The whole picture changed really quickly when he was leading races regularly on an Attack Superbike.
"People can do amazing things when they have nothing to lose; I think he will be able to do some special things."