By David Swarts
When the 2020 MotoAmerica Superbike Championship begins there will be some familiar faces on the grid, but there will also be a whole lot of newness: New bikes, new teams, new crew chiefs, and new classes.
To help preview the season, we've enlisted the help of Josh Hayes.
Not only has Hayes won four AMA Pro Superbike Championships, he's won a total of 83 AMA Pro/MotoAmerica races and three support class titles; raced in the Endurance World Championship; run at the front in Supersport World Championship races; and finished seventh while competing in his first MotoGP race as a substitute rider at Valencia in 2011.
More recently, Hayes won two races at the International Island Classic vintage event in January of this year at Phillip Island; raced at the front throughout the 2019 Daytona 200 and was on provisional pole position for the 2020 Daytona 200; and finished on the podium in the MotoAmerica Supersport class in 2019.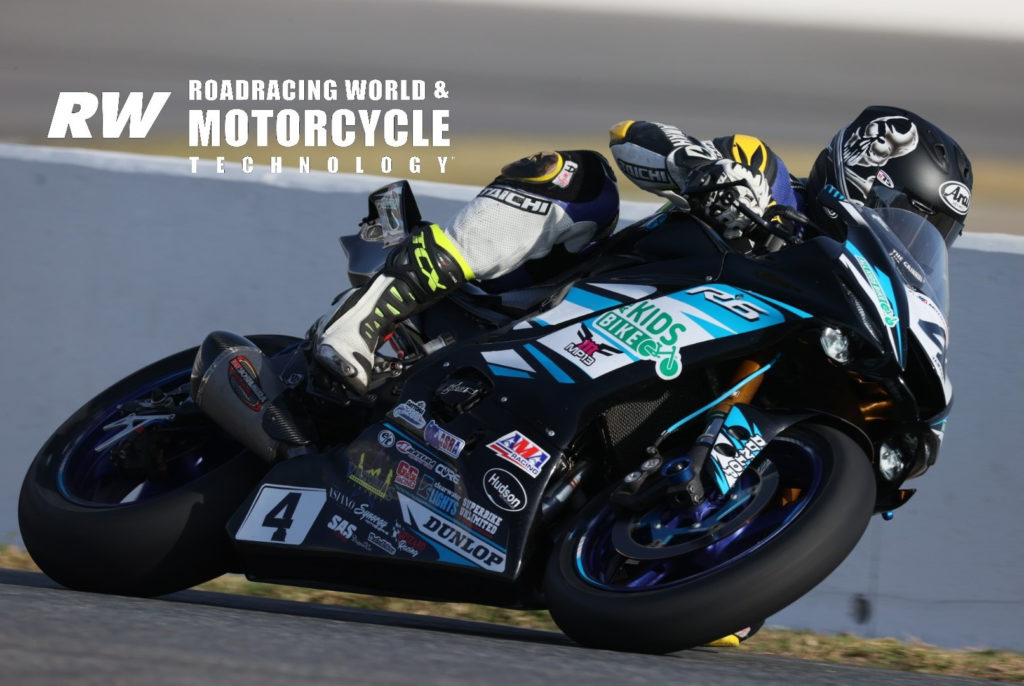 When he's not racing, Hayes is a rider coach for top competitors, including Bobby Fong and Jake Gagne, as well as working with Garrett Gerloff.
And if these weren't enough qualifications to preview the upcoming season, Hayes rode in place of injured Mathew Scholtz on Westby Racing's 2020-model Yamaha YZF-R1 Superbike during the official MotoAmerica pre-season test at Barber Motorsports Park in March. So, he's had a close look at most of the field.
This preview series is highlighting one Superbike or Superbike Cup/Stock 1000 rider each day, but it will not feature every rider entered in the two classes. Riders will be listed in the order they finished the 2019 Superbike Championship with riders who were not in the 2019 Superbike Championship listed in alphabetical order.
David "Aussie Dave" Anthony
David Anthony began his road racing career in his home country of Australia, before chasing professional rides in England.
After one disappointing racing trip to England, Anthony, who originally made his living as a professional motorcycle mechanic, stopped over in the United States to have a holiday before heading home to Australia.
During that trip, he met his now-wife Crystal, decided to stay a while, and had a go at club racing in America. Anthony quickly discovered that he had the speed to win club race events and, when using the right motorcycle, he could earn a significant amount of contingency money.
Anthony parlayed that financial success into another run at racing as a professional in America's top motorcycle road racing series and even started his own race team, Aussie Dave Racing.
In spite of racing as a privateer on a limited budget for most of his career, Anthony showed flashes of his potential as a top level Pro, as in 2014 when he raced elbow-to-elbow with the top factory Superbike riders in the GEICO Motorcycle Superbike Shootout round at Auto Club Speedway.
The following season, 2015, when MotoAmerica took over as the top motorcycle racing series in the U.S., Anthony signed with Team Hammer to race an M4 Suzuki GSX-R600 in Supersport. Anthony had spent most of his time as a Pro on 1000cc machines, but he adapted well to the 600cc Suzuki, reached the podium twice, finished in the top five 10 times in 15 races, and placed fourth in the Championship.
After that, Anthony went back to racing for his own team on a Kawasaki ZX-10R Superbike. While Anthony routinely won races and broke track records on his Ninja at club races, he struggled with achieving consistent results near the top at MotoAmerica races while developing the ZX-10R himself on a limited budget. And when development work turned into technical problems, it not only cost Anthony money, it also cost him the invaluable track time he needed to keep his riding at the top level.
Anthony finished 10th in the MotoAmerica Superbike Championship in 2018 and 2019, with a best race finish of fifth in Race One at Circuit of The Americas in 2019.
For 2020, Anthony has decided to change course. He will still continue to race for his own team, Aussie Dave Racing (which will continue to field self-supported riders Sam Verderico and Bradley Ward), but Anthony has switched motorcycles. Anthony, who is now an American citizen, has swapped out his Kawasaki, which was fitted with Kawasaki race kit engine electronics, buying the Team Hammer racebike Jake Lewis raced in 2019, a Suzuki GSX-R1000 Superbike equipped with MOTEC advanced electronics.
The switch to a motorcycle that is more proven appeared to have already paid off at the official MotoAmerica pre-season test at Barber Motorsports Park in March where Anthony was sixth among 1000cc riders on Day One and just 0.1-second behind Yamaha factory rider Jake Gagne.
With a reliable and capable machine underneath him and consistent track time to hone his riding, Anthony, age 38, may have all the pieces he needs to improve on his recent results and challenge the factory Superbike riders again.
"Dave is just a solid, solid motorcycle rider," said Hayes. "Right now, there's a bit of a gulf between Pro-level racing and club racing. He is a top-level club racing guy who pushes the local guys to their absolute limit, and he is a guy who is capable of doing quite a bit in a National race if his focus would allow him to do that.
"But the other side of that, Dave is a businessman running not one but two race teams [including an AMA Supercross team]. I can tell you how tough it is to be a racer and a husband and a father, and he is all of those things as well as a team owner trying to figure out how to make a living from racing. So, he doesn't have an easy job.
"The things Dave does have is he's experienced, he has a lot of confidence, and he's a pretty clever guy. So, whenever conditions are not optimum, guys like Dave and I go out with the attitude of 'let me go figure it out for a little while' and we do pretty well.
"When all things are perfect, Dave will find himself in a bit of a struggle racing against the young hot heads. The top guys in this sport are out there working their butts off and focusing solely on racing day-in and day-out. They maintain that intensity and focus all-day every-day, and when they go home at night all they dream about is how they're going to win the next weekend.
"It's hard for a guy like Dave to compete against that when he's trying to be a businessman and managing multiple teams and riders and a few other things.
"Again, any time things are not optimized, Dave is capable of getting in the mix and getting up there and doing something impressive. But on a perfect day when everyone is at their top level, I think Dave is going to be Steady Eddie in those situations."