By David Swarts
When the 2020 MotoAmerica Superbike Championship begins there will be some familiar faces on the grid, but there will also be a whole lot of newness: New bikes, new teams, new crew chiefs, and new classes.
To help preview the season, we've enlisted the help of Josh Hayes.
Not only has Hayes won four AMA Pro Superbike Championships, he's won a total of 83 AMA Pro/MotoAmerica races and three support class titles; raced in the Endurance World Championship; run at the front in Supersport World Championship races; and finished seventh while competing in his first MotoGP race as a substitute rider at Valencia in 2011.
More recently, Hayes won two races at the International Island Classic vintage event in January of this year at Phillip Island; raced at the front throughout the 2019 Daytona 200 and was on provisional pole position for the 2020 Daytona 200; and finished on the podium in the MotoAmerica Supersport class in 2019.
When he's not racing, Hayes is a rider coach for top competitors, including Bobby Fong and Jake Gagne, as well as working with Garrett Gerloff.
And if these weren't enough qualifications to preview the upcoming season, Hayes rode in place of injured Mathew Scholtz on Westby Racing's 2020-model Yamaha YZF-R1 Superbike during the official MotoAmerica pre-season test at Barber Motorsports Park in March. So, he's had a close look at most of the field.
This preview series is highlighting one Superbike or Superbike Cup/Stock 1000 rider each day, but it will not feature every rider entered in the two classes.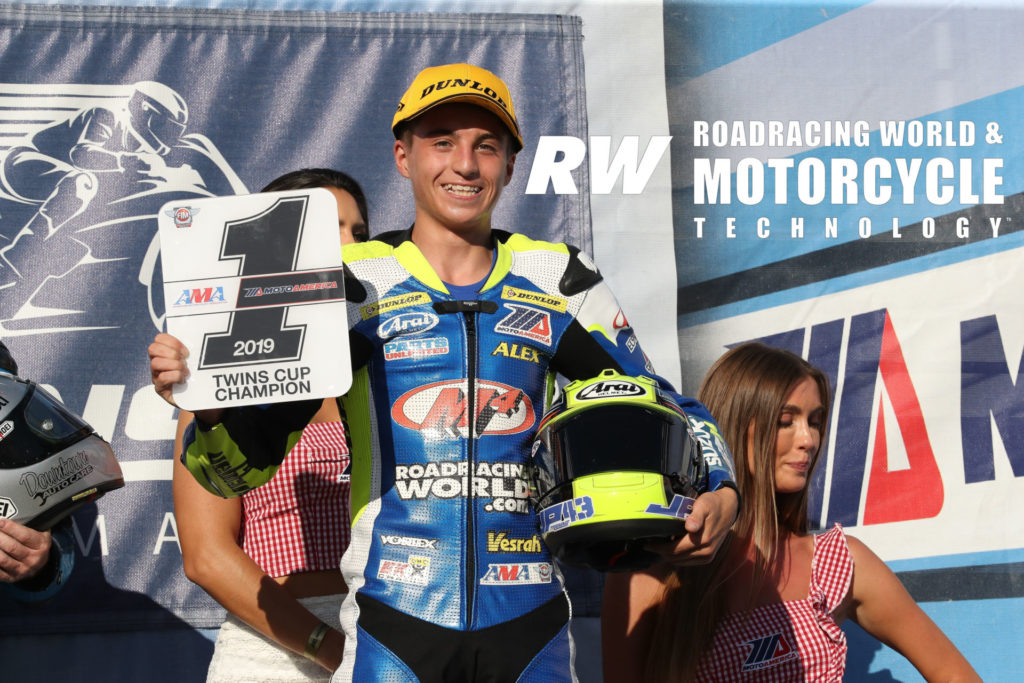 Alex Dumas
Alex Dumas is the son of former professional racer Francois Dumas. So, it's not surprising that Alex was road racing motorcycles from an early age and advanced into the Pro ranks at just 13, when he traveled from his home in Quebec, Canada to compete in the KTM RC Cup series in Mexico's national series.
Dumas finished as the runner-up in the Mexican KTM RC Cup, after finishing on the podium in all four races he entered. When he turned the minimum legal age of 14, Dumas joined the 2017 KTM RC Cup in MotoAmerica and took third in the title chase with seven podium finishes, including four wins in the final six races.
Dumas carried that momentum into the new MotoAmerica Junior Cup in 2018, when he won five races and took eight total podium finishes in 11 events and earned the inaugural MotoAmerica Junior Cup Championship.
For 2019, Dumas signed a deal with Team Hammer to race a Roadracing World Young Guns Suzuki SV650 in the MotoAmerica Twins Cup. Dumas got off to a relatively slow start and suffered a crash and finger injury that forced him to miss one round, but he came back with a vengeance to take eight straight podium finishes, five victories, and his second MotoAmerica Championship in as many years.
In 2020, Dumas is staying with Team Hammer and will make a big jump up to the Stock 1000 class on an M4 ECSTAR Suzuki GSX-R1000R.
Although his new motorcycle has roughly double the horsepower of his Twins Cup racer, Dumas has been training and racing successfully on his new GSX-R1000 with CVMA since the end of the 2019 MotoAmerica season and comes into 2020 with confidence that only a winner knows–and with comfortable team surroundings.
Having said that, it is asking a lot of a 17-year-old to leapfrog the 600cc class and go straight to a 1000cc racebike in a class with many talented and experienced riders. But it's been done before, and at one time riders often went from 250cc GP to 500cc GP in the FIM World Championship or from 250cc GP to 1025cc Superbike in the AMA Championship with success.
"Alex has spent some time with me starting in the middle of last season and did a J4orce camp with us earlier this year," said Hayes. "It's pretty obvious of his pedigree from his accomplishments in the Junior Cup and storming through the Twins Cup. Now he's moving on to the Stock 1000 class.
"I was kind of indifferent on which way he went, whether it was Supersport or Stock 1000. I think they're both good classes with good competition. It's probably not the most conventional way to go straight to the 1000, but I understand how they are thinking and it might be a good move for him.
"Either way it goes, I think his success in all those other classes has proven his talent level, but one thing that tends to happen as you move into the bigger classes and bigger bikes is you run into better competition on better teams.
"It's happening with Alex, with him moving up with the M4 ECSTAR Suzuki team to the bigger class, but he's moving up to where there's more guys like him who are hungry and aggressive and have more experience at that level. So, it's going to be more of a challenge for him to get to the front as quickly as he did in previous classes.
"I think it's going to be fun to watch and see what happens with Alex as he comes up against more adversity and more quality riders and teams. The talent of the fields just get deeper and deeper and it gets harder and harder the higher you go.
"And the challenge is a combination of all those things and the fact that the bike gets more complicated. A Stock 1000 machine is considerably simpler than a Superbike, but with the added horsepower it definitely is a more complicated bike to ride than what he's been riding in the past. He's going to have more options on just about everything, from engine braking settings to gearing to lines, to make the thing go around the racetrack quickly.
"He's proven himself each step of the way to this point, and I think this is going to be another good test for him. I think there will be tracks and times where he will have flashes of brilliance, but I think it will take a bit of time for him to find consistency every weekend."