By David Swarts
When the 2020 MotoAmerica Superbike Championship begins there will be some familiar faces on the grid, but there will also be a whole lot of newness: New bikes, new teams, new crew chiefs, and new classes.
To help preview the season, we've enlisted the help of Josh Hayes.
Not only has Hayes won four AMA Pro Superbike Championships, he's won a total of 83 AMA Pro/MotoAmerica races and three support class titles; raced in the Endurance World Championship; run at the front in Supersport World Championship races; and finished seventh while competing in his first MotoGP race as a substitute rider at Valencia in 2011.
More recently, Hayes won two races at the International Island Classic vintage event in January of this year at Phillip Island; raced at the front throughout the 2019 Daytona 200 and was on provisional pole position for the 2020 Daytona 200; and finished on the podium in the MotoAmerica Supersport class in 2019.
When he's not racing, Hayes is a rider coach for top competitors, including Bobby Fong and Jake Gagne, as well as working with Garrett Gerloff.
And if these weren't enough qualifications to preview the upcoming season, Hayes rode in place of injured Mathew Scholtz on Westby Racing's 2020-model Yamaha YZF-R1 Superbike during the official MotoAmerica pre-season test at Barber Motorsports Park in March. So, he's had a close look at most of the field.
This preview series is highlighting one Superbike or Superbike Cup/Stock 1000 rider each day, but it will not feature every rider entered in the two classes.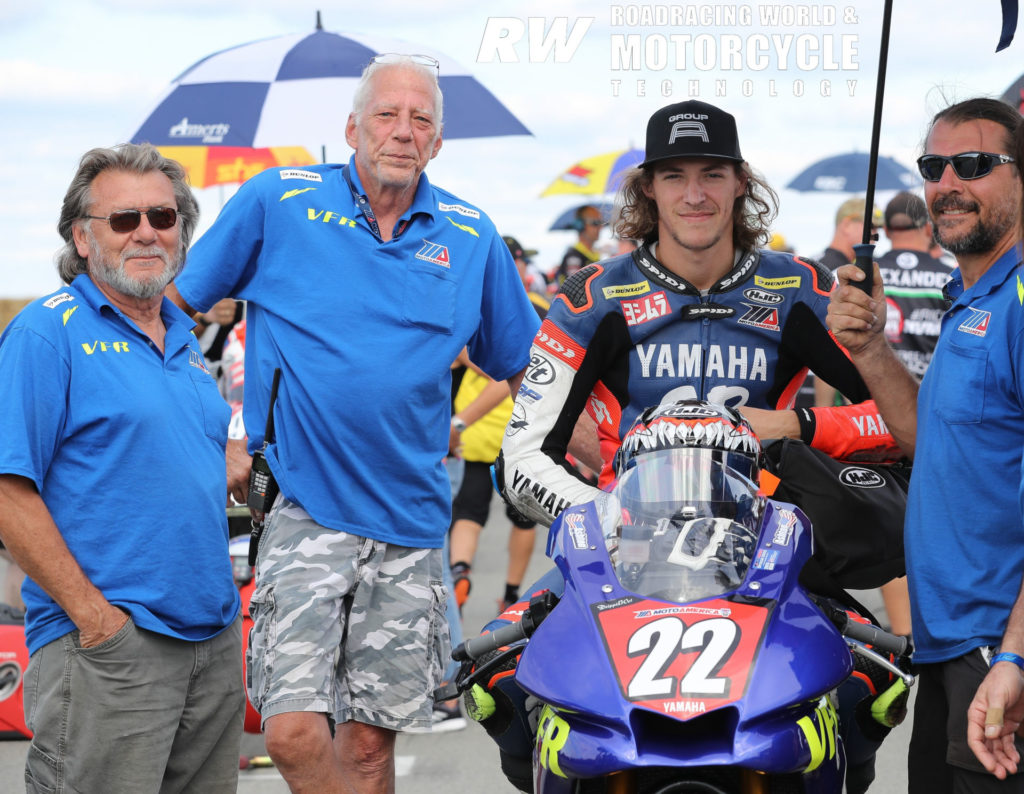 Ashton Yates
Ashton Yates started racing as a Pro in the 2015 MotoAmerica KTM RC Cup, which was run on KTM RC 390 motorcycles built and tuned under tightly restricted rules, including the use of approved KTM race kit parts and spec Dunlop tires.
Ashton Yates, then 16, didn't immediately set the world on fire in his debut season. Some thought it was the fact that he was larger than many of his competitors, but late in the season it was discovered that he was near-sighted and needed to wear corrective lenses when he was riding to see things in the distance, like brake markers. Once he started wearing glasses while on track, Yates' riding instantly went up to a new level, and he then qualified on the front row at the season finale at New Jersey Motorsports Park, and ran at the front all weekend.
Yates didn't get the strongest start when he returned for the 2016 KTM RC Cup, but once he found his stride, Yates won three races, took 10 total podium finishes in 15 races, and placed third in the final Championship standings.
Riding for a team run by his father, multi-time AMA Pro Road Racing Champion Aaron Yates, and his grandfather, former racer Luckey Yates, Ashton Yates moved up to MotoAmerica's Superstock 600 category in 2018 on a Yamaha YZF-R6 supported by long-time sponsor GPtech. This ended up being a learning year for Yates, who took five top-10 finishes in 2017.
In 2018, Ashton Yates pulled double duty (like his father and many of the top stars did years ago) by moving up to the MotoAmerica Supersport class on his Yamaha and also racing in the new MotoAmerica Junior Cup on one of Kawasaki's new Ninja 400s.
The Ninja 400 was the bike to be on and Yates made the most of it, winning three races and getting on the podium four other times, but he said he never got along perfectly with the spec front Dunlop used in Junior Cup and crashed out of race leads four times. In Supersport, meanwhile, Yates earned a podium finish in wet Race Two at Road Atlanta, making him one of the only racers in recent memory to podium in two different AMA or MotoAmerica classes in the same season.
Yates started out the 2019 season focusing on his Yamaha YZF-R6 in the MotoAmerica Supersport class, and he earned a few top-10 finishes. Then halfway through the year, Yates was recruited to ride the Vic Fasola Racing (VFR) Yamaha YZF-R1 in MotoAmerica's Stock 1000 class. Yates immediately got comfortable on the more powerful machine and claimed a runner-up finish at Pittsburgh International Race Complex, giving Yates podium finishes in four different MotoAmerica classes on four different motorcycles over the span of four seasons.
Yates' ability to adapt to new motorcycles will come in handy again in 2020 as the Georgian is slated to race a 2019 Honda CBR1000RR SP supplied by Jones Honda in MotoAmerica's Stock 1000 and the Superbike Cup classes. And Yates said Jones Honda may supply him with a 2020 Honda CBR1000RR-R Fireblade SP, the homologation special, when it becomes available.
Yates, now 21, clearly has riding skills, but putting together a full season of racing at the front on a 1000cc machine – in two different classes – is a tough challenge for anyone, especially a young rider on a privateer team.
"I don't think it matters which CBR1000RR he's on," said Hayes. "Either way, he's probably going to have a pretty decent motorcycle. I've always believed that the Honda is capable, but there are a few things that are particular about the bike and if you can get the most out of them you can do good things with it.
"Watching Ashton ride, it's clear he's a Yates. He's a bruiser with the machine. My memory of riding a Honda was you got from it what you asked of it. You could grind on it. The harder you tried, the more effort you put into it, the more performance you got in return from the Honda, which lends to Ashton well.
"Other machines have been a little bit different, in my experience. The Yamaha is from the tuning fork company. It is refinement, and you couldn't force it. Sometimes you had to be nice to it and play with it the way it wanted to be played with to get it to go really fast. You couldn't bend its will.
"So, if that is still true to the DNA of the Honda it could work out quite well for him.
"But like I talked about with Kyle Wyman, there's not a lot of Hondas being raced at a high level right now so there's not a lot of information to draw from. And you're looking at a young guy who may or may not know how to convey what he needs from the motorcycle to go faster and what he needs to work on as a rider and which is which. That's a very difficult thing to learn and figure out.
"Guys like me got so much experience by riding endurance bikes for hours at a time that we shared with three other people. And that's just one of the many different things that I went through during my career that helped me play this game and figure those things out that Ashton might not have available to him. His success in 2020 will be a matter of just how well he and his team play the game."