HONOS rider Richie Escalante began his MotoAmerica Supersport Championship 2020 campaign in perfect form on the track and capitalized his efforts to take home both podiums at number one.
"I'm really happy," said Escalante. "It's my first time to double win in the MotoAmerica Championship, so I am really happy about that. In the race. The ZX-6R Kawasaki is amazing. I'm very happy. My team is working really good. I'm very comfortable right now, so I'm ready for Road America two next month."
Richie and team HONOS look to build off this momentum and come back to Wisconsin (Road America) for race number two and continue to write their story for this years championship.
More, from a press release issued by Altus Motorsports Tucker Hagerty Team:
MotoAmerica: Strong Season Opener for the Altus Motorsports Tucker Hagerty Team
(Elkhart Lake, WI) Altus Motorsports is deeply committed to MotoAmerica and the sport of motorcycle road racing. Each season they raise the bar for themselves both on and off the track. For 2020 the team has added additional staff and changed their rider lineup. "Every year I'm super proud of how we show up in the pits at Round 1 and 2020 is no exception. Adding a rider like Cam Petersen is a great boost. And not just for his results on the track. He's helping the rest of the team be better riders. Our crew chief, Eric Gray, has added to this already solid team. Melissa Paris is on board as the lead mechanic for Cam. We have a fantastic and fantastically talented family," said team-owner Geoge Nassaney.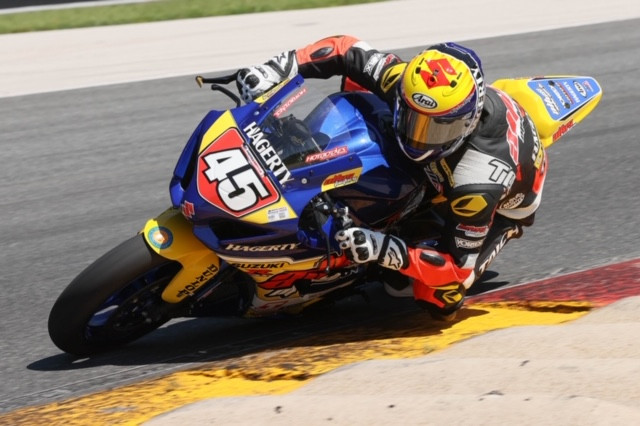 Honos Superbike & Stock 1000: Cameron Petersen is doing double duty by racing both Stock 1000 and Superbike classes during the 2020 season. The trick is that he's doing it on the exact same bike – the Altus Motorsports Suzuki GSX-R1000. Unfortunately, the weekend at Road America did not get off to a great start. Petersen had a massive crash in the first practice session. As a result, he missed nearly all of the practice and qualifying sessions while the Altus team put the bike back together.
In the Honos Superbike class, Petersen started both races from 11th. In race one he finished with a 15th, followed by 7th in race two. That is impressive on a Stock 1000 legal motorcycle.
Round 1 is a single-race weekend for the Stock 1000 class. Petersen missed the qualifying practices but, based on his lap times from Superbike, MotoAmerica slotted him on the front row. In spite of limited practice time, Cam piloted the Altus GSX-R to an impressive 2nd place finish.
"Great first weekend! Unfortunately, it started off on a rough note with a massive crash in the first session. Melissa Paris and the whole team did a great job to rebuild the bike and give me the best possible equipment!" said Cam Petersen. "I'm so stoked to get on the podium again and to give the team the result they deserve! This weekend left me hungrier than I've ever been and I'm searching for those victories that I know are coming soon! Once again, a massive shoutout to the whole Altus Motorsports Tucker Hagerty team for all the effort that goes into the program!"
"I've never worked for another team. Every mechanic wants an opportunity to turn wrenches for someone with Cam's talent, so I jumped at the chance," said Melissa Paris.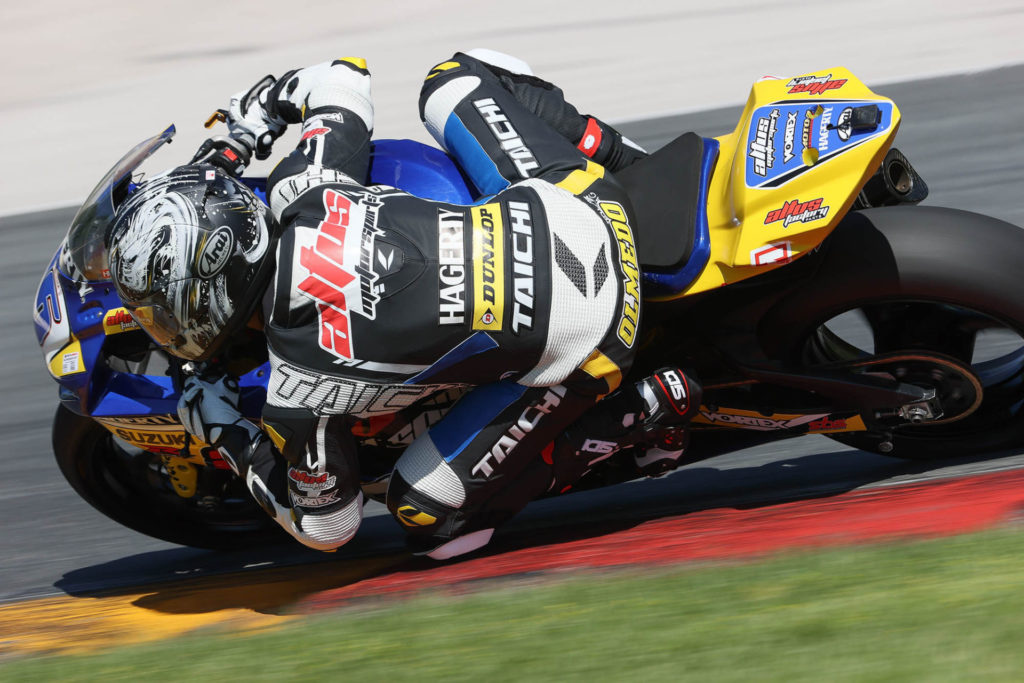 Supersport: After finishing second in the MotoAmerica Junior Cup in 2019, Kevin Olmedo has moved up to compete in the Supersport class on an Altus Motorsports Suzuki GSX-R600. Based on his results at Road America, he's getting up to speed quickly. As it's his first time at the Wisconsin track on a 600, Olmedo spent the practice sessions adapting his track knowledge to a significantly different machine. By the end of the second qualifying session, he was 7th fastest. In the first two laps of race one, Kevin jumped up to 4th position and finished on the podium in 3rd. An outstanding result on his inaugural outing on the 600. A tough first lap in race two put Kevin back in 15th. He spent most of the race making up for lost time but did manage a Top 10 finish. All in all, an amazing first round for the young racer.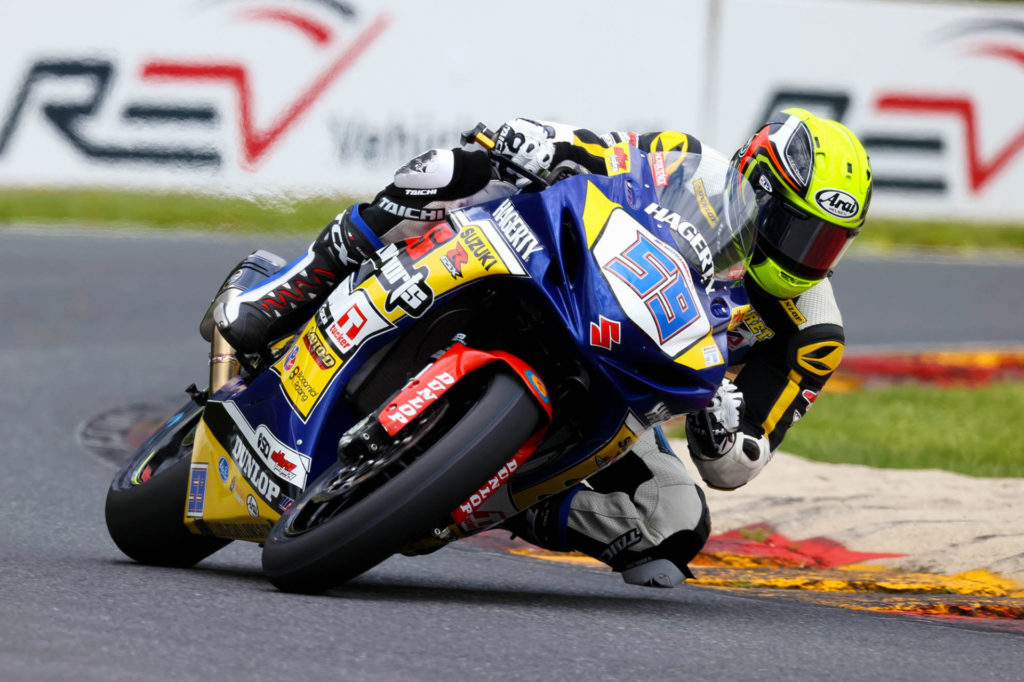 Teammate and fellow 600 rider, Jaret Nassaney, spent most of the weekend fighting a clutch issue. Despite the problem, Jaret qualified 8th – his best ever grid position. The clutch started acting up again during the race. He had a great battle for 7th, but without the ability to draft he had to settle for 9th. In Sunday's race, he slipped back to 13th off the start then fought back to finish in 9th, garnering two Top 10 finishes on the weekend.
"It felt great to be back in the MotoAmerica paddock! It was a bit frustrating but we ended up walking away with two 9th place finishes. We know the problem and we are going to go over the data and get things figured out and come out swinging at the end of the month," said Jaret Nassaney.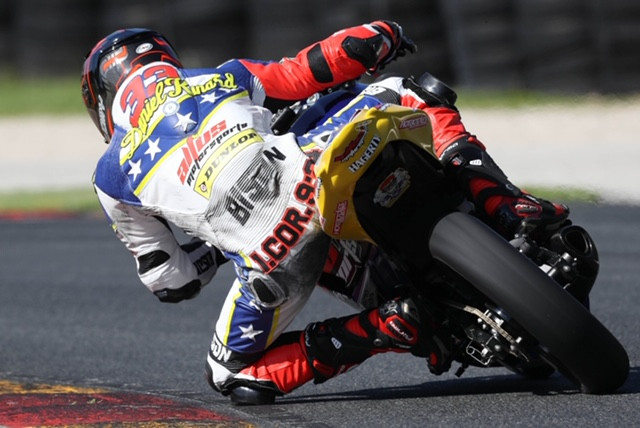 Liqui Moly Junior Cup: Daniel Kinard joins the team for 2020 to ride the Altus Motorsports-prepared Ninja 400. This is his first season in MotoAmerica and he's looking for steady improvement throughout the year. Road America is a challenging track for anyone because of its length and complexities, but Daniel was up for the challenge. He spent the first qualifying session getting familiar with the track. With the help of teammate Kevin Olmedo, who rode the Altus factory-built Ninja 400 in Junior Cup last year, Kinard shaved six seconds off his time in the second qualifying practice and continued to improve every session. He started both of the races from 14th on the grid. In race one, he dropped an additional three seconds and finished in 11th place. While setting his fastest lap during race two, Daniel was caught up in a battle for 11th place for the entire race. He felt that he could have gone faster if he had broken away. His final result in the Sunday race was a 12th place finish.
"I had a blast for my first MotoAmerica race weekend and consider it a success. I believe a Top 10 finish is very plausible going into the next round," said Daniel Kinard.
The entire team is excited for the next round of the MotoAmerica season back at Road America again at the end of June.
More, from a press release issued by Thrashed Bike Racing:
Thrashed Bike Racing MotoAmerica
Round 1 Road America
Thrashed Bike Racing was relieved to actually kick off the 2020 MotoAmerica season at Road America in the Covid-19 era, The 2020 Yamaha race R1 was not quite ready for its debut with the team so Rider Max Flinders was onboard last year's race bike which is a 2015 frame with a 2018 engine.
Shaking off the cobwebs it was great to see the teams lap time improve significantly from last year with a qualifying position of 13th. Race one was drama free for the team, we knew we could not match the outright top speeds of the machines around us, but consistency and good handling put the team into an 11th place standing at the finish flag. A new clutch was fitted and Max saw a better start in race two and he spent most of the race chasing down a Fly Kawasaki machine, natural attrition with some crashes up front put Max into 10th place, he finally put the Kawasaki behind him with a lap to go and pulled a gap before the flag which gave him an excellent 9th place on the leader board.
The team will be installing the 2020 Used Bike Direct supported Yamaha R1 with its race engine next week and plan to have a Superstock Yamaha R1 entry for the next round with Walt Sipp returning to the Thrashed bike team for round 2 of the MotoAmerica season.
Tim Ivanoff stated: "This was a good solid start to the season, the bike was flawless and our lap times were significantly improved from last year, we are really looking forward to round two as we can build on the data gathered at round one and build on that knowledge. We are also looking forward to seeing Walt back onboard our superstock bike, he stood in for Max (when he was injured) at New Jersey and it will be good to have him back with the team for select rounds"
Rider Max Flinders was buzzing after the inaugural races of 2020, " It's great to be back racing I have been going stir crazy at home! I have had some track time at NOLA motorsports park prior to event and appreciate the guys down there for accommodating me. Thanks to Tim and our awesome sponsors we hopefully will be running the 2020 bike at the next round so I can't wait to push harder at round 2!" said Max.
Thrashed Bike Racing
Thrashed Bike Racing is a Louisiana-based superbike team competing in the MotoAmerica national series. We are committed to showcasing the best young talent at the highest level of US motorcycle sport. We know the challenges are difficult and the cost of running a season at this level is high but our resolve is firm and we will continue to be one of the smallest, friendliest and most consistent teams in the paddock.
Thanks to – Arrow Aviation, Liqui Moly, Friendly Powersports, Arai Helmets, Used Bikes Direct, Moto-D, Moto-tech, FAO Global, Superbike unlimited, Bonamici, Spark exhausts, and the army of fans. SEE YOU AT THE RACES!
More, from a press release issued by BARTCON Racing:
BARTCON Racings Dominic Doyle #25 Junior Cup & Cooper McDonald #20 Twins Cup did not disappoint in the opening round of the MotoAmerica season.
Young South African rider Dominic Doyle managed to break the lap record not once but three times, setting a new lap record in Q1 then again in Q2 & finally in Race 2
Race 1 was a close battle between Dominic and defending champion Rocco Landers with each taking turns in leading the race all the way to the final corner but
Dominic kept his head down and managed a win with a gap of only .078 seconds. Race 2 was most definitely one of the best power matched races ever displayed in the only 3rd years of Jnr Cup with Dominic beating Rocco again this time with an even smaller margin of only .007 seconds.
Cooper McDonald had 2 great races in the Twins Cup series, taking a 6th place in Race 1 and a 7th place in race 2 on a bike that is frankly not 100%, we are not ones to make excuses at BARTCON Racing but we were most definitely had issues with transferring power to the rear tyre due to suspension set up which we believe we have since resolved and are chomping at the bitt to return to Road America at the end of the month to put both of our bikes and riders on the box.
Big shout out to Skip Orient Express for supplying our brilliant K-Tech Suspension along with track side support in the form of Lenny Albin. Robert from Bison leathers & Arai Helmets for all our new gear and Inde Motorsport Ranch in Arizona for giving us so much time at their facility to get the lads ready. Lastly, every member of Bartcon Racing that I know I don't have to constantly praise or thank because we're all just a hard working race team just getting it done.