Wyman posts up top-5 results in MotoAmerica Superbike season-opener
ELKHART LAKE, Wisc. — Kyle Wyman battled in Wisconsin for two top-5 finishes at Road America this past weekend in the MotoAmerica season opener. The Inde Motorsports Ranch/KWR Ducati rider scored 5th place in Saturday's race one and narrowly missed out on a podium result in race two on Sunday for a strong 4th place finish.
Wyman got off to a strong start on Friday, posting the fourth fastest time of the day on his Ducati Panigale V4 R Superbike. Wyman credited his hard working crew and numerous pre-season training laps at Inde Motorsports Ranch for the jump toward the top of the time sheets.
"Friday we got going and up to speed quick," Wyman said. "After spending time at Inde preparing the race hauler, riding laps and getting ready for the season to start, I felt like I was already in the racing element far before I showed up in Wisconsin. The guys prepared the bike beautifully. I was just ready to go and being 4th fastest to start the weekend was a good boost for us going into qualifying on Saturday."
Wyman came up short of expectations in Superpole, the New Yorker posting up only the 8th fastest time on the soft Dunlop qualifying tire, which would lock in a third-row grid position for both races on the weekend. In race one, Wyman got off to a strong start but eventually settled into a lonely race while unable to keep the pace for the podium fight. A 5th place finish would suffice to start the year on a good note.
"Race one was pretty uneventful, after a good start I just didn't have the confidence with the bike to go with the podium battle," Wyman said. "I pushed until the end to hold on to 5th with a decent gap, but truthfully was disappointed with the result and not being in the battle after running the pace we did on Friday."
The KWR team made changes to the Panigale V4 R for Sunday morning, and a pre-race chassis change before race two would prove beneficial as Wyman would run a much hotter pace, and find himself in a battle for the final step on the podium.
"Race two I got almost the exact same good start as Saturday," Wyman said. "The front guys dropped the hammer and I couldn't quite hold onto them once again, as we all went faster. But a couple guys got together and crashed in the lead group, and I found myself in a battle for third with Herrin."
Wyman swapped positions in the waning laps of the race with Josh Herrin, as the two riders passed and re-passed each other numerous times. On the final lap the two came across the line just .011 seconds apart – with the edge going to Herrin, and the final step on the Superbike podium. Wyman would finish in 4th place by the narrowest of margins.
"I passed (Herrin) before the start/finish line multiple times in the race," Wyman said. "He was struggling with the wheelie coming up the hill and I had his number, but on the last lap we both got a really great drive off the final corner. I was in the slipstream and pulling out as we came up the hill. His bike didn't wheelie on that last lap, and it really just came down to the last 5 feet. I didn't know which one of us got it until I could see the big screen they had in turn three. I was gutted, man, missing out on the podium like that."
Wyman sits 4th in the championship standings after 2 of 20 rounds, his best start to a season to date. The MotoAmerica Series will return to Road America once again for round two, June 26-28 where teams will be prepared with fresh data and experience from this past weekend's event.
Visit www.indemotorsports.com to learn more about Inde Motorsports Ranch, Arizona's Motorsports Oasis.
Visit www.kylewyman.com for more team information and  to interact with Kyle.
More, from a press release issued by Quarterley Racing On Track Development:
Tied for Third in Points Gloddy Starts the Season Strong with a Podium Finish in MotoAmerica's Liqui Moly Junior Cup at Road America
After an unusual offseason, Ben Gloddy of Quarterley Racing On Track Development, comes out ready to race. In a hard fought battle Gloddy captures a very close 5th place finish in race one at the MotoAmerica Liqui Moly Junior Cup season opener at Road America. The second race of the weekend did not disappoint. Persevering to a 3rd place finish. The racers are in for a competitive season of exciting racing from the MotoAmerica Liqui Moly Junior Cup Riders. Gloddy closed out Round 1 at Road America tied for third in the championship season points.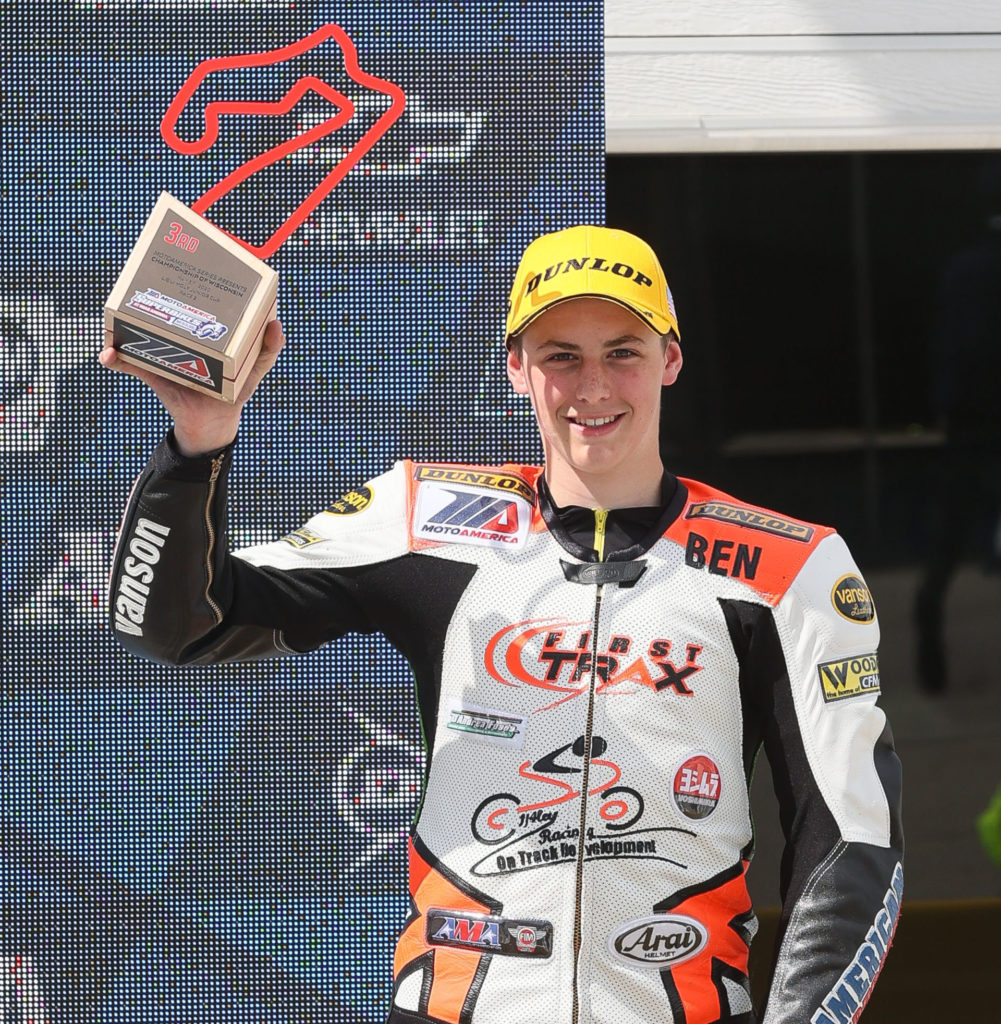 Ben Gloddy:
"I had an awesome weekend at Road America with Quarterley Racing On Track Development. It was my first time there, so I knew I had to learn the track fast. The riders I battled with all weekend had all been to this track in the past, so I felt I made some steady progress fairly quickly. In practice on Friday, I was able to improve my lap times throughout the session."
Working on rider and team communications Gloddy and the Quarterley Racing On Track Development Team spent the day negotiating what adjustments needed to be made to the bike. After a track walk, Quarterley advised Gloddy "it will would be YOUR riding that wins this race." Conversations teetered between Quarterley's advice and the feedback provided by the rider after each practice session. Gloddy states, "I was feeling good going into the first qualifying session and was able to provisionally qualify in 3rd place. I knew going into the second qualifying session everyone was going to be faster and riding much harder."
The first race provided a series of learned lessons. Gloddy stated "Going into race one, I knew I had to bring my A-game."
With a significant gap back to the fourth place guy in the first lap, it looked Gloddy had third place wrapped up from the beginning of the race. "I made a little break from the fourth place rider on the first lap but the group behind me was able to close the gap."
Gloddy recognized the effect of working together as a pack and understood the importance of the draft.
"I didn't want to be leading going into the last corner of the last lap because I knew the draft at Road America was important, but after a rider went down in front of me, my plan for the final section of the track didn't work out and I ended up leading out of the last corner and got passed at the start-finish line ending up in 5th place by about a tenth of a second."
In an eight rider competitive melee for third during the second race, Gloddy got shuffled back to seventh place. Hearing the voice of Dale Quarterley in his head, Gloddy understood he needed to make this happen. The team made completive changes to the bike all weekend. Dale Quarterley recognizes Gloddy's natural talent on the bike, but needed him to push himself out of his comfort zone and now was the time for Gloddy to act on his advice.
"I wasn't giving up. I really wanted that final spot on the podium."
It was evident Gloddy made himself do the things Quarterley asked of him. In the next moment, he was leading the pack. When asked, Gloddy said, "I knew this wasn't where I wanted to be after what happened yesterday." He was carrying so much speed he had gapped them enough and realized "I didn't get drafted to the line and was able to put my Quarterley Racing On Track Development Ninja 400 on the box!" Gloddy's satisfaction on a third place finish fighting from seventh place was evident in winner's circle.
"I can't thank Dale Quarterley, Jon Carvalho, and Tige Daane enough for all of their hard work all weekend. I also want to say thank you to all of my friends, family, and sponsors for all of the continued support and for believing in me. I would not be here without you all. I also want to give a shout out to my Penguin Racing School family!"
Quarterley Racing On Track Development sponsors for 2020 include: Inter-Tech Supplies, Fast By Ferracci, Inc, Yoshimura Research & Development of America, Inc., Wiseco Powersports, Motul USA., Regina Chain, BrakeTech USA, Inc., Ferodo Racing, Matt & Jesse, Inc., Woodcraft Technologies, Fast Bike Industries, Nitron Racing Systems Ltd., Dynojet Research Inc., Beta Tools of Italy – USA, N2 Track Days, RoadracingWorld.com, MOTO-D Racing, VAN DYK Recycling Solutions, Earl's Racing Team, Barnett Clutches & Cables, Vanson Leathers and Kiwi Classic Moto.
Some of Gloddy's personal sponsors for 2020 include: SDM298 Racing, D'Andrea Foods, Penguin Racing School, Woodcraft Technologies, Moto Pizza, First Trax Sports Shop, American Supercamp, REB Graphics, JC Tinting, Roche Realty Group, Stump Racing Kids, Arai Helmets, Moto Liberty, Vanson Leathers, Dunlop Tires, and Freedom Cycle NH.
More, from a press release issued by Robem Engineering:
Hamilton, OH – Jackson Blackmon, Toby Khamsouk, and Carl Price successfully debuted their Robem Engineering MotoAmerica-spec Suzuki SV650's last weekend at the opening round of the 2020 MotoAmerica Twins Cup championship as the series kicked off at scenic Road America in Elkhart Lake, Wisconsin. The pace was fast all weekend, as expected, and Jackson Blackmon's charge to 2nd place on Sunday was highlighted by his setting of a new MotoAmerica Twins Cup lap record in the process.
Jackson Blackmon was content, but not too thrilled, with his 5th place finish in race 1 on Saturday and some strategic changes were made for Sunday's race. A tire-choice gamble paid huge dividends on Sunday as Blackmon ran down the leaders halfway through the 8-lap event and the race to the checkered flag was on. Blackmon's plan to take advantage of a double-draft on the long run to Road America's start/finish line unfortunately came up just short with Blackmon taking 2nd place by a scant 0.081 seconds.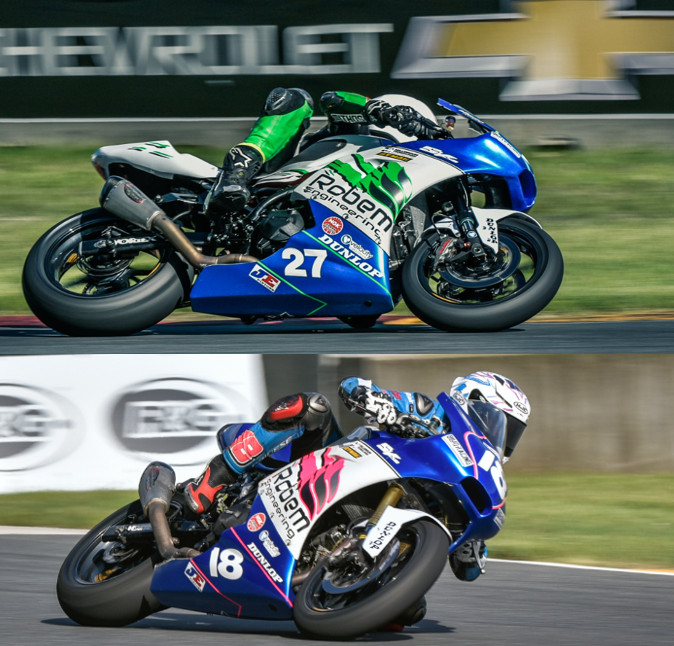 Toby Khamsouk set the pace early, out qualifying his teammate Blackmon by 5/100ths of a second, and continued to drop his laptimes all weekend. Khamsouk fought through some mechanical issues to finish 7th in Saturday's race but substantially improved his pace on Sunday as he pushed to a hard-fought 6th place finish in race 2. Blackmon and Khamsouk sit 3rd and 6th, respectively, in the overall points standings and look forward to a re-match as the MotoAmerica series returns to Road America for round 2 on June 26th.
Not to be overshadowed by his younger teammates, plastic surgeon Dr. Carl Price acquainted himself quickly with the easy-to-ride Robem Engineering Suzuki SV650 and dropped over 4 seconds off his personal best laptime set in 2019. While in the mix for championship points all weekend, Dr. Price came up just a few positions short and is more motivated than ever to win some highly-coveted MotoAmerica purse money.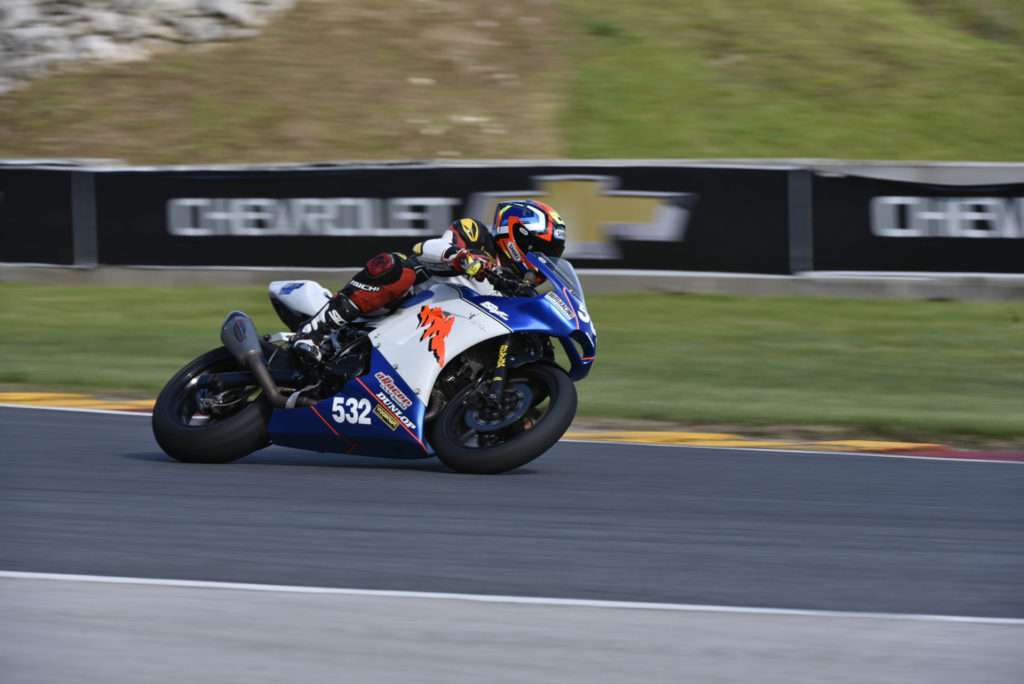 Robem Engineering's partners for the 2020 season were instrumental in the performance of the team's Suzuki SV650's and more improvements are on the horizon. Team sponsors include Millennium Technologies, aRacer USA, Yoshimura R&D, Dymag wheels, Blud Lubricants, Vortex Racing, SBS Brakes, Velocity Calibrations, NGK spark plugs, Chicken Hawk Racing, Web Cam Inc, JE Pistons, RBoM Racing and CopoulosBuilt.
Robem Engineering manufactures custom-machined parts for Twins Cup competitors and continues to refine their offerings with race-proven research and development. Robem Engineering is also the distributor of aRacer high-performance ECU's and fuel-management software for MotoAmerica participants. Visit robemengineering.com and follow Robem Engineering on social media platforms, such as Facebook, for further updates.
More, from a press release issued by RideHVMC Racing:
Corey Alexander Podiums At Road America To Launch The 2020 MotoAmerica Season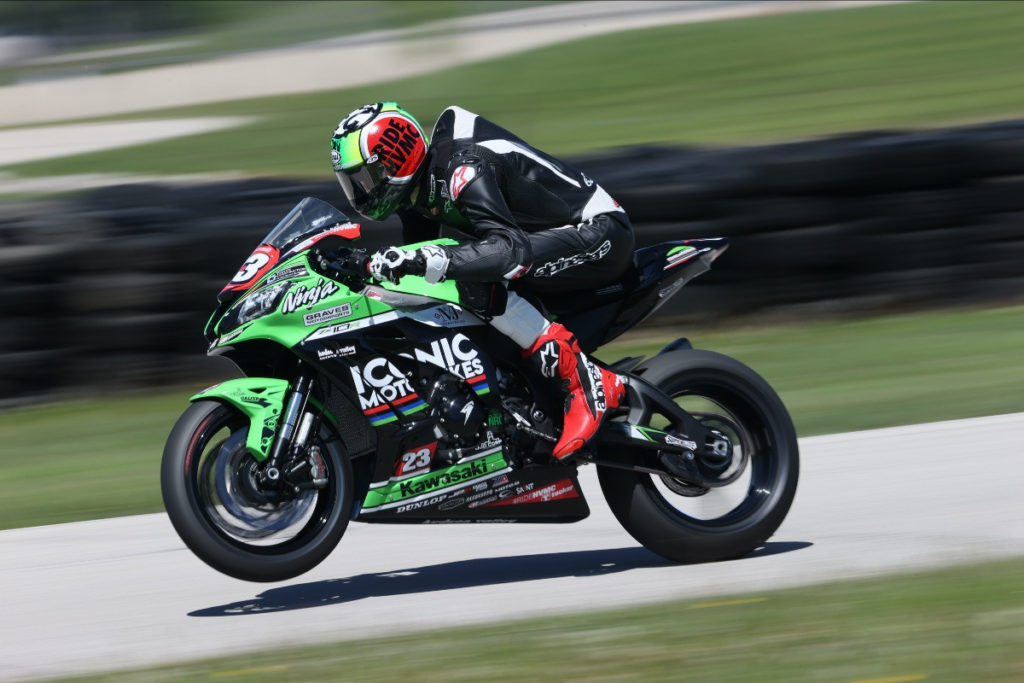 Elkhart Lake, WI ( June 2nd, 2020 ) – Iconic Motorbikes Auctions backed RideHVMC Racing team earned a third place podium in the Stock 1000 Race and a top 10 finish in Superbike Race 2.
Road America marked the start of the MotoAmerica season after a brief hiatus due to the Covid-19 pandemic. With Iconic Motorbikes Auctions on board as a title sponsor for the round the team arrived prepared and ready to compete in both the MotoAmerica Stock 1000 and Superbike classes.
After immediately showing the speed and capability of the Graves Motorsports powered Kawasaki ZX-10R, Corey qualified onto the front row of the starting grid with a personal best time of 2:16.9 around the 4 mile road course. This led to an eventful race with a battle for the lead till ¾ race distance at which point the top 4 began to spread apart. Corey and the RideHVMC Racing team were able to secure a third place podium finish against some strong competitors on very fast machinery.
Through a new program dubbed the "Superbike Cup", Corey and a handful of other Stock 1000 competitors have been given the opportunity to participate within the Honos Superbike Class on their Stock 1000 machinery. Superbike race 1 saw Corey with a potential top ten finish but unfortunately had to settle for 12th place as the teams Stock 1000 spec'd race bike began to run out of fuel with two laps to go due to a fuel capacity just shy of being capable of the longer Superbike race distance.
A special allowance by MotoAmerica in Superbike Race 2 allowed Corey and his fellow Stock 1000 spec shod competitors to bypass the warm-up lap. This one lap difference narrowly enabled Alexander to ride to an 8th place finish even as he began to run out of fuel on the last lap.
Corey commented "Obviously our goal is always to win and battle up front with the fastest guys but Road America is a tough track for us with my size being an obvious disadvantage. I am happy we made it through the first weekend safely with a podium finish and some great points in both classes. It's going to be a long year and we are in it for the championship battle."
The RideHVMC Racing team heads back to Wisconsin for round two at Road America in just a months time, June 26-28th!
About Hudson Valley Motorcycles
Hudson Valley Motorcycles is a family owned and operated motorcycle dealership that has been serving New York's Hudson Valley and Westchester County as well as Connecticut, Massachusetts, New Jersey, and New England region. HVMC has offered Kawasaki, Ducati, Scrambler Ducati, Suzuki, Energica and ATV, motorcycle or UTV Sales, Parts, and Service for over 50 years. For more info visit hudsonvalleymotorcycles.com, call (914)-762-2722 or follow @hvmotorcycles on social media
About Iconic Motorbikes Auctions
Iconic Motorbike Auctions is the world's fastest growing auctioneer for motorcycles, parts, and memorabilia offering a more unique and personalized experience to the auctioning process. Iconic Motorbikes located in Marina Del Rey, California also offers a variety of white glove services such as motorcycle repair, restoration, transportation, and authentication. Visit iconicmotorbikes.com online or on instagram via @iconicmotorbikes to learn more about auctioning or buying a motorcycle.
The 2020 season would not be possible without the following team and technical partners: Hudson Valley Motorcycles, Iconic Motorbikes Auctions, New Rage Cycles, MJRS Freeman Racing, JJD Corporation, Trinity Construction Services, Graves Motorsports, Kawasaki USA, Maxima Racing Oils, Superlite Sprockets, Tucker, Moto-D Racing, Accossato Racing, Galfer Brakes, Carbonin, Samco Sport, From The Ashes Embroidery, Impact Canopies, Arai Helmets, Alpinestars, Gemini Racing, Robothink Westchester, Red Mist Racing, Prestige Service Group, JP43 Training, MotoAnatomy, and Team Four3 Performance Lab. If you're interested in partnering with the RideHVMC Racing team please email [email protected] for more information. You can stay up to date with Corey and the team on social media via: @corey23alexander or @ridehvmc