MotoAmerica Superbikes at Road America
MotoAmerica AMA/FIM North American Road Racing Series
Road America
Elkhart Lake, Wisconsin
May 31, 2020
Revised Supersport Race Two Results (all on Dunlop tires):
Richie Escalante (Kaw 636cc ZX-6R), ran off track, 11 laps, Total Race Time 25 minutes, 47.572 seconds, Average Race Speed 103.582 mph, Best Lap Time 2:19.325
Sean Dylan Kelly (Suz GSX-R600), -16.163, 2:20.611
Jason Aguilar (Yam YZF-R6), -26.181, 2:21.385
Nate Minster (Yam YZF-R6), -26.695, 2:21.696
Lucas Silva (Suz GSX-R600), -37.976, 2:23.171
Nolan Lamkin (Yam YZF-R6), -41.510, 2:22.959
Xavier Zayat (Yam YZF-R6), -43.838, 2:23.504
Carl Soltisz (Yam YZF-R6), -45.062, 2:23.607
Jaret Nassaney (Suz GSX-R600), -50.985, 2:23.586
Kevin Olmedo (Suz GSX-R600), -58.502, 2:23.641
Patrick Coleman (Kaw 636cc ZX-6R), -66.221, 2:25.320
Benjamin Smith (Yam YZF-R6), -82.422, ran off track/crash, 2:23.369
Jorge Ehrenstein (Yam YZF-R6), -128.456, 2:30.288
Alejandro Thermiotis (Yam YZF-R6), -159.446, 2:24.740
Edgar Zaragoza (Yam YZF-R6), -1 lap, 2:28.461
Tony Blackall (Yam YZF-R6), -8 laps, DNF, 2:34.763
Brandon Paasch (Yam YZF-R6), DQ, 2:19.747, motorcycle was 3.3 pounds (1.5 kg) under minimum weight
Championship Point Standings (after 2 of 18 races):
Escalante, 50 points
Minster, 26
Olmedo, 22
Paasch, 20
Kelly, 20
Silva, 19
Zayat, 19
Soltisz, 17
Aguilar, 16
Lamkin, 16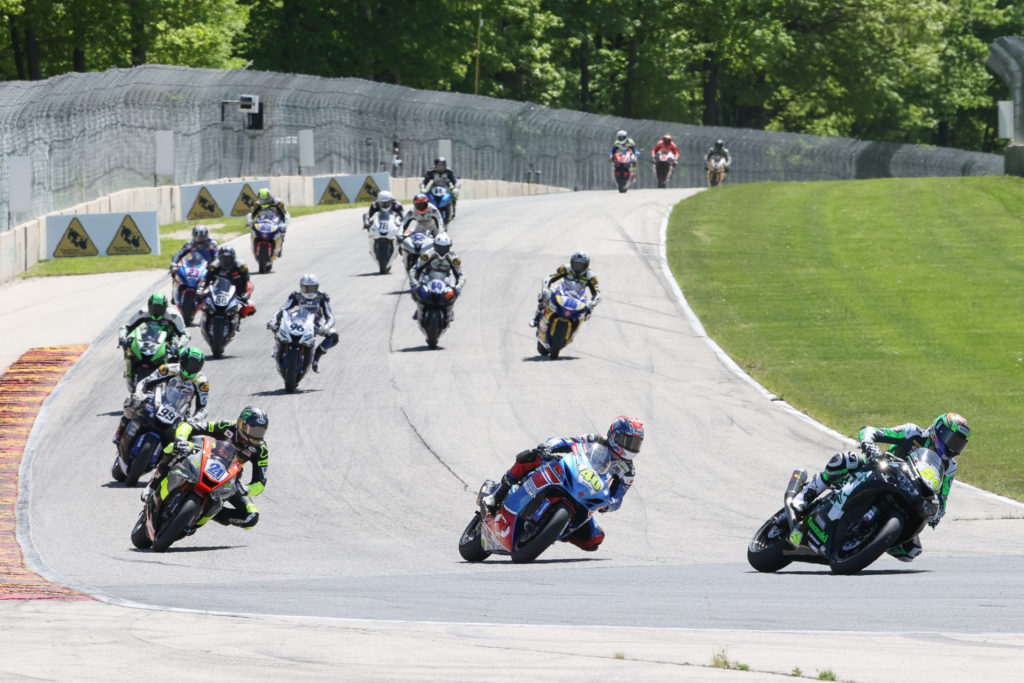 More, from a notice of sanction from MotoAmerica:
To: Brandon Paasch #21
Class: Supersport
Date: May 31,2020
According to the Judicial Procedures of the 2020 MotoAmerica Regulations and Procedures we confirm the sanction that has been imposed upon you.
Motive:
2.5.4 Minimum weight.
There is no tolerance on the minimum weight of the motorcycle. During the final technical inspection at the end of the race, the selected motorcycles will be weighed in the condition they finished the race and the established weight limit must be met in this condition. Nothing may be added to the motorcycle. This includes all fluids. During the practice and qualifying sessions, riders may be asked to submit their motorcycle to a weight control. In all cases, the rider must comply with this request. The use of ballast is allowed to stay over the minimum weight limit and may be required due to the handicap system. The use of ballast and weight handicap must be declared to the Technical Director at the preliminary checks
Hearing
You were required to attend a hearing with the Race Direction. You attended the hearing and acknowledged the facts presented to you.
Sanction:
Found to be under minimum weight.  Disqualification from finishing results.
Right of Appeal
According to 3.4 of the 2020 MotoAmerica Regulations and Procedures, you have the right to appeal against this decision, to the FIM North America Stewards, within 30 minutes from the date and time of receipt of this decision.   The appeal must be lodged in writing stating the grounds for the appeal and accompanied by the appeal fee of $1,500.
The Race Direction
Thomas Stevens      (Race Director)
Dan Argano            (FIMNA Safety Officer)
Michael Martin         (Riders' Representative)
More, from a press release issued by Team Suzuki Press Office:
M4 ECSTAR SUZUKI ECSTAR PODIUMS AT ROAD AMERICA SUPERSPORT
Team Suzuki Press Office – May 31.
Team ECSTAR Suzuki Supersport teenager Sean Dylan Kelly recovered from a high-speed crash yesterday to take third position on his GSX-R600 in today's second race at the opening round of the 2020 MotoAmerica Championship at Road America, USA.
The 17-year-old, who was in contention for a podium in Saturday's opening race, showed true form today, despite bruised from his slip-off, to bring home the team's first podium now that racing started under a closed-circuit environment due to the ongoing Coronavirus COVID-19 pandemic, and under strict social distancing, at the Elkhart Lake venue in Wisconsin.
He said after the race in a TV broadcast: "It's definitely been a tough day after yesterday, as ultimately I wanted to be on top, but the goal was to be on the podium, so thank you to all the M4 ECSTAR Suzuki team."
• Superbike riders Toni Elias and Bobby Fong were unlucky to both slide off when they were in challenging positions in the early and mid-parts of the 12-lap MotoAmerica Superbike race.
Full weekend race report and photos to follow on Team Suzuki Racing on the MotoAmerica AMA Superbike pages: HERE
#SuzukiStaySafe #StayAtHome #RidersAtHome