Top 10 on MotoAmerica SBK debut for Britain's Bradley Ward
FLY Racing ADR Motorsports rider Bradley Ward got his debut HONOS MotoAmerica Superbike season off to a solid start at Road America this past weekend, bringing his Kawasaki ZX-10R home in fourteenth and tenth positions in the two races held at the four mile circuit in Wisconsin.
It wasn't all plain sailing, the #57 suffering a small technical problem on the opening day which limited his running in the opening on track session of the event. Improvements in session two saw him end the opening day in tenth, with further improvements saw Ward close the gap to the front still further, claiming fourteenth on the grid on his first race in the class!
Race one and Bradley had to dig deep to recover from an overshoot at Turn One early on. In addition, he also had a small brake problem but was able to bring it home inside the Top 15, his efforts earning him two championship points.
Race two saw any significant improvement in terms of Bradley's pace, the Englishman in the fight for eighth, eventually finishing P10 on only his second Superbike race in the AMA Superbike series!
Bradley Ward: "First quali wasn't great. From the very first lap we had electronic issues, the quick shifter and auto-blip wasn't working. With it being a year since I'd ridden at Road America, I made the decision to stay out to and try to re-familiarise myself with the layout. It's such a flat out, sixth gear, wide open track that it was a little bit sketchy shall we say. I then pulled in and the team quickly figured out that it was an ECU problem. We changed a few things and I was able to get a few laps in at the end, but it was right off really. Between sessions the bike was completely rebuilt, and the bike felt alright for Q2, my first proper outing on a Superbike at Road America. I learned a lot but there's definitely more to come but I am under no pressure to lay it on the line, it's my first year and I have to just keep chipping away. I was hoping to make a good start and get involved with a few guys. The plan was always to get as much info as possible for the second round which is also at Road America in a few weeks. I managed to finish P14 in race one after a brake problem and a run-off at Turn One, but we got some good data and I was really looking forward to Sunday's race. Race two was a lot better. I got off to a reasonable start and passed my team mate into Turn 1. I was holding my own with Corey Alexander, Flinders and Travis Wyman and then there was a bit of carnage. Two or three riders ahead went down which meant I was able to secure a top ten!. I got down to a reasonable lap time too to a pace that was more than I expected on my first weekend on a Superbike and after limited testing. Not 100% happy but we made progress and we have a good base to start from for round two in three or four weeks. Thanks to the FLY Racing ADR crew and to everyone at MotoAmerica for pulling off a great return to racing for us all!"
For more information go to bradleywardracing.com
More, from a press release issued by Travis Wyman Racing:
Travis Wyman debuts 2020 BMW S 1000 RR, scores top-10 finishes in MotoAmerica Superbike, Stock 1000 classes at Road America
Las Vegas rider gets up to speed quickly aboard redesigned BMW at series' season opener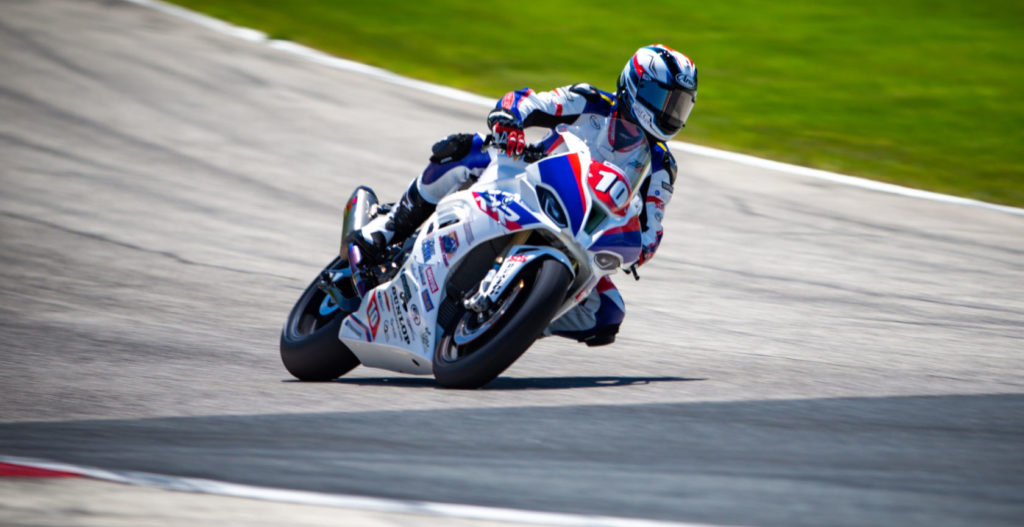 ELKHART LAKE, Wis. — When the Travis Wyman Racing BMW Team rig rolled into Road America Thursday for the opening round of the 2020 MotoAmeica season, the Las Vegas rider hadn't turned a lap on the team's 2020 BMW S 1000 RR. A little more than 24 hours after debuting the new bike in Friday morning's practice session, Wyman had scored a sixth place in the event's Stock 1000 race and a top 10 in the day's Superbike race.
The 2018 MotoAmerica Stock 1000 runner-up made the most of May 29-31 event, nearly scoring another top-10 Superbike finish while using track time to figure out a good baseline set-up for the team's all-new BMW package.
Having only ridden the new S 1000 RR a few hundred miles on the Pacific Coast Highway to break in the engine, Wyman and his team of Steve Weir, crew chief, and Alex Torres, lead mechanic, were in uncharted waters Friday morning when Wyman took the bike on track for the first time. Wyman ended the session sixth-fastest and posted the second-fastest trap speed at more than 175 mph.
Wyman qualified sixth for the weekend's sole Stock 1000 race, posting a lap two seconds faster than his best lap in the Friday morning practice session. The Stock 1000 race took place Saturday afternoon, and Wyman finished the race in sixth while shaving another two seconds off his best lap time on the new bike.
Later on Saturday afternoon, Wyman took part in the Superbike race as part of the new-for-2020 MotoAmerica Superbike Cup, which allows select Stock 1000 riders to also compete in the Superbike Class at each event. Wyman scored a 10th place overall and was the second-highest place finisher of the Superbike Cup riders.
In Sunday's Superbike race, Wyman was running as high as 10th place after starting 15th when false neutrals interrupted his charge forward. He kept the bike on the track and claimed a 15th-place finish.
The Travis Wyman Racing BMW Team will be back in action June 26-28 when the Road America circuit plays host to its second MotoAmerica event of 2020.
Travis Wyman / #10
"Overall, I'm really happy with how the weekend went. Friday practice was the first time I rode our 2020 BMW S 1000 RR in race trim, and I felt comfortable on it from the first lap. My feel with the bike improved every session, even with the big set-up changes we were throwing at it every time I came into the pits. We were still adjusting the handlebars and footpegs on Friday morning, and by the end of the weekend I was already running nearly as fast as I had on the team's previous BMW package. The Stock 1000 and Saturday Superbike races went well for us, and scoring a top 10 in Superbike with a motorcycle we're still working on finding a baseline set-up for is pretty incredible. I'm bummed that false neturals knocked me out of the top 10 in Sunday's Superbike race, but I couldn't be happier with what we accomplished this weekend given all the unknowns we faced. I'm looking forward to even better results with this 2020 BMW S 1000 RR as the season goes on."
More, from a press release issued by Jason Aguilar Racing:
Maiden MotoAmerica Supersport Podium For Jason Aguilar at Road America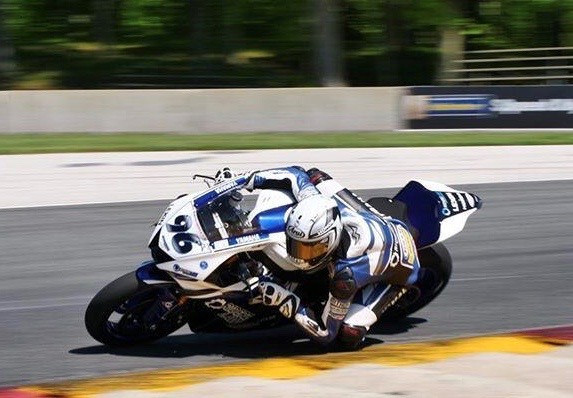 RiderzLaw Aguilar Racing rider Jason Aguilar began his MotoAmerica Supersport Championship campaign in fine style at the season opener at Road America, bringing his Yamaha R6 home in third place in the weekend's second race, securing a maiden podium in the class, after starting from fourth on the grid after an impressive qualifying performance.
Aguilar, who finished eighth overall in the 2019 series, produced the best weekend of his Supersport career to date and even though a technical issue forced him out of the podium fight in race one, the Californian bounced back to bag sixteen points in the second 11 lap encounter.
In both races the #96 Yamaha ran strong, running at the sharp end throughout, ensuring that confidence is high for Round 2.
Sunday's second encounter provided action aplenty with Jason even running off track on the warm-up lap. Despite his pre-race scare, he was able to take his place on the grid before showing a front running pace that initially placed him fourth. A short while after the flag the news came through that a rival ahead had been disqualified for a technical infringement thus promoting Jason to the final spot on the podium.
The next round of the 2020 MotoAmerica Supersport Championship sees the series return to the Wisconsin venue at the end of June.
Jason Aguilar: "Qualifying one went pretty well. I ran third right up until the end when I just got pipped. I had a small issue which stopped me from lapping at the end of the session but overall, I was content. We haven't raced since September so I'm still trying to get my strategies back and get used to the bike as I haven't been able to do as much testing as we usually would before the opening round. We made great progress for day one and the plan was to push for the front row. We made some changes overnight and tried a few new things in second qualifying. I was able to improve my lap time after changing the tyres, and although I would have liked a couple more flyers, I was happy with how it went. I am a little frustrated to miss the front row and had I not caught a slower rider on my last lap, which was still my fastest, maybe it was possible. I had a good flow going but it isn't the end of the world to be starting on the second row. I got a decent start in race one but right off the line something felt wrong and the bike sounded weird on acceleration. It was going slow and I thought maybe it had dropped a cylinder or something. It got worse and worse and I was pushing so hard but just getting slower, I couldn't figure it out. Eventually I was black flagged even though I didn't see any oil leaking. I was little bummed as it meant we forfeited any points which kinda sucked. We borrowed an engine and rebuilt the bike for race two. I was off the track on the warm-up lap in race two after a dip-shit move saw me out brake myself and run through the gravel, I guess I was just so pumped to make amends. It was a crazy race. I got a decent start, but my adrenaline was high after what just happened. Once I settled in, I fought my way up to fourth and I thought I could maybe catch SDK for third, but I screwed up and ran on again. I fought back to fourth again and just cruised to the flag. It wasn't a bad weekend all in all, but it got better after I was informed, I actually got third after Paasch was disqualified for a tech infringement. It's not the way I wanted to take my first MotoAmerica Supersport podium, but I will take it. Massive thanks to my entire crew and everyone that supports me. I also want to say well done to MotoAmerica for ensuring the weekend went ahead. A strange one for sure with no fans but man it was good to be back on track!"
More, from a press release issued by Westby Racing:
Westby Racing's Wyman Is Fourth In Sunday's Junior Cup Race, While Scholtz Crashes Out Of Superbike
Elkhart Lake, WI – June 1, 2020 – On Sunday at Road America, the fate of Westby Racing's two riders went in opposite directions. Junior Cup rider Cody Wyman improved on his seventh-place result on Saturday with a fourth-place finish on Sunday, while Superbike rider Mathew Scholtz, who was runner-up on Saturday, got caught up in a racing incident on Sunday, unfortunately went down, and was unable to finish the race.
After being hampered by a technical issue on Saturday, Cody had a much better race on Sunday. Starting from the front row of the grid, he had a race-long battle with a group of anywhere from six to eight riders for the majority of the seven-lap event. In the end, he was in position to land on the podium with a third-place result, but he got nipped at the finish line and had to settle for fourth on the day.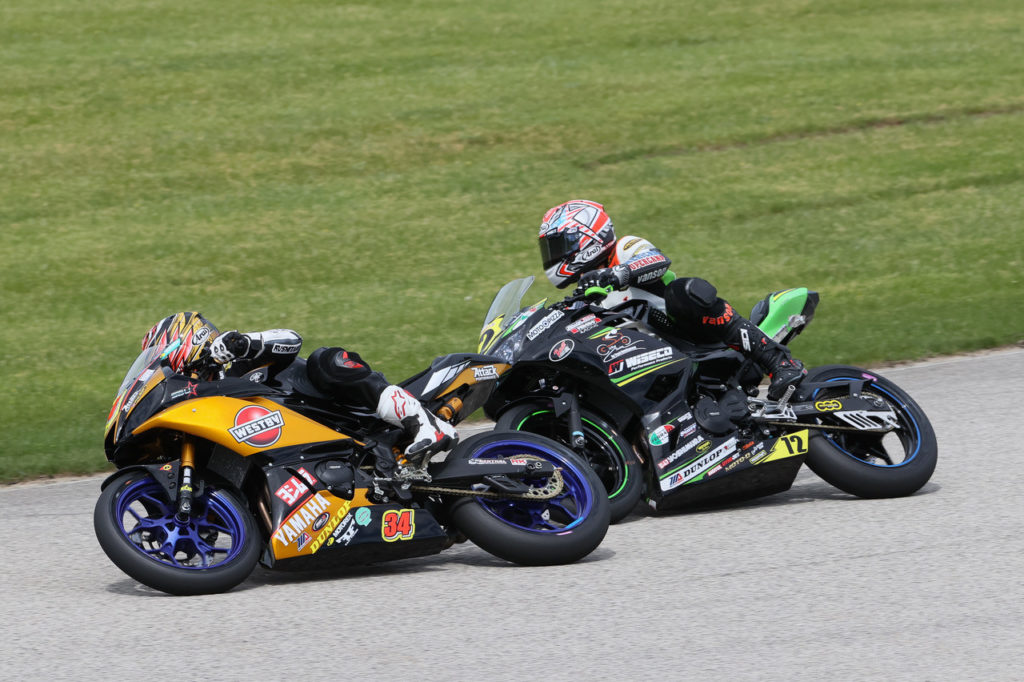 "I am proud of what I did today on the bike," Cody said. "We had a small mishap yesterday, and it felt really good to have a solid run on the Yamaha today. I was P6 in the morning warmup, but I did my best lap by far, and I felt the most comfortable all weekend. In the race, it was a good battle, and I felt really strong on the brakes. We were there at the end to get a good draft and get a solid run to the line.
"Thanks so much to my crew chief Bob Wyman and the team for making the right adjustments and giving me a great bike. I'm looking forward to coming back to Road America at the end of June, and to a racetrack filled with fans. See you then!"
Mathew's second-place result in Saturday's Superbike race one raised his and the team's hopes that the outcome of Sunday's Superbike race two would be the same or possibly even one position better.
But, on lap seven, while going into turn five, the front wheel on another rider's bike came together with the rear wheel on Mathew's #11 Yamaha YZF-R1, which sent both riders and their bikes tumbling off the race surface. Mathew, who fractured his clavicle a few months ago, was bruised and battered, and he's considering having his collarbone re-checked to ensure it wasn't damaged. One thing that was damaged was his pride because the crash wasn't his fault. But, it was a racing incident, and he and the Westby Racing team will regroup and prepare for round two of the Championship.
Mathew commented, "We made a couple of changes on Saturday night for Sunday's race, and in Sunday morning warmup, we were pretty positive that they were going to move us forward. We knew that we had a pretty solid race pace. The pace was really fast for the first couple of laps, which was really good because we could see that we were able to do those laptimes. I was feeling really good and I managed to get past (Bobby) Fong and (Jake) Gagne, and I think we could have gapped them. Unfortunately, Bobby outbraked himself coming down into five, got into the back of me, and we both crashed, which was really unfortunate. These things happen, I guess. The whole team was gutted with what happened, but looking at the positives, the bike is working really, really well. We'll just keep our heads down, work hard and look forward to coming back at the end of June."
Next up for Westby Racing is round two of the MotoAmerica Championship, which will be an encore event right back at Road America in Elkhart Lake, Wisconsin, on June 26 through 30.
More, from a press release issued by Suzuki Motor of America Inc.:
M4 ECSTAR Suzuki Earns Supersport Podium at MotoAmerica Opener in Wisconsin
Sean Dylan Kelly Leads the Team with a Solid Run in Race 2 on his GSX-R600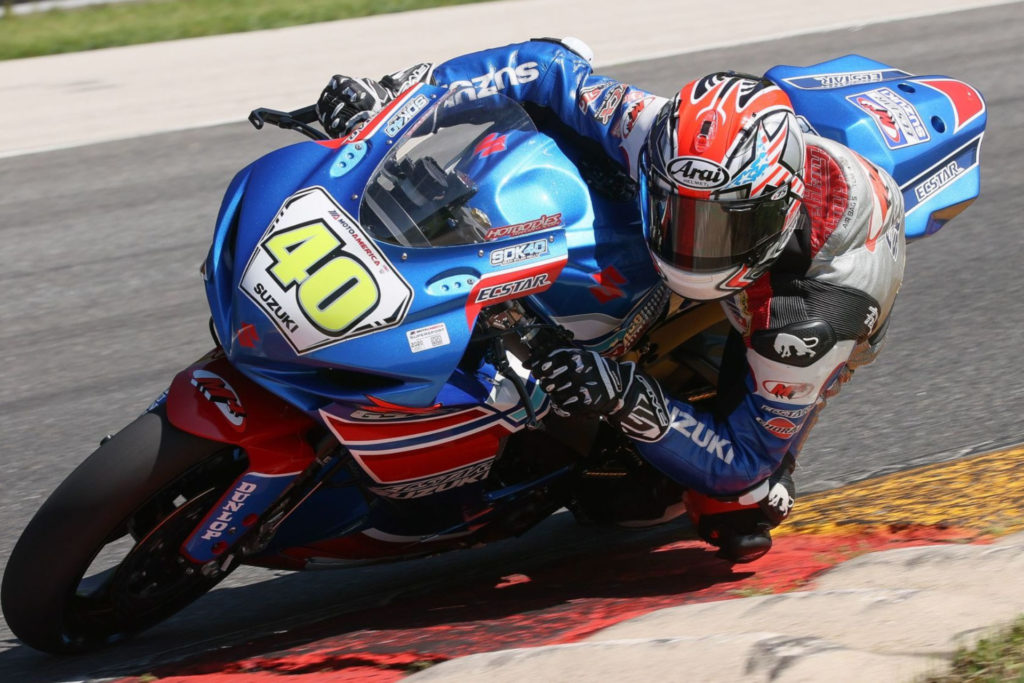 Brea, CA (June 1, 2020) – Suzuki Motor of America, Inc. and its new lead effort, M4 ECSTAR Suzuki, kicked off the 2020 MotoAmerica AMA/FIM North American Road Racing season at Road America in Elkhart Lake, Wisconsin. The team celebrated the new union on the podium courtesy of Sean Dylan Kelly and his Suzuki GSX-R600 while both Superbike aces, Toni Elias and Bobby Fong, found positives despite their disappointing results.
Kelly showed his grit and skill during Race 2 of the weekend. Although he suffered a crash while battling for the win in Saturday's Supersport contest, the 18-year-old bounced back with an impressive third-place run in Sunday's rematch. "SDK" took over the lead on the opening lap and waged a back and forth drafting contest before settling back to secure third. An opponent's disqualification later moved Kelly up the leaderboard where he was ultimately awarded second place.
"It was a tough race after taking the hard hit yesterday," said Kelly. "As much as we want to be on top, we just needed a decent result. I'm looking forward to starting next month at a better pace after learning a lot this weekend. I want to give a huge thanks to my entire M4 ECSTAR Suzuki team."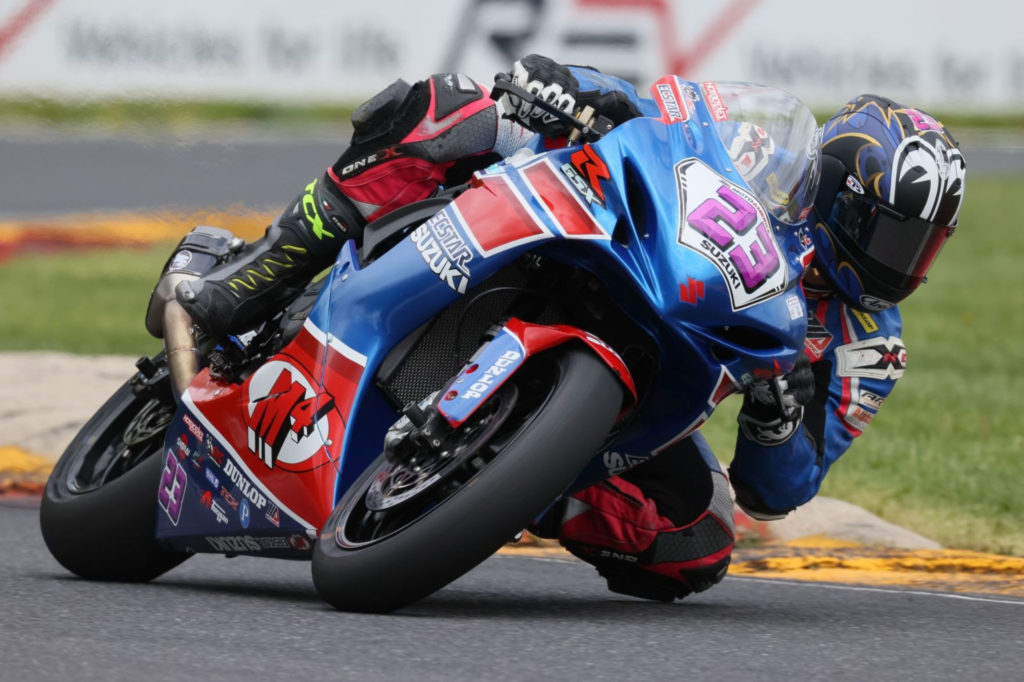 Supersport teammate Lucas Silva finished a strong fifth on Sunday after finishing a close eighth the day before.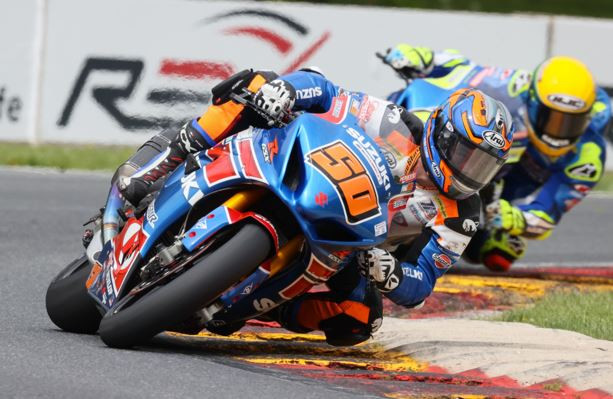 Fong had an impressive race on Saturday in the premier HONOS Superbike class aboard his Suzuki GSX-R1000. After qualifying on the second row, Fong showed the pace to fight for the runner-up spot. On Saturday, he finished in a solid fourth after scrapping for second throughout. Unfortunately, he crashed from contention on lap 7 of 12 in Race 2 after colliding with another rider as they battled for second position.
"Saturday's Race 1 was good, clean fun," said Fong. "There was some good dicing and I learned a lot racing with those guys, especially considering how little time I've had on this bike. I felt I rode well and I did everything I could, giving 110% each corner. We were actually really good in a lot of the technical sectors, and we found some things this weekend that will help us really improve going forward."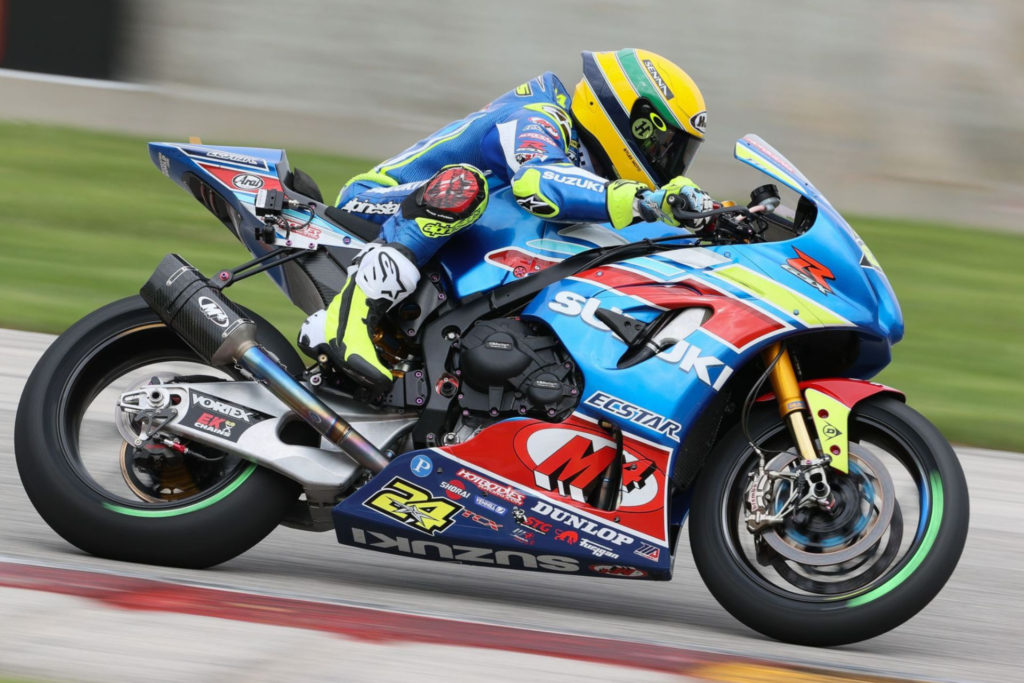 2017 MotoAmerica Superbike and Moto2 World Champion, Elias suffered a rough weekend after qualifying on the front row. After retiring on Saturday due to a broken chain, Elias was determined to redeem himself on Sunday, displaying both improved confidence and pace, but crashed on lap three while running with the lead pack.
"We did an incredible job," said Elias. "I've never done this much improvement in my life. Not the best start to the season, and not the start I wanted or expected, but racing is like this. We will continue forward. We have one month now, and we will work hard."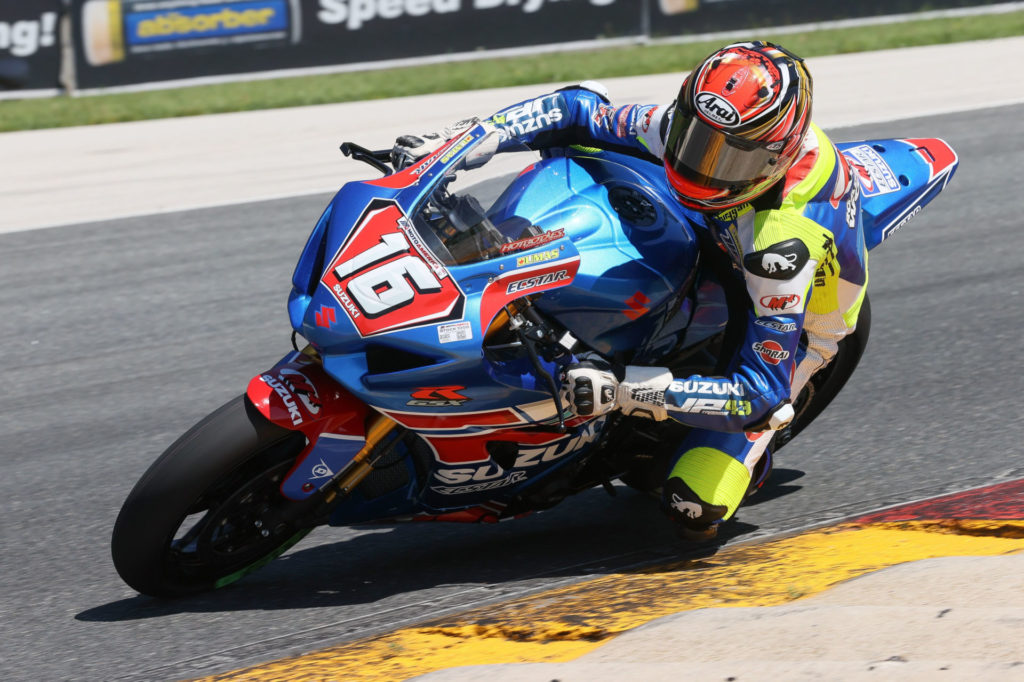 Double MotoAmerica undercard national Champion Alex Dumas enjoyed a solid debut in the literbike competition after previously making his name on smaller displacement motorcycles. The French Canadian qualified and finished seventh in the Stock 1000 opener aboard his Suzuki GSX-R1000.
The M4 ECSTAR Suzuki team is looking forward to when the MotoAmerica series returns to Road America for Round 2 on June 26-28.