7th Podium of the year for PJ, Corey and Stefano bag a top six finish apiece at COTA
PJ Jacobsen took his seventh podium finish of the season at COTA last weekend, to consolidate third position in the overall MotoAmerica Superbike standings with just one round and two races remaining.
Extreme weather conditions meant difficult conditions for both rider and team, but as ever the Tytlers Cycle Racing team took it in their stride to ensure another front running weekend for them and the BMW M 1000 RR.
Jacobsen, who took a hard fought fourth on Saturday was once again joined on track by Corey Alexander who continued to show pace and Superbike newbie Stefano Mesa, who was making his debut in Superbike with the team that he had been competing with in Supersport all season up to this point.
Saturday's opening race, which was restarted and run over a reduced distance of twelve laps after an on-track incident, saw the trio finish inside the top ten after PJ, Corey and Stefano had qualified fourth, eighth and tenth respectively. PJ was fourth across the line with Corey sixth and Stefano ninth.
Sunday saw another disrupted race due to on track incidents but when the race eventually got under way over a reduced distance of ten laps the Tytlers Cycle Racing trio were once again right in the mix. A solid third for PJ was reward for his continued hard work both on and off track whilst a little further back Stefano and Corey crossed the line almost together, the pair separated by just over half a second, with Stefano just edging Corey in the closing stages.
The team now move to the New Jersey Motorsports Park where they hope to end the season as they began it – on top of the podium.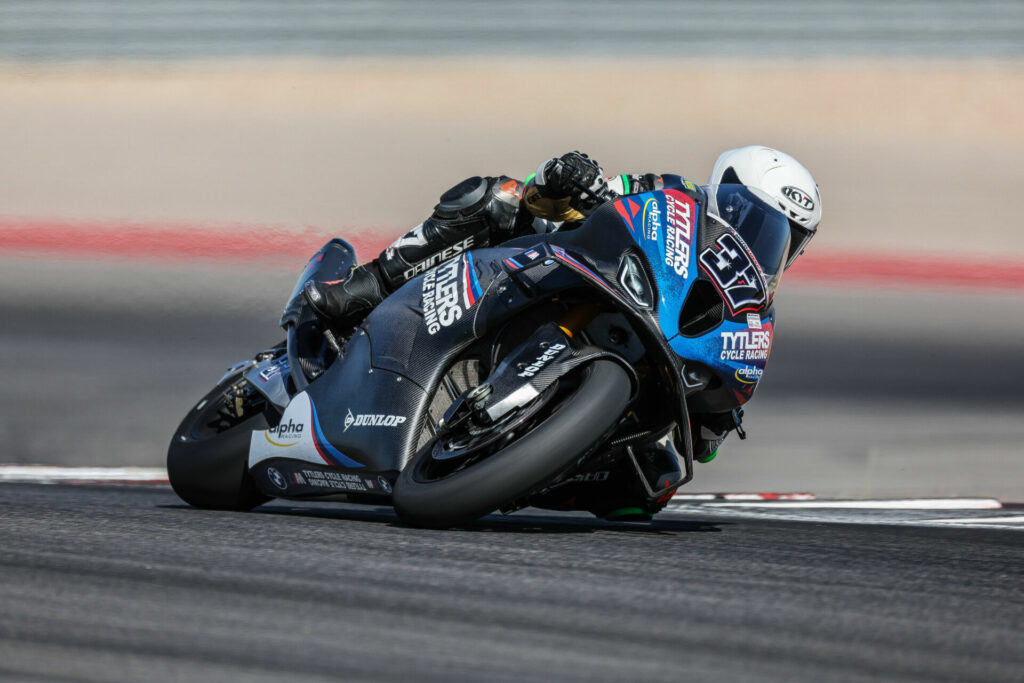 Stefano Mesa: "It was a good weekend riding the superbike for the first time at COTA. The whole weekend went well, and the experience was really positive. We made a lot of steps every time we rode which resulted in us going faster every session. I am so stoked about that. Race 1 was very challenging – the hot weather made it a very long twelve laps, but we made it work. It was the first time I had put so many laps together on a superbike and I definitely learned a bunch and was able to go and work with the team a little bit and say what I was feeling with the bike. In the warm up I improved by over a second which gave me a good feeling ahead of Sunday's race. The first start (of race two) I kind of messed up and I stalled the bike, so I was lucky a red flag came out. After the red flag it was a good race for us. I got up front a little bit and made some passes and was able to battle with Ashton (Yates). I've had such an overall positive weekend and am super happy with the progress we made. Hats off to the whole team for welcoming me and giving me positive vibes all weekend. See you all in New Jersey."
PJ Jacobsen: "Race one started off decent but then I started struggling with grip issues half way through the race and just went backwards. It was physically really hard as well so the best we could end up with was P4, which all things considered wasn't the end of the world. It was a crazy second race. The track was very hot and greasy and some of other guys were making mistakes and crashing out. I tried to stay with Josh (Herrin) and Jake (Gagne) to close the gap in front of me, but I just couldn't do it. Again, the grip was going away for me, so it got really difficult, but I was able to finish on the podium. For the championship we are in a good position, and I am looking forward to New Jersey and to finishing the season in style!"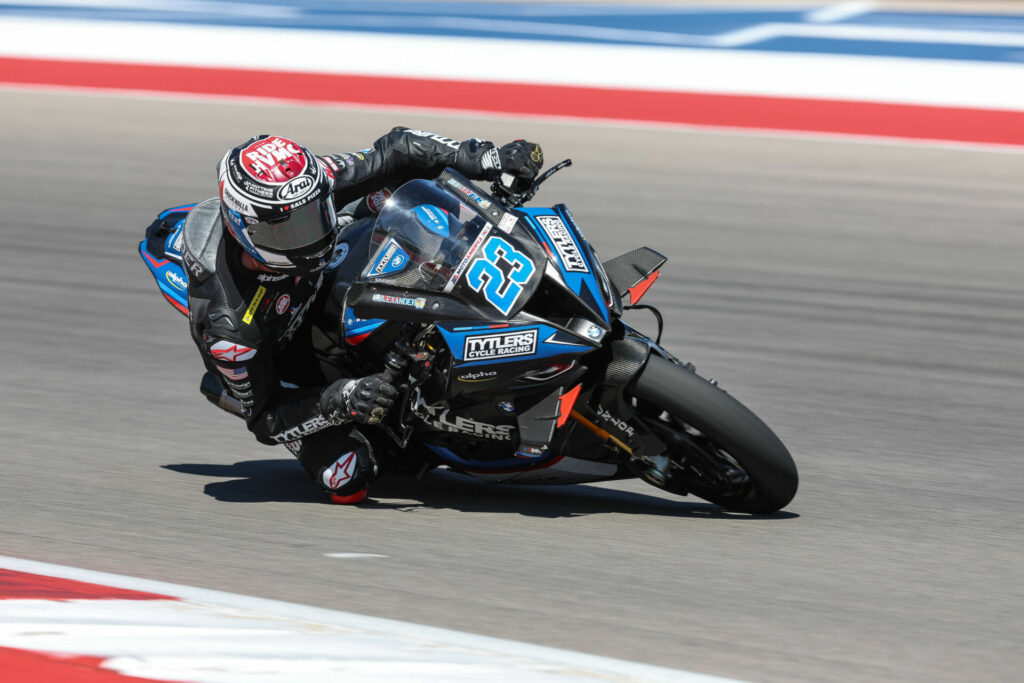 Corey Alexander: "We had another trying weekend with technical difficulties and limited track time. We took some positive results with a sixth and eighth, but I know we didn't show our true potential this weekend.  I'm excited to wrap up the year on a high note at my home track in two weeks' time. I want to thank all my crew for their hard work in very hot conditions, it was a tough weekend for them especially. See you at NJMP."
More, from another press release issued by Tytler Cycle Racing:
Texas top ten for Kayla Yaakov who shines on her MotoAmerica Supersport debut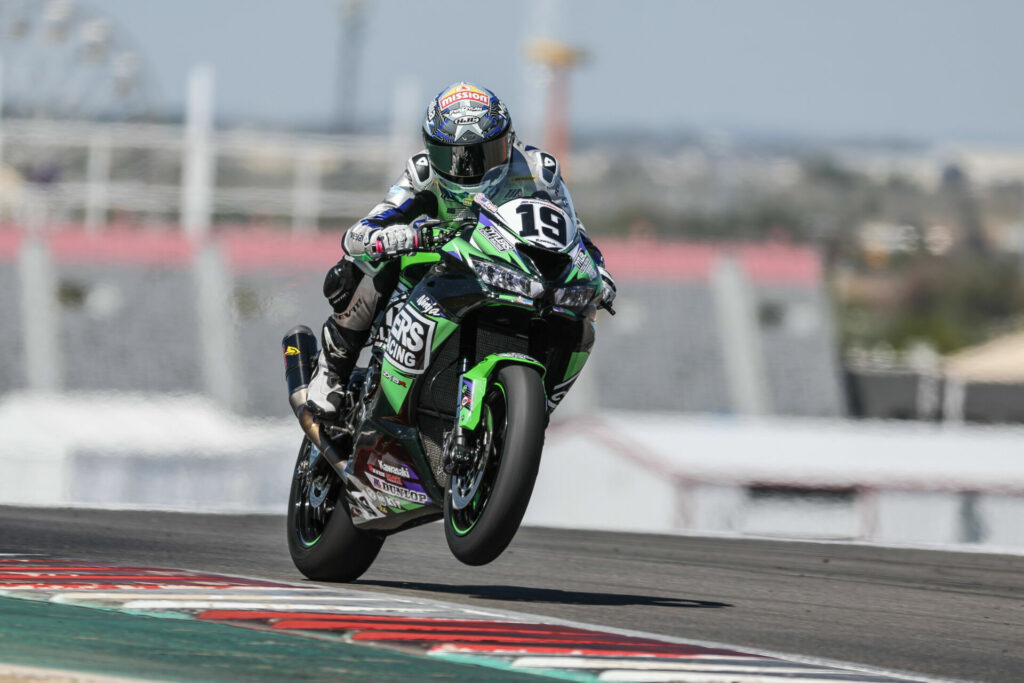 Cool, calm, and collected at COTA is how we can describe Kayla Yaakov's debut Supersport weekend with us. Successful and impressive are just two words we could use as the Junior Cup race winner and Twins Cup podium finisher raced to a double points scoring finish in the weekend's two races, the penultimate round of the MotoAmerica season.
Steady progress on Friday led to a more then respectable final qualifying session that saw the #19 Tytlers Cycle Racing Kawasaki rider line up sixteenth after she improved her lap time overnight by 1.4s.
Fourteenth in the red flagged opening race on Saturday, Kayla shone on Sunday crossing the line tenth, narrowly missing out on eighth in a shortened six lap sprint.
Looking ahead to the season finale, Tytlers Cycle Racing is exciting to see how Kayla will fair at a circuit she knows – New Jersey Motorsports Park in a little over a week!
Michael Godin – Crew Chief for the Tytlers Cycle Racing Supersport Program: "We had a great first weekend working with Kayla. We knew that a new bike and track was going to be a challenge. I was very impressed with her race knowledge and feedback. We made continuous changes all weekend getting her more comfortable and it paid off with a top ten finish and personal best lap time on the last lap chasing for ninth place in race two on Sunday. The team and I are really looking forward to racing at New Jersey, a track she knows well."
Kayla Yaakov: "I knew riding this brand-new bike for me this weekend would be a challenge, but the team did a great job of trying to get me comfortable. We improved each session and, in the races, so we can only go further forward from here. We made some big changes for the first race on Saturday, which ultimately helped us in some spots, and hurt us in others. All things considered; I was super happy to be in the battle for the top ten in my first supersport race. After making some great improvements for Race 2, I was able to get into the top 10, which was my original goal for the weekend). We had the pace for a better placing, but unfortunately, I lost some ground early on due to fighting with another rider. Either way, I am super pleased with the progress myself and the team made all weekend. It's now full focus on New Jersey. I'm ready to keep learning and having fun on the ZX6."
More, from a press release issued by Altus Motorsports:
Altus Motorsports Results from Circuit of the Americas
(Austin, TX) The heat in Austin, Texas for the MotoAmerica race at Circuit of the Americas was almost unbearable. But, in spite of the weather, the team had a good weekend.
Stock 1000:
Two-time MotoAmerica Stock 1000 Champion, Andrew Lee took control of the Altus Motorsports Suzuki GSX-R1000R at the Circuit of the Americas round. Having never ridden COTA or the Altus Motorsports Stock 1000 bike, Lee was on a bit of a learning curve. Undaunted, he went to work immediately and was 18th of 40 entries by the end of Practice 1. By the end of the second qualifying session, Andrew was fast enough to lock down 12th on the starting grid. The lap times continued to come down during Race 1. He dropped another second and crossed the finish line in 8th place. In the Sunday Stock 1000 race, Andrew went over a second faster and was in a battle for 7th place. Ultimately, he matched his previous finish with an 8th.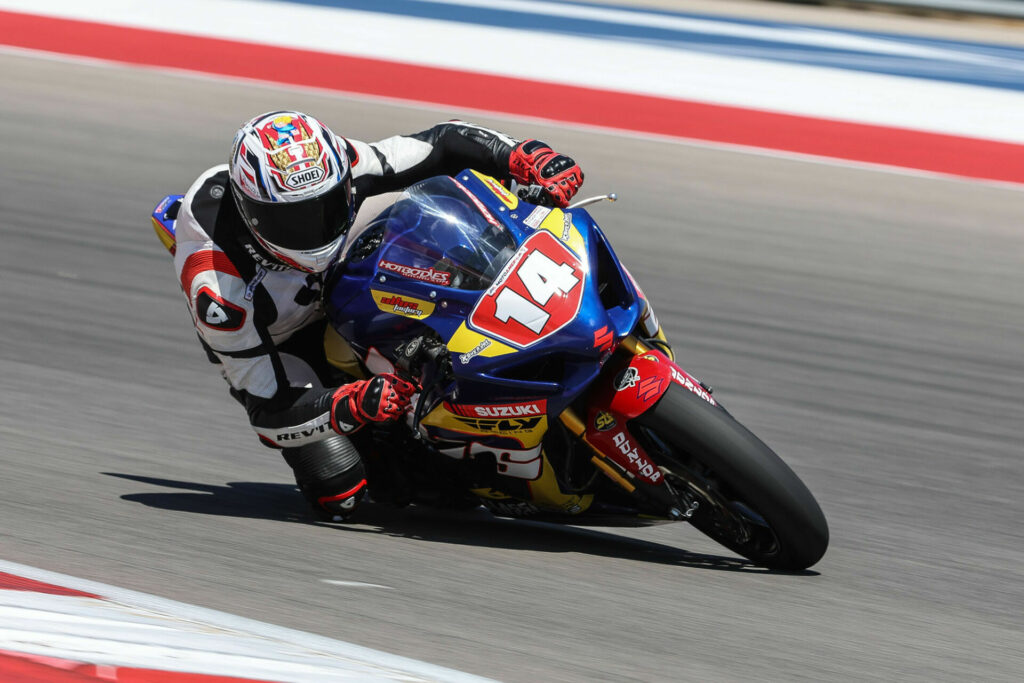 Andrew Lee: "It was a great race weekend. I'm so thankful for the opportunity to work with George, Janette, and the whole Altus Motorsports Team. Our crew put in a lot of work to get me comfortable on the Suzuki GSX-R1000R  We started a little on our back foot with no testing, and, admittedly, a little rusty.
On Sunday, we made some big changes that made me a lot more comfortable. But, unfortunately, it was so late in the weekend!  We concluded the weekend with 8th-place finishes in both races. I believe the results are great for our first weekend with the team and at the new track."
Supersport:
Jaret Nassaney came into Austin on a high. After a difficult season, he and the team finally found a comfortable setup at the last round at PittRace. He was hopeful to build on that momentum at Circuit of the Americas. And they did!  Nassaney dropped time in every session, ultimately qualified 14th. In Race 1, he finished the race in 10th place. In the second Supersport race of the weekend, he went faster and crossed the finish line in 8th.
Jaret Nassaney: "It was a good weekend! Friday we struggled with gearing, but we got it sorted Saturday. We were still working on setup right until Race 1. I got a good start and made my way up to 10th or 11th but got shuffled back to 15th or 16th when a rider in front of me overslowed for a corner. I managed to fight my way back to 10th before the red flag. In Race 2, I got a bad start but it got red-flagged. On the restart, I had a much better launch and made it up to 8th and stayed there. I'm super happy with the improvement and hope to end the season on a high note."
George Nassaney: "It was a really good weekend.  With COTA only 6hrs from home, lot's of our family and friends came out to watch.  I can see that Jaret is comfortable and making progress in the right direction.  He is getting more and more comfortable working with our new Crew Chief Boyd Bruner and Andrew did an amazing job. He'd never been to COTA and jumped on the bike and did very well. Big thanks to everyone on the team for putting up with the heat and making Texas a successful round."
Altus Motorsports team is supported by our great family of sponsors: Altus Motorsports, FLY Racing WPS, Suzuki Motor Corporation, Yamaha Motor Company, Barnett, Buy A Jet From Steve Main, Maxima Racing Oils, Moto-D Racing, Bonamici, Hot Bodies Racing, M4 Exhausts, Vortex EK, Motion Pro, SBS Brakes, BrakeTech USA, Inc., Ohlins, K-Tech, RS Taichi, Arai, Yoshimura, Chicken Hawk Tire Warmers, CarbonSmith, Law Tigers Oklahoma, and Altus Factory Racing
More, from a press release issued by Harley-Davidson:
FACTORY HARLEY-DAVIDSON RIDER KYLE WYMAN WINS ON SATURDAY AS HARLEY RACERS FILL THE KING OF THE BAGGERS PODIUM AT CIRCUIT OF THE AMERICAS
Vance & Hines/Harley-Davidson racer James Rispoli wins on Sunday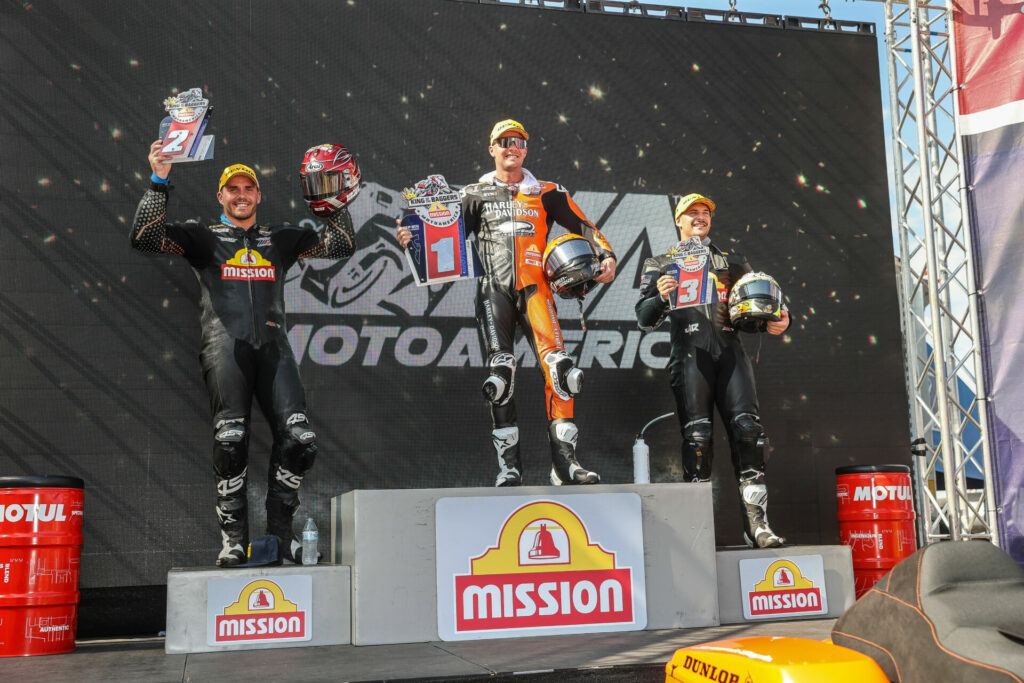 MILWAUKEE – Harley-Davidson® Screamin' Eagle® factory rider Kyle Wyman won his sixth race of the season and Harley-Davidson riders claimed five of six podium positions in two MotoAmerica Mission King of the Baggers races last weekend at Circuit of the Americas in Travis County, Texas. Wyman led Saturday's race from start to finish aboard the team's race-prepared Harley-Davidson® Road Glide® motorcycle. On Sunday, Vance & Hines/Mission Foods rider James Rispoli won his second race of the season on the team's Harley-Davidson Road Glide motorcycle.
Wyman was the top qualifier for the weekend with a quickest lap of 2:15.621 on the challenging 3.4-mile, 20-turn Circuit of the Americas road course.
On Saturday, racers endured the challenge of temperatures topping 100 degrees at the start of the first 6-lap Mission King of the Baggers race. Wyman got a great start from the pole on his Factory Harley Road Glide bike and opened a 1.02-second lead after two laps, a gap that stretched to more than 2 seconds at the finish. Hayden Gillim was second on a Vance & Hines/Mission Foods Harley-Davidson, followed by his teammate Rispoli in third place as Harley racers filled the podium. Harley-Davidson® Screamin' Eagle® factory rider Travis Wyman was fourth on the team's second Road Glide motorcycle. The win moved Kyle Wyman two points ahead of Gillim for the series championship.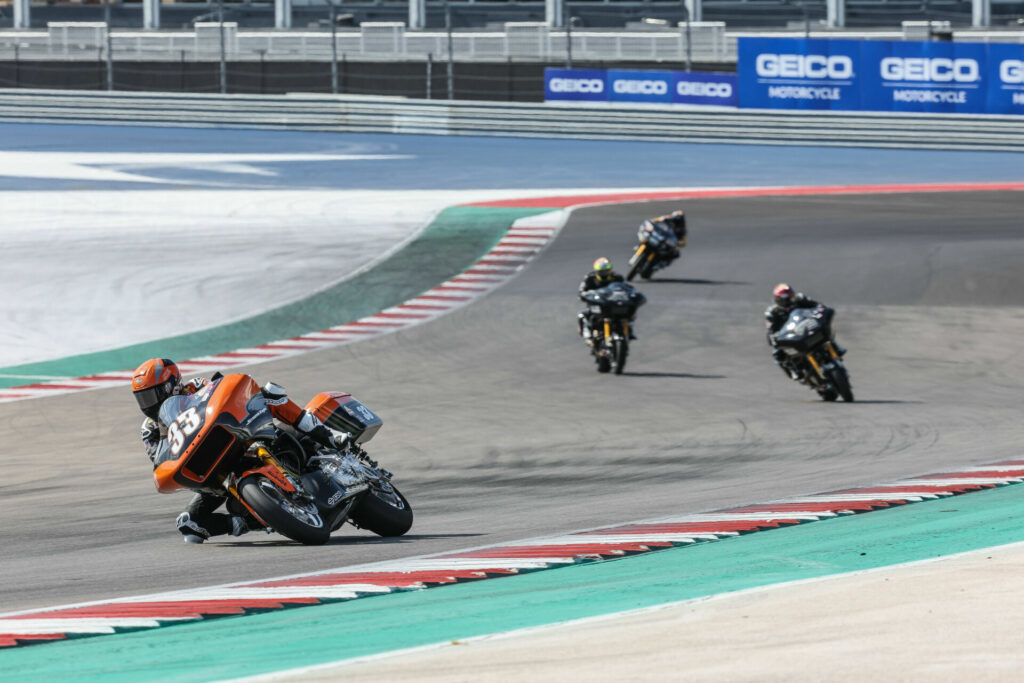 On Sunday, Kyle Wyman got caught in traffic at the start of King of the Baggers race two and was running in eighth place when he crashed in turn 13 following contact with another rider. Wyman was able to pick up his motorcycle and re-joined the race in last place, then battled back to finish in ninth place and earn valuable championship points. Rispoli took the race lead on lap 4 and crossed the finish line 8.66 seconds ahead of his teammate Gillim. Travis Wyman was running in second place before crashing out on the last lap, promoting Gillim and Kyle Ohnsorg, who finished third on the Roland Sands Design Indian.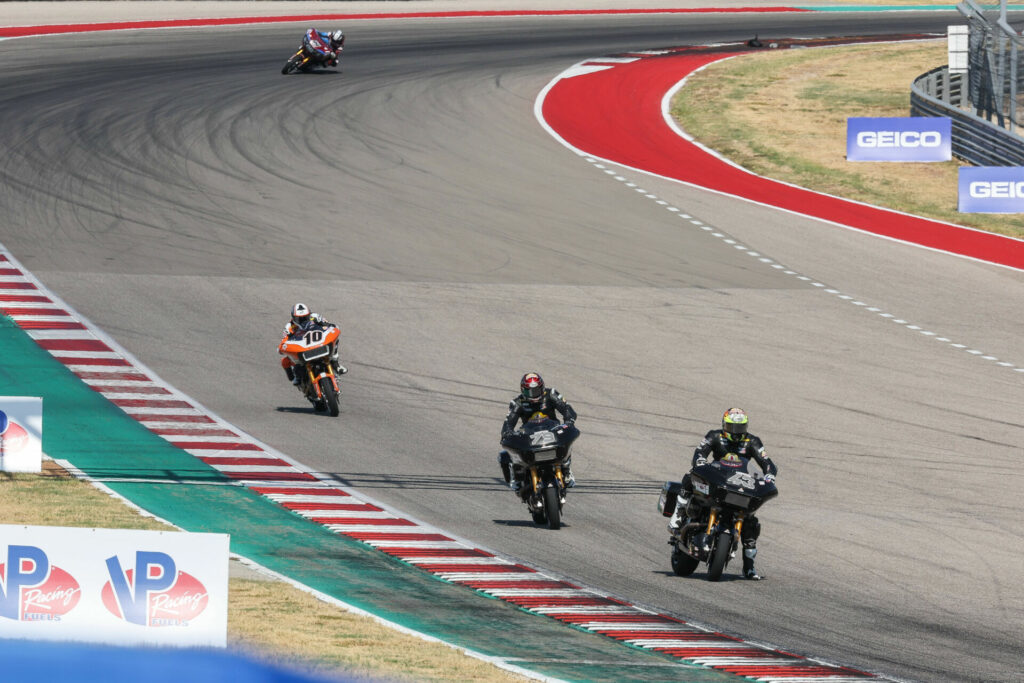 "In race two, I got what I thought was a good start, but got swallowed up by a couple of riders," said Wyman, "And I could not get the drive I wanted out of turn one. I was trying to be patient but got caught in a bad spot and went down. I was able to work back up to ninth and score seven points, which keeps me in the hunt for the championship, just 11 points back going into the final round. The goal is clear for me to try to win both races in New Jersey and see where everything falls. It should be an exciting finish to the season. A Harley is going to win the championship. I just hope the orange and black bike is the one on top."
After 12 of 14 rounds in the 2023 MotoAmerica Mission King of the Baggers series, Vance & Hines' Gillim leads the championship with 215 points, followed by his teammate Rispoli with 213 points, and Kyle Wyman in third place with 204 points. Travis Wyman is in eighth place with 86 points.
The Mission King of the Baggers series features race-prepared American V-Twin touring motorcycles. Harley-Davidson® Factory Team Road Glide® motorcycles are powered by modified Screamin' Eagle® Milwaukee-Eight® 131 Performance Crate Engines. The team bikes also feature upgraded suspension components, including Screamin' Eagle/Öhlins Remote Reservoir Rear Shocks, plus competition exhaust, race tires and lightweight bodywork.
The Harley-Davidson® Screamin' Eagle® factory team returns to action Sept. 22-24 in the MotoAmerica Superbikes at New Jersey Motorsports Park in Millville, N.J.
MotoAmerica King of the Baggers Race Results – Circuit of the Americas 1
Kyle Wyman (H-D) Screamin' Eagle Harley-Davidson
Hayden Gillim (H-D) Vance & Hines/Mission Foods/Harley-Davidson
James Rispoli (H-D) Vance & Hines/Mission Foods/Harley-Davidson
Travis Wyman (H-D) Screamin' Eagle Harley-Davidson
Kyle Ohnsorg (Ind) Roland Sands Design
Jake Lewis (H-D) Team Saddlemen
Max Flinders (Ind) M3/Revolution Performance
Hawk Mazzotta (Ind) Lloydz Garage
Frankie Garcia (H-D) Team Saddlemen
Patricia Fernandez-West (H-D) Team Saddlemen
DNF. Bobby Fong (Ind) Sacramento Mile/SDI Racing/Roland Sands Design
MotoAmerica King of the Baggers Race Results – Circuit of the Americas Race 2
James Rispoli (H-D) Vance & Hines/Mission Foods/Harley-Davidson
Hayden Gillim (H-D) Vance & Hines/Mission Foods/Harley-Davidson
Kyle Ohnsorg (Ind) Roland Sands Design
Jeremy McWilliams (Ind) Progressive/Mission Foods
Jake Lewis (H-D) Team Saddlemen
Max Flinders (Ind) M3/Revolution Performance
Hawk Mazzotta (Ind) Lloydz Garage
Frankie Garcia (H-D) Team Saddlemen
Kyle Wyman (H-D) Screamin' Eagle Harley-Davidson
Travis Wyman (H-D) Screamin' Eagle Harley-Davidson
Patricia Fernandez-West (H-D) Team Saddlemen
Robert Johnson (H-D) Johnson Engine Technology
DNF. Bobby Fong (Ind) Sacramento Mile/SDI Racing/Roland Sands
DNF. Tyler O'Hara (Ind) Progressive/Mission Foods
Harley-Davidson invites you to enhance the 2023 MotoAmerica King of the Baggers season with some adrenaline pumping action. Check out, 'Push the Limit,' a film that shares the story of defending 2021 champion Kyle Wyman, teammate Travis Wyman and the Harley-Davidson Screamin' Eagle race team's 2022 championship pursuit. Watch it now on Harley-Davidson's YouTube channel.
Harley-Davidson stands for the timeless pursuit of adventure and freedom for the soul. Go to H-D.com to learn more about the complete line of 2023 Harley-Davidson Grand American Touring, Sport, Adventure Touring, Cruiser and Trike motorcycles, Harley-Davidson Certified™ pre-owned motorcycles, Harley-Davidson Genuine Motor Parts & Accessories, Harley-Davidson MotorClothes and gear, and Harley-Davidson Financial Services.
More, from a press release issued by Indian Motorcycle:
INDIAN MOTORCYCLE RACING & TYLER O'HARA CAPTURE SECOND-CONSECUTIVE MOTOAMERICA SUPER HOOLIGAN NATIONAL CHAMPIONSHIP
Enduring Bar-to-Bar Action, O'Hara Outlasts Teammate Jeremy McWilliams at Circuit of the Americas, Pilots S&S-Built Indian FTR to Second-Consecutive Championship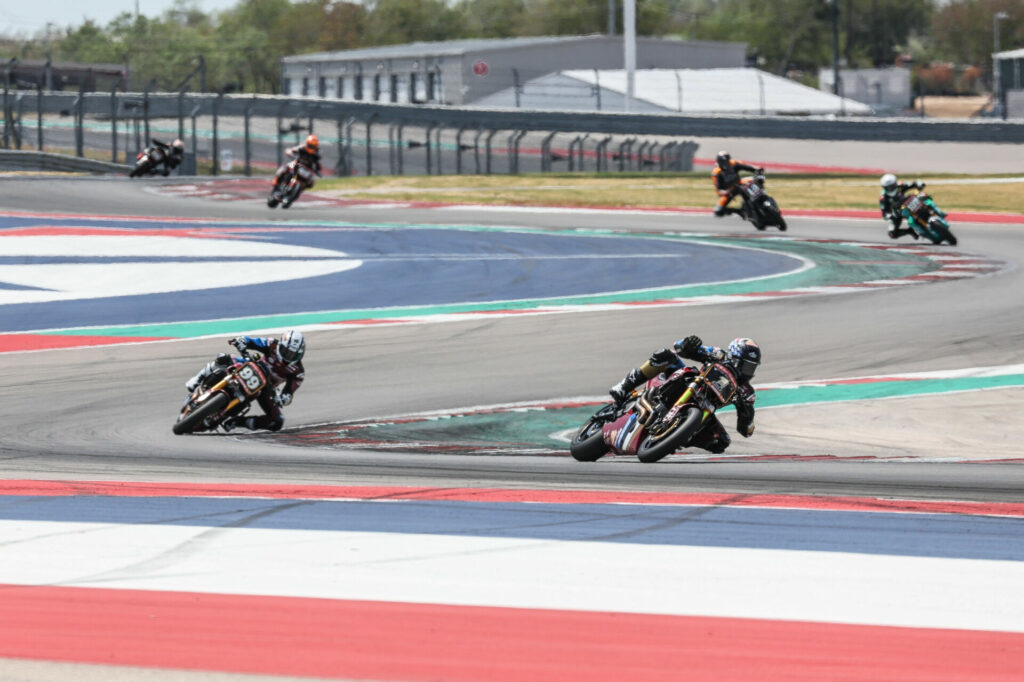 Minneapolis, MN – It was a battle between brothers – each armed with their S&S-built Indian FTR Hooligan race bike. Entering the final round of MotoAmerica's Mission Super Hooligan National Championship (SHNC) at Circuit of the Americas (COTA), dead-locked at 106 total points, Indian Motorcycle Racing's Tyler O'Hara and Jeremy McWilliams endured bar-to-bar action, each pushing to the bitter end to earn the opportunity to hoist the No. 1 plate and win the 2023 SHNC title.
For the second consecutive season, it was O'Hara, as he outlasted McWilliams in dramatic fashion, taking both rounds at COTA, and winning five of the season's eight races aboard his Mission® Foods S&S® Indian FTR.
"Hats off to my entire S&S-Indian Motorcycle team, as the guys worked hard all season to keep this Indian FTR dialed in for me," said O'Hara. "This FTR is an incredible machine. Power, handling, maneuverability – it's been the highest-performing bike in the class all season, and we're extremely proud to walk away with another title this season."
The SHNC final round at COTA was nothing short of exhilarating, as both O'Hara and McWilliams pushed their Indian FTRs in and out of corners, each making incredible passes on the other. Knowing their teammate's moves and tendencies created an epic battle between two of the sport's most capable riders. Race 1 at COTA ended with McWilliams high-siding in the final turn of the final lap. McWilliams was unharmed and was able to compete in Race 2 on Sunday. But again, it was O'Hara who captured the final win of the season.
"The relationship between Tyler and Jeremy is truly special – they both thrive off each other's expertise and experience, and both have an 'anything it takes' drive to win once aboard their FTR," said Gary Gray, Vice President Racing, Service and Technology for Indian Motorcycle. "When you have a team as committed as our S&S crew, paired with the riders we have, you push every second of every day to win a championship. We're excited to have reached our goal and look forward to running the No. 1 plate again on Tyler's FTR next season."
Indian Motorcycle Racing is presented by Progressive Insurance®, Mission® Foods and Medallia®, with additional support from Indian Motorcycle Motor Oil, S&S®, Parts Unlimited, Drag Specialties®, Performance Finance, and J&P Cycles®.
For information about Indian Motorcycle, visit IndianMotorcycle.com, or follow along on Facebook, X and Instagram.
ABOUT INDIAN MOTORCYCLE®
Indian Motorcycle Company is America's First Motorcycle Company®. Founded in 1901, Indian Motorcycle has won the hearts of motorcyclists around the world and earned distinction as one of America's most legendary and iconic brands through unrivaled racing dominance, engineering prowess and countless innovations and industry firsts. Today that heritage and passion is reignited under new brand stewardship. To learn more, please visit www.indianmotorcycle.com.
INDIAN and INDIAN MOTORCYCLE are registered trademarks of Indian Motorcycle International, LLC.  Always wear a helmet, protective clothing and eyewear and insist your passenger does the same.  Ride within the limits of the law and your own abilities.  Read, understand and follow your owner's manual. Never ride under the influence of drugs or alcohol.
More, from a press release issued by Travis Wyman Racing:
Travis Wyman scores pair of runner-up finishes at MotoAmerica Stock 1000 season finale at Circuit of the Americas
BMW rider ends 2023 season in top three for fourth consecutive year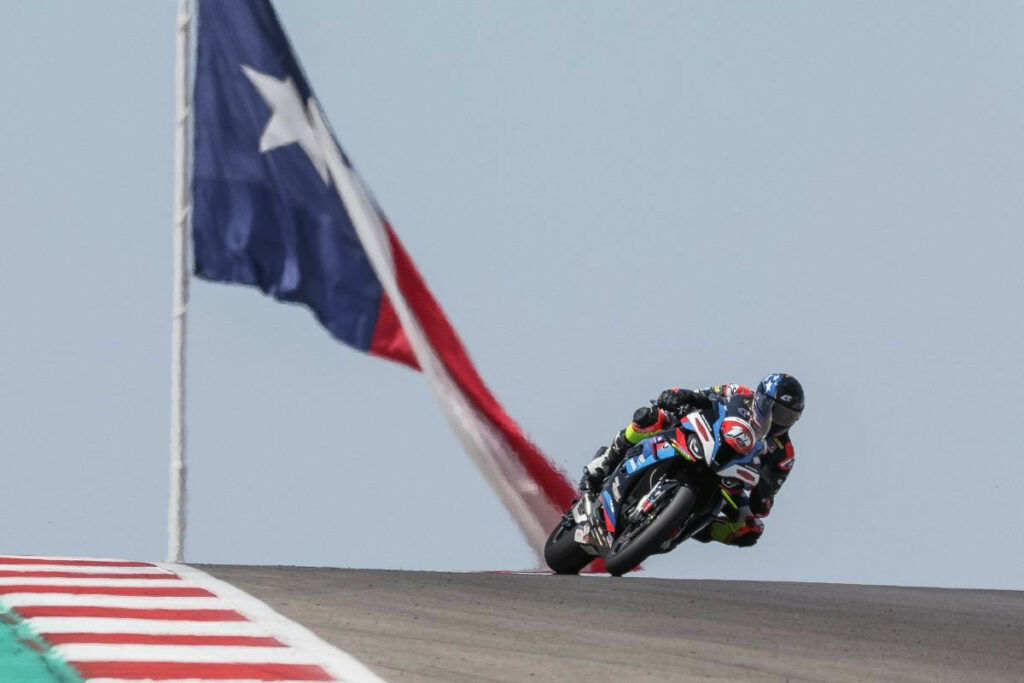 AUSTIN, Texas — As the curtain fell on the 2023 MotoAmerica Stock 1000 season this past weekend at Circuit of the Americas, Travis Wyman closed out his sixth season racing in the class with a pair of runner-up finishes aboard his BMW M 1000 RR. After enduring a difficult weekend at the previous Stock 1000 round at Brainerd International Raceway in July, Wyman's strong showing at his Austin, Texas-based team's home round allowed him to finish the season third in the Stock 1000 points standings.
It's the fourth time in four years that Wyman has finished third or better in the Stock 1000 standings, as well as the fifth time in the past six years — all aboard BMWs. In total, Wyman racked up one victory, five additional podium finishes and a pole position in the abbreviated five-round, 10-race 2023 Stock 1000 schedule while also competing full-time in the King of the Baggers.
Wyman had a stellar start to the weekend. With the Stock 1000 field stacked with 44 entries for the season finale, Wyman was the fastest of all of them in Friday practice by more than a second. Like he did at Brainerd, Wyman had a very strong showing in Qualifying 1. He ended that session with a best lap time almost one second faster than his best practice time and remained more than a second faster than the next rider on the time sheets.
Though Wyman improved his best lap time again by 0.396 seconds in Saturday morning's Qualifying 2, another rider set a slightly faster lap time in the session. Though he missed out on his second Stock 1000 pole position of the 2023 season by about a quarter of a second, Wyman did secure second on the starting grid for the round's two Stock 1000 contests.
Saturday's Race 1 ended positively for Wyman despite experiencing grip issues in the race's later stages. After getting a good start, Wyman made a lunge for the lead as the field entered the Circuit of the Americas' iconic Turn 1, but was narrowly beaten out for the holeshot and slotted into second place. Though he hounded the race leader for the first few laps of the eight-lap race, Wyman's front tire began losing grip and feel as the race went on. With a large gap to the scrap for third place, Wyman was able to moderate his pace to bring his M 1000 RR home in second place for his fifth podium finish of the season.
Unlike Brainerd where Wyman's motorcycle endured a technical problem in Race 2, Wyman had an excellent start to the Sunday Stock 1000 race at Circuit of the Americas and finished Lap 1 in the lead. Wyman maintained the race lead on Lap 2 and most of Lap 3 before being overtaken at Turn 19. Wyman retook the lead later on Lap 4, but was again passed on Lap 5. Like in Race 1, Wyman had a big gap to third place and finished the race in second place for his sixth podium appearance of the season.
Wyman's strong results at Circuit of the Americas helped him move up from fourth to third in the final Stock 1000 points standings.
Wyman and his team thank the many sponsors, technical partners and fans whose support helped Travis Wyman Racing weather several technical failures to achieve another strong finish in the Stock 1000 points standings. Travis Wyman Racing's plans for the 2024 MotoAmerica season will be announced at a later date.
Travis Wyman / No. 10
"This was a very positive way to end a racing season. For the struggles we encountered earlier this year, I'm happy to have finished third in a hard-fought championship battle. I can't thank Alex Torres of Fast Line Motorcycle Performance and the rest of my team enough for their relentless effort this year, and I'm grateful to the many sponsors and technical partners whose support helped make this program possible for 2023."
More, from a press release issued by Suzuki Motor USA, LLC:
TY SCOTT WINS IN TEXAS FOR VISION WHEEL M4 ECSTAR SUZUKI
Suzuki GSX-R750s Double Podium on Sunday at Circuit of the Americas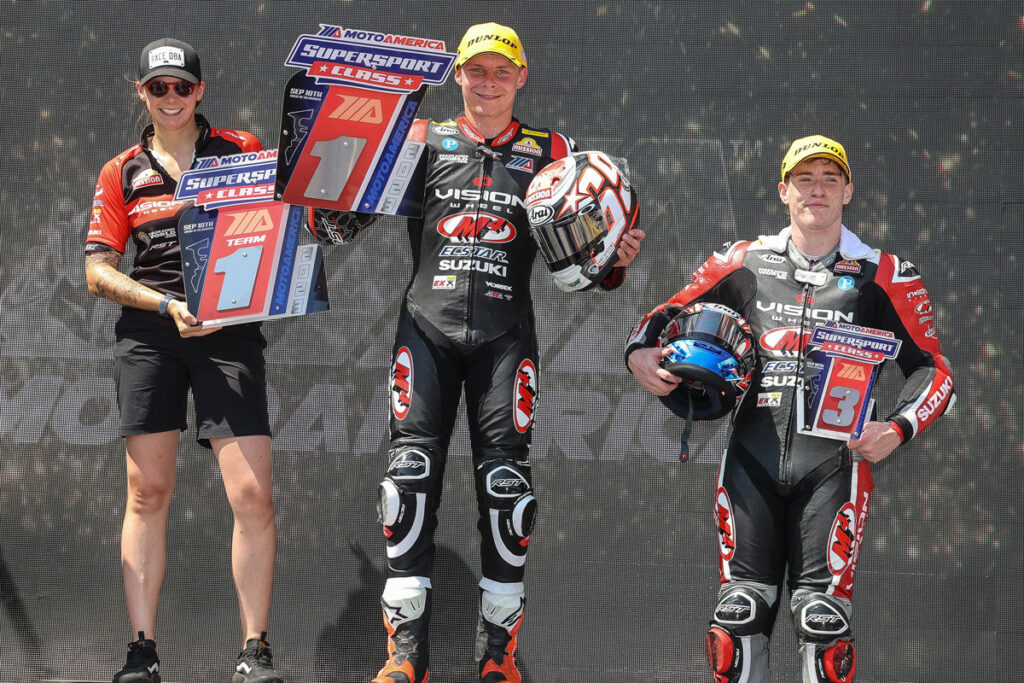 BREA, CA — Suzuki Motor USA and Team Hammer put a bow on the penultimate round of the 2023 MotoAmerica season at the Circuit of the Americas in Austin, Texas, by claiming a victory among a pair of Sunday podiums.
Race Highlights:
Vision Wheel M4 ECSTAR Suzuki

Supersport

Tyler Scott picked up his third win of the season with an epic last lap.
Torin Collins put an exclamation point on his stunning debut with a podium in his second-ever MotoAmerica race.
Teagg Hobbs crashed trying to catch the leaders while running in third position.

Superbike

Brandon Paasch rebounded to notch up a third top-five of the season.
Richie Escalante crashed from third while engaged in a three-rider fight for the lead.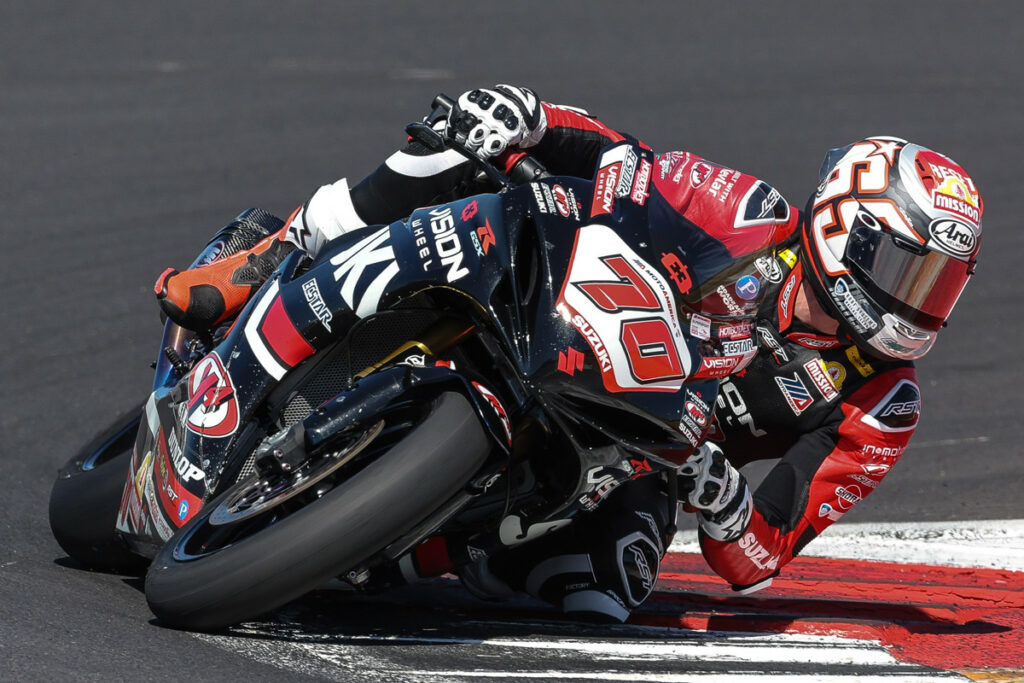 Vision Wheel M4 ECSTAR Suzuki's Tyler Scott registered another impressive victory in his young MotoAmerica career on Sunday, following an intense final-lap showdown. After a red flag concluded Saturday's Supersport race early, Scott made the most of his white-flag lap in Sunday's rematch to earn a hard-fought win
Following an early-race stoppage that set the stage for a shortened six-lap sprint race, Scott and a rival proceeded to trade first position back and forth. That led to a spectacular last-lap shootout that saw the two engage in a series of braking duels, side-by-side cornering, and escalating tests of courage. Scott held firm with an inspired effort to snare his third win and tenth podium of his '23 campaign aboard the next-generation Suzuki GSX-R750.
"It was an amazing race," Scott said. "I can't give enough thanks to the whole Vision Wheel M4 ECSTAR Suzuki team. The bike was awesome this weekend, and the race was super exciting. That is definitely one of the most fun races I've ever had, and it's even better when you end up on top of the box."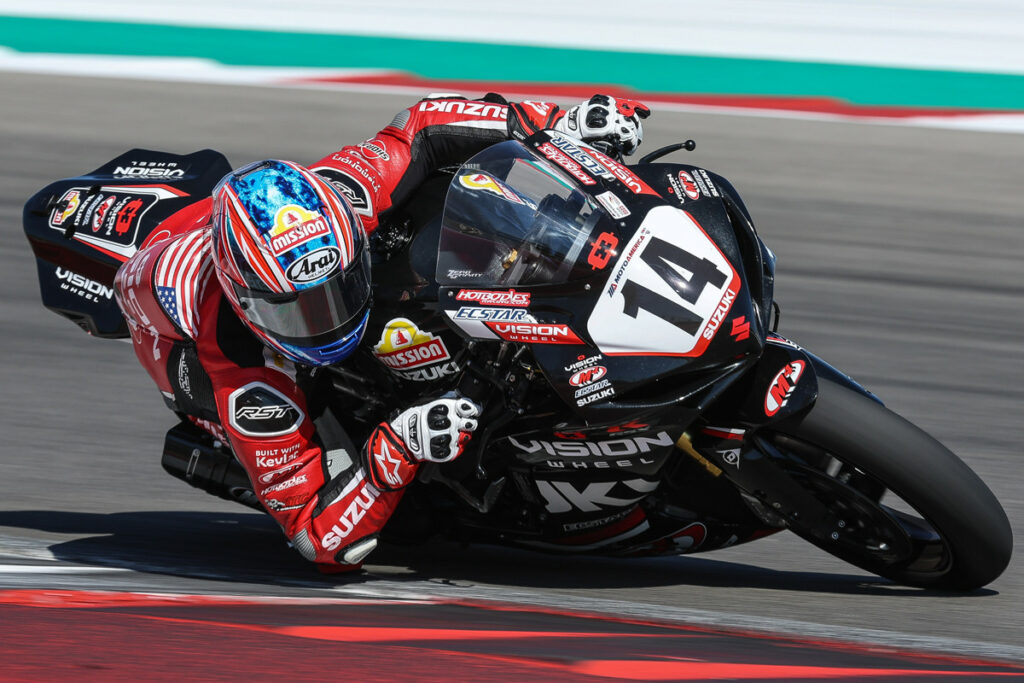 Even after stunning the paddock with a top-five MotoAmerica debut aboard the Vision Wheel M4 ECSTAR Suzuki GSX-R750 on Saturday, FIM JuniorGP regular Torin Collins found a way to top himself on Sunday. The up-and-coming Collins battled it out to the stripe with some of the most proven riders the MotoAmerica Supersport category offers and ended up on top of the three-rider fight for the final spot on the podium.
Collins said, "The Vision Wheel M4 ECSTAR Suzuki team put in so much hard work for me this weekend; I wouldn't have been able to do this without them. The race was difficult. I knew it would be hard with riders of that caliber on my tail the whole race and it was."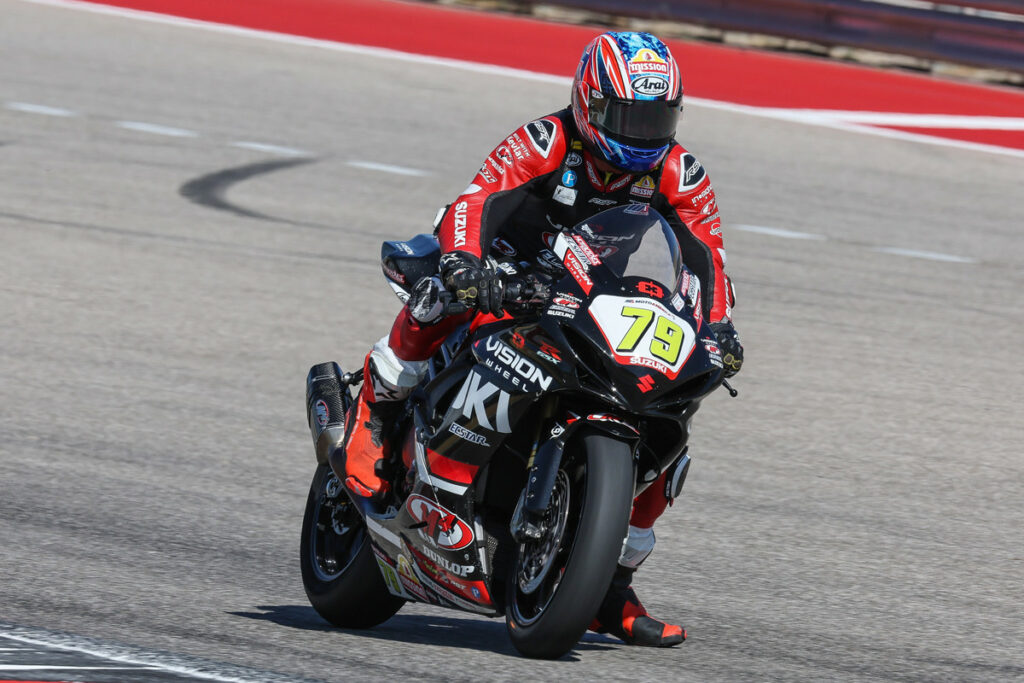 Unfortunately, Teagg Hobbs' ambitions to push teammate Scott for victory ended early on Sunday. After coming home with a top-three finish the day before, Hobbs suffered a huge highside crash while running third and chasing the leaders in the opening stages of the race. Despite a red flag, Hobbs' machine was too heavily damaged to return to the fray for the restart.
"I started well and at the beginning of Lap 2, I was making a push to get back up to the two guys in front of me," Hobbs said. "I felt like I gained a couple of tenths, then got thrown off in the righthander. It's disappointing, and I'm a little sore but also a little lucky. I'm really looking forward to getting another shot in New Jersey at a track I know well." Despite Hobbs' setback, the Suzuki GSX-Rs continued to be the bike of choice for most of the top ten finishers in Supersport in Texas.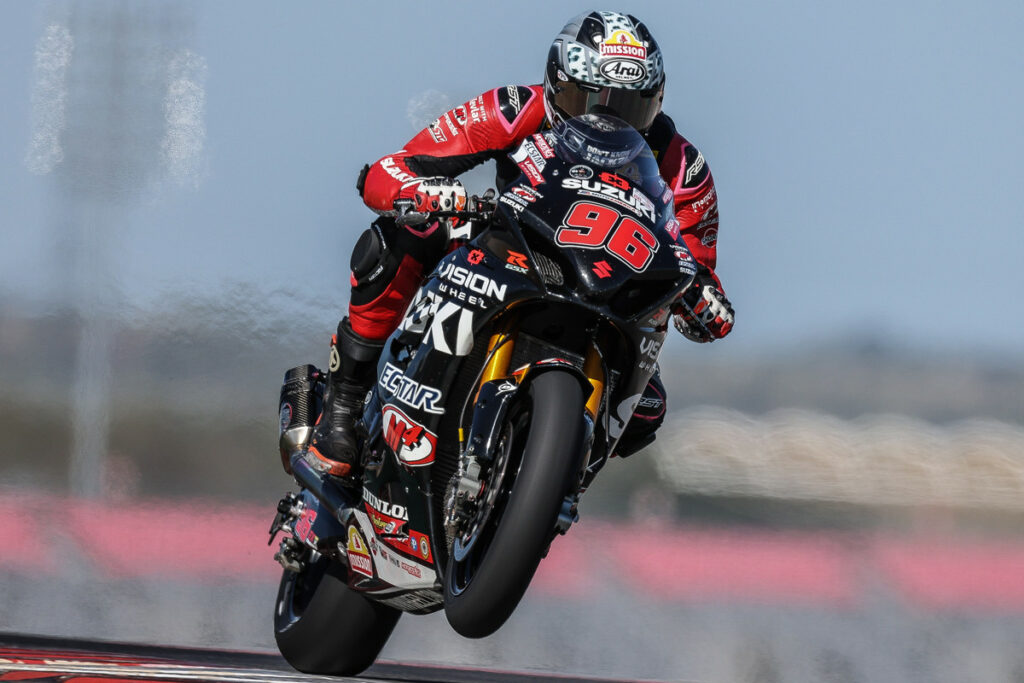 Vision Wheel M4 ECSTAR Suzuki Superbike pilot Brandon Paasch strongly rebounded from his Saturday DNF. Paasch put in a consistent and measured ride aboard his GSX-R1000R Superbike to secure his third top-five of the year, despite running just a partial season with the team. Paasch's fifth place also marked his eighth top ten in ten attempts with the team.
Paasch said, "It went much better for us today. I think we turned it around and got back up in the top five where we need to be. The bike setup felt better, and I was more comfortable. This was going to be a tough track for me because I don't have many laps here, but now we go to New Jersey, which is pretty much my home track. I feel we are making good progress and strong improvements."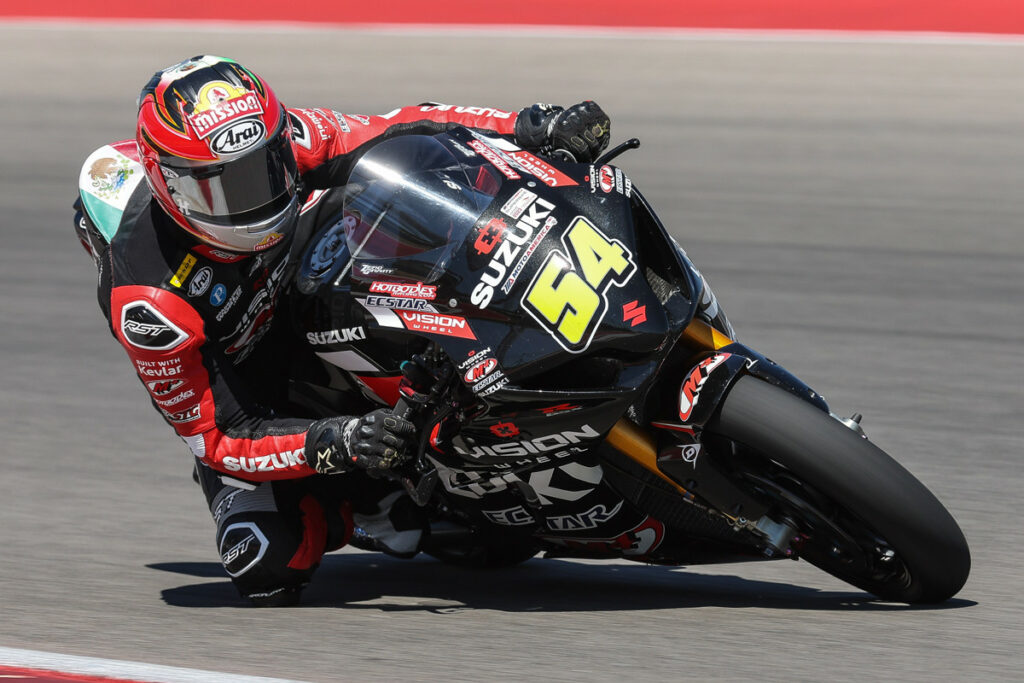 After scoring his first Superbike podium on Saturday, Richie Escalante set his sights on a career-first premier-class victory on Sunday. Escalante was very much in contention to attain the lofty goal too, piloting his Vision Wheel M4 ECSTAR Suzuki GSX-R1000R in a close third before suffering a lowside crash at full lean on lap 4. Escalante picked his bike back up and soldiered forward to the checkered flag, ultimately coming home in 16th position.
"It was a great weekend for us," Escalante said. "I came in with big expectations because the team had done a great job in giving me a new swingarm and more power. The feeling from the bike was really great. I had more grip, and the bike seemed even calmer when pushing hard. I was trying to be fast and consistent and we finally got on the podium on Saturday. On Sunday, we improved the bike even more in the warm-up. I was in the top three during the race and felt I had the speed to win, but I made a mistake and lost the front. That is part of racing. We are closer to the front than ever and I thank the team, our sponsors, and my family for helping me get there."
The 2023 MotoAmerica AMA/FIM North American Road Racing Championship season will conclude on September 22-24 at New Jersey Motorsports Park, in Millville, New Jersey.
ABOUT TEAM HAMMER
The 2023 season marks Team Hammer's 43rd consecutive year of operating as a professional road racing team. Racebikes built and fielded by Team Hammer have won 132 AMA Pro and MotoAmerica National races, have finished on AMA Pro and MotoAmerica National podiums 360 times and have won 11 AMA Pro and MotoAmerica National Championships, as well as two FIM South American Championships (in Superbike and Supersport). The team has also won 137 endurance races overall (including seven 24-hour races) and 13 Overall WERA National Endurance Championships with Suzuki motorcycles, and holds the U.S. record for mileage covered in a 24-hour race. The team also competed in the televised 1990s Formula USA National Championship, famously running "Methanol Monster" GSX-R1100 Superbikes fueled by methanol, and won four F-USA Championships.
ABOUT VISION WHEEL
Founded in 1976, Vision Wheel is one of the nation's leading providers of custom wheels for cars and trucks, and one of the first manufacturers of custom wheels and tires for ATVs, UTVs, and golf carts. Vision Wheel looks beyond the current trends and to the future in developing, manufacturing, and distributing its wheels. Vision's lines of street, race, off-road, American Muscle, and Milanni wheels are distributed nationally and internationally through a trusted network of distributors. Vision Wheel also produces the Vision It AR app to allow users to see how their wheel of choice will look on their vehicle before purchase and installation. For more information on Vision Wheel, visit www.visionwheel.com.
ABOUT SUZUKI
Suzuki Motor USA, LLC. (SMO) distributes Motorcycles, ATVs, Scooters, Automotive Parts, Accessories, and ECSTAR Oils & Chemicals via an extensive dealer network throughout 49 states. Suzuki Motor Corporation (SMC), based in Hamamatsu, Japan, is a diversified worldwide manufacturer of Motorcycles, ATVs, Scooters, Automobiles, Outboard Motors, and related products. Founded in 1909 and incorporated in 1920, SMC has business relations with 201 countries/regions. For more information, visit www.suzuki.com.