Over the last several years, Suzuki has been utilizing the state of the art technology derived from MotoGP racing in the development of new motorcycles. The benefits now expand well beyond engine and chassis refinements to the development of a new high-performance motorcycle oil line: ECSTAR Suzuki Genuine Oil.
Tyler O'Hara put an exclamation point on his second straight MotoAmerica Mission Super Hooligan Championship by winning Race Two Sunday at Circuit of The Americas (COTA), in Austin, Texas. O'Hara clinched the 2023 title with a dramatic win in Race One Saturday, and then O'Hara won Sunday's restarted and shortened three-lap Race Two on his Progressive Insurance/Mission Foods Indian FTR 1200.
In spite of being battered and bruised from his crash at the end of Race One, O'Hara's teammate Jeremy McWilliams was able to score a runner-up finish in Race Two.
Andy DiBrino came home third, right behind McWilliams, on his DiBrino Racing KTM 890 Duke R.
More, from a press release issued by Energica:
Energica elevates electric appeal in outstanding season finale at CoTA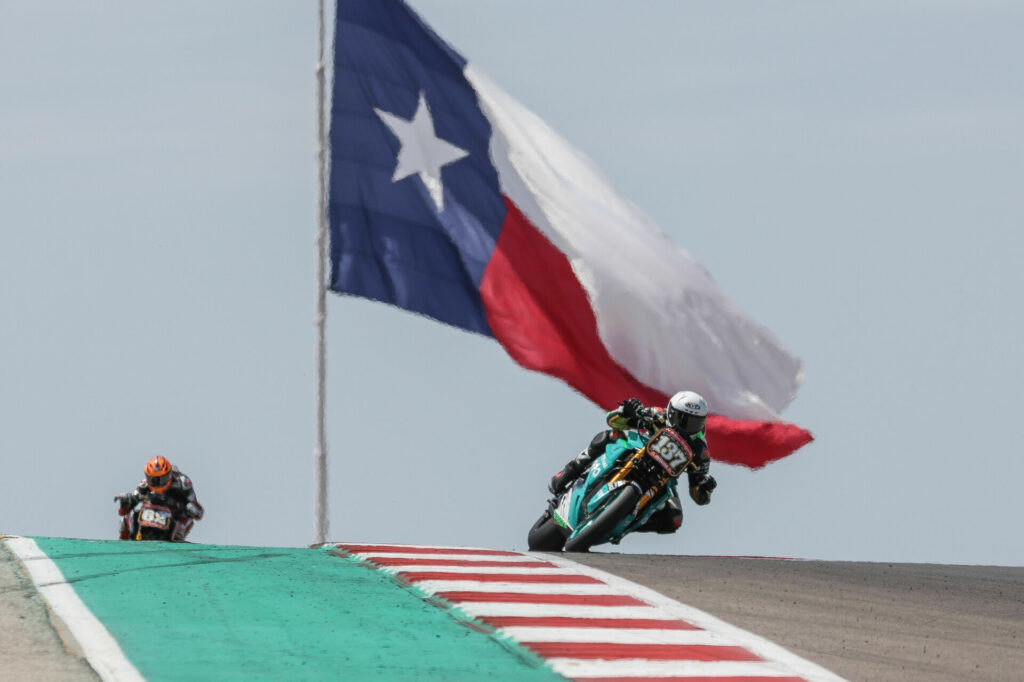 Life is about perspective, and so is competitive sport. When a big result comes, the overall level of expectations rises like a giant wave out of a flat sea, so much that a top-five finish does not feel as incredible as it may have been before. This is exactly what happened at Austin's Circuit of The Americas in Race 2 of the Super Hooligan National Championship, when Stefano Mesa put together another masterful performance to cross the line fifth position, after yet another red flag had cut the race in two.
Were Energica and Tytlers Cycle Racing hoping for another podium after yesterday's monumental second place in Race 1? Absolutely. Is a fifth place a good result to wrap up the season? Without a doubt, for it helped Mesa and the team led by Michael Kiley secure fourth place overall in the championship standings (click here to view them), an unbelievable result considering the novelty represented by the arrival of the only full-bore electric machine in the series: the Kit Corsa Clienti-equipped EVA Ribelle RS.
Access all resources
Everything that happened this year went beyond the wildest dreams of everyone involved. It started as a possibility of even competing, with more question marks than certainties as no electric motorcycle ever had plans to seriously contend against an ICE field.
Mesa and the Eva Ribelle RS are now a force to be reckoned with, as their adversaries have learned to make sure of their positioning on the grid, knowing they may see that green bolt fly past them after the lights go out. And in Austin, they also learned to expect an out-braking manoeuvre and resistance when trying to overtake.
And the excitement within the garage and out on the pit-lane grew with each event, and it was palpable in the heat of the Circuit of The Americas as the team was joined by Energica owners who were just as shocked as the members of the squad to witness these results on a track that was perceived more as a threat than an opportunity for any electric motorcycle.
But the confidence boost was evident, as no one questioned the ability of the Eva Ribelle RS to keep functioning at maximum power after yet another red flag happening in Race 2. Unlike our previous races, and especially here, everyone suddenly realized that we had nothing to worry about.
This is what racing does: it stresses a package to the fullest, and sometimes reveals capabilities that even their creators couldn't fathom. In the end, our first Superhooligan season closes with a job well done: far better than anyone could have imagined.
We thank all those who embarked on this journey with us:  Stefano Mesa and the whole Tytlers Cycle Racing team, the technical team at Energica who flew from Italy for each race; PETRONAS iona and all our sponsors.  We had a clear goal knowing our destination how be a difficult one.  And it is only the beginning.