2024 MOTO2™ REFRESH FOR RED BULL KTM AJO AS DENIZ ÖNCÜ TAKES HIS NEXT STEPS WITH THE KTM GP ACADEMY AND CELESTINO VIETTI JOINS THE PROGRAM
The prolific Moto2 Red Bull KTM Ajo team will welcome two new riders into the race structure for the 2024 world championship with Deniz Öncü transitioning from the Moto3™ set-up, and promising Italian Grand Prix winner Celestino Vietti comes into the KTM GP Academy for his third term in the intermediate category.
Red Bull KTM Ajo's Moto2 project boasts a comprehensive list of talent and success since 2015, and from 2017 Aki Ajo's squad have formed a crucial development role for the KTM GP Academy. Names like Miguel Oliveira, Brad Binder, Jorge Martin, Tetsuta Nagashima, Remy Gardner, Raul Fernandez, Augusto Fernandez and Pedro Acosta have won races and championships (in 2021 and 2022, and Acosta currently leads the 2023 competition) with 'orange' machinery in that six-and-a-half-year period. Six of those riders listed have gone on to race in MotoGP™ and the premier class.
Deniz Öncü, 20 years old and a former Red Bull MotoGP Rookies Cup race winner, celebrated his first Grand Prix victories with the team and the KTM RC4 in Moto3 this year. The fast, aggressive Turk has already notched 11 podium finishes in the division and 2023 has been his third campaign of world championship education. He is currently 4th in the Moto3 series and part of the close chase for the title. Deniz' ability, physicality, attitude and burgeoning experience means he is eager to take his career to the next level.
Celestino Vietti, 21 years old, already has six GP wins from both the Moto3 and Moto2 categories and has been learning the intricacies of Moto2 in 2022 and 2023. Last year his three triumphs marked a clear capacity to set the pace in the championship and he has again risen to the top of the podium during 2023 to-date. Vietti has been part of Valentino Rossi's VR46 Academy effort and now joins the KTM scheme to achieve the next goals of his career.
Deniz Öncü: "I'm very happy to be moving up to Moto2 with Red Bull KTM Ajo. The main goal this season is to improve in Moto3 and get good results to fight for the title. We are doing really well together and have victories in Germany and Austria so far. I just want to thank Aki, KTM and Red Bull for their confidence in me and for this opportunity. Thanks also to my manager, Kenan Sofuoğlu, for always supporting me."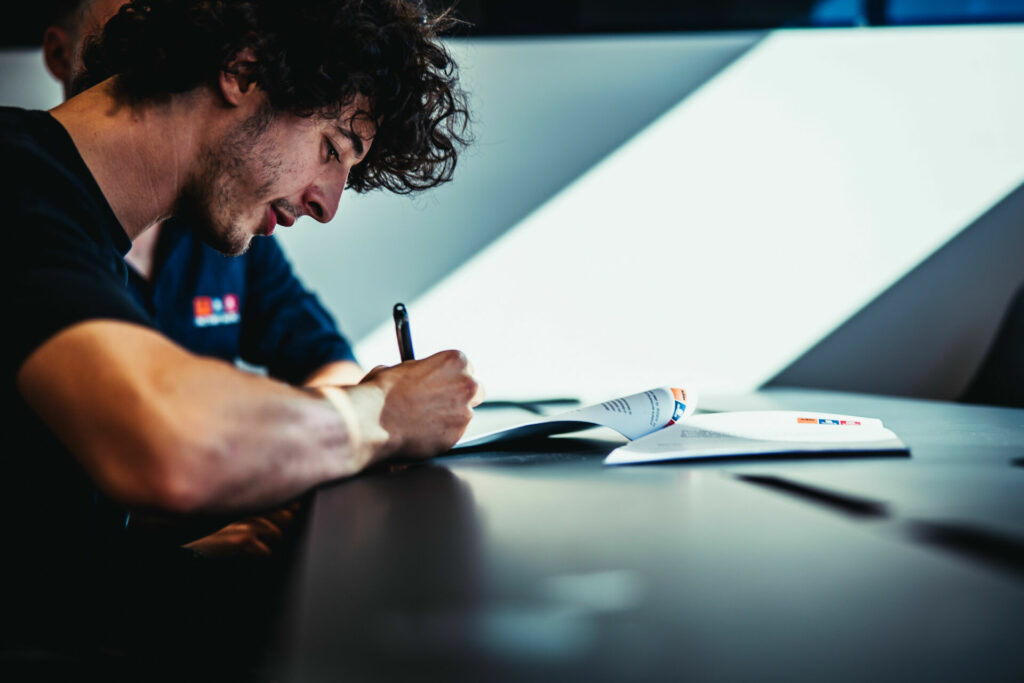 Celestino Vietti: "I'm super-excited. It's a great opportunity for me so I am very happy about the news. I have to say thanks to KTM and Aki Ajo for believing in me. Also, thanks to VR46 Riders Academy Management, as without them none of this would be possible. We still have a way to go before the end of this season, so I have to finish this one the best way with my current team. They helped me to achieve many great results this year. It will also enable me to have the confidence to start the new season well. Thank you so much and see you in 2024."
Aki Ajo, Team Principal: "The last few years in Moto2 have been very successful for us and of course we have enjoyed working with all these different riders. This year with Pedro and Albert [Arenas] has been very intense and enjoyable; both have improved a lot, we have achieved many podiums and we are even top of the standings. Next year we have a new line-up: Deniz Öncü and Celestino Vietti. I have to say that we are excited to have a great mix of experience in this class and young talent with Deniz, who we already know. I think this kind of combination is a really good chance for us to be very successful in Moto2 next year. Celestino has shown in the last seasons that he is one of the top riders in the class. Of course, we are very happy to have him on our team alongside Deniz, who is one of the fastest riders in Moto3. The combination will be great, and we are excited about it."