Over the last several years, Suzuki has been utilizing the state of the art technology derived from MotoGP racing in the development of new motorcycles. The benefits now expand well beyond engine and chassis refinements to the development of a new high-performance motorcycle oil line: ECSTAR Suzuki Genuine Oil.
Josh Herrin won MotoAmerica Medallia Superbike Race Two Sunday at Circuit of The Americas, in Austin, Texas. Herrin got the holeshot on the restart of the race, led all 10 laps, and won his second race of the season by 4.078 seconds on his Warhorse HSBK Racing Ducati Panigale V4 R.
Newly crowned three-time Champion Jake Gagne shadowed Herrin throughout the race but could not make any moves and finished in second place on his Fresh N Lean Progressive Yamaha YZF-R1.
PJ Jacobsen said he battled a lack of traction on his way to placing third on his Tytlers Cycle Racing BMW M 1000 RR.
Bobby Fong got fourth on his Wrench Motorcycles Yamaha YZF-R1, while Vision Wheel M4 ECSTAR Suzuki's Brandon Paasch took fifth.
Riders who crashed during the race included: Paasch's teammate Richie Escalante, who fell in Turn 13 while battling for the lead; and Westby Racing's Mathew Scholtz, who was taken out in the second crash of Gagne's teammate JD Beach.
Beach also crashed in the original portion of the race, which lasted less than a lap because Hayden Gillim's Disrupt Racing Suzuki suffered a broken oil line, causing a red flag.
More, from a press release issued by MotoAmerica:
Herrin Takes Race Two Over Gagne At Circuit Of The Americas
Ducati-Mounted Josh Herrin Wins His Second Medallia Superbike Race Of The Season In Austin, Texas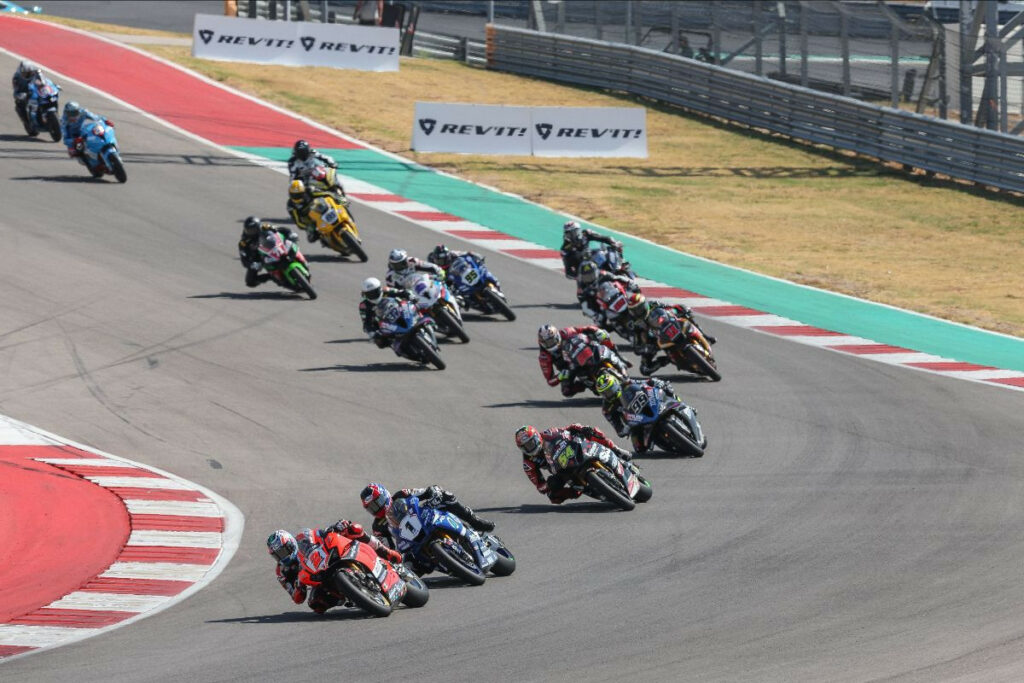 AUSTIN, TX (September 10, 2023) – Warhorse HSBK Racing Ducati NYC's Josh Herrin made up for a dismal Saturday at Circuit of The Americas with a straight-fight win over three-time Medallia Superbike Champion Jake Gagne in Sunday's finale in the MotoAmerica Superbikes at Texas.
A day after his Ducati Panigale V4 R failed him in race one, the bike was perfect on Sunday and so was Herrin. After all, you don't beat Gagne and his Fresh N Lean Progressive Yamaha Racing YZF-R1 unless you're at the top of your game.
Herrin led off the start and stayed out front for all 10 laps of the red-flag-interrupted race with Gagne on his tail the entire time. At the finish it was Herrin four seconds ahead with Gagne giving up the chase on the final lap. The pair were the only riders to lap in the 2:09s with Gagne getting the fastest lap of the race with his 2:09.746 to Herrin's 2:09.776.
Third place went to Tytlers Cycle Racing's PJ Jacobsen with the New Yorker some five seconds behind Gagne.
Wrench Motorcycles' Bobby Fong was a come-from-behind fourth and closing on Jacobsen, ending up some six seconds adrift of the BMW.
Vision Wheel M4 ECSTAR Suzuki's Brandon Paasch ended up fifth, five seconds ahead of Aftercare Scheibe Racing's Ashton Yates, who had Tytlers Cycle Racing's Stefano Mesa nipping at his heels and just .341 of a second behind at the finish line.
Mesa's teammate Corey Alexander was in the fight for seventh when he made a great save of what looked like a certain crash on his BMW M 1000 RR. Alexander was well clear of Team Brazil's Danilo Lewis with Thrashed Bike Racing's Max Flinders rounding out the top 10.
Among the non-point scoring riders were two of the three podium finishers from yesterday – Fresh N Lean Progressive Yamaha's JD Beach and Vision Wheel M4 ECSTAR Suzuki's Richie Escalante with both riders crashing. For Beach it was his second crash of the day as he also crashed in the first portion of the race, prior to the red flag. Escalante, meanwhile, crashed out of third place while right behind Gagne.
Westby Racing's Mathew Scholtz was in the wrong place at the wrong time and was collected by the sliding Beach. None of the riders suffered injury.
There were three different manufacturers on the podium and four different makes in the top five: Ducati, Yamaha, BMW and Suzuki.
With just the two races from New Jersey Motorsports Park remaining on the schedule, Gagne and his insurmountable 382 points have wrapped up the championship with Herrin solidifying his hold on second place. Herrin is 28 points ahead of Jacobsen, 261-233.
Superbike Race 2
Josh Herrin (Ducati)
Jake Gagne (Yamaha)
PJ Jacobsen (BMW)
Bobby Fong (Yamaha)
Brandon Paasch (Suzuki)
Ashton Yates (BMW)
Stefano Mesa (BMW)
Corey Alexander (BMW)
Danilo Lewis (BMW)
Max Flinders (Yamaha)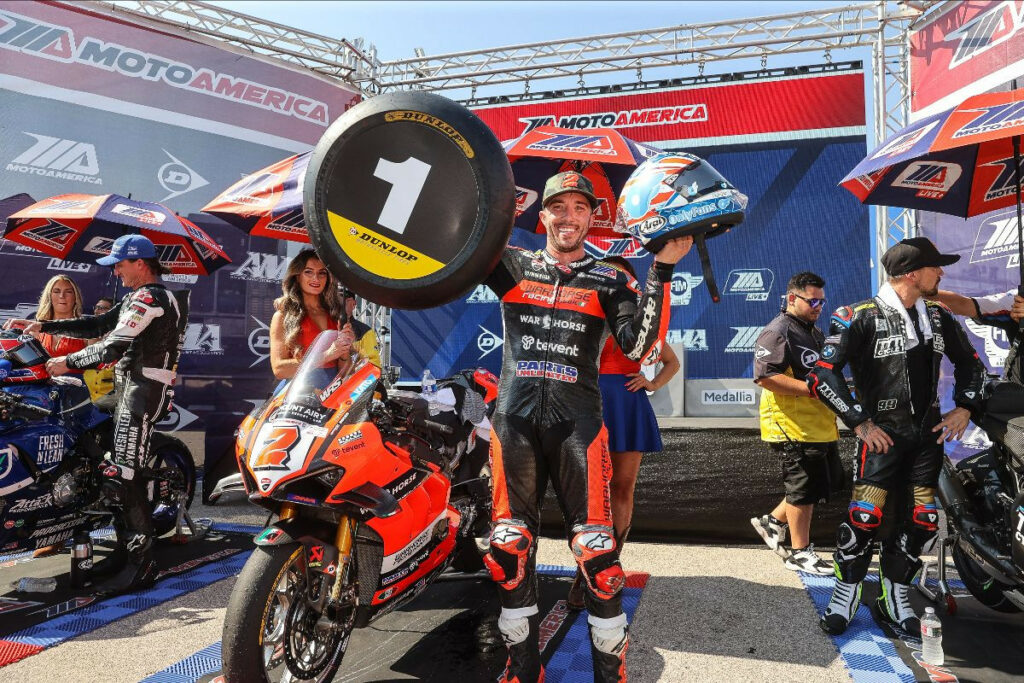 Quotes…
 
Josh Herrin – Winner
"I feel like a broken record saying this, but getting track time at this track prior to coming here and having some time on this bike before we came here to race is what we needed. I knew that. I knew all year that we were struggling with just trying to get up to speed. It took all the way until the second half of the Saturday race for us to be comfortable and then Sunday would be good for us. I don't want to celebrate too much. I feel like a linebacker getting a sack or something in a football game when you're down by 30 points because we lost the championship. But it feels good to get this win. I'm so happy to be a part of this team. Bobby Shek, the DeNaples, Ducati USA. Everybody that puts this program together, Warhorse and HSBK Racing. It's an amazing program. I don't think anybody realizes how special of a relationship we have with everybody on the team. It's just truly something special and I'm happy to be a part of it. Just so pumped that we could get another win. Glad that we have two more chances. It's special too because we got the Ducati DRE event tomorrow, so it's going to be a really awesome way to celebrate with all the awesome Ducati family and spin some laps around COTA and just have some fun. So, congrats to these guys. Congrats to Jake (Gagne) on the championship. Congrats to my teammate, Xavi (Forés), on wrapping up the championship this weekend in Supersport. That was cool to see us get two back-to-back championships in the Supersport class. I'm stoked. Thank you to everybody."
Jake Gagne – Second Place
"Josh (Herrin) seriously rode his butt off. I think he stepped it up a lot. I know he got screwed yesterday, but he rode an awesome pace. I wasn't even looking at the lap times, honestly. I was just struggling after a few laps. After the halfway point I was just kind of hanging on. But the bike was working really good. It was hot and greasy. At that point, I wanted to bring it home. That was all the fight I had today, for sure. So again, hats off to Josh and the team. It's good to see him up here and get some redemption from yesterday. Still a good weekend. We're up here on the box. Of course, I would have liked to make it a little bit more of a race, but I just couldn't pass him anywhere. I was struggling with my own stuff. Good race, again. I'm happy to leave here with another podium. We brought this Yamaha home. Again, congrats to Josh because I think he rode really awesome from my perspective."
PJ Jacobsen – Third Place
"Yeah, I think I was a bit lucky there to get third with some guys crashing out. Richie (Escalante) was pretty strong. I could see Josh (Herrin) and Jake (Gagne) in the distance, but I could just never close the gap. As the track got greasier for me, I was losing the front in a lot of spots. Then the rear was going past the TC and would just come around. It was really difficult. It was hard to get the grip for me because I was struggling with both front and rear, so I really couldn't push. It was hard. Just trying to get back to the podium with my gap I had on I think it was Bobby (Fong). That was coming down a little bit too because I kind of just eased up as I was having some issues and problems. It's good to take home another podium here. Josh rode great. He did a great job getting the win, and Jake. They're super-fast and super strong all the time, so they did a good job. They beat me today."