Gagne Takes Runner-Up Finish in Superbike Race 2 at COTA
Fresh N Lean Progressive Yamaha Racing's Jake Gagne returned to the podium with a strong runner-up finish in MotoAmerica Superbike Race 2 at the Circuit of The Americas
MARIETTA, Ga. – Fresh N Lean Progressive Yamaha Racing's Jake Gagne took home a runner-up finish in today's restarted MotoAmerica Superbike Race 2 at the Circuit of The Americas. Unfortunately, JD Beach's second race of the weekend as a fill-in rider ended early with a crash.
On the heels of his 10th win of the season in yesterday's Race 1 at the Grand Prix track in Austin, Texas, Gagne got another great start in the runner-up spot. The race was red-flagged, calling for a complete restart and a shortened 10-lap race. Once again, the three-time MotoAmerica Superbike Champion slotted into second and was battling up front. He kept the leader in sight but ultimately rode his own race in the greasy track conditions, crossing the line in second and securing his 17th-podium finish this season in 18 tries.
Beach was looking for another top result after returning to the podium for the first time yesterday since his departure from full-time Superbike racing in 2019. He got a good start into third behind Gagne but crashed early on the opening lap in the challenging conditions. The race was red-flagged with oil on the track from another rider, and there was a complete restart. Although the team quickly repaired the damage to the bike from his crash, Beach was just shy of making the sighting lap and had to restart from the back of the grid. Undeterred, the dirt track/road racer got a great start and made his way to sixth, but unfortunately he came together with another rider at the end of the opening lap and did not finish the race
The Fresh N Lean Progressive Yamaha Racing team heads to the New Jersey Motorsports Park in two weeks' time for the MotoAmerica season finale in Millville, New Jersey, on September 22-24.
Richard Stanboli – Fresh N Lean Progressive Yamaha Racing Team Manager
"Today did not go quite as planned. Jake rode a good race but was struggling a bit in Race 2, which kept him from fighting for the win. JD had a great start but unfortunately fell on the opening lap and again after the restart. On the bright side, he was very competitive for the limited time he has been on our R1. We will regroup and be ready to put on a good show for our fans at NJMP.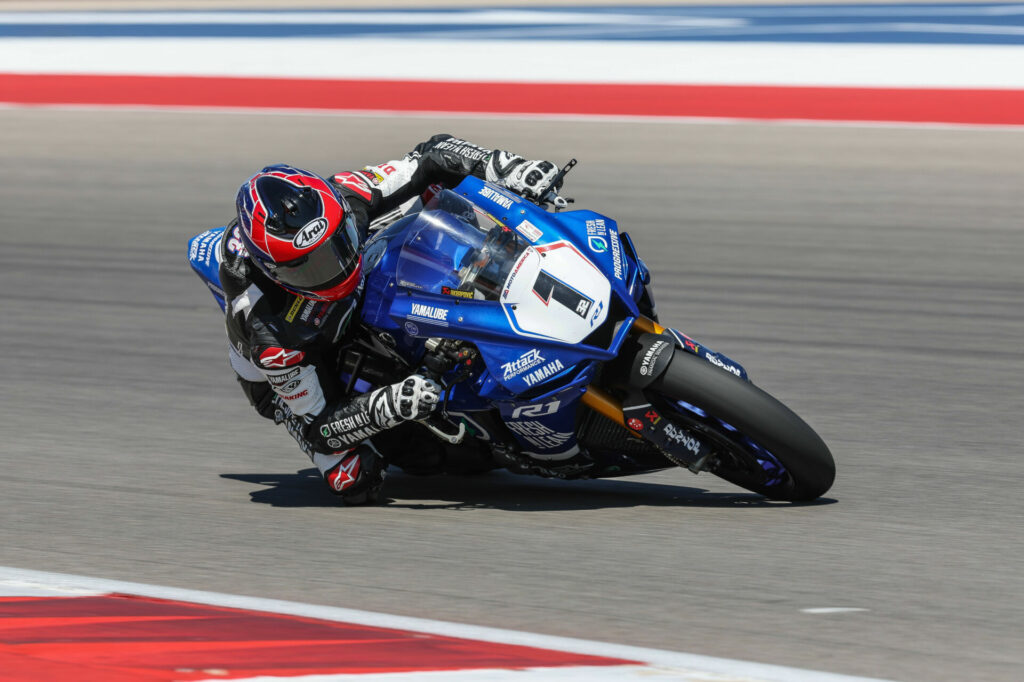 Jake Gagne – Fresh N Lean Progressive Yamaha Racing
"It was a tougher race for me today. I struggled to keep pace with the leader and brought it home on the podium. Overall, it was a great weekend in some intense heat. We've got a little break here and then will be back at it in New Jersey looking for some more wins."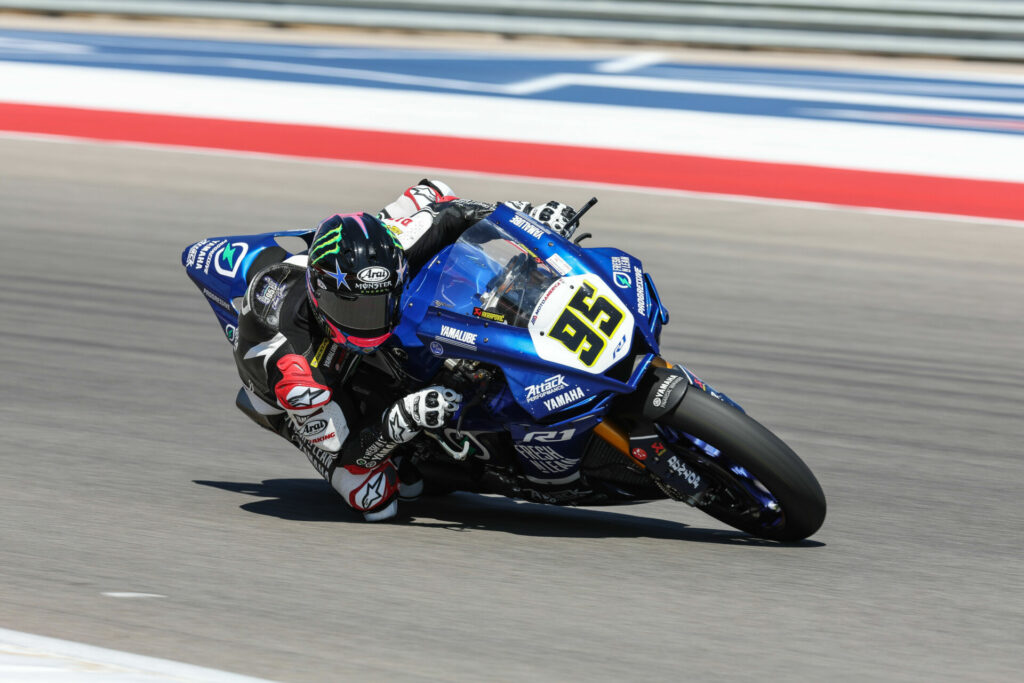 JD Beach – Fresh N Lean Progressive Yamaha Racing
"Race 2 just wasn't a great race for me. There's not much to say. I made too many mistakes, and they didn't only cost me but also Matty (Scholtz). I feel bad for letting the Attack team down and also messing up the Westby team's race. I want to put today behind me and look forward to NJMP."
2023 MotoAmerica Superbike COTA Results
http://www.motoamericaregistration.com/2016-results/
About Yamaha Motor Corporation, USA
Yamaha Motor Corporation, USA (YMUS), is a recognized leader in the outdoor recreation industry. The company's ever-expanding product offerings include Motorcycles and Scooters, ATV and Side-by-Side vehicles, Snowmobiles, WaveRunner Personal Watercraft, Boats, Outboard Motors, Outdoor Power Equipment, Power Assist Bicycles, Golf Cars, Power Assist Wheelchair Systems, Surface Mount Technology (SMT) and Robotic Machines, Unmanned Helicopters, Accessories, Apparel, Yamalube products, and much more. YMUS products are sold through a nationwide network of distributors and dealers in the United States.
YMUS has a corporate office in California, two corporate offices in Georgia, facilities in Wisconsin and Alabama, and factory operations in Tennessee and Georgia. Additional U.S.-based subsidiaries include Yamaha Marine Systems Company (YMSC) with divisions Bennett Marine (Florida), Kracor Systems (Wisconsin) and Siren Marine, Inc. (Rhode Island), Skeeter Boats (Texas), with division G3 Boats (Missouri), and Yamaha Precision Propeller (Indiana)
More, from a press release issued by Westby Racing:
Westby Racing Takes The Fifth On A Challenging Weekend In Texas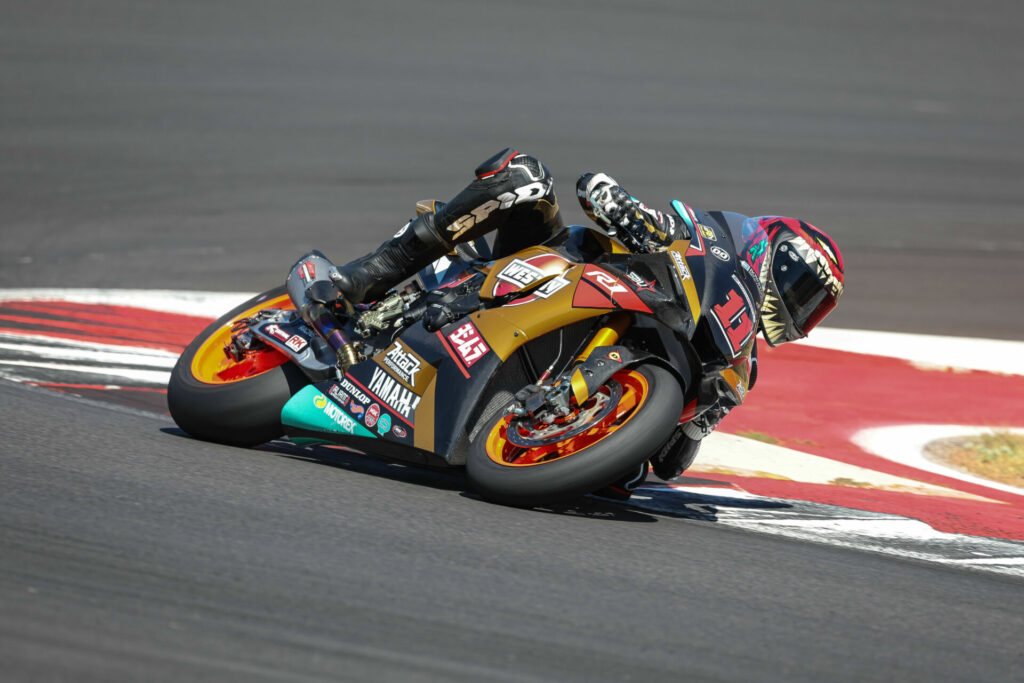 Austin, TX – Coming into round eight of the 2023 MotoAmerica Superbike Championship, Westby Racing had high hopes for another stellar weekend at Circuit of The Americas (COTA). With two runner-up results last year at COTA, Mathew Scholtz and the team were brimming with anticipation of another podium-producing weekend.
Saturday's fifth-place result was a disappointment for Mathew and the team, but they went to work on Saturday night with a solid plan to improve in Sunday's race two. Well, sometimes, the best-laid plans can be thwarted by unexpected circumstances. Such was the case when another rider's crashed and his sliding bike took Mathew out of Sunday's Superbike race two.
"Getting fifth in Saturday's race wasn't what this team was looking for nor what we expected," Mathew said. "But we made some changes overnight and went into Sunday's race two looking to put the Westby Yamaha on the podium. It didn't quite go to plan, however, because I got hit by another rider's bike, and there was nothing I could do to prevent it. I took a pretty rough tumble from the impact, but I was able to get back on my feet after taking a moment to recover.
"We've got one more round left in the season, and we're as determined as ever to get the results this team and (team owner) Tryg (Westby) deserve. See you in New Jersey."
The Westby Racing team will finish out the 2023 MotoAmerica Superbike season on September 22 through 24 at New Jersey Motorsports Park in Millville, New Jersey.
MotoAmerica Superbike Standings
1. Jake Gagne – Yamaha – 382
2. Josh Herrin – Ducati – 261
3. PJ Jacobsen – BMW – 233
4. Cameron Beaubier – BMW – 203
5. Mathew Scholtz – Yamaha – 195
For more updates about Westby Racing, including news, photos, and videos, visit http://www.WestbyRacing.com
Also, follow "Westby Racing" on your favorite social media sites.
More, from a press release issued by Ducati:
Warhorse HSBK Racing Ducati NYC enjoy a fantastic weekend in the Texan sun
Podiums, race and championship wins on the menu for Ducati at CoTA
Austin, TX. September 11, 2023 — Josh Herrin and Xavi Forés made it an excellent weekend for the Warhorse HSBK Racing Ducati NYC at Circuit of The Americas in Texas with Forés taking a win, second place and the MotoAmerica Supersport Championship title and Herrin taking his second Superbike win of the season in race two to make up for a mechanical DNF in race one.
Herrin's race two performance was fearsome, leading from the green light and holding 2023 MotoAmerica Superbike Champion, Jake Gagne, at bay across the 10 lap encounter. Herrin and the Warhorse HSBK Racing Ducati NYC Panigale V4 R were in perfect sync on Sunday and his result limits the damage in the championship to give him a 28 point gap over third placed PJ Jacobsen heading into the final round at New Jersey Motorsports Park on the weekend of September 22-24.
For Forés, the Spanish Bull made good on his promise to win the 2023 MotoAmerica Supersport Championship as a rookie with victory in race one over Suzuki's Tyler Scott. The young Scott reversed the tables in race two, with Forés coming home second but more than happy with his performance in front of his young family who were in attendance from Spain.
Forés can lay claim to not just the 2023 title but also the most number of wins in a single season in the history of the MotoAmerica Supersport Championship with nine victories and counting with one round to go.
2023 MotoAmerica Superbike Standings After Round Eight
P1 – Jake Gagne (Yamaha) 382
P2 – Josh Herrin (Ducati) 261
P3 – PJ Jacobsen (BMW) 233
P3 – Cameron Beaubier (BMW) 203
P5 – Mathew Scholtz (Yamaha) 195
2022 MotoAmerica Supersport Standings After Round Seven
P1 – Xavi Forés (Ducati) 357
P2 – Tyler Scott (Suzuki) 271
P4 – Josh Hayes (Yamaha) 220
P4 – Stefano Mesa (Kawasaki) 213
P5 – Teagg Hobbs (Suzuki) 158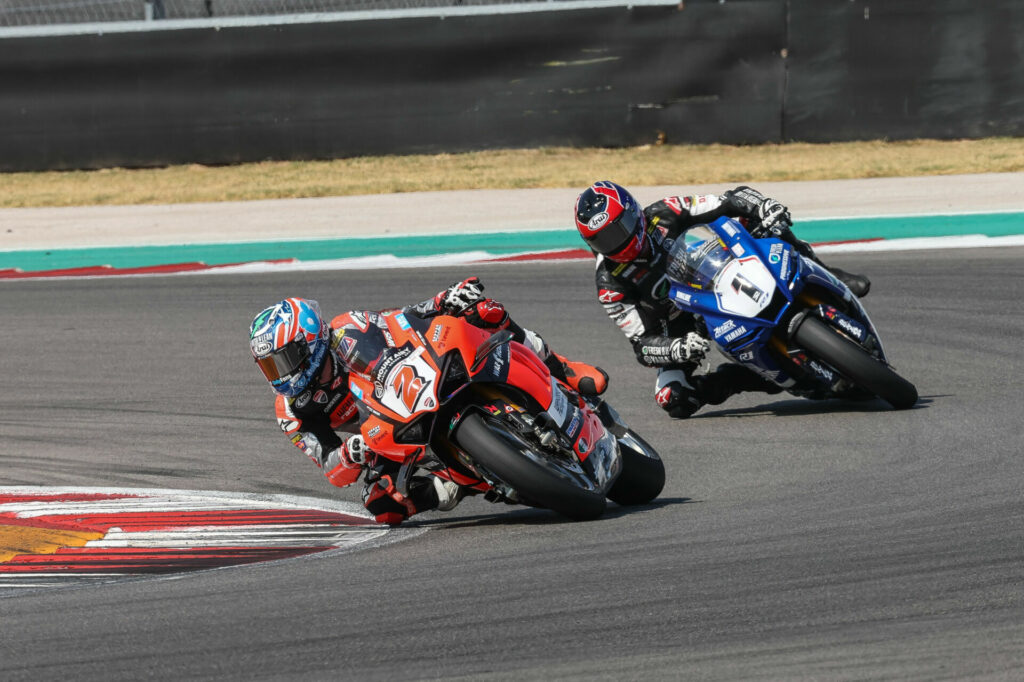 Josh Herrin (Warhorse HSBK Racing Ducati NYC– #2)
"I can't thank the Ducati USA guys and my team enough for believing in me, for taking a chance on me last year to win the Supersport title and then to come back to Superbike. I said before we came to CoTA that if we have a track we've had time on this bike before we arrive, we'll be right there and that was the case this weekend. Thanks to everyone—my family, my team, everyone involved—for giving me this opportunity."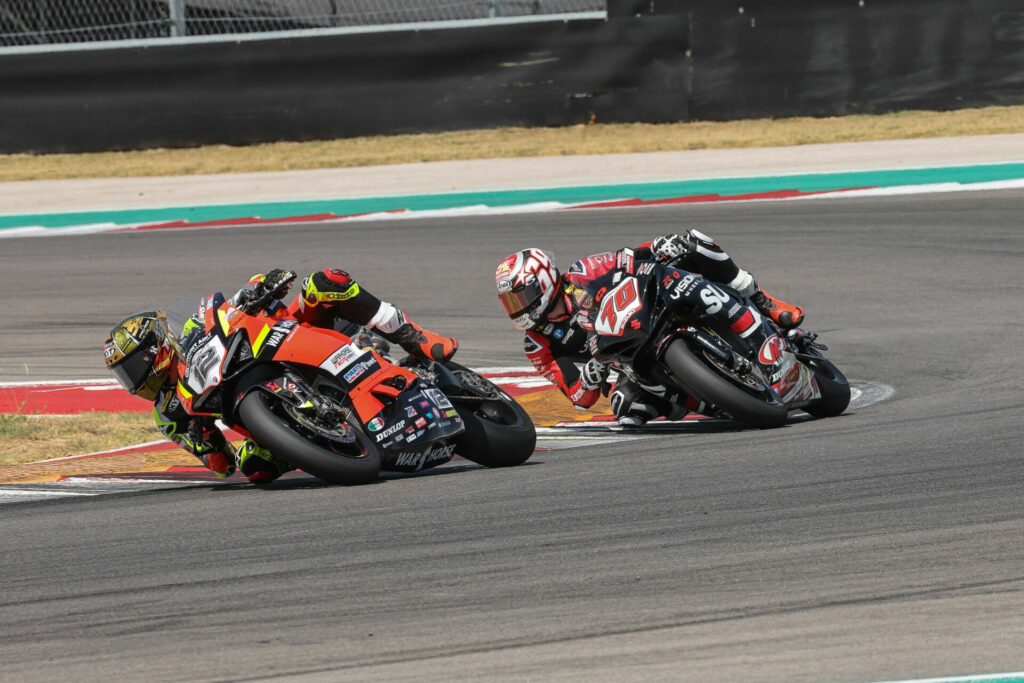 Xavi Forés (Warhorse HSBK Racing Ducati NYC– #12)
"Overall, it was a positive weekend," Forés said. "We got the title in race one, which was the plan, and the rest of the weekend was quite positive. We led most of the sessions and most of the race laps, but today I was struggling on the straight with the horsepower of the other bikes. I really didn't like that, but it's something we have to deal with. I accept it, because this makes my riding better.
"Once again, thank you so much to all the people within Ducati, everyone within the Warhorse HSBK Racing Ducati NYC team. We have back-to-back titles, which we are so happy about, and now we will try to finish strong in New Jersey."
The final round of the 2023 MotoAmerica Superbike and Supersport Championship will take place at New Jersey Motorsports Park, NJ, on September 22-24, 2023.