The MotoAmerica Supersport class is primed and ready for the next rising stars to claim fame in 2020.
The top three riders in the 2019 MotoAmerica Supersport Championship point standings are not returning to the class in 2020. Reigning Supersport Champion Bobby Fong has graduated to the MotoAmerica Superbike class. PJ Jacobsen, the 2019 Supersport Championship runner-up, has transitioned to the MotoAmerica Superbike Cup and Stock 1000 classes. And Hayden Gillim, a five-time race winner and third-place Championship finisher last year, is not on any of MotoAmerica's pre-season entry lists.
To help us preview some of the riders who are entered for the full 2020 MotoAmerica Supersport season, we've enlisted the help of Josh Hayes.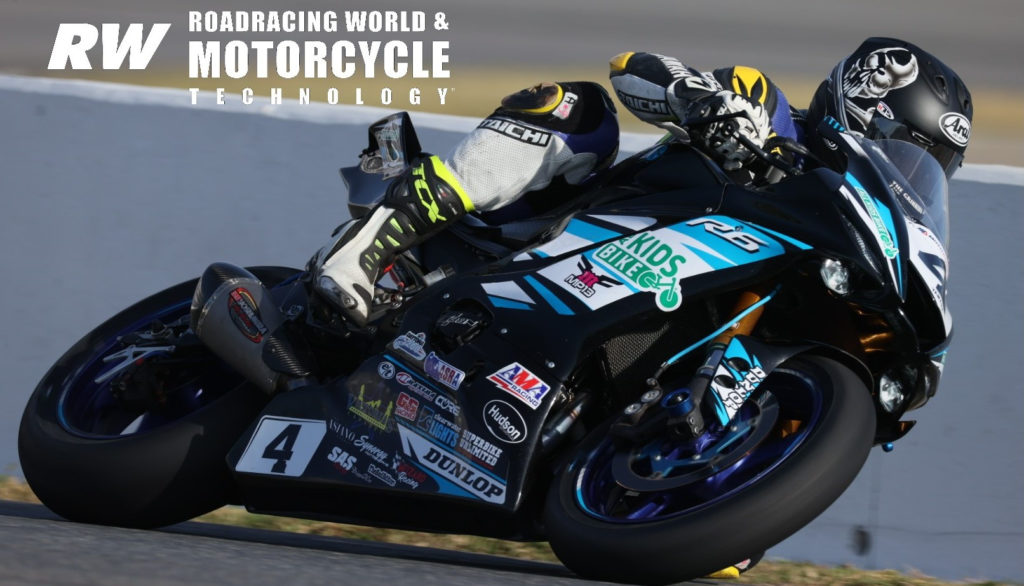 Not only has Hayes won four AMA Pro Superbike Championships, he's won a total of 83 AMA Pro/MotoAmerica races and three support class titles; raced in the Endurance World Championship; run at the front in Supersport World Championship races; and finished seventh while competing in his first (and only) MotoGP race as a substitute rider at Valencia in 2011.
More recently, Hayes won two races at the International Island Classic vintage event in January of this year at Phillip Island; raced at the front throughout the 2019 Daytona 200 and was on provisional pole position for the 2020 Daytona 200; and finished on the podium in the MotoAmerica Supersport class in 2019.
When he's not racing, Hayes is a USMCA-certified rider coach for top competitors, including Bobby Fong and Jake Gagne, as well as working with Garrett Gerloff.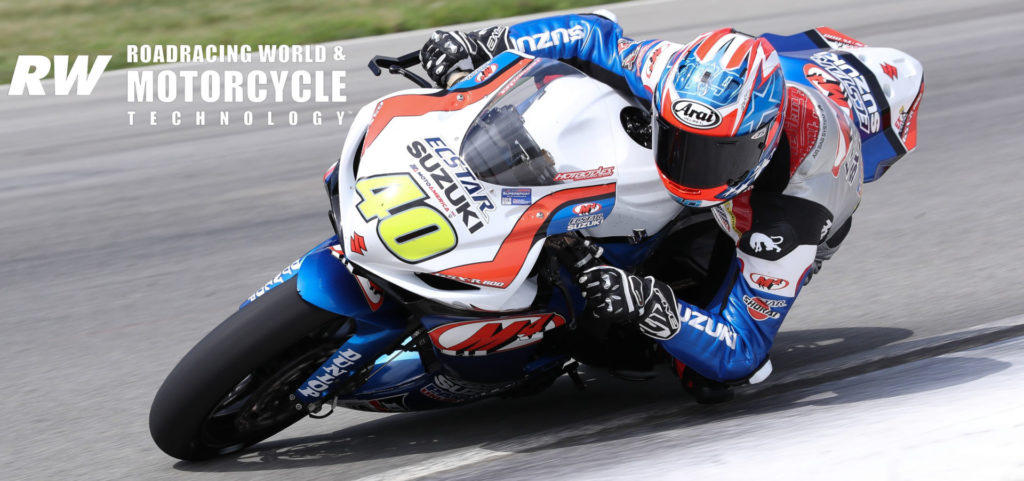 After winning the KTM RC Cup Championship in Mexico and then spending three years in the Red Bull MotoGP Rookies Cup, Floridian Sean Dylan Kelly, now 17, burst onto the professional racing scene in the USA by claiming pole position and eventually finishing runner-up in the 2019 Daytona 200. Kelly followed that up with a strong debut season in the 2019 MotoAmerica Supersport Championship, winning two races, finishing on the podium in five others, and placing fourth in the final point standings. For 2020, Kelly is again riding for Team Hammer, Inc.'s M4 ECSTAR Suzuki team.
"I have really high expectations for SDK, after what he showed last year," said Hayes. "I was impressed with Sean last year even at the first test and how well he rode at Daytona. Wherever we went, he was at the front and managed to win a couple of races.
"I have expectations for him to be relatively dominant this year — unless a few people really find something. I think he should go into things without too much pressure knowing he has the speed and a bunch of the front runners from last year won't be there this year to hassle him. I'll be pretty bummed if I don't see him ride the way Bobby [Fong] rode in 2019 – first or second in every race all season long."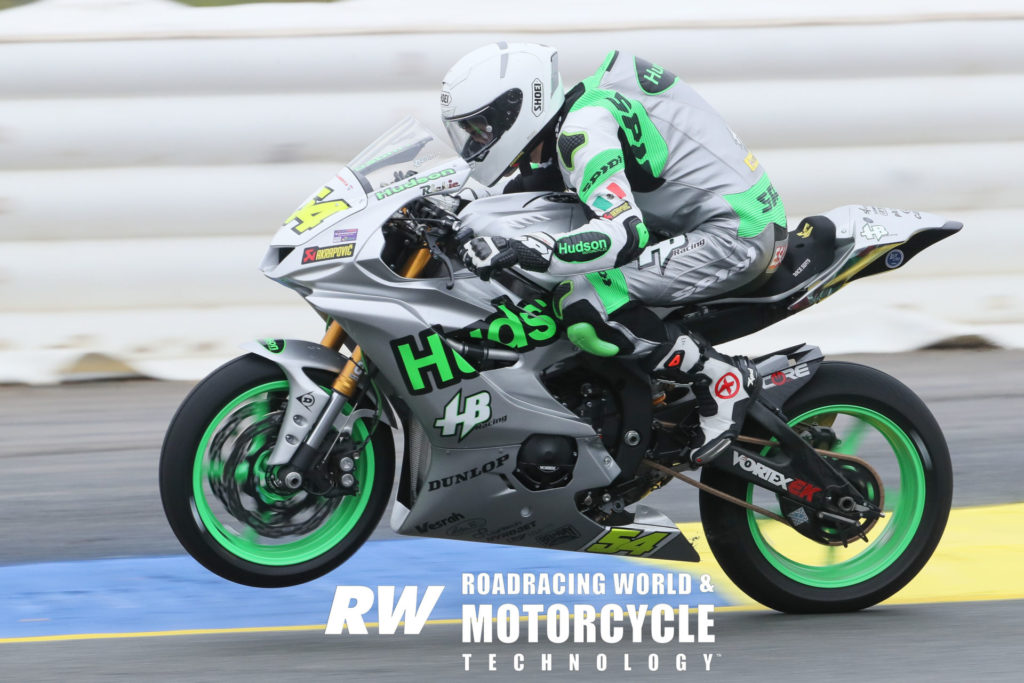 Kelly's greatest challenge may come from 25-year-old Mexican Richie Escalante, who will be riding a Honos-sponsored, Graves Motorsports-built Kawasaki ZX-6R in 2020.
Escalante finished fifth in the 2019 MotoAmerica Supersport Championship, three points behind Kelly, thanks to consistent top-five finishes and six trips to the podium on his Hudson Motorcycles/HB Racing Yamaha YZF-R6. Escalante also had two podium finishes in the 2018 MotoAmerica Supersport Championship and before that was a force in MotoAmerica's Superstock 600 class, finishing as Championship runner-up in 2015.
"Richie is super talented," said Hayes. "He's been in the series for a couple of years. He showed a lot of promise when he was in the lower class, Superstock 600, and in Supersport he showed some really good promise with a good Yamaha underneath him. There were some really good performances, but from working with Richie in the past I see some limitations, also. One thing, in my opinion, there's some difficulty with communication as English is not his first language.
"Richie is someone I had high expectations for in 2019 and I thought he should have gotten himself up there. He did get on the podium a few times, but he needed a breakthrough win and couldn't quite make it happen. Hopefully, that's still in the cards for him.
"Going from a Yamaha to a Kawasaki, I do not think that's going to make it easier for him. We saw Braeden Ortt, who did some amazing things on a Yamaha, get onto a Kawasaki and struggle and actually take a step backwards from what he was doing the year before.
"I don't know if Richie is going to be able to take that next step on a Kawasaki. It's not going to be easy. Only time will tell, and only he can answer that question, honestly."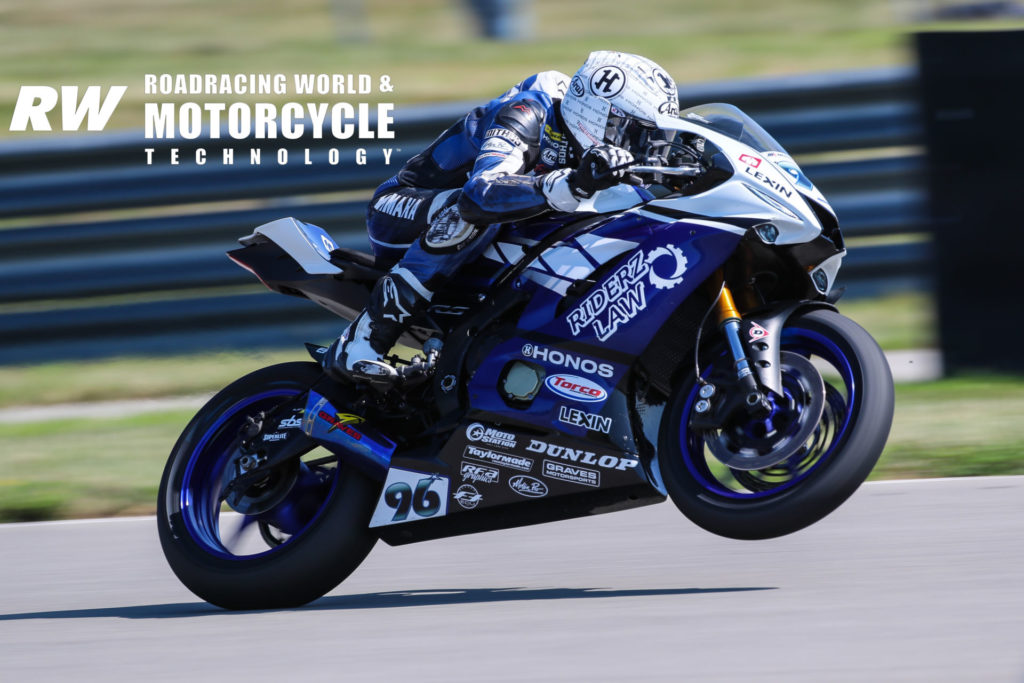 Jason Aguilar, a 23-year-old from Placentia, California, has been in professional motorcycle road racing since 2014, when he finished sixth in the then-age-restricted AMA Pro Supersport class. Three years later, Aguilar won the 2017 MotoAmerica Superstock 600 Championship. Since moving up to the MotoAmerica Supersport class in 2018, Aguilar has continued to show his talent but hasn't be able to achieve the consistency needed to compete for a title.
Last season, Aguilar started off with a fourth at Road Atlanta and a fifth at VIRginia International Raceway, before struggling to break into the top 10 through the middle of the season. Aguilar finished 2019 strongly on his Riderz Law/Aguilar Racing Yamaha after rebuilding his program and reuniting with his 2017 crew chief, Pancho Rangel, collecting 10 consecutive top-10 finishes on his way to eighth in the MotoAmerica Supersport Championship.
"Jason's had some flashes of brilliance that made it look like he could really do it, but the inconsistency is the thing that really hurts him the most," said Hayes. "He's going to have to figure out how to be fast not just at tracks he likes but every weekend. That's never easy, but I think that's what missing from his program.
"I don't think anyone has a real question about his talent. He's shown that he can run up at the front from time to time, but there's something that keeps him from being at the front every weekend. I understand that there's bad luck, but there's not bad luck every weekend, every season. Jason's been in the paddock a while and it's time for him to show he can do it and not be just another name on the grid."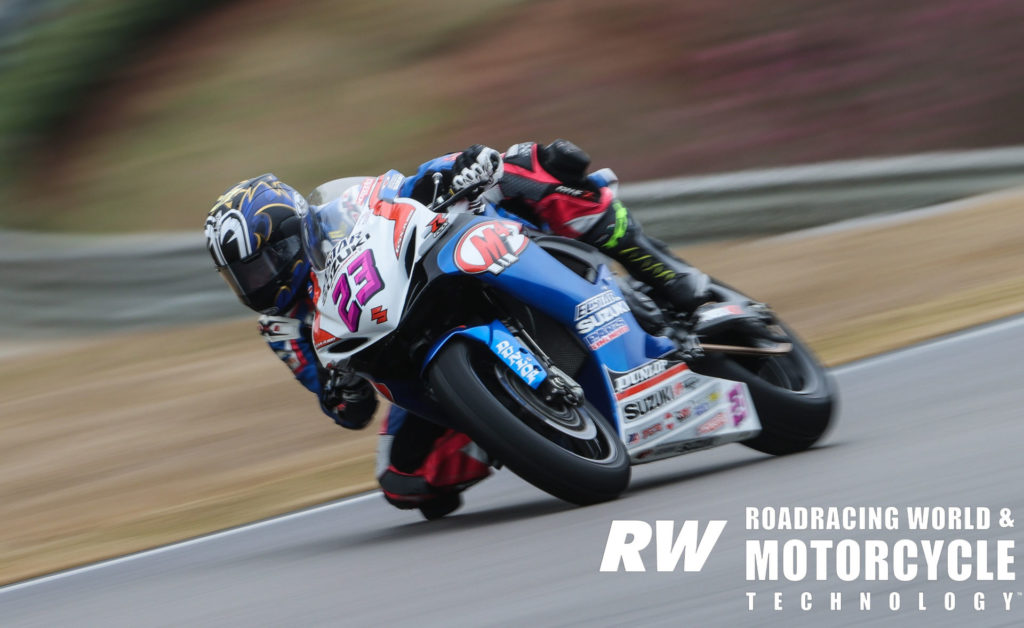 Kelly's M4 ECSTAR Suzuki teammate for 2020 is Lucas Silva, a 19-year-old from Brazil who has been living in Miami, Florida for the last 12 years. Silva raced alongside his brothers Bruno Silva and Fernando Silva in MotoAmerica for two years before joining the Altus Motorsports team and riding a Team Hammer-built Suzuki GSX-R600 in 2019. Silva earned a best race result of seventh in Race One at VIRginia International Raceway and placed 11th in the 2019 MotoAmerica Supersport point standings.
"Last year, Lucas he got up there from time to time and showed some promise," said Hayes. "There were some sessions at tracks here and there it seemed like he was ready to play, but come race time, he wasn't always able to follow it up. It seems like he did get better towards the end of 2019 and hopefully he's ready to take the next step.
"I think stepping into a big, established team like M4 ECSTAR Suzuki with a lot more information gives you a good grounding. 'OK, this team knows their stuff. They're going to give me a bike that's going to be pretty close. It's up to me now.' Hopefully, that's the right thing he needs to jump him up to that next level."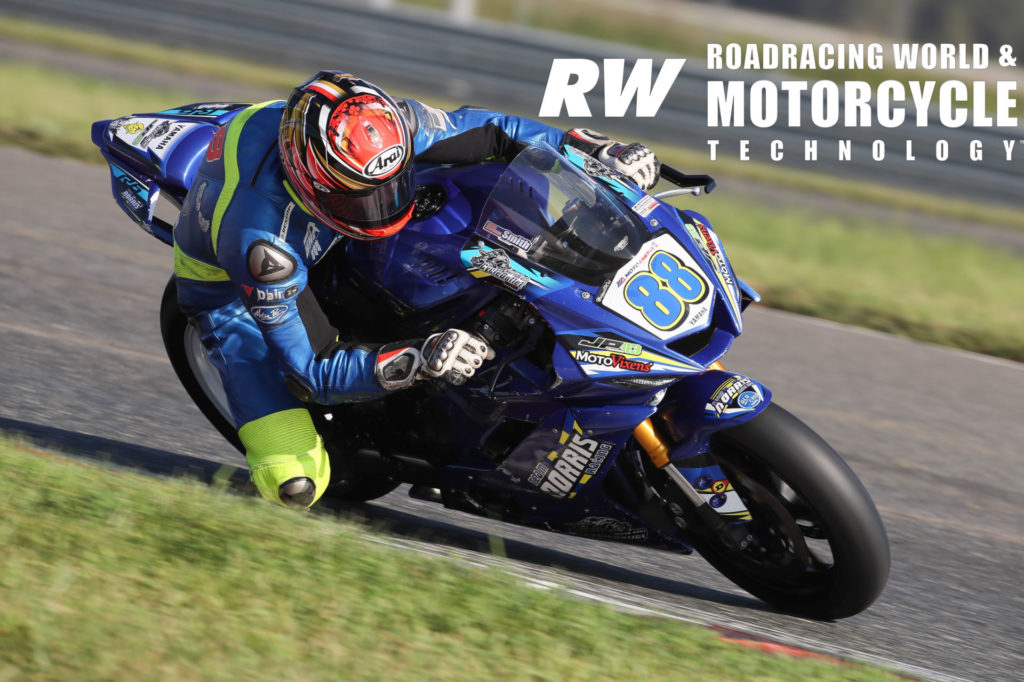 The list of full-season entries for the 2020 MotoAmerica Supersport Championship includes Benjamin Smith, 19, of Glenmoore, Pennsylvania. After winning the MotoAmerica KTM RC Cup Championship in 2017, Smith graduated to the Supersport class with Team Norris Racing, spending 2018 on a Suzuki GSX-R600 and 2019 on a Yamaha YZF-R6. Last year, Smith suffered a batch of DNF's with a season highlight of a seventh-place finish at Pittsburgh International Race Complex, his home race, on his way to 16th in the final standings. For 2020, Smith is entered to ride a Northeast Cycle Outlet Racing Yamaha YZF-R6.
"I'm a big fan of Ben Smith," said Hayes. "I think he's a great kid. I think his family is really excited about racing. When he was doing the KTM RC Cup there were so many of them near the front the year he won the Championship–but he was the only one who was consistently up there week-in and week-out. I was thinking some good stuff is going to come from this kid. Unfortunately, it never materialized from there. As he's moved into the bigger class he's become very ordinary, as much as I hate to say that. I believe he's a talented kid and someone I've wanted very badly to see do well."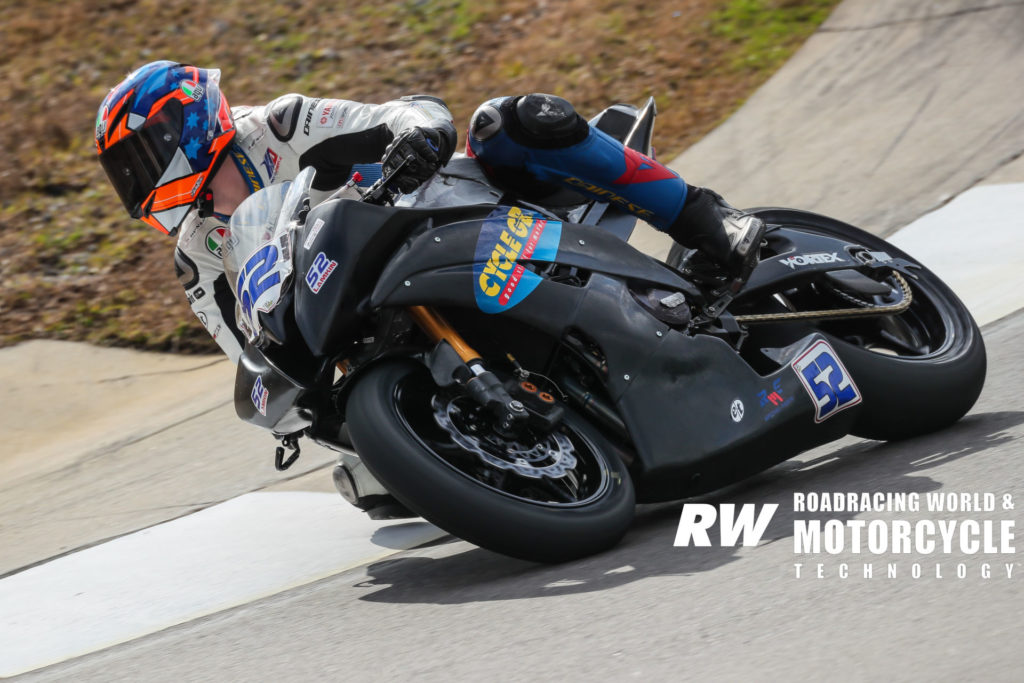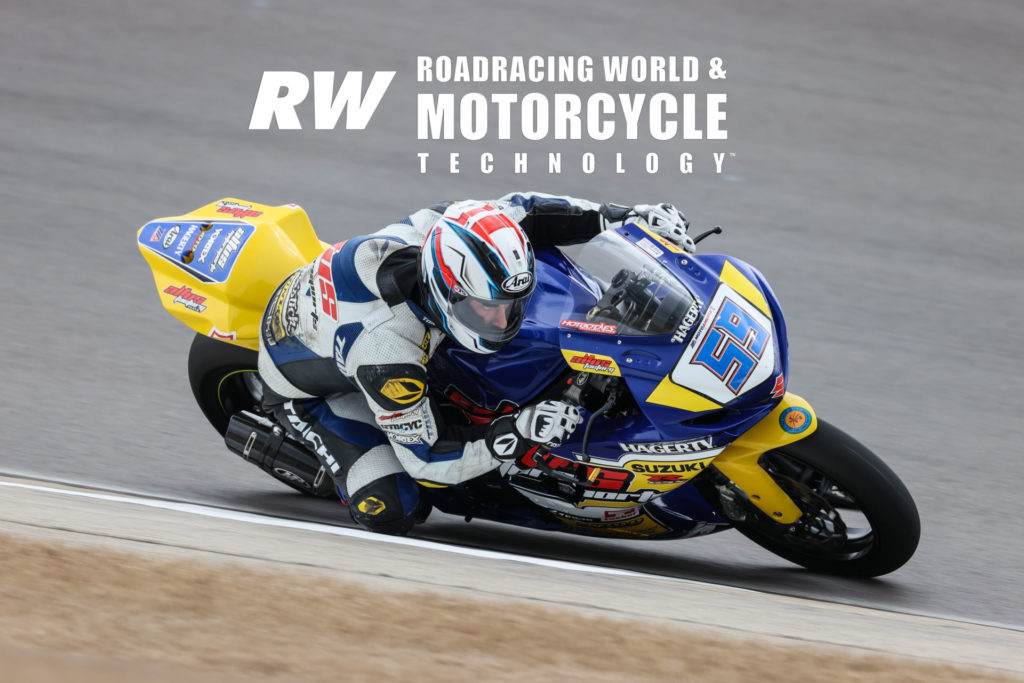 Smith finished one point behind Cycle Gear Racing's Nolan Lamkin and two points behind Altus Motorsports' Jaret Nassaney in the 2019 Supersport Championship standings. Lamkin and Nassaney have both committed to another full season in Supersport in 2020, and another rider to watch this year is a newcomer to the class – Kevin Olmedo.
Olmedo, 19, from El Salvador, started off with MotoAmerica in 2017 in the KTM RC Cup. In 2018, he joined the new MotoAmerica Junior Cup on a Yamaha YZF-R3 and achieved respectable results, including a win in a wet race at New Jersey Motorsports Park and eighth in the Championship. When Olmedo joined the Altus Motorsports team and switched to the popular Kawasaki Ninja 400 for the 2019 MotoAmerica Junior Cup season, he quickly became one of the elite riders in the class. Olmedo won a race, finished on the podium 10 other times, and was the Championship runner-up.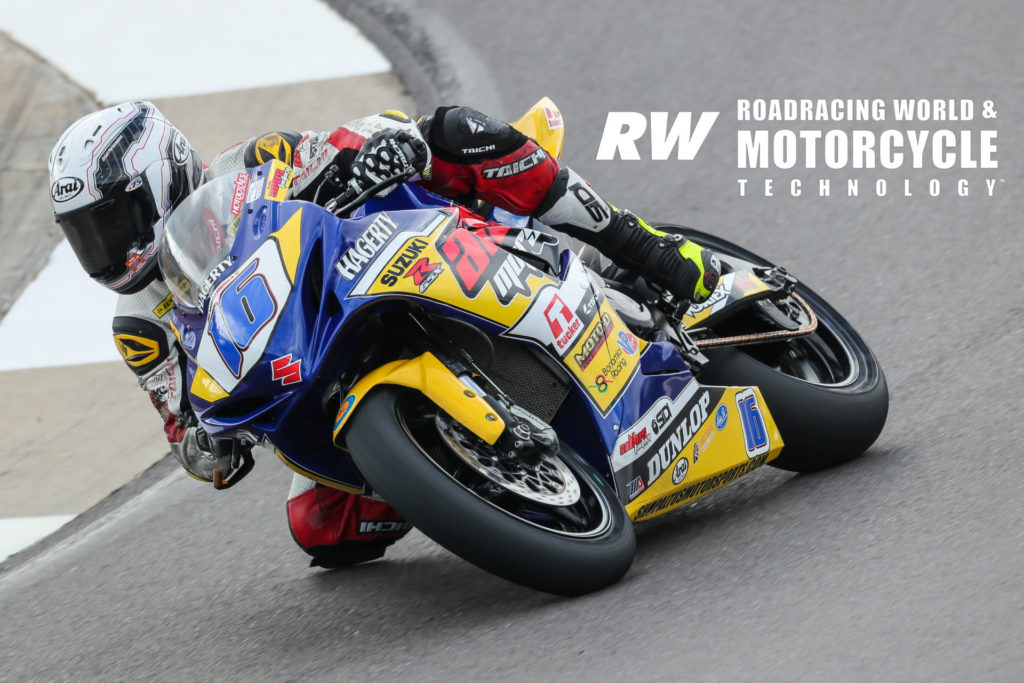 For 2020, Olmedo has been promoted by Altus Motorsports to race one of its Team Hammer-built Suzuki GSX-R600s in Supersport, and the youngster immediately proved he was up to the task by posting the fastest lap time among Supersport regulars at the official MotoAmerica pre-season test at Barber Motorsports Park in June.
"My outside favorite right now is probably Kevin Olmedo," said Hayes. "I've always liked Kevin. When he did the Graves Yamaha bLU cRU program on the R3 I liked what I saw from him. He's another one where he's so young and there's a language barrier, but his speed is not in question. It's just going to be if he can figure out what to do with all that speed. And when he gets to the bigger bikes it's going to bite harder when it goes bad. But I think he could do big things."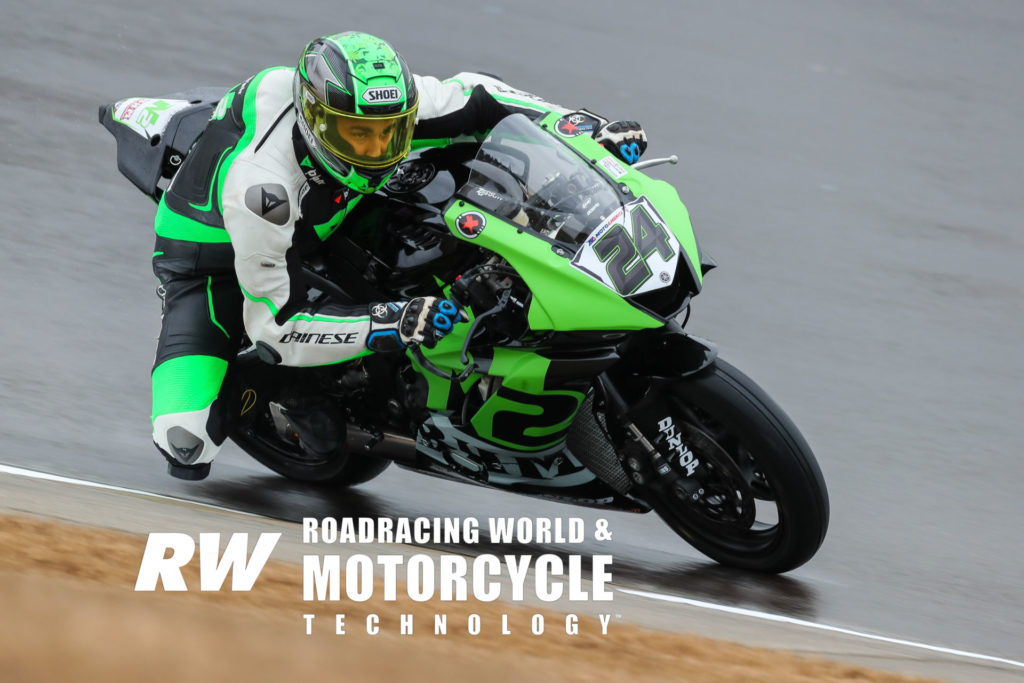 Xavier Zayat, 21, of New York, is listed on the full-season MotoAmerica Supersport entry list as riding an N2 Racing Yamaha. While Zayat hasn't ever completed an entire MotoAmerica season, he's been doing American Flat Track (AFT) events and ASRA Sportbike races and could be someone to reckon with this coming season.
Some riders who have run the entire MotoAmerica season and done well in the past are notably absent from the 2020 pre-entry list, including Nick McFadden, Braeden Ortt, Bryce Prince, and Cory Ventura.
McFadden says he has no plans to go road racing in 2020; Ortt announced in late 2019 that he was going to focus on his college education; Prince informed Roadracingworld.com that he has no plans to race in 2020; and Ventura says he plans to compete in regional events close to his home in California and may race in selected MotoAmerica Supersport rounds.