Bautista tops Friday's running ahead of Locatelli and Lecuona
The Reigning Champion set the pace and was the only one under 1'31s
Alvaro Bautista was able to improve his time in FP2 to put him 0.446s clear of Yamaha's Andrea Locatelli
P1 | Alvaro Bautista | Aruba.it Racing Team | 1'30.623s
"I'm happy with today because I had a good feeling with the bike, similar to the tests but today, track conditions were a bit different, especially in the afternoon. It was slippery and you had to be very careful because the tyres were sliding everywhere, so you had to adapt to the track conditions. I understood the situation of the track and I could adapt my style to these conditions and, for sure, I had fun even if the track was not in perfect condition. I'm happy because the bike worked well and like in the test. It has been a positive part to the season.
"For sure, in the afternoon, we did a good pace but the conditions we found today will be different to tomorrow and Sunday. So, I think today is not valid to see how the other riders are and with such different conditions. Today, I felt strong but, in any case, I think many riders went quite fast in the conditions. I don't feel like the favourite, I'm enjoying the bike and we're doing a good job. We have to take the maximum in all conditions and when the track is difficult."
Jonathan Rea took fifth place in the combined standings with whilst Toprak Razgatlioglu was 10th at the end of Friday. Razgatlioglu's best of Friday was 0.937s off Bautista.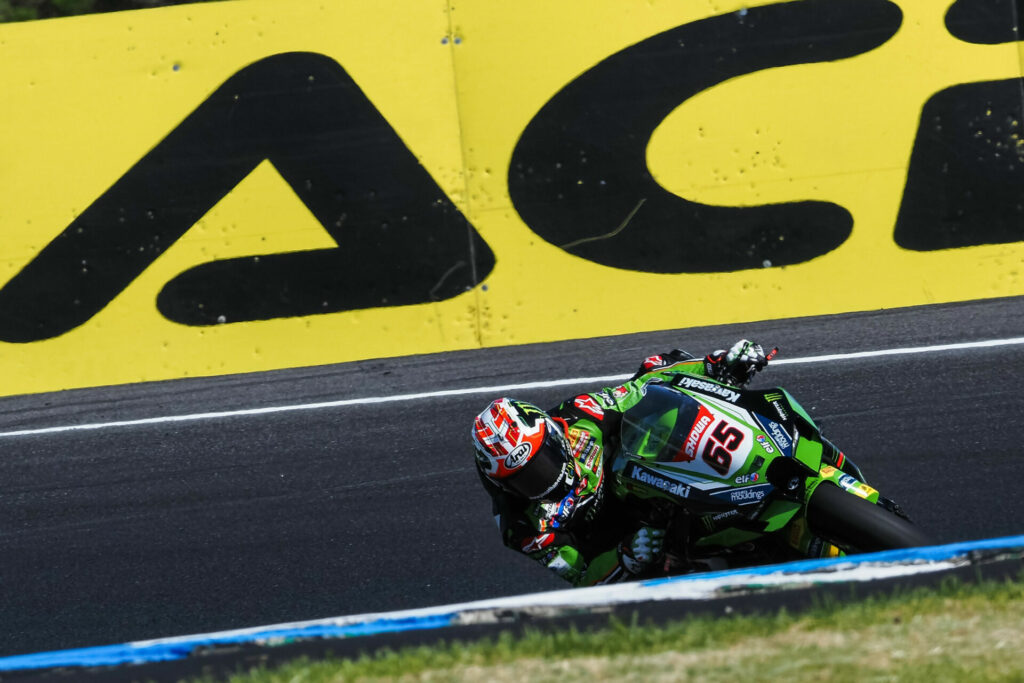 Rea: "I felt very solid in the first session, our pace was good. As soon as the temperature crept up and I did my first out in FP2, I didn't feel good with the bike at all. I had zero edge grip. We tried a small setup change to go back. We were trying something, and we were curious to go back and check our base setup. Even with our base setup, I had zero grip. We weren't pushing the tyre, the tyre wasn't in range of temperature or pressure. It's also true that our bike isn't working great on the edge of the tyre. We need to make the bike turn more naturally. That's going to be a priority tomorrow. When I launch the bike into the corner, I need it to track around the corner and not to use the rear or to slide and correct the line. This is wasting the rear tyre. We're looking for edge grip tomorrow and some turning."
Razgatlioglu: "In the afternoon, it was unbelievably hot. The asphalt was 51, 52 degrees. We tried a race simulation. It looks like it wasn't really fast but also it wasn't bad. We tried some new setups for the race. Tomorrow looks like the weather will be cooler which will help for the grip. For me, today was not an easy day. I was just focused on my race simulation because this is really important. I need to understand the bike after ten laps and the feeling. We need to understand which tyres are better for the race and this is really important."
WorldSBK Friday Report
Sunny skies greeted the 2023 MOTUL FIM Superbike World Championship for their first day of action at the Phillip Island Grand Prix Circuit in Australia, for the season-opening Grand Ridge Brewery Australian Round.
A mighty start to the season saw more domination from Alvaro Bautista (Aruba.it Racing – Ducati) as he eased clear by nearly half a second over his rivals. Setting more laps than anyone else in the entire week of Phillip Island track action, Bautista has been able to set outright lap times as well as consistent pace, making him one of the favourites for the remainder of the weekend, hoping to add to his tally of five Phillip Island race wins.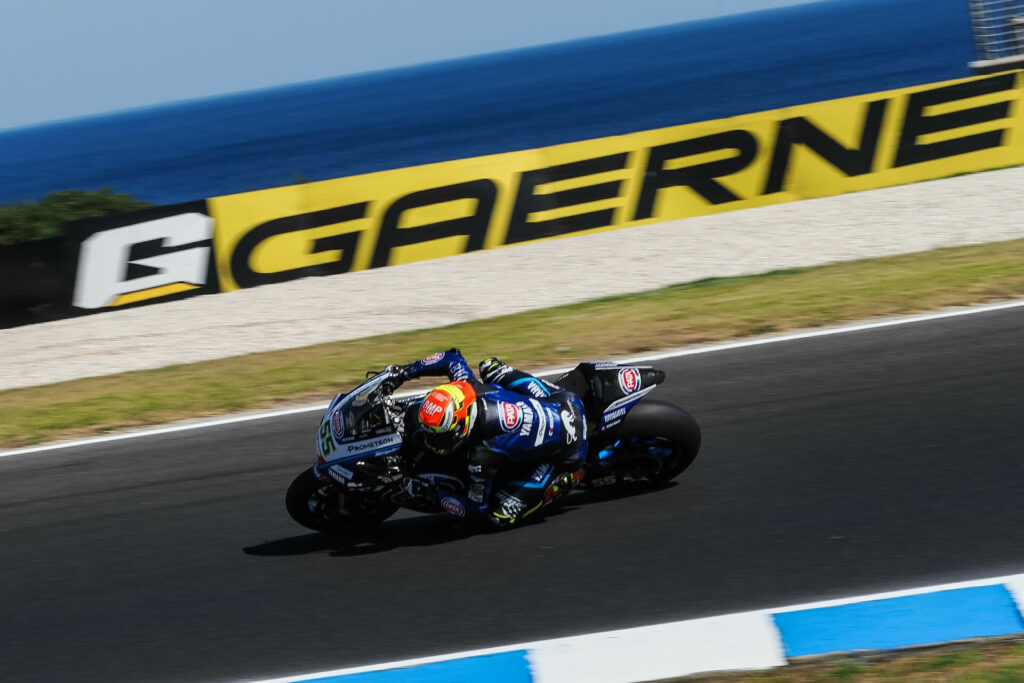 Leading Yamaha's charge once again was Andrea Locatelli (Pata Yamaha Prometeon WorldSBK), who continues to shine as he goes for gold in his third season in the team. Locatelli's day was almost perfect, but he suffered a tumble at Turn 10 in the closing stages, but was able to get up and walk away without issue to take second place in the combined standings. Third place honours belonged to Honda and Iker Lecuona (Team HRC), with the Spaniard relying on his morning time but nonetheless settled in well in his first competitive weekend at Phillip Island in World Superbike.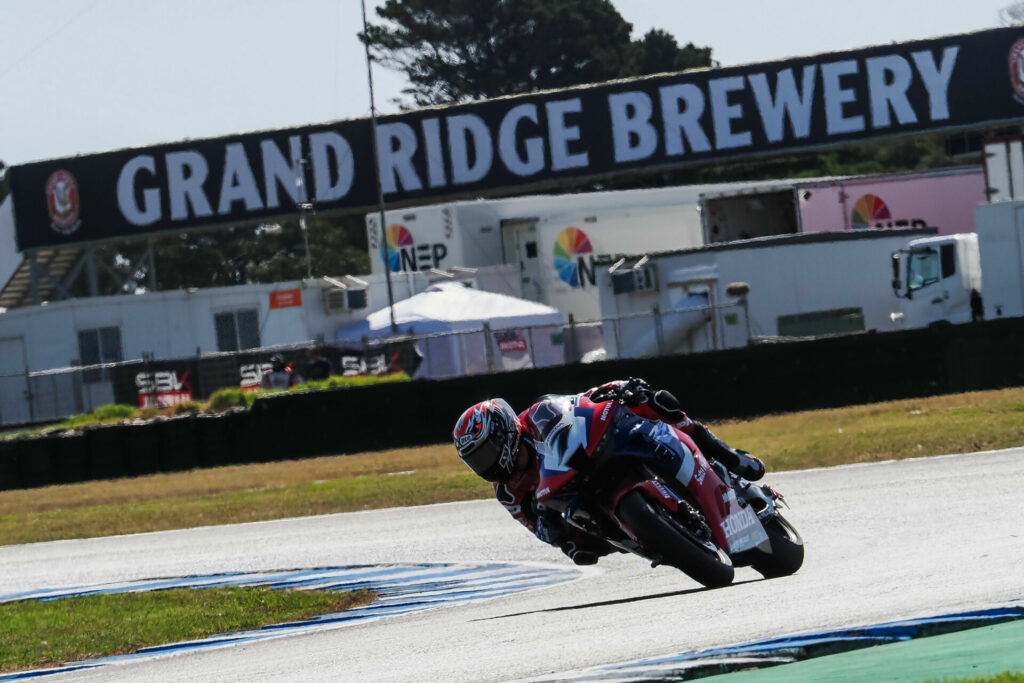 Michael Ruben Rinaldi (Aruba.it Racing – Ducati) was second in FP2 and fourth overall on the combined classification, but he did have a technical problem with ten minutes to go at the end of pitlane. It was a tricky day for Kawasaki too, who lost valuable running with Jonathan Rea (Kawasaki Racing Team WorldSBK) at the start of FP2. With work being done frantically on the front of the bike, Rea returned to the circuit and whilst he improved his session time, it wasn't enough to improve on from the morning, staying fifth. Michael van der Mark (ROKiT BMW Motorrad WorldSBK Team), he suffered a crash in FP1 but rallied to put in the sixth-fastest time of the day, making sure all five manufacturers were represented in the top six.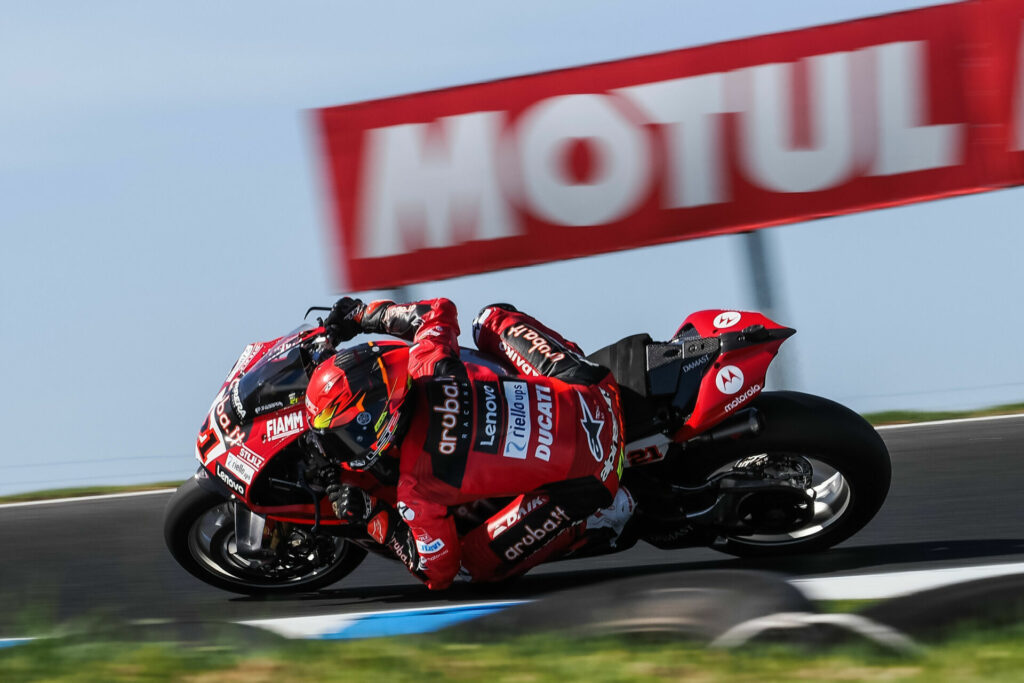 Toprak Razgatlioglu (Pata Yamaha Prometeon WorldSBK), struggled in the afternoon and couldn't crack the top ten in what is turning out to be a bit of a bogey circuit for the Turkish star. Returning to the #54 and finishing in tenth overall, it's not been an easy start for Razgatlioglu, who was the last Yamaha in FP2.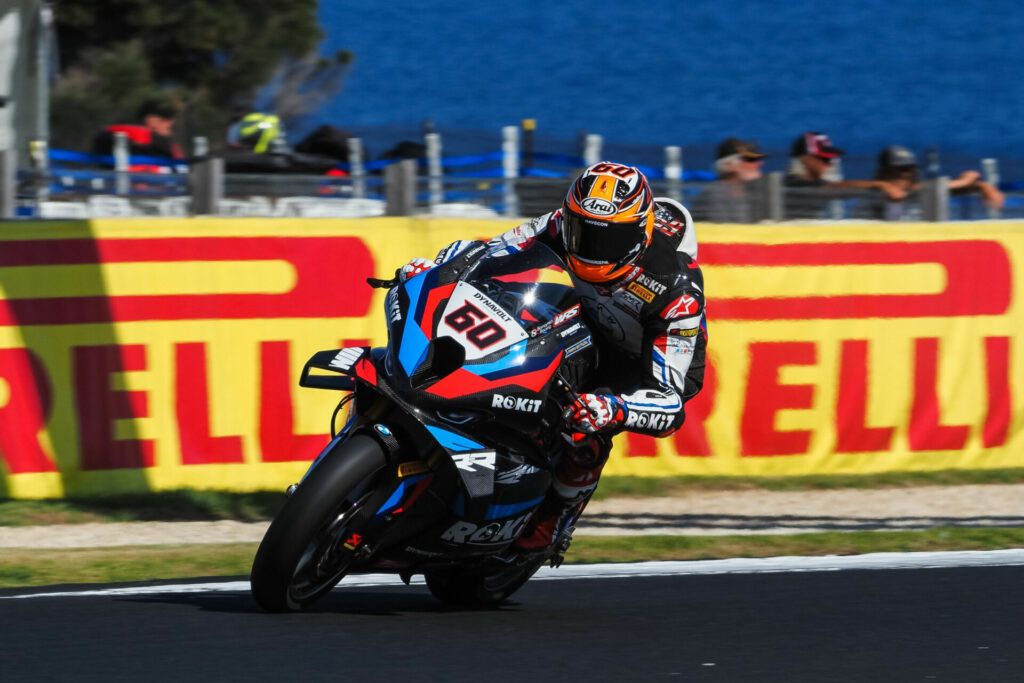 Read the full report from Friday on worldsbk.com
WorldSBK Combined Results after FP2
1. Alvaro Bautista (Aruba.it Racing – Ducati) 1'30.623s
2. Andrea Locatelli (Pata Yamaha Prometeon WorldSBK) +0.446s
3. Iker Lecuona (Team HRC) +0.506s
4. Michael Ruben Rinaldi (Aruba.it Racing – Ducati) +0.534s
5. Jonathan Rea (Kawasaki Racing Team WorldSBK) +0.681s
6. Michael van der Mark (ROKiT BMW Motorrad WorldSBK Team) +0.787s
Bulega leads Manzi by 0.510s after Friday Free Practices
Bulega topped Friday's timesheets as he had a half a second gap to his rivals after FP2 on Friday.
P1 | Nicolo Bulega | Aruba.it Racing WorldSSP Team | 1'32.852s
"It was a very good day for me. We tried something new this morning to try to improve a little bit from the test. I didn't like it, so in FP2 we came back to my standard bike, and I felt good. Today the conditions were very different compared to the test, it was much hotter. I'm struggling a little with the pace because it was very hot today. Anyway, we have to keep improving for the pace because Manzi is very fast, and we are missing one or two tenths. I feel very good with the bike so I think tomorrow we can be fast."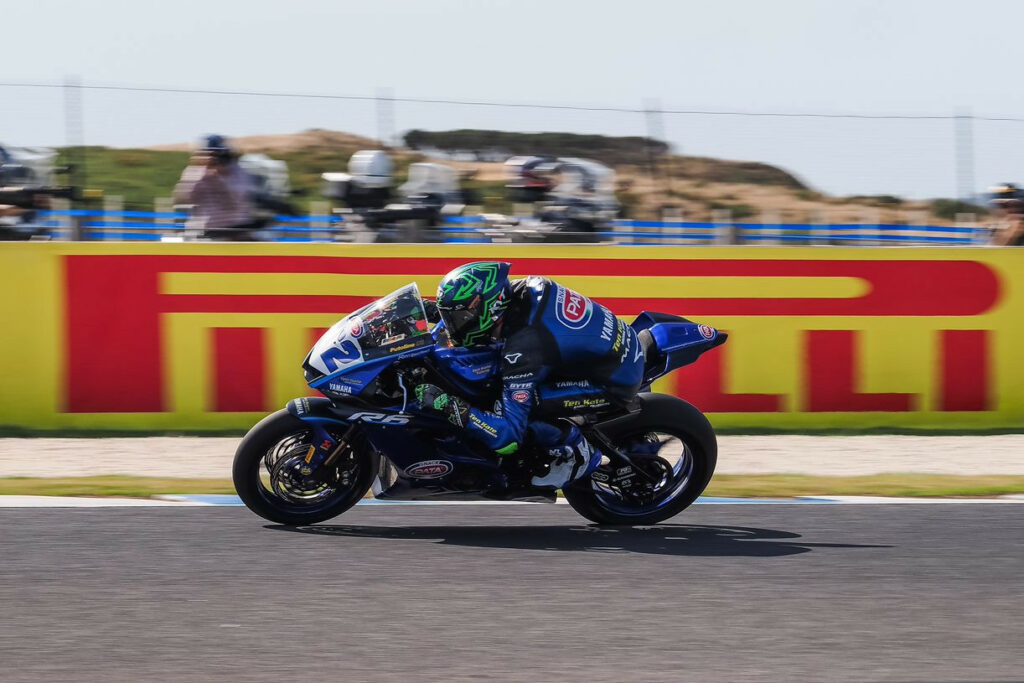 Fastest in FP1, Stefano Manzi concluded Friday in second place 0.510s off Bulega as he heads into his first Superpole and Race 1 with Yamaha. Despite two crashes at Turn 10 in FP1 and FP2, Adrian Huertas took third place in the combined results.
WorldSSP Friday Report
The FIM Supersport World Championship concluded its first Friday of 2023 at the Phillip Island Grand Prix Circuit for the Grand Ridge Brewery Australian Round with two Italian riders at the top of the timesheets. Nicolo Bulega (Aruba.it Racing WorldSSP Team) topped the times by more than half a second after Friday's two Free Practice sessions ahead of Stefano Manzi (Ten Kate Racing Yamaha) with half-a-second between the pair. Bulega and Manzi spent time at the top of the timesheets during the day with Bulega posting a 1'32.852s in FP2 to top the times in the combined classification after he finished second in FP1. Manzi took top spot in FP1 and, while he improved his time in FP2, had to settle for second place in the second session after setting a 1'32.362s.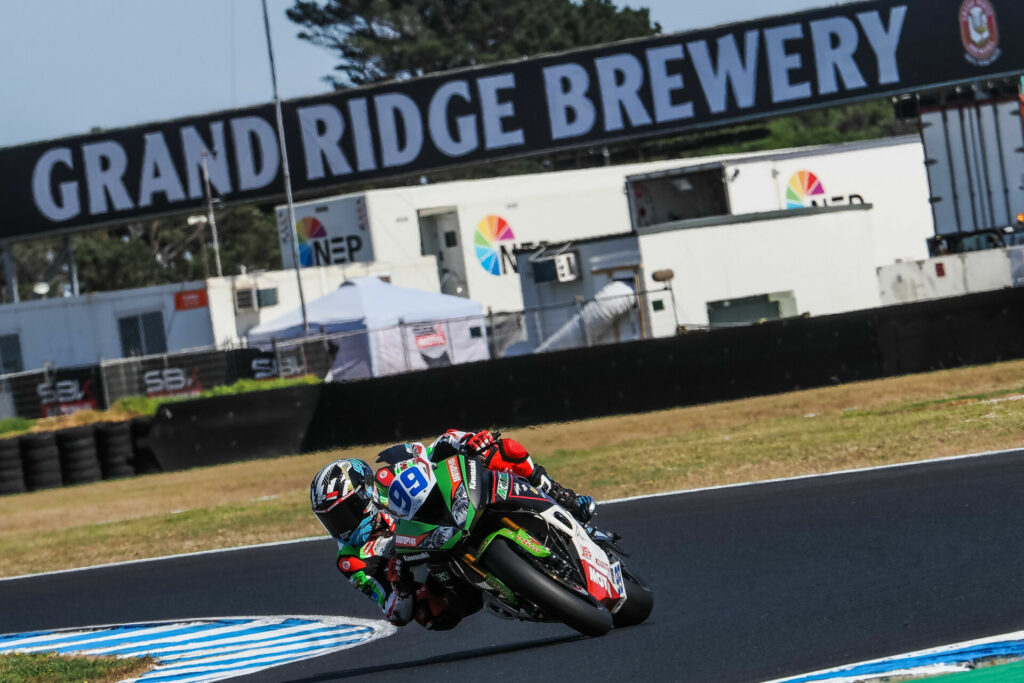 Adrian Huertas (MTM Kawasaki) was third after the two sessions despite two crashes throughout the day. In FP1, Huertas crashed at Turn 10 around 10 minutes into the session, while he crashed at the same corner in FP2 with around 10 minutes left.
Federico Caricasulo (Althea Racing Team) took fourth spot after setting a 1'33.755s although he did crash at Turn 10 at the end of FP2. Nicholas Spinelli (VFT Racing Yamaha) was fifth after a strong start to his rookie campaign after he put in a late lap of 1'33.876s to take a top-five spot on debut, ahead of Can Oncu (Kawasaki Puccetti Racing) with around one tenth between Spinelli and Oncu. German rookie Marcel Schroetter (MV Agusta Reparto Corse) took seventh spot on his second WorldSSP appearance at the Phillip Island Grand Prix Circuit, lapping 1.119s slower than Bulega.
Read the full report from Friday on worldsbk.com
WorldSSP Combined Results after FP2
1. Nicolo Bulega (Aruba.it WorldSSP Team) 1'32.852s
2. Stefano Manzi (Ten Kate Racing Yamaha) +0.510s
3. Adrian Huertas (MTM Kawasaki) +0.889
4. Federico Caricasulo (Althea Racing) +0.903s
5. Nicholas Spinelli (VFT Yamaha) 1.024s
6. Can Oncu (Kawasaki Puccetti Racing) +1.123s
More, from a press release issued by Team HRC:
It's curtains up for Team HRC at Phillip Island with Lecuona in top 3 and Vierge seeking greater consistency
The 2023 Superbike World Championship is officially a go at the Philip Island Grand Prix Circuit in Australia. Team HRC has completed the first practice sessions of this season-opener with factory riders Iker Lecuona and Xavi Vierge.
Out on track for the morning's practice, both riders were keen to make a strong start to the weekend's proceedings. Exploiting the warm and sunny conditions, Lecuona made an immediate impression, setting some very fast times in the early stages. Despite a small crash in the first session, Iker was nevertheless able to place third, with a time of 1'31.129, by the end of the first 45-minute practice. Vierge was not quite as quick off the mark as his team-mate, but he worked methodically and set a 1'31.972 to place thirteenth.
Later in the day, and in hotter conditions (air temp. 32°C, track 47°C), the pair continued to prepare for Saturday's qualifying session and first race. Although lap times were generally slower due to the conditions, both Lecuona and Vierge made progress in terms of their level of feeling with the CBR1000RR-R, although Vierge seeks greater consistency around every sector of this tricky track. The Team HRC duo rounded out day one of this new championship season in third and sixteenth place overall, thanks to the times they set in a cooler FP1.
Tomorrow should bring cooler conditions and perhaps even rain, so Team HRC will need to be prepared for every scenario.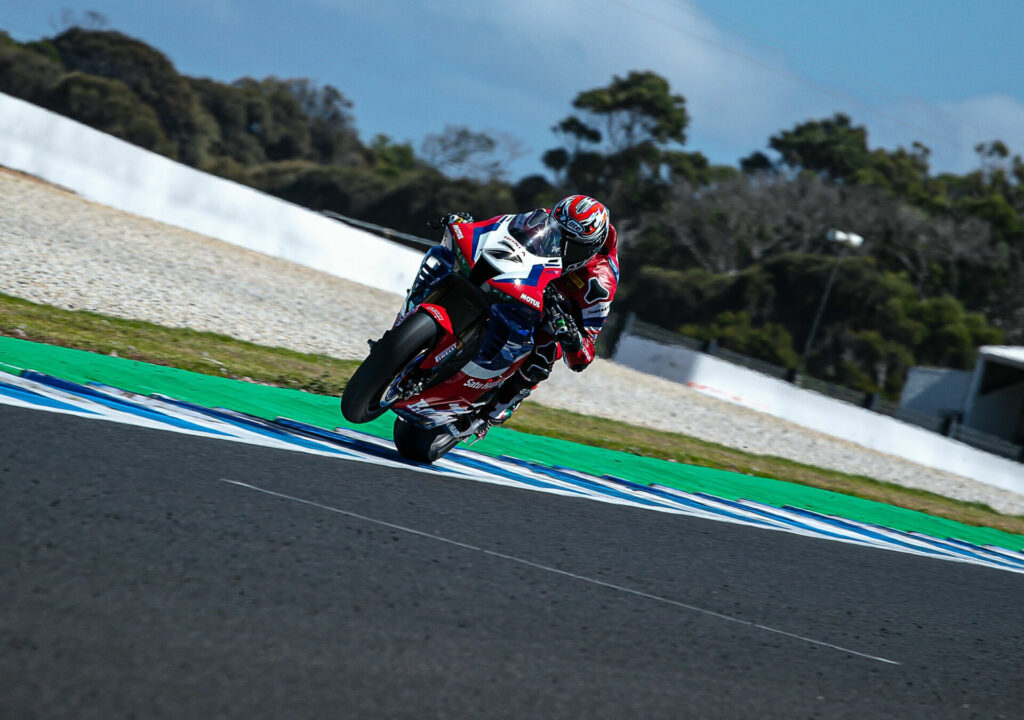 Iker Lecuona  7
"Everything went better than I expected today to be honest, considering that we struggled in different areas during this week's tests. But I felt good right from the first lap this morning, so good that my first lap was in fact my best of the day! I could ride in a relaxed and natural way and was able to understand the bike and how it responded. I also had a small crash at turn 10 this morning but we know why it happened and I was totally fine afterwards, so no problems. In FP2, and with very hot track conditions, we were able to complete a long run and again my feeling with the bike was good and I could be consistent and comfortable. Alvaro is on another planet, but we are not far from being able to fight at the front. We made a change to the base setup, nothing huge but the feeling on the bike improved a lot, at least in these conditions. The forecast for tomorrow is a bit uncertain – temperatures might drop and there's a chance of rain, but we'll see. For today I'm happy anyway!"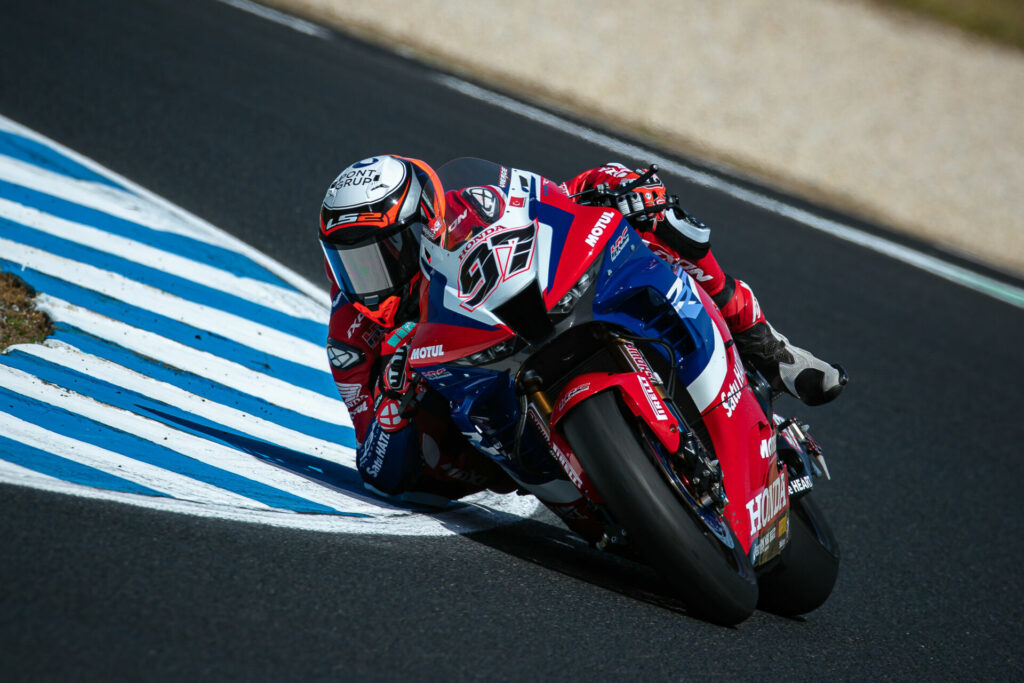 Xavi Vierge  97
"The season is finally underway! Today we worked very hard to find the way and improve some areas of the bike's setup. The feeling is not too bad to be honest, but we are losing precious time through some sections of the track. We are very fast in some sectors but then have trouble in others and we must fix that. We're struggling particularly in sector three, from turn six to turn ten. We're losing half a second there and that makes a big difference in terms of the standings when everyone's as close as they are here. We need to make a step forward tomorrow because our pace is not bad."
More, from a press release issued by Kawasaki:
Race Preparation The Focus For KRT Riders
The first day of competitive 2023 action for official Kawasaki WorldSBK riders Jonathan Rea and Alex Lowes ended up with Rea overall fifth fastest and Lowes eighth. Each rider worked towards finding an optimal race set-up to face the first races of the new season at a very warm Phillip Island circuit.
After two days of official tests earlier this week the main task for both Rea and Lowes was to find set-up and tyre solutions for the much higher track and air temperatures they faced today.
Track temperatures almost reached 50°C in the afternoon session on Friday, when they never quite reached 40°C in the test on Monday and Tuesday.
The constant wind that blew in from the direction of the nearby ocean in testing also changed direction today, picking up heat from the interior landmass before blowing down the main straight towards the sea.
A strong start in Free Practice One for Rea proved to be less so in the afternoon's Free Practice Two, as he lost grip due to the hot track temperatures. Now Jonathan and his technical crew will collate and analyse the data they collected today and hope for lower asphalt temperatures when they face the first race of the new season, at 16.00 local time on Saturday 25 February.
Lowes improved his overall machine set-up and tyre usage compared to the recent tests, but hopes for both reduced temperatures and more edge grip on corner exits to be able to maximise his performance over full race distance on Saturday.
The second day of WorldSBK action at Phillip Island will feature a 30 minute free practice session, then Tissot Superpole qualifying to determine grid positions for a 22-lap opening WorldSBK race, which is scheduled to start at 16.00 local time.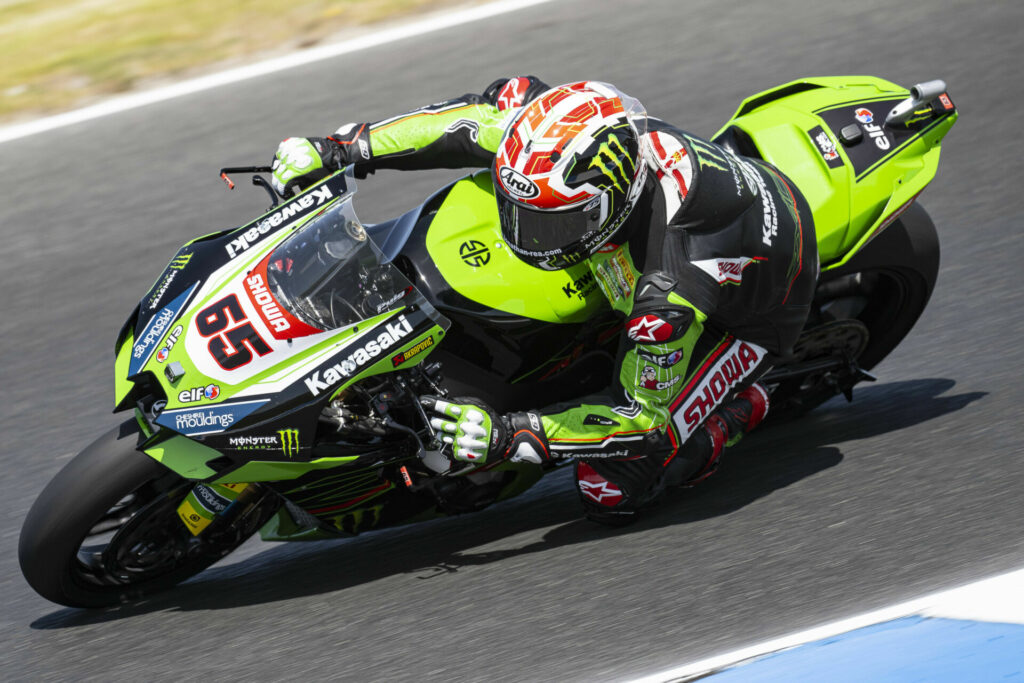 Jonathan Rea, stated: "This morning I felt quite positive, to be honest. When I reviewed the first session I felt there or thereabouts; fighting for the podium positions. In the afternoon, with more heat on the track, from the very first lap I didn't feel good grip. We have some small set-up issues, and we are not far away, but the main problem today was grip. We will put everything together, understand what happened and try to make a plan for Saturday and Race One. I would prefer cooler conditions for the race, as last year the tendency was that we struggled more in hot conditions. I want to forget this session a little bit and I would prefer a cooler race tomorrow. I don't think the track is going to be like it was today (48°C) but it is still going to be very hot."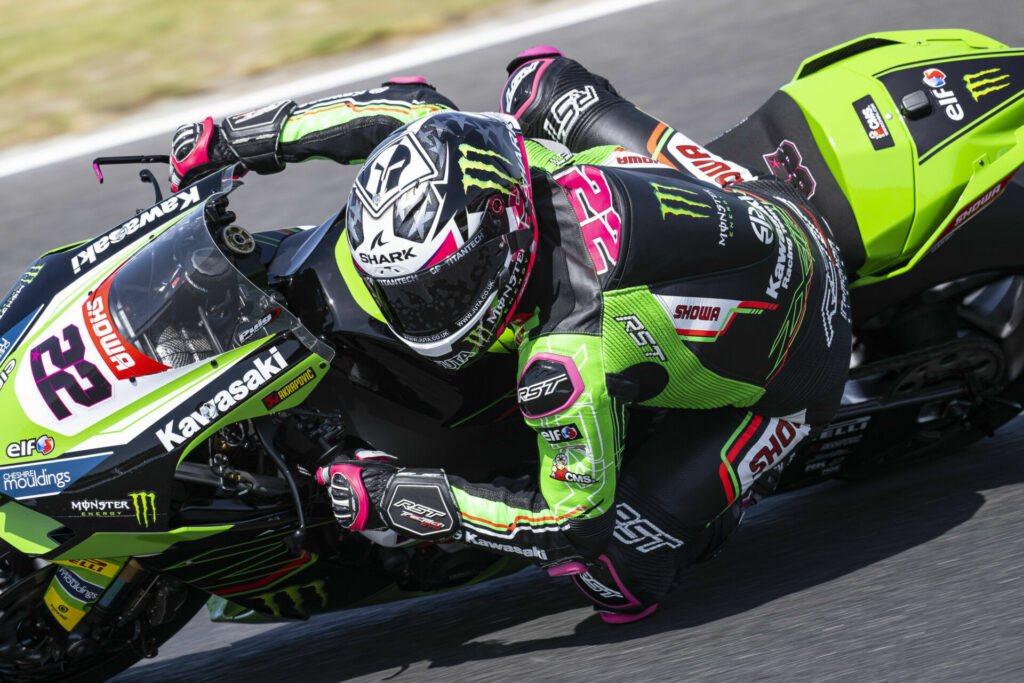 Alex Lowes, stated: "In the recent tests I was in a relatively low position on the timesheets but I knew we were a little bit better than that. I would have said my real position was more like sixth, seventh, eighth, and that is where we were today. But when it got hot in the afternoon, as a general rule on our bike, we struggle in hotter conditions. It just tipped around the 50°C mark on the track and we were in trouble, really struggling for edge grip on the rear. But I did a race simulation, I think maybe putting in one more lap than a full race simulation, and that is going to give us good information for tomorrow. The track is probably going to be slightly cooler, so it should feel better. We are not quite feeling as good as we want to right now, but tomorrow is race time, so I am sure I will fire up."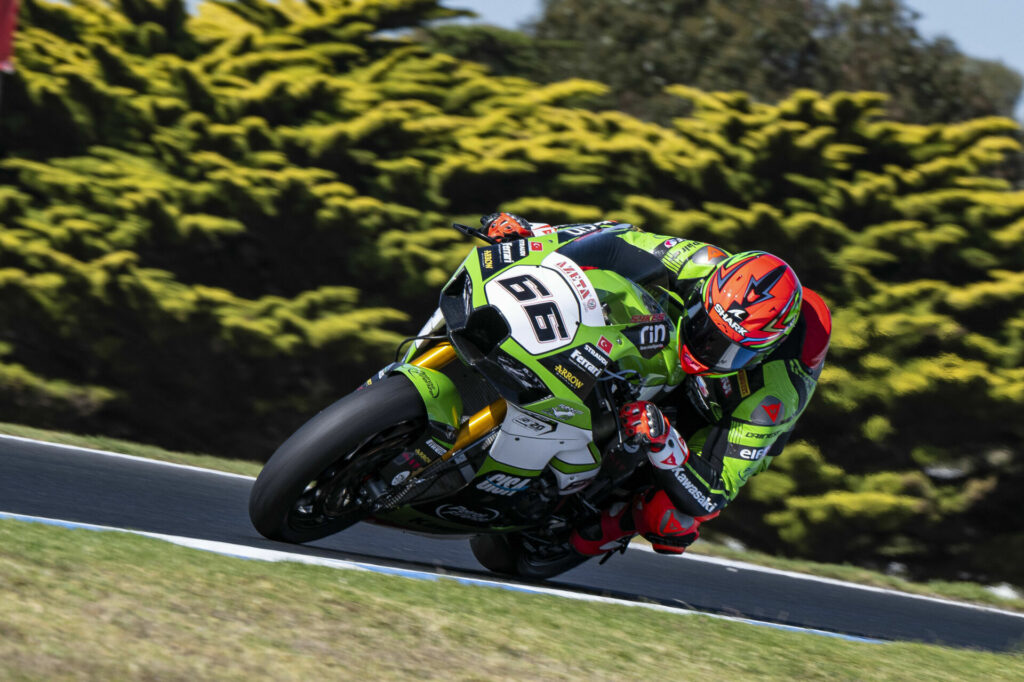 Second year WorldSBK rider Oliver König (Orelac Racing Kawasaki) was 19th after day one pf practice in Australia, with returnee rider Tom Sykes (Kawasaki Puccetti Racing) 20th.
More, from a press release issued by GYTR GRT Yamaha:
FIRST DAY OF SCHOOL FOR GARDNER AND AEGERTER IN PHILLIP ISLAND
Remy Gardner and Dominique Aegerter completed their first-ever WorldSBK Friday at the iconic Phillip Island circuit, showing consistent speed to finish in 11th and 13th, respectively, on the combined timesheets.
The GYTR GRT Yamaha duo enjoyed a decent Free Practice 1 session, focusing on getting the most from their Yamaha R1 machines. In the 45-minute practice, local hero Gardner placed 10th (1'31.655), with his teammate Aegerter just behind (1'31.855).
With temperatures rising in the afternoon's Free Practice 2, both riders primarily focused on race pace rather than flying laps. After completing two promising long runs, Aegerter managed to improve his FP1 time to finish the session in 6th (1'31.720). On the other side of the garage, Gardner once again ended the session in the top 10 (1'31.836), despite not being able to improve his time from the morning.
The GYTR GRT Yamaha WorldSBK Team will be back in action on Saturday, firstly with the Free Practice 3 at 10:50 local time, before moving to Tissot Superpole at 13:10 and finally with Race 1 at 16:00.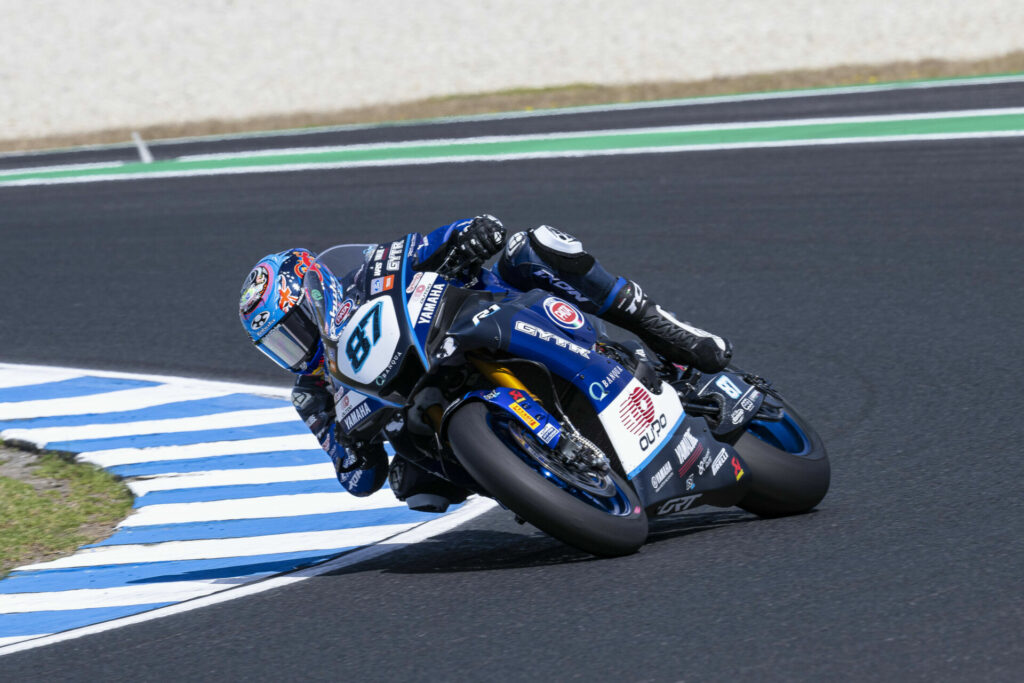 Remy Gardner
11th: 1'31.555
"Today, it was more about coming up with the best tyre strategy for the race, and now I think we have a better idea of what will work. Unfortunately, we had some small issues in the afternoon, but we'll keep working, and we're already analysing today's data to improve for tomorrow and have a good race, my first ever in WorldSBK."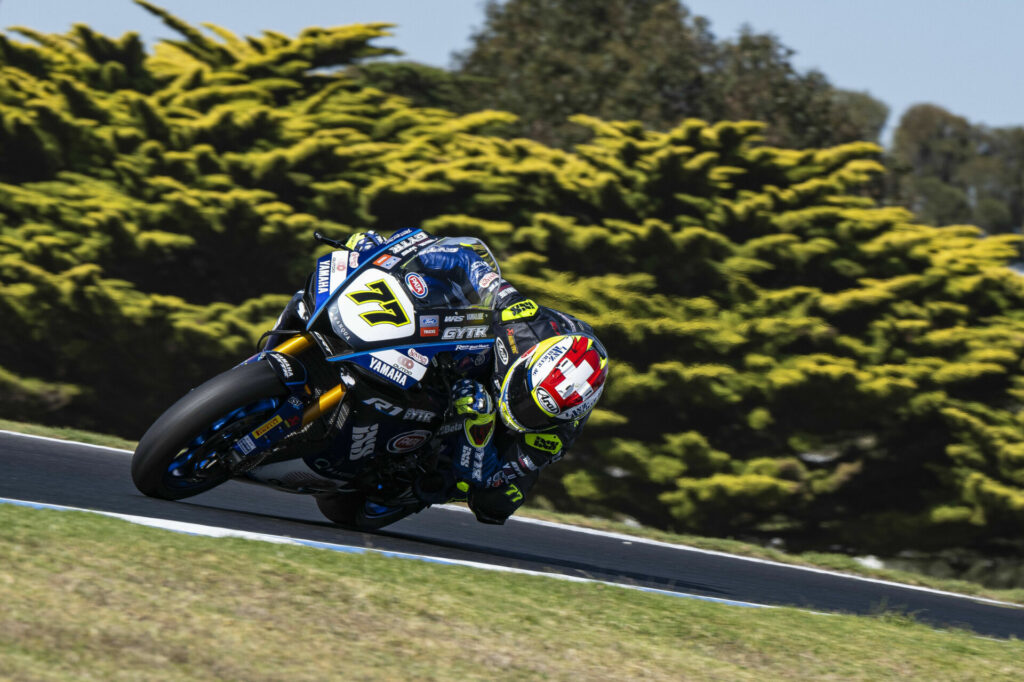 Dominique Aegerter
13th, 1'31.720
"It was a decent day even though the position doesn't reflect our true potential. We tried a few options for the race, and we'll now check the data to have a clear plan for the Tissot Superpole and the races. The team did a great job; I think we're ready for a flying lap, so let's focus and keep working on our way to our first WorldSBK race."
More, from a press release issued by PETRONAS MIE Honda Racing Team:
Australian Round
WorldSBK 2023   Round 01
WorldSBK – The PETRONAS MIE Racing Honda Team begins its WorldSBK campaign
Round one of the 2023 Superbike World Championship is now in play at the Philip Island circuit in Australia. For the PETRONAS MIE Racing Honda Team, competing with riders Hafizh Syahrin and Eric Granado, the opening practice sessions proved challenging but constructive.
The first practice of the new season got underway at 11.30 am local time (CET +10). Building on the work they completed earlier this week during the official tests, riders Syahrin and Granado worked systematically with their technicians, completing eighteen laps apiece and seeing gradual improvement as the session progressed. Malaysian rider Syahrin set a fastest time of 1'33.881 in the final stages to place twenty-first. Category rookie Granado, who is still getting to grips with his new bike, concluded twenty-second with a time of 1'34.799.
The day's second session ran in hotter conditions but despite this, both PETRONAS MIE Racing Honda riders were able to improve on their earlier performance. While Syahrin was able to set a best of 1'33.713, Granado was able to lower his earlier lap time by more than half a second to finish with a 1'34.175. Unfortunately however, he followed this up with a crash at turn 10. Luckily the Brazilian was unhurt, but the team now has additional work as it sets about repairing the damaged bike. Placing twenty-first and twenty-second in the day's combined classification, Syahrin and Granado will be looking for more in tomorrow's third and final practice as they prepare for the subsequent Superpole and opening race of the season.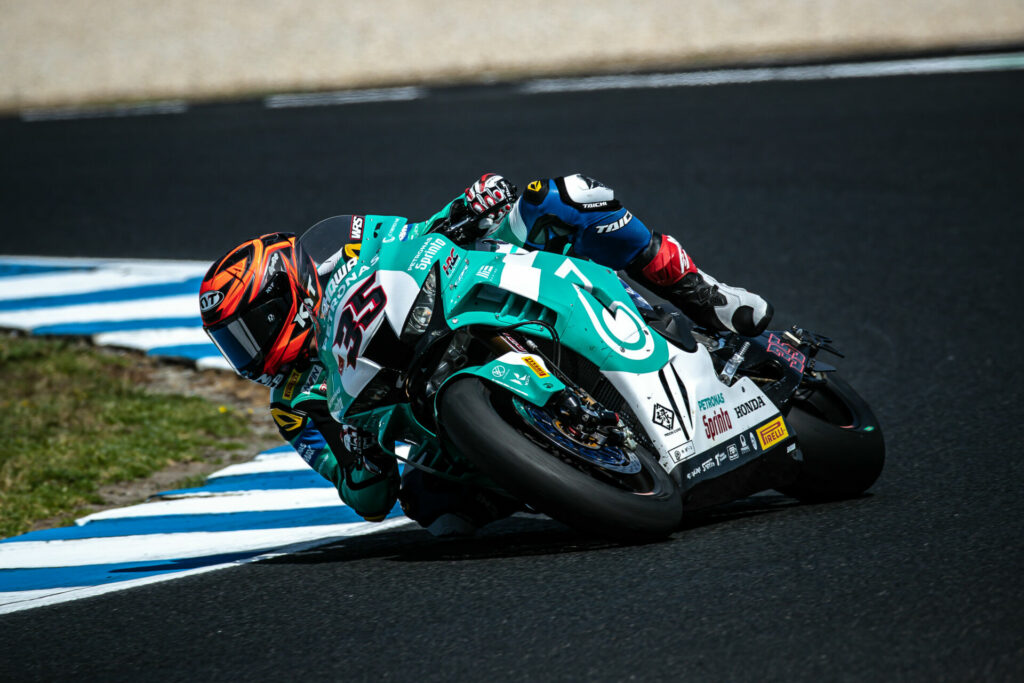 Hafizh Syahrin
"A challenging first day, to be honest. We're working hard to understand why we've been having trouble since the tests. We have a new engine but clearly have work to do in different areas in order to improve. At the moment we are lacking grip at both the front and rear perhaps also due to the hot conditions, and the bike isn't working so well with the current geometry. I hope we can find a way to move forward tomorrow and be ready for race one."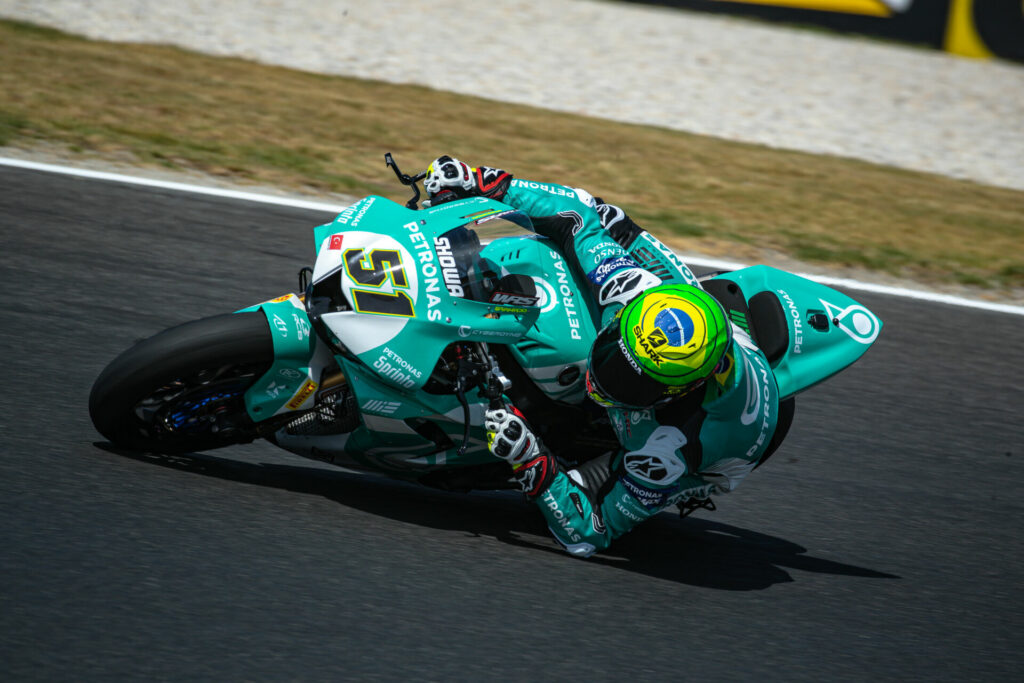 Eric Granado
"The track was a little worse in the afternoon and offered less grip. We're working with a new engine but are still looking for the best set-up in terms of the electronics. I'm not totally comfortable yet and can't ride the bike as I want. This also saw me crash in FP2, which was unfortunate because I missed the second half of that session. But luckily I'm OK and the team and I will continue focusing on the areas where we need to improve, looking ahead to tomorrow when we hope to find an effective set-up for the first races of the season."
More, from a press release issued by Aruba.it Racing Ducati:
Bautista leads the way in Friday free practice at Phillip Island. Positive P4 for Rinaldi. Bulega quickest in WorldSSP
The first Friday of the 2023 WorldSBK season closed with extremely convincing indications for the Aruba.it Racing – Ducati team. Alvaro Bautista ended both FP1 and FP2 in first position while Michael Rinaldi (fourth in the combined standings) set the second-fastest time in the afternoon session.
Strong winds at the Phillip Island circuit (Australia) did not seem to affect Alvaro Bautista, who got off to a strong start with the fastest time in FP1. Then in the afternoon, the reigning World Champion took full advantage of the optimal conditions of the circuit, improving by more than half a second and finishing with the fastest time of the day (1'30.623).
It was also a very positive day for Michael Rinaldi who, despite a technical problem promptly resolved by his team, was able to improve on his best time in FP2, ending in second place with a time of 1'31.157.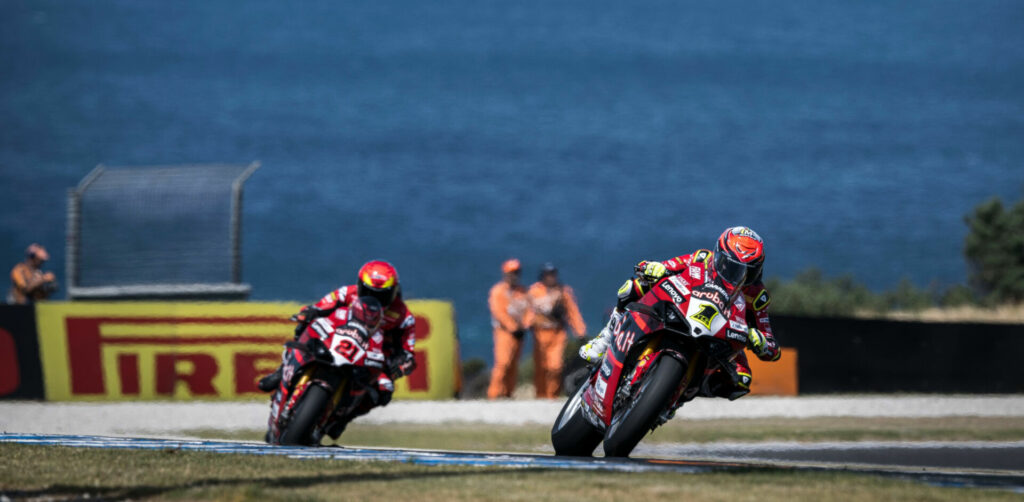 Alvaro Bautista (Aruba.it Racing – Ducati #1)
"It was a positive Friday. The feeling with the bike was very good, in line with what I felt during testing. I tried to adapt to the track conditions, which changed a little from morning to afternoon. I am satisfied with the work we have done so far".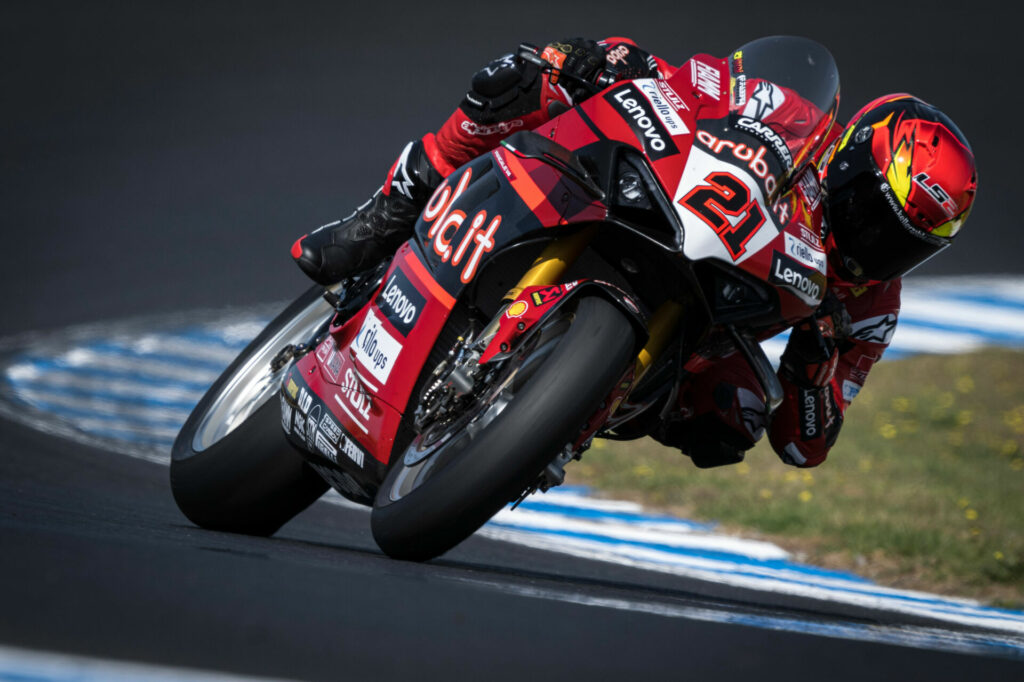 Michael Rinaldi (Aruba.it RAcing – Ducati #21)
"It was a satisfying day even though this morning the feeling with the bike was not initially the same as in the tests, mainly due to the wind that hindered me especially in cornering. In the afternoon we also worked on improving this aspect of the bike and things went very well".
WorldSSP
Nicolò Bulega confirmed the positive feeling from the test and after working on the set-up in FP1, in the afternoon session he set the best time of the day 1'32.852.
Nicolo Bulega (Aruba.it Racing WSSP #11)
"I am quite happy with what we did today. I felt very good with the bike, especially on the fast lap. On the race pace, however, we are still missing something to be at the level of our main rivals. However, I must admit that today the temperature was really high and this condition is not the best for us.
More, from a press release issued by Team Go Eleven:
AN ALMOST PERFECT FRIDAY OPENS TEAM GO ELEVEN'S SEASON!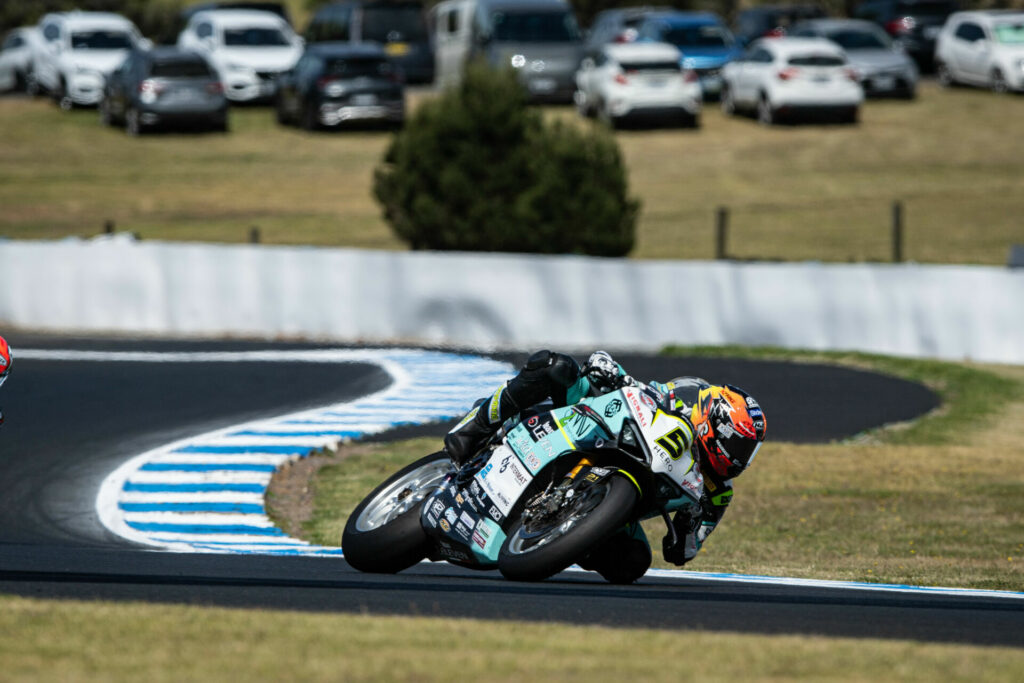 On the first Friday of the 2023 WorldSBK season, Team Go Eleven and Philipp Oettl showed exceptional shape both in the cooler conditions, in the morning, and in the afternoon, when the asphalt warmed up to 47 degrees. Race simulation, fast lap, without using the soft qualifying tyre, everything worked out at its best.
In FP 1, the team worked constantly on race pace, using the same tyre for all the 45 minutes available. The German rider was able to maintain a good pace, completing over 20 laps, positioning himself close to the Top 8, just half a second from the leader. It should be underlined how in this session Philipp rode the Ducati Panigale for the first time in full 2023 version, immediately adapting to the different engine power delivery, which proved to be smoother.
FREE PRACTICE 1:
P 1   A. Bautista  1.31.032
P 2   A. Locatelli   + 0.037
P 3   I. Lecuona + 0.097
…
P 9  P. Oettl   + 0.581
FP 2 took place in hot conditions, over thirty degrees in the air and almost fifty on the asphalt, which slightly changed the performance of bikes and riders. With the high level present today in Superbike, a small detail is really enough to change the rankings. Once again the number 5 focused on race pace, taking advantage of a similar time to that of the Main Races. 18 consecutive laps at a really strong pace, in line with the category references. In the final stages, he used a new set of tyres, but without using the Super Soft yet, which will be used in qualifying. Third place in the session, in a Ducati quartet, led by Alvaro Bautista.
FREE PRACTICE 2: 
P 1   A. Bautista   1.30.623
P 2   M. Rinaldi   + 0.534
P 3   P. Oettl   + 0.826
Tomorrow will be the time to focus on the fast lap, the all-or-nothing one, to gain a good position on the grid. There could be showers tomorrow afternoon, but the weather here in southwestern Australia changes very quickly, so much so that it is impossible to make long-term forecasts. The important thing is that since we've been here in Phillip Island, Philipp has always felt comfortable on the bike, constantly improving and showing himself excited, aware of his own potential. We can't wait for the first Race of the season!
Saturday Schedule (local time): 
h 10.50 – 11.20 Free Practice 3
h 13.10 – 13.25  Superpole
h 16.00 Race 1
Philipp Oettl (Rider):
"Today it has been a really great day, we did a fantastic job, cause we couldn't try the new engine till the FP 1, so I am so happy that everything worked well. It's Team work and they did a super job. The 2023 engine is smoother, but it's difficult to make a real comparison with the old one after two days of break. My Ducati is really enjoyable to ride, we based our focus on the race pace for the 99% of time, I think it will pay off also in the future. My time attack was not so perfect, I found a slower rider in the very first lap, but we managed a solid time for the afternoon. Let's see what tomorrow will give us!"
More, from a press release issued by Yamaha:
Locatelli Leads Yamaha Charge to P2 in Friday Phillip Island Free Practice
Pata Yamaha Prometeon WorldSBK rider Andrea Locatelli set a scintillating pace to finish second overall in combined Free Practice during the first official day "back at school" for the FIM Superbike World Championship at Phillip Island in Australia.
Astride his #55 Yamaha R1 WorldSBK, "Loka" continued to demonstrate both strong one-lap and race simulation pace, as he consolidated the same step in performance shown in winter testing last month. A clean lap of 1'31.069 (+0.037s) in FP1 put him in close contention with defending champion Alvaro Bautista (Ducati) for the top position – a time which he looked set to improve upon in FP2 but for a small crash at Turn 10 in Sector 3.
On the opposite side of the Pata Yamaha Prometeon WorldSBK pit box, teammate Toprak Razgatlıoğlu had an uncharacteristically challenging day, finishing in tenth position just under 0.5s from his teammate across an evenly matched WorldSBK field. The 26-year-old completed a crucial 16-lap long run in the hotter conditions of Free Practice 2 to give the team more data to analyse for the first race of the season.
One final Free Practice of 45 minutes will take place tomorrow morning from 10:50 local time (UTC+11) with the first Superpole qualifying session of the season at 13:10 and lights out on the island Race 1 at 16:00.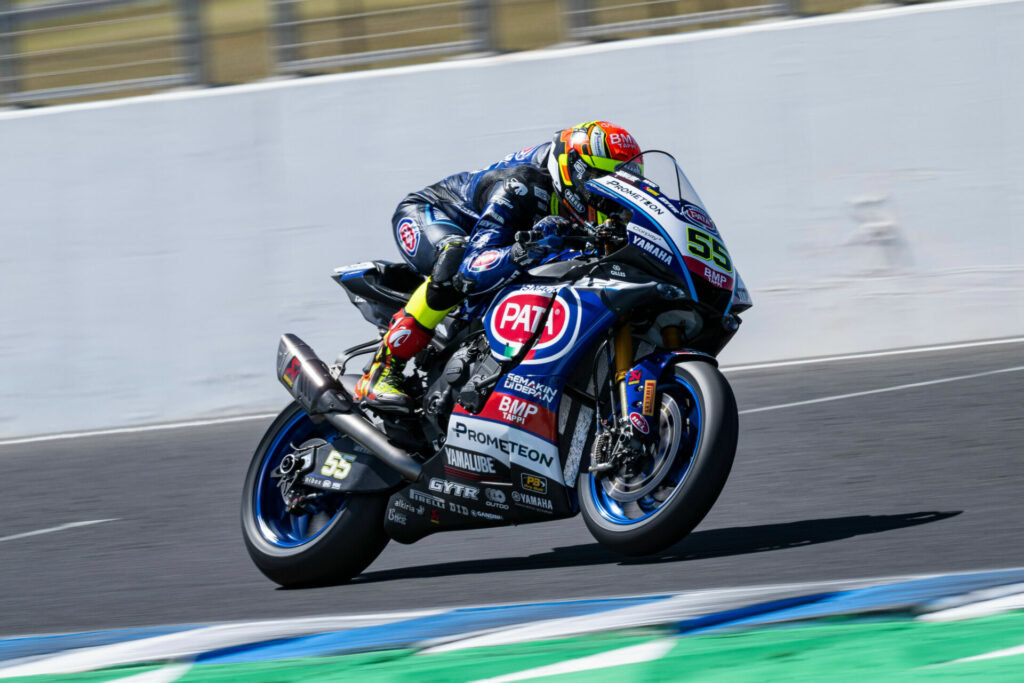 Andrea Locatelli: P2 – 1'31.069
"It was a really good afternoon, because we were also fast on the old tyre – as well as the P2 time in the morning. I had just a small crash and we need to understand what happened, but I think it was normal after a lot of laps here on the track, probably, sometimes this happens! The track conditions were a bit different from this morning, and unfortunately when I had the crash it was on the fast lap and I think I was close to the 31.0 which was good for the hot conditions! But this is a really good point because the R1 is a really good bike even in these conditions. We still have some choice on the tyres so we will see what happens tomorrow. But the feeling is really good on the bike and we have a really good rhythm, so I think we can push more for the race. In general, I feel confident so I can't wait to be on the track and start for the first race!"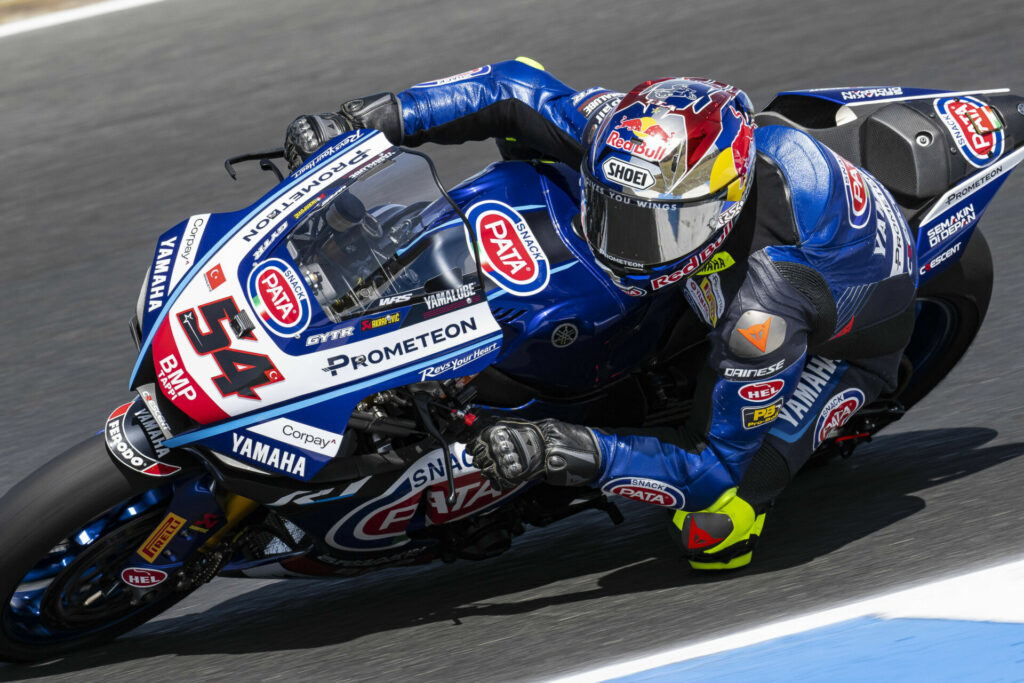 Toprak Razgatlıoğlu: P10 – 1'31.560
"This afternoon, you know, unbelievably hot here! I see for the first time on the asphalt, 51-52 degrees. We just tried the race simulation with the other tyres, but looks not really fast but also not bad – we tried also some new set-up for the race. I am just focused on my race simulation, this is really important because I need to understand after 10 laps the bike for the feeling and also we need to understand which tyre is better for the race. For Superpole, I need a good lap time and I need to start on the front. But, tomorrow the weather looks more cold which will help for the grip. We will see, but today is not an easy day for me. For me, always important the race, but I am ready to fight – I will try to do everything I can."
Paul Denning – Team Principal, Pata Yamaha Prometeon WorldSBK:
"It's great to be in Phillip Island in the sunshine and far nicer for everybody than it was in November! Our first day of the 2023 WorldSBK Championship was a similar outcome to the test, i.e. a very good day on Andrea's side of the garage but more challenges to overcome for Toprak and his crew. Loka's been super solid since the start of the official test on Monday morning, and this rolled into today's performance with great pace on used tyres and excellent one-lap pace. A small crash at T10, pushing hard at the end of FP2, was unfortunate but it can happen – and far better to get it out of the way today. With Toprak, the positive point of the day was completing a 16-lap run in the heat of FP2. Honestly, it's clear that we are struggling a bit to find his normal performance level and to make him comfortable – but this run, and the efforts he has made to give the best possible feedback, will help us take a step tomorrow."