Editorial Note: Use the scroll and zoom tools in the PDF viewer to better see all pages of the results, including the combined results from the two days of testing and more.
00_WorldSBK_2023_Official_Test_FP4_Results

More, from a press release issued by Dorna:
Bautista ends the Official Test on top as Day 2 provides a mixed-up WorldSBK order
The final pre-season test concluded with 16 riders covered by less than 1.5s
2022 WorldSBK Champion Alvaro Bautista topped the timesheets on the final day of the Official Test with a 1'30.272s set in the morning session.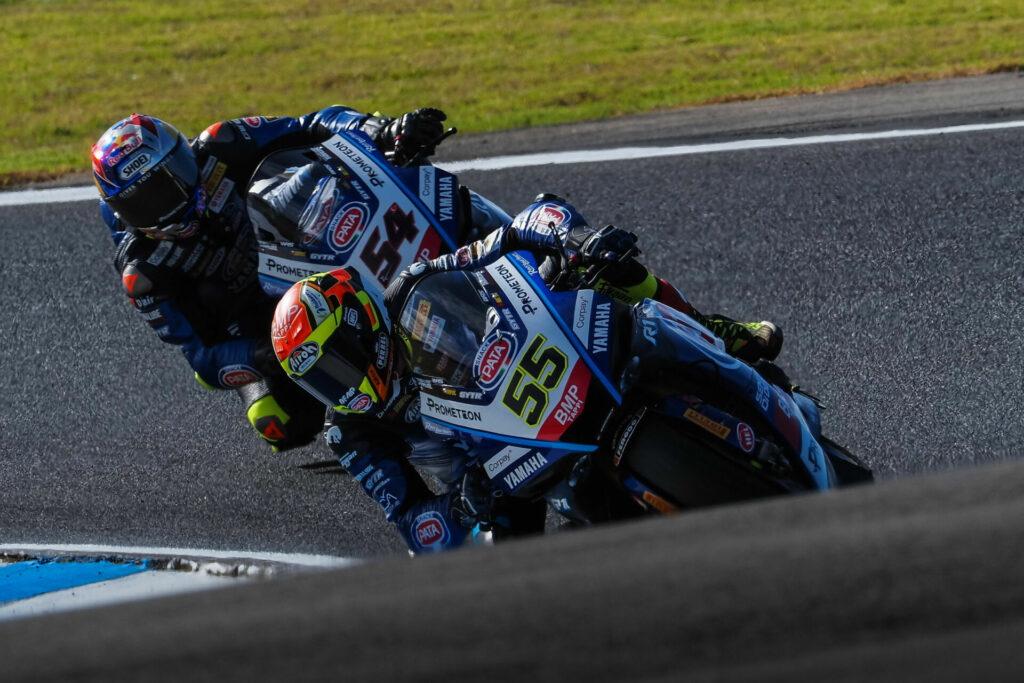 Andrea Locatelli was second at the end of Day 2 just 0.072s off Bautista's fastest time.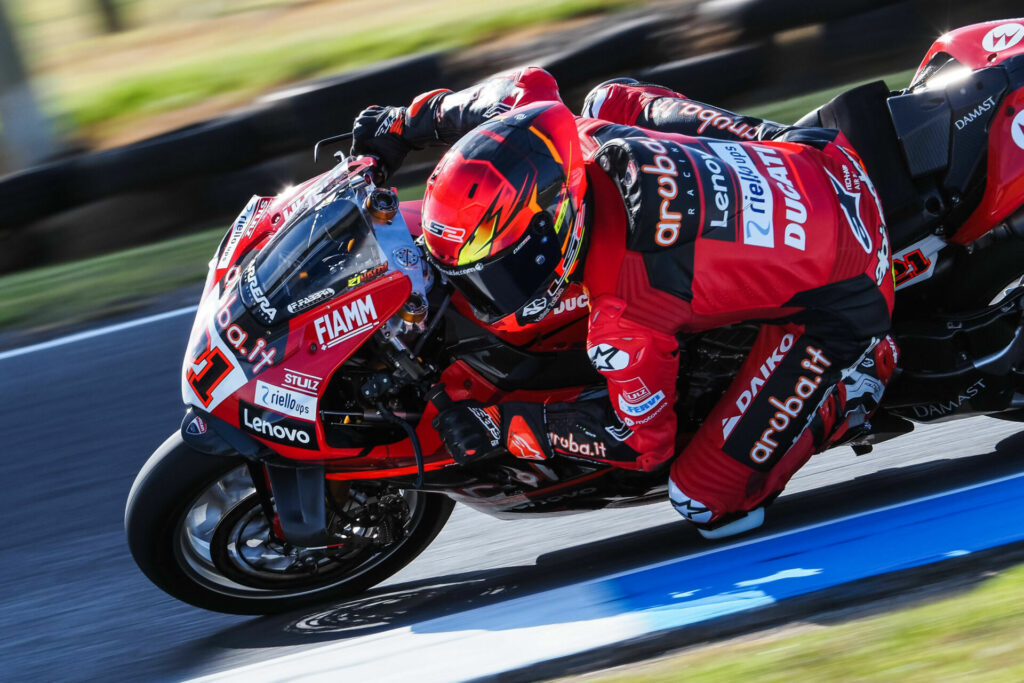 Michael Ruben Rinaldi's best time of 1'30.501s gave him third place in Tuesday's combined results as he finished 0.229s behind teammate Bautista.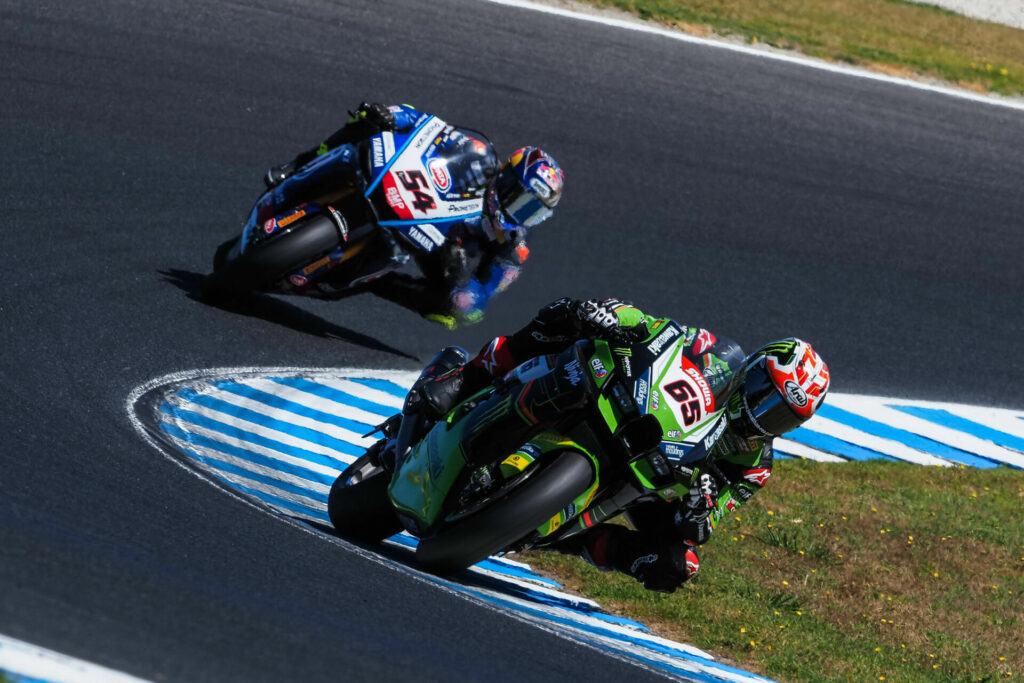 Six-time World Champion Jonathan Rea concluded Day 2 in fourth place despite a crash at Turn 4, whilst 2021 WorldSBK Champion Toprak Razgatlioglu was sixth with a best time of 1'30.757s.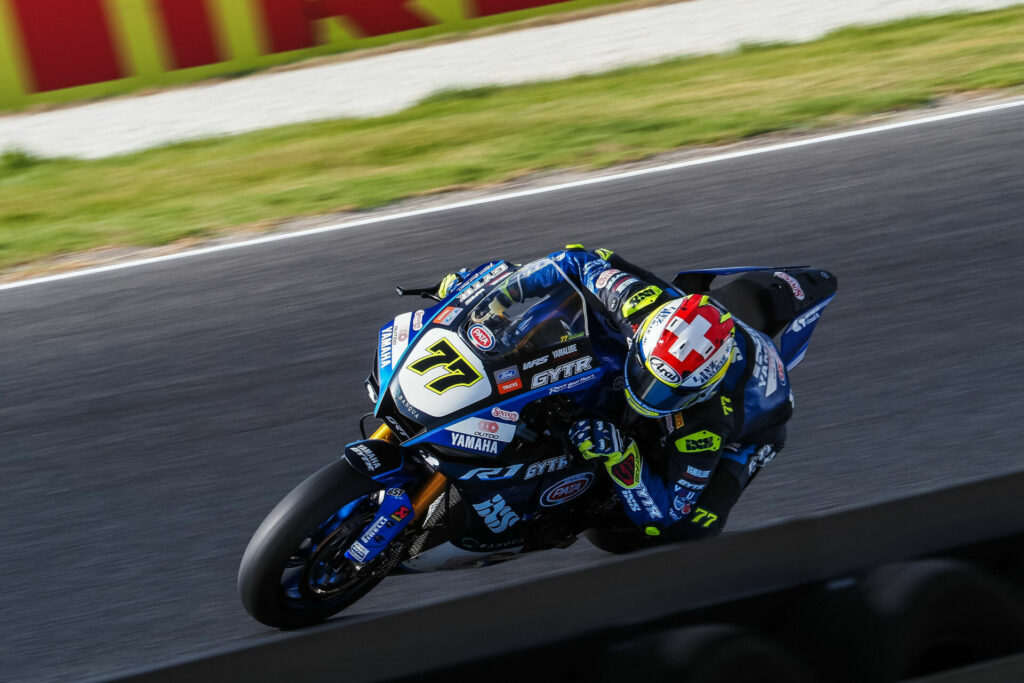 Dominique Aegerter was the fastest Rookie in fifth place while his teammate, whilst home hero Remy Gardner was ninth with a 1'31.073s.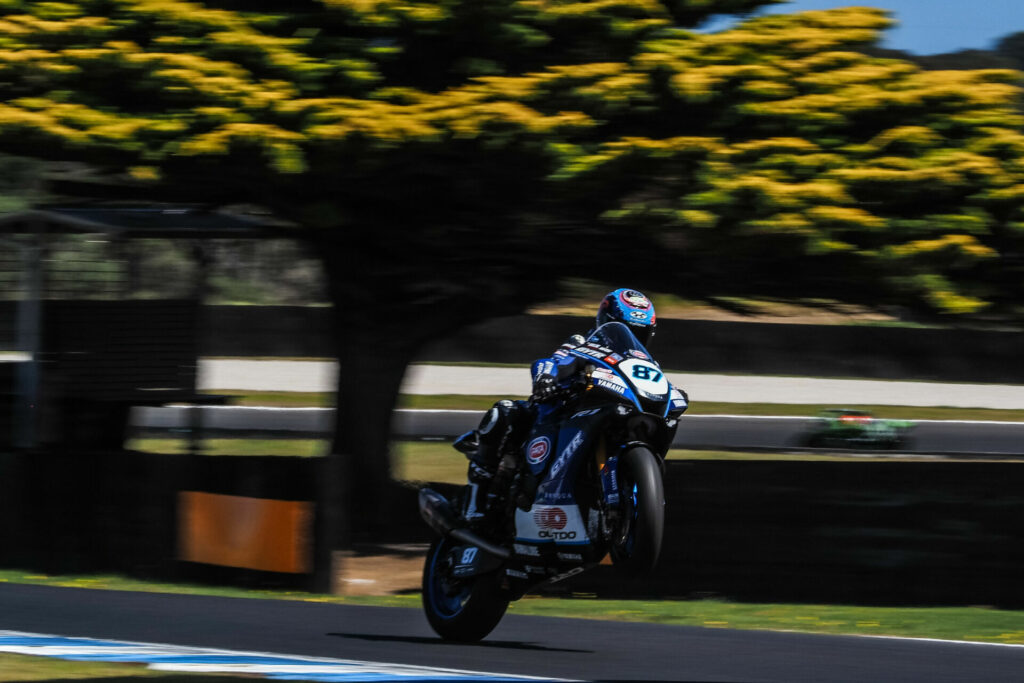 WorldSBK Day 2 Report
Pre-season is all done and dusted for the 2023 MOTUL FIM Superbike World Championship field as the final day of testing concluded at the Phillip Island Grand Prix Circuit in Australia. The Official Test came to an end and ahead of the first round of the season – the Grand Ridge Brewery Australian Round – and it was Alvaro Bautista (Aruba.it Racing – Ducati) who topped the times with a 1'30.272s in FP1 and he was focused on working for the weekend and with set-up high on his agenda, Bautista was in a class of his own.
It was another positive day for Andrea Locatelli (Pata Yamaha Prometeon WorldSBK), as he was second in the morning session, having topped the corresponding session on Day 1. Running inside the top two for the majority of FP2 on day two, Locatelli continued working like he did on day one and was doing short race simulations throughout both two-hour sessions, finishing as the top Yamaha rider.
Michael Ruben Rinaldi took third place, with the 27-year-old Italian making strides once more and sporadically topping the timesheets throughout the day. After missing "some tenths" on day one, Rinaldi set his fastest time of the test in FP1, comfortably under the 2022 pole time.
Following a day of mixed feelings on day one, Jonathan Rea (Kawasaki Racing Team WorldSBK) was once again top Kawasaki rider taking fourth overall with his FP1 time being his best. He had a focus on making the bike manageable, with sector three being a weak point, whilst he also had late-race tyre life to continue working on too. Toprak Razgatlioglu (Pata Yamaha Prometeon WorldSBK) had a relatively quiet day as he continued his search for improved rear grip, despite a good final run on the opening day. With race simulation being the call of the day, Razgatlioglu was fifth in FP1 but languished in tenth at the end of FP2, placing him sixth overall and third Yamaha.
WorldSBK Day 2 Results
1. Alvaro Bautista (Aruba.it Racing – Ducati) 1'30.272s
2. Andrea Locatelli (Pata Yamaha Prometeon WorldSBK) + 0.072s
3. Michael Ruben Rinaldi (Aruba.it Racing – Ducati) +0.229s
4. Jonathan Rea (Kawasaki Racing Team WorldSBK) +0.444s
5. Dominique Aegerter (GYTR GRT Yamaha WorldSBK Team) +0.467s
6. Toprak Razgatlioglu (Pata Yamaha Prometeon WorldSBK) +0.485s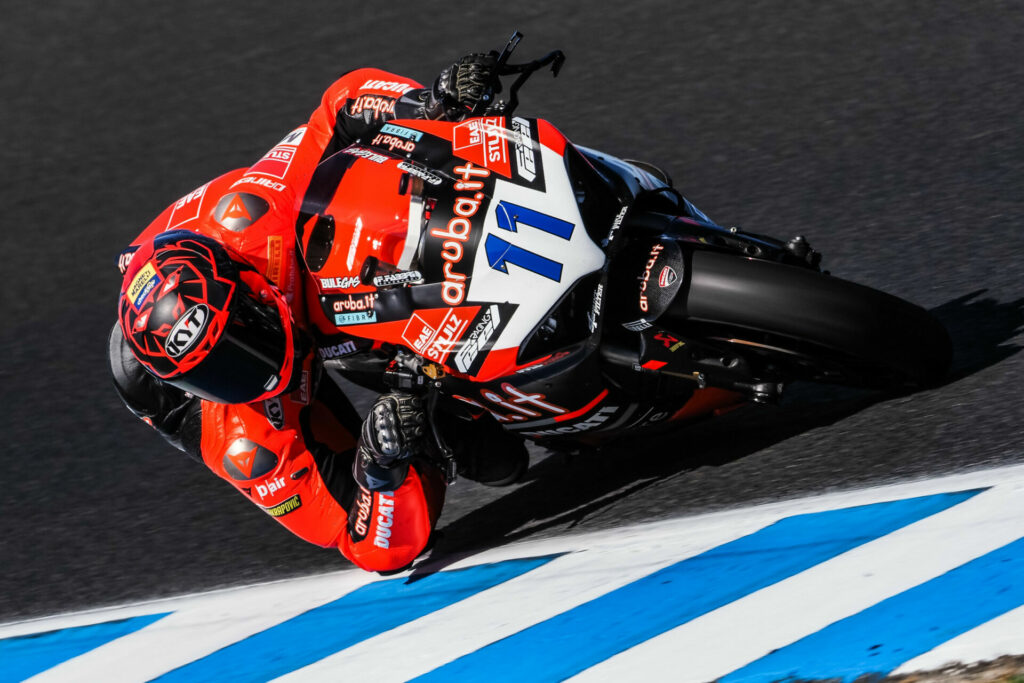 Bulega remains fastest on the final day of the Official Test
Nicolo Bulega was fastest on the final day of the Official Test with a fastest time of 1.32.781s. He was the only rider within the '32s.
Stefano Manzi took second place on the combined results with a 1'33.227s finishing 0.446s off Bulega, while Can Oncu concluded day two in third.
WorldSSP Day 2 Report
The final session of pre-season testing is in the books for the 2023 FIM Supersport World Championship grid, and making it four out of four in terms of topping sessions, Nicolo Bulega (Aruba.it Racing WorldSSP Team) goes into the first weekend of the year with a target on his back. Setting the fastest time of the week so far in the WorldSSP class, the #11 Ducati rider was under the existing race lap record as he readies to lay down the gauntlet against a fierce opposition. Today was the day where he looked comfortably faster than anyone else, with nearly half a second advantage over his nearest rival.
The Italian rider set over 60 laps on his way to top spot, fending off fellow countryman Stefano Manzi (Ten Kate Racing Yamaha) and Can Oncu (Kawasaki Puccetti Racing). Manzi was 0.446s behind Bulega but was the only Yamaha rider inside the top eight positions, whilst Turkish star Can Oncu (Kawasaki Puccetti Racing) consolidated his top three status.
Federico Caricasulo (Althea Racing Team) took fourth place despite a crash earlier in the day but was OK. Yari Montella (Barni Spark Racing Team) was next up in fifth but like Manzi and Oncu ahead of him, he relied on his FP1 time. Sixth place was another Ducati and another Italian in Raffaele De Rosa (Orelac Racing VerdNatura), who improved his time by three tenths of a second from FP1 to FP2 on day two.
Flying the Australian flag in the class, Oli Bayliss (D34G Racing) was a solid seventh on the combined times and was consistent with his lap times across the sessions.
Read the full report from Day 2 on worldsbk.com
WorldSSP Day 2 Results
1. Nicolo Bulega (Aruba.it Racing WorldSSP Team) 1'32.781s
2. Stefano Manzi (Ten Kate Racing Yamaha) +0.446s
3. Can Oncu (Kawasaki Puccetti Racing) +0.625s
4. Federico Caricasulo (Althea Racing Team) +0.724s
5. Yari Montella (Barni Spark Racing Team) +1.021s
6. Raffaele De Rosa (Orelac Racing VerdNatura) +1.155s
00_WorldSSP_2023_Official_Test_FP4_Results

More, from a press release issued by GYTR GRT Yamaha:
STRONG TEST IN PHILLIP ISLAND FOR AEGERTER AND GARDNER
On 20th-21st February, the iconic Phillip Island circuit hosted the Dorna Supported Test ahead of the first round of the season, which will take place at the same venue, with both GYTR GRT Yamaha WorldSBK Team's riders showing strong and promising pace.
Dominique Aegerter and Remy Gardner got to try their Yamaha R1 machines for the first time in Australia, with their primary focus on continuing their adaptation to the bikes. On Day 1, Gardner completed 73 laps to find himself 7th (1'31.600), with Aegerter just behind in 9th after 71 laps (1'31.728).
The GYTR GRT Yamaha duo shifted focus twenty-four hours later on to race performance, yet still managed to pull out some impressive lap times. Indeed, Aegerter went 2nd in the very final session to end the test 6th on the combined timesheets (1'30.739, 113 laps); the Swiss saved the best for last and set a flying lap late on Tuesday after also impressing with his race pace. On the other side of the box, local hero Gardner finished in 9th (1'31.073, 115 laps) after consistently featuring in the top 3 for most of Tuesday's afternoon practice.
Both riders will now enjoy two days off before diving into the season's opening round at Phillip Island on 24th-26th February.
Dominique Aegerter
6th: 1'30.639, 184 laps
"The adaption keeps going on; we're happy with this last test before the beginning of the season. We did one strong lap, and I'm happy with the one I did, even though we know we're still missing something on our race pace. Anyway, we have good data to work on, all the people in my team did a great job, and we're ready to start, so I cannot wait for Saturday and Sunday to come."
Remy Gardner
9th: 1'31.073, 188 laps
"We're satisfied with the progress we made. I enjoyed myself at Phillip Island. Even though we didn't try to do a flying lap, our race pace was not too bad, and the feeling was okay. I cannot wait to begin the Championship; we'll keep working during these days to progress further; we have good data available to us, so there's still margin for improvement."
More, from a press release issued by Team HRC:
Team HRC concludes official testing and prepares for Phillip Island season-opener
Team HRC and its riders Iker Lecuona and Xavi Vierge have concluded the final pre-season test at Philip Island, Australia, as they prepare for the opening round of the 2023 Superbike World Championship this coming weekend.
On track on both Monday 20 and Tuesday 21 February, Team HRC tested alongside the rest of the WorldSBK field, exploiting two sessions of two hours each on both days and blessed by hot and sunny conditions, something the two factory riders particularly appreciated having not often experienced this at Phillip Island during their time in the MotoGP championship. Iker and Xavi nevertheless experienced some ups and downs as they worked tirelessly with their respective teams to iron out the details of their world championship preparation. Two crashes, on Monday and Tuesday morning, complicated things a bit more for Vierge, but he suffered no physical consequences and was able to further improve on his lap times. Lecuona traced a more linear path, progressing little by little in every session, especially in terms of his race pace on used tyres. There is nevertheless still room to improve when it comes to exploiting the new tyres.
The Team HRC engineers now have two days in which to analyse all the data collated and make final preparations for round one, with the first practice sessions of the season set to kick off on Friday morning.
In last season's Australian finale, Vierge scored a best result of eighth in the races, while Lecuona was prevented from competing after having sustained injury at the previous Indonesian round. The factory riders will be looking to start 2023 with a bang, both fully fit and encouraged by the experience gained during 2022, their 'rookie' season.
The Phillip Island Grand Prix Circuit is located in the state of Victoria, to the south of Melbourne. Officially inaugurated in 1956, it is located on the coast which makes for a pretty spectacular backdrop. One of the riders' favourite circuits, the track measures 4.445k and comprises twelve turns – 7 left-hand corners and 5 right-handers – as well as an 835-metre start/finish straight. Last year it was the stage for the final championship round, and so the 2023 quite literally begins where 2022 left off.
Iker Lecuona  7
"We end this two-day test with mixed feelings because we closed P8 but didn't really understand why we couldn't be faster. I felt good on the bike and felt it had good balance, but the reality is that we dropped tenths here and there and especially on new tyres. On used tyres we took a big step compared to last year because I now feel good on them and can ride consistently – this is important as we've resolved something that was critical for me and my riding style and that was causing me to struggle in the second part of the races. So we've made a step there, and that has us feeling that there is still more we can do with the bike setup, but our expectation were much higher going into this test to be honest, particularly here at a track I adore. We now have two days in which to analyse the electronics and data to understand what's happening with the bike and decide how to approach the first race."
Xavi Vierge  97
"Firstly, I want to say sorry and a huge thank you to the team because I had two crashes which meant the guys had to work so hard to make the repairs. They did an amazing job, as always, and provided me with a perfect bike for the final afternoon session. And, luckily, I suffered no physical consequences at all. The less positive aspect is that we struggled a lot more than expected, despite improving a little overall. Generally speaking, we've improved in terms of our race pace during the pre-season but are not yet able to exploit the fresh tyres. Nevertheless, we start the season fully fit and ready to give it our all – we will keep working hard just as we are used to doing."
More, from a press release issued by Kawasaki:
Testing Ends As New Season Arrives
Jonathan Rea and Alex Lowes completed their final two days of pre-season WorldSBK testing between 20-21 February at the same Phillip Island circuit that will host the start of the 2023 season in a few days time. Rea finished fifth fastest overall, with Lowes in 15th place.
The 4.445km long Australian circuit near the ocean delivered warm and dry weather as the 22 WorldSBK riders made their final preparations to meet the challenge of the opening round. A stiff and gusting breeze from the sea complicated things on the final day, with the best track conditions for outright grip appearing to be in the morning session.
With some upgrades to the Ninja ZX-10RR this season both KRT riders worked towards maximising performance in real race conditions, and ensuring that their tyres will last full race distance at the toughest circuit on the calendar in terms of tyre wear.
Rea had relatively slow falls at Turn Four on each day of testing but carried on at a strong pace after pitting to make repairs. He set 38 laps in the final afternoon test session, but his best lap of 1'30.716 was set in the morning of the final day.
Lowes set his personal best of 1'31.549 in the third of the four long track sessions in total. He and his crew continued to try to find the best potential with the new homologation of Ninja ZX-10RR.
Now attention turns to the start of the 2023 season itself, with the opening round at Phillip Island to be held between 24 and 26 February. As ever there will be three WorldSBK races for the spectators to enjoy – two full-distance races and one ten-lap Superpole Race on Sunday morning.
Jonathan Rea, stated: "Today we tried a 2022 spec bike versus the 2023 spec bike in the afternoon session. There are positives and negatives with both but I preferred to stick with the 2023 bike. Unfortunately, doing a race simulation, on about lap 14, I got caught out in Turn Four. The wind was very gusty and it is coming in strongly from the sea, and I was pushing at my limit – clearly. I had very positive sensations during that long run and I was able to stay in the 1'31 laps times. That pace is where I need to be to fight for the podium. After that we tried the SC0 rear tyre because Pirelli asked me to do a longer run to evaluate how it would perform in the Superpole race. Our tyre performance was good and from an electronics point of view I am really happy with the steps we have made inside the team. I am more satisfied with the bike than yesterday. Clearly there is potential with the new bike and we have to keep working to extract that potential. We have made a step compared to last year, I feel. For race weekend, I feel we can fight for the podium."
Alex Lowes, stated: "I feel like we are struggling a bit. The updates we had in the winter don't seem to be working as well here. We made some positive steps in the last session today, but we have some work to do. What we found in Europe, in cooler test conditions, has not been the same here. I did not do a time attack but the position on the timesheets is still a lot lower than I would want it to be. I just used race tyres but we still have work to do. We raced here at the end of last year and right now I don't feel as comfortable as I did then. I was faster in the morning than the afternoon, when it was a bit gripper, and I have been wary to not make too many mistakes. We saw a lot of crashes in WorldSBK and WorldSSP. So I just wanted to keep my powder dry in some ways, but I have not been 'sandbagging' and then feel like I am going to win the race. That said I was 15th in testing in 2020 and then went on to win a race, so that might be a good sign!"
Pere Riba, Crew Chief for Jonathan Rea, stated: "We did a lot of laps in testing and we were up, down, but the races will be different. It was windy here and Jonathan had two falls, so we need to analyse and understand what has happened, of course. For the rest, we know that this track is very demanding, especially to keep the pace all the way to the end. So this is what we mainly focused on, to make the tyre wear more linear from the beginning to the end. For race weekend we need to put everything together and we have enough data. We have all the information from the Jerez and Portimao tests with the items we have this year, so we will try to put it all together and get the best from the package."
Marcel Duinker, Crew Chief for Alex Lowes, stated: "We are still working to get the best potential out of the new developments for his season. We were really focusing on race pace to be ready for the coming weekend, rather than going for a fast single lap time. Always, in terms of lap times, the Phillip Island test looks very different compared to how the races are, and who wins the races. We gathered a lot of data over these two days and from the previous tests, so now we will work on finding the best bike set-up in readiness for the first round of the season."
Tom Sykes (Kawasaki Puccetti Racing) placed 19th fastest overall after suffering a crash at Turn Four, which extensively damaged his machine. Second year WorldSBK rider Oliver König (Orelac Racing VerdNatura Kawasaki) was 20th fastest at the final pre-season test.
More, from a press release issued by Aruba.it Racing Ducati:
Bautista first and Rinaldi third at the end of the last winter test at Phillip Island. Bulega tops the timesheet in WorldSSP
The pre-season officially came to an end today with the second day of testing held at the Phillip Island circuit in Australia, where free practice for the Australian Round – the first event of the 2023 WorldSBK season – will get underway on Friday morning.
It was a very fruitful two days of work for the Aruba.it Racing – Ducati team with Alvaro Bautista and Michael Rinaldi able to set incisive crono on both the fast lap and the race pace.
After Monday's two sessions ended in second and third position, Rinaldi and Bautista managed to improve further on Day-2.
The reigning World Champion set the fastest time of the two days of testing in the morning's FP1 (1'30.272), followed by a convincing race simulation in the afternoon.
Rinaldi also took advantage of the perfect track conditions in the early laps of FP1, setting a time of 1'30.501 (P3 in the combined standings) before switching to long-run mode in the afternoon, lapping with an incisive race pace.
P1 – Alvaro Bautista (Aruba.it Racing – Ducati #1)
"I'm happy because the feeling with the bike was immediately good. We worked a lot on the set-up and on the tires that we will use this weekend. We are ready to start the new season. I think this has been the best pre-season in my career. The sensations are definitely positive and I can't wait to get back on track on Friday for the first free practice".
P3 – Michael Rinaldi (Aruba.it Racing – Ducati #21)
"I am satisfied with what we have done in these two months. Jerez and Portimao tests went well and the objective for these two days at Phillip Island was to confirm those positive feelings. Especially today we did a good job ahead of the weekend's races and I feel ready to start the championship."
WorldSSP
Niccolò Bulega also finished the last winter tests with extremely positive feelings. The Italian rider of the Aruba.it Racing WSSP team ended with the fastest time (1'32.781), confirming the excellent feeling with his Ducati Panigale V2.
Nicolò Bulega (Aruba.it Racing WSSP #11)
"I am very satisfied with what we have done, not only in these two days at Phillip Island but also in the tests at Jerez and Portimao. The feeling with my bike was immediately very positive. The team has done an excellent job and this allows us to arrive at the first race with a lot of confidence. There are high expectations for this season and it will be important to start in the best possible way right from Friday's free practice".
More, from a press release issued by MIE Racing Honda Team:
The MIE Racing Honda Team completes official Phillip Island tests
The MIE Racing Honda Team is on site at the Phillip Island circuit in Australia where it has now completed the final pre-season test sessions prior to the start of the 2023 Superbike World Championship, which will play out this coming weekend at the same Australian track.
During this week's test sessions, the team had the opportunity to make final preparations for the upcoming season-opener. Riders Hafizh Syahrin and Eric Granado worked hard with their technicians, making a series of modifications to their CBR1000RR-R machines throughout the sessions as they continue to identify the most suitable base set-up for the bikes. Both riders completed well over 50 laps on each day, with the almost ideal weather conditions working in their favour. Day two saw the duo improve on their day one times, although there is still room for improvement.
Rookie Eric Granado is gearing up for his first WorldSBK races as a full-time rider, while Hafizh Syahrin takes on his second consecutive season with the MIE Racing Honda Team. Last year's Australian round was also the WorldSBK season-finale, which means that Syahrin has very recent race experience of the track. Granado, on the other hand, will be looking to build on the progress made during this week's official test sessions as the first practices of the 2023 season get underway on Friday.
The weekend's race schedule remains unchanged with respect to 2022, with practice on Friday, Superpole and Race 1 on Saturday, and the Superpole race and Race 2 playing out on Sunday. The Phillip Island Grand Prix Circuit is one of the most appreciated tracks on the calendar, and not just because of its stunning coastal location. Located in the Australian state of Victoria, and roughly 140km south of Melbourne, the fast and flowing 4.445km track comprises seven left-hand corners and five right-handers.
Hafizh Syahrin
"These two days have been very useful for us, as this was basically our only full pre-season test for which we had time to prepare. So we took time to get back up to speed with everything and understand the new bike, which has quite a different character compared to last season. I also have a new crew chief and he works in a slightly different way, so it's been good to get to know each other better. A big thanks to my team as they've been working so hard on very little sleep since getting here. I tried to do my best throughout the sessions, and I hope that we can make pick up the pace and make better inroads during the first race weekend."
Eric Granado
"The test's been positive in that this was the first time we were able to use the full day and complete many laps. We're still far from where we can be of course, but right now we need to focus on better understanding the bike and particularly the electronics, which are new to me. I'm still looking for the right confidence with the throttle and power delivery, but we've clocked up some miles and have improved little by little. The target for this test was of course to prepare for the first rounds rather than attempting a time attack or anything, and so that's what we did. Unfortunately, I suffered a crash yesterday and so was riding with painful feet today but luckily nothing is broken and I'll be ready for the weekend. It's going to be a challenging first round for me, with three races and windy conditions, but I'm confident that we'll be able to make progress and find a good setup for the races."
More, from a press release issued by BMW Motorrad Motorsport:
BMW Motorrad Motorsport kicks off the 2023 WorldSBK season with the new BMW M 1000 RR.
Phillip Island and Mandalika: Overseas double-header to open the 2023 FIM Superbike World Championship.
ROKiT BMW Motorrad WorldSBK Team and Bonovo action BMW Racing Team run the new BMW M 1000 RR.
BMW Motorrad factory riders Loris Baz, Garrett Gerloff, Scott Redding and Michael van der Mark look ahead to the first races of the year.
 
Phillip Island. The 2023 FIM Superbike World Championship opens with two back-to-back overseas events for BMW Motorrad Motorsport. This weekend (24th to 26th February), Phillip Island in Australia hosts the opening round of the season. Just one week later (3rd to 5th March), the WorldSBK circus is at Mandalika, Indonesia, for round two. The ROKiT BMW Motorrad WorldSBK Team, the Bonovo action BMW Racing Team and BMW Motorrad factory riders Loris Baz (FRA), Garrett Gerloff (USA), Scott Redding (GBR) and Michael van der Mark (NED) are set for their race debuts with the new BMW M 1000 RR.
The new generation of the BMW M 1000 RR was launched in October 2022 and serves as the basis for the World Superbike for the 2023 season. The new bike's aerodynamics, in particular, have undergone comprehensive optimisation. At the same time, BMW Motorrad Motorsport has spent the winter developing specific racing components to be used in WorldSBK.
The two teams completed their pre-season preparations with the official tests at Phillip Island on Monday and Tuesday. The teams and the four riders used both days to fine-tune their bikes ahead of the opening races.
Quotes ahead of the Phillip Island and Mandalika rounds.
 
Marc Bongers, BMW Motorrad Motorsport Director: "After a short and busy winter break, we now get back down to the serious business with two back-to-back race weekends. We are very excited about the races at Phillip Island and Mandalika. It is always challenging when you compete with a new bike – particularly as the WorldSBK has an extremely strong field this year and will be very competitive. However, we are confident: we have optimised our bike, our teams are doing an outstanding job, and our four riders are among the best in the field. For us, the two teams and the four riders, it is now important to establish a good basis in Australia and Indonesia, on which we can then build over the course of the season."
Garrett Gerloff, #31 BMW M 1000 RR, Bonovo action BMW Racing Team: "It has been the final test before 2023 officially starts. It was a good three out of four sessions. I feel like we made a lot of progress and we have a lot of information from the last two days. Only in the final session, we had some issues. In general, I think we know what we need to do for the weekend coming up. The bike feels good and I know that we can make more progress. There were more positives than negatives and that's all that matters. At the first two rounds, I just want to have everything working well and I think at this point being in the top ten would be a really good result. I either want to be close to the best BMW or the best BMW. I think that's the main goal. Overall, I want to be in the top ten for sure, and hopefully we can prepare the bike for these first two rounds in a way that we can make it happen."
Scott Redding, #45 BMW M 1000 RR, ROKiT BMW Motorrad WorldSBK Team: "At the test, we have worked on getting some more feeling with the bike and as the track started to have more grip I started to feel better. We tried a few things to help with the rear grip again and we worked on electronics to get me more feeling in that area of the bike. We still have some work to do. Now we start the season with a double-header. I am not feeling super confident yet but it is coming slowly the more I ride the bike. The field is super close at the moment. When you look at the lap times, it is super close with everybody. So it will be difficult to say what the targets for the first two rounds are and the race is obviously different to testing. I would be happy to get some top-six finishes in the first races. Overall, we just need to play it by ear and see where we are after the first race to improve on that."
Michael van der Mark, #60 BMW M 1000 RR, ROKiT BMW Motorrad WorldSBK Team: "It was nice to have another two days of testing. We had a solid plan, tried a lot of things, mainly with the electronics but also with the suspension. We did not change the bike completely but it was just small things we wanted to try and re-confirm. It has been good days of testing but as always in testing you want more time, but I think we can be quite happy. We had no problems so I am starting the weekend quite confident. At the first two rounds, we for sure need to be in the top ten. It seems that the midfield in WorldSBK is really tight now and I think we can expect some really good battles but we improved the bike a lot over the winter, step by step. Maybe not in the single-lap pace but over race distance and feeling for us. So I am looking forward to start the season. To be racing at Phillip Island and in Indonesia is amazing, two really good but completely different tracks. For me, the winter has been long enough and I can't wait to start racing."
Loris Baz, #76 BMW M 1000 RR, Bonovo action BMW Racing Team: "We were struggling a little bit throughout these two days, but had a good session on Monday morning, where I felt good straight away. After that we couldn't really improve and had some problems with the bike. Luckily, it was a test. I would rather have these issues on Monday and Tuesday than Friday to Sunday. I want to say a huge thank you to all the guys, because it was two very long days for them now. They put in a lot of effort, we all did. We just have to continue like this. It is difficult to say what I expect from the first two rounds. If I manage to reach the team's target, the top ten, in these two first rounds, I will be happy."
More, from a press release issued by Yamaha:
Locatelli P2 in Impressive Phillip Island Test with Razgatlıoğlu Fourth
Pata Yamaha Prometeon WorldSBK's Toprak Razgatlıoğlu and Andrea Locatelli took to the spectacular coastal Phillip Island Grand Prix Circuit for two days of official 2023 FIM Superbike World Championship testing, which finished today ahead of the season opener at the same venue later this week from 24-26 February.
Both riders completed a full test programme working to fine-tune the base set-up of their Yamaha R1 WorldSBK machines as well as test development parts to assist Yamaha's engineers in future direction for this year and beyond.
Locatelli was particularly impressive – not only by completing 75 laps on Monday and a further 113 laps today including two long-run race simulations, but also in setting the second-fastest lap time overall with a 1'30.344 less than one-tenth from the top spot. The Italian has continued to reinforce the step in performance he has taken since the latter part of the 2022 season and all through winter testing.
Turkish star Razgatlıoğlu's test programme almost mirrored his teammate, with a total of 165 laps across two days on the island and a fastest lap time of 1'30.674 banked yesterday afternoon – along with extensive data and feedback for the Pata Yamaha Prometeon WorldSBK team to analyse ahead of the first round of the season.
Phillip Island's 4.445km circuit layout is notoriously fast and features a particularly abrasive surface, calling into play tyre conservation strategies and an adapted set-up to conserve rear grip for the closing stages of each race. The next opportunity to see who has done their homework will come on Friday morning with the first Free Practice of 2023 at 11:30 local time (UTC+11).
Andrea Locatelli – P2, 1'30.344
"The feeling from yesterday was really good and I enjoyed this test! I enjoy riding on this track, it's a bit special for me! When we finish the day, we go in the house and it is feeling like home, but also Phillip Island is just a really nice track – when you are riding you see the ocean and it's something different. I'm really happy about these two days because we were really fast from the first day, and I think we were fast in every session – so this is a good point. The feeling with the bike was amazing in all the sessions. Now we need to look forward for the race weekend. To be honest, I think we are close to being ready and we have a really good package, so we need to trust and to believe! In general, I have more confidence with the bike, we work very well during the winter tests and also here in Phillip Island, so I think we are ready to fight."
Toprak Razgatlıoğlu – P4, 1'30.674
"We tried many parts and different set-up on the two days, looking for best rear grip and race set up. In the end I am not so happy today, we did not find the best solution, so maybe we go back to yesterday setting – you know, my best lap time. Now my team are working for the weekend. I am just focused on set-up, not fast lap, I just focus this and trying the new parts – not push a lot. It can be easy to try too many parts or set-up and be lost, but now we are coming back again and it's time to race. On Friday, everybody start pushing for the new season – always we try best position, maybe in the race we are big fighting again but we will see – I will try my best!"
More, from a press release issued by Team Go Eleven:
TOP 7 AT THE END OF TWO DAYS OF TESTING AT PHILLIP ISLAND!
Constance is the right word to explain the performance of Philipp Oettl and the Go Eleven Team in the two days of testing at the Phillip Island circuit. During Day 2, the Go Eleven rider confirmed his speed and concreteness in all sessions, completing the established program.
In the FP 1, the clouds and the fresh wind kept the asphalt temperatures cold, making the track very performing. Philipp set an excellent time under 31, improving his best lap ever here on the island, a tenth better than last year's Superpole. In the morning he took fourth position for most of the session, only to drop to sixth towards the end. The only "regret" is not having improved with the softer tyre, which will be used in qualifying. However, the feeling in the race configuration is really good, so much so that he manages to lower his references easily, even in different set-up conditions.
FREE PRACTICE 1:
P 1   A. Bautista  1.30.272
P 2   A. Locatelli   + 0.072
P 3   M. Rinaldi  + 0.229
…
P 6  P. Oettl   + 0.566
In the afternoon, the program included a complete race simulation, in a similar schedule to that of the two Main Races of the weekend. Philipp complied fully with it, completing almost 20 consecutive fast laps, constantly pushing. Here, as often happens, tyre management in the last 5-6 laps can really make the difference, as Philipp Island is a particularly incisive track especially on the rear. At the end of the session, the Italian team tried a different front, which however did not provide Oettl with an excellent feeling, despite the fact that he managed to improve the reference. In the afternoon the track was slightly slower due to the high temperature of the asphalt and perhaps with the extra grip provided by a soft tyre it could have made a difference, but the important thing was fixing all the details for the Race.
FREE PRACTICE 2: 
P 1   A. Bautista   1.30.404
P 2   D. Aegerter   + 0.335
P 3   M. Rinaldi + 0.592
…
P 7  P. Oettl   + 0.859
A really positive two days, the one that has just ended in Phillip Island; The number 5 has always shown to be calm and fast, constantly remaining in the top places in all set-up and tyre configurations. Certainly from Friday the story will be different, we will still need to improve a few tenths, but the start was really convincing. Now, two days of well-deserved rest for riders and teams, then it will be time to inaugurate the 2023 WorldSBK World Championship!
Philipp Oettl (Rider):
"Today it was another really good day of testing! In the morning we focused more on the lap time, while in the afternoon we did a complete race simulation, keep working on the turning of the bike, on tyres comparison and electronic, mainly in the anti-spin area. The only negative part of today is that we couldn't try the new engine, it was programmed this afternoon, but we couldn't do it due to a small technical problem.  Everything else was really good, this morning I couldn't take the maximum from the softer tyre, maybe we still have to work a bit on it, but generally we are in the right direction."
Denis Sacchetti (Team Manager):
"Today was another positive day, we managed to complete the pre-established work program and we had the confirmation we were looking for on some electronics configurations and set-up. In the morning the track was fast and we tested the tyre for Superpole Race, while we did the race simulation in the afternoon, and the rider had positive feedback, the feeling is good and understanding the management for the final laps of the race was very important. So I would say that we are ready for the start of the World Championship, let's hope we have fun!"