Editorial Note: Scroll down to watch the short video
Looking back to look forward: setting the stage for a successful Super Hooligan effort

2023 has been an extremely important year for electric motorcycling applied to closed-circuit competition, as records were broken and first-evers happened. History was made away from the spotlight of the World Championship, where Energica had been in the previous four years, and instead took place in a series that was firstly meant for ICE [Internal Combustion Engine] motorcycles to race among themselves. Or so it seemed.
The Super Hooligan National Championship is a category running within MotoAmerica's fast-rising series, and arguably the one catching the biggest attention from motorcycling enthusiasts. Stacked grids, frenetic action with stunning streetfighter motorcycles from different manufacturers ready to give battle in short and exciting races.
Energica made a step into the unknown, out of the comfort zone of a one-make series, to test the strength of its technologically advanced motorcycle solutions against traditional motorcycles. The result? The Energica Ribelle RS equipped with Kit Corsa Clienti took to the track in four events, ran by Michael Kiley's Tytlers Cycle Racing squad and ridden by Colombia's Stefano Mesa, one of the quickest and most experienced riders stateside.
Mesa, who had ridden a fully standard Eva Ribelle RS at Laguna Seca the year before in what was a 'pilot episode' by Energica and Tytlers Cycle Racing to check the potential for a future full-time commitment, did an outstanding job in exploiting the potential of the motorcycles despite the limited track-time available during winter and in the four events completed.
Mesa ended up scoring points in seven out of eight individual races, while always finishing in the top seven and wrapping up the season with an astounding fourth place in the standings. The only DNF came after an incredible comeback from last on the grid to 7th place at the line, only to be disqualified due to a technical rule infringement (related to sensors). He had to line up at the very back because he had a massive crash in the Supersport class hours before, which left him quite battered and stunned. If this isn't commitment…
The holeshot, the record, the podium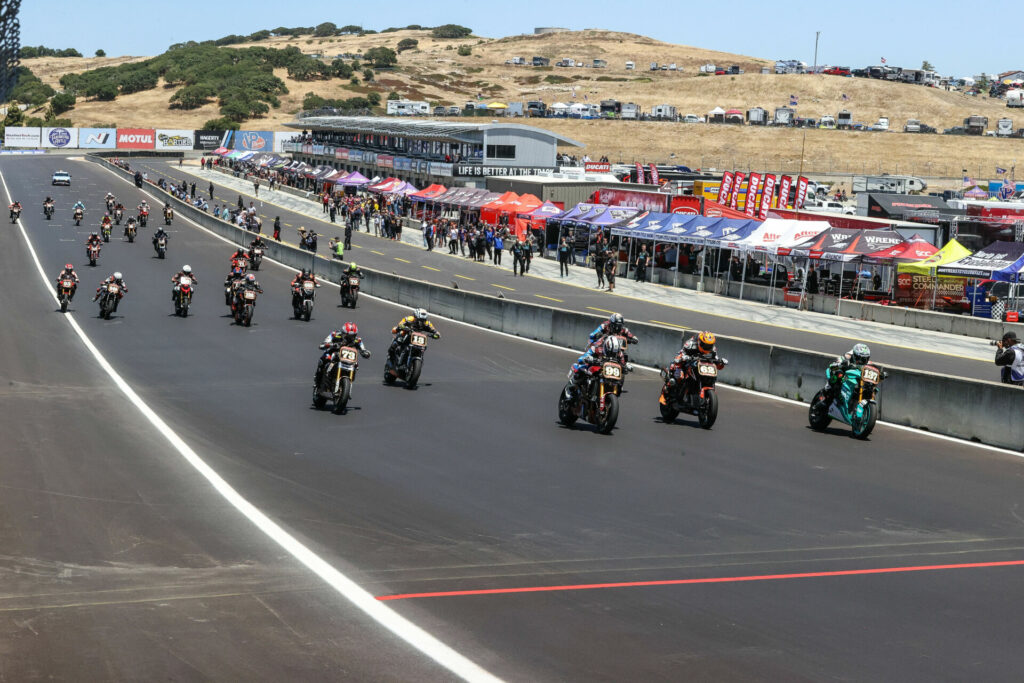 A full-time electric-powered entry in the series was a game changer on its own, but history did not stop there.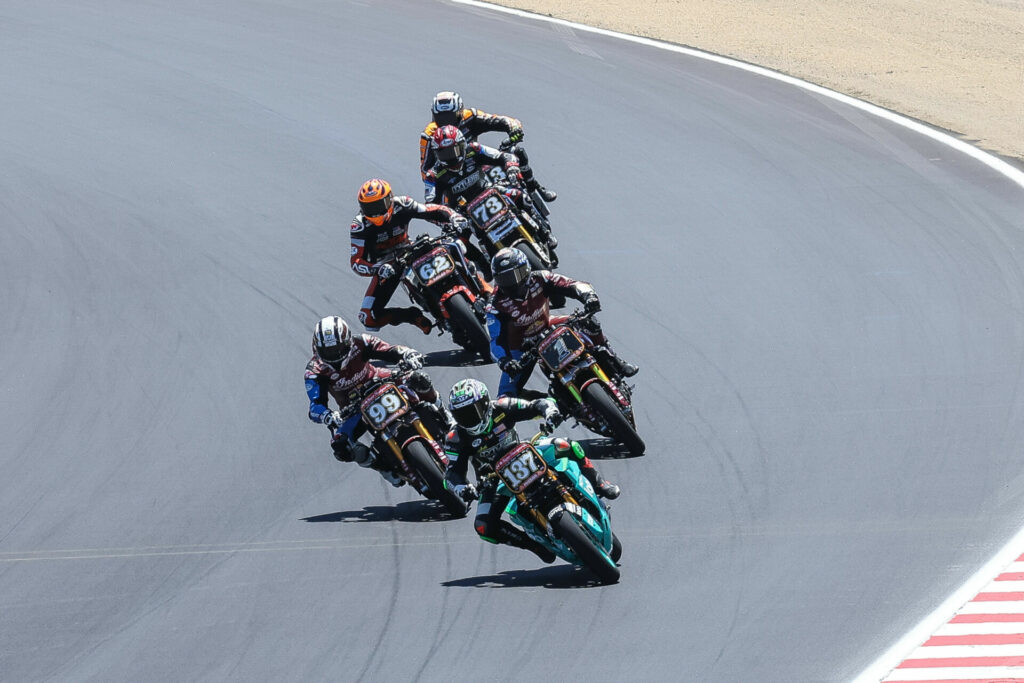 For the first time ever, an electric vehicle led an FIM-sanctioned race, and it happened when Mesa stormed out of the gates in race one at Laguna Seca from P7 on the grid to take the holeshot in front of a shocked crowd (the official commentators also could not hide their excitement!). That same weekend, in race two, Mesa set the new outright lap record for an electric motorcycle at Laguna Seca, after the previous one stood undefeated for twelve long years – and not for the lack of trying by other riders!
And two months later, the same motorcycle, the fan-favourite Eva Ribelle RS, was ridden by Stefano to a superb second-place finish in race one at Circuit of The Americas. Needless to add, this had never happened before in a FIM-sanctioned event against ICE vehicles (two or four wheeled that is).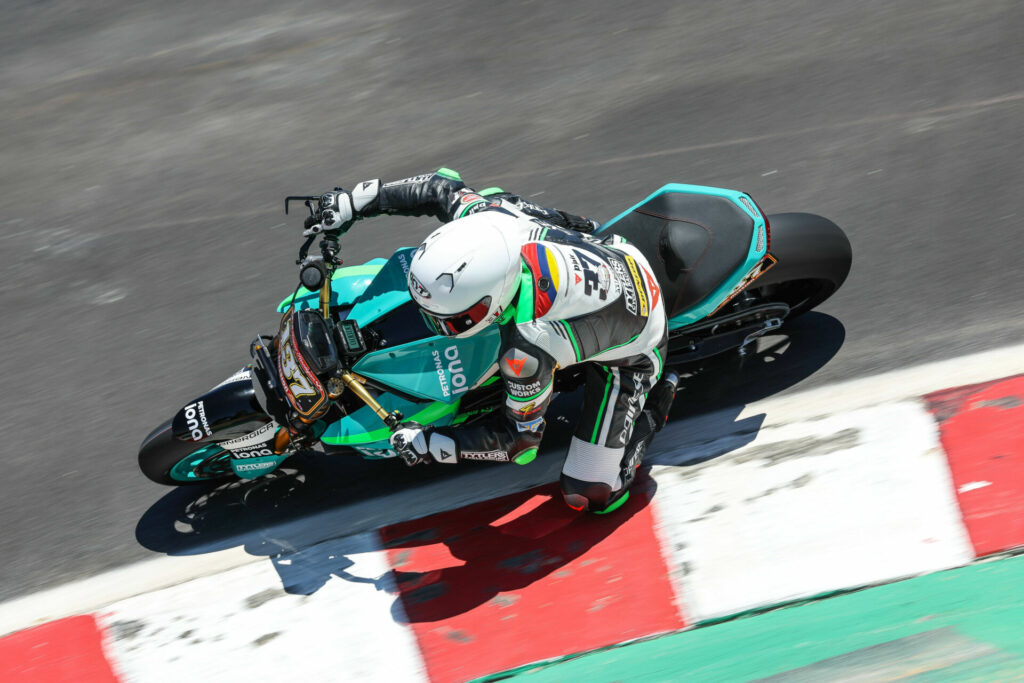 The level of performance shown by the technical package was everything but a given, as two out of four tracks were considered as a sort of 'taboo' for electric motorcycles: the Daytona International Speedway with part of the high-banked oval in its layout, and the Circuit of The Americas, with its length and extremely long straight, combined with a staggering twenty corners. In the end, Mesa and the Eva Ribelle RS KCC did well at the former (in the season debut) and surpassed any expectation at the latter – even despite scorching hot conditions!
The extended family
But how did we get here? How can such an idea turn into a success in the first season? For that to happen, several key puzzle pieces had to come into place. Yes, Energica had developed a technology that proved to be capable of incredible things (four years of MotoE had proved it), but to confidently line up on the grid against ICE motorcycles? Well, that is a whole different story.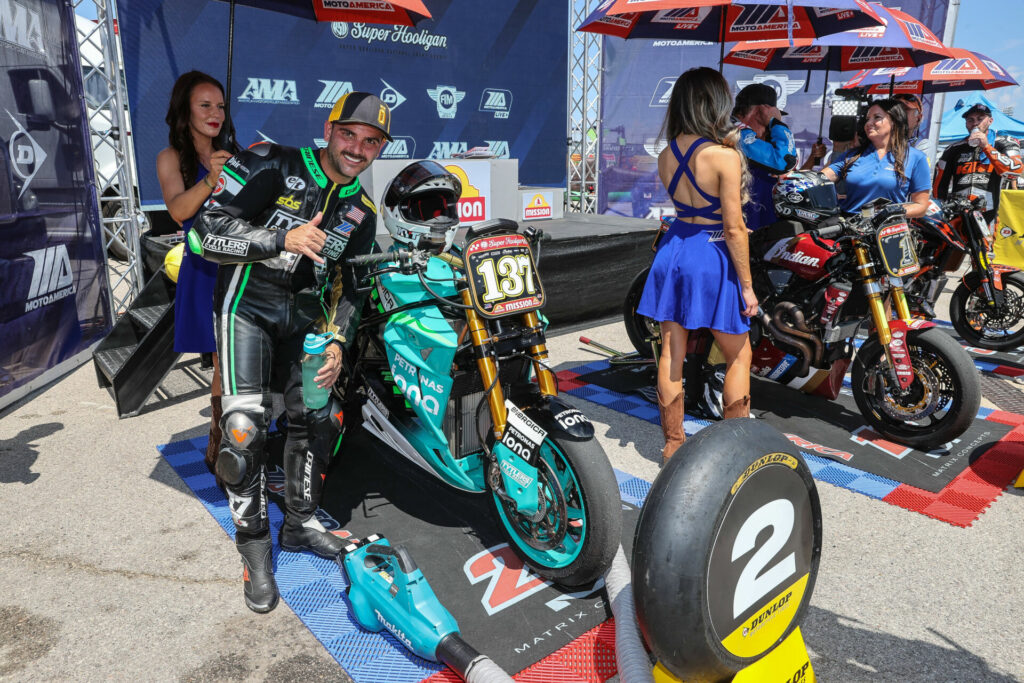 Energica needed a team that believed in the same idea and found it (or rather say, was found by): Tytlers Cycle Racing, a squad that has established itself as a reference point in MotoAmerica in just three seasons, ran by a pragmatic yet passionate and visionary owner, Michael Kiley, who was one of the driving forces in this monumental effort. He chose the rider, and Stefano Mesa delivered beyond any wild expectation.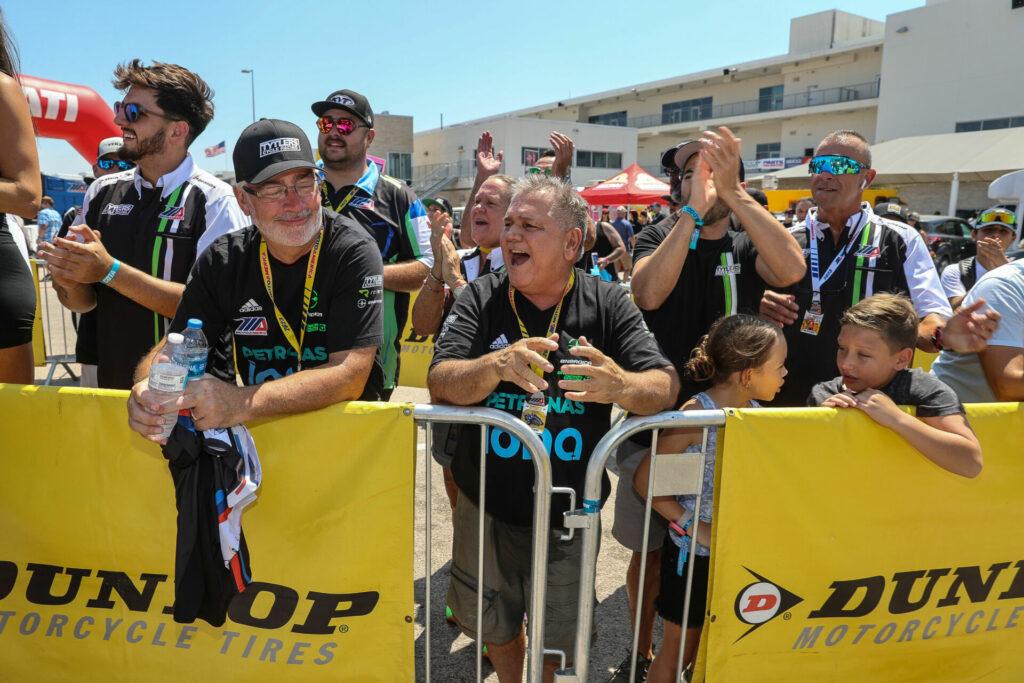 And the team staff played a huge part in this effort, with not only the Energica staff continuously at work to improve the overall package, but also the Supersport side of the team (Mesa had double duty in every event that included Super Hooligan as he also contested the full Supersport season – before being promoted to the Superbike class at COTA) stepping in at Austin to help figure out the suspension niggles that have been affecting Mesa's riding from the beginning (riding a full-handlebar streetfighter machine can take time to adjust to!).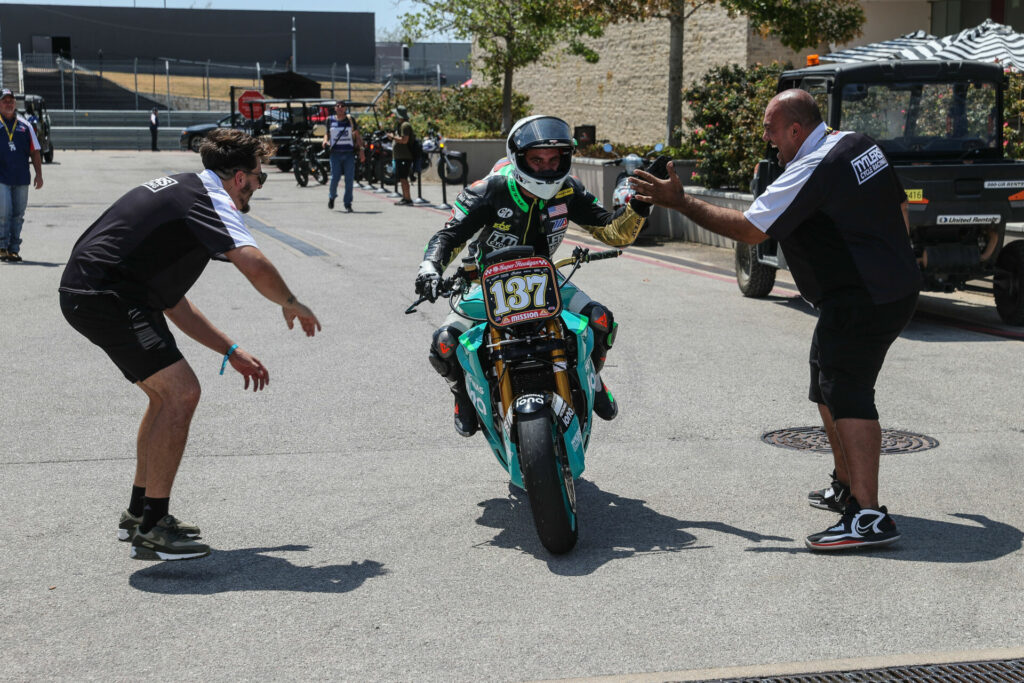 But Energica also needed a series of partners who envisioned the same type of path ahead, companies that bought in such a revolutionary project, while making a difference themselves in their own areas of expertise. And so it happened that PETRONAS joined in with their brand of NEV (New Energy Vehicle) fluids iona, for a perfect fit that brought an extra level of performance on track as well as iconic colours on the livery of the #137 KCC Energica Eva Ribelle RS. If you watch back the 2023 Super Hooligan races (for free on MotoAmerica's YouTube channel, in their entirety), the Ribelle is definitely hard to miss.
Along with PETRONAS iona, new partners came on board and others stayed from previous seasons: Adidas-GTZ Distribution, Salice Occhiali, Reinova, Z by HP, QiOn.
One thing is for sure: Energica is in MotoAmerica to stay. The road ahead is fun, and the track action is going to be even more electrifying.