Over the last several years, Suzuki has been utilizing the state of the art technology derived from MotoGP racing in the development of new motorcycles. The benefits now expand well beyond engine and chassis refinements to the development of a new high-performance motorcycle oil line: ECSTAR Suzuki Genuine Oil.
Xavi Fores won MotoAmerica Supersport Race One Saturday at Circuit of The Americas (COTA), in Austin, Texas. Riding his Warhorse HSBK Racing Ducati Panigale V2, Fores won the red-flag-shortened race by 1.119 seconds, and with the win, the Spaniard clinched the 2023 Supersport Championship.
Pole-sitter Tyler Scott led some of the race but ended up finishing second on his Vision Wheel M4 ECSTAR Suzuki GSX-R750.
Scott's teammate Teagg Hobbs broke free from the pack to score third.
Torin Collins, riding a third Vision Wheel M4 ECSTAR Suzuki GSX-R750, finished fourth in his debut Supersport race by just holding off Wrench Motorcycles Suzuki's David Anthony (fifth) and Disrupt Racing Suzuki's Jake Lewis (sixth).
More, from a press release issued by MotoAmerica:
Forés Wraps Up Supersport Championship At Circuit Of The Americas
Ducati-Mounted Spaniard Takes Title In His Rookie Season In MotoAmerica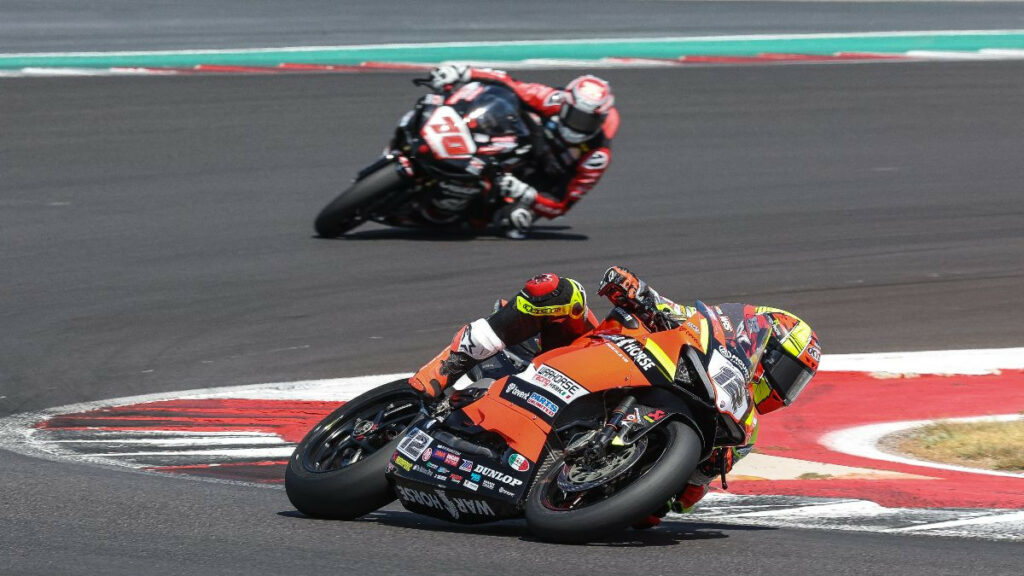 AUSTIN, TX (September 9, 2023) – After Warhorse HSBK Racing Ducati NYC's Xavi Forés started the season with a record-breaking eight wins in a row, which set a new record in the Supersport class, the Spaniard's victory tally suddenly came to a halt at Brainerd where he finished both races off the podium. And then, at Pittsburgh, he finished second in both races. Well, on Saturday at COTA, Forés returned to his winning ways with a championship-clinching victory.
Starting from the middle of the front row, Forés got a good jump off the line and led the first two laps of the race. Vision Wheel M4 ECSTAR Suzuki's Tyler Scott, who earned the pole position, overtook Forés on lap three, but then Forés was able to get past Scott two laps later, and he held on to the lead for the remainder of the race. Forés took the checkered flag by a little more than a second over Scott, and Scott's teammate Teagg Hobbs completed the podium in third.
"When I accepted this challenge, I was expecting to fight for victories, but I was not expecting to fight for winning the title, winning eight races in a row and then win again," Forés said. "It was a very nice season for me because at the end of the last year I was considering with my wife to retire, because I was not enjoying racing. I was doing Moto-e, something that I didn't want to do. But then when I contact Ducati again and the team, they offered me the Supersport and I said, why not? I want to enjoy riding the bikes again. So, it was nice. It was a little bit disappointing at Daytona. The first race was a bit of a mess there. The bike wasn't running well. I did only three laps. I was a little bit confused when I came back home. Since Road Atlanta, I felt so good on the bike. We worked really hard on the bike. Most of my job was at home watching the last year's races to learn the layouts. Today we are here. We won the title. I have to say that the last races were really tough. He was pushing me to the limit all the time. In Pittsburgh had no more. He was putting meters away on me. I was expecting to win the title there. That hurt. You always want to win, and that time he was stronger than me. Today, I let him (Scott) pass. I let him lead the race to try to understand his pace. After three laps I decided to pull my pace out. I thought I was going to put more gap, but he's a dog. He's always there. He pushes really hard. He's a smooth rider. I think this year the championship and also the series did a big improvement in several aspects. I would like to see him in the World Championship because he is a top contender, for sure. Now it's time to enjoy my title with the time and move forward for tomorrow. There is another race, hot race. Let's try to win again. Back home, because I have 24 hours (the Bol d'Or 24 Hour next weekend) so it's going to be a busy month for me."
Steel Commander Stock 1000 – Gillim Takes Over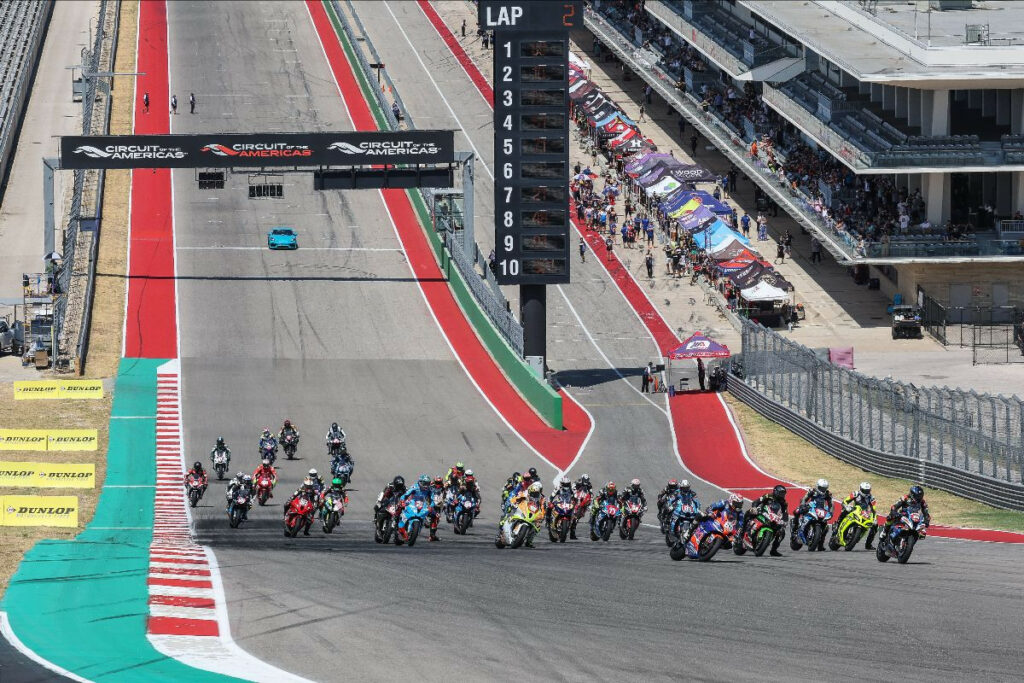 It's the final round for the Steel Commander Stock 1000 Championship this weekend at Circuit of The Americas, and Saturday's race gave a little bit clearer picture of who might win the title. But it's not quite decided yet.
Before the race even started, championship leader Ezra Beaubier was unfortunately scratched from the grid due to illness. Polesitter Hayden Gillim had one less contender to deal with, and he made the most of it. The Kentuckian led the race from start to finish aboard his Disrupt Racing Suzuki and won with a gap of more than eight seconds back to Travis Wyman whose runner-up result was the fifth podium finish of the season for the Travis Wyman Racing BMW rider. Third place went to Beaubier's Orange Cat Racing BMW teammate Kaleb De Keyrel, which was his sixth podium result in 2023.
Gillim currently leads the championship by 13 points over De Keyrel, 17 points over Beaubier, and 24 points over Wyman. So, it all comes down to Sunday's race two, the final race of the season to decide it all for the liter-bike riders.
"It sucks whenever one of the guys that has been up front all year and the guy that we've all been chasing isn't here to defend his points lead and everything." Gillim said. "We're all feeling pretty rough this weekend with the heat and everything, so hopefully he gets better and is able to be out here tomorrow with us. It sucks, but honestly, it's so tight at the front that it wasn't just Ezra (Beaubier) that we had to think about. Kaleb (De Keyrel) was four points behind me coming into this race. Travis was 15 points behind me. So, really for me, my whole goal this weekend was just to win. That's the only way I know. I'm from Kentucky, so I don't do math too good, so I just figured if I'm in front of everybody I don't have to worry about it. It's been a good weekend. This morning, like Travis (Wyman) said, we found a little bit. I was able to follow Diego Perez one lap this morning and it helped me quite a bit because he was faster in a couple spots that I thought I was going pretty good in. I learned a little bit from him and was able to use that and get my lap times down into the time range that I needed to have a chance to fight with Travis. So, it's good. I did what I needed to do today. We've got a lot of racing left this weekend still. Just focusing on staying healthy, staying hydrated, staying cool and just having a good weekend."
Mission Super Hooligan National Championship – O'Hara Crowned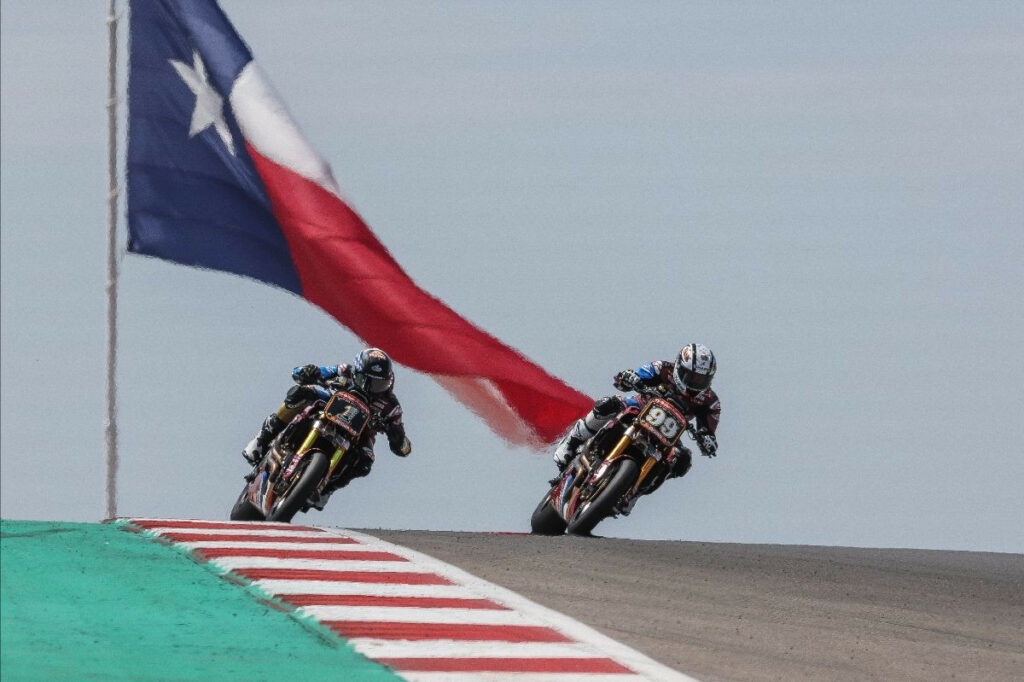 Tyler O'Hara was crowned as the champion of the Mission Super Hooligan National Championship on Saturday at COTA, but not before a last-lap bash-fest in the final corner that left his teammate and championship rival Jeremy McWiliams on the ground and out of the race.
Championship over.
O'Hara won four races en route to the title and the last one was the most intense with him and McWilliams going back and forth all the way to the final corner on the last lap. With the two banging into each other repeatedly on the entrance and apex of the final corner, McWilliams spun his Indian FTR 1200 up and was highsided. The Ulsterman was fortunate to not suffer serious injury but is likely to miss tomorrow's race and O'Hara had his second straight championship in the class.
History was made on Saturday when Stefano Mesa rode the electric Energica Eva Ribelle RS to second place, giving the company its first podium finish. Mesa ended up nine seconds behind O'Hara and a second clear of DiBrino Racing KTM's Andy DiBrino, who earned his fifth podium finish of the season.
Zone 9 Racing/EDR Performance's AJ Peaslee and Vigilante Racing's Nate Kern rounded out the top five.
"It started in 17/18," O'Hara said of the last lap. "Well, it started in 16, and he protected and then I rolled it to get a good exit. Then I was on the outside of 16/17 and he kept going wider and wider and wider. I about had my shoulder on his tire. Then it was just a battle into 19. We both stopped. Then basically going down the straightaway we were rubbing, and rubbing is racing. Then he parked it in the corner and then we both go for it. I think he just lit the tire up and then highsided, otherwise he would have had me. Honestly, I was expecting it to come down to tomorrow. I'm glad that he's okay. He's a true competitor. He's the salt of the earth, as he would say. He's lovely. I'm so glad that he's my teammate. He has made me a better rider this year. He has made the whole team better."
Mission King Of The Baggers – Kyle Wyman On Top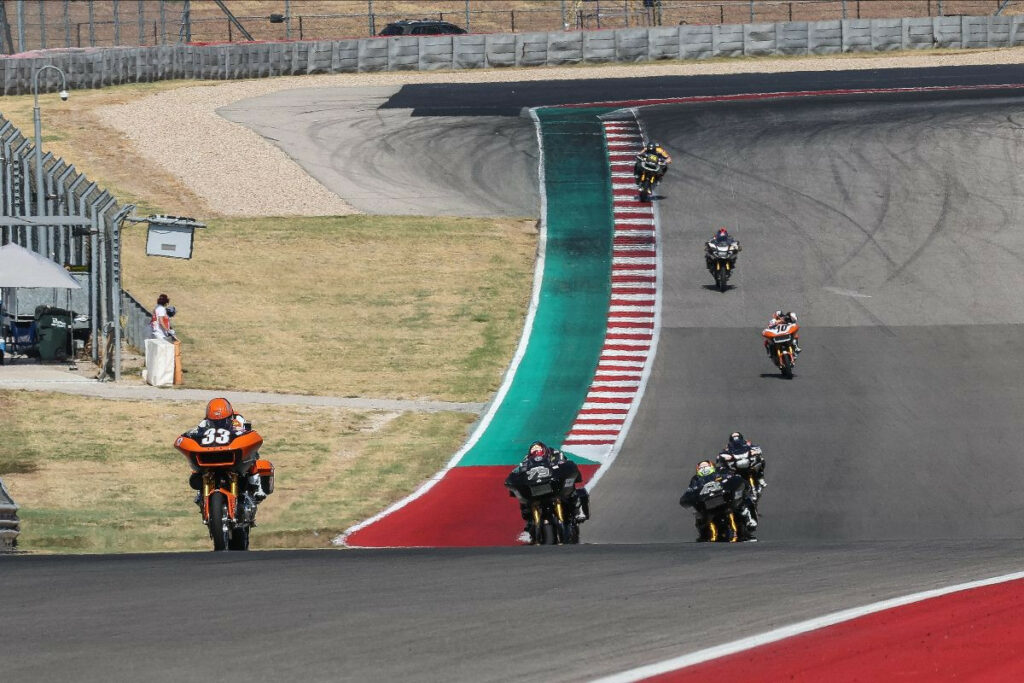 H-D Screamin' Eagle's Kyle Wyman was the fastest of the of the King Of The Baggers field when it counted most: in the race.
Wyman, who came into the Circuit of The Americas round trailing Vance & Hines/Mission/Harley-Davidson's Hayden Gillim by three points, took his sixth win of the season while leading a Harley-Davidson takeover of the podium spots and he emerged from Saturday's scrum with a two-point lead over Gillim after topping the Kentuckian by 2.1 seconds.
Gillim's teammate James Rispoli finished third, another two seconds behind but some 11 seconds clear of Kyle Wyman's brother and teammate, Travis Wyman. Roland Sands Design/Indian Motorcycle's Kyle Ohnsorg rounded out the top five and was the first of the Indian Challenger riders.
Indian Motorcycle/Progressive/Mission Foods' Tyler O'Hara and Jeremy McWiliams failed to start the race. O'Hara's bike, which he crashed earlier in the day when the chain broke, didn't run right on the sighting lap while McWiliams was bruised and beaten from his highside crash in the Mission Super Hooligan National Championship race.
Sac Mile/SDI Racing/Roland Sands/Indian's Bobby Fong was on the move in the race and gaining ground on Rispoli when he crashed out with a lap to go. Fong had earlier shown the speed to be a potential winner when he won the winner-take-all Mission Challenge earlier in the day.
"I was only worried about him if he (Fong) beat me to turn one," Wyman said. "I felt like we had pace. I don't know what happened to him during the race. I don't know how things shook out. I knew that if I could get in front that I could make guys work for it, for sure. That Challenge was a disappointment because we didn't win, but I learned a lot in that about getting off the line and what to do if I am in that situation during the points-paying race. So, it's still good knowledge to bank for tomorrow. I got the start I needed. Got a good, clean first lap. I think I saw .3 to Hayden (Gillim) on the first lap and tried to just push as hard as I could without decking the thing out or doing something silly. We had a good balance there and were able to stretch it out a little bit and just chip away at it, one lap at a time. Really happy with how I rode. I don't think I really made a mistake that race. Everything was pretty clean. I'm really happy about that. Two-point lead, three points back. Doesn't feel any different. It's tight no matter what. Anything can happen. We've got three more left. Try to do something with the bike to prove a couple things tomorrow in the morning warmup but, overall, we're pretty happy."
More, from a press release issued by Ducati:
2023 MotoAmerica Supersport Championship Round 8 –Xavi Forés Clinches The 2023 MotoAmerica Supersport title for Warhorse HSBK Racing Ducati NYC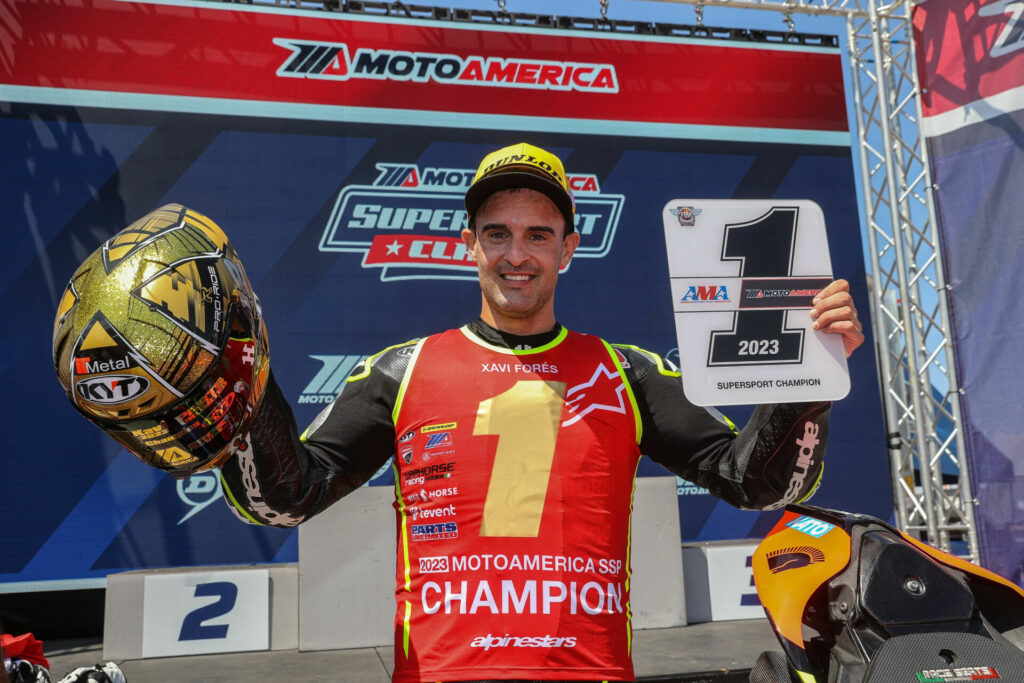 Austin, Texas – MotoAmerica's very own Spanish Bull, Xavi Forés, has sealed a historic win in the 2023 MotoAmerica Supersport Championship on his Warhorse HSBK Racing Ducati NYC Panigale V2, and what's more, he's done it as a rookie.
Forés battled wheel-to-wheel with Suzuki's Tyler Scott in the sweltering heat at Circuit of The Americas in Austin, TX, coming out on top to take a 1.1 second victory and seal the title with three races remaining in the series.
Forés' debut MotoAmerica Supersport season has been nothing short of exceptional. The Valencian, who can count experience in every major international road racing championship, has taken nine races win at the time of writing, setting a new record for the most race wins in a season for the category.
Forés will now set his sights on the remaining rounds of the series, including bringing home the Texan double victory tomorrow (September 10) with his young family in attendance to share the spoils.
Xavi Forés (Warhorse HSBK Racing Ducati NYC– #12)
"It's such a super feeling, what a great day," an ecstatic Forés said after race one in Texas. "To be honest, it's one of the nicest titles I've won in my career because over the last two or three years, I was not enjoying racing.
"However, when I came to America, to this bike and team, I said to myself, "let's try to win another title." Most of the titles I've won have been with the Ducati Panigale V2 in the Spanish, European and German championships, and now here. I think maybe I am the most successful rider for the Panigale V2!
"I really enjoyed the racing today with Tyler (Scott). He's been very strong in the last few races so to grab the title in the first race today is perfect. Tomorrow, I can enjoy the racing with less stress, less pressure, and try to win my 10th race this season.
"Thanks to everyone in my Warhorse HSBK Racing Ducati NYC team for all the work they have done this year and to Ducati for counting on me to win this title."
Forés will take to the track on Sunday, September 10 at 8:55 am CDT for morning Warm-Up, with race two scheduled for 2:10 pm CDT.