Former Moto2 World Championship rider and 2008 125cc Grand Prix World Championship runner-up Simone Corsi rode a Squid Hunter Racing Yamaha YZF-R6 to the overall and GTU class victories Saturday in the ASRA Team Challenge Presented by Michelin at Daytona International Speedway.
Jinba Ittai Motorsport's Joel Lenk led from the start on his Yamaha YZF-R1, but Lloyd Bayley, riding his LB Sports BMW S1000RR, took over first place on lap three and held it until he pitted for fuel and a new rear Dunlop on lap 21.
At the time he pitted, Bayley was just ahead of Corsi and Christian Miranda on the West Side Performance Yamaha YZF-R6.
Corsi also pitted on lap 21 to get fuel and a new rear Pirelli slick, while Miranda stayed out one more lap before coming in to refuel and mount a new rear Pirelli on his Yamaha.
Jinba Ittai Motorsport's Lenk then retook the lead stayed out two more laps before pitting thanks to the oversized fuel tank on his Yamaha.
West Side Performance was the quickest during the round of pit stops and emerged as the race leader, but Miranda had trouble matching his early-race pace because the extra grip of his new rear tire was overpowering and pushing his worn front tire, he said.
Corsi had no such troubles, immediately started doing 1:54 lap times, got down to his fastest lap of the race (1:53.485), and erased the 10-second lead West Side Performance's Miranda had.
Squid Hunter Racing's Corsi took over the race lead on lap 30 and inched away from Miranda to win the 40-lap race by 13.869 seconds.
"I love this track," Corsi said in English from the podium. "The race was very difficult, but I enjoy it very much. I want to thank my team. They did a great job."
West Side Performance's Miranda held on to get second overall and in the GTU class.
Bayley said his lack of practice left him with a chassis setup that wasn't working very well, but he was able to secure third place overall and the win in the GTO category.
Jinba Ittai Motorsport's Lenk crossed the finish line fourth overall and second in the GTO class, and that was enough to claim the 2019 ASRA Team Challenge Overall and GTO Championships.
Jinba Ittai Motorsport just edged out seven-time ASRA Team Challenge Champions Grease Monkey Racing (Eric Helmbach/Stephen Hoffman), who finished sixth overall and third in GTO, for both titles.
JoeyO Racing (Robert Bettencourt/Sean Osowski) finished 18th overall and won the GT Lights category on a Yamaha FZ-07, while fourth place in the GT Lights division was enough for Racing 101 (Doug Stufflebeam/Gino Angella/Mark Evry/Joseph Ciesnik) to secure the GT Lights Team Challenge Championship.
The Team Challenge race was originally scheduled to run for 55 laps, but a crash in the chicane caused a red flag and cleanup delay that resulted in the race running into its two-hour time limit.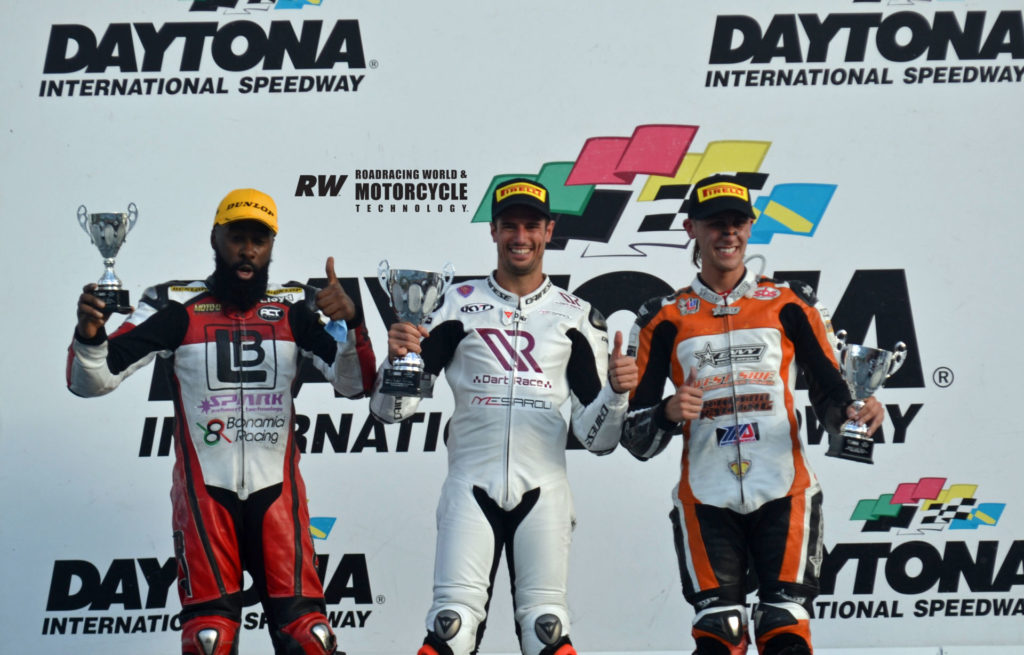 ASRA Team Challenge Presented by Michelin
Daytona International Speedway
Daytona Beach, Florida
October 19, 2019
Provisional Overall Race Results:
Squid Hunter Racing (Simone Corsi), Yam YZF-R6, GTU, 40 laps
West Side Performance (Christian Miranda), Yam YZF-R6, GTU, -13.869 seconds
LB Sports (Lloyd Bayley), BMW S1000RR, GTO, -21.295
Jinba Ittai Motorsport (Joel Lenk), Yam YZF-R1, GTO, -57.590
Forty Racing – Team Hungary (Alen Gyirfi/Istvan Paulik), Yam YZF-R6, GTU, 59.250
Grease Monkey Racing (Eric Helmbach/Stephen Hoffman), BMW S1000RR, GTO, -1 lap
BPM Motorsports (Rafael Rigueiro/Tyler Wasserbauer), Yam YZF-R6, GTU, -1 lap, 38.822 seconds
Barry Motorsports (Jim Barry), BMW S1000RR, GTO, -1 lap, 94.704 seconds
National Granite (Gene Buonomo/Teagg Hobbs/Norman Pomerleau), Yam YZF-R6, -2 laps
412 Racing (Rick Lind), Yam YZF-R6, GTU, -2 laps, 13.417 seconds