24th-Annual Roadracing World Young Gun Honors:
By David Swarts
Roadracing World started this exclusive special feature recognizing the most promising young road racers as an answer to pessimists who claimed America had no new, up-and-coming young racers. This edition of the Roadracing World Young Gun Awards marks the 24th consecutive year of showcasing an abundance of new talent.
Roadracing World Young Guns have won:
FIM MotoGP and FIM Superbike races and World Championships;
AMA Pro races and Championships, including eight AMA Pro Superbike Championships;
A KTM RC Cup World Final race;
The Daytona 200 (8 times);
WERA National Endurance Championships and WERA National Challenge Championships;
ASRA/Formula USA Grand National and CCS National Championships;
AMA Road Racing Grand Championships and Horizon Awards;
USGPRU National Championships;
Many regional and local titles.
The competition has continually become more intense as more – and younger—racers with higher levels of accomplishment are nominated, and the level of achievement required to make the grade keeps getting tougher.
We've spent the last several months accepting nominations and evaluating road racers between the ages of 11 and 18 (as of the start of the 2020 season) who have, at a minimum, won Expert-level road races and/or Championships on a 125cc two-stroke/250cc four-stroke or larger racebike or had outstanding results as an Amateur/Novice. Most of the riders included here have done far more than the minimum.
The young riders recognized here are the most promising young road racers in North America. All have earned the title of Roadracing World Young Gun.
We will feature one Young Gun per day, presenting them in alphabetical order.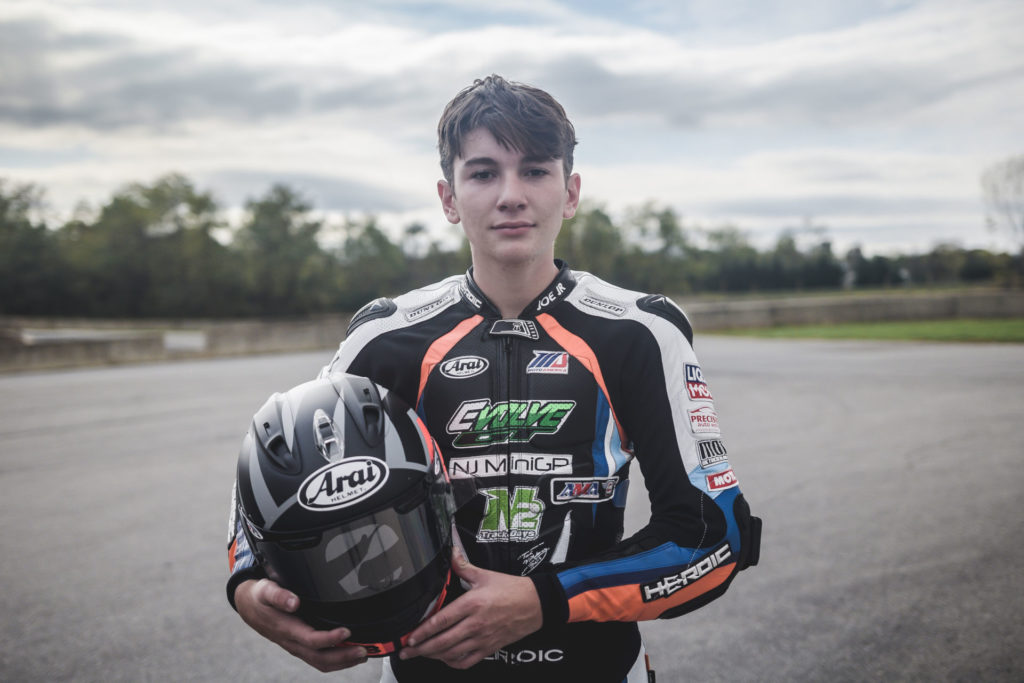 Joseph LiMandri Jr.
Age: 15.
Current home: Garden City, New York.
Current height/weight: 5'6"/118 pounds.
Current school grade level: 9th grade.
Began riding at age: 5 years.
First road race: 2012, NJMiniGP, Millville, New Jersey, Spec 50 Class, 4thplace.
Current racebike: Kawasaki Ninja 400.
Current tuner/mechanic: Joseph LiMandri, Sr. (father).
Primary race series: MotoAmerica Junior Cup.
Top sponsors: N2 Trackdays, Evolve GT, Cybersafe Solutions, Heroic Racing Apparel, Arai, Scott Powersports, Metric Devil Moto, Cycle Gear, Precision Autoworks, Vortex Racing, LI Racing, Orient Express.
Recent racing accomplishments: 2019 season, finished 5th in MotoAmerica Junior Cup race at VIR, injured for most of 2019 season; 2018 season, won 3 CCS Regional Championships, placed 2nd in 3 other CCS Regional Championships, 21 race wins, 29 podium finishes.
2020 racing goal: Finish on the podium in MotoAmerica Junior Cup rounds.
Racing career goal: Become a professional racer, compete at the World Championship level.
Racing hero: Valentino Rossi.
Favorite track: Pittsburgh International Race Complex
Favorite hobby: Riding bicycles.
If I wasn't racing I would be…: Playing football.