Round 5 of the NEMRR series by Mayhew Tools was held at New Hampshire Motor Speedway over the July 31-August 1 weekend. Many riders competed and wrote new chapters in their racing story, but there is only one story that this article will report on. It is a story of both love and loss, and of community and individuals who profoundly affect us all.
Near the end of the day on Sunday, Scott Mullin crashed in Turn 6 of the Unlimited Superbike race on his Kawasaki ZX-10R. During the incident Scott was struck by his motorcycle. Medical professionals later reported that Scott immediately succumbed to his injuries.
Motorcycle racing often becomes part of the very fabric of the lives for those of us who take part in it. The sport creates challenges, emotions, and experiences that are hard to find anywhere else in the world. In spite of the incredible attraction of the racing itself, perhaps an even more powerful force that draws us in is the community of exceptional people that we meet along the way. NEMMR is blessed with an incredibly close community and Scott Mullin was certainly one of the people who drew us all together.
Scott was a championship-winning racer who spent the early part of his career on lightweight bikes. His spirited efforts on an often underpowered Kawasaki Ninja 650 made for some of the finest race spectating of the weekend in the early 2010's. After a brief stint on 600cc machinery, he moved into the unlimited class on a Kawasaki ZX-10R, a bike which he expressed particular enjoyment in riding in an interview with NEMMR photographer Martin Hanlon on Saturday.
Scott had recorded a career best lap time in the 1:11's earlier in the weekend and had established himself to be a force to be reckoned within the class. He carried himself with a quiet determination and commitment to winning, but at the same time would give the shirt off his back to one of his fellow racers – even a championship rival. Scott would wish you luck before a race in a way that was heartfelt and sincere, and then moments later would race you as hard and as clean as he could.
A steady stream of posts recounting the way that his generosity, his mentorship and most often just his smile affected those around him for good continue to flood social media. Many riders and friends recounted how Scott "took them in like a member of his family."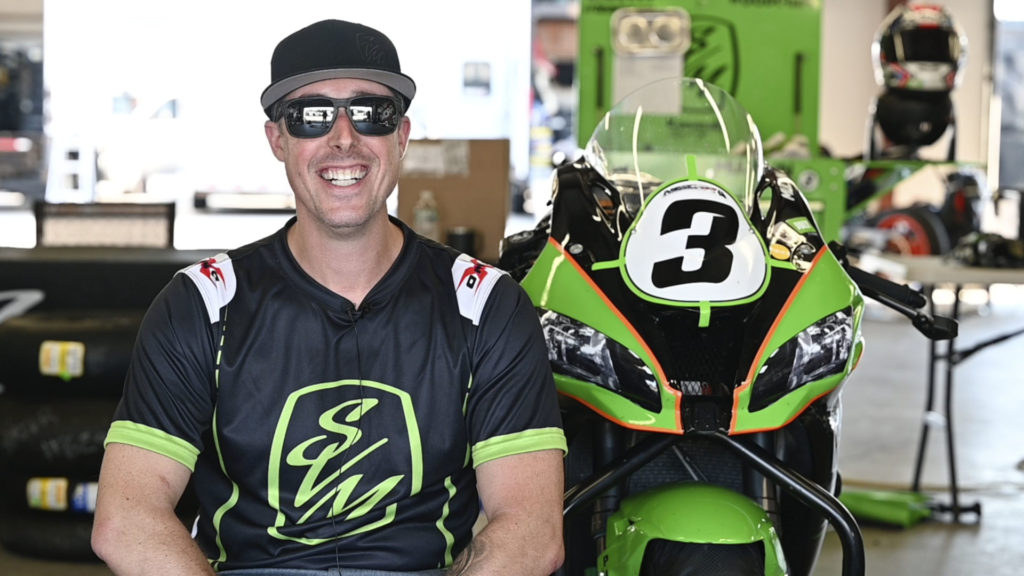 Anyone who knew Scott knew him as a family man. His wife Sarah, daughter Reese, and son Chase were always by his side both at the racetrack and at home.
A quote from the Mullin family embodied the principles that Scott lived by. The lifelong motorcycle enthusiasts came together at the family-owned Souhegan Valley Motorsports dealership on Monday and posted: "The SVM family is gathered together with broken hearts at the loss of our fearless leader, boss, father, husband, brother, son and friend. Scott did what he loved everyday and we are all so thankful to have been a part of this family. We will get through this with our community. Thank you all."
As word spread through the paddock first of Scott's crash and later of his passing, the community rallied together to support Scott's family, crew and then each other. The impact that Scott's life had on the entire NEMRR paddock could be felt in nearly every corner and crevice of New Hampshire Motor Speedway and will surely be felt for many years to come.
For the past 50 years there have only been two riders who have run the #3 on their motorcycle. For the remainder of the 2021 season, many of the NEMRR paddock will also have the opportunity to carry the #3 on their motorcycles. The Scott Mullin #3 will serve us all as a symbol of what a life well lived can look like, and can remind us of the importance to laugh, encourage, give and care for others as Scott demonstrated during his exemplary life.
July 31-1, 2021 @ NHMS – Results
Rookie Race Heavyweight 1 & 2
1. Scott Munger (Yam YZF-R6)
Rookie Race Wave 1
1. Nicholas Cioffi (Kaw Ninja)
2. Matthew Lewis (Yam YZF-R6)
3. Dennis Metzler (Duc 848 Evo)
4. Chris West (Suz GSX-R750)
5. Tyson Bernard (Suz SV)
6. Mohammad Nourmohammadi (Kaw Ninja 650)
Rookie Race Lightweight 3 & 4
1. Brandon Gray (Suz SV650)
2. Daniel Williams (Suz SV650S)
3. Briton Callahan (Kaw Ninja)
4. Brandon Colby (Kaw 300)
5. Ian MacMillan (Kaw Ninja)
6. Derek Huckel (Hon CBR300R)
JCM Display Amateur GTL
1. Joshua Kruse (Suz SV)
2. Matthew Paternoster (Suz SV650)
3. Thomas (TJ) Bibeau (0 0)
4. John Lear (Kaw Ninja 500)
5. Todd Fanciullo (Suz SV650S)
6. John Dorans Jr (Hus Vitpilen)
Firsttrax Combined GT 500
1. Elijah Block (Kaw Ninja 400)
2. Brianna McHugh (Kaw Ninja 400)
3. Jacob Crossman (Kaw Ninja 400)
4. Shane Lewis (Kaw Ninja 400)
5. Renee Franco (Kaw Ninja)
6. Michael Zoner (Kaw Ninja 400)
#74 GTL
1. Bill Coolahan (KTM Duke 790)
2. Rick Doucette (Yam YZF-R6/R5)
3. Nicholas Leighton (KTM 790 Duke)
4. Adam Guyer (Duc M1100 EVO)
5. Benjamin MacKinney (Suz SV650)
6. Aaron Wolfe (Suz SV650)
Amateur GTO
1. Kamran Pelkey (BMW S1000RR)
Woodcraft Amateur GTU
1. Geoffrey Bonnard (Kaw ZX-6RR)
2. Joe Ruth (Apr 1000)
3. David Mink (Kaw ZX-6R)
4. Tony Wells (Kaw ZX-6)
5. Cadman Fenton (Yam YZF-R6)
6. Des Conboy (Yam YZF-R6)
Dunlop Tires GTU
1. Scott Greenwood (Yam YZF-R6)
2. Harlan Hildebrand (Kaw ZX-6R)
3. Joel Laub (Yam YZF-R6)
4. Paul Duval (Yam YZF-R6L)
Adrenaline Performance GTO
1. Scott Mullin (Kaw ZX-10R)
2. Scott Greenwood (Yam YZF-R6)
3. Eric Shaw (Apr RSV4 Factory)
4. Roger Ealy Jr (Kaw ZX-10R)
300 Supersport
1. Jason Downs (Yam YZF-R3)
2. Lukas Doucette (Yam YZF-R3)
3. Rick Doucette (Yam YZF-R3)
4. Marcello Digiovanni (Yam YZF-R3)
Amateur 300 Supersport
1. Roy Whitson (Yam YZF-R3)
2. Thomas Sands (KTM 390)
3. John Sommer (Kaw Ninja)
4. Brendan Moriarty (Kaw EX300)
PTC Racing Super Singles
1. Wesley Lakis (Kra HKR EVO2)
2. Kevin Allen (TM 450SMX)
3. Adam Clark (Hon CRF450)
4. Sergio Di Molfetta (Hus FS 450)
5. Anthony Franco (Hus FS 450)
6. E Thomas Law (Hus FS 450)
Amateur Super Singles
1. Nathan Muscaro (Hus FS 450)
2. Asher Rubright (Hon CRFR)
3. Tom Bibeau (Hus FS 450)
4. Thomas (TJ) Bibeau (Hus FS 450)
5. Christopher Girard (Hus FS 450)
300 Supersport
1. Lukas Doucette (Yam YZF-R3)
2. Rick Doucette (Yam YZF-R3)
3. Marcello Digiovanni (Yam YZF-R3)
Amateur 300 Supersport
1. Roy Whitson (Yam YZF-R3)
2. Thomas Sands (KTM 390)
3. John Sommer (Kaw Ninja)
4. Brendan Moriarty (Kaw EX300)
Amateur Super Singles
1. Daniel Zimmer (Hon CRF)
2. Nathan Muscaro (Hus FS 450)
3. Asher Rubright (Hon CRFR)
4. Thomas (TJ) Bibeau (Hus FS 450)
5. Christopher Girard (Hus FS 450)
6. Tom Bibeau (Hus FS 450)
PTC Racing Super Singles
1. Wesley Lakis (Kra HKR EVO2)
2. Sergio Di Molfetta (Hus FS 450)
3. Adam Clark (Hon CRF450)
4. Anthony Franco (Hus FS 450)
5. Kevin Allen (TM 450SMX)
6. Christopher Woodman (Kra HKR EVO2 R)
MTAG Pirelli Formula 40 Unlimited
1. Eric Wood (Kaw ZX-10R)
2. David Dayon (Kaw ZX-10R)
3. Eric Shaw (Kaw ZX-10R)
4. Wojciech Kasperuk (Yam YZF-R6)
Amateur Formula 40 Unlimited
1. Kevin Custer (Suz GSX-R600)
2. Paul Hosue (Yam YZF-R6)
3. Lloyd Palmer (Yam YZF-R6)
4. Christian Trudeau (Yam YZF-R6)
5. Tony Wells (Kaw ZX-6R)
6. Cadman Fenton (Yam YZF-R6)
Antham gloves Amateur HW Supersport
1. Michael Chase (Yam YZF-R6)
2. Michael Guarino (Kaw ZX-6R)
3. Joe Ammendolia (Yam YZF-R6)
4. Sam Martin (Hon CBR600RR)
5. Eric Cormier (Kaw ZX-6R)
6. Issac Davis (Suz GSX-R600)
Atham Motorsports HW Supersport
1. Samuel Greenwood (Yam YZF-R6)
2. Scott Greenwood (Yam YZF-R6)
3. Justin Landry (Yam YZF-R6)
4. Anthony DiCecca (Yam YZF-R6)
5. Marcelo Lautert (Yam YZF-R6)
6. Ian Beam (Tri 675)
PTC Racing Amateur LW Superbike
1. Cameron Armstrong (Suz SV650)
2. Kevin Fogg (Suz SV650)
3. Paul Sadatis III (Suz SV650)
4. Christian Connor (Suz SV650)
5. Joshua Kruse (Suz SV)
6. Todd Fanciullo (Suz SV650S)
Freedom Cycle LW Superbike
1. Steven Heider (KTM DUKE)
2. Bill Coolahan (KTM Duke 790)
3. Nicholas Leighton (KTM 790 Duke)
4. Adam Guyer (Duc M1100 EVO)
5. Brian Faucher (Suz SV650)
6. Aaron Wolfe (Suz SV650)
Novice Formula 3
1. Mohammad Nourmohammadi (Kaw Ninja 650)
2. Brandon Gray (Suz SV650)
3. John Frayne (Suz 650)
4. Daniel Williams (Suz SV650S)
5. Tyson Bernard (Suz SV)
6. Vicki Darcy (Yam YZF-R3)
Novice Formula 1
1. Nicholas Mercier (Duc 848 Evo)
2. Nicholas Cioffi (Kaw Ninja)
3. Aaron Booth (Yam YZF-R6)
4. Ronald Baughman (Yam YZF-R6)
5. Scott Munger (Yam YZF-R6)
6. Troy Johnson (Yam YZF-R6)
Seacoast Sport Cycle LW Grand Prix
1. Rick Doucette (Yam YZF-R6/R5)
2. Steven Heider (KTM DUKE)
3. Wesley Lakis (Kra HKR EVO2)
4. John Grush (Yam YZF-R6/R5)
5. Edward Forer (Suz SV650)
6. Robert Pease Jr (Kaw Ninja 650R)
Amateur LW Grand Prix
1. Christian Connor (Suz SV650)
2. Kevin Fogg (Suz SV650)
3. Cameron Armstrong (Suz SV650)
4. Pierce Ballantyne (Suz SV650)
5. Michael Giossi (Suz SV650)
6. Paul Sadatis III (Suz SV650)
Super Street Lightweight
1. Andre Soares (Hus FS 450)
2. Ryan Smith (Yam YZF-R3)
3. Jackbarry Kimball (Suz SV650S
4. AIDAN BRENNAN (KAW Z650)
5. Tom Ward (Suz SV650S)
6. NOAH TARDIF (KAW NINJA 650)
Super Street Unlimited
1. DAVID LACROIX (SUZ GSX-R600)
2. MARK PERRON (KAW ZX-6R)
3. DOMINIC ARIETTA (SUZ GSX-R600)
4. Trevor McCray (SUZ GSXR-600)
5. Michael Ouellette (Suz GSX-R)
6. William Brennan (Kaw ZX-6R)
Street & Competition Unlimited Grand Prix
1. Scott Mullin (Kaw ZX-10R)
2. Eric Wood (Kaw ZX-10R)
3. David Dayon (Kaw ZX-10R)
4. Eric Shaw (Kaw ZX-10R)
5. Roger Ealy Jr (Kaw ZX-10R)
6. Jeff Gray (Yam YZF-R6)
Adrenaline Performance Amateur Unlimited Grand Prix
1. Joe Ammendolia (Yam YZF-R6)
2. Lloyd Palmer (Yam YZF-R6)
3. Joe Ruth (Apr 1000)
4. Tony Wells (Kaw ZX-6R)
5. Christian Trudeau (Yam YZF-R6)
6. Eric Fogg (Yam YZF-R1)
Amateur Formula 50 Lights
1. Alessandro Pizzochero (Suz SV650)
2. John Dorans Jr (Hus Vitpilen)
3. Bruce Marshall (Suz SV650)
4. Stephen Biehl (Suz SV650)
Amateur 500 Supersport
1. John Lear (Kaw Ninja 500)
2. Adam Muscaro (Kaw Ninja)
3. Robert Taylor (Kaw Ninja)
4. Ryan Imbeault (Kaw Ninja)
5. Michele Pierro (Kaw Ninja)
6. John Sommer (Kaw Ninja)
Sportbike Track Gear 500 Supersport
1. Elijah Block (Kaw Ninja 400)
2. Brianna McHugh (Kaw Ninja 400)
3. Shane Lewis (Kaw Ninja 400)
4. Jacob Crossman (Kaw Ninja 400)
5. Renee Franco (Kaw Ninja)
6. Lukas Doucette (Kaw 400)
Brian Fernald Construction Formula 50 Lights
1. Brett Guyer (Duc 748)
2. Rick Doucette (Yam YZF-R6/R5)
3. Bill Morey (Hus FS 450)
4. John Grush (Yam YZF-R6/R5)
5. John Donald (Suz SV650)
6. Eric Block (KTM 450 SXF)
Novice Formula 4
1. Briton Callahan (Kaw Ninja)
2. Scott Arzamarski (Kaw Ninja 400)
3. Bryan Thorne (Hon GT 650)
4. Vicki Darcy (Yam YZF-R3)
5. Ian MacMillan (Kaw Ninja)
6. Brandon Colby (Kaw 300)
Novice Formula 2
1. Jeremy O'Connor (Kaw ZX-636R)
2. Aaron Booth (Yam YZF-R6)
3. Matthew Lewis (Yam YZF-R6)
4. Nicholas Mercier (Duc 848 Evo)
5. Dennis Metzler (Duc 848 Evo)
6. Nicholas Cioffi (Kaw Ninja)
Apex Design Ultralight Superbike
1. Wesley Lakis (Kra HKR EVO2)
2. Gunnar Ouellette (Hus FS 450)
3. Elijah Block (KTM 450)
4. Brian Faucher (Suz SV650)
5. Jacob Crossman (Kaw Ninja 400)
6. Benjamin MacKinney (Suz SV650)
Amateur Ultralight Superbike
1. Christian Connor (Suz SV650)
2. Asher Rubright (Hon CRFR)
3. Cameron Armstrong (Suz SV650)
4. Pierce Ballantyne (Suz SV650)
5. Todd Fanciullo (Suz SV650S)
6. Rick Ma (Hon NT650)
Plaistow Powersports Amateur MW Grand Prix
1. Kevin Custer (Suz GSX-R600)
2. Joe Ammendolia (Yam YZF-R6)
3. Paul Hosue (Yam YZF-R6)
4. Michael Chase (Yam YZF-R6)
5. Michael Guarino (Kaw ZX-6R)
6. Sam Martin (Hon CBR600RR)
Michelin Motorace MW Grand Prix
1. Scott Greenwood (Yam YZF-R6)
2. Samuel Greenwood (Yam YZF-R6)
3. Paul Duval (Yam YZF-R6L)
4. Justin Landry (Yam YZF-R6)
5. Harlan Hildebrand (Kaw ZX-6R)
6. Rick Doucette (Yam YZF-R6)
Innovative Motorsports Formula 40 Lights
1. Brett Guyer (Duc SS 900)
2. Tim Hogan (Duc 749R)
3. Rick Doucette (Yam YZF-R6/R5)
4. Steven Heider (KTM DUKE)
5. John Grush (Yam YZF-R6/R5)
6. James Brown (Duc 748)
MW Formula 40
1. Paul Duval (Yam YZF-R6L)
2. Clayson Baker (Kaw ZX-6R)
3. Vicente Frontinan (Yam YZF-R6)
4. Gerry Spencer (Yam YZF-R6)
5. Thomas Hynes IV (Yam YZF-R6)
Amateur Formula 40 Lights
1. Kevin Fogg (Suz SV650)
2. Bruce Marshall (Suz SV650)
3. Rick Ma (Hon NT650)
4. Todd Fanciullo (Suz SV650S)
5. Stephen Biehl (Suz SV650)
Amateur MW Formula 40
1. Paul Hosue (Yam YZF-R6)
2. Joe Ammendolia (Yam YZF-R6)
3. Lloyd Palmer (Yam YZF-R6)
4. David Mink (Kaw ZX-6R)
5. Tony Wells (Kaw ZX-6)
6. Christian Trudeau (Yam YZF-R6)
Novice Racer 2
1. Matthew Lewis (Yam YZF-R6)
2. Jeremy O'Connor (Kaw ZX636R)
3. Aaron Booth (Yam YZF-R6)
4. Dave Komm (Tri Daytona 675)
5. John Frayne (Yam YZF-R6)
6. Kate West (Suz GSX-R600)
Novice Racer 4
1. Michael Girard (Kaw KX 450F)
2. Scott Arzamarski (Kaw Ninja 400)
3. Bryan Thorne (Hon GT 650)
4. Brandon Colby (Kaw 300)
5. Vicki Darcy (Yam YZF-R3)
6. Briton Callahan (Kaw Ninja)
Novice Racer 1
1. Chris West (Suz GSX-R750)
2. Dennis Metzler (Duc 848 Evo)
Novice Racer 3
1. Mohammad Nourmohammadi (Kaw Ninja 650)
2. Jason Shell (Kaw Ninja)
3. Jamie Mantini (Duc 748)
4. Brandon Gray (Suz SV650)
5. Ian MacMillan (Kaw Ninja)
Motoholders Amateur MW Supersport
1. Michael Chase (Yam YZF-R6)
2. Joe Ammendolia (Yam YZF-R6)
3. David Mink (Kaw ZX6R)
4. Lloyd Palmer (Yam YZF-R6)
5. Sam Martin (Hon CBR600RR)
6. Eric Cormier (Kaw ZX-6R)
Ktech Suspension MW Supersport
1. Ian Beam (Tri 675)
2. Marcelo Lautert (Yam YZF-R6)
3. Anthony DiCecca (Yam YZF-R6)
4. Brian Fernald (Yam YZF-R6)
5. Vicente Frontinan (Yam YZF-R6)
6. Gerry Spencer (Yam YZF-R6)
MTAG Pirelli Amateur 300 Superbike
1. Thomas Sands (KTM 390)
2. Brendan Moriarty (Kaw EX300)
3. Roy Whitson (Yam YZF-R3)
4. John Sommer (Kaw Ninja)
Bell Helmets Motard
1. Elijah Block (KTM 450)
2. Gunnar Ouellette (Hus FS 450)
3. Adam Clark (Hon CRF450R)
4. Sergio Di Molfetta (Hus FS 450)
5. Anthony Franco (Hus FS 450)
6. Adam Kells (Hus FS 450)
Amateur Motard
1. Nathan Muscaro (Hus FS 450)
2. Asher Rubright (Hon CRFR)
3. Thomas (TJ) Bibeau (0 0)
4. Christopher Girard (Hus FS450)
300 Superbike
1. Rick Doucette (Yam YZF-R3)
2. Lukas Doucette (Yam YZF-R3)
3. Marcello Digiovanni (Yam YZF-R3)
Combined Ultralight GP
1. Wesley Lakis (Kra HKR EVO2)
2. Joshua Kruse (Suz SV650)
3. Timothy O'Connor (Kra )
4. Christopher Woodman (Kra HKR EVO2 R)
5. Thomas (TJ) Bibeau (Kra HKR EVO2 R)
6. Christopher Girard (Kra HKR EVO2 R)
Super Street Lightweight
1. Ryan Smith (Yam YZF-R3)
2. Jackbarry Kimball (Suz SV650S)
3. Alex Ferguson (Kaw Ninja 400)
Super Street Unlimited
1. DAVID LACROIX (Suz GSX-R600)
2. MARK PERRON (Kaw ZX-6R)
3. Trevor McCray (Suz GSX-R600)
Orient Express Unlimited Supersport
1. Eric Wood (Kaw ZX-10R)
2. Scott Mullin (Kaw ZX-10R)
3. David Dayon (Kaw ZX-10R)
4. Roger Ealy Jr (Kaw ZX-10R)
5. Gilbert Sprague (Yam YZF-R1M)
6. Peter Kates (Kaw ZX-10R)
Computrack Boston MW Superbike
1. Harlan Hildebrand (Kaw ZX-6R)
2. Rick Doucette (Yam YZF-R6)
3. Ian Beam (Tri 675)
4. Clayson Baker (Kaw ZX-6R)
5. Gerry Spencer (Yam YZF-R6)
6. Thomas Hynes IV (Yam YZF-R6)
Amateur Unlimited Supersport
1. Chris Arrighi (Apr RSV4)
2. Joe Ruth (Apr 1000)
3. Kamran Pelkey (BMW S1000RR)
4. Tony Wells (Kaw ZX-6)
5. Christian Trudeau (Yam YZF-R6)
6. Tsuyoshi Honjo (Suz GSX-R750)
Rising Sun Cycles Moto 3
1. Gunnar Ouellette (Hus FS450)
2. Brianna McHugh (Kaw Ninja 400)
3. Adam Clark (Hon CRF450)
4. Sergio Di Molfetta (Hus FS 450)
5. Jacob Crossman (Kaw Ninja 400)
6. Christopher Woodman (Hon CRF450R)
Combined Formula 60 Lights
1. John Donald (KTM 790 Duke)
2. John Grush (Yam YZF-R6/R5)
3. Douglas Fogg (Bue XB12)
4. Timothy O'Connor (Kra )
5. Bart Chamberlain (Suz SV650)
6. Stephen Biehl (Suz SV650)
Seacoast Sport Cycle Combined SuperTwins
1. Tim Hogan (Duc 749R)
2. Brett Guyer (Duc 748)
3. Bill Coolahan (KTM Duke 790)
4. Jim Rich (Duc 1199 Panagale R)
5. Nicholas Leighton (KTM 790 Duke)
6. Adam Guyer (Duc M1100 EVO)
Amateur Moto 3
1. Asher Rubright (Hon CRFR)
2. Adam Muscaro (Kaw Ninja 400)
3. Robert Taylor (Kaw Ninja 400)
4. Michele Pierro (Kaw Ninja 400)
5. Thomas Sands (Kaw Ninja 400)
Souhegan Valley Motorsports HW Superbike
1. Anthony DiCecca (Yam YZF-R6)
2. Rick Doucette (Yam YZF-R6)
3. Ian Beam (Tri 675)
4. Thomas Hynes IV (Yam YZF-R6)
Bay Radiology Amateur HW Superbike
1. Michael Chase (Yam YZF-R6)
2. Michael Guarino (Kaw ZX-6R)
3. Sam Martin (Hon CBR 600RR)
4. Eric Cormier (Kaw ZX-6R)
5. Andrew Spaulding (Yam YZF-R6)
6. Tony Wells (Kaw ZX-6R)
Novice Starter 4
1. Michael Girard (Kaw KX 450F)
2. Scott Arzamarski (Kaw Ninja 400)
3. Vicki Darcy (Yam R3)
4. Bryan Thorne (Hon GT 650)
Evans Coolant Amateur LW Sportsman
1. Asher Rubright (Hon CRFR)
2. Thomas (TJ) Bibeau (0 0)
3. Christopher Girard (Kaw KX450F)
4. Thomas Sands (Kaw Ninja)
Novice Starter 3
1. Mohammad Nourmohammadi (Kaw Ninja 650)
2. Brandon Gray (Suz SV650)
3. John Frayne (Suz 650)
Maxima Amateur LW Supersport
1. Joshua Kruse (Suz SV)
2. Todd Fanciullo (Suz SV650S)
3. Matthew Paternoster (Suz SV650)
4. Stephen Biehl (Suz SV650)
Evans Coolant LW Sportsman
1. Sergio Di Molfetta (Hus FS 450)
2. Christopher Woodman (Kra HKR EVO2 R)
500 Superbike
1. Brianna McHugh (Kaw Ninja 400)
2. Shane Lewis (Kaw Ninja 400)
3. Jacob Crossman (Kaw Ninja 400)
4. Rick Doucette (Yam YZF-R3)
5. Michael Zoner (Kaw Ninja 400)
6. Lukas Doucette (Kaw 400)
Yoyodyne Slipper Clutches LW Supersport
1. Steven Heider (Suz SV650)
2. Bill Coolahan (KTM Duke 790)
3. Nicholas Leighton (KTM 790 Duke)
4. John Donald (KTM 790 Duke)
5. Brian Faucher (Suz SV650)
6. Todd Souliere (Suz SV650)
Orient Express Amateur 500 Superbike
1. Adam Muscaro (Kaw Ninja 400)
2. Ryan Imbeault (Kaw Ninja 400)
3. Thomas Sands (Kaw Ninja 400)
4. Michele Pierro (Kaw Ninja 400)
5. Robert Taylor (Kaw Ninja 400)