Three top MotoAmerica King Of The Baggers riders tested Tuesday at Daytona International Speedway (DIS) to see if it is feasible to race 150-plus-horsepower, 630-pound bagger-based racebikes around the high-speed 3.51-mile infield road course, and the test appears to have been a success.
That success opens the possibility that MotoAmerica could run a King Of The Baggers race or races at the World Center of Racing as soon as March,2022, when the organization may also run the 80th Daytona 200.
Screamin' Eagle Harley-Davidson's Kyle Wyman (the 2021 MotoAmerica King Of The Baggers Champion); his younger brother and teammate Travis Wyman; and Mission Foods S&S Cycle Indian's Tyler O'Hara got about three hours of dry track time in between rain showers Tuesday, and based on feedback from the riders, the test went as well as could be imagined.
"It was great," said O'Hara. "They [DIS personnel] did everything they could to take care of us. They tried to make the track the best it could be. They had the cars driving around and the jet blowers going. They had the Airfence out and everything. It was a good day, very special. It was fun, and it was safe. The weather was hit and miss, but we got some decent laps."
"These things are fast!" Wyman told Roadracingworld.com. "It's not like the [Harley-Davidson] XR1200s. It's a lot more like riding a 600 with the g-forces on the banking. Aerodynamics are a big deal. We need to work on ergonomics to be a little more comfortable tucked in, things like that, but it's not bad. It's pretty damn fun.
"I think I did a 1:58.3. I think my brother did a 1:57. We're just kind of getting rolling, you know? The first hour there were still some damp patches, and the track was super green. It would get real dusty. If you got behind somebody they were kicking up dirt everywhere. I think we'll see 1:55s here, if there's a race."
Asked if he and his brother/teammate worked together to see how their baggers would handle a drafting situation, Kyle Wyman said, "Yeah, a little bit. It was normal. If a 600 got into a bagger's draft it would feel different, but a bagger in a bagger's draft, they're both punching the same size hole. There's nothing unstable about it. It's just the normal stuff. That was one of the questions, too, because I think we're in the 160 mph range on our own. Gearing has been the biggest thing, what gears to shoot for and where to try and maximize what the bike does. But it does feel like we're reaching terminal velocity with the fairing."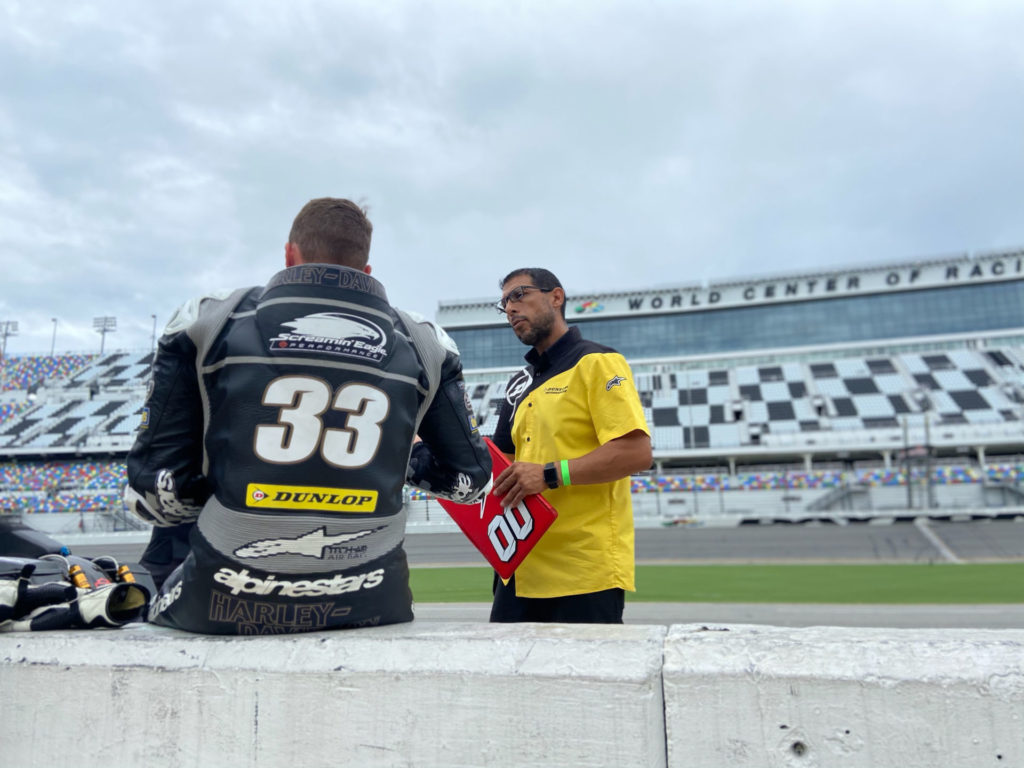 The biggest question, and the purpose of the test, was how the tires would stand up to the heat the weight and speed of the bagger racebikes created on the steeply banked sections. Kyle Wyman said, "There were no [tire] issues at all. They're hanging in there just fine. Everything we tried is Daytona-specific, nothing standard, all fronts and rears that Dunlop typically runs at Daytona."
"We got to run through a couple of different tires and compounds," said O'Hara. "I did the most laps out of anybody, which was my goal. Other than it starting to rain during your session, which happened a couple of times, it was good."
So, is it viable to race bagger-based racebikes at Daytona International Speedway?
"My answer is yes, for sure," said Kyle Wyman.
"I think it's safe enough," said O'Hara.