Twisted Speed Wins Overall at the N2/WERA National Endurance Series by Dunlop at Nelson Ledges.
Garrettsville, OH June 2021 – Twisted Speed Racing with riders Brad Burns and Hayden Gillim took overall victory and won the Heavyweight class on a Suzuki GSX-R1000 at Round 3 of the N2/WERA National Endurance Series by Dunlop, taking home $2500 for their efforts. The 4-Hour Endurance Race was held under picture perfect conditions with 46 teams competing for a huge purse and bonuses at the beautiful Northeastern Ohio racetrack.
The Heavyweight Class at Nelson Ledges was the scene of an epic battle for overall victory and the points lead between Army of Darkness, Twisted Speed, and N2/BobbleHeadMoto. Twisted Speed's Hayden Gillim set a blistering pace, turning the fastest lap on lap 160, within a second of the lap record.  Army of Darkness, with riders Ben Walters, Chris Peris, and Stefano Mesa did everything they could to keep pace, but they are still trying to find the perfect set up for their Pirelli shod YZF-R1. N2/BobbleHeadMoto finished third despite competitive pace from riders CJ Crosslin, Ed Sullivan, Corey Heflin and Emmerson Amaya. Unfortunately, their YZF-R1 was suffering from fuel starvation issues late in each stint.
"We were really nervous going into this round," said Twisted Speed Team Captain/rider Brad Burns. "I crashed my dirt bike on Tuesday and I'm really beat up. We then crashed the endurance bike on Saturday morning. The team did an amazing job getting it back together for the race. Hayden is an animal and was just flying on each of his stint and our luck turned around. We are very happy with the win and especially the points lead."
Topbox Road Racing won the Middleweight Class with riders Doug Royce, Mark Faulkner, Caleb Odom, and Brandon Slayer using a large capacity tank for the minimum number of pit stops. Team 38 Special with Yamaha Champions Riding School instructors Steven Roth and Eziah Davis finished second on an ex-ChampSchool YZF-R6. Mi Scusi SDK finished third with the fastest middleweight lap time on their R6.
Chiefs Racing Team won the heavily attended lightweight class with riders Greg Reisinger, Brian Mullins, Jared Trees, Kevin Boda, and Brian Mullins on a Suzuki SV650. Family team, Brown Town Racing came in second on a Suzuki SV650 with dad David Brown, and sons Chase Brown, Reese Brown all riding. Team Going the Distance was third with riders Blake Davis, Damian Jigalov, and Cassidy Hieser. The lightweight class is super competitive with all teams competing for brand new 2022 Yamaha YZF-R7 for the lightweight championship bonus.
The new for 2021 Road Race Relay Class was won Clear Bra Indy with riders Kyle Owen and Jason Lee. Second Chance Air was second with riders John Piwko and Perry Hoover. The Road Race Relay class allows riders to use their own sprint bikes and change transponders during a stop. The winner receives $750 cash with payouts going back to 5th place.
The 2-Hour Ultralightweight Endurance Race was won by MotoAmerica Junior Cup star, Blake Davis on the Kidnapper and the Kid Racing Yamaha YZF-R3. Blake Davis ran the entire 2-hour race solo to beat RTR Racing by a full lap as Chasing Shade Racing ULW finished third. Blake was up by 4 laps at one point but threw a chain. Fortunately, he was able to coast in and the team was able to replace the chain and send him back out. Blake and company won $1500 for their work.
Join us for the penultimate round of the N2/WERA National Endurance Series by Dunlop at Pittsburgh International Race Complex on August 21. For more information on the N2/WERA National Endurance Series by Dunlop and sponsor bonus programs please go to https://www.n2td.org/endurance/
2021 Endurance Racing Schedule:
August 21 – Pittsburgh International Race Complex
September 11 – Summit Point Raceway
The N2/WERA National Endurance Series by Dunlop is proudly sponsored by: N2 Track Days, Dunlop Motorcycle Tires, Yamaha Motor USA, WERA Road Racing, Arai Helmets America, Innovative Motorsports, R.E.B Graphics, Woodcraft, Rise Moto, Ghetto Customs  JE Pistons, Wiseco Pistons, Yamaha Power  Products and Boxo USA.
More, from a press release issued by Topbox Road Racing:
Topbox Road Racing takes another victory in Ohio at the N2/WERA National Endurance Series presented by Dunlop.
Garrettsville, OH – Topbox Road Racing took their second middleweight victory of the season at Nelson Ledges finishing 4th overall out of all classes.
After a miserable showing at Nelson Ledges in 2020, crashing out on lap 4 due to a surprise mechanical, Topbox showed up with a score to settle at the Ohio track.
Unlike last year Friday practice provided beautiful conditions which allowed the team ample time to learn the track. Riders Brandon Salyer, Mark Faulkner, Caleb Odom, and crew chief Doug Royce went to work focusing on race pace using well worn tires. That setup would pay off come Saturday morning qualifying when Odom put it on class pole position (4th overall) setting a 1:08.996 on a flipped Dunlop takeoff with 87 laps on it.
Faulkner would be the lead off rider to start the 4hr long endurance race, settling in early behind the class leaders but focusing on a pace to stay ahead of championship rivals. A red flag on lap 33 then bunched the field up again and upon the first round of pit stops he took the class lead on lap 59.
They fell to 2nd upon their first stop for fuel and a rear Dunlop tire change but the team performed flawlessly and that allowed Odom to retake the lead only 2 laps later. Odom would go on to lap the other teams in class before handing the bike off to Salyer who would go on to maintain that 1.5 lap lead until taking the checkered flag.
With the victory Topbox Road Racing moves into the middleweight championship lead with a 54 point advantage over rivals Chasing Shade and Indy United SBK.
Team Owner Doug Royce: "I'm proud of the way these guys performed today. We all worked really hard during the offseason and we learned a few things last year with all the bad luck we had. I think that's showing through so far this season. Other than the bike not wanting to restart after our 2nd pitstop, it was a perfect race for us."
Topbox Road Racing is sponsored by: Dunlop Tires, Vortex Racing, Compass Leathers, Optimal Racing, Fast Frank Racing, Vesrah, and BD Racing.
More, from a press release issued by Twisted Speed Racing:
Twisted Speed Takes Second Straight N2/WERA National Endurance Series By Dunlop Win And Maintains Championship Lead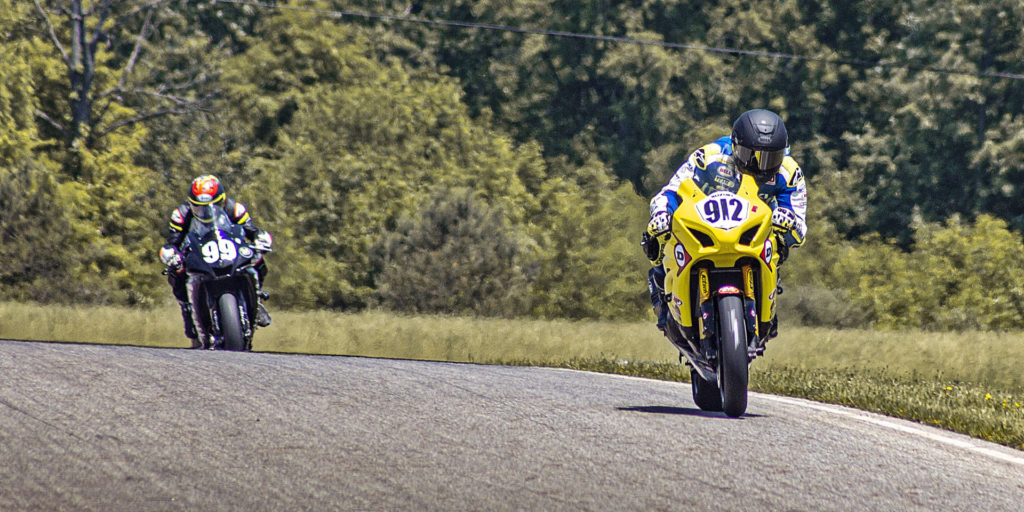 Nelson Ledges Road Course
June 5, 2021
Twisted Speed Racing overcame a qualifying crash and injury to win the four-hour endurance race at Nelson Ledges Road Course in the N2/WERA National Endurance Series By Dunlop series. The second straight victory by the squad on its Dunlop-shod Suzuki GSX-R1000 maintained its lead in the Heavyweight class on the strength of two wins and a second so far in the five-race 2021 series.
Twisted Speed relied on only two riders at Nelson Ledges – Brad Burns and Hayden Gillim – and the team had its fair share of drama well before the green flag dropped. Burns had come off of [crashed] his motocrosser in the week prior to the event and suffered contusions, then crashed again during qualifying after another machine had blown an engine and oiled down the track.
Twisted Speed had three hours to repair its GSX-R1000, replacing fairings, fairing stays and the front brake system – the crash had literally ripped the brake line from the bike. But the team was able to swap parts over from its second motorcycle, and was ready to race when the green flag dropped.
Gillim took the start for the team and immediately went into the lead. The strategy was to do one-hour stints on the bike, running a single Dunlop KR448 medium 7455 compound front for the entire distance and changing Dunlop KR451 medium 0455 rears at each fuel stop.
But a red flag forced the team to adapt its strategy, and that meant Gillim wound up doing the majority of the riding. The extended time in the saddle did little to dampen Gillim's enthusiasm as Twisted Speed and Army Of Darkness swapped the lead as each team pitted.
Deep into the race, Twisted Speed's Gillim was flying, with his fastest lap – a 1:04.469, an average of 111.682 miles an hour around the fast, seven-turn, two-mile circuit – coming on lap 160 and also coming close to the circuit lap record.
And once Twisted Speed took the point after Army Of Darkness pitted for its final stop, the team held on to complete 198 laps, two more than Army Of Darkness, with N2 Racing/Bobblehead Moto finishing third with 191 laps, seven laps down to the leaders.
"It was awesome," Burns said. "That lap by Hayden – that was crazy. He did three more laps right afterward that he said would have been good enough for the lap record, but he kept catching riders at the wrong spot on the track. We were just telling him, slow down, slow down!" Burns said.
With three of the five rounds complete, Twisted Speed now holds a 4.84-point lead, 301.32-296.48, over Army Of Darkness. N2 Racing/Bobblehead Moto is third in class with 248.46 points.
Twisted Speed Racing is sponsored by Dunlop, Vesrah, Karns Performance, K-Tech Suspension, Orient Express, GB Racing, Motul, Yeti, Evol Technology, Vortex, M4 Performance Exhaust Systems, N2 Trackdays, Drippin' Wet, Barnes Brothers, Burns Roofing, Fetcko Auto Body, Thermosman Suspension, Stickboy Tire Service and Motorsport Reserve.