Pirelli-Shod Army Of Darkness Takes WERA/N2 Endurance Victory At Carolina Motorsports Park.
The four hour endurance race was the first rain soaked flag to flag national endurance race for over a decade and AOD ended the race with a 6 lap margin of victory.  Using Pirelli rains on their extensively modified Yamaha YZF-R1, AOD took the race lead on lap three and held it through red flags, light rain, heavy rain and pit stops.
Army Of Darkness veteran riders Chris Peris and Ben Walters were joined by Pirelli sponsored Xavier Zayat to lay down a relentless pace in the treacherous wet conditions.  While all other Heavyweight teams eventually found themselves off the track and in the mud, AOD was able to stay on the pavement, and the top of the podium.
No one was more surprised that team captain Sam Fleming.  "We came here to test our winter upgrades two weeks ago and work with our new tire partner Pirelli.  It was probably our most embarrassing track outing in years and, to be fair, we've done a lot of stupid stuff at race tracks over the years!  Two weeks ago our bike had unrideable power delivery, self-created oil leaks, fading brakes and the gas tank was terrible for the riders.  We had a lot of garage time over the last ten days and worked hard on Friday to find a set up.  The long hours and sacrifices of personal time were really weighing on the team and to take our first win of the season as our first race on Pirellis helped to cheer everyone up!"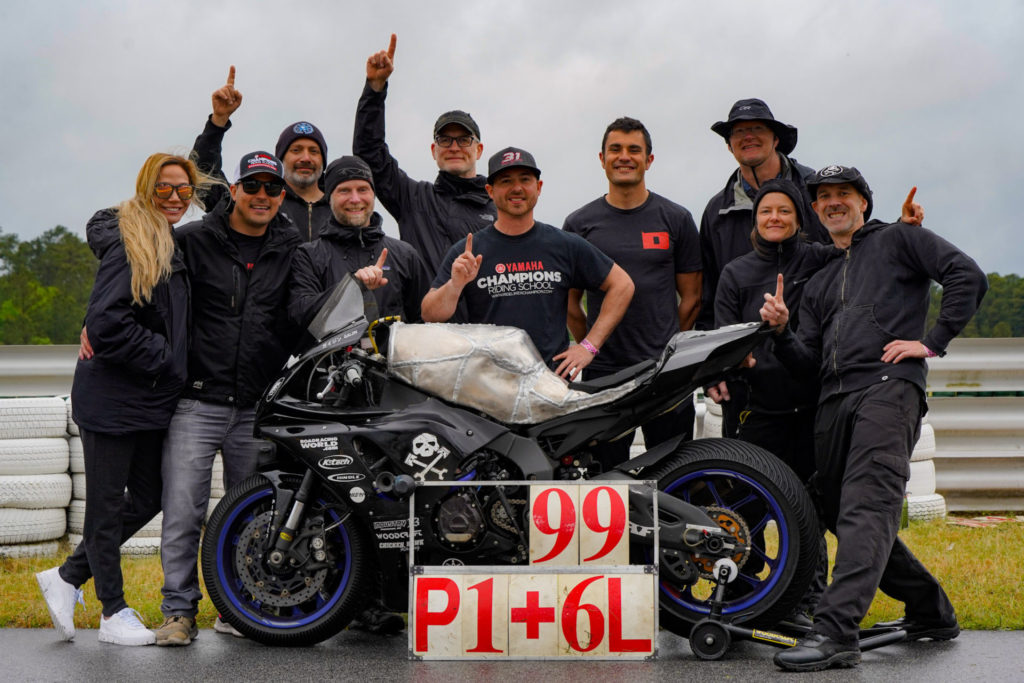 Chris Peris, with the fastest average lap time of any rider's stints,  opined: "Honestly, I love riding in the rain because it is less physical and more mental.  I had never ridden on the Pirelli rains until today and they had so much grip we were carrying wheelies everywhere.  The bike was also night and day better from two weeks ago.  I had to push a little early in the race to keep the lead but as the other teams ran into trouble I was able to take it back a notch and just enjoy the bike."
AOD is sponsored by: Army of Darkness, Yamaha Champions Riding School, Yamaha, Pirelli, Chicken Hawk, Woodcraft, Hindle, K-Tech, Fast Frank Racing, Supersprox, N2, Industry13, WERA, Roadracing World.