Roland Sands' Super Hooligan National Championship To Kick Off At MotoAmerica's WeatherTech Raceway Laguna Seca Weekend
And Now For Something Completely Different… The Debut Of The Four-Round 2021 Super Hooligan National Championship Will Run In Conjunction With The MotoAmerica Superbike Speedfest At Monterey
IRVINE, CA (June 8, 2021) – MotoAmerica, North America's premier motorcycle road racing series, is thrilled to announce that the opening round of the Roland Sands Design 2021 Super Hooligan National Championship (SHNC) will be run in conjunction with round five of the 2021 MotoAmerica Championship in the GEICO Motorcycle MotoAmerica Superbike Speedfest at Monterey at WeatherTech Raceway Laguna Seca, July 9-11.
The Super Hooligan National Championship has a new four-round format with each round featuring one of four unique and challenging disciplines of motorcycle racing – road racing, short track, half mile and TT. The series' opening round, at WeatherTech Raceway Laguna Seca, will be the road race alongside MotoAmerica's top-class HONOS Superbike Series and its support classes, as well as Mission King Of The Baggers.
"The 2021 Super Hooligan Championship is all about diversity of terrain and like nothing seen before but still reminiscent of the AMA Grand National Championships the likes that made Gary Nixon, Kenny Roberts and Bubba Shobert legends," said Roland Sands. "Our racers are incentivized to use the same bike at all four races. Four races, full send with an AMA National Hooligan title and the bragging rights as the most talented heavy street bike racer."
Round two of the SHNC will take place at the Castle Rock TT in Castle Rock, Washington, August 14-15, with round three taking place at American Flat Track's round at Charlotte Motor Speedway in Charlotte, North Carolina, on October 8. The series will conclude in Southern California with the Moto Beach Classic, October 23.
"The Super Hooligan event will give us a glimpse back to the past when riders had to race on both pavement and dirt in order to be AMA Grand National Champion," said MotoAmerica President Wayne Rainey. "We will see racers using a variety of riding styles to get the most out of their motorcycles because the bikes they race at Laguna will be the same ones they will be racing in the dirt at the TT, the half mile and the short track. This is going to be a great addition to our MotoAmerica Superbike Speedfest at Monterey. It will be very entertaining to watch and something our fans will enjoy."
For entry information, visit https://www.motorsportreg.com/events/super-hooligan-at-laguna-seca-weathertech-raceway-motoamerica-201009.
For the 2021 Official Super Hooligan rulebook, visit http://www.superhooligan.com/the-basics.
More, from a press release issued by Andy DiBrino Racing:
Andy DiBrino And KTM USA Partner For 2021 RSD Super Hooligan National Championship
Two-Time Super Hooligan National Champion Andy DiBrino To Race A KTM 890 Duke R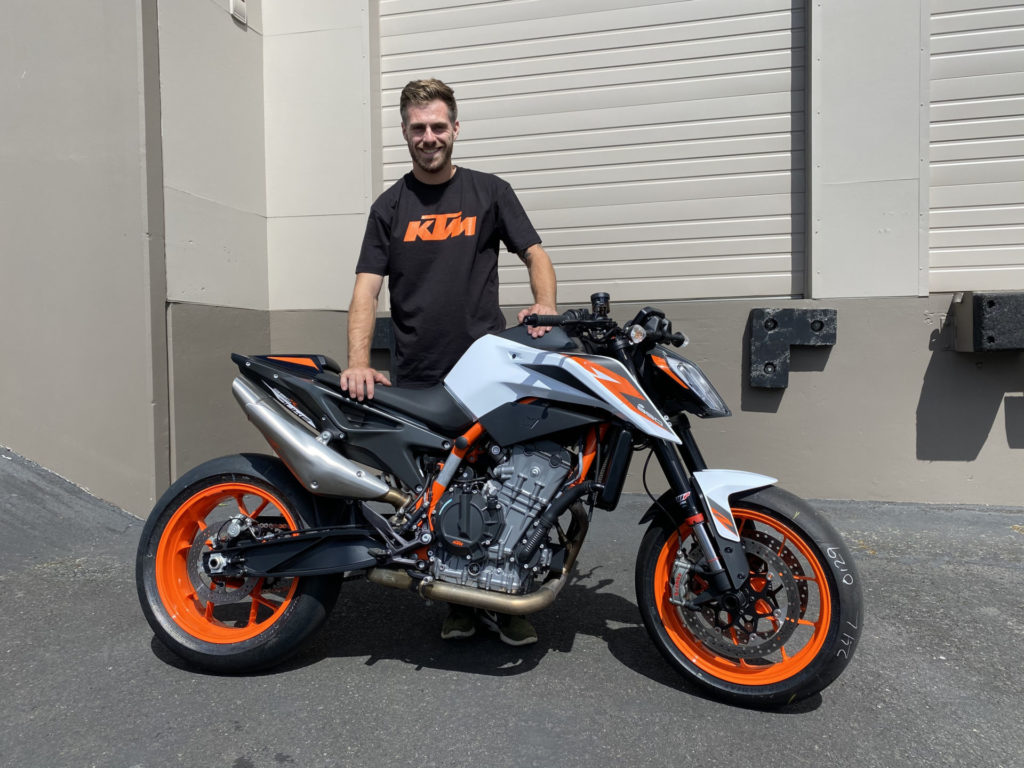 Tualatin, OR – Andy DiBrino and KTM USA are partnering up to take on the 2021 Roland Sands Design Super Hooligan National Championship. DiBrino, a two-time champion in the series, was the first to bring KTM to the series in 2019 when he pioneered a 790 Duke to three victories and runner-up in the championship. This year for the four-round "QuaTTro" series, KTM and DiBrino are taking things to the next level with the 2021 890 Duke R.
"I am so excited to have KTM on board this year. Ever since I built a KTM hooligan flat track bike, they have shown interest in what I have been doing and have had my back behind the scenes. It is a dream come true to have them officially supporting me this year with the 890 Duke R. Everything I have worked towards the last couple years has finally come together, and I can't thank KTM enough. Especially Tom Moen, John Hinz, Chris Fillmore and the late Scott Burtness who helped make so many introductions for me with the entire KTM group," said DiBrino.
The series kicks-off at Laguna Seca July 9-11 at WeatherTech Raceway Laguna Seca for the first-ever RSD Super Hooligan road race in conjunction with MotoAmerica and follows with three dirt track races that consist of a TT, short track and half-mile at other events across the nation. Racers must use the same bike for all 4 rounds or be penalized 10 points in the championship standings.
"I am really confident with the Duke platform and have already had a lot of success with it. It will be a ton of fun racing the 890 Duke R in essentially stock-form at Laguna prior to converting it to flat track for the remainder of the series," said DiBrino.
For more info about the Roland Sands Super Hooligan National Championship, visit superhooligans.com
To find out more about Andy DiBrino, visit dibrinoracing.com