Editorial Note: Scroll down to see all of the N2/WERA endurance race results from Carolina Motorsports Park.
Army of Darkness Wins Overall for Round 1 of the N2/WERA National Endurance Series by Dunlop at Carolina Motorsports Park
Kershaw, SC – April 2021 – The Army of Darkness with riders Chris Peris, Ben Walters, and Xavier Zayat left Carolina Motorsports Park with the Overall and Heavyweight race win, taking home $2500 for their efforts. The 4-Hour Endurance Race was held entirely under wet conditions, with some laps in a torrential down pour. This proved to be a massive challenge for all 42 teams at the first round of the N2/WERA National Endurance Series by Dunlop.
The Heavyweight Class was lightly attended but consisted of heaviest hitters in the paddock. Army of Darkness, Twisted Speed, and N2/BobbleHeadMoto all showed up with excellent equipment and extremely fast riders. The pace was going to be hot, but rain races always require more than just raw speed, it also requires patience and luck. The race started with Twisted Speed's Hayden Gillim in the lead, followed closely by AOD's Peris. The two riders battled back and forth for the first 16 minutes of the race before Gillim crashed in the fast kink on CMP's back straight. The N2/BobbleHeadMoto entry also suffered a crash in the first hour, leaving Army of Darkness with a five-lap lead. Although Twisted Speed's Gillim, Taylor Knapp, and Brad Burns remounted, they were never able to make up the difference and had to settle for second place. N2/BobbleHeadMoto's Ed Sullivan, Emerson Amaya, and Corey Heflin finished third.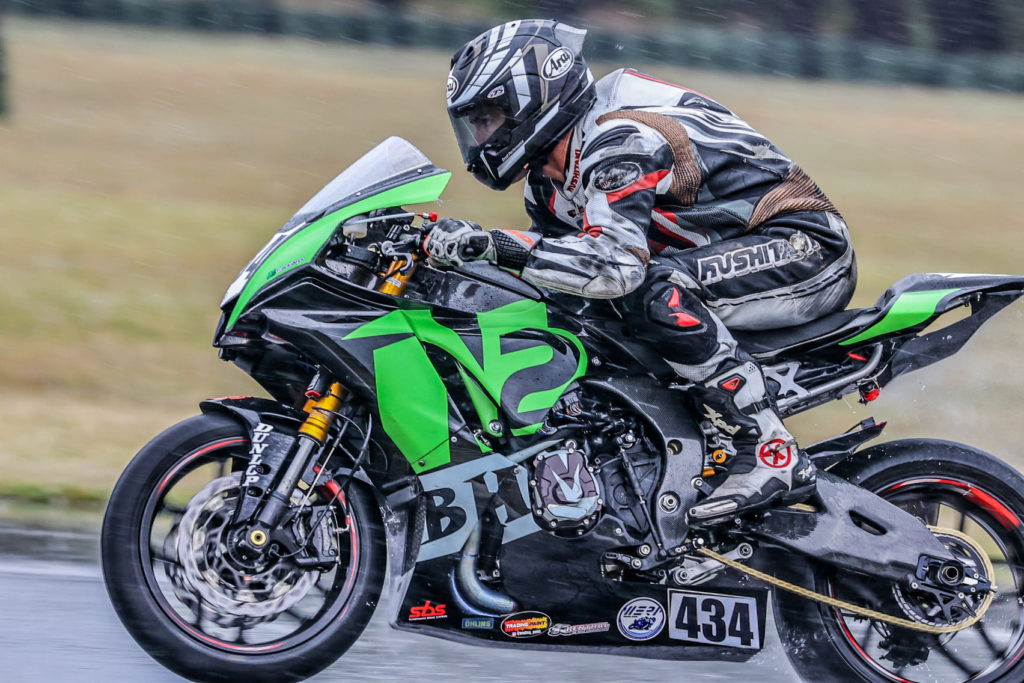 Indy United SBK won the Middleweight Class with riders Ben Napier, Chuck Ivey, Christian Guffy, and Brian Stone. This was the first endurance race by Indy United SBK after a long break by team owner Napier and a $2500 payout for the win was a great return to racing. Topbox Road Racing finished second and Chasing Shade MW came in third.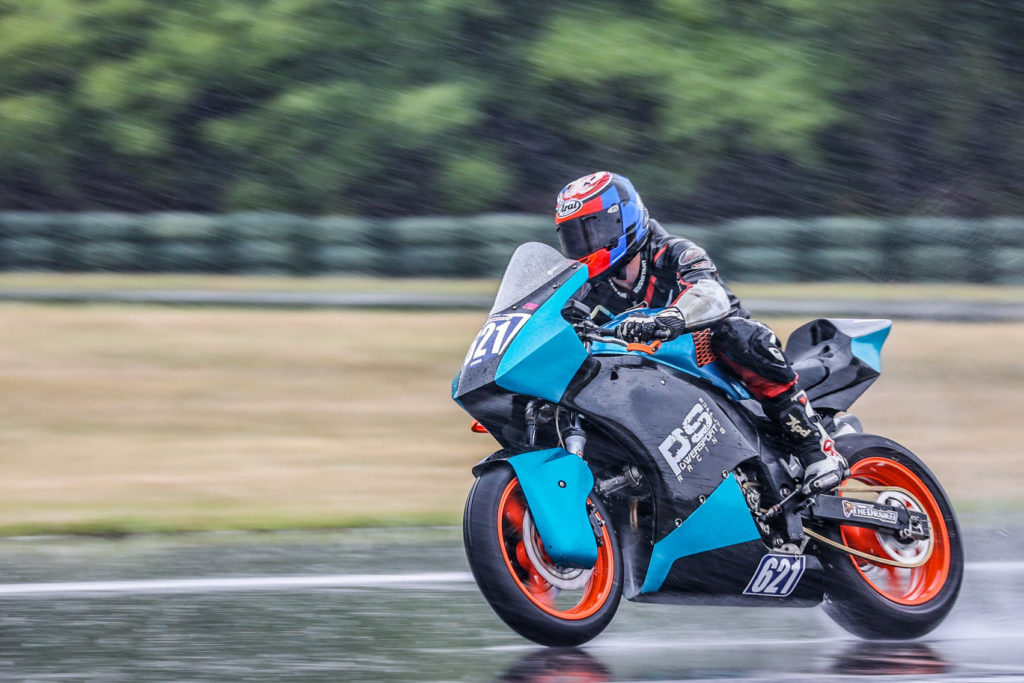 Some Expense Spared Racing came in second overall and won the Lightweight Class on a Suzuki SV650 with riders Trevor Standish, Chris Bays, and Tyler Freeman also winning $2500. Going the Distance finished second and Chief's Racing Team finished third. All three teams had access to additional bonuses from Ghetto Customs by running SV's in Lightweight.
The inaugural Road Race Relay Class was won by Tar Heels and Twins who won $750 and were followed by OTW Racing in second and Dearborn Derby in third. The CMP Road Race Relay was the first endurance race by all three podium finishers and they all had a blast.
The 2-Hour Ultralightweight Endurance Race was run in much better conditions than the 4-hour main event with only light rain at certain times. Kidnapper and the Kid Racing with 14-year-old phenom Blake Davis ran the entire 2-hour race solo to beat Team Yo! Ultra by a full lap as Sizzle Maniac Racing finished third. Blake was able to win $1500 for his effort. Not a bad pay day for a 14-year-old.
Join us for Round 2 of the N2/WERA National Endurance Series by Dunlop at Roebling Road Raceway in Savannah, GA on May 15th. For more information on the N2/WERA National Endurance Series by Dunlop and sponsor bonus programs please go to https://www.n2td.org/endurance/
2021 Endurance Racing Schedule
May 15 – Roebling Road Raceway
June 5 – Nelson Ledges Road Course
August 21 – Pittsburgh International Race Complex
September 11 – Summit Point Raceway
The N2/WERA National Endurance Series by Dunlop is proudly sponsored by: N2 Track Days, Dunlop Motorcycle Tires, Yamaha Motor USA, WERA Road Racing, Arai Helmets America, Innovative Motorsports, R.E.B Graphics, Woodcraft, Rise Moto, Ghetto Customs and Boxo USA.
For Information: N2 Track Days – www.N2td.org
More, from a press release issued by Some Expense Spared:
Some Expense Spared Wins WERA/N2 Lightweight 4 Hour Endurance at CMP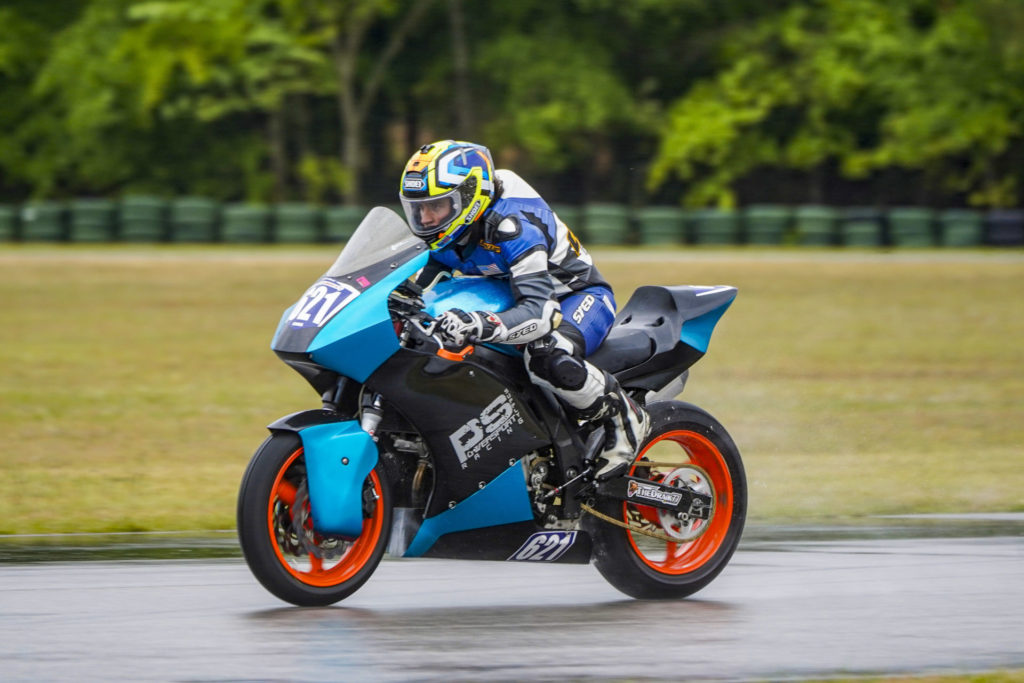 In a rain-soaked endurance season opener, the Some Expense Spared SV650 delivered a Lightweight class victory. Not only did the Powersport Supply-backed team come out on top in a talented field of lightweight teams, SES also secured a 2nd place on the overall podium, ahead of 13 heavyweight and mediumweight bikes.
Trevor Standish started the race and quickly built a gap to the chasing teams. As the rain accumulated, the red flags came out, and SES found themselves several laps up on the rest of the lightweight field. Tyler Freeman took over and put in the team's fastest overall lap time. A minor mechanical was repaired quickly, with only 60 seconds lost. Team principal Chris Bays hopped on the bike with an hour to go, but he only needed to do a few laps before the final red flag ended the race prematurely.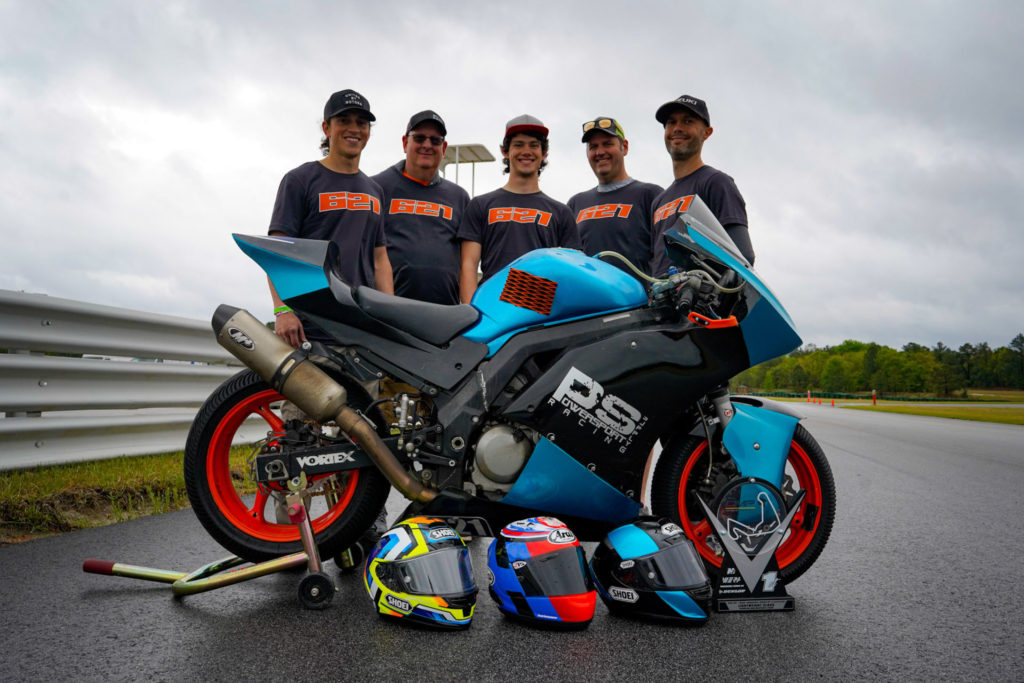 Bays was thrilled with his decision to make the younger riders do all of the laps in the rain.
"It was almost a perfect endurance race in very tricky conditions," said Bays. "Trevor and Tyler were flying, and the Some Expense Spared crew executed flawlessly in the pits. I'm relieved that the beautiful new bodywork from Chris Parrish at Ghetto Customs is still in one piece after 4 hours in nasty weather!"
All three riders head immediately to Road Atlanta for MotoAmerica Twins Cup, with Standish riding for Pure Attitude Racing and Bays & Freeman on RBoM Suzukis. Some Expense Spared will be back for round 2 of the WERA/N2 Endurance series at Roebling Road Raceway on March 15th.