By John Ulrich
In Part 1 (MV Agusta: How A Millennial Russian Financier Is Remaking A Italian Icon), Timur Sardarov talked how he went from being an investor and minority shareholder to becoming the new owner, Chairman and CEO; about the challenges the company faced; about the progress made so far; and about his plans to rebuild the company. In Part 2, he says more about how he's going to reconnect with existing MV  fans and also attract millennials.
Leaning back on a sofa outside the room where MV Agusta USA's dealer convention was held, millennial Russian financier Timur Sardarov continued to talk about the rationale behind his  plans, and how he's going to execute this plans. "Certain brands go through this identity crisis where the main core customers get older, but they are failing to attract the new ones, the so-called millennials. And why? Because they are stuck in the limbo of serving the needs of the older customers rather than understanding the new ones.
"And this has trickled down to everything: The way they position the product, the marketing, the dealer network. Because we (MV Agusta) are nimble and small, we can benefit out of that by making something different–and explaining ourselves. That's why for me, it's important that our (dealer) network represents us. Like if you walk into some dealers, and you see kind of everything is crumbled, it's a very utilitarian approach. You walk into the Porsche dealer, or Mercedes or Audi, and they have space. They don't have 10 cars of the same color in the same showroom, they don't. They give you chance to understand what you are walking into.  By having displays, by having the history, by having books; you sit down and you appreciate where you are.  You are in a world of that brand.  And many brands are failing to do so.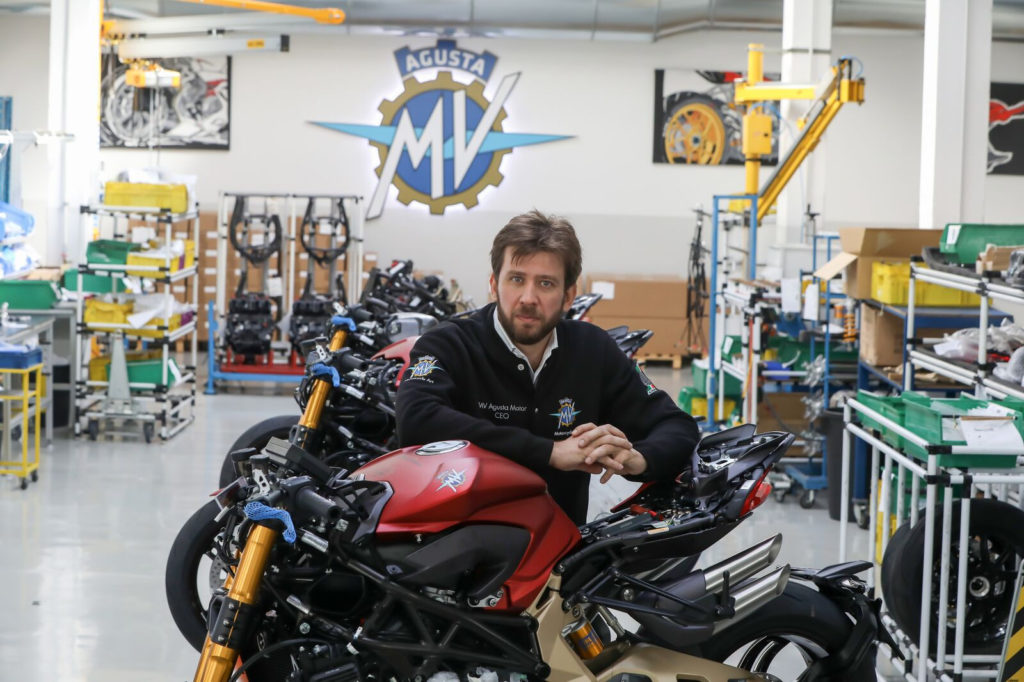 "Triumph is trying–and by the way, very well–by creating an experience. Harley is the benchmark, but Harley has different issues.  Ducati  is completely failing on delivering on that message because they are stuck in the limbo spot. And sportbikes now are not appealing to millennials anymore. Why? Because sport is perceived as dangerous, sport is perceived as breaking the rules, being a bit of a nutter. So we want to bring the customer close and say, 'Listen, we are a high performance bike that is on the same level and maybe even better than Ducati. Take that as the benchmark. But we are friendly to ride, we are easy to ride. '"
"Friendly is a very important thing," I said.
Sardarov continues: "Because people are afraid. When you say the Dragster 800 with (a racing) exhaust is (making) 150 horsepower, they say 'F–k, dangerous.'
"'Yeah, but we give you the SCS (Smart Clutch System 2.0). That you can put down the power safely, so you can push the boundaries, you can learn it's not a dangerous machine if…' And it will help you to learn that. The philosophy that (R&D Technical Director) Brian (Gillen) implements –here he is! (Gillen walks up and sits down as Sardarov continues) We're talking about the philosophy of the product and how we want to make it friendlier, give you more comfort as the rider to transform the power into the roads with way more…"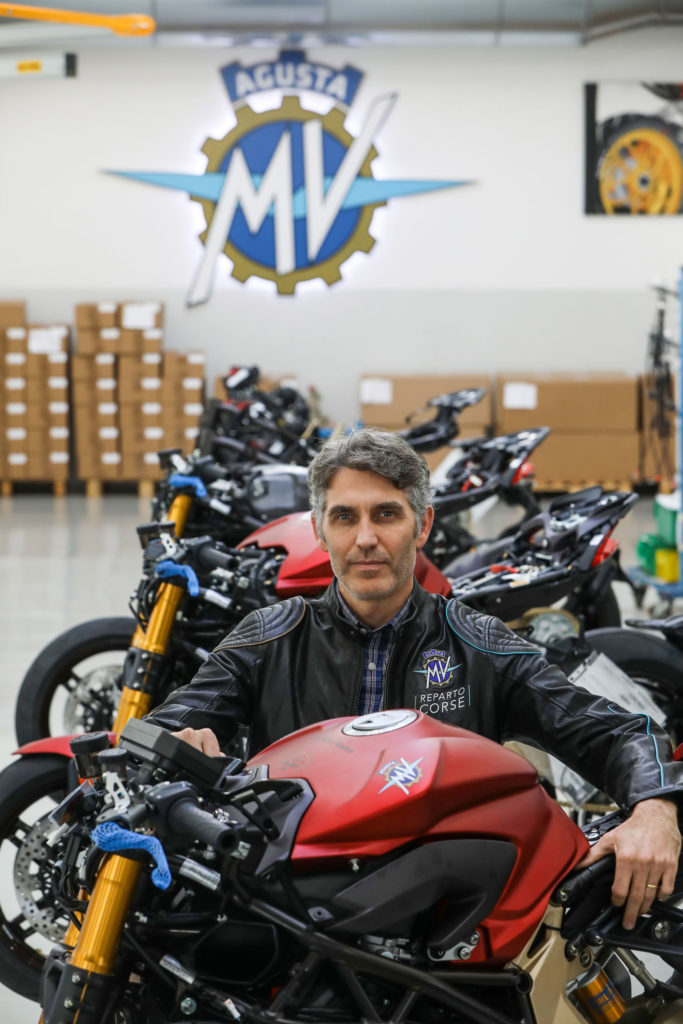 Gillen cuts in: "Opening up the performance to make the performance more accessible to everybody. So what we see happening as power keeps going up and up on bikes, as weight keeps going down and down, what happens is that the bikes are almost demanding a higher level rider, more demanding rider, to enjoy the bike, to put the bike in a condition where the bike was designed to be used. But what happens is that number one you're alienating most of the street riders, and number two, speaking quite honestly, we've seen the level of riders going down, at the same time the traffic has been going up and concentration on the road has also been going down, because people driving the cars are looking at their telephones and everything else.
"The transient condition on the bike is constant," Gillen continues. "You're constantly in a transient condition. We spent a lot of time getting rid of the on/off throttle (glitch), trying to smooth out the connection  for on/off throttle, while at the same time having a more direct connection to the rear wheel. Because when you move the throttle, you're not asking for engine rpm; you're asking for torque to move you. But what you don't want is when you're asking for the torque, the torque is arriving abruptly; if you have Parkinson's and you're shaking the throttle, you're affecting the vehicle dynamics. So we spent a lot of time trying to make the bike easy, to go faster. While at the same time reducing the filters between the throttle and the rear wheel. Does that make sense?"
"Yeah, it makes perfect sense," I said, "and your explanation of the SCS system (earlier) was outstanding, it was great."
Gillen had earlier explained the SCS 2.0 engine control system available on 800cc models to the dealers; the system includes what he says is a "full auto clutch and electronically assisted  gear shifting. You don't have to touch the clutch after leaving a stop; the only time you use the clutch lever is to start the bike; you don't have to use the clutch to stop and start. And due to the SCS clutch control, the bike has better acceleration over the first 100 yards than anything else, even better than a S1000 RR. It provides an amazing amount of performance, and the only way to appreciate it is through demo rides. And the clutch lasts the life of the bike, and you can retrofit it with a kit. It lasts infinitely." He added that MV engineers had worked on the hardware and electronics for five years alongside engineers at Rekluse Performance Clutch Technology, developing the clutch control strategy; the system is available on the Brutale RR, Dragster, and Turismo Veloce 800s.
Gillen had also told the dealers that currently there is an ongoing "transformation inside MV, not only in administration, but also in tools, investing in people, new engine dynos, new shaker tables. A quality focus on noise, vibration, everything that takes away from the experience of riding a motorcycle. We want to use electronics to enhance the riding experience."
He explained that included "Lift Control" (instead of "Wheelie Control"), which holds the front tire slightly off the ground while the bike keeps accelerating hard, versus some conventional systems allowing the bike to wheelie, then cutting power and bringing the front tire down, restoring power and allowing a wheelie, cutting power again–creating a pogo effect. And even without the SCS 2.0 system, the 800s have quick upshift and downshift capability without using the clutch.
Sardarov returns to his story: "Brian did an incredible job. Because during the financial and structural issues within MV Agusta, he managed to actually quietly push his own agenda, and his agenda was very knowledgeable, and quite, say, very forward thinking. Not many people would have done this job this well." Turning to Gillen, Sardarov adds, "It's an outstanding job, Brian, and again, thank you for doing that. Because when the company is in disarray, if you don't have a vision, we're just there to see what happens, because when it's in disarray, people worry for their jobs, their wives getting worried, 'What about our mortgage, what about our kids,' you know. To stay focused and perform that quietly, underfunded but still pushing and still…plus also you see your colleagues leaving, because the company is shrinking down. So to still keep that momentum, it requires some balls."
Gillen responds: "We had a intensive time in 2015 when I started out as R&D director because we had skyrocketing warranty problems, from starter clutches, from valve breakages, and other, let's say, vehicle problems with reliability. And at the same time, we went into a financial crisis when we had to reduce our staff by about 45%. I had to reduce internal R&D staff by 45% and work four days a week rather than five. So we were already down 20% because we were only working four days a week.  And then we had to reduce the staff 45%. So we were working about 38% really total hours, of available hours, while we had to do two things: We had to solve all of the historical failures, to reduce the reliability problems, while at the same time we had to completely update all of the product to go from Euro3 to Euro4. So we had to come up with a very clear, focused plan in order to attack the past and project ourselves into the future, with less resources at the same time. With reduced budgets."
Sardarov again: "Right now we are in a hiring mode. But this has never happened before, for the last five years. Now we are growing. That's why we are in a fortunate position because we were slimmed down and now we can grow with better systems, with better infrastructure, with better understanding of where we are going based on the plan that the company has created. So we know what we need to do, to do it carefully, to manage our cash flow, to manage profits and losses. So the company right now is in a good position to grow and innovate."
I ask Sardarov how he felt the dealers reacted to his presentation, and if he thought it had gone over as well as you hoped.
"It went very well, Sardarov said. "I know very well about the state of (dealer) networks in the different countries and the U.S. was one of the most neglected one, because think about it, for about the last nine months we haven't supplied any bikes here because the (then) current distributor had financial issues. Legally and fighting; 'It's your fault and it's your fault.' So we are now taking it over and we're gonna rebuild it, we have a completely new team for us, our team because of leadership that's not directly from motorcycle industry and it's good because we have a bit different perspective. We  want to come out of the limbo of the same conversation all over again. We have something new. To open the conversation with a new customer that we want to attract, we need to have a different approach.
"None of the dealers have a proper identity or a proper understanding of the products, what it is, what MV Agusta stands for. I'm not going to say they don't know about the technical details; they don't know the difference between us and a competitor. So this will require time, but we are really excited to move fast, sometimes with some difficult decisions, because we don't have an issue with attracting a dealer representative to a certain area, we don't. As soon as we show that we are stable, everyone wants to represent us because again, we are different. So it will take this year to stabilize but we are very confident that we will grow to the proper size and be a proper actor in the motorcycle scene in the U.S. The U.S. customers deserve to know MV, ride MV, like MV, hate MV–but they deserve to be aware about us."
I ask Sardarov, "How many dealers are ideal for the United States and how many motorcycles do you think you will sell here?"
He answers, "I am starting with I think 40 dealers and I think within five years we will grow to at least 150, mixed between dealers and service centers. The U.S. will be covered by online sales system, and bike locaters, so you will be able to really identify where your bike is, and buy it or go there. If you buy it, depending upon the area, it will either be delivered to you by a service center, or you can go and pick it up at a dealership. Again, we are in a fortunate position because we can do these things. I cannot imagine Kawasaki going to online sales because it will completely screw up the network. But we do have that, because our network is at rock bottom. So we have the ability to build it how we want, with a certain clientele in mind. Because we know what to do. It will take time, but we have so much appreciation to do in terms of the numbers, that we can be experimental and can be a bit edgy.
"MV Agusta behaved badly to everyone. Starting to its own employees, to its own suppliers, to its own clients, to our dealers, to every stakeholder interested in MV. I am surprised that we have a big community of loyal supporters and moto lovers, as Doug (McCloskey, CEO) call them, who still believe in it, believe in the brand.  And for us it is a blessing that has happened. Because these things destroy brands. And there are a lot of examples of brands that never recover. But we still have the foundation of a fan base that continue to demand the product, continued to be excited, and now the time is to love them, to appreciate them, and to provide everything possible for them to recommend us to a friend. We want to be a product maker that if you ride your bike, people are jealous about it. Not, people are like, 'Oh, you bought MV, what the f—k?'
"So you don't have to protect your decision. You spend $20,000 on a bike and then, 'I have to explain to my friends that ride other brands that MV Agusta is good, everything is fine with them, don't be worried about it?' It's completely ridiculous.
"If you buy MV you want to be proud that you own MV, because you want to stand out. That's why I am surprised that we still have 6,000 – 7,000 clients who own MV (in the U.S.), and we want to support them because we want the resale value of what they already own to go up.
"We don't want to do any shortcuts like the company did before. Because shortcuts become very visible in the modern world. With all the digital tools, your shortcuts are very easy to track. If you lie, if you cheat, if you are not delivering on your promises, people will find out, like this (snaps fingers). It wasn't the case 20 years ago, but right now it's really transparent. And we want to keep a very transparent, very friendly approach to everyone who wants to be a part of our family.
"And we want to compete. That's why we identified the competitors to go against. Not compete against ourselves at the end of the day. Because that is also what happened when the company started releasing products that cannibalized an existing range. You are a niche, and then you start to shoot yourself in the foot. No more.
"It's a company. It's a family. And we are all together. For me it is very important to give recognition to the people who have been working and continue working for MV. All the men and women that we have, they've suffered a lot. And for them, I will fail first them, and the customers, if I do not put MV Agusta on the track that's a business track. Not a passion, not love, not craziness. Business. Because only business sense will allow MV to flourish. Otherwise, it will die."
Gillen has the last word, telling me, "The underlying theme in all of this is the bikes. And the bikes are made by the people. Inside MV there are still the very dedicated…Timur was saying the passion, but it goes beyond the passion to the dedication of the people that are still committed to the dream of the MV, and together with Timur, to build these products. What we are pushing for, is to keep pushing the boundaries, from a technological standpoint, from a styling standpoint, to keep driving these products forward."
Next Week in Part 3: How a resurrection plan sent in by a passionate American MV enthusiast (whose profession is restoring troubled businesses to profitability) was ignored for years, resurfaced and landed on new MV Owner Timur Sardarov's desk, and led to Doug McCloskey being hired as the new CEO of MV Agusta USA.