By John Ulrich
Five years and two reincarnations of MV Agusta ago this month, I went to a press intro at Auto Club Speedway in Fontana, California, where the then-latest management team for MV Agusta USA explained how they were going to turn around the company's U.S. distribution operation and resolve all the historic problems owners had getting parts and service.  A couple of years later, the U.S. operation crashed and burned again and was taken over by an Australian dealer, who made the same promises, with the same result.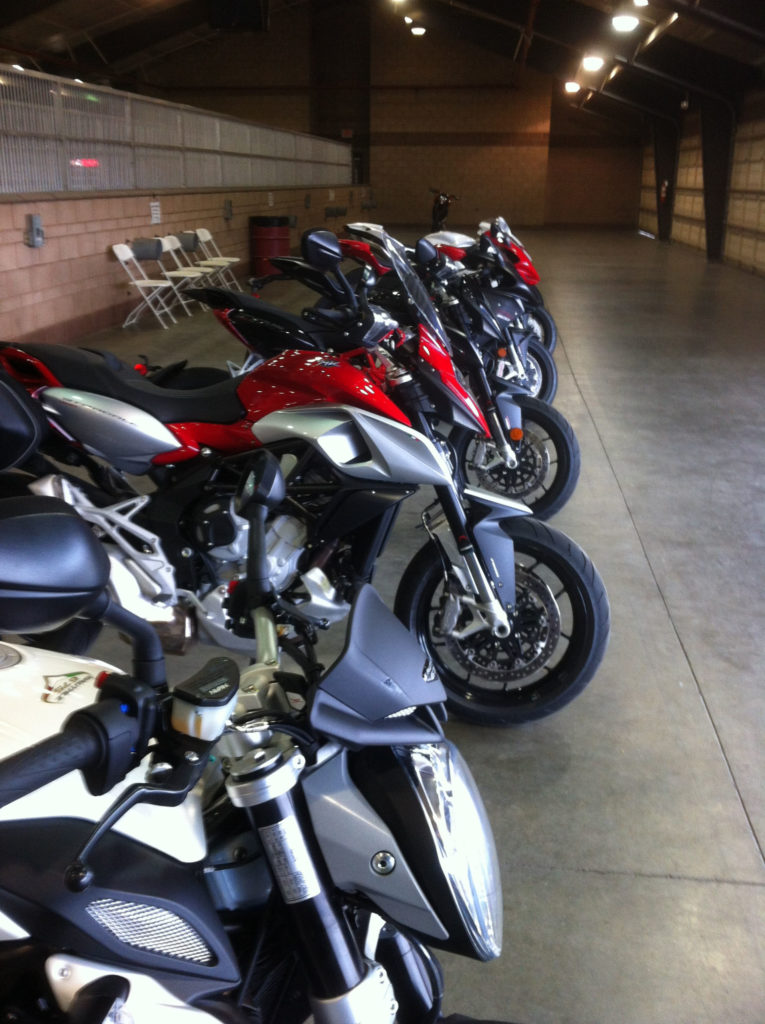 Recently I sat in on an MV Agusta dealer convention in Las Vegas, the new hometown of the reorganized MV Agusta USA. There, along with 32 of the 36 MV Agusta dealers in the U.S., I listened  to 37-year-old Russian millennial and serial entrepreneur Timur Sardarov (who now owns and runs MV as Chairman and CEO) and his management team talk about their plans to resurrect the iconic brand in everything from manufacturing to marketing to customer engagement.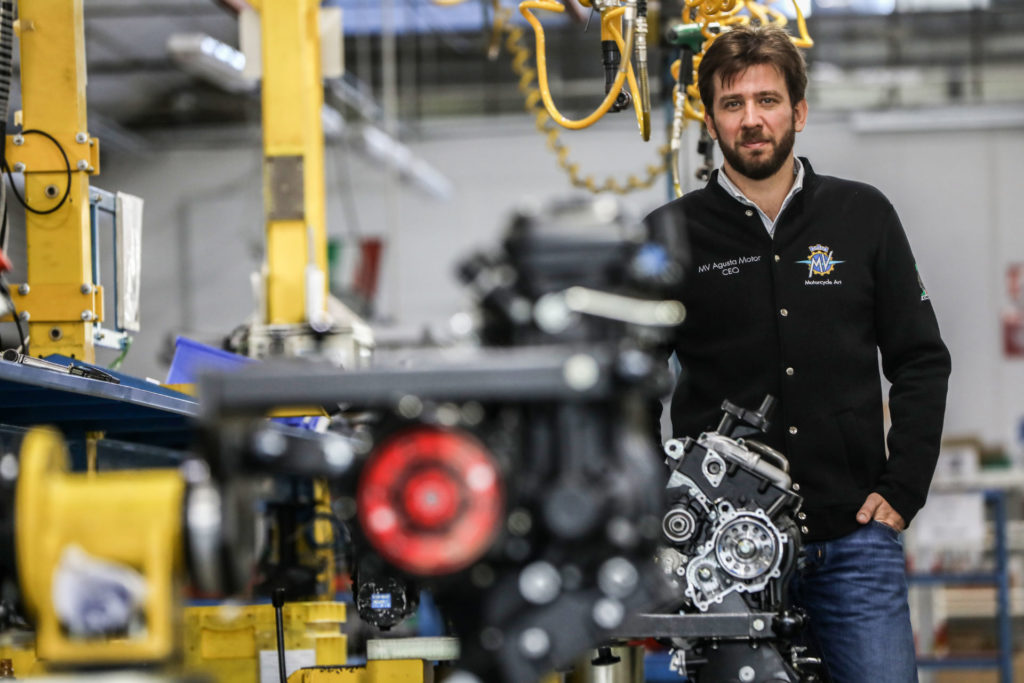 I came away impressed. The difference in this turnaround plan is that it addresses foundational issues and is being driven and financed by the man who owns and controls the parent company. Sardarov has a credible plan and enough experience and backing through his investment company to make it happen. For the first time in decades, Sardarov said, MV Agusta is properly capitalized, assembly lines are consistently running and producing motorcycles—currently the Brutale 800 R and Dragster RR models are coming off the lines–and a five-year plan is in place and being executed. He's moving with his family (a wife and two daughters) from his home of 17 years in London to be near MV headquarters in Varese, Italy. And he told me, "I'm 100% on MV Agusta. I'm working 24 hours a day for one company only. Because I had to go all-in into this.  So I don't have plan B. For me this is the project that I need to make successful."
I  believe him.
***
Before he took over, Sardarov told the dealers, MV Agusta had "no mass production, bikes were being individually built, the company was losing money. We spent $3.8 million a year racing while the company was losing money. There was no plan; the plan was some rich guy comes along and bails it out." Now, he says, "The company will focus on making money and creating great new products."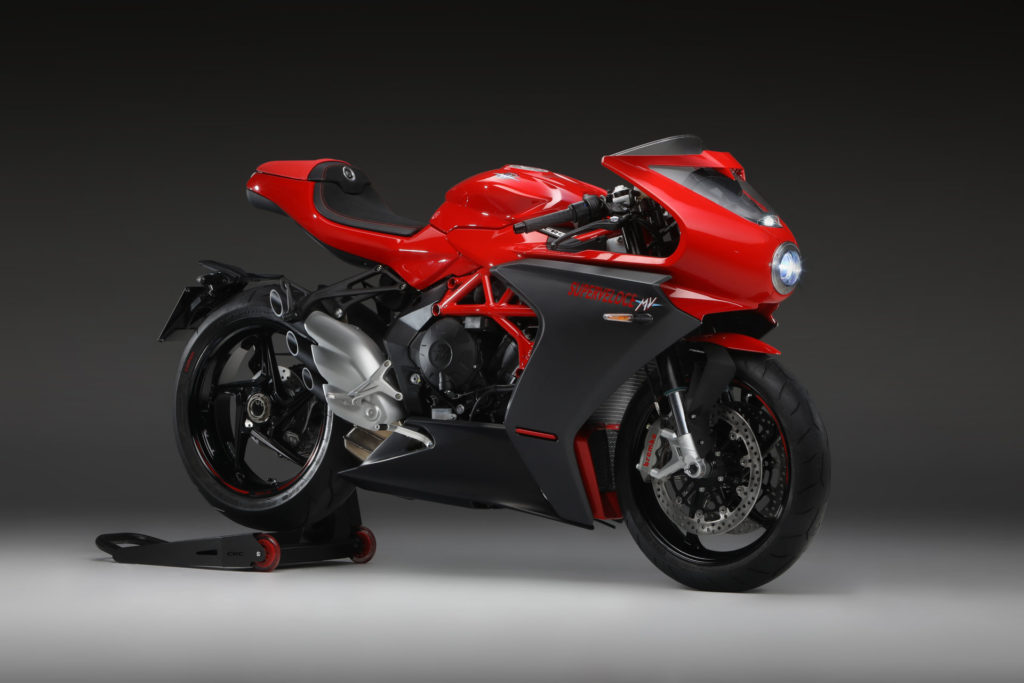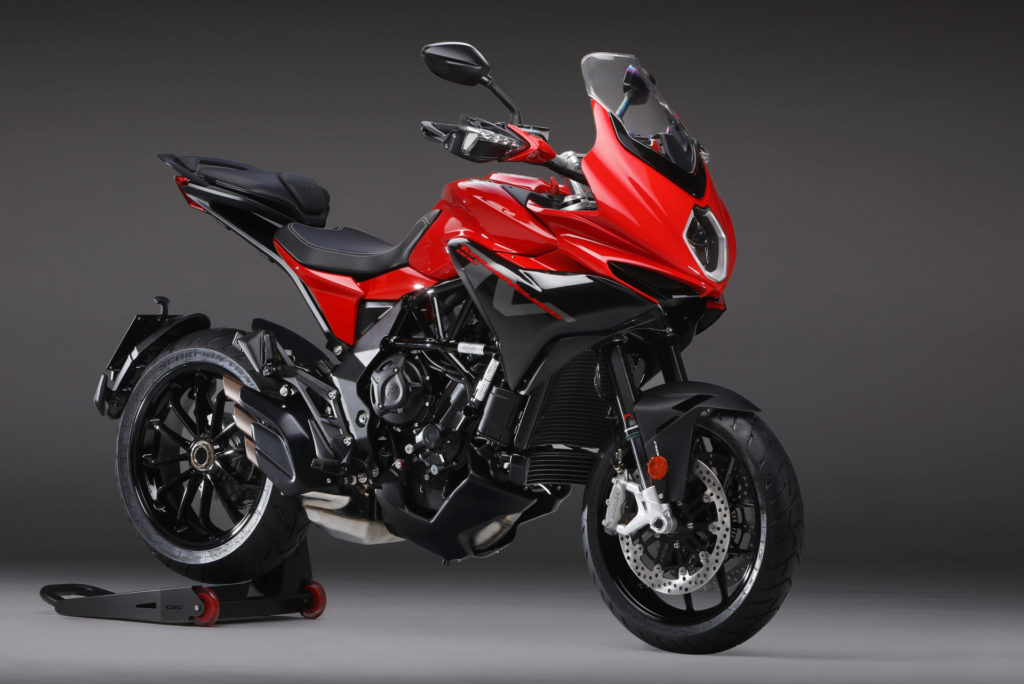 The new plan includes building and selling 5,700 motorcycles in 2020 (up from 1,500), launching new models, restyling the entire line, and reaching the break-even point of 15,000 motorcycles within a couple of years, quickly increasing to 25,000 to 30,000 motorcycles sold.
Part of the plan to increase sales involves taking market share from three targeted companies worldwide—Harley-Davidson, Triumph, and Ducati–plus BMW North America in the U.S. His team looked at those competitors and calculated how much market share MV can take from each one. In the U.S., Timur told the dealers, "from 2020 to 2025 we can take 25% from Ducati, 20% from Triumph, 5% from Harley-Davidson. The MV range will be competing with these brands." He added, "We don't want to fight KTM, they do a good job. We didn't even want to fight BMW," but said BMW North America presented an opportunity that could not be ignored.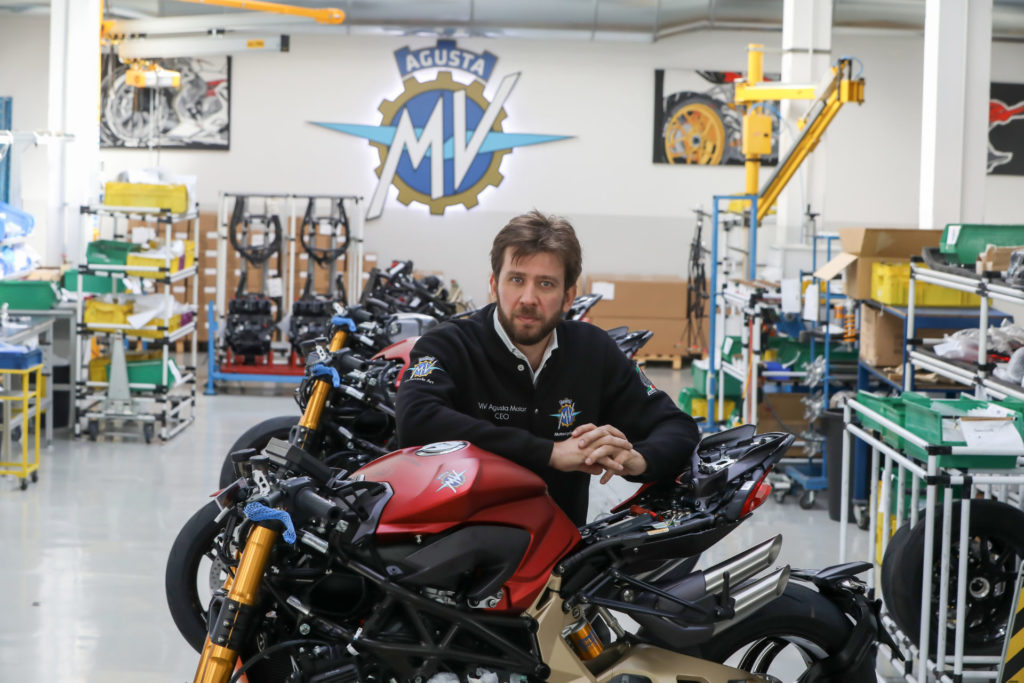 Press launches of new models are already being planned, and marketing initiatives are being developed, including a nationwide Moto Love demo tour running from April through October and heading for selected track days and events, including some MotoAmerica Superbike race weekends.
New digital connectivity platforms are launching in February, including a new app linked to GPS and allowing MV fans to connect and plan rides. The company will be online in seven languages, with a new dealer locater and dedicated dealer pages, and new 24-7 customer hotline is launching in March. Dealer programs include in-house flooring plans through MV Agusta Finance.
New models under development include a new budget-priced 800cc three-cylinder Rosso line aimed at millennials, along with new middleweight DOHC, four-valve twin-cylinder 500cc and 350cc entry-level machines in naked, scrambler, touring, and sport versions. Sardarov sees great potential in the 250cc-500cc market, noting that 12 million bikes are sold in Asian markets, and saying that he wants MV to build (working with Chinese partner Loncin Motor) "The lightest, (most) fun bike in the category."
Plans also include launching new electric motorcycles branded with the Cagiva name, (which MV owns), and new infrastructure, within 3-5 years. "They will be less than $6,000, for everyday use, a type of new mobility," Sardarov said. "Everything is driven by economics. Keep it simple, keep it cheap."
I asked Sardarov how he got involved with MV. "I have an entrepreneurial  approach," he told me. "My background is, I see an opportunity and I execute. It's all about finding the right place, and the right area to make money. I'm a serial entrepreneur. I've never been in an industrial company (before), for me it's been more about service companies, or IT companies and media companies.  MV Agusta was more of a passive investment to start with, because I do have an investment company, but then became more of day to day business. Since we took it over, I decided to focus all my attention on MV Agusta."
What about his connection to motorcycles and the motorcycle industry?
" I'm a rider," Sardarov said, admitting "I'm more a car guy. I used to race, I used to race in rally, in ALMS, in GT3, so I'm more about cars. But I like everything that has an engine. I do have MVs, I have Harleys, I have a couple of Ducatis. But my investment (in MV) was done more from the heart than the head, so I was dragged into this rather than making a rational decision, because the moment the company needed the capital to go through Chapter 11 (bankruptcy in 2015-2017), the Italian version of Chapter 11, there was no one else. So I became a minority shareholder, and then the company needed more capital, and a different approach. So a year ago I took all the control, brought in the best available management–because I believe in the power of people and the quality of people–and did a deal with the Chinese to help the company expand its range, and created a new industrial plan for the company. Now we just have to execute it."
To me, it's been fascinating to watch MV Agusta over the decades, because it seemed like the business plan was, spend all the money, find someone (including Proton in 2004, GEVI in 2005, Harley-Davidson in 2008, Mercedes-AMG in 2014) to buy the company or give the company more money, buy it back for one Euro, repeat. So I asked Sardarov about that.
"It's happened," he said. "Yeah,  I know that. But you know it's always been certain actors as president who had been doing that. Right now those actors are gone.  I don't want to go into criticizing the way it was done, but this chapter is over. So, MV Agusta will grow in a stable company. Because the way it was run, was not very rational. A lot mistakes, a lot of passion and love for the product rather than actually looking at what the business is. And you're absolutely right, the company was making decisions that will hurt in the long term, for the benefit of the short term. In an industrial company, it is commercial suicide to act like that. Because the development cycle of the product is so long, and the investment is so big, if you make the wrong decision, it will bite you in the ass within three or four years time, and that was enough time for them to switch it to one partner from another, shareholder, investor, and it all turned out that the company never really got properly financed.
"The story with Harley-Davidson was different than with other investors, because Harley acquired the (whole) company. But then Harley faced its own issues, and it had to dispose of that asset. They shut down Buell, they had to sell MV Agusta.  But Harley invested $200 million in MV Agusta, into the three-cylinder platform, for R&D, which right now there is no carry over but that started the mid-range (MV Agusta) product (line). And they (Harley-Davidson) didn't want to sell it, they wanted to grow, they wanted to execute the strategy that right now they are doing in-house. To (build) more naked bikes, touring, and sports. It would have been successful if Harley didn't get to the issues of 2008 and 2009 that led them to dispose of assets. And the Castiglionis here became by accident, because they had an earn-out, during this process. So Harley couldn't sell MV Agusta to anyone with this contract, with this earn-out contract, with which the Castiglionis had to stay. And they made the money, because it was a $100 million earn-out, that obviously with a company that was producing 1,500 bikes and was consuming a lot for R&D, money-losing and also with an earn-out. The only chance for them (Harley-Davidson) was to write it off, pay $20 million more, on top, and return it back to the Castiglionis.
"And then the story started with the Castiglionis with which they had a company that was burning a lot of cash, because of the Harley-Davidson investment plan, and they had to find ways to finance it with banks, then also putting more pressure on the supply chain, postpone the payments, then getting the money from customers, delaying the bike. So very complicated and a bit unfair to all surrounding the company. There also was the desire to keep control.  This happened with AMG to a certain extent, which they didn't want to give up the control for that, so they were underfunded. MV Agusta was always underfunded. It always tried to engineer certain things, and be more opportunistic rather than rational and consistent with what it does. "
But this is a big project, a huge project, and I asked Sardarov, "With your plan, do you have enough capital now to pull this off?"
"Yeah," he said. "It's a big project. Because MV Agusta is multi-national industrial automotive company. Its only issue is its size, which should be much bigger, to produce all of that. Look how many models we have. How technologically advanced in terms of rideability, in terms of engines, general propulsion, electronics, where we are not behind everyone.  In certain things, we are in front. With way less money to afford it, with less scale, because they already design the platform, cost the same to us, maybe a bit more to our competitors just because of the overall structures, and the way they are set up.
"Because we are–with a minimal amount of people—doing the same thing as the big guys. So that's why the volumes and the rational that the volumes represent, how to sell them, have to be one of the most important parts. Because we cannot stay niche, but have seven models. We cannot stay niche and produce 5,000 bikes a year.  We need to produce 15, 20, 30,000 bikes to stay profitable and to all our selves. Not to be others' project. Not  to rely on some rich guy that will bail out, some corporation, it can be drug deal investor, it can be drug deal, and then we will see what is gonna happen. No.
"So now we fund it, we know what to do, we know what we have to do to make it stable. We are already producing motorcycles consistently–that never happened in the last four years, never produced consistently enough–so we are now stable and the supply chain is stable, the deliveries.  Just now (it's) a lot of working with the customers, with the dealer networks internationally to make sure that the product is seen.  Because the product is so exciting and so beautiful and has so much care and love and differentiation factors from others, it's not a problem to find customers, it's a problem to deliver the experience that MV Agusta represents. And that was very much neglected for many years. "
I asked Sardarov, "When you were looking at the competitors that you selected, and were calculating how much market share you can take from them, how did you calculate that?"
"We took a pool, a cluster of certain brands, that were not doing very well," Sardarov said. "One of them is falling down; another one is having modest (success), stagnating, with growth of 3% or 5% per year;  and another one is purely stagnating. How we selected these brands, are the purchasing power of the customer, it's a certain approach to what the brand represents, the lifestyle of it, and then we did a survey on which we make a general estimation that we should be (able to take) about 25% of Ducati, 20% of Triumph, and 5% of Harley (in market share). Then we scaled it to the world, and understand where these brands perform the best and from the selling points. And this is where we should go. So it's a plan for five years. And the potential of the brand based on that analysis is from 30,000 to 35,000 bikes a year. Now what we are doing is we are putting together an exact plan, local plans, where we need to be strategically positioned and what we need to do, to fight our competitors.
"Plus, the product range of the company is gonna be developed. Aligned with the  product range of other companies, because we are going after the same customer. Because if Harley loses a customer, it's our benefit. Because somebody wants to buy it. A lot of brands neglected millennials. Premium brands completely neglected millennials because of how they buy, what they want. They cruise or float over the years, to where the customers they have now are either too old, or they do not acquire new ones. And they blame it on the share economy, the digitalization of the age, young people don't want to ride. I believe it's bullsh-t. Why? Because I'm millennial, and I have a lot of millennials around me, and I know what they want. Yes, maybe they don't want to have a car.  But a bike is something that you control and you wanna ride. And let's not come to the conclusion that everybody is gonna go from owning things to just sharing things. It's not true.
"It's gonna take time. And bikes are an exciting industry to be in, in fact. I know it doesn't look like that right now. But if you see, there're a lot of positive signals, from Asia, from Europe. Europe grew by 9% over the last year. So, you see that trend going on, and the vacuum is the millennials. And I know what they want and I know what we should do to attract them.  And this is what is the most important, to capture right now the attention of the millennials, from 30 to 35. And also, with next iteration of the product, capture anyone from 20 to 30, with the right price range and the right offering. We are in a unique position in this case, because obviously all our competitors are corporates. And (it's hard) for corporates to attract the clients that right now desire the feel of the brand, and like to have a face. Look how Tesla does it. Because if you buy Tesla, it's not because it's a Tesla, you buy because it's Elon Musk, because of the story and it's Space-X and etc. etc.  etc. That's how they build a community very quickly. By being entrepreneurial , a bit crazy, but approachable. And no other brands can do this. Because we are competing with multi-nationals, that have no personas. Maybe Ducati has, but the rest , the clients don't know who is the  CEO of Aprilia. Maybe they know about Harley but still it's a big corporation that's still a bit faceless. And we are very transparent, we are very friendly, we are very open, and again, we don't want to grow to 100,000 bikes. We want to grow to between 30,000 and 50,000 bikes–we've announced a plan of 25,000–and to defend that niche and to grow. "
Tomorrow: How MV Agusta is applying technology to make motorcycle performance more friendly and accessible