More, from a press release issued by Dorna:
Viñales battles through to victory as 2021 begins in style
Top Gun shoots first in the desert as Zarco and Bagnaia fight off Mir at the final corner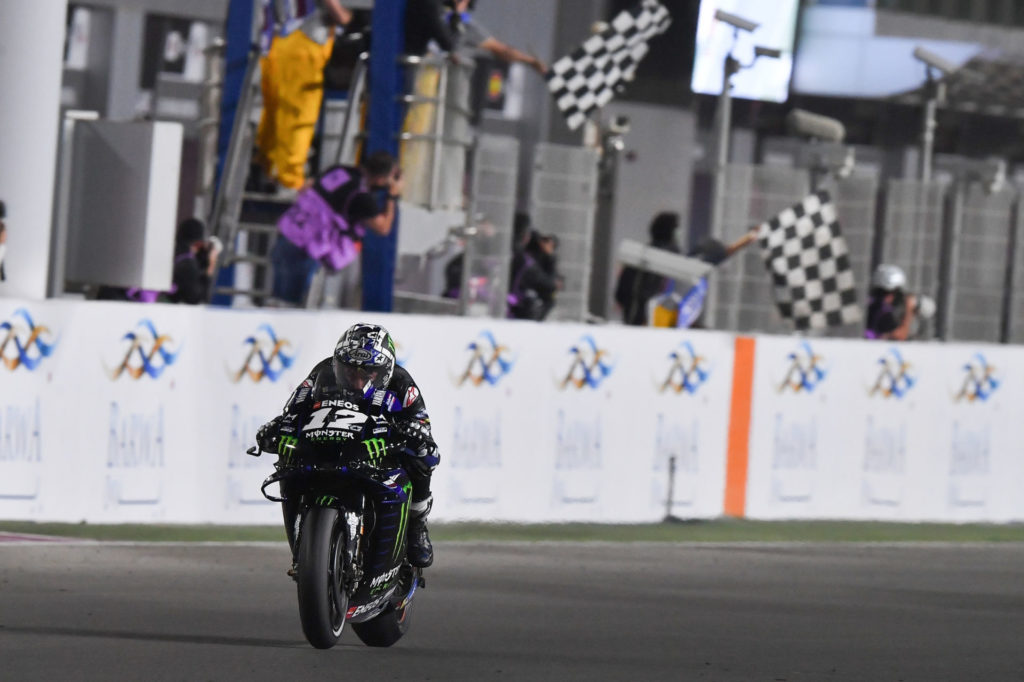 Sunday, 28 March 2021
We wanted fireworks, and we got them. The first race of the 2021 FIM MotoGP™ World Championship was a cracker at the Barwa Grand Prix of Qatar as Monster Energy Yamaha MotoGP's Maverick Viñales unleashed a stunning race to claim victory. The number 12 climbed his way through the pack to eventually beat second place Johann Zarco (Pramac Racing) by just over a second, with the Frenchman and Francesco Bagnaia (Ducati Lenovo Team) then pipping reigning World Champion Joan Mir (Team Suzuki Ecstar) on the run to the line to complete the podium on the opening night.
The start of the race was something to behold for Ducati. Bagnaia, Jack Miller (Ducati Lenovo Team), Zarco and Jorge Martin (Pramac Racing) – the latter from 14th on the grid – all propelled themselves to the front as Ducati once again proved themselves holeshot heroes, with Martin's launch especially making some serious headlines as the rookie joined his fellow GP21 riders inside the top four. Fabio Quartararo and Monster Energy Yamaha MotoGP teammate Viñales got a little swamped off the line, forced to tuck in behind the Borgo Panigale invasion at the front.
Bagnaia had held on in the lead ahead of Miller, Zarco and Martin, before Zarco then slipstreamed Miller down the home straight and grabbed P2 off the Australian. After sluggish starts, the two factory Yamahas were regrouping though and soon found their way past high-flying rookie Martin on Lap 3. Just behind, Valentino Rossi (Petronas Yamaha SRT) was scrapping away with Alex Rins (Team Suzuki Ecstar) and World Champion Mir, the GSX-RR duo getting past The Doctor and starting to hound Martin.
Up top, the leading five were line astern. Quartararo and Viñales were attached to the back of Miller, good news for two Yamahas, as Pecco kept it steady in the lead. Quartararo wasn't messing around, however, and El Diablo dived up the inside of Miller at Turn 15. The Ducati blasted by on the straight again but sensational work on the brakes allowed the Yamaha man to take and hold P3.
A couple of laps later, Viñales decided to pounce on Miller too. Turn 10 was the Spaniard's chosen point and Miller then found himself down in P5 – was he struggling, or playing the long game? Meanwhile, In free air, Rins was reeling in the leaders and was soon right up behind Miller as well. Viñales was the man starting to look impatient though, right up behind Quartararo…
The lead group, covered by 1.4 seconds, was over two seconds up the road from seventh place Mir and by 12 laps to go, Viñales was up into P3 and immediately bridged the few tenths gap to Zarco. And with 11 to go, Viñales dived up the inside of the Pramac Racing rider for P2 and showed a wheel to race leader Bagnaia, most definitely meaning business. Just behind, Rins had also got the better of Quartararo and as the race entered the halfway stage, Mir and Aleix Espargaro (Aprilia Racing Team Gresini) were now tagged onto the back of the number 20 Yamaha too.
Viñales and Yamaha's strengths in the middle of the corners were clear to see, and Turn 10 was once more was the chosen passing place for Top Gun. For the first time, the race leader wasn't Pecco as Viñales struck on Lap 15, but the top eight riders were still covered by just 2.3 seconds. With Pol Espargaro (Repsol Honda Team) in P9 just 3.5 seconds from the lead as well, could the number 12 Yamaha pull away from the group?
It was a half second lead with six to go, as behind Zarco drafted Bagnaia for P2 into Turn 1 and Mir passed Miller to grab fifth. With five laps to go though, Viñales and Zarco were starting to break clear and Top Gun had eked out the lead to a 0.7 second advantage as Zarco, in turn, held a second over Bagnaia. Behind the latter, Mir was now ahead of teammate Rins for P4 as well. But Viñales was checking out and the gap seemed to shoot out to 1.6 seconds not long after, leaving the podium fight in the dust. Battle mode: engaged.
The podium scrap, meanwhile, was in full flow. Mir, at Turn 6, stuck his Suzuki up the inside of Bagnaia's Ducati and suddenly, it seemed second place Zarco was under threat as well. As the last lap dawned, Mir was desperately trying to find a way past the number 5 but the Suzuki rider had to be patient. The move came though as the reigning Champion struck at the penultimate corner, leaving just one more apex and a run to the line standing between Mir and a phenomenal podium. The two Ducatis were about to prove just how quick they were in a straight line though, and as the Suzuki went ever so slightly wide at the final corner, Zarco and Bagnaia unleashed their grunt towards the flag – and just, just pipped Mir to the rostrum.
Viñales had already crossed the line well ahead of the squabble to start 2021 in style, however, winning at Losail for the second time and in a different manner to his 2017 victory. Zarco took second as top Independent and top Ducati, with Bagnaia debuting in full factory red on the podium in third and Mir just missing out.
Quartararo crossed the line three seconds behind his teammate in P5 as the Frenchman got the better of Rins by just three tenths, and two and a half seconds further down the road, Aleix Espargaro put Aprilia right in the battle with a fantastic P7. Aleix also beat younger brother Pol by just 0.056s as the latter put in an impressive debut with the Repsol Honda Team.
Miller, meanwhile, was forced to settle for ninth. The number 43 slid backwards in the latter stages and crossed the line back from where he would have wanted, looking to bounce back next weekend. Top rookie honours went the way of reigning Moto2™ World Champion Enea Bastianini (Esponsorama Racing) in tenth as just nine seconds split the Italian from the race win and he debuted in the top ten.
Stefan Bradl (Repsol Honda Team) did another top job standing in for Marc Marquez, the German finished P11 and leading 12th place Rossi across the line. Not the race The Doctor will have been looking for from P4 on the grid as he and teammate Franco Morbidelli suffered a very difficult evening – the latter finishing outside the points in P18 after an issue throughout. Miguel Oliveira (Red Bull KTM Factory Racing) was the leading KTM rider in P13, with teammate Brad Binder and fast-starting Martin picking up the remaining points on offer in P14 and P15.
That's it from a stunning start to the season. Viñales was an unstoppable force in the desert for a second time and Zarco and Bagnaia ensure Ducati have something to shout about on a favoured stomping ground. Mir proved exactly why he and Suzuki are reigning Champions with a classy Sunday ride, and there are stories everywhere you look. Round 1 is now in the history books, and Round 2 right here at Losail is just around the corner!
Maverick Viñales: "Honestly I felt unbelievable. Actually the start didn't go so well, I had a lot of wheelie. So it's something we need to work on. But after that I felt the potential, I was taking everything with calm and saving the tyres for a good moment. I tried to be smart and calm, and chose the right place to push. Finally I opened a gap and I was trying to control the tyre and manage the power. Overall, so good. It was a fantastic weekend, just to say thank you to my really close family, now my wife… as you know we're expecting a baby and you know, these results are amazing, everything is good and we're really blessed. Just thank you."
More, from a press release issued by Tech3 KTM Factory Racing:
Tech3 KTM Factory Racing faces tricky season opener

The famous floodlights of the Qatari circuit welcomed the MotoGP World Championship today paired with strong winds. With a decent start to the first round of 2021, Iker Lecuona made up several positions coming from P20 on the grid. In the course of the first laps he made it to the top 15, but had take out some speed struggling with his right arm. Crossing the line in P18 at halftime of the race, he managed to recover one more position to eventually finish 17th with some steady lap times.
Tech3 KTM Factory Racing's new comer Danilo Petrucci was doing significant steps in the right direction throughout the weekend. In Warm Up he progressed further but was unlucky when the red lights went off for his orange debut at the Losail International Circuit, as he unfortunately crashed out on the first lap after being touched by another rider, leaving him no chance to avoid the gravel.
Iker Lecuona
Position: 17th
Championship: 17th
Points: –
"For one side, I am happy, because I finished the race although I was struggling with my arm. On the first lap, I felt very good with the bike and could fight for the points and with many riders. Therefore, I'm satisfied and also because my performance was pretty good. Later on, I did some mistakes due to my arm, I lost control of my bike, so I had to stay calm in order to finish the race."
"Although I was struggling in the middle of the race, I could gain a bit more confidence towards the end. I could overtake Morbidelli and was fighting with Marini, but finally he was in front of me by just a tenth of a second. I'm quite happy, also because this was my first ever race here in Qatar. I want to thank my team for their work, we changed something in the Warm Up and it helped me a lot. Now I can't wait for next week."
Danilo Petrucci
Position: DNF
Championship: –
Points: –
"I don't have many words. I'm just very sorry. Unfortunately, I touched another rider and crashed really hard at turn two. This is probably the worst thing, that could happen for my first race with the team. The good news is, that I'm not injured, which is super important. I'm so sorry for my guys and for everyone. We'll try again next week!"
Hervé Poncharal
Team Manager
"It was definitely not the weekend for the Tech3 KTM Factory Racing team. We've been working hard all week long and although the grid positions where not what we were expecting, we were quite confident we could improve during the race and score some points with our two riders, especially with Danilo and it would have been nice for his first ever race with KTM."
"Unfortunately, his race didn't even last a lap. It looks like there was a contact with another rider and this is very sad and very disappointing to start our new adventure like that. But it's part of racing unfortunately. We hope he is going to be ok, because he was complaining a bit about shoulder pain."
"Iker did a brave race. Unfortunately, he still has some issues with his right arm, which caused him a few slow laps. Otherwise, the speed was there and on quite a few laps he was as quick as the leaders. So, clearly, Iker has got a great potential to ride a MotoGP bike fast, we knew that before."
"Let's hope our two guys will be feeling good physically for next week. Let's wait and see what Miguel and Brad have said and let's meet and think about what to do to be better for next weekend. Although the final positions where not what we were hoping for, the. Situation is a lot more positive than it looks. Let's keep on working, let's keep on pushing and let's see what is going to happen here in Losail next week."
More, from a press release issued by KTM Factory Racing:
OLIVEIRA & BINDER SCORE FIRST MOTOGP™ POINTS AT 2021 SEASON OPENER
MotoGP 2021 – Round 01 of 19, Losail (QAT) – Race
The lights were on at the Losail International Circuit but the red start lights fell for the first of nineteen Grands Prix in 2021. Through tricky and blustery conditions in Qatar Red Bull KTM Factory Racing's Miguel Oliveira challenged for the top ten of the premier class before classifying 13th, one position ahead of teammate Brad Binder.
– Oliveira opens Red Bull KTM Factory Racing chapter with three points
– Binder 14th after vibrant start but affected by front tire wear
– Lecuna just misses out on first MotoGP points at Qatar
Hours of work and hundreds of testing laps around the Qatari facility finally counted for something on Sunday evening as the Barwa Grand Prix of Qatar brought the 2021 MotoGP season to life. The Red Bull KTM Factory Racing and Tech3 KTM Factory Racing teams had already spent five days of set-up work in early March and two further days of practice and qualification getting prepared for the first of two back-to-back races in the Middle East.
MotoGP has visited the modern but flat and featureless Losail layout for eighteen years, the last 15 as the opening site of a championship campaign. Due to the beginning of the pandemic, the MotoGP class missed the 2020 edition of the event but made up for lost time with plenty of miles around the quick and relentless course.
Miguel Oliveira, winner of the final round of 2020, Brad Binder, Iker Lecuona and new KTM recruit Danilo Petrucci all strived to try and use the strengths of the KTM RC16 in Qatar and struggled for searing one-lap speed to make an impression in qualification. All four riders could not emerge from the Q1 cut on Saturday night and line-up in the second half of the grid with Oliveira furthest ahead in 15th. The Portuguese set-off from the fifth row, despite setting the fastest lap of Losail by an RC16 to-date.
Compared to Friday and Saturday the Qatari evening air was cooler and windier, the gusts causing problems for bike stability and corner judgement. Both Oliveira and Binder made strong starts and circulated in – or on – the fringes of the top ten until they were each plagued by front tire grip problems and had to trim their pace. Petrucci had contact with another rider entering Turn 2 on the first lap and crashed. Lecuona endured his first taste of Losail in the MotoGP class to finish 17th, despite some discomfort with his right arm.
MotoGP will not move anywhere this week. The pitlane garages will remain full for the Tissot Grand Prix of Doha on Saturday/Sunday 3-4.
Miguel Oliveira: "We finished a little ahead of where we started, which is positive and we know our potential is much better. We couldn't finish stronger because of the front tire. We lost quite a lot of grip before mid-race distance and that compromised our performance. I kept losing time to save a crash. We feel our bike is strong but we cannot compete over the race distance with this compound tire."
Brad Binder: "It's good to have the first race of the season under our belts but we didn't finish close to where we wanted. For sure the whole team and I expected much more. We have to accept reality and there is work to be done at this circuit. In the first part of the race I thought we could be competitive but at half race distance I completely finished my front tire. It was a case of either bring the bike home safely at the pace I was doing or lose the front. It was difficult but now we have data from the first race and we can move on from here."
Iker Lecuona: "I am happy because I finished the race although I was struggling with my arm. On the first lap, I felt very good with the bike and could fight for the points and with many riders. Therefore, I'm satisfied and also because my performance was pretty good. Later on, I made some mistakes due to my arm, I lost control of my bike, so I had to stay calm in order to finish. I want to thank my team for their work, we changed something in the Warm-Up and it helped me a lot. Now I can't wait for next week."
Danilo Petrucci: "I don't have many words. I'm just very sorry. Unfortunately, I touched another rider and crashed really hard at turn two. This is probably the worst thing that could have happened for my first race with the team. The good news is that I'm not injured, which is super important. I'm so sorry for my guys and for everyone. We'll try again next week!"
Mike Leitner, Red Bull KTM Race Manager: "We knew it would be a tough season-start for us here but the beginning of the race was strong and we were right in the middle of the group. We suffered in the last third though and lost the lap-times so we have to work on this. It's not a disaster – we are 11 seconds behind the winner – but this category is very close and we have to find these seconds. Miguel and Brad did well to bring the bike back and score points. We're sorry to see Danilo crash in Turn 2 but it looks like there was a collision and Iker made acceptable lap-times at the end of the race. We have to step up now and help the boys to be faster."
Results MotoGP Barwa Grand Prix of Qatar 2021
1. Maverick Viñales (ESP) Yamaha 42:28.663
2. Johann Zarco (FRA), Ducati +1.092
3. Franceso Bagnaia (ITA) Ducati +1.129
4. Joan Mir (ESP) Suzuki +1.222
5. Fabio Quartararo (FRA), Yamaha +3.030
13. Miguel Oliveira (POR), Red Bull KTM Factory Racing +11.457
14. Brad Binder (RSA), Red Bull KTM Factory Racing +14.100
17. Iker Lecuona (ESP), Tech3 KTM Factory Racing +21.026
DNF. Danilo Petrucci (ITA), Tech3 KTM Factory Racing
More, from a press release issued by Repsol Honda:
Espargaro stronger with every lap on Repsol Honda Team debut
Positives across both sides of the Repsol Honda Team box as the 2021 season begins with a double point-scoring finish and first top ten for Espargaro in Qatar.
Wind ripped through the MotoGP paddock as the premier class arrived at the Losail International Circuit for the first race of the 2021 MotoGP World Championship season. Fortunately, there were no major concerns about the forecasted high-speed gusts of wind as the grid formed later in the evening although conditions were cooler than before.
Warm Up was a productive session for the Repsol Honda Team as both Pol Espargaro and Stefan Bradl showed well at the start of the day. In sixth and eighth place respectively, the pair helped make it four Honda machines in the top eight at the conclusion of the 20 minute session.
Lining up for his debut race in the iconic colours of the Repsol Honda Team, Pol Espargaro made a great initial launch to move up inside the top ten after the first corner. As the race went on and the fuel lowered, Espargaro was able to steadily improve his pace and joined the battle for the top ten by mid-race distance. Espargaro's lap times continued to improve, matching or beating that of the leaders towards the end of the 22-laps.

In his first race for the team, Espargaro collects eight points for eighth place, top Honda honours and most importantly now has a race worth of data on the RC213V. This knowledge will come into play very soon as the championship prepares for round two at the same venue.
Stefan Bradl was pleased with the progress made earlier in the day and joined the grid ready to battle forward. Using the power of the RC213V to shoot off the line, Bradl was able to immediately move into contention for points from the first lap. Trademark consistency from the German saw him make steady progress over the race and cross the line in 11th place, just a second off Bastianini and a top ten finish.
The Repsol Honda Team will now remain in Qatar, ready for Round 2 next week at the Losail circuit.
Pol Espargaro
8TH 
"It has been a race of two halves. The start of the race, honestly, wasn't good as I took too much time to settle into my pace and then I lost some precious time. In the middle of the race, I was one of the fastest riders and I am happy but also angry because I feel that I could have done better. But it is still just the first race so we have to look at the race from this perspective and I needed to finish the race, a crash would not have been good at all. I have gained a lot of information and now we can go again next weekend in the same place understanding our potential better."
Stefan Bradl
11TH 
"At the end of the day we have done a good first race and I am pleased. I think we suffered a little bit because of Qualifying, in the race we were able to run well and fight a lot. At the start of the race, I was maybe a little too conservative with the front tyre, I think Pol was more aggressive during this time and I could have gone with him, but it is better to bring the bike home than take too many risks in the first race. Maybe we could have done a little more and stayed with Pol, which would have been nice, but I am still pleased."
More, from a press release issued by Aprilia Gresini Racing:
ALEIX BATTLES, SETS THE PACE AND STAYS WITH THE BEST: APRILIA IS IN THE MIX
A SEVENTH PLACE THAT BOOSTS CONFIDENCE AND PROVIDES CERTAINTIES
The question mark was erased with a great performance by Aleix in the first race in Qatar. The new Aprilia RS-GP is fast, consistent and capable of battling with the best. The seventh-place finish today is worth more than it might seem. The gap from the leader is under six seconds, despite a few tenths lost in overtaking – an important message that rewards the hard work on the track and in Noale.
After a good start, Aleix suffered a few attacks straight away in the early stages where, with a full tank, the rider from Granollers preferred not taking any pointless risks. Once he had set his pace, he began an unstoppable comeback, with times that made him the fastest on track in the central phase of the race. Precise and confident overtaking, Espargaró clawed his way all the way up to a seventh-place finish.
It was a demanding race for teammate Savadori, reckoning with a shoulder that suffered over race distance and with a feeling that still needs to be perfected. For the Italian rookie, finishing the race, accumulating data and gaining experience was fundamental, as well as setting up his race for next week, which will once again be here in Qatar.
ALEIX ESPARGARO'
"I am happy. Seventh place may not seem like much, but I showed that I am able to stay with the best all the way to the end, with a gap behind the leader that had never before been so low. In some stages of the race I was cautious, especially overtaking, where I tried to be clean and not risk, and that certainly cost us a few tenths. But after the positive tests and after all the efforts of the team here and in Noale, it was important not to make any mistakes. Now we definitely know that we can be in the game. We are fast, not only in practice, but also when it counts, and that is fundamental."
LORENZO SAVADORI
"A difficult race, both because of my shoulder that was bothering me, especially at the beginning, and also because we still need to improve. I don't have the right feeling to push. I struggle with a full tank and managing the tyres. Finishing the race was important because, analysing the data, we'll be able to continue working on the RS-GP. The bike definitely has great potential, as Aleix's performance demonstrates. Now, during the days off, I'll try to recuperate as much as possible to be ready for next weekend."
More, from a press release issued by SKY Racing Team VR46:
16TH PLACE FOR LUCA MARINI AT THE QATAR GP
In the debut race in MotoGP, the rider of the Sky VR46 Avintia finished in the slip stream of the Top15.
Doha (Qatar), March 28th 2021 – The Sunday of the MotoGP debut for the Ducati of the Sky VR46 Avintia closes with Luca Marini crossing the finishing line in 16th position.
Starting from the 18th box on the starting grid, Luca was just one position from the points.
Luca Marini:
My first race in MotoGP: I'm happy to have finished it, but I was hoping for a better performance. I lacked a bit of speed and had a worse feeling today than in the other sessions. I was losing especially in the middle of the corner. We will analyze the data in these days but it is nice to be able to race here the next week.
Ruben Xaus:
I'm happy with Luca's first MotoGP race: he had the potential to fight in the middle of the group fighting for the Top15. He did a good race, with his pace but he will have to learn to be stronger at the start. Entering the race more aggressively in the first 5/6 laps and then not having to recover and battle with riders of the highest level. I'm sure he will take a step forward on this already in race2.
More, from a press release issued by Team Suzuki ECSTAR:
SOLID START TO THE SEASON FOR SUZUKI WITH 4TH AND 6TH
BARWA GRAND PRIX OF QATAR RACE RESULTS:
Joan Mir: 4th (+ 1.222)
Alex Rins: 6th (+ 3.357)
The first race of the 2021 MotoGP World Championship season got underway with an electric atmosphere and a special light show for the riders, teams, and socially-distanced spectators.
Conditions were cooler and windier than those experienced so far, and the soft-soft tyre combination was the choice for the entire field.
From their ninth and 10th grid positions, Team Suzuki Ecstar's riders got decent starts, and they managed the first laps well. By the third lap they were already working their way through the pack.
By the ninth lap of the race, Alex Rins had worked his way up to the leading group of riders, and shortly after he had moved into a Top-5 position. Meanwhile, Joan Mir was getting into a strong rhythm behind his team-mate. With six laps to go, the Suzuki pair were both in podium contention thanks to their hard work, consistency, and determination.
Rins began to experience some tyre wear after pushing in the early laps but he managed to hold onto a very solid sixth place. Mir was able to move into third on lap 20, before swiftly heading into a great second on the last lap. He took a wide sweeping line onto the final straight to try and avoid the full force of the slipstream from the competitors behind him but slipped to fourth on the line.
Shinichi Sahara – Team Leader and Project Manager:
"Our riders started from ninth and 10th on the grid but they still fought for the podium, and they were very close to achieving it. Joan managed to save the tyre a little bit better, and he was in second but he lost out to the two Ducatis on the straight, maybe because his line out of the last corner was a little wide. Alex also had very good pace but it dropped a little in the last part of the race because he lost some grip. But we're very happy and we've learned a lot from today: We'll be going for the podium again next week."
Ken Kawauchi – Technical Manager:
"We were able to confirm once again that our riders are able to fight at the front. Joan was very, very close to the podium, Alex too at one point. So I'm disappointed for them, but at the same time we're feeling satisfied and happy. We've scored good points in this opening round and we're looking ahead to next weekend."
Joan Mir:
"I feel good, it was a nice race. I made a step this morning in warm-up and I regained my feeling with the bike – that was the most important thing. The bike worked so well today, and I'm really grateful to the team. I tried to push hard and get the most from the bike and the tyres, recovering places and managing well. I'm happy with how it worked out even if it would've been great to finish second! But I had a feeling those Ducatis would overtake me on the straight in the slipstream, and I'm still satisfied with fourth. We'll take what we learned and go for next weekend. I'm feeling positive and ready for more."
Alex Rins:
"My start was not one of my best ones, so I had to push a lot to recover the positions I lost and catch up with the leading group. Already six laps before Joan passed me I was beginning to struggle with the tyres, so I think I cooked them. I did my best, and I'm pretty happy, but in the end I couldn't manage to go higher. The bike felt good and my pace was strong, so I'm ready for next week!"
More, from a press release issued by Monster Energy Yamaha:
VIÑALES VICTORIOUS WITH QUARTARARO FIFTH IN OPENING ROUND STUNNER
Losail (Qatar), 28th March 2021
GRAND PRIX OF QATAR
RACE
Monster Energy Yamaha MotoGP's Maverick Viñales gave a masterclass today at the Losail International Circuit. The Yamaha man started the 2021 MotoGP season with a perfect victory at the Grand Prix of Qatar. Teammate Fabio Quartararo also put up a strong fight. He made up a lot of ground in the opening laps and finished in fifth place.
1st MAVERICK VIÑALES 42'28.663 / 22 LAPS
5th FABIO QUARTARARO +3.030 / 22 LAPS
Monster Energy Yamaha MotoGP's Maverick Viñales and Fabio Quartararo put in some real teamwork at the 2021 MotoGP season opener. After a difficult start, the duo stormed towards the front of the pack as a tag team. Viñales proceeded to take on the frontrunners and came out victorious. Quartararo put up a strong fight to cross the finish line in fifth place.
Viñales launched from third place on the starting grid, to settle into eighth position, but this was only temporary. He was soon behind Quartararo, and the teammates worked together cutting through the rider field on their way to the leaders. When lap 8 came round they had made it to third and fourth place.
The number-12 rider's pace was astounding, and it was clear he was ready to put his head down and chase his first podium of the 2021 season. With 12 laps to go, the Spaniard's turn came to take over the role of 'leading Factory Yamaha bike' in third place. He closed down the gap to Johann Zarco in a matter of a few corners. Once second place was a fact, he moved on to a sparring match with Francesco Bagnaia. He found a way through on lap 15 and then took off. Viñales brilliantly managed the tyres and the gap all the way to end, taking the chequered flag with a 1.092s lead over his closest rival.
Quartararo started from second place and slotted into sixth after the opening corners. He was quick to lead a 'Yamaha train' consisting of him, teammate Viñales, and Valentino Rossi to track down the leading group. By the end of the first lap, he was already back in fifth place. His next target was Jorge Martin before setting his sights on the top-3 riders.
With 17 laps to go, the Frenchman started to put serious pressure on Jack Miller. In Turn 15 he made a smooth move for a pass, taking a provisional podium place. Next was a 0.9s gap to bridge to the man in second place, but his attention was also required for the threat of riders closing in from behind. The ride to the front had asked a lot of his tyres, and he was unable to defend his position. With eight laps to go, the youngster found himself in seventh place but not out for the count just yet. He put the bit between his teeth and made a final sprint to take fifth place across the finish line, with a 3.030s margin to first.
Today's results put Viñales and Quartararo in first and fifth place in the championship standings, with 25 and 11 points respectively. Yamaha and the Monster Energy Yamaha MotoGP team are also in first place with 25 and 36 point totals after Round 1.
The MotoGP paddock will stay in Qatar, as next week Round 2, the Grand Prix of Doha, will also be held at the Losail International Circuit.
MASSIMO MEREGALLI
TEAM DIRECTOR
The ideal plan for today was to have a good start, then let Maverick and Fabio make the most of the M1, riding Yamaha lines. However, we expected that our competitors would be strong at the start, so it would almost be impossible for us to lead into Turn 1. But Maverick and Fabio knew what they had to do. They made sure not to waste any unnecessary time battling each other and instead worked together as they rode to the top 3. In the end it was Maverick who had the race-winning pace today. His ride was truly stunning! Fabio wasn't quite able to fight for the podium because of an unexpected rear-tyre drop, but he still put up a strong fight for fifth and collected some important points for himself and the team. We are very happy overall. Starting the season with a win is a great morale boost and a testament to Yamaha's and the team's hard work over the winter. Now we will have a few days of rest and then we will be back on track on Wednesday to prepare for GP2, and we will be looking into the issue that Fabio had with his rear tyre today.
MAVERICK VIÑALES
The race was especially good because I had the opportunity to fight with other riders, which is always important. It's been a while since I last overtook so many riders in one race. Early on in the race, I felt this special feeling with the bike. Also in FP4 when we did the race simulation I felt fantastic and also in qualifying. I'm very grateful, because winning is not easy, so we are going to enjoy today. For the coming race we will work and try to improve again, because we know our competitors will also improve. I just want to say 'congratulations' to the team, because we did a good job this winter. I think this win is very good for the morale of the team, because it's always important to trust ourselves. We still have some things to work on, especially on the race starts. But, overall, I think we can do a good job this season.
FABIO QUARTARARO
I was feeling so strong in the beginning of the race. As soon as I overtook Jack [Miller], I was able to catch Joan [Mir] so fast, but then I noticed a big drop in the rear tyre, which we didn't expect, because I didn't have that during the test or the practice sessions. I decided to adjust my riding a little, but Maverick still overtook me. He was just in another league and had much more grip than I did. In the end I could overtake Rins and Miller because I was riding in a different way, so that's something positive. Last year, on difficult days we made mistakes and finished in P14 or crashed. Today we are P5 and scored 11 points, which is good on a tough day like this, and I was 3s behind Maverick, so that is not that bad.
More, from a press release issued by PETRONAS Yamaha SRT:
PETRONAS Yamaha SRT left wanting more from QatarGP
Valentino Rossi 12th and Franco Morbidelli 18th in opening MotoGP race of 2021
It proved to be a difficult and disappointing opening round of the year at Losail International Circuit for the PETRONAS Yamaha Sepang Racing Team, with Valentino Rossi and Franco Morbidelli, who experienced mechanical issues, ending the Grand Prix of Qatar 12th and 18th respectively.
Rossi's first race as a PETRONAS Yamaha SRT rider got off to a steady start, with the Italian dropping three places on the start to end the opening lap in seventh. As action unfolded in the first half of the encounter Valentino found himself in 12th and struggling with rear type grip, before dropping further to 16th on lap 12. Rossi was able to steadily claw back positions in the remaining time, eventually recovering to cross the line 12th.
It was a nightmare start for Morbidelli, who experienced a problem with his bike on the grid. The decision was made to complete the race, despite the issue, in order to gather data to help in finding a solution. The Italian found himself in 16th place on the opening lap and 19th on lap two. Franco, who starts his third year with the Malaysian squad, resigned himself to a fairly quiet race and at the end of the 22 laps, took the chequered flag in 18th.
There is only a short wait until the second round of the 2021 MotoGP season, with Rossi and Morbidelli due back on track in only a few days' time for the Grand Prix of Doha (2-4 April).
Razlan Razali – Team Principal
Today did not go as we expected it to, for various reasons. We know Valentino experienced some issues with the feeling of the rear, so now we will listen to his feedback and see what we can do for the next GP. Franco also had some mechanical problems, which we are looking into because it is not like him to be in that position. We take the positives that he was able to collect data to help us rectify the issue. We know that the Yamaha is a great bike and I want to say congratulations to Maverick [Viñales] on his win.
It was a great effort from Jake in Moto2, who is still recovering from his wrist injury, and we believe that he can do even better next week. We also hope that the next race will be an improvement for Xavi, after his crash today and I'm sure he will dig deep to make it.
It was a fantastic Moto3 race from Darryn to finish third and take his first podium for us. It shows that he has a lot of potential. It was unlucky for John to be taken out so early in the race. Now we just need to look forward to next week.
Valentino Rossi
12th (+10.742)
We expected more, especially after qualifying yesterday, but I struggled in the race. After several laps I had a problem with the tyres, especially the rear one, which is something that we also saw on Friday. We were hoping that it would have been less of a problem today, with the cooler temperatures, but unfortunately the feeling was similar and I lost some positions. I feel like I had a good start compared to the other Yamahas, but some others had a stronger one, I feel like we entered the first corner with a good speed though. Now we try to fix it and make it better for next week.
Franco Morbidelli
18th (+23.892)
It was a difficult race for us. We had a problem on the grid but we decided to give it a go anyway. Out of respect for my team and the work they do I wanted to complete the race, also so that we might understand the problem better. It is something we need to investigate further, I think we might have seen it at other times in the weekend, but during the race it was very clear that something was wrong. It was unfortunate that we had to have the bad race, but the good thing is that we have data to understand what was going on. I hope we can fix something for next week.
More, from a press release issued by LCR Honda Castrol:
BATTLING ÁLEX MÁRQUEZ UNABLE TO TAKE POINTS IN QATAR
Álex Márquez could not make the start he wanted to his LCR racing career as he failed to finish the season-opening Grand Prix of Qatar on Sunday. The Spaniard was making his first GP appearance for Lucio Cechinello's team, but did not see the chequered flag as he slid out eight laps from the end in the opening round of the 2021 MotoGP World Championship.
The LCR Honda CASTROL rider enjoyed a positive start to the day as he went fourth quickest in warm-up. Having dropped places after a difficult start, Márquez was battling back through the field and had climbed up into 14th position when he lost his front end to bring a premature end to his race.
Alex Marquez – NC
"In the end it was not a positive day and I'm sad for the team and everybody who worked so hard this weekend. Honestly, I had a horrific start and I lost a lot of time at the first corner and was also touched at the rear by (Danilo) Petrucci. Then I was in a group and was trying to overtake, but it was difficult to overtake at that point. When I was alone I was in really good shape and in a really good rhythm, but when I caught the people ahead it was so difficult to overtake. I did a small mistake that cost us the race, so sorry to the team. But I think we're in good shape and working well and I think next weekend we have another chance to change the situation and do better in the championship."
More, from a press release issued by LCR Honda Idemitsu:
QATAR GP ENDS EARLY FOR NAKAGAMI
The Grand Prix of Qatar ended in early for Takaaki Nakagami as he slid out in the early stages of the 2021 curtain-raiser in Doha. The LCR Honda IDEMITSU rider lost his front end heading into turn nine just seven laps into Sunday's race, ensuring he finished the opening round of the new World Championship season empty-handed.
Starting from the fourth row, Taka headed into the race in upbeat mood having posted the fifth fastest time in the warm-up session. But the Japanese star lost a handful of places at the start after being crowded at the first corner and his misfortune was compounded on lap seven as he uncharacteristically crashed out.
Takaaki Nakagami – NC
"Of course I'm not happy becuase I didn't finish the race. There's not much to say, I'm really sorry to my team as they worked really hard and yesterday we made a big step and had confidence for today's race. But in the end, I'm not sure as I didn't make a mistake and the data didn't show a strange feeling. Anyway the crash was at turn nine and we need to understand what happened at that moment, fortunately I'm ok and we have a few days off to prepare for the next round here in Qatar. Once again, I want to say sorry to all my team, but we have to be strong and think about the next round."
More, from a press release issued by Ducati Lenovo Team:
Pecco Bagnaia third on the podium in the Qatar GP at Losail. Jack Miller finishes the race in ninth position
Bagnaia takes his second podium in MotoGP in the opening Grand Prix of the 2021 MotoGP season in Qatar
Podium also for Johann Zarco, second at Losail with the Desmosedici GP of the Pramac Racing Team
Francesco Bagnaia stepped on the third step of the podium in the Qatar GP this evening, in the first round of the 2021 MotoGP season at the Losail International Circuit of Doha. After a perfect start from pole position, which saw him holding onto the top spot ahead of teammate Jack Miller and the two Ducati machines of Johann Zarco and Jorge Martín (Pramac Racing Team) in the first laps, the Italian rider remained in the lead until over halfway through the race. As he dropped down into fourth place a few laps from the end, Pecco managed to take the third place in a sprint on the finish straight, thanks to his Desmosedici GP's acceleration.
Pramac Racing Team rider Johann Zarco, setter of the new top speed record in MotoGP yesterday (362.4 km/h), finished second on the podium after starting from the second row on the grid. Third, at the last corner, the Frenchman took advantage of his Desmosedici's engine power, overtaking Mir onto the straight a few meters away from the finish line, followed by Bagnaia.
After a first part of the race in the leading group, Jack Miller, who started from fifth place on the second row, lost ground progressively to end the GP in ninth place eventually.
Francesco Bagnaia (#63 Ducati Lenovo Team) – 3rd
"I'm thrilled to start the 2021 Championship with a podium: it was my first race with the Ducati Lenovo Team, and I'm coming from a rather difficult end to the 2020 season. Today I tried really hard to keep the lead and close all the doors on Viñales. Unfortunately, I think I made the wrong strategy and wore the tyres down too much at the start. After seven laps, I started to struggle a lot, especially on the rear, and I think that was also due to the different track conditions today compared to the last few days. We still have one more race here in Qatar, so we will try next Sunday again."
Jack Miller (#43 Ducati Lenovo Team) – 9th
"Ninth position is definitely not the result we were hoping for, but it's still important points for the Championship. Unfortunately, after a good start, I started to have problems with the rear towards the middle of the race, and I had to manage till the end. I felt really comfortable when I was in third place and was hoping to attack the front guys towards the end, but it didn't go that way. Now we will analyse the data to understand what happened and find a solution ahead of the next GP, which will be held again here in Qatar".
The Ducati Lenovo Team riders will be back on track next week, from 2nd-4th April, again at the Losail International Circuit for the Doha GP.