More, from a press release issued by Dorna:
Miller leads Ducati 1-2 on Day 1 in the desert
A familiar name topped the timesheets on Friday at Losail as Miller headed teammate Bagnaia, with Quartararo slotting into third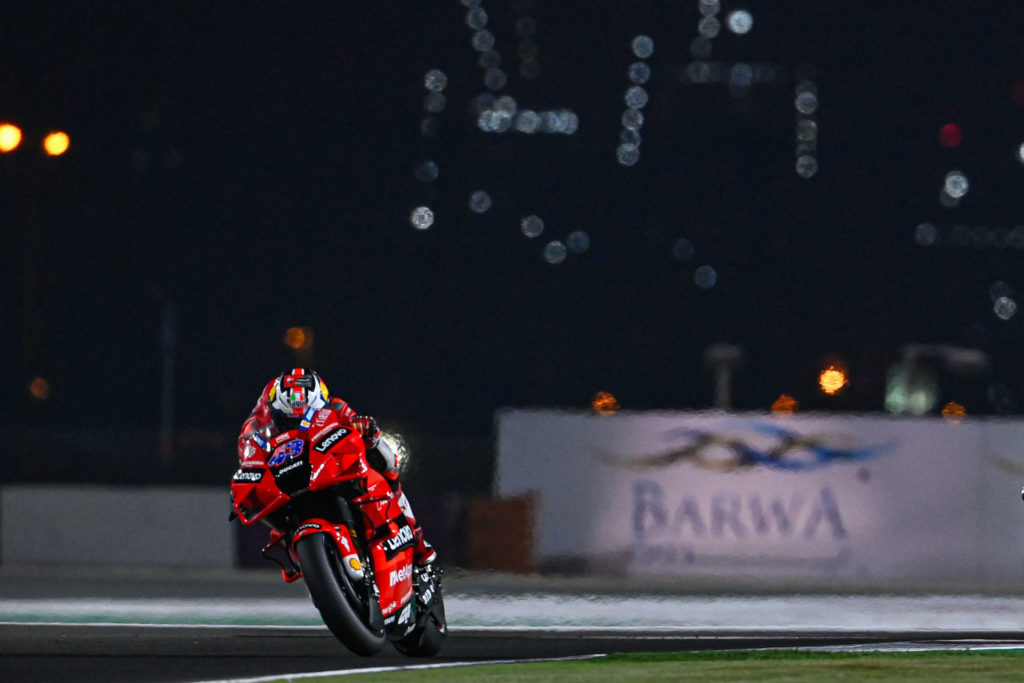 Friday, 26 March 2021
Day 1 of MotoGP™ action in 2021 is in the history books, and leading the way on Friday at the Barwa Grand Prix of Qatar is Ducati Lenovo Team's Jack Miller as the Australian picked up where he left off in testing. Miller's 1:53.387 was just 0.007s away from the all-time lap record, and teammate Francesco Bagnaia made it a Borgo Panigale factory 1-2. An infinitesimal 0.035s split the two red machines, with Fabio Quartararo (Monster Energy Yamaha MotoGP) completing the top three after ending the day 0.188 off Miller.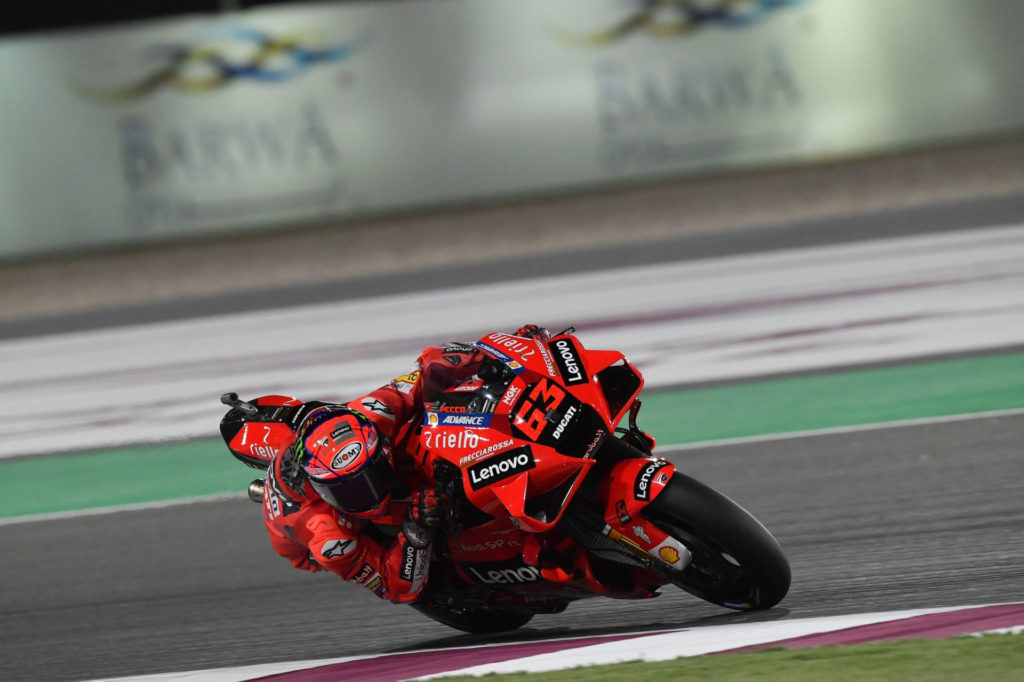 After a scorching FP1 was completed earlier in the day, the Losail floodlights were switched on for FP2 and Miller, Bagnaia, Aleix Espargaro (Aprilia Racing Team Gresini) and Alex Rins (Team Suzuki Ecstar) all almost immediately set laptimes quicker than Franco Morbidelli's (Petronas Yamaha SRT) FP1 pace. That was before the Red Flag came out due to track conditions, with some debris scattered across the track on the start/finish straight. However, after a quick clean up operation, the MotoGP™ riders were back out with one thing on their mind: securing a place in the top 10 and therefore a provisional place in Q2.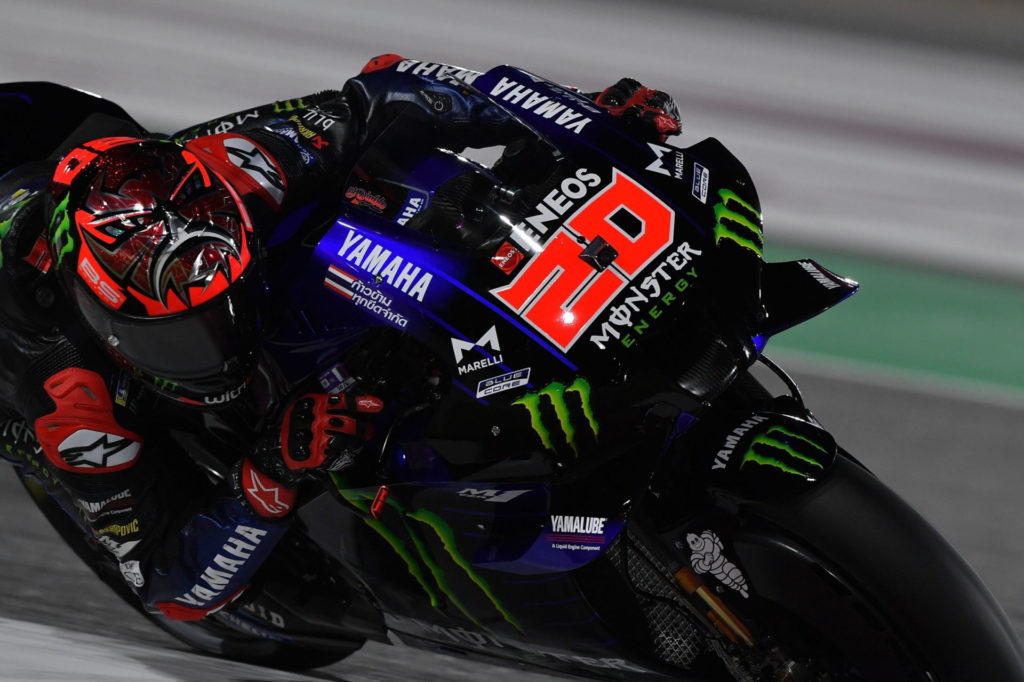 Aleix Espargaro was the first rider to venture into the 1:53s under the evening lights and briefly went an incredible seven tenths clear, before Rins then cut the deficit to just under half a second. It then fell a little quieter at the top but with just under 15 minutes to go on the opening day, Quartararo slotted into within a tenth of Aleix Espargaro to make it four manufacturers in the top four: Aprilia, Yamaha, Ducati, and Suzuki. Soft front and rear rubber was the choice for pretty much every rider as the first shootout of the year began.
On his next lap, Quartararo made good on his earlier threat and did demote Aleix Espargaro to P2, with Quartararo's fellow Monster Energy Yamaha MotoGP rider Maverick Viñales taking over in P3. Johann Zarco (Pramac Racing) and Valentino Rossi (Petronas Yamaha SRT) were next to climb the ladder into P5 and P6, with rookies Enea Bastianini (Esponsorama Racing) and then Jorge Martin (Pramac Racing) enjoying some time in the top 10 too.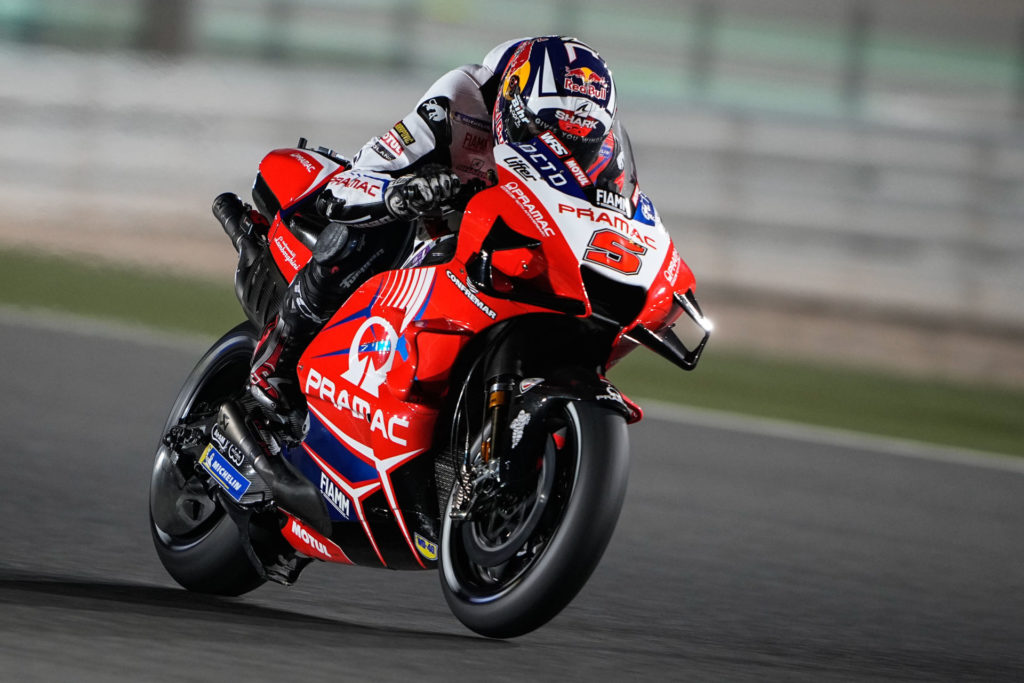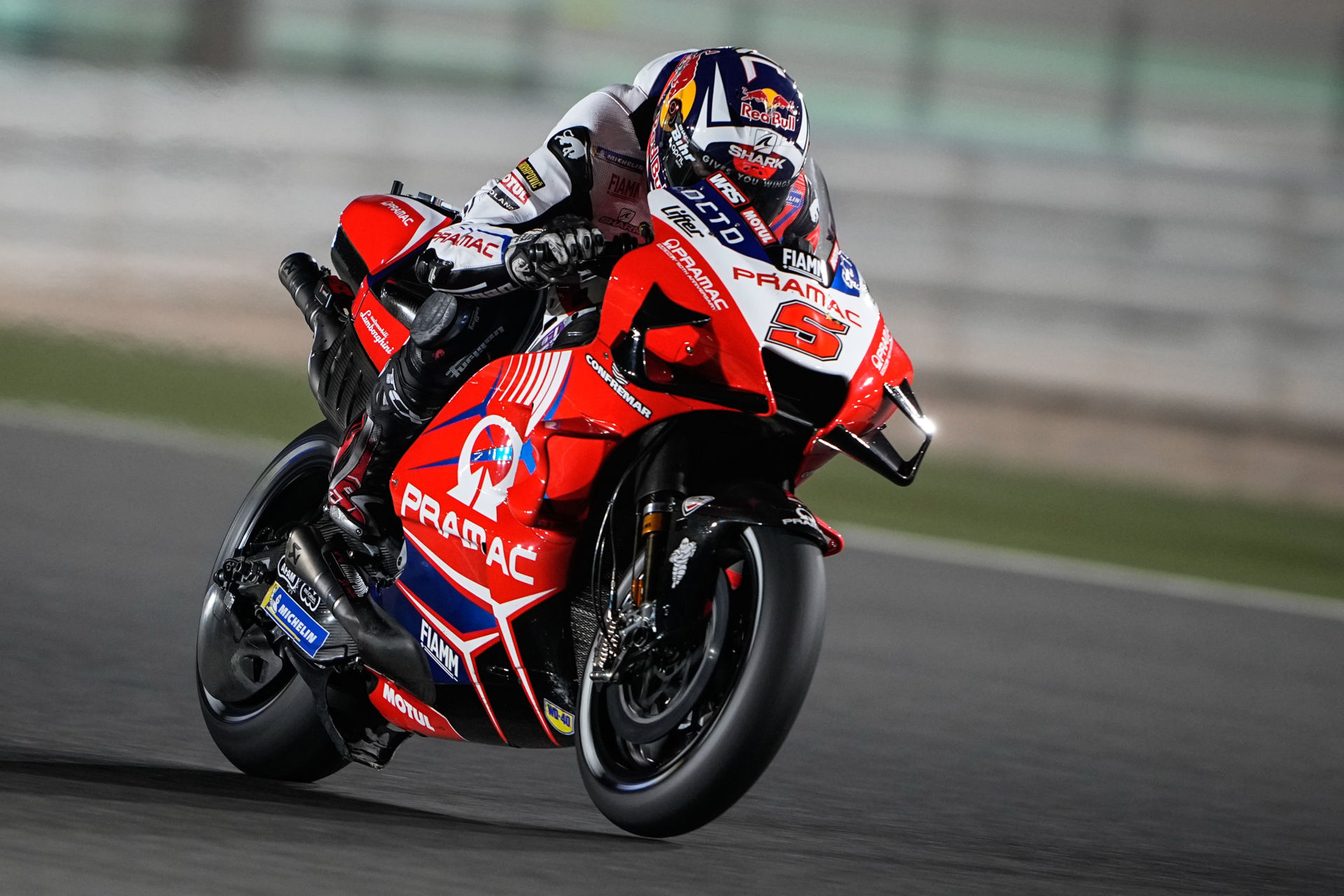 With nine minutes left, Bagnaia then took charge and did so by an almighty 0.275s. That lap was within half a tenth of Marc Marquez's (Repsol Honda Team) all-time lap record, a 1:53.380, and Miller was next to challenge as he crossed the line within just 0.007s of Marquez' time and took over in P1. It was soon a Ducati 1-2-3 as well, with Zarco going 0.199s behind Miller and the top 10 positions chopping and changing.
Quartararo was then glowing the timing screens with red in the opening three sectors, but the Yamahas were losing touch in the last sector as the superior grunt of the Ducatis kicked in. Nevertheless, El Diablo was able to grab P3 to break the Ducati trio apart. Bagnaia then threatened to reclaim top spot but Pol Espargaro's (Repsol Honda Team) second crash of the day, this time at Turn 15, meant the Italian couldn't complete his lap due to yellow flags.
In the end then, it's Ducati and Miller who take first blood in 2021 and Bagnaia is forced to settle for second. The Italian makes sure it's a Bologna 1-2 at the top though, with Yamaha looking good and Quartararo the quickest YZR-M1 rider so far in third. Zarco is looking like a serious contender on the GP21 too and finishes Friday in P4, with Rins going well on the soft tyres – something that bodes well for Suzuki to shrug of their sometime Achilles' heel of one-lap pace – to claim P5.
Viñales and Morbidelli were close in sixth and seventh, respectively, finishing within three tenths of Miller as Aleix Espargaro slipped to P8 at the end of play. Valentino Rossi finished inside the top 10 for the second session in a row, the nine-time World Champion taking ninth, and Pol Espargaro grabbed a vital P10 despite his late tumble. Two crashes in one day aren't what HRC's new recruit would have been looking for, but the number 44 has some good speed.
Reigning World Champion Joan Mir (Team Suzuki Ecstar) misses out on what could prove to be a crucial top 10 place as his title defence begins, but the gap could hardly be smaller: just 0.013s. With the cooler evening temperatures allowing the riders to set their best times of the day compared to when the sun was beating down in FP1 though, the same could well happen again in FP3 – so will an automatic place in Q2 be a struggle for Mir?
MotoGP™ really has returned with a bang in 2021 as 16 riders finish within a second on the opening day, a fantastic way to welcome back Grand Prix motorcycle racing. 15:15 local time (GMT+3) on Saturday afternoon is when the premier class will be back on track for FP3 and the provisional places in Q2 will be confirmed, so make sure to tune in and come back for the first qualifying shootout of the season from 19:20.
More, from a press release issued by Tech3 KTM Factory Racing:
Tech3 KTM Factory Racing kicks off 2021 campaign under the Losail floodlights
Scorching heat welcomed the MotoGP World Championship on day one of the new season today in Qatar for the first Free Practice. However, conditions changed completely in FP2 tonight, as the second session of the day traditionally took place in the dark.
After just four days of testing, the team's new entry Danilo Petrucci was quick to adapt to both circumstances, picking up where he left off during the test over a week ago with steadily getting accustomed to his KTM RC16. The Italian concluded day one 0.873 seconds off the provisional Q2 spots.
On the other side of the Tech3 KTM Factory Racing garage, Iker Lecuona started to prepare himself for what will be his first premier class race at the Losail International Circuit. The Spanish youngster completed Friday just 0.324 seconds behind his teammate of the combined FP1 and FP2 timings.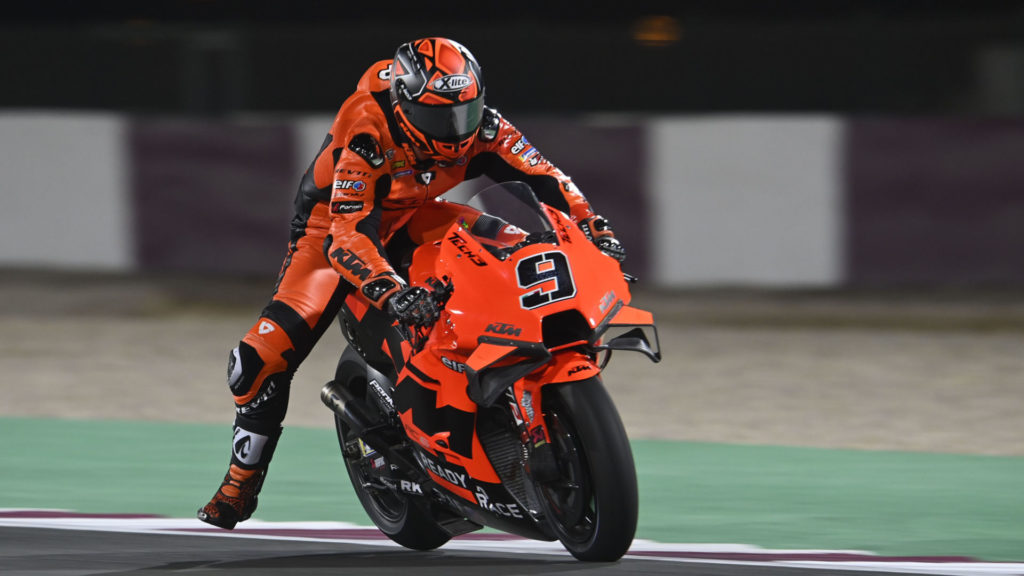 Danilo Petrucci
 
Position: 20th
Time: 1:54.774
Laps: 31
"For sure we are still not in the place where we want to be. We are improving the bike a little bit, but we still have a long way to go. I'm a bit upset, because I lost most of the time in the last two corners. At the same time, we are trying to recover the time we lost during the test here, which is not easy during a race weekend."
"Maybe we will have some time during FP3 to further adjust the bike. Obviously, we are just at the beginning. We work a lot, we want to improve. Overall, I'm not really satisfied about today, but I'm already focused on tomorrow."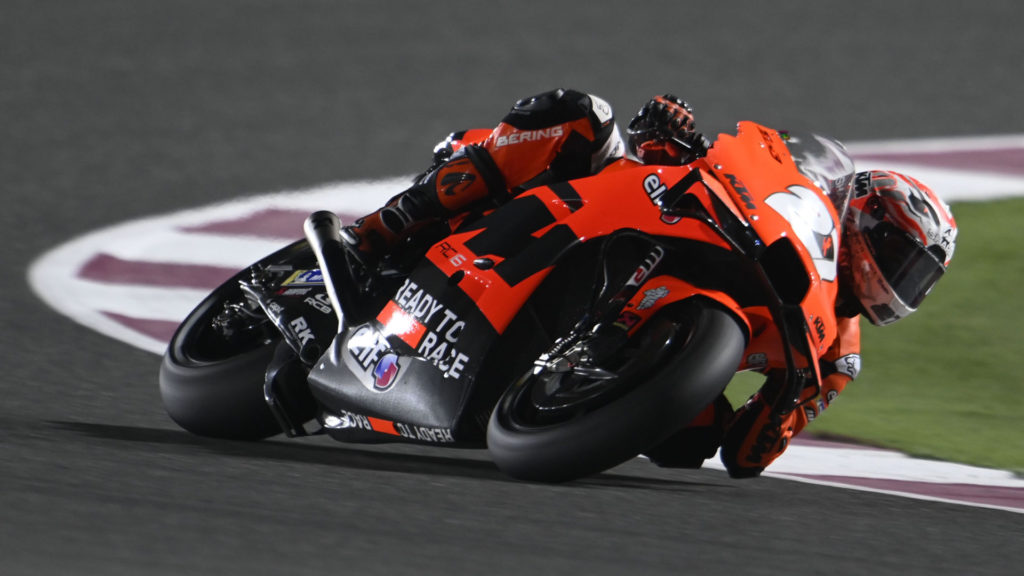 Iker Lecuona
 
Position: 22nd
Time: 1:55.098
Laps: 31
"Today has been a quite difficult. My feeling with the bike is good, but I start to have some issues with my arms. I had two surgeries, so I don't understand. Maybe it's because of the long off-time. It's not easy for me to keep the pace."
"In my time attack, I gave everything, but apparently there's still something missing. I try to work a lot with the bike and I already feel more comfortable than during the test. We have a margin, that is clear, but I just have to continue working in order to be ready for tomorrow."
More, from a press release issued by Monster Energy Yamaha:
MONSTER ENERGY YAMAHA MOTOGP OPEN 2021 CAMPAIGN WITH TOP-6 RESULTS
Losail (Qatar), 26th March 2021
GRAND PRIX OF QATAR
FREE PRACTICE
Monster Energy Yamaha MotoGP's Fabio Quartararo and Maverick Viñales have started their 2021 MotoGP campaign today at the Losail International Circuit. They finished in 3rd and 6th place respectively in the combined Friday free practice timesheets.
3rd FABIO QUARTARARO 1'53.575 / 16 + 17 LAPS
6th MAVERICK VIÑALES 1'53.639 / 18 + 18 LAPS
Monster Energy Yamaha MotoGP's Fabio Quartararo and Maverick Viñales went straight down to business today during the first two free practice sessions of the Grand Prix of Qatar. They continued developing their set-ups for Sunday's race and finished the day in 3rd and 6th place respectively in the combined Friday free practice results.
Quartararo was a man with a plan for the inaugural Friday session. He got straight back to work and gradually started building up his race pace and concluded the first FP1 of 2021 by setting two consecutive personal best times. His 1'55.213s on lap 16/16 earned him fourth place, 0.292s from first.
The Frenchman had saved some soft tyres for the FP2 session, which is predicted to be more similar in terms of track conditions to those of Sunday's race, held at 20:00 local time (GMT+3). He briefly topped the timesheets with 12 minutes to go. The pace soon picked up, but the youngster responded. He set a 1'53.575s on lap 16/17 to take third place in the FP2 and combined free practice results, 0.188s from the top.
Viñales got back into the rhythm with ease. He soon featured inside the provisional top 2 as he started work on Sunday's race set-up and kept the position. The Spaniard spent the remainder of the afternoon track time focusing on his own free practice plans. He ended FP1 in sixth place, 0.388s from first, thanks to the 1'55.309s he on lap 7/18.
The Spaniard continued work in FP2, but didn't have the same feeling. However, despite the short interruption of a red flag due to debris on the track, he did book progress throughout the cooler evening session, making the last lap his fastest of the weekend thus far. He finished in sixth place in the FP2 and combined rankings, with a 1'53.639s lap and a 0.252s-margin to the front.
MASSIMO MEREGALLI
TEAM DIRECTOR
Today we've officially kicked off the 2021 season and got straight to work. FP1 was a good start. Fabio and Maverick felt comfortable on their bikes. Then, in FP2, both riders used the beginning of the session to test different settings. After that they focused on getting in their time attacks, because the conditions were good, and also considering that tomorrow the temperatures during FP3 will be too hot. Even though we have a good base set-up, we have a bit of room for improvements, and we will use the next sessions to work on that. We will simulate the race in FP4. But overall we are satisfied about how we started the season without any inconveniences.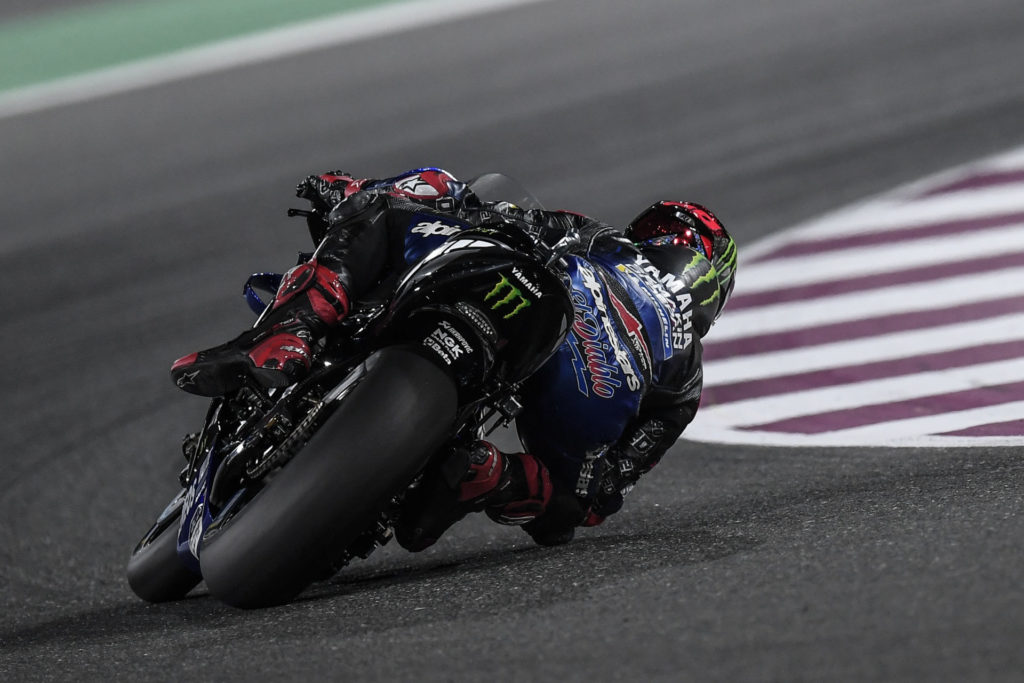 FABIO QUARTARARO
I'm so happy to finally make our first laps of the 2021 season. We didn't ride with the best tyre option in FP1 because we needed to save the soft tyres for later, for the right moment. We tried something on the first run of FP2 that I didn't like, but it's good to have been able to try it. Now we know. It was also good to do the two time attacks at the end. It was tough, because our competitors are fast, but I'm happy that I've done two great laps. There were some small mistakes to improve on, but overall I'm happy with today.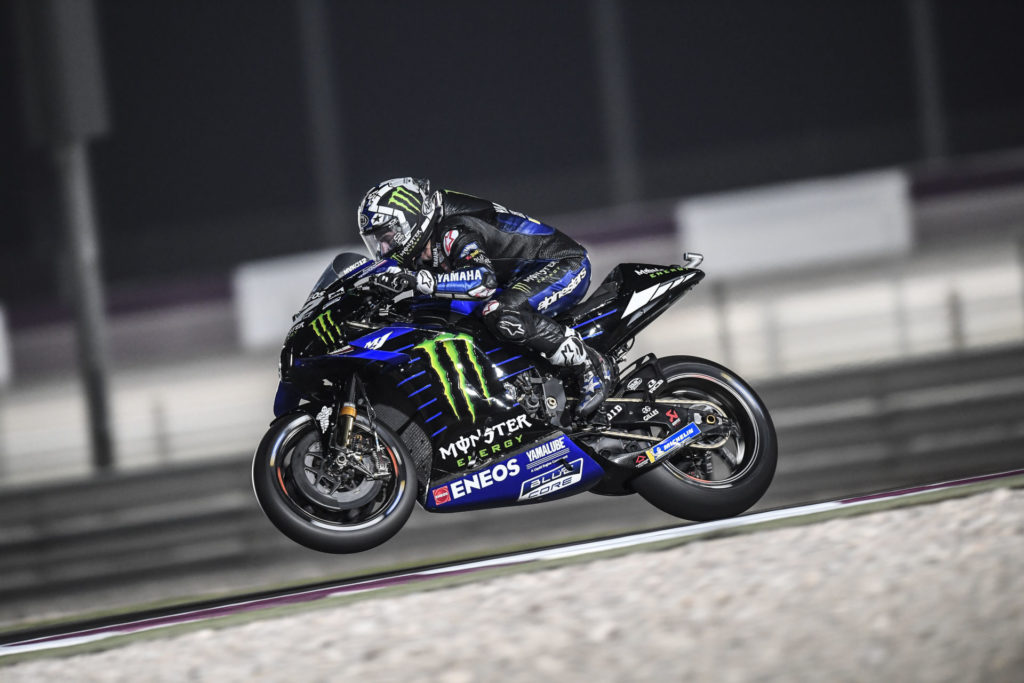 MAVERICK VIÑALES
We had to wait a long time to start the season. I think we picked up in FP1 where we left off during the Qatar Test. Everything was working well and I felt fantastic on the bike on track, keeping the lines and riding smoothly. In the evening we felt a little bit different than we did during the test. For sure, the track is not in the same condition, but we are certain that we will be able to improve during the race weekend. The bike is working well, it's just the conditions that are different, so we need to understand the set-up. For tomorrow we will focus on the balance of the bike to see if we can improve. I know we will fix it. I can't wait for tomorrow to put in some nice laps.
More, from a press release issued by Aprilia Gresini Racing:
SOLID START FOR ALEIX AND APRILIA ON THE FIRST WEEKEND IN QATAR
Aleix and Aprilia pick up where they had left off, with an extremely solid performance on the first official day of the MotoGP season in Qatar. The Spanish rider's feeling with the new RS-GP was clear from FP1, where his times were consistently on the high end of the standings, despite the less-than-optimum track conditions. The more indicative FP2 session was a repeat of the earlier one, where Aleix stayed in the lead for quite some time. Traffic on the track at the end of the session kept him from shaving a bit more off his time, but his final eighth place and, more importantly, his great consistency, place him among the possible protagonists of the weekend.
The good news for Lorenzo Savadori came especially from his shoulder, significantly improved with respect to the recent IRTA tests. The Italian still doesn't have a perfect feeling in acceleration, which is where Lorenzo and his team will focus their work tomorrow.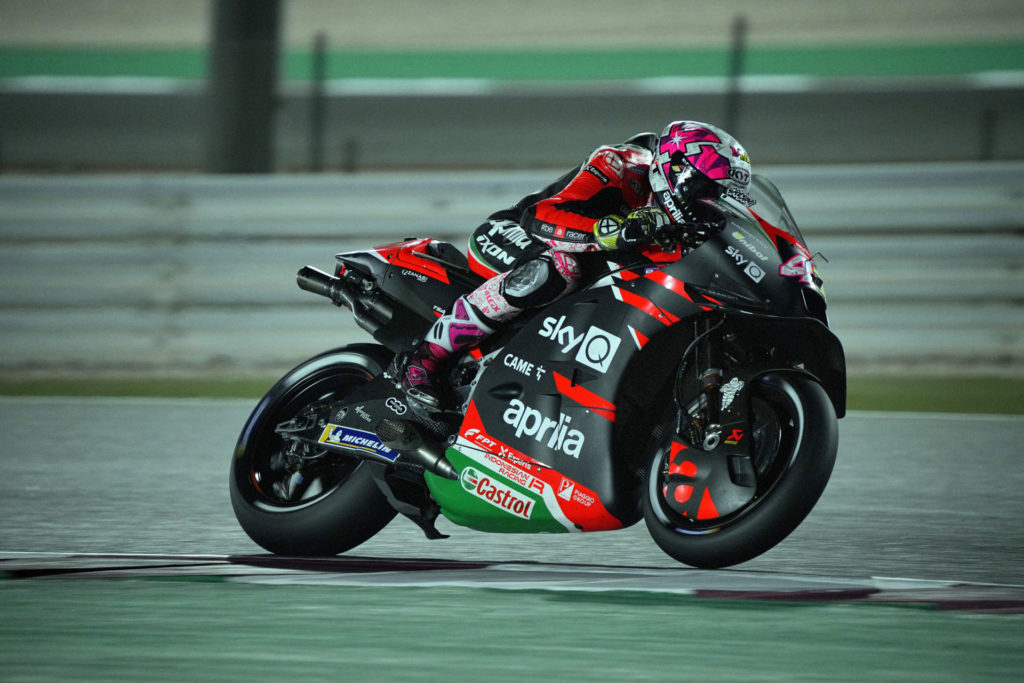 ALEIX ESPARGARO'
"I am satisfied with this start. After the tests, which went well, I had some doubts because when the race weekend begins, the values on the pitch can change. Instead, we confirmed our level today too. I am especially happy with how easy it is for me to be fast with the new RS-GP. It is a fun bike to ride. I feel like I am exploiting it well and the times show that. Now I want to focus on qualifying because I think it is possible to do well in those conditions too. There will be a lot of aspects to assess on Sunday in the race with a completely new bike, from how it performs in the slipstream to fuel consumption. We are tackling one session at a time, but with a very positive spirit."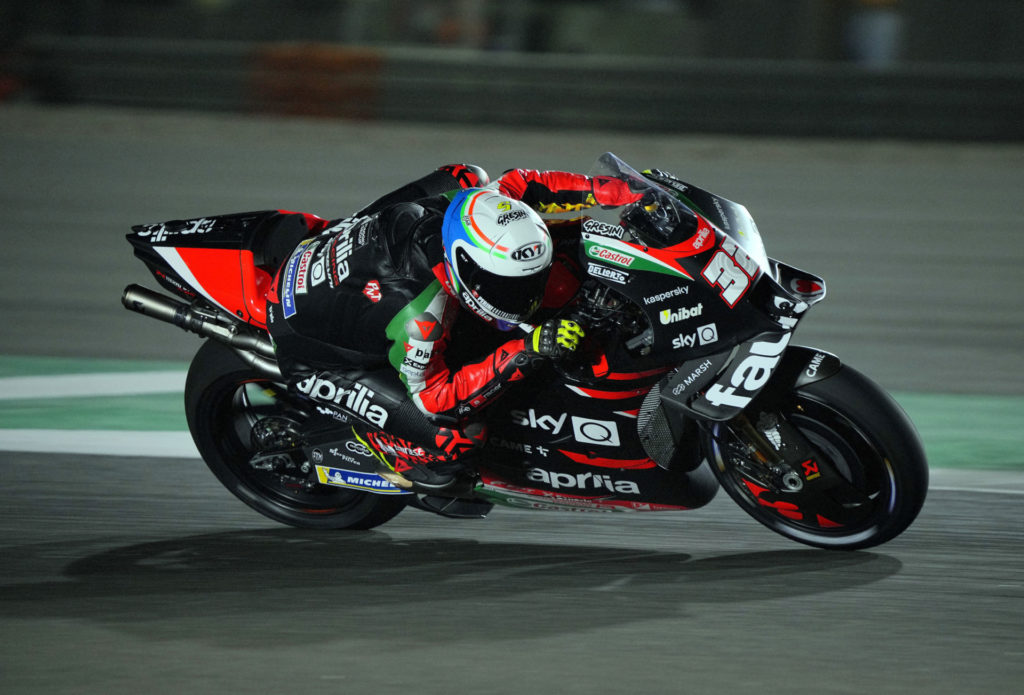 LORENZO SAVADORI
"The most important thing today is definitely the condition of my shoulder, which is reacting well, and that gives me peace of mind, even though it still hasn't fully healed. As for the bike, we identified the areas where we need to work, namely acceleration. At the moment, I am not fully exploiting rear tyre grip and in this category that is precisely where you can make the difference. On one hand, knowing which direction to concentrate on is positive, and on the other, the solution might not be so immediate. We have a few ideas and we'll put them into practice tomorrow."
More, from a press release issued by Team Suzuki ECSTAR:
SUZUKI DOWN TO BUSINESS ON FIRST FRIDAY OF THE SEASON
 
Alex Rins: 5th – 1'53.623 (+ 0.236)
Joan Mir: 11th – 1'53.914 (+ 0.527)
Team Suzuki Ecstar and the MotoGP field took to Losail Circuit in Qatar on Friday for the first practice sessions of the 2021 season.
For FP1 the track conditions were tricky, with ground temperatures reaching 60 degrees Celsius and dust making for low grip. Nevertheless, the riders quickly got to work adjusting their bikes. Joan Mir and Alex Rins finished this session fifth and seventh respectively.
As night fell around the circuit, the pressure was on to find the feeling and set a fast time, with tomorrow's FP3 likely to be held in less favourable conditions. Both Rins and Mir opted for the soft-soft tyre combination and they got down to business trying to find a rhythm before a slight interruption due to a red flag flown because of debris on the track. After the session restart both Suzuki riders pushed to get their lap times down, and the FP2 session became very competitive.
Rins and Mir dropped their lap times and managed to get into the Top 10. However, as the action hotted up Mir slipped to 11th place – although just half a second from the top – while Rins held onto fifth place.
Ken Kawauchi – Technical Manager:
"We have finally started the season after good testing here. Today we worked on settings, and then we tried to set lap times during FP2 because tomorrow's conditions look tricky. So both our riders concentrated on lap times, and although Joan missed out on the Top 10 he still has good pace. Alex did a great job and he was fifth. So we're looking forward to tomorrow and hoping for good qualifying."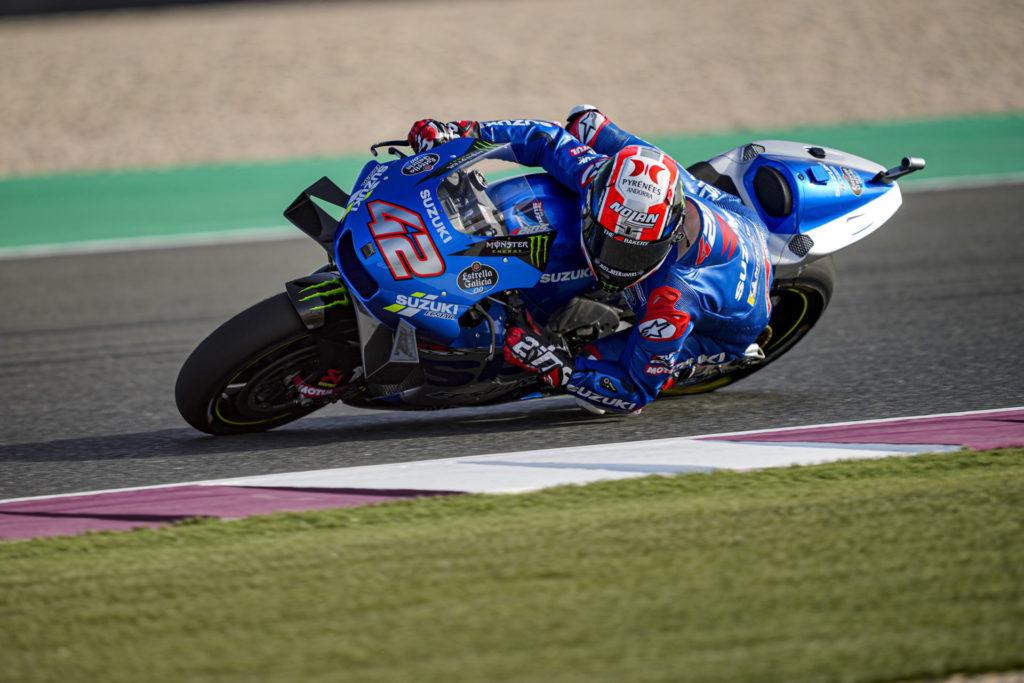 Alex Rins:
"Today was a good day, we achieved the target we set, and we did a good lap time. I've also improved my time compared with the test here, so I'm satisfied. It seems like qualifying tomorrow will be interesting and the race too, the times are tight with a lot of fast riders! So we'll continue working hard and trying to improve all the time."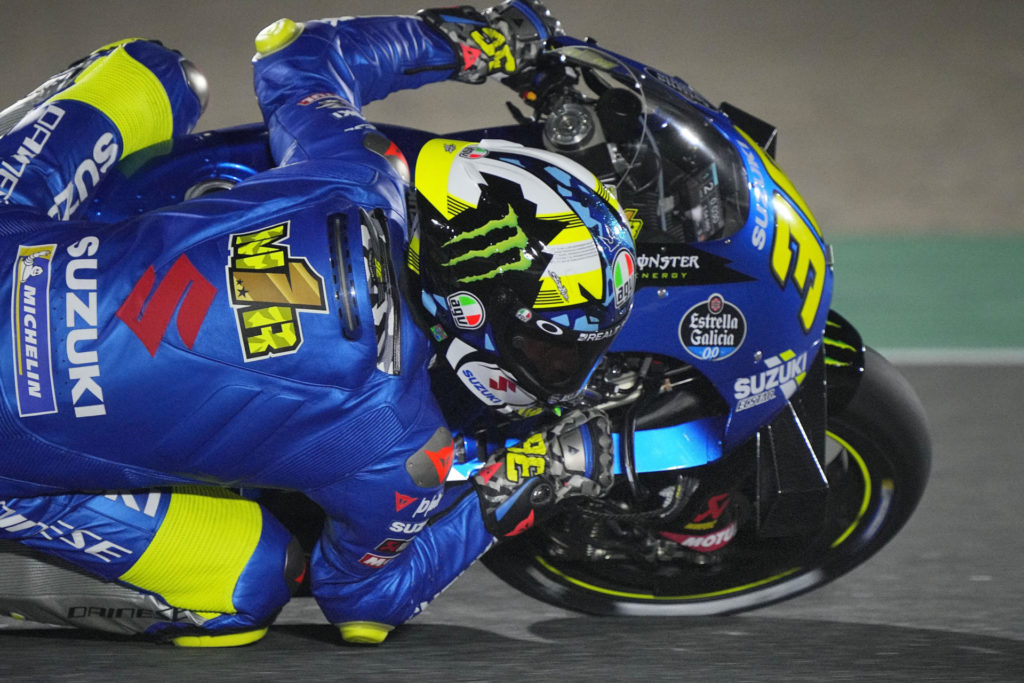 Joan Mir:
"It was a difficult day and I think missing the last day of testing here has had an impact on our performance because we still had to adjust some things on the bike to become a little more competitive. We were pretty strong on times, but there's still work to do. The main thing is that we know where we can improve for the coming days."
More, from a press release issued by Ducati Lenovo Team:
Qatar GP. Miller first and Bagnaia second at the end of Friday free practices
The Ducati Lenovo Team resumed action today at the Losail International Circuit in Qatar for the first day of free practices for the inaugural Grand Prix of the 2021 MotoGP World Championship, scheduled for this Sunday. In today's two sessions, both Jack Miller and Francesco Bagnaia confirmed the competitiveness showed already during the tests held a few weeks ago at the same track, finishing in first and second position respectively in the combined standings on Friday.
Third at the end of FP1, despite a fall without consequences at Turn 4, Miller improved by over a second his best time during the second run held in the evening, closing with a fastest lap in 1:53.387, only seven thousandths off the current circuit record.
Also, for Bagnaia, it was a very positive first day at Losail. Eighth with a lap time in 1:55.365 at the end of the first session, the Italian rider set a fastest lap in 1:53.422 in FP2, finishing second just 35 thousandths behind his teammate.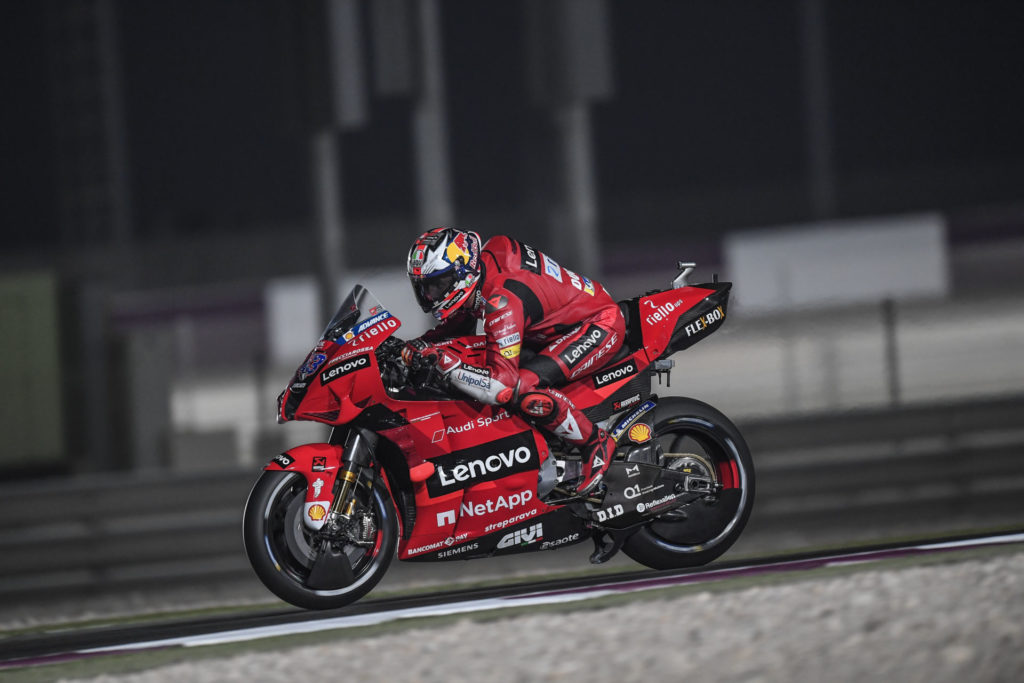 Jack Miller (#43 Ducati Lenovo Team) – 1:53.387 (1st)
"It was a bit of bumpy start due to the crash in FP1, but then the day ended well. In the afternoon, the wind made the conditions difficult, but towards the evening, I found the feeling with my Desmosedici again; I set a very good lap time with the soft tyre, which is just 7 thousandths off the track record. I'm delighted: it was important to close these first two sessions well because tomorrow in FP3, with the higher temperatures, it will be tough to improve. We were all very close today, and I expect very fast times in qualifying. I am excited and eager to head out on track again tomorrow".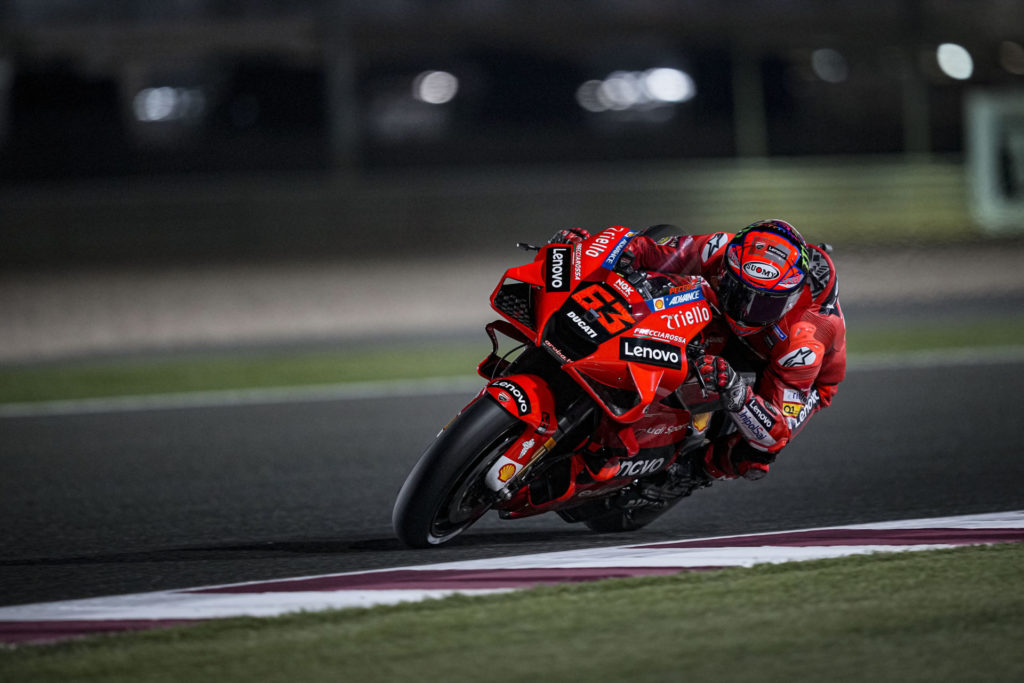 Francesco Bagnaia (#63 Ducati Lenovo Team) – 1:53.422 (2nd)
"I'm delighted! Today it was important to finish in the top ten: the FP3 session will be held during the day, and with the heat, it will be difficult to get the same times like tonight, and on top of that, it will be windier than today. During the first time attack, I set a very good lap time, and if I hadn't run into the yellow flag on my second attempt, I probably would have improved it even more. I am satisfied because I feel very comfortable with the bike. Tomorrow, in FP4, we'll work on the race pace, which is still the only detail we need to focus on".
The Ducati Lenovo Team riders will be back on track tomorrow at 3:15 pm local time for the third free practice session before qualifying for the first GP of the 2021 season starting from 8:00 pm, at the end of FP4.
More, from a press release issued by LCR Honda Castrol:
MÁRQUEZ HAPPY WITH OPTIMISTIC  DEBUT IN DOHA
Álex Márquez made his competitive debut in LCR Honda CASTROL colours as the opening free practice sessions for the Grand Prix of Qatar ushered in the new 2021 MotoGP season. The Spaniard made a solid start to life with Lucio Cecchinello's team as he finished the day in 12th position and will now look to push on when the riders return to the track for qualifying on Saturday.
Márquez ended just outside the top 10 in both of Friday's sessions which took place across the afternoon and evening in Doha. After placing 11th in a humid FP1, the 24-year-old was just one place further back in FP2 having at one stage moved up into seventh position. Although he now looks unlikely to secure automatic entry into Q2, Marquez remains hopeful of improving again tomorrow.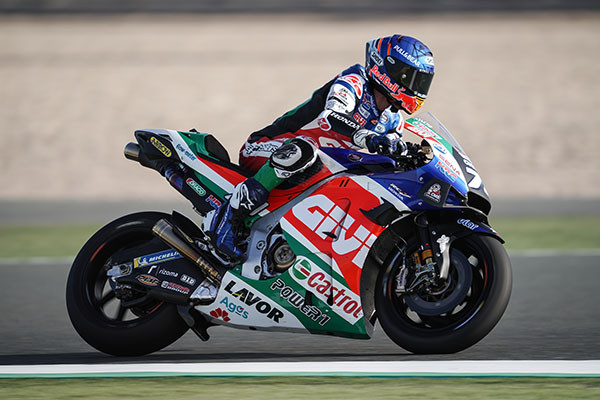 Alex Marquez – 12th
(1'54.115)
"It was a positive day, we took a step forward as we improved our lap times compared to the tests, so I'm happy with that. But we're not in Q2, so tomorrow the key will be to find a good rhythm first of all in FP4, then Q1 will be important to try to be in Q2 for qualifying to get a good position on the grid, so the race is easier. But in general we can be happy with a step forward, we tried different things this afternoon in the front part of the bike that helped me get a better feeling and more power, so tomorrow we need to continue that progress."
More, from a press release issued by Pramac Racing:
Qatar FP – Very positive first day, Johann P4 and Jorge P13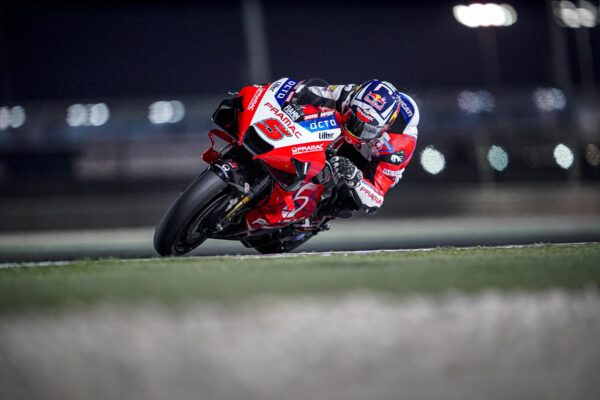 Pramac Racing Team riders Johann Zarco and Jorge Martín are back on track again at the Losail Circuit to face this weekend the inaugural Grand Prix of the 2021 MotoGP World Championship.
Strong of the results obtained in the two test sessions, Johann Zarco closed the first day of free practice with the fourth time marked during FP2 with a time of 1:53:586.
Jorge Martín, who made his MotoGP debut at this circuit in past weeks, also returned to the track with the aim of being competitive in the first race. The Spanish rider made an exceptional performance in FP2 closing in thirteenth position only 2 tenths from the top ten with a time of 1'54.178.
Jorge Martín
During FP1 I suffered a bit, I found some difficulties with the rear, but in the afternoon I found my confidence again, improving my times compared to the tests. I'm very satisfied because I finished just two tenths from the top ten, very happy with the work we have done today, I'm ready for tomorrow.
Johann Zarco
I'm very happy with how we finished this day. In FP2 I did very well and this will be fundamental for tomorrow because in these weather conditions with the asphalt so hot it will be very difficult to improve the times in FP3. We are ready, I feel good and I have a good feeling with the bike, in FP2 with the soft tires I improved a lot and we made a big step forward.
More, from a press release issued by PETRONAS Yamaha SRT:
Fine margins in the desert on QatarGP opening day for Morbidelli and Rossi
PETRONAS Yamaha SRT's Franco Morbidelli seventh and Valentino Rossi ninth
A red flag period during FP2 and fine margins were the stand out features of the opening day of MotoGP action at the QatarGP, where PETRONAS Yamaha Sepang Racing Team's Franco Morbidelli and Valentino Rossi ended Friday's practice sessions at Losail International Circuit seventh and ninth respectively – an important achievement with different track conditions predicted for FP3 potentially hindering direct entry to Q2 tomorrow.
Continuing his good form from the pre-season test, Morbidelli reinforced that he's one to watch after ending the MotoGP FP1 session at the top of the times with a 1min 54.921secs lap. The second practice session of the day saw fine margins separate the riders, as lap times fell in the evening conditions. Franco's fastest lap – 1min 53.676secs – saw him end the day seventh, just 0.289secs shy of the top.
Rossi, who is celebrating the 25th anniversary of his GP debut, improved his lap times steadily throughout the 45 minutes of FP1. At the end of the session Vale's 1min 55.419secs lap put him ninth. After the red flag period, the Italian was a permanent fixture in the top-ten for the majority of the remaining time in FP2. At the end of the session Rossi had posted the ninth quickest time of the day, a 1min 53.874secs lap, which was 0.487secs off the fastest rider.
Tomorrow's track action for Morbidelli and Rossi will begin with Free Practice 3 at 3.15pm local time (8.15pm MYT), and culminate in the two qualifying sessions that will take place from 8pm local time (1am MYT).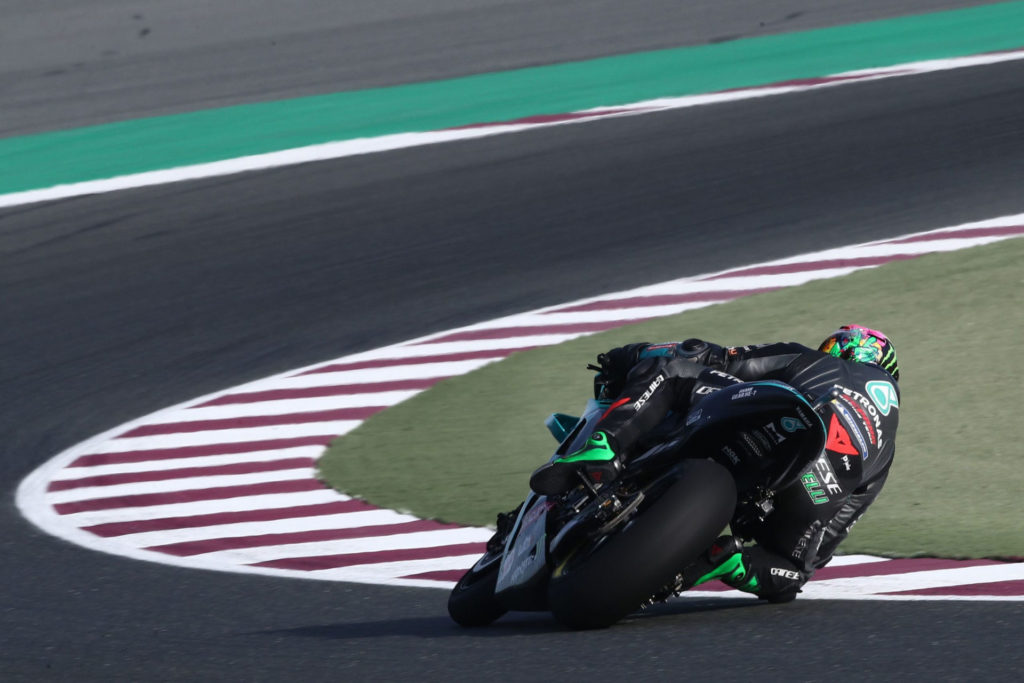 Franco Morbidelli
7th (1'53.676)
I'm pretty happy about today. I was fast in the afternoon, but then at night we tried the medium rear tyre and we struggled a little bit with it. I still managed to get into the top-ten though, which was really important today because tomorrow it will be difficult to improve the times. You could see that so many riders gave their maximum tonight. There are things that we need to improve, to do better, so we will check what we can do and then try. It will be difficult but I think we can manage to reduce the gap. It will be important to make a good qualifying, but overall I am happy with our performance today.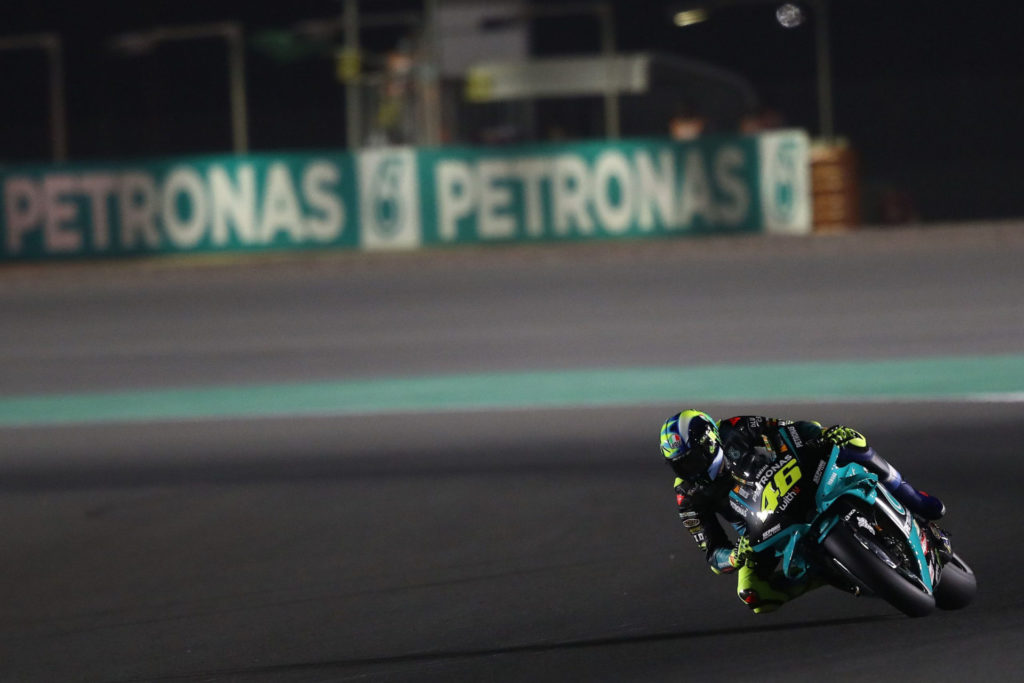 Valentino Rossi
9th (1'53.874)
I'm happy with this first day. I feel really comfortable in the team, there is a nice atmosphere and we are working well in the garage. Our target for today was to try to stay inside the top-ten, because tomorrow it will be difficult to improve the lap time, and in the end I was P9. I feel also happy with the bike and I have already bettered my time from the test, which is good. We now need to work, to try to improve some small details for tomorrow and also we know that the tyre choice is not an easy one to make. For me this is going to be crucial; we think that it will be hot tomorrow but less so on Sunday. Our main aim tomorrow though will be to make a good time attack and start in a top position.
More, from a press release issued by SKY Racing Team VR46:
DEBUT IN THE FP1 FOR LUCA MARINI AT DOHA
The rider of the Sky VR46 Avintia at the start of the Qatar GP
Doha (Qatar), March 26th 2021 – Luca Marini made his debut in the Top class at the Qatar GP which will take place this Sunday. Double free practice session with the rider of the Sky VR46 Avintia who closes in 17th place in the combined standings.
Luca, at work on the riding position and the setting of his Ducati, has signed a good 1'54.432 which means a significant step forward compared to the last testing session.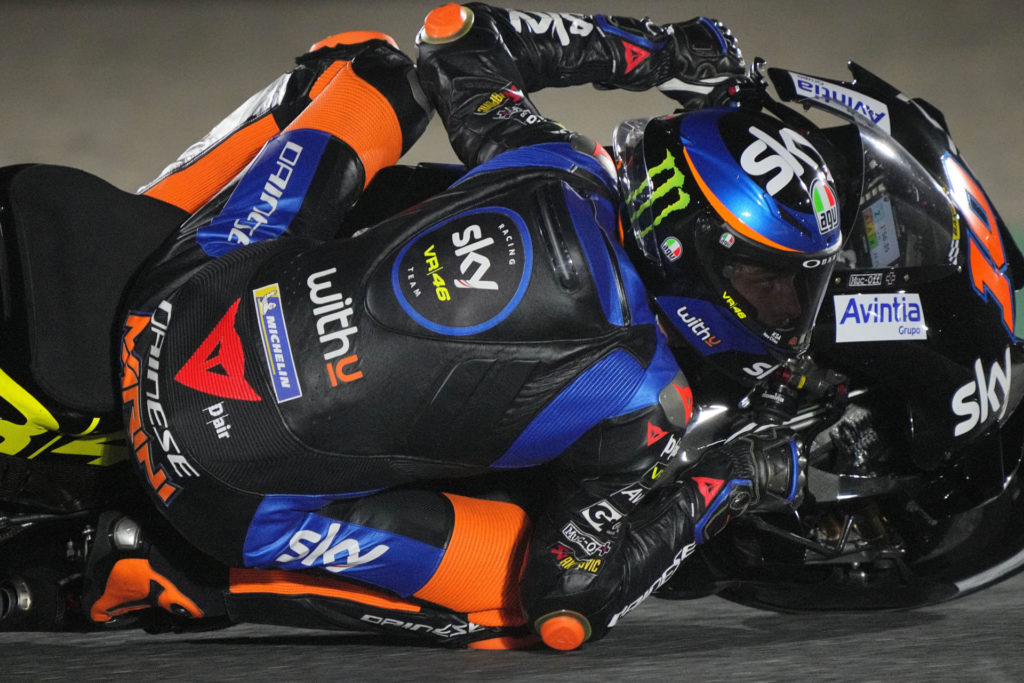 Luca Marini:
A beautiful day: starting with the group of all the riders for the FP was awesome. I am happy with the work done and the updates also in terms of ergonomics that Ducati has brought me. I am more comfortable on the bike and this is also very important for managing the entire race distance. We made some changes to the set up and we also improved the lap tim. I have been on track alone, but tomorrow I will try to follow someone. I lose something at T2 and T3, I still don't know why, if for the lines or something else and we have to look at the data to be able to make a step forward tomorrow.
Ruben Xaus:
I'm happy with Luca's debut: he's a guy who works step by step, but he's doing well. We had some problems with bike 2 which compromised our schedule and this still means a couple of tenths of a second that we can improve, perhaps with the help of some slipstreams which can make a difference here in Qatar. The lap time does not reflect our real potential and tomorrow we can go close to the 1.54 wall.
More, from a press release issued by LCR Honda Idemitsu:
NAKAGAMI TARGETS IMPROVEMENT AFTER DAY ONE IN DOHA
Takaaki Nakagami ended in 14th position as the new MotoGP season got underway in earnest at the Losail International Circuit on Friday. The LCR Honda IDEMITSU rider was making his competitive debut on his 2021 machinery as the premier class returned to the track for the Grand Prix of Qatar – the first of back-to-back races in Doha.
With the opening free practice sessions of the new campaign taking place across the afternoon and into the evening, Nakagami endured a mixed day. The Japanese star was just outside the top 10 in FP1 as he finished 12th behind new team-mate Alex Marquez, but was unable to push on in a tightly-bunched FP2 due to front brake issues, although he was still within a second of the leading time.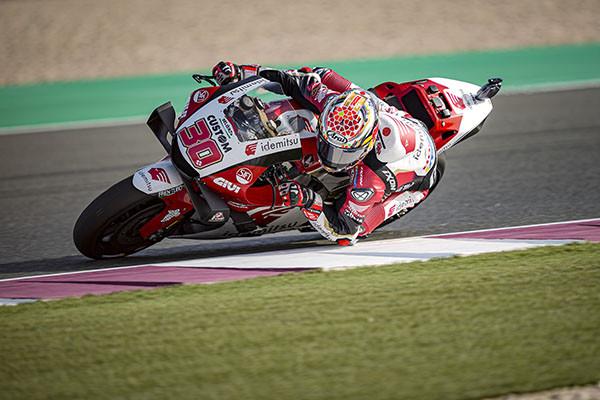 Takaaki Nakagami – 14th
(1'54.199)
"Today was a bit of a struggle for us because in the most important session, in FP2, we had some issues from beginning to end with the front brake. During the session we tried to fix the issue, to change the material, but unfortunately, we couldn't find a solution. The good thing is that we already know where we need to improve tomorrow. We'll try to be optimistic; tomorrow is another day and we'll try to do better and bring a good result."