2023_SEPANG_MotoGP____OFFICIAL_TEST__classification_1

More, from a press release issued by Dorna:
Bezzecchi fastest, Marquez tests new-look Honda
We are BACK and there was plenty to see on Day 1 of the Sepang Test!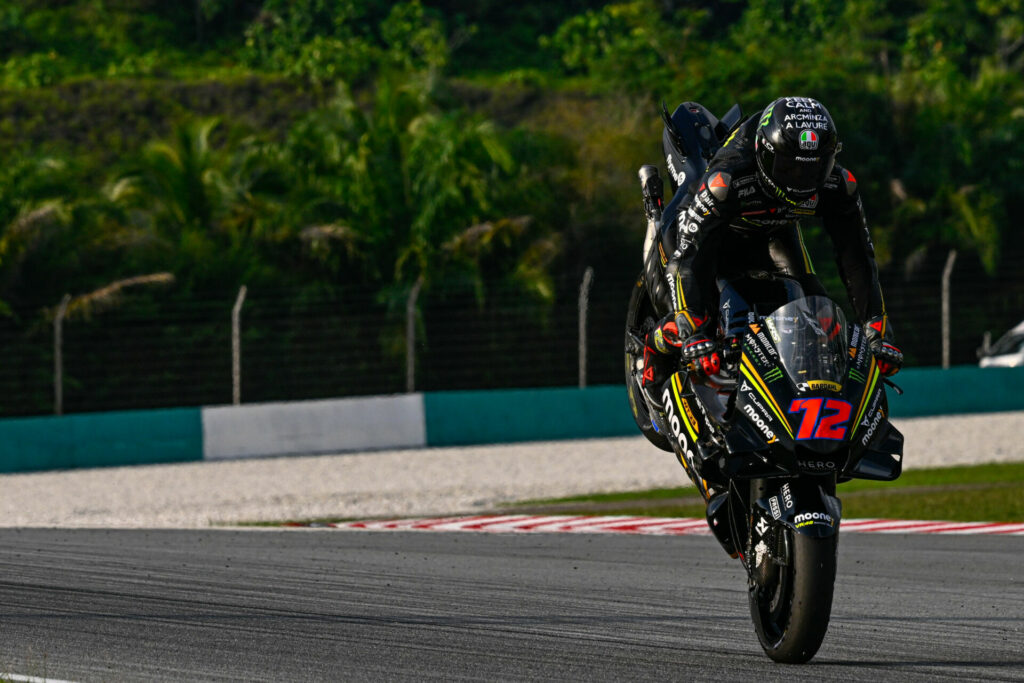 Friday, 10 February 2023
Day 1 of the Official MotoGP™ Sepang Test is now in the history books! Mooney VR46 Racing Team's Marco Bezzecchi ended the day on top as the Italian set a 1:58.470 to finish 0.130s ahead of second place Maverick Viñales (Aprilia Racing). There's more to pre-season than the timesheets though, and there was plenty to see on Friday up and down pitlane. Here's a rundown of Day 1 at the office for the class of 2023!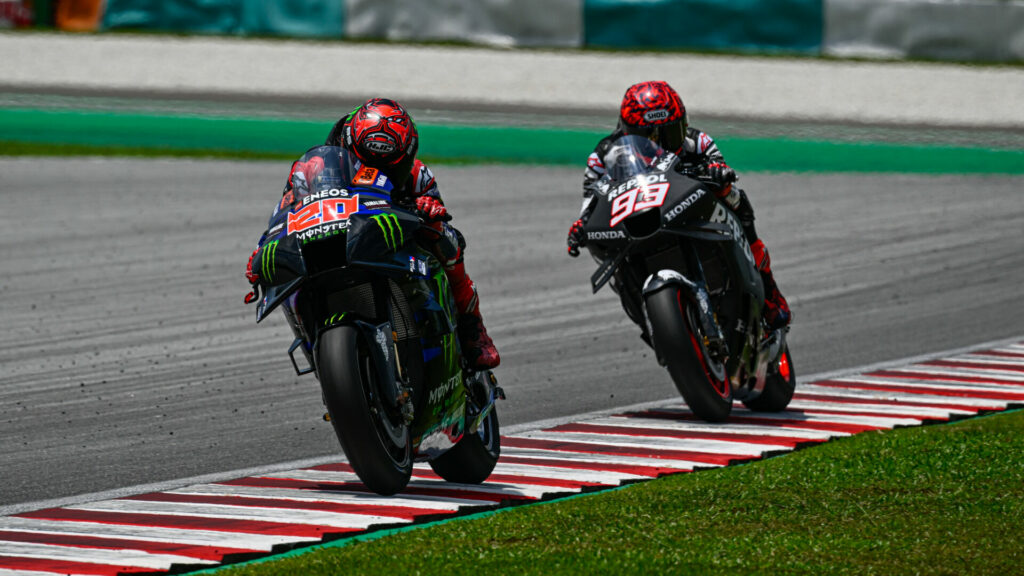 HONDA
There was plenty of interest on Marc Marquez's (Repsol Honda Team) side of the garage, where the eight-time World Champion had four bikes at his disposal – one that he finished 2022 on, two 2023 bikes that have been seen a few times now, and one with some new, relatively unseen parts on it.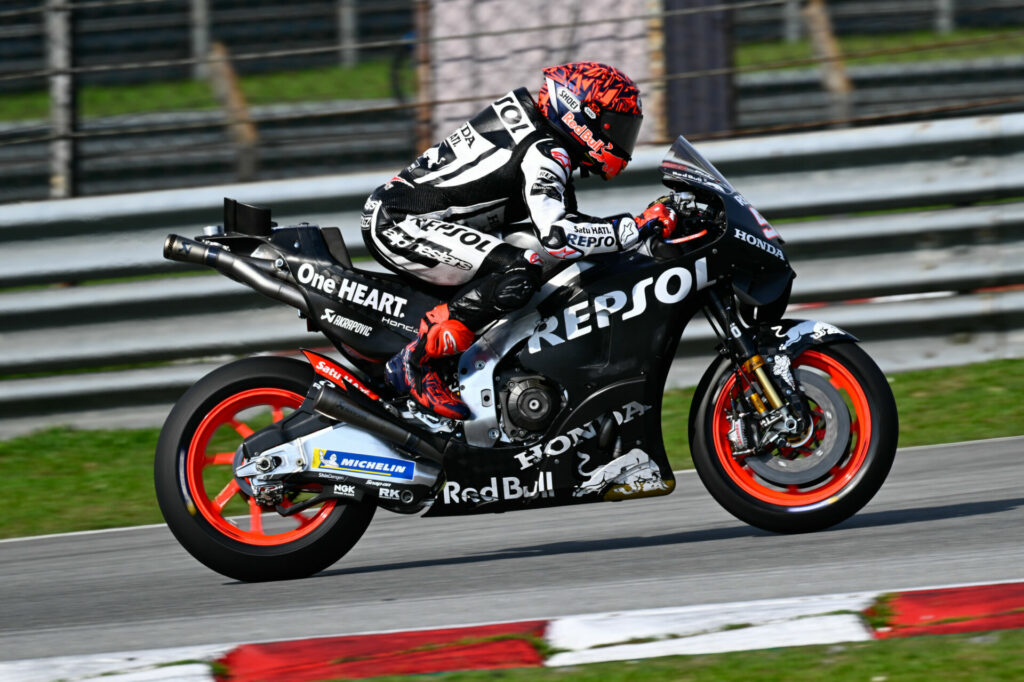 That bike features the new air intake but also sports the aero wings that seem to be the ones Marquez ran in the second half of 2021. In addition, this particular RC213V has the ground effect lower side fairing and an aluminium swingarm – but it's not the Kalex one. The number 93 admitted that the bike in question had a bit of a "different character", but the lap time and performance were similar. Marquez was top Honda by the end of play, ending the day in 12th.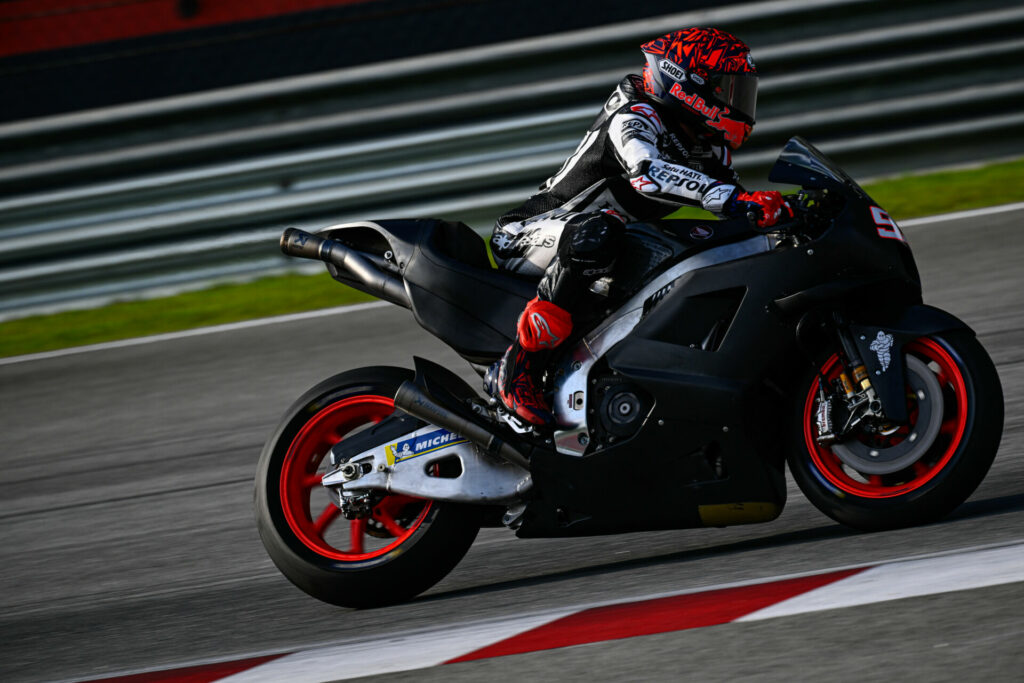 New stablemate Joan Mir (Repsol Honda Team), meanwhile, had two 2023 Honda machines on his side of the garage and ended the day in P17 – just under half a second from 12th place Marquez – with fellow new HRC rider Alex Rins (LCR Honda Castrol) having a similar setup in his box. The 2022 Valencia GP winner ended the opening day in P18, with Takaaki Nakagami (LCR Honda Idemitsu) in P22. The Japanese rider tested two different chassis and two new engines, with focus on getting a good feeling on the bike again having suffered with his hand injury for the latter months of 2022.
DUCATI
The Borgo Panigale factory topped the timesheets with Bezzecchi as the Italian took over late on, and that's not a huge surprise given the high level of the GP22 that comes out the box and ready to roll for 2023. The laptime was impressive nevertheless.
The headlines in terms of development at Ducati are concentrated on the new machines and, of course, the Ducati Lenovo Team line-up as Enea Bastianini joins reigning Champion Francesco Bagnaia. Bastianini was fastest of the two and third overall, with Jorge Martin (Prima Pramac Racing) just five thousandths in arrears in fourth. Bagnaia was fifth, another tenth further back. But what did we see?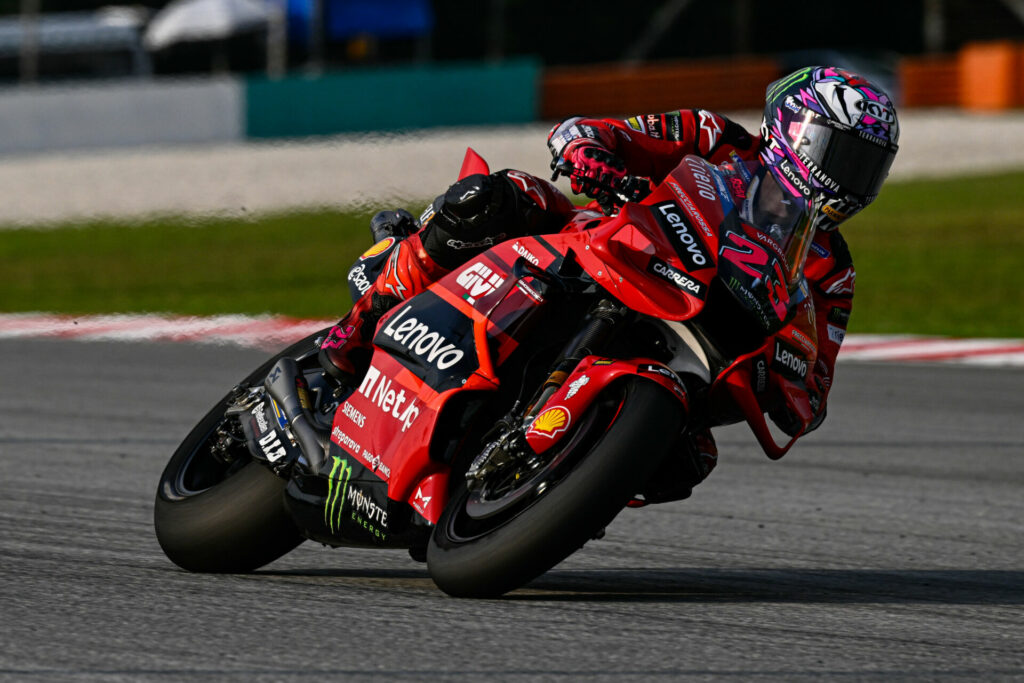 Bastianini was on 2022-looking machinery, and so was Bagnaia for much of the day – but the eagle-eyed spotted a small difference. One bike had the ride height device controls on top of the left handlebar and the other one had them on the triple clamp. Later in the day, Bagnaia also headed out on the new aero seen at the Shakedown test.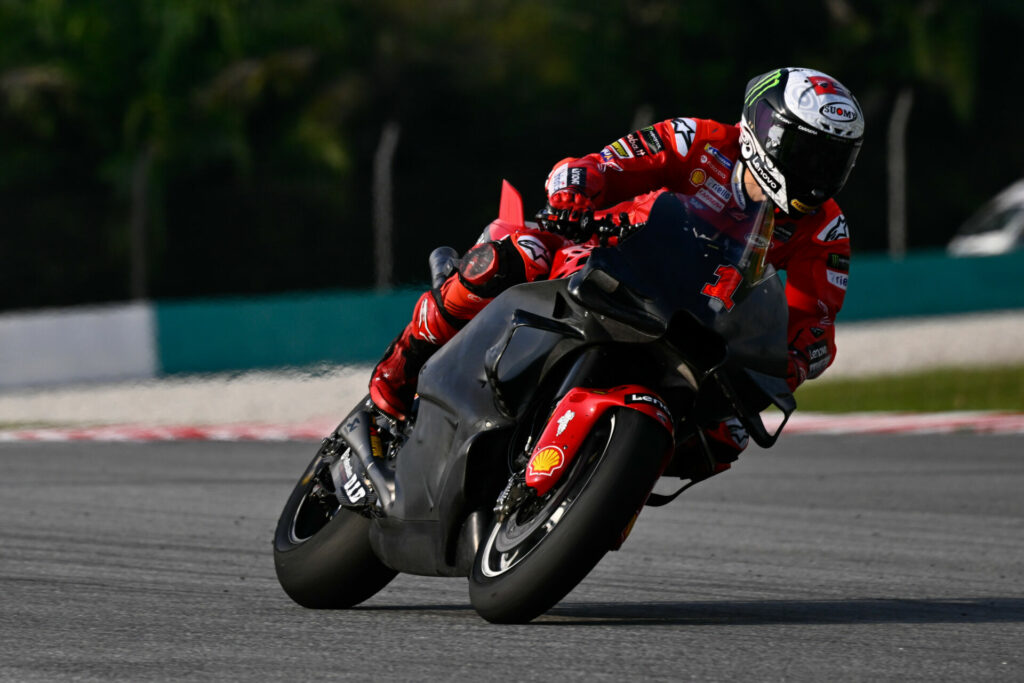 At Pramac, Martin didn't seem to be testing anything too new, but teammate Johann Zarco was spotted on the new aero. He was P7 at the end of Day 1. Amongst those on 2022 machinery for the season, Bezzecchi stole the headlines despite a crash at Turn 7, but there were some notable laps from Fabio Di Giannantonio (Gresini Racing MotoGP™) in eighth, with new teammate – and Ducati debutant – Alex Marquez only just behind in P9 as he adapts to a whole new machine. Luca Marini (Mooney VR46 Racing Team) was P13.
APRILIA
In the Noale camp, both Aleix Espargaro and Aprilia Racing stablemate Maverick Viñales had three bikes to test on Day 1. Both of the Spaniards had one 2022-spec RS-GP and two 2023-spec RS-GPs, and both were out on the new one from very early on.
As seen at the Shakedown with test rider Lorenzo Savadori, the new RS-GP has an updated aero package, a different tail unit and the exhausts have also had a small update. Moreover, the chassis and swingarm have been slightly updated too, with Team Manager Paolo Bonora admitting to pitlane reporter Simon Crafar that the whole bike is an "evolution", with plenty of small tweaks from 2022.
After a late time attack, Viñales set a 1:58.600 to finish second on the timesheets having completed 67 laps – the most of anyone – and he was positive about his initial taste of the 2023 RS-GP. Espargaro ended Friday's action in P6, 0.4s from top spot.
Miguel Oliveira's (RNF MotoGP™ Team) first morning back on his new RS-GP didn't go quite as planned after the Portuguese star suffered a small crash in the final sector. Oliveira was unhurt and posted 50 laps to finish P14, with teammate Raul Fernandez continuing his adaptation with 54 laps and a P15 placement.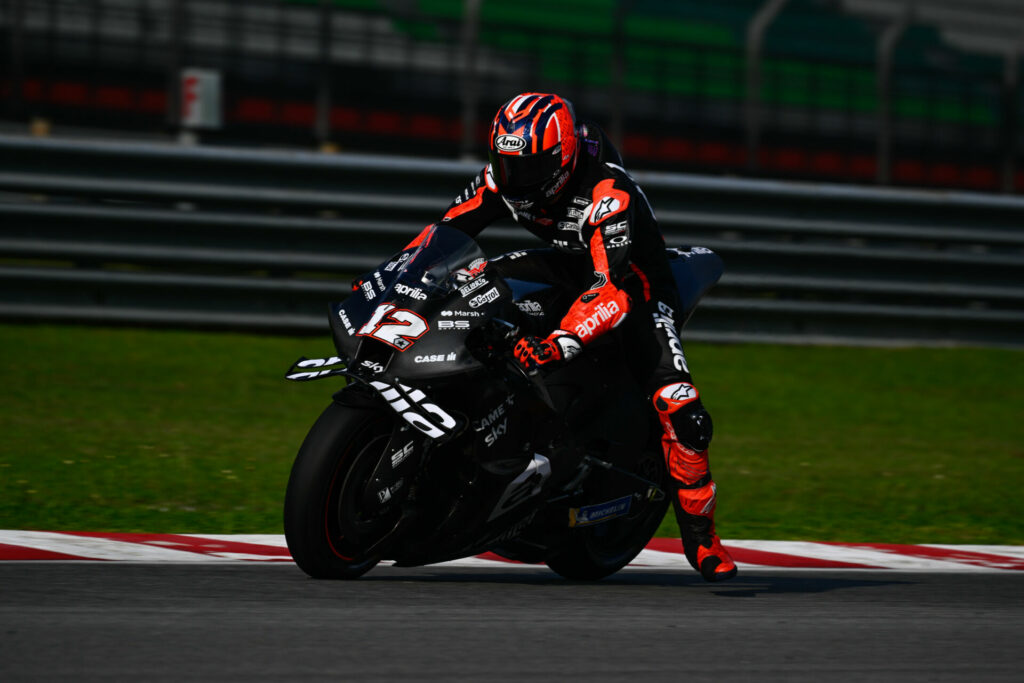 YAMAHA
It didn't take long for Fabio Quartararo to start lapping with the 2023 aero package that we saw Cal Crutchlow testing at the Shakedown. Both the Frenchman and his Monster Energy Yamaha MotoGP™ teammate Franco Morbidelli had three bikes in their respective sides of the Iwata factory box as the duo got to work testing Yamaha's promising new engine.
Both were towards the top of the speed trap charts, further indicating that a solid step has been made in that department. Quartararo was also seen testing a different chassis to his 2022 version, while Yamaha also brought some new downwash ducts to the table on Friday – the first time they've tested them.
The 2021 World Champion was upbeat about the top speed gains, but admitted that it still needs work. Understandable with it being the opening day of the test. The throttle connection "is still difficult to judge" and regarding the chassis Quartararo tried, it sounds like that won't be an update that will be in line to be used in 2023.
Having worked tirelessly during the Shakedown, Crutchlow wasn't lapping for the opening day and will save his energy for Day 2 and 3, but fellow test rider Katsuyuki Nakasuga joined Quartararo and Morbidelli on track. The latter duo completed 117 laps between them, Morbidelli finishing P10 and Quartararo P11.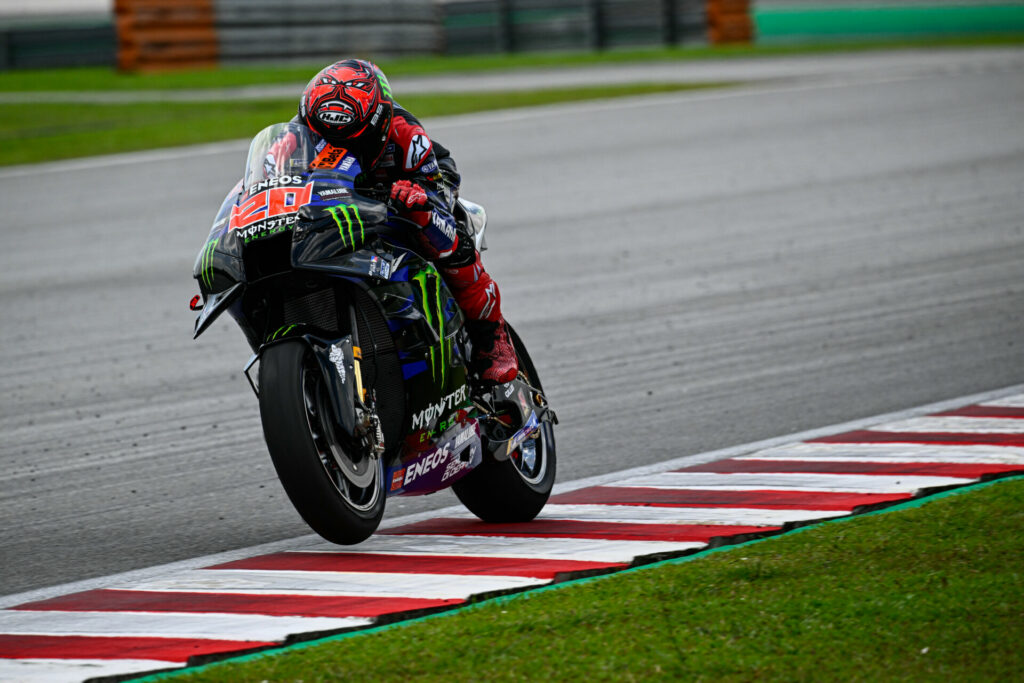 KTM
At Red Bull KTM Factory Racing, it was new arrival Jack Miller who was the lead rider for the Austrian factory on the timesheets and the Australian was also the very first out on track. He ended the day in 16th. Both Miller's machines were sporting the new aero he tried in Valencia, but that's not the even newer aero tested by Dani Pedrosa on the third day of the Shakedown.
For Brad Binder, there wasn't much to see from the outside – suggesting the South African may have been working comparing engine specs – and he was on the aero run throughout 2022 and was 21st.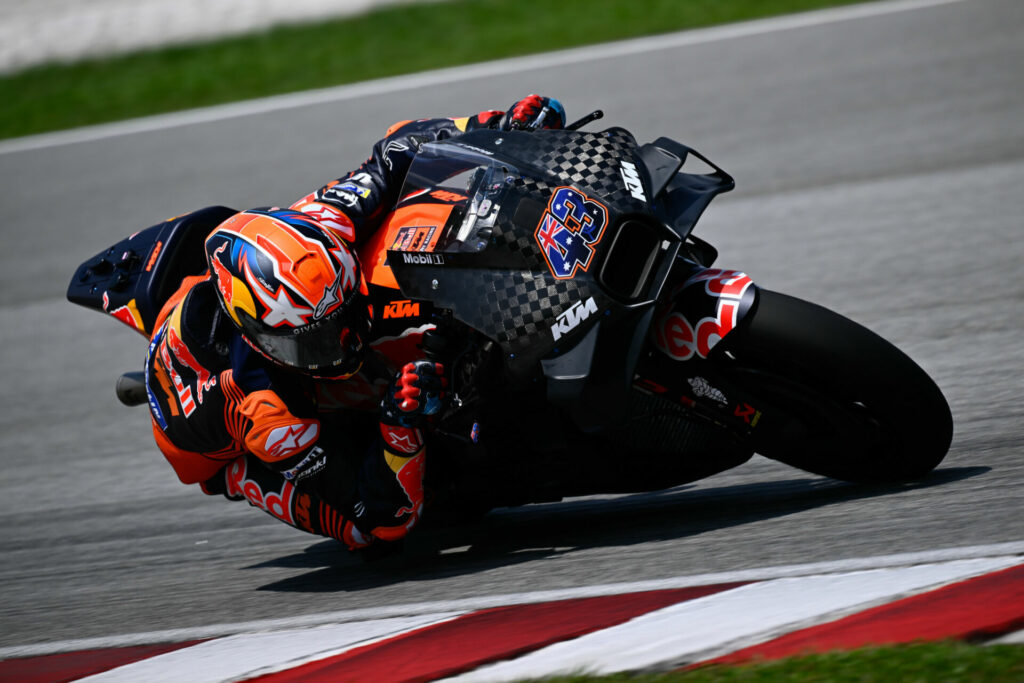 GASGAS
Augusto Fernandez (GASGAS Factory Racing Tech3) was the top RC16 for a while, shaving half a second off his best lap from the Shakedown and then ending the day in P19. After using the Shakedown to settle in, Fernandez also had the new seat and tail unit. Teammate Pol Espargaro reportedly had one bike with the new chassis spotted in the hands of Binder in the Valencia Test, and he was just behind his new rookie teammate by the end of play.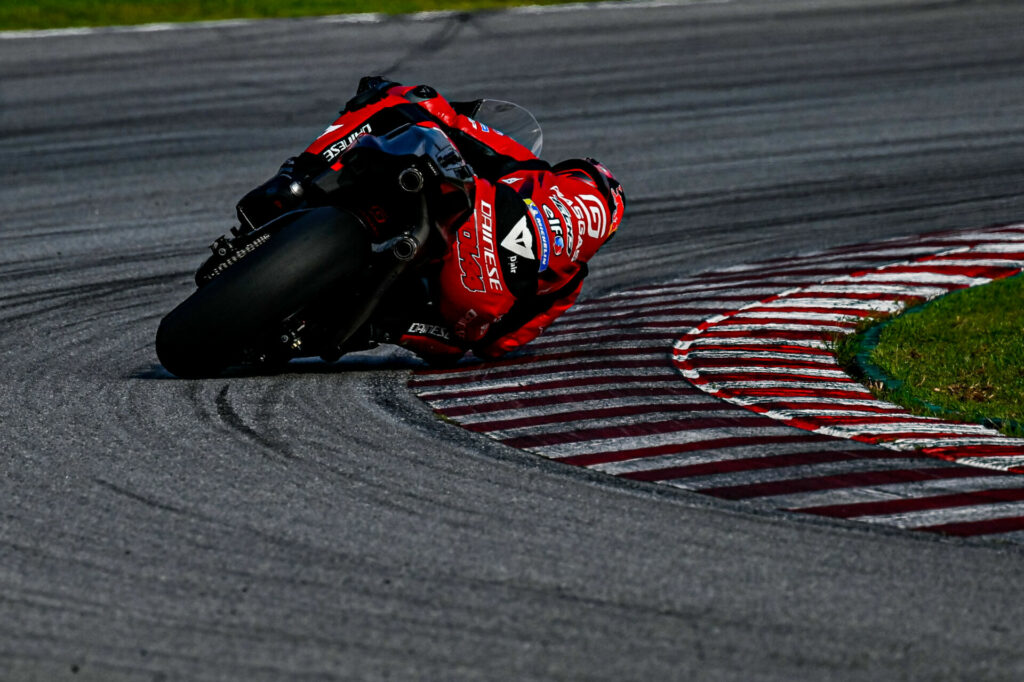 That's it from Day 1 but there's more over the weekend! Check out live timing on Saturday and Sunday, and then tune in for our special After the Flag broadcasts from 17:30 local time (GMT +8) on both days. Pitlane reporter Simon Crafar is joined by Jack Gorst in Malaysia, with Louis Suddaby and Neil Morrison anchoring the show in Barcelona as the team run through a host of analysis and insights – as well as plenty of exclusive interviews from riders and key players. See you on Saturday!
More, from a press release issued by Gresini Racing:
TOP NINE RESULT ON OPENING DAY OF OFFICIAL TESTING AT SEPANG
Both Team Gresini MotoGP riders have shone today in the most typical humid heat at Sepang – with Fabio Di Giannantonio and Alex Marquez finishing the opening day of official testing eighth and ninth, respectively.
The two Gresini standard bearers in MotoGP set almost identical lap-times, with Diggia only 0.015secs faster than his new teammate in what was a positive day, despite a few hiccups. A technical problem in the morning took away some track-time from the #73, while the rider #49 was forced to take it easy due to some minor physical issue.
It was an encouraging effort for Team Gresini MotoGP with both their riders only five tenths of a second from the top but also ahead of a few big names of the series.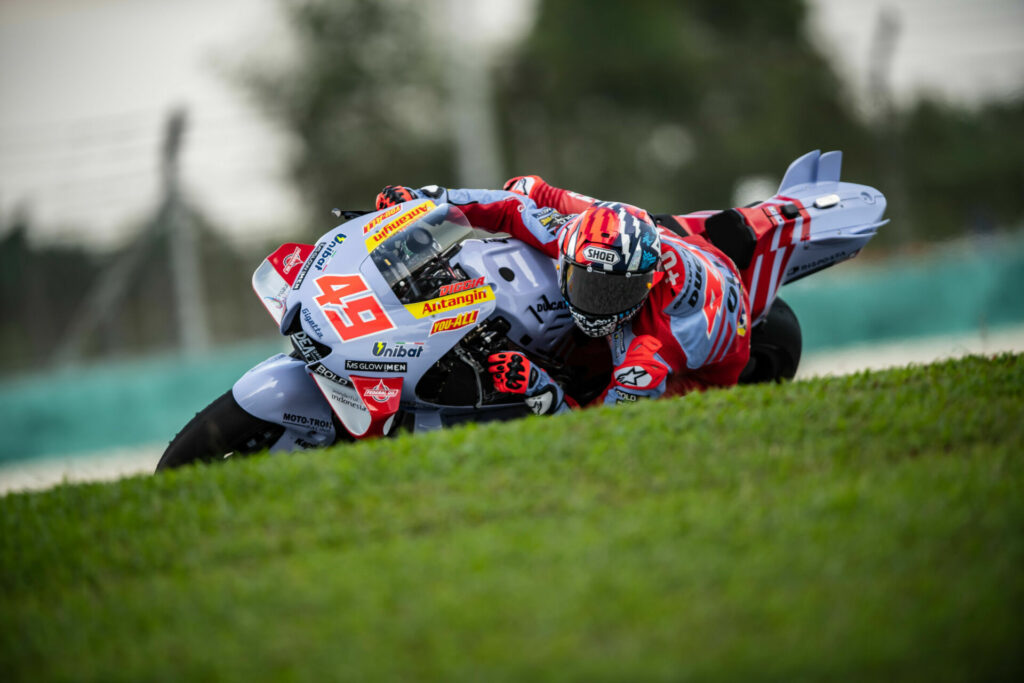 8th – FABIO DI GIANNANTONIO #49 (1'59.021s – 47 laps)
"It was an incredible feeling to be back on track after such a long winter break. You never really get used to that with MotoGP because the speed is so high. We worked well by focusing on one single area at a time and without overdoinge: it's clear we have plenty of margin still, but we're working well. We need to keep working and hoping for good weather in the next couple of days."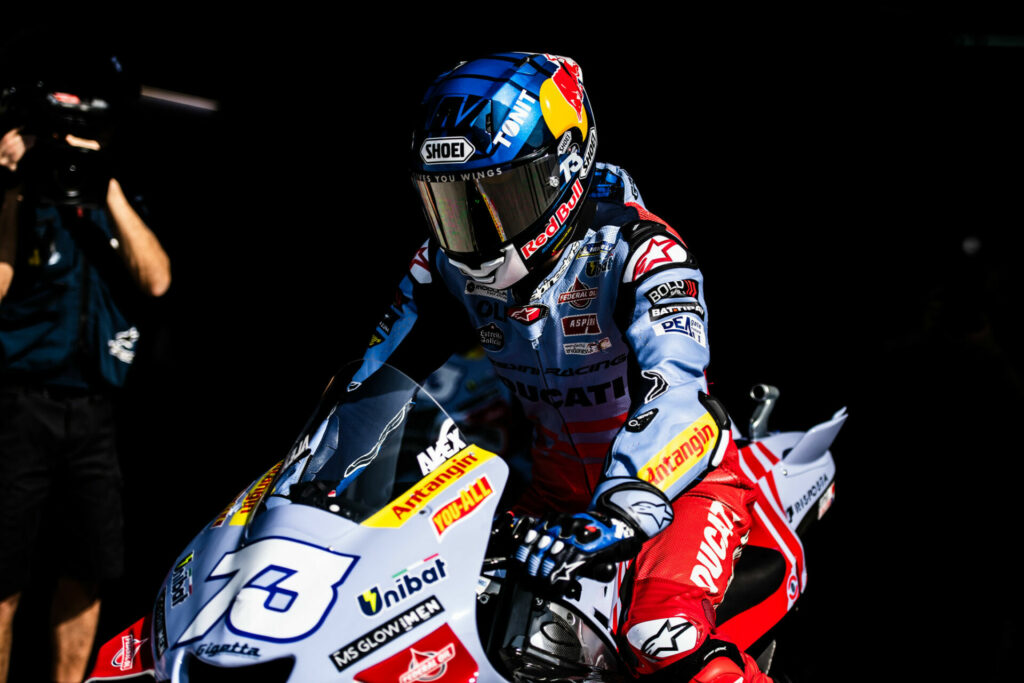 9th – ALEX MARQUEZ #73 (1'59.036s – 53 laps)
"It was a positive first day: you always have a little doubt on how it will be to return to action, but things went well. We need to keep working this way because the base is good. We tried very little setup-wise at Valencia, so we'll start with that tomorrow. We need to improve our pace, but I guess it's normal with a new bike. Good first day, but we're not getting ahead of ourselves."
More, from a press release issued by RNF MotoGP Team:
Oliveira and Fernandez start first day at school with a smile
The RNF MotoGP Team is starting their new Aprilia-adventure with Miguel Oliveira and Raul Fernandez in Malaysia.
Testing is in full swing this week and RNF MotoGP Team's Miguel Oliveira and Raul Fernandez got the first laps aboard their Aprilia RS-GP machines under their belt at the scorching Sepang International Circuit today. Although a short rain shower interrupted proceedings around lunchtime at the first official day of testing in 2022, both, Oliveira and Fernandez could use track time at their best.
The Portuguese clocked a fastest lap of 1:59.730 after breaking the two minutes mark in the afternoon. In total, Oliveira did 50 laps around the Sepang International Circuit on day one and started to continue his adaption to his new bike and his new team after doing just one day of testing in Valencia last November. He concluded day one in P14.
Likewise, Fernandez got on board his Aprilia RS-GP again following some initial laps in Spain last year. He was working to learn the machine better and better and improved throughout the day. He ended up in P15, just 0.083 seconds behind his experienced new team mate after 54 laps on Friday.
Saturday and Sunday will see the premier class back out at the Sepang International Circuit to further prepare the 2023 season.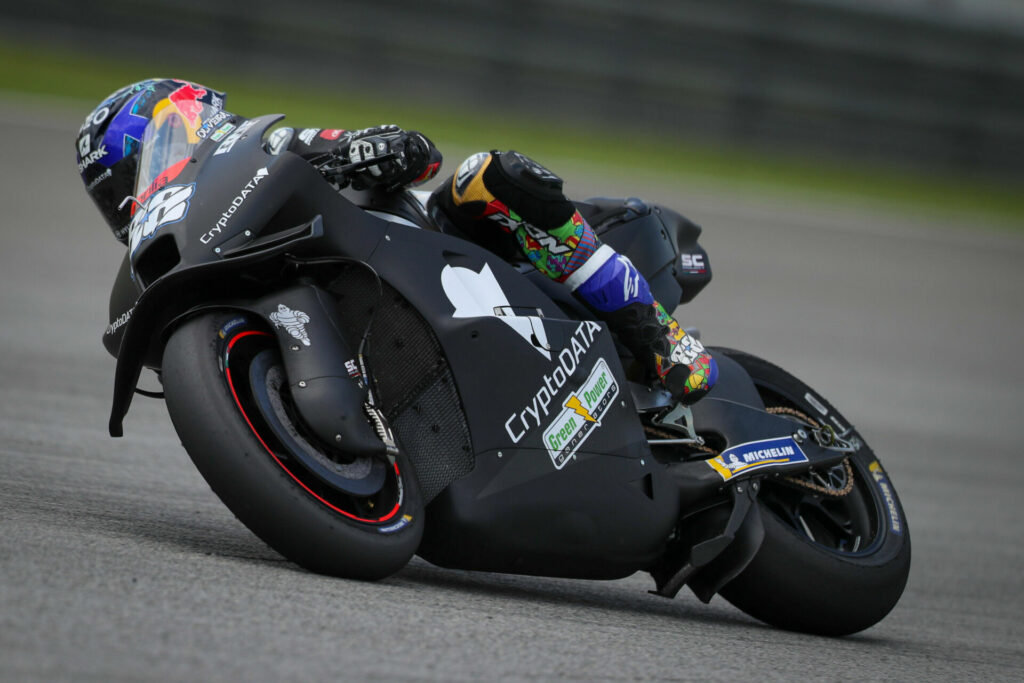 MIGUEL OLIVEIRA
"I had good feelings. I think after three months, everyone started from zero and it was the same for me too, the first couple of runs I had to discover the bike again. It's very different but the bike has a lot of potential, I just need to adapt it now to my style. We haven't touched anything yet on the bike, we started with the base setup, and now we will discover and touch little things so I can feel more comfortable and of course, to go faster. We have two more days and plenty of kilometers to do with the Aprilia and I'm confident."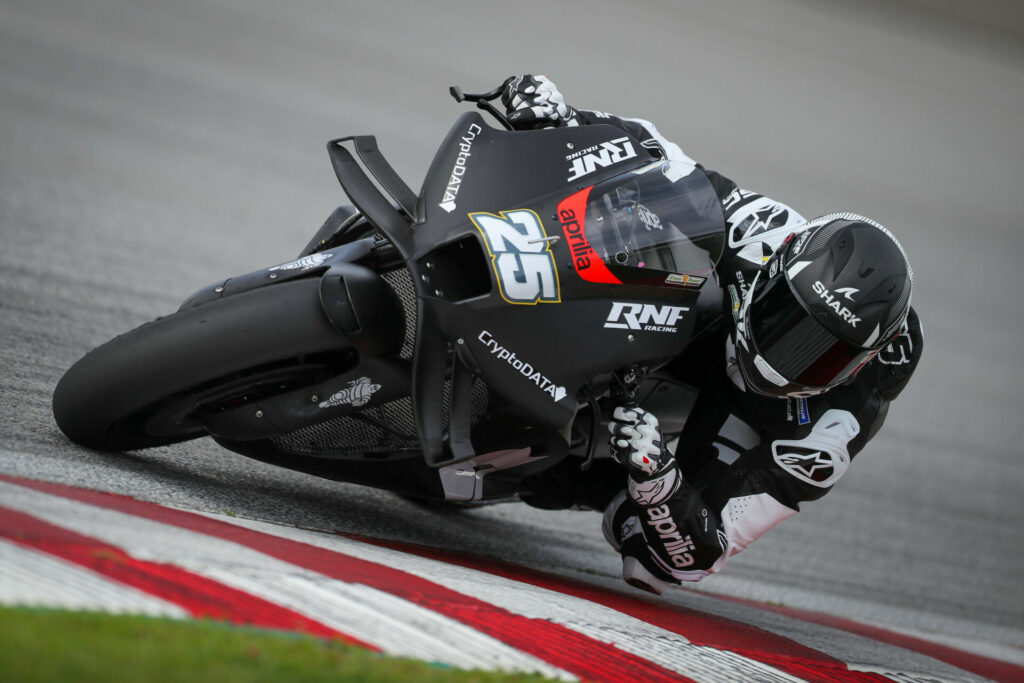 RAUL FERNANDEZ
"To be honest, it's my first time on the RS-GP in Malaysia and it was really difficult especially in the first lap. But I am happy, I felt like at home and with Aprilia's support, I am really happy to be able to build back confidence with the bike. It's my job now to train my mindset and build more confidence, to enjoy and believe in myself and my team. Anyway, we have two more days, and I'm happy to continue training on this track and try different settings and work more on myself."
More, from a press release issued by Monster Energy Yamaha:
MONSTER ENERGY YAMAHA MOTOGP START 2023 SEPANG TEST
Sepang (Malaysia), 10th February 2023
SEPANG MOTOGP OFFICIAL TEST
The Monster Energy Yamaha MotoGP Team got back into action after the long winter break. Today, Franco Morbidelli and Fabio Quartararo rode 59 and 58 laps respectively, ending the first day of the Sepang MotoGP Official Test in 10th and 11th place.
10th FRANCO MORBIDELLI 1'59.118 / 59 LAPS
11th FABIO QUARTARARO 1'59.422 / 58 LAPS
Today, Monster Energy Yamaha MotoGP Team's Franco Morbidelli and Fabio Quartararo were back aboard their YZR-M1s for the first time in 2023 for the official IRTA MotoGP test in Malaysia. The riders got straight to work, assessing updated items. They ended in 10th and 11th place respectively in the Day-1 timesheets.
Morbidelli is greatly motivated for the 2023 season and was keen to go over various updates today. The Italian made the most of the dry conditions. He used the morning session to get back into a solid rhythm after three months of no MotoGP riding. He successfully completed his Day-1 testing plans in the afternoon and gave an extra push in the final hour. He ran 59 laps in total, securing 10th place with a 1'59.118s, 0.648s from first.
Eager to be back aboard his YZR-M1 again after the winter break, Quartararo went straight to work to start his 2023 campaign. He spent the morning stint getting back into the swing of things trying various tyre options. He moved on to cross off the items on his programme in the afternoon, evaluating the new updates. He rode 58 laps over the course of eight hours of high-temperature testing and set a best lap of 1'59.422s to take 11th place, 0.952s from the top.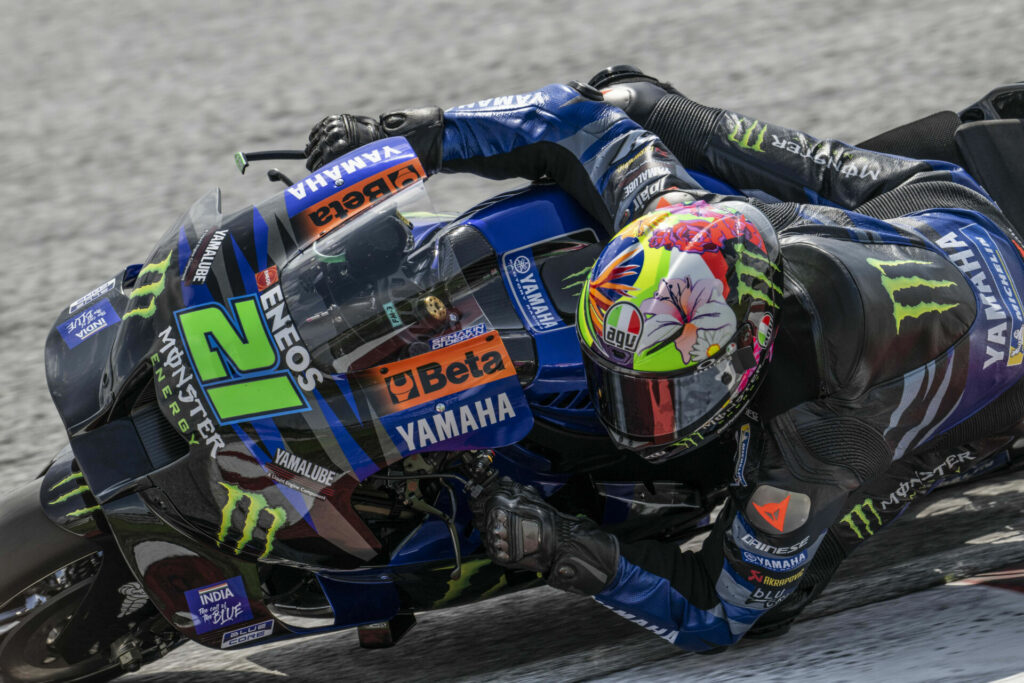 FRANCO MORBIDELLI
It was a busy day. Yamaha brought a lot of things to try, and this is positive. The team has begun the year with a great attitude: quite aggressive. They really are giving their maximum to step up our package, and I'm really pleased to see that. We have a lot of work to do and ahead of us, but if we keep going with this mindset, we can make it happen.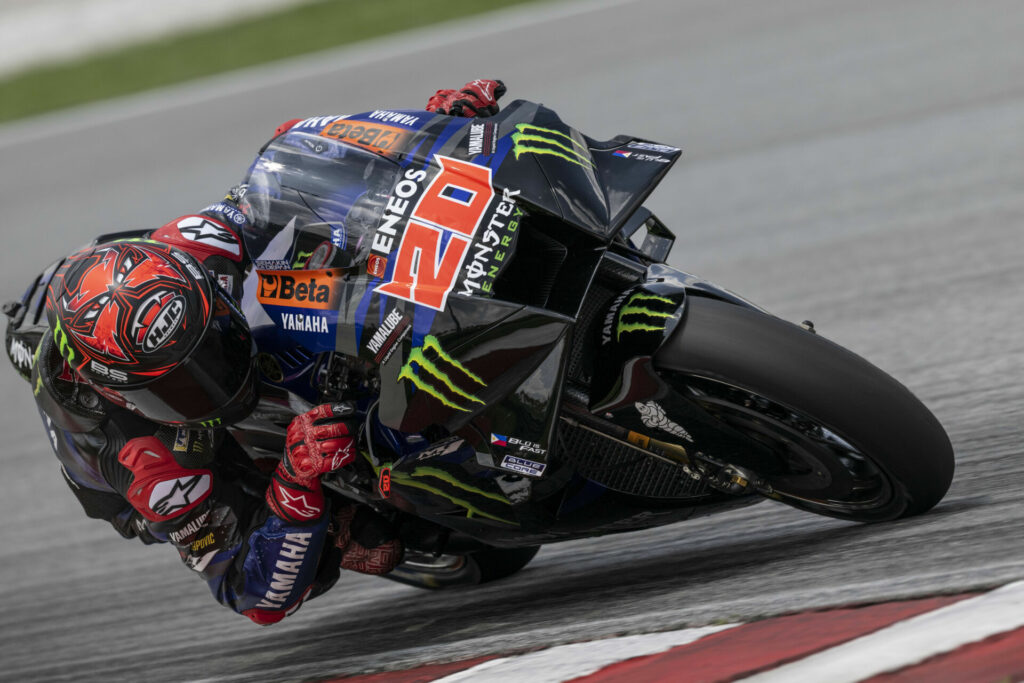 FABIO QUARTARARO
It was a tough day, especially in the morning, because we used a few tyres that I didn't really like, especially the soft front. But we tried a lot of things today. Some were positive: especially the top speed improved. There are still many things to test, and we have two more days. Tomorrow we will use the tyres in a better way, and let's see what we can do. For the first day, it wasn't too bad. Tomorrow we will work more on aerodynamics, and I think it will be intense.
More, from a press release issued by GASGAS Factory Racing Tech3:
Espargaro Kicks Off 2023 Campaign  in Sepang Test, Fernandez Continues MotoGP™ Adaptation
The 2023 MotoGP™ campaign was officially launched in Malaysia on Friday as rookie Augusto Fernandez was joined by his teammate Pol Espargaro and the rest of the class for the first official test of the season, held in Sepang. Whilst Moto2™ World Champion was back on track for another three days after his Sepang Shakedown programme, it was the first school day for new GASGAS Factory Racing Tech3 rider Pol Espargaro. The alarm for 2023 rang over the paddock at 10:00 local time (GMT+8), and both Spanish riders did not take long to set off for the day.
After riding on his own during the three days of Sepang Shakedown, rookie Augusto Fernandez enjoyed sharing the track with experienced riders today, admitting that he was already able to learn a lot from them through observation. He quickly improved his lap time to 2'00.027, 0.455 seconds faster than his best lap of the Sepang Shakedown. Starting to feel confident enough to give an extra push, the awaited first crash happened, without any damage on both the rider and the bike. The work continued thoroughly, and after fifty-eight laps, the GASGAS Factory Racing Tech3 rider finished the day in nineteenth, his lap in 2'00.027 being his fastest of day 1.
Within the first hour, Pol Espargaro had already completed eleven laps with a fastest lap in 2'00.874. The aim of the day was to re-adapt to his new GASGAS RC16 after almost three months without riding it. Besides that, he had different settings to test in the afternoon. As track temperature was getting hotter, he gained a few seconds to make it to 2'00.154 at lap 14. Later on, a crash without gravity saw him lose the front, calling it out for lunch break. The action resumed later on after the heat peak had gone, and Pol Espargaro completed the first day of the Sepang Test in twentieth with a fastest lap in 2'00.078 reached just before the end of the day. Adaptation and learnings will continue tomorrow for both Espargaro and Fernandez, as day 2 of the Sepang Test awaits them both on Saturday, at 10:00 local time (GMT+8).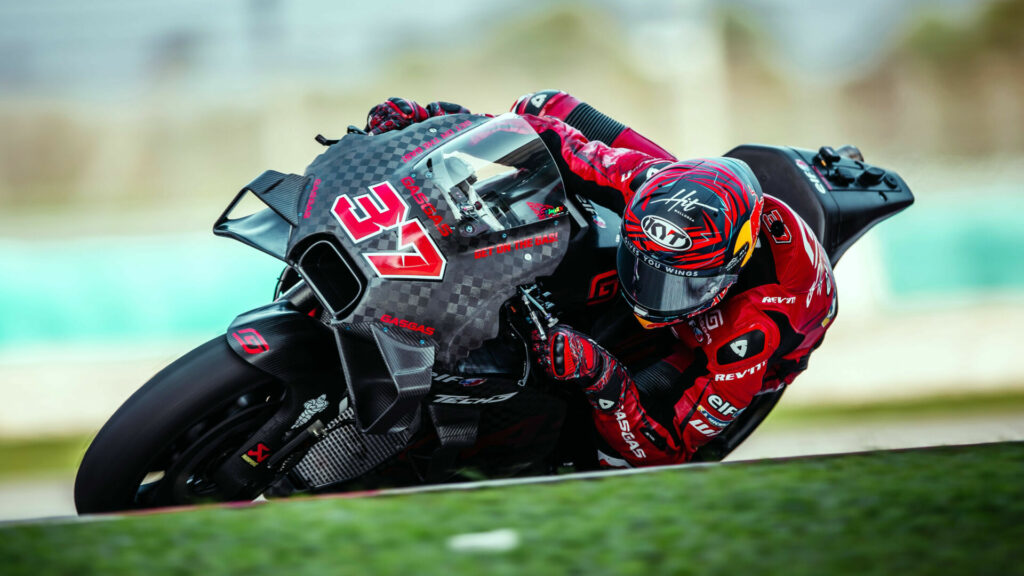 Augusto Fernandez
Position: 19th
Time: 2'00.027
Laps: 58
"Riding on my own at the Sepang Shakedown was very useful to get used to the MotoGP bike and build a base, but I have to admit that it is nice to be joined by the rest of the MotoGP class. I was able to observe them, their trajectories, follow them, and I made interesting discoveries. It was a very positive day, and I look forward to tomorrow."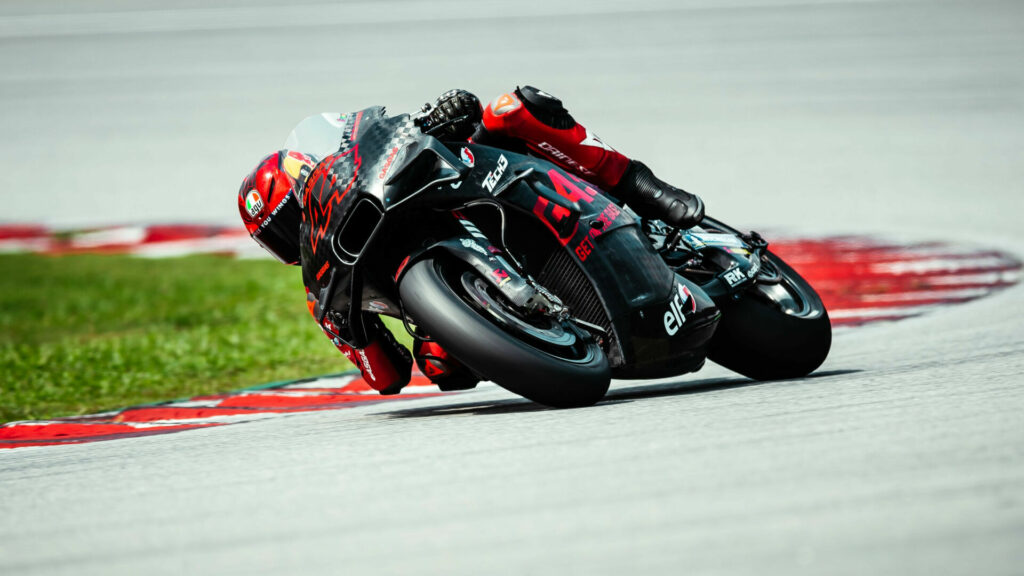 Pol Espargaro
Position: 20th
Time: 2'00.078
Laps: 58
"It was a busy day today because we have a lot planned for the Sepang Test. In addition, I have to adapt to the way of working of the Pierer Mobility Group because it is very different from the past. A lot of new engineers relying much more on analytics and numbers have come along, and I will need to get used to these changes. Regarding the bike itself, in Valencia, we had one new bike and an old one, mainly because I wanted the old one to just ride without thinking too much. Here, we have two new and completely different bikes. The engine character and the chassis have changed, and additionally we tested some aero parts, but we have not completely figured out which ones we will use. We have two more crucial days of testing to do, so let's focus on that."
More, from a press release issued by Mooney VR46 Racing:
MARCO BEZZECCHI THE FASTEST AT SEPANG TEST
The rider of the Mooney VR46 Racing Team opens 2023 with the best lap time of the day at the test in Malaysia. In the slip stream of the fastest guys also Luca Marini, 13th
Sepang (Malaysia), February 10th 2023 – Marco Bezzecchi opens the 2023 season in the best possible way at the MotoGP test at the Sepang International Circuit: a busy day to take the measurements of the Ducati Desmosedici GP and the absolute best lap time at the end of the sessions for the rider of the Mooney VR46 Racing Team. Good sensations also for Luca Marini, 13th in the combined of the Day1.
Extremely fast from the first out in the morning, Marco makes another step forward in the afternoon with an impressive 1'58.470, a time recorded just before the checkered flag (lap 54 of 55) and which is means the provisional P1.
Fifty laps and various tests also for Luca to get back on track after the long winter. He closes with a best of 1'59.469 and with still two days of work at disposal in front of him.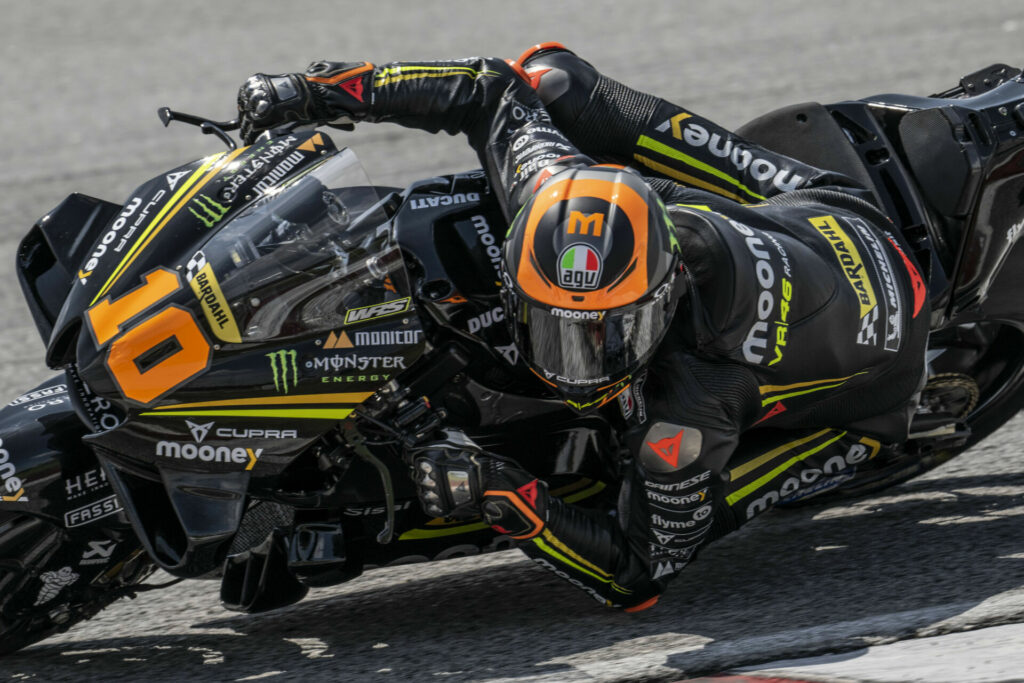 Luca Marini 10
A good first day of testing: I immediately found the feeling of Valencia and I was fast. We don't have much to try here and we preferred to concentrate all of the work on today. Tomorrow and Sunday there will be a way to take care of race simulations and sprint races. Last year I was practically unable to race here, I retired immediately after the start and I have to make the most of this test to understand the drop of the rear tire. I also did some tests on the electronics and a new throttle control that I'm very happy with. Since I've been in MotoGP, I still haven't found a device that's comfortable for me, while I really like this one. The level is very high, today we have already run below 1.59 and there are over 15 riders, all competitive.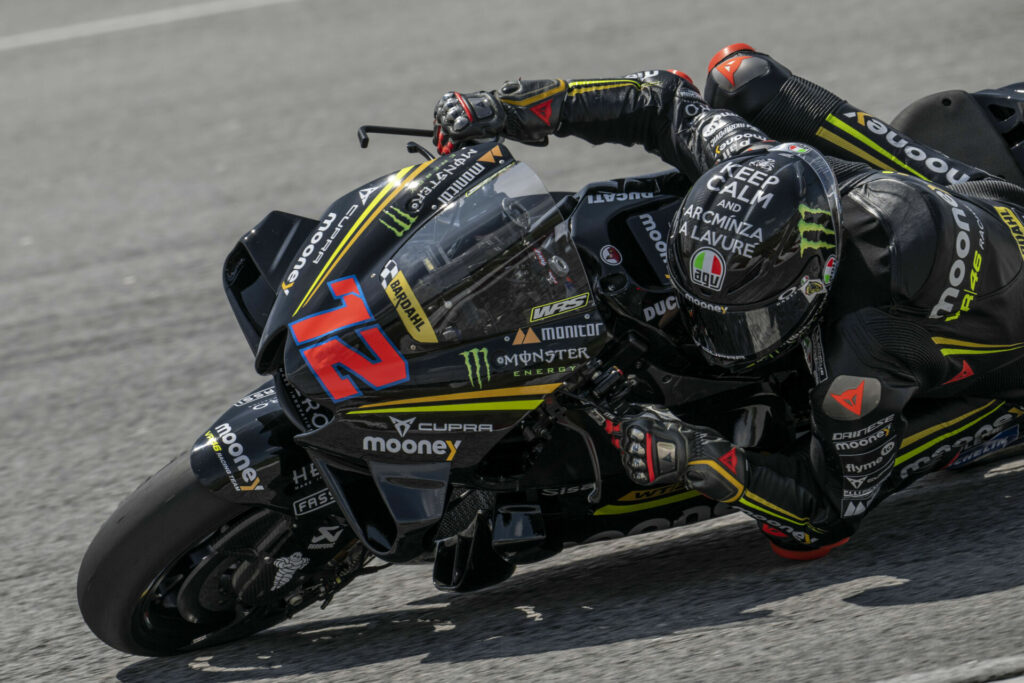 Marco Bezzecchi 72
I like the bike a lot, but it's nothing new: the sensations were already good in Valencia. I'm happy, we started well, but it's only the first day. The bike has many strong points, like the old one after all, but there are some steps in the details such as entering into the corners and braking. On the flying lap, I immediately felt at ease while we have to work hard on the race pace. We have not enough tires, I've always ridden whit the M, which isn't the best choice here, and when I put on the soft, everything went right.
More, from a press release issued by Repsol Honda:
2023 begins in Sepang for the Repsol Honda Team
Marc Marquez and Joan Mir were reunited with their respective Repsol Honda Team RC213Vs as the first of three days of testing at the Sepang International Circuit commenced a new year of competition.
A busy day of testing started the 2023 season in earnest for the Repsol Honda Team, entering their 29th year of competition in the premier class. Classic Sepang conditions were waiting for the Repsol Honda Team as the long break over Winter officially ended. Temperatures in the high 20s persisted throughout the day despite brief spots of rain around lunchtime.
Marc Marquez continued the work started in Valencia as he spent his day riding a number of different configurations for the Honda RC213V. The day started aboard the 2022 Honda RC213V for a handful of laps as Marquez set himself a benchmark as he got back up to MotoGP speed after a winter of training. Feeling physically fit, the Repsol Honda Team rider worked from track open to track close to assess various options for Honda HRC. Completing a total of 58 laps, the #93 set the 12th fastest time of the opening day. The situation at the end of the Portimao Test remains Marquez's main focus.
Riding the factory Honda machine for just the first time since the brief Valencia Test, Joan Mir's primary objective was to confirm the feelings he had in Spain before beginning to work on his testing plan. Improving his speed throughout the day, Mir completed 53 laps of the 5.5-kilometre-long Sepang International Circuit before ending the day with a handful of practice starts. A 1'59.832 saw the #36 under the 2'00 barrier on his first day riding the Honda RC213V at Sepang, a solid foundation to build off over the coming days.
Action continues for the second day of testing in Malaysia, both Marquez and Mir aiming to continue preparations for the start of the respective 2023 campaigns.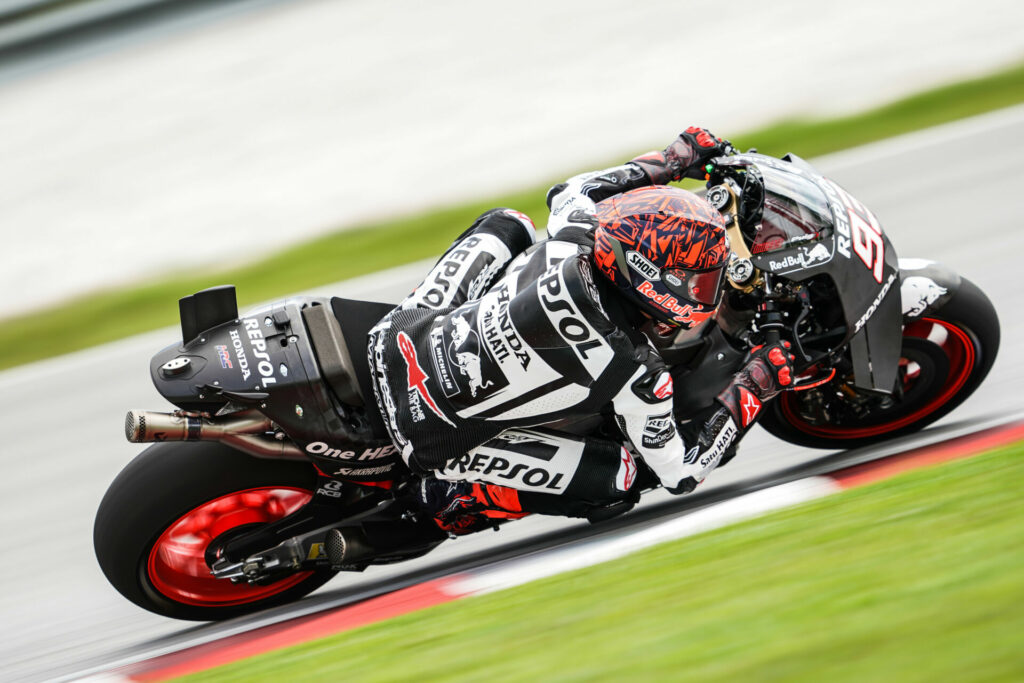 Marc Marquez
12TH  1'59.424
"It was a really busy day, trying a lot of different things like you normally do in the pre-season. We started first on the 2022 bike just to confirm the feeling and then we jumped straight to the new bikes. We tried a few bikes and some different setups for them, getting a lot of interesting information and data from it which now the engineers and technicians need to analyse. We will see what the situation is at the end of the pre-season, it has just been a single day so it is very early to understand anything. We're trying different things right now and working hard, it is what testing is for."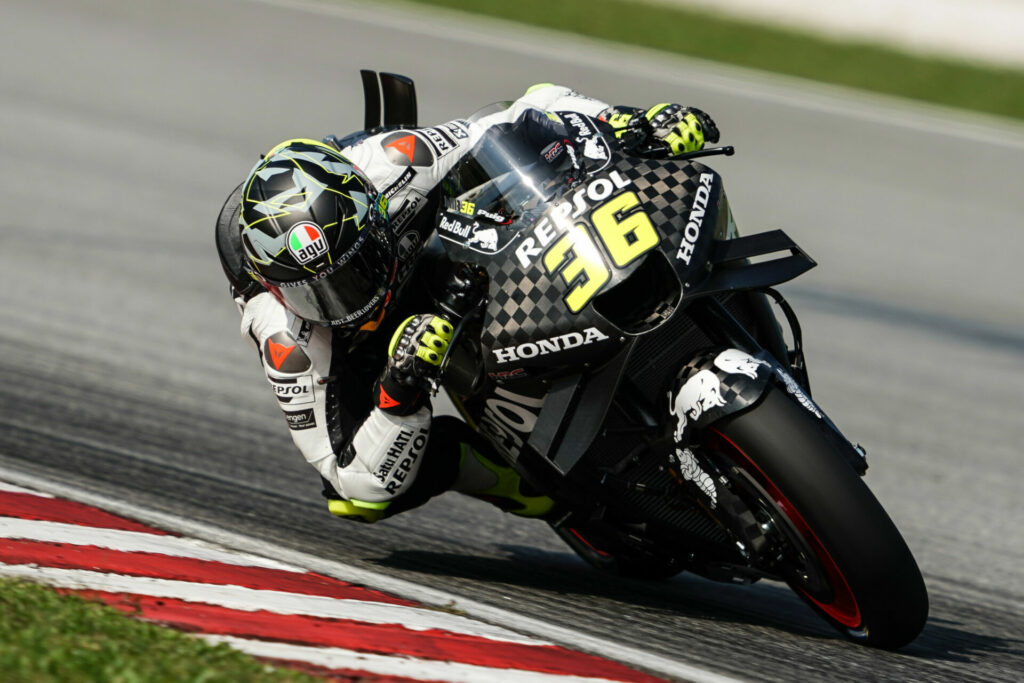 Joan Mir
17TH  1'59.832
"For sure it was a demanding day, we did a lot of laps and we tried many things. We haven't made a huge step compared to Valencia, but we are taking some steps. The goal is to improve each day and close the gap to the top riders. I am still adapting to the bike, but I think it is going well so far. There's a lot of information to process at the moment, from the technical side and in regards to my riding. Everything is moving and developing on all sides, we have to be satisfied with this first step but we need to keep going."