Over the last several years, Suzuki has been utilizing the state of the art technology derived from MotoGP racing in the development of new motorcycles. The benefits now expand well beyond engine and chassis refinements to the development of a new high-performance motorcycle oil line: ECSTAR Suzuki Genuine Oil.
Jake Gagne won MotoAmerica Medallia Superbike Race One Saturday at Circuit of The Americas (COTA), in Austin, Texas, where it was 103 degrees F at race time. Riding his Fresh N Lean Progressive Yamaha YZF-R1, Gagne won the 12-lap race by 2.529 seconds. It was Gagne's 10th win of the season.
Mexican racer Richie Escalante rode his Vision Wheel M4 ECSTAR Suzuki GSX-R1000R flawlessly to second place and the first podium finish of his Superbike career.
JD Beach, racing in place of Gagne's injured teammate Cameron Petersen, got third place and his first Superbike podium finish since 2019.
Tytlers Cycle Racing BMW's PJ Jacobsen came home fourth, well clear of Westby Racing Yamaha's Mathew Scholtz in fifth.
More, from a press release issued by MotoAmerica:
Gagne Wins Again With Escalante And Beach On The Podium At COTA
Jake Gagne Wins The 39th Superbike Race Of his Career While Richie Escalante And JD Beach Podium At Circuit Of The Americas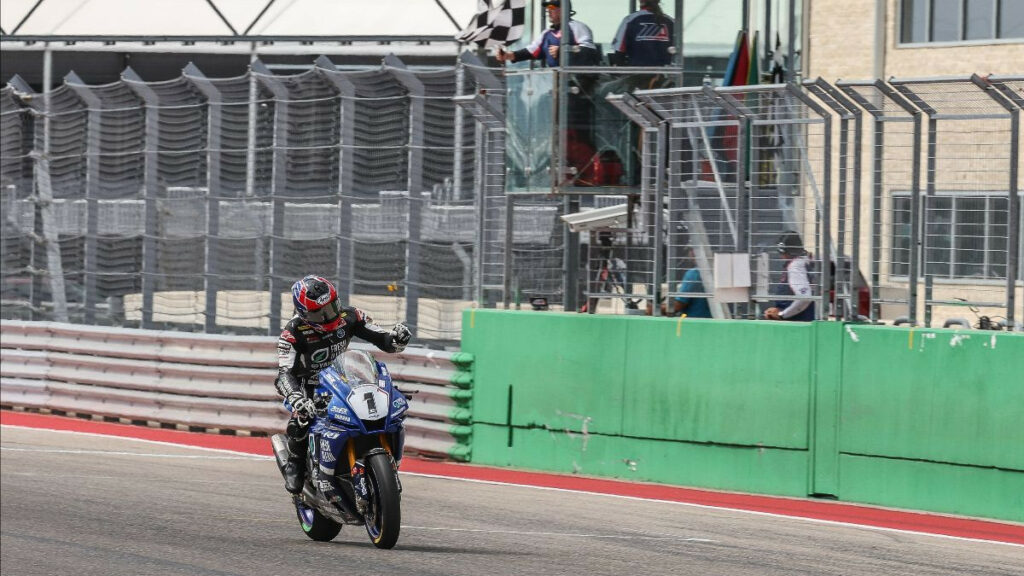 AUSTIN, TX (September 9, 2023) – Fresh N Lean Progressive Yamaha's Jake Gagne won his 10th MotoAmerica Medallia Superbike race of the year at Circuit of The Americas on Saturday, but he was just as happy for the two who joined him on the podium – podium first timer Richie Escalante and Gagne's teammate JD Beach.
Gagne, who wrapped up his third MotoAmerica Medallia Superbike Championship two weeks ago, won the 39th AMA Superbike race of his career on a steaming hot Saturday in Austin by 2.5 seconds over Vision Wheel M4 ECSTAR Suzuki's Escalante, the Mexican earning the first podium of his Medallia Superbike career after his near-picture-perfect race that was a popular result with the entire paddock.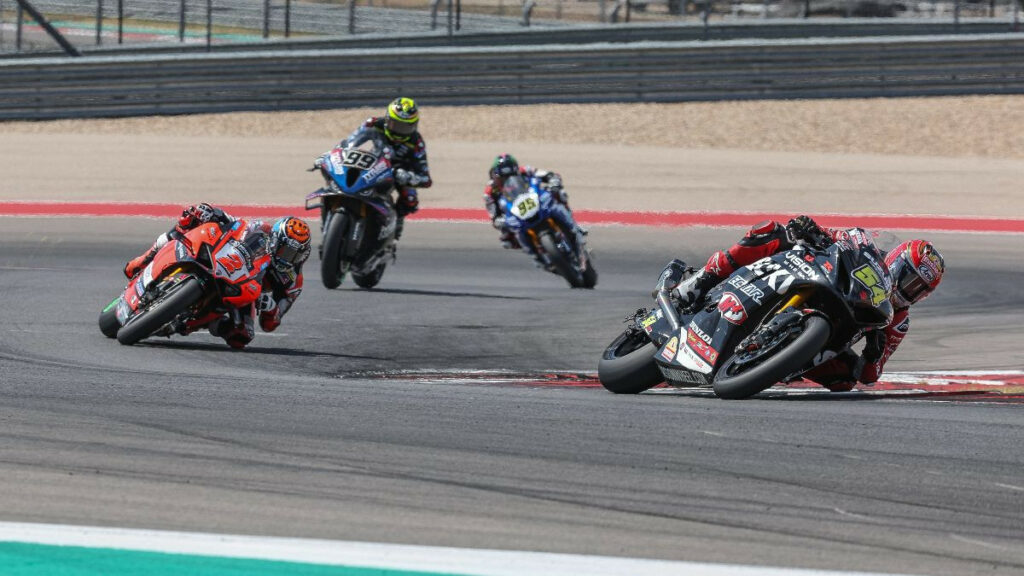 Ditto for JD Beach's third-place finish with the season-long flat tracker reaching the podium in his just his second race as the replacement rider for the injured Cameron Petersen. The podium was Beach's first in the Superbike class since he finished second to Cameron Beaubier at New Jersey Motorsports Park in 2019.
Beach ended up just .172 of a second behind Escalante after hounding him in the closing laps and 4.38 seconds ahead of Tytlers Cycle Racing's PJ Jacobsen.
Westby Racing's Mathew Scholtz was fifth, 18 seconds behind Gagne and 8.4 seconds ahead of Tytlers Cycle Racing's Corey Alexander, the New Yorker righting the ship after a tough couple of rounds.
Wrench Motorcycles' Bobby Fong was just a few seconds adrift of Alexander in seventh with Aftercare Scheibe Racing's Ashton Yates was eighth, matching his best finish of the year.
Tytlers Cycle Racing's Stefano Mesa was ninth in his Superbike debut on Cameron Beaubier's vacated BMW M 1000 RR with Thrashed Bike Racing's Max Flinders rounding out the top 10.
Notable among the non-finishers were Warhorse HSBK Racing Ducati NYC's Josh Herrin and Vision Wheel M4 Suzuki's Brandon Paasch. Herrin battled with Gagne early, then slipped back into the grasp of Escalante and then Beach and Jacobsen. While running fifth, Herrin's Ducati suffered a mechanical problem that took him out of the race.
Paasch, meanwhile, crashed out of the race uninjured in the early laps.
Superbike Race One
Jake Gagne (Yamaha)
Richie Escalante (Suzuki)
JD Beach (Yamaha)
PJ Jacobsen (BMW)
Mathew Scholtz (Yamaha)
Corey Alexander (BMW)
Bobby Fong (Yamaha)
Ashton Yates (BMW)
Stefano Mesa (BMW)
Max Flinders (Yamaha)
Quotes…
 
Jake Gagne – Winner
"We've talked about it enough, but it's nice to not have to think about the championship. That's priority number one of the year. That's the primary goal. To get that done, it feels nice. We can just kind of go racing. Obviously, there's been some bummer luck for some of those guys. I feel like I've been on the lucky end all year. But regardless, I'll take it. It was a tough, hot race for sure. The first lap was kind of wild. Me and (Josh) Herrin went back and forth a little bit, which was fun. I think even just going into turn one, he was up the inside. I released the brake, he released the brake, and we just kind of played that game for a little while. It was a bummer. I think he had a bike issue. Just kind of put my head down. I saw on the big board that it was Richie (Escalante) and JD (Beach) up there second and third after a few laps or mid-race. Congrats to both these guys. They really earned it. I know Richie has been at this Superbike game for a while now. The guy is so talented. And JD, he's okay. Congrats to JD. It's a great day for the team and Richie. It's just cool to get up here on the podium with these guys. Tomorrow I'm sure will be another burner. I know these guys want to get a win, both of them. Hopefully we can learn a little bit overnight and go out there and put on a show again tomorrow."
Richie Escalante – Second Place
"I think my team, Vision Wheel M4 ECSTAR Suzuki is still working. It's difficult. The level is super high. I need 37 races to finally finish on the podium, so one year and a half. Working really hard, training hard, and finally I know the tracks when it's more flow, more like sector one here. Smooth for my style. So, I know Pittsburgh, the Ridge, Laguna Seca, here are good tracks for me to battle for the podium. Finally, I finished in P2. Really difficult weekend. Super-hot out there. In the beginning, I felt very strong. I lost a little bit of time to pass (Josh) Herrin. Then I just tried to concentrate on my pace. In the last laps, I can ride the bike just waiting for finish the race. It's spinning everywhere, on the limit. Everybody is in the same way. Super happy. I think when you feel the podium, you want more. So, I hope to stay there tomorrow. I know it will be difficult, but I'll try my best. I know my team will push hard tomorrow in the 15 minutes (the Sunday warm-up session) more to improve a little bit more the grip, but super happy. Finally, P2."
JD Beach – Third Place
"It was a hot one. I'm so pumped. This team has worked so hard to help me, when they've got this guy (Gagne) going for the title, and even Cam P (Petersen). He's been at the races and I'm riding his bike. He's still trying to help and root me on. It's been great to work with this team. They just work so damn hard. It feels so good to get this podium. I'm up here with the best guys in the US. To do that after five years, I can't even put it into words. I think I'm just babbling right now. It's so awesome. I hope I can do it again. It feels good to reassure myself that I can still do it. As a racer, there's always self-doubt and these last few years I've had a lot. To come back out here two weeks on the bike and put it in third with it being 110 degrees out on a track that I think I was two seconds faster this weekend than when I was racing full-time before. So, it feels great."
More, from a press release issued by Suzuki Motor USA, LLC:
TRIPLE PODIUM DAY FOR THE VISION WHEEL M4 ECSTAR SUZUKI
 
Escalante Captures his First Podium in Texas and the  GSX-R750s dominate the Supersport Class
BREA, CA, September 9, 2023 — Suzuki Motor USA and Team Hammer racked up three trophies across two MotoAmerica classes – including a first Superbike podium for Richie Escalante – in what proved to be a banner Saturday at the Circuit of the Americas in Austin, Texas.
Race Highlights:
Vision Wheel M4 ECSTAR Suzuki

Superbike

Richie Escalante earns second to claim his first Superbike podium.
Brandon Paasch crashed while fighting for sixth position.

Supersport

Tyler Scott increased his podium streak to seven with a runner-up finish.
Teagg Hobbs carded his third podium of his rookie season in third.
Torin Collins stuns with a fourth-place result in his Supersport debut.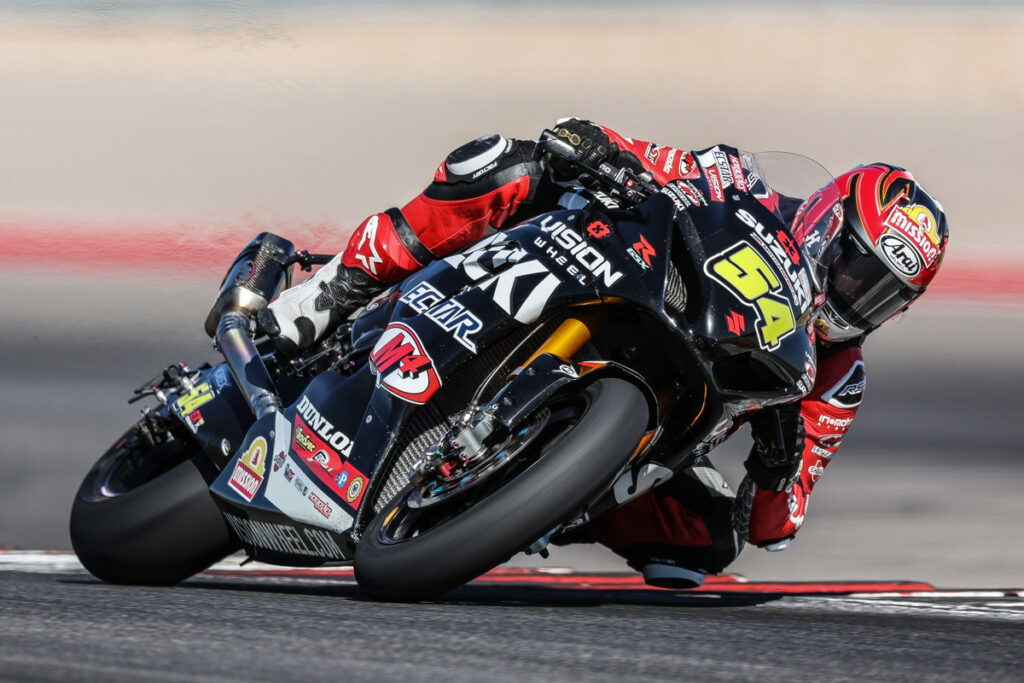 After previously scoring nine fourth-place finishes in the premier class – including seven this season alone – Vision Wheel M4 ECSTAR Suzuki's Richie Escalante earned his first MotoAmerica Superbike podium with a runner-up result aboard his GSX-R1000R on Saturday. Escalante made his intentions clear with a front-row qualifying performance and then made good on that pace by running a close third in the race's early stages. Escalante made a pass for a position on the third lap and subsequently held second for the remainder of the contest, overcoming the late-race pressure applied by a rival to cross the line with a breakthrough result.
"Finally, after a season-and-a-half, I finished on the podium," Escalante said. "I'm thrilled. We are working so hard. My Vision Wheel M4 ECSTAR Suzuki team has worked so hard with me and continued to believe in me. We've gotten a little bit better and more comfortable on the bike every weekend. Now I'm super happy, and I can't wait until tomorrow. I'm going to go for another podium and try to win."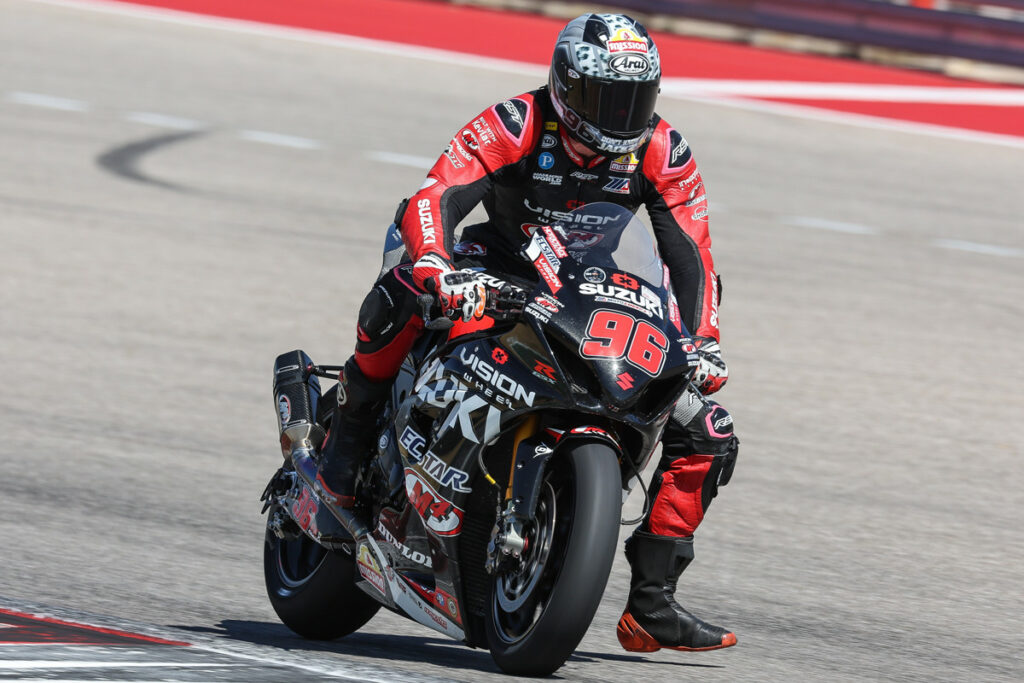 Unfortunately, Escalante's Vision Wheel M4 ECSTAR Suzuki Superbike teammate, Brandon Paasch, fell while contending for sixth position. Unable to continue, the resultant DNF snapped a run of seven consecutive top tens for the talented rider since joining the squad midseason, despite suffering a broken back in March. Paasch will now look to start a new streak of solid results on Sunday.
Paasch said, "I didn't have the best start and was pushing hard. I had a pretty easy low-side crash in Turn 8. We weren't a million miles off, but I chose the wrong tire. I was losing grip and pushing to try to make up for it. I am okay and looking forward to another shot."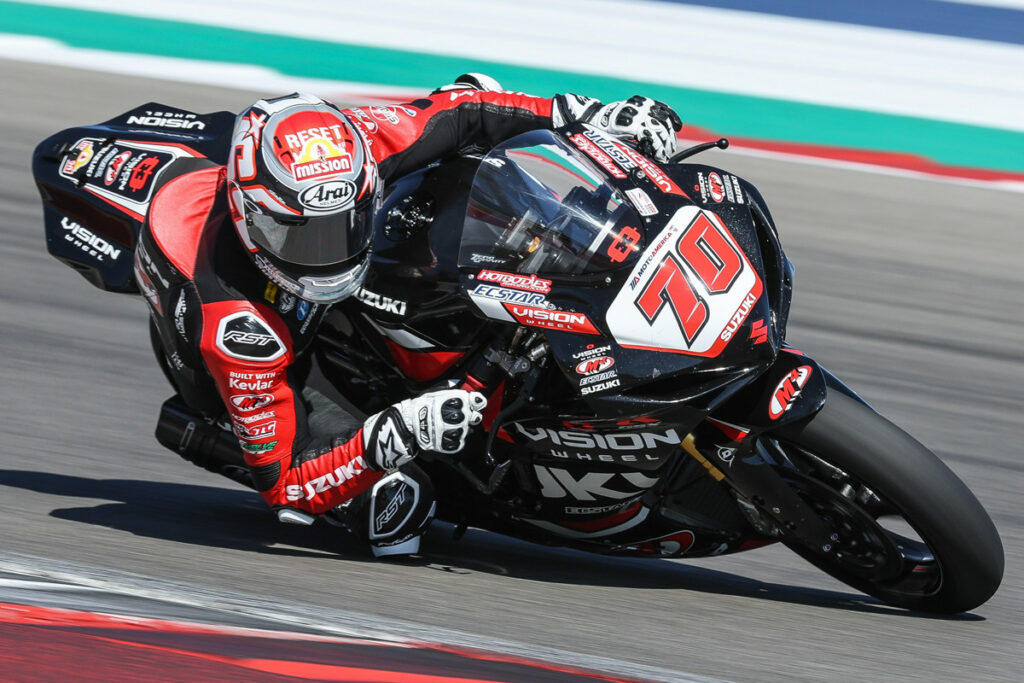 Vision Wheel M4 ECSTAR Suzuki's Tyler Scott continued his recent run of front-running form, scrapping for Supersport victory right up until a red flag ended the race three laps prematurely. Starting from pole, the up-and-coming ace was embroiled in a dogfight for first from the start aboard his next-generation Suzuki GSX-R750. After leading for a stretch mid-distance, Scott settled into second and was calculating his late-race strategy when the race was stopped and ultimately called complete. Nevertheless, Scott's second-place result represented his seventh consecutive podium effort as Scott further solidified himself in second in the Supersport championship standings.
"It was an incredible battle," Scott said. "It's really hot out here this weekend, but we got the bike dialed in. I had a really good start, but wanted to follow for a little bit. I got in front for a while, but once another rider got by, I just wanted to follow again and stay really close. I made a few mistakes, but we'll move on and be stronger for tomorrow. We're going to make a few changes overnight, but I feel really great with the team and the bike."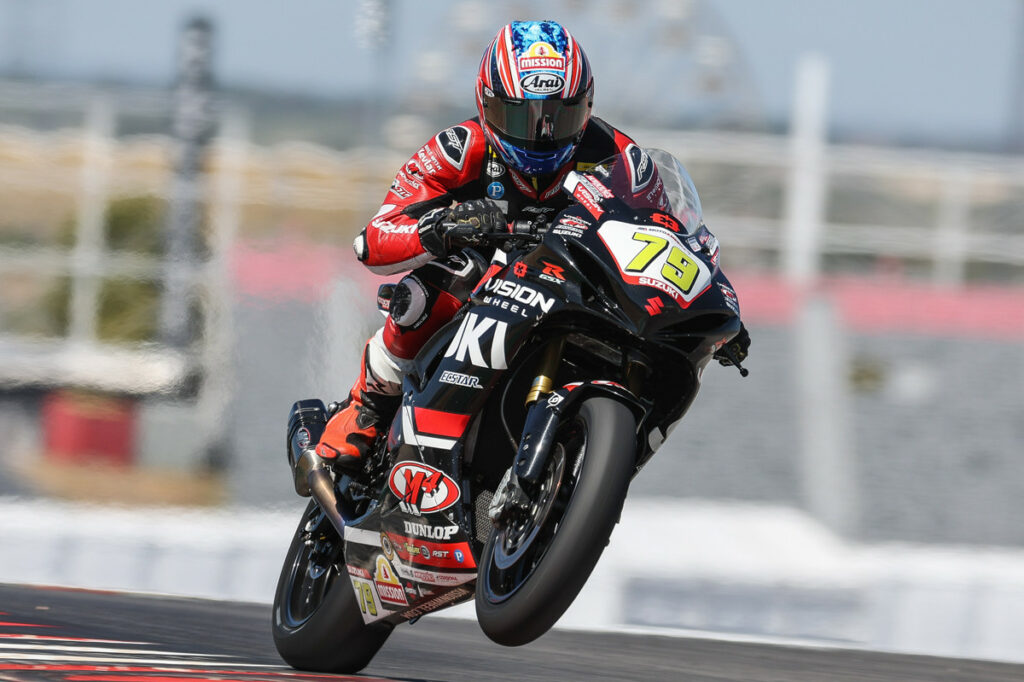 Teagg Hobbs made it two Vision Wheel M4 ECSTAR Suzuki GSX-R750 machines in victory lane by reeling in a third podium of his rookie MotoAmerica Supersport campaign. Hobbs shook free of a thrilling multi-rider fight early to register a rather lonely ride to third. It was an impressive performance for Hobbs in his first-ever visit to the Circuit of the Americas.
Hobbs said, "It was a good race. Unfortunately, it was a little shorter than we expected. We have a little bit of work to do to catch the leaders, but I think we can do it. It's a new track for me, so every session we're making some strides. I have a few ideas about where I can make up some time. All we can do is go back, do our homework, and come out ready to race tomorrow. I've got to give it up to the whole Vision Wheel M4 ECSTAR Suzuki team."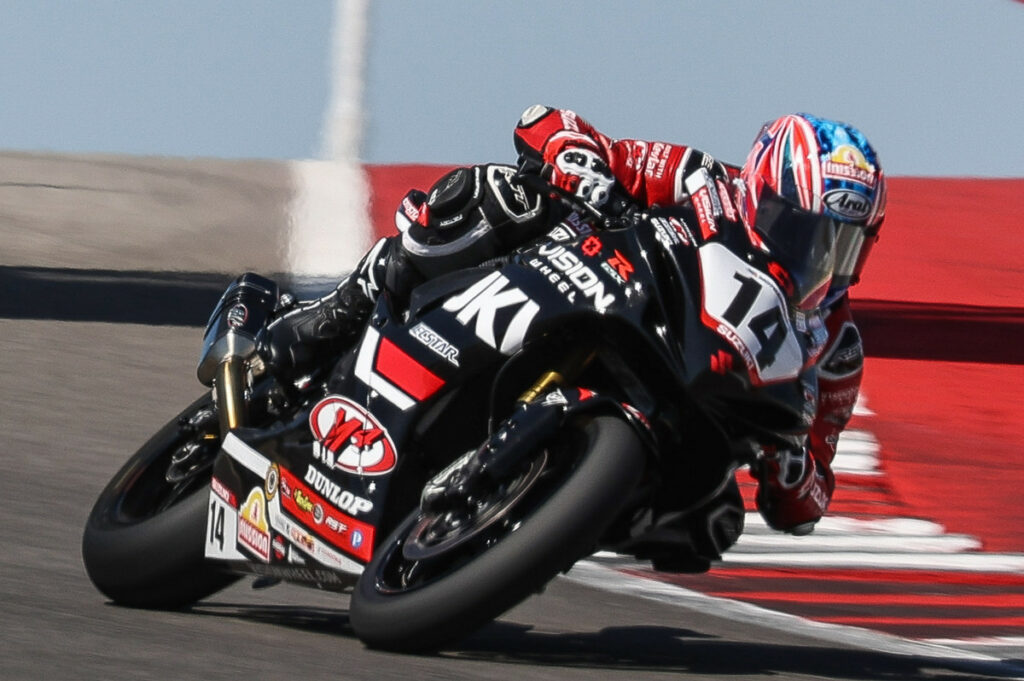 FIM JuniorGP regular Torin Collins made an empathic MotoAmerica debut, completing a Vision Wheel M4 ECSTAR Suzuki 2-3-4 in what was both his first-ever race at the venue and his first-ever race aboard Supersport machinery. A quick study, Collins immediately adapted to the powerful GSX-R750 to outduel a pair of experienced veterans and secure fourth position. Now armed with MotoAmerica race experience, Collins aims to claim a podium in Sunday's rematch.
"This was definitely a big step for me. I'm used to the Moto3 bike, which is 250cc and a lot lighter. This bike is a lot bigger and way more powerful, sliding around a lot on the gas. I'm not really used to that, but I'm learning quickly and that's what is important. The series is amazing, and my first race was a difficult one. My launch wasn't particularly good and the first few laps I was trying to be really aggressive. I had a good battle for fourth. We had a few love taps, which is good – that's how I like it. I'm thrilled with the race, and I'm excited for tomorrow. I'm going to try to have a strong start, get the elbows out early, and try to fight for the podium."
Team Hammer will compete again on Sunday at the Circuit of the Americas.
ABOUT TEAM HAMMER
The 2023 season marks Team Hammer's 43rd consecutive year of operating as a professional road racing team. Racebikes built and fielded by Team Hammer have won 131 AMA Pro and MotoAmerica National races, have finished on AMA Pro and MotoAmerica National podiums 358 times, and have won 11 AMA Pro and MotoAmerica National Championships, as well as two FIM South American Championships (in Superbike and Supersport). The team has also won 137 endurance races overall (including seven 24-hour races) and 13 Overall WERA National Endurance Championships with Suzuki motorcycles, and holds the U.S. record for mileage covered in a 24-hour race. The team also competed in the televised 1990s Formula USA National Championship, famously running "Methanol Monster" GSX-R1100 Superbikes fueled by methanol, and won four F-USA Championships.
ABOUT VISION WHEEL
Founded in 1976, Vision Wheel is one of the nation's leading providers of custom wheels for cars and trucks, and one of the first manufacturers of custom wheels and tires for ATVs, UTVs, and golf carts. Vision Wheel looks beyond the current trends and to the future in developing, manufacturing, and distributing its wheels. Vision's lines of street, race, off-road, American Muscle, and Milanni wheels are distributed nationally and internationally through a trusted network of distributors. Vision Wheel also produces the Vision It AR app to allow users to see how their wheel of choice will look on their vehicle before purchase and installation. For more information on Vision Wheel, visit www.visionwheel.com.
ABOUT SUZUKI
Suzuki Motor USA, LLC. (SMO) distributes Motorcycles, ATVs, Scooters, Automotive Parts, Accessories, and ECSTAR Oils & Chemicals via an extensive dealer network throughout 49 states. Suzuki Motor Corporation (SMC), based in Hamamatsu, Japan, is a diversified worldwide manufacturer of Motorcycles, ATVs, Scooters, Automobiles, Outboard Motors, and related products. Founded in 1909 and incorporated in 1920, SMC has business relations with 201 countries/regions. For more information, visit www.suzuki.com.
More, from a press release issued by Yamaha:
Gagne's Hot Streak Continues at Superbike Scorcher in Texas
Fresh N Lean Progressive Yamaha Racing's Jake Gagne scores fourth consecutive MotoAmerica Superbike victory in Race 1 at COTA
MARIETTA, Ga. – September 9, 2023 – Fresh N Lean Progressive Yamaha Racing's Jake Gagne kept his win streak rolling with another masterclass performance in today's MotoAmerica Superbike Race 1 at the Circuit of The Americas. Fill-in rider JD Beach fought back to third to give the team a double-podium finish in the punishing conditions in Austin, Texas.
After securing his third-consecutive MotoAmerica Superbike Championship at the previous round, Gagne's hot streak continued at COTA. The Californian hit the ground running despite the triple-digit temperatures, leading every session, claiming another pole position, and setting a new track record. When the lights went out for Race 1, he got a great start and slotted into second. Gagne battled for the lead and was able to secure it on the opening lap. From there, he threw down some fast laps to remain unchallenged and earn his fourth-consecutive victory. It also marked Gagne's 10th MotoAmerica Superbike victory this season and brings his career tally to 39.
Beach continued to make progress on the Attack Yamaha R1 in his second outing with the team as a fill-in rider for Cameron Petersen. The Kentucky rider, who has been racing full-time in the American Flat Track series since 2020, had a solid qualifying effort in fifth. He tried to grab the holeshot but ultimately was shuffled back to sixth. Undeterred, Beach put his head down and steadily made his way forward to third with three laps to go. He tried to advance to the runner-up spot but ultimately ran out of time and crossed the line third for his first MotoAmerica Superbike podium since 2019 at the New Jersey Motorsports Park.
The Fresh N Lean Progressive Yamaha Racing team looks to keep the momentum rolling for tomorrow's MotoAmerica Superbike Race 2 at the Circuit of The Americas.
Richard Stanboli – Fresh N Lean Progressive Yamaha Racing Team Manager
"It was a great day for our riders and team. Everyone and everything functioned perfectly. Jake and our Yamaha R1s love the heat. Getting a first and third, as well as a new track record, showed the capability of both riders and the machine. We look forward to Race 2 tomorrow."
Jake Gagne – Fresh N Lean Progressive Yamaha Racing
"It was a good little battle on the first lap, which was fun. Then I tried to put my head down on Lap 2 and managed to pull a little lead. It was very hot conditions, but the Yamaha handled it well, and it was awesome to see JD on the podium as well!"
JD Beach – Fresh N Lean Progressive Yamaha Racing
"Today's race was a battle for me all the way through. I got a good start but messed up Turn 1 a bit and went backward. I kept charging all race long and slowly picked off the guys. It was brutal in the hot conditions, but I still felt solid at the end. I'm happy that I was able to put two Yamahas on the box and look forward to Race 2!"
2023 MotoAmerica Superbike COTA Results
http://www.motoamericaregistration.com/2016-results/
About Yamaha Motor Corporation, USA
Yamaha Motor Corporation, USA (YMUS), is a recognized leader in the outdoor recreation industry. The company's ever-expanding product offerings include Motorcycles and Scooters, ATV and Side-by-Side vehicles, Snowmobiles, WaveRunner Personal Watercraft, Boats, Outboard Motors, Outdoor Power Equipment, Power Assist Bicycles, Golf Cars, Power Assist Wheelchair Systems, Surface Mount Technology (SMT) and Robotic Machines, Unmanned Helicopters, Accessories, Apparel, Yamalube products, and much more. YMUS products are sold through a nationwide network of distributors and dealers in the United States.
YMUS has a corporate office in California, two corporate offices in Georgia, facilities in Wisconsin and Alabama, and factory operations in Tennessee and Georgia. Additional U.S.-based subsidiaries include Yamaha Marine Systems Company (YMSC) with divisions Bennett Marine (Florida), Kracor Systems (Wisconsin) and Siren Marine, Inc. (Rhode Island), Skeeter Boats (Texas), with division G3 Boats (Missouri), and Yamaha Precision Propeller (Indiana)