Barber Test
First Person/Update:
Amidst these crazy times, I wanted to give an update to all the fans, sponsors, supporters and KW Army who help keep KWR moving. By now we should be gearing up for our first round of the year, yet we are held in limbo as we wait for current events to sort themselves out. I'm not here to preach or talk about what's going on in the world – we are all well aware of the challenges we all face. I'm here just to talk about what has transpired over the past few weeks, and give the KWR family an idea of how I plan to move forward from this moment on in 2020.
Last week we attended the Barber pre-season test and we had great success. We ended the first day P3 in three different sessions, all with varying track conditions (full wet, drying, and fully dry). We rolled our Ducati Superbike off the truck and I felt very comfortable right away, despite spending so much time off the bike this winter. I had a long recovery with my spine surgery that most of you know about, and I'm happy with the result of it and what it has done for my strength and range of motion on the bike.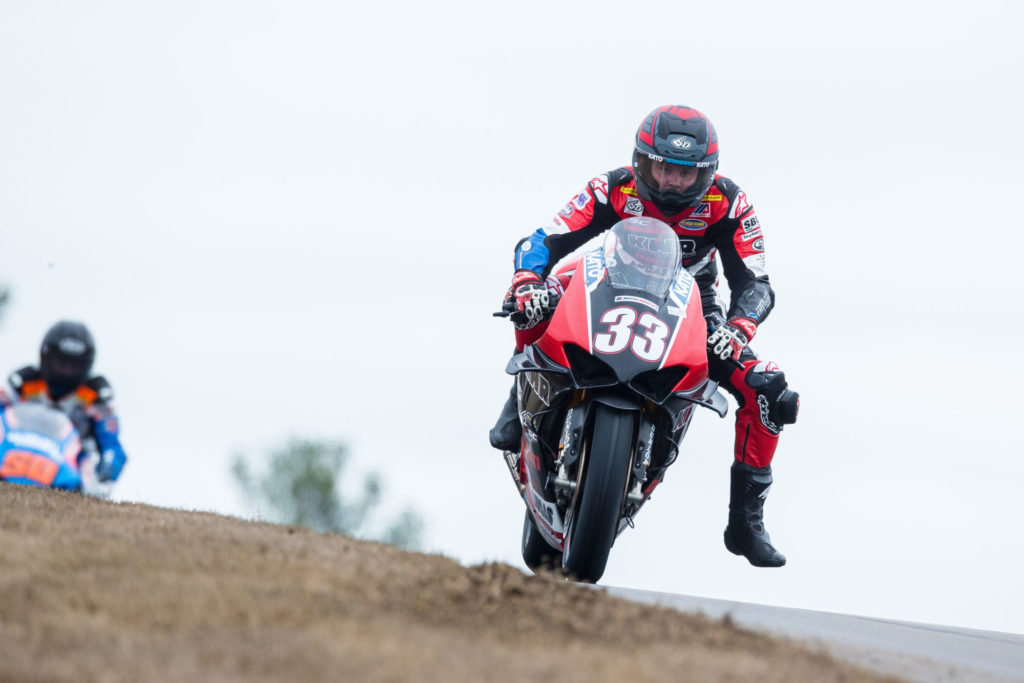 We decided to skip the second day of the Barber test so that we could get a head start on the drive to Daytona to compete in the Daytona 200 once again. Some riders got more dry time on day two of the test, but we were still able to hold down the fourth fastest time overall even with our day-one times. I was happy to see that.
Daytona 200
While the crew drove 9 hours down to Daytona, I decided to grab a flight for myself and Hannah to try to ensure I could get some more rest between Barber and Daytona. On the flight down, not only did we experience flight delays that put me in Daytona later than if I drove (figures), but I started coming down with heavy flu symptoms during my layover in Charlotte. I had chills, and was shaking uncontrollably in the airport lounge. I booked a hotel when we landed so that I wouldn't be woken up Thursday morning by the race rig moving into the garages. When I woke up, my symptoms were worse.
I had planned to visit the infield medical center at Daytona International Speedway Thursday to get some fluids, but when they heard of my symptoms, they sent a doctors order for me to wear a mask and be sent straight to the hospital, to get tested for you-know-what. The COVID-19 test is unpleasant but necessary, and they tested Hannah and I for both that, as well as the common flu. They were able to come back with results in minutes for the flu test, which came back positive. This all but rules out the possibility of having the Coronavirus – I've never been so happy to have the flu! While I tested positive, Hannah tested negative for both and we were sent on our way.
I went back to the track and hid out in my trailer, trying to sleep and manage a fever that continued to climb. I had to go into the garage area at some point, as the rider is required to be present for tech inspection of the bike. I was walking through the paddock on an 85 degree, sunny day, with a jacket and hat… shivering. It wasn't hard for people to recognize that I was very ill.
Once my duties were taken care of, I headed back to the trailer and spent the next 14 hours in bed, hoping to relieve myself from the flu and find a way on the bike for Friday's practice and qualifying sessions. I woke up Friday morning with a fever of 102.6, doused with sweat but fortunately with enough appetite to get some calories in me. I watched live timing from my phone of the first Daytona 200 practice session while Hannah nursed me back to life. We went to the infield care center where they gave me an IV of fluids. By then the flu medicine I took was kicking in, and between that and the fluids, my fever came down to 99, just in time for the first qualifying session.
I geared up and went out, just to shake down the bike, make sure I wasn't dizzy or anything. I think we ended up 7th fastest or something, I don't remember the lap time. We had a couple small issues on the bike. I was able to get back in and feel relatively OK in the next hour before the second qualifying session. I honestly don't remember a whole lot of what happened, since I was focused so intensely on the task at hand. I was able to put down some fast laps toward the end of the session and pull out a 1:49.331 which is less than a tenth off of my fastest lap of the race from 2019. I was proud of that lap after seeing it pop up on my dash. Unfortunately, it was the last lap I would make for the weekend.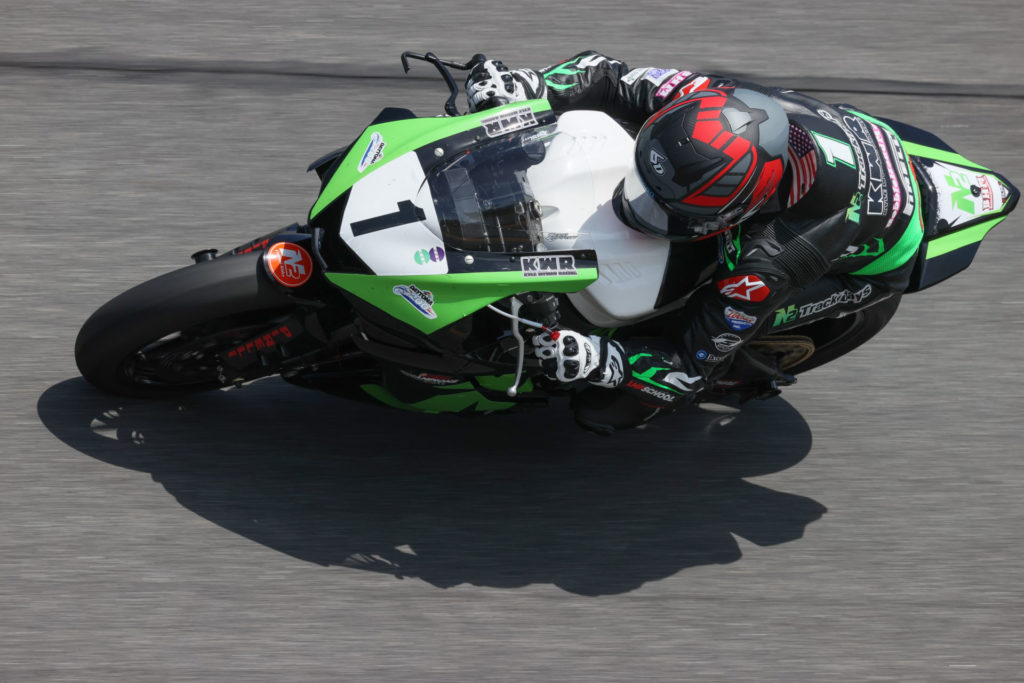 After qualifying the on-track action ceased. The United States declared a national state of emergency. The speedway pulled together an impromptu riders meeting, where they announced that the races were to be postponed for the rest of the weekend. The Daytona 200 was officially over with, and rescheduled to run now in October of this year.
It was a tremendous blow to all the teams who traveled and spent their money to come race, but with the state of emergency around the Coronavirus, there's not much we could do to save our race weekend. I was able to spend the rest of the weekend reviving myself from the flu, and Monday morning when I was feeling better, Hannah and I spent four days driving the rig back to Arizona, where I am now (and feeling much better).
What's Next?
Now that I'm back in Arizona, I've started working on the plans for the rest of 2020. As of now, the first round at Road Atlanta is still scheduled for April 13-15. I am hopeful that we can still race this event, but I am doubtful that we can pull it off. I personally feel that we won't be able to race until our originally scheduled fourth round of the series at Road America, May 29-31. Even though we will likely have rounds postponed, I do believe that we will still be able to conduct a 10-race series this year.
KW Army Order Updates 
For those who pre-ordered their KW Army pack, we had originally scheduled our ship date for March 20, 2020 for all to receive their packs before the original start of the season, April 3-5 at Circuit of the Americas. The current events have delayed items from completion. For example, the hoodies included in the premium packs are completed but currently stuck in shipping abroad, and other items that are sourced from companies in hard hit areas of the U.S. are delayed in arriving at our fulfillment center with MotoOption in New York.
Shirts and hats are done, as well as many items in the Army packs, but we will not ship until we have all items in stock. We anticipate an updated ship date of April 6th, to ensure delivery by Road Atlanta if we still have that event.
For all premium members, now is the time for us to knock out our 1-on-1 online video coaching sessions! Reach out to me to schedule your included session with me. More info is available at www.kwrcoaching.com
Be sure to subscribe to our Youtube Channel to get notified about our Kyle Wyman: Undeterred web series. Episode two will launch Monday, March 23rd.