DAYTONA 200/DAYTONA TT Postponed
DAYTONA BEACH, Fla. (March 13, 2020) – "American Flat Track has postponed this weekend's race events at Daytona International Speedway, which includes Saturday's DAYTONA 200 presented by CoMoto and the DAYTONA TT. The 79th DAYTONA 200 will be held as part of Biketoberfest in October and the DAYTONA TT will be rescheduled on a future date. We believe this decision is in the best interest of the safety and well-being of our fans, competitors, officials and everyone associated with the sport. We will continue to monitor this dynamic situation as we assess future race events."
Update:
By David Swarts
At 4:00 p.m. local time on Friday an ASRA/CCS rider's meeting was held in Gatorade Victory Lane at Daytona International Speedway (DIS).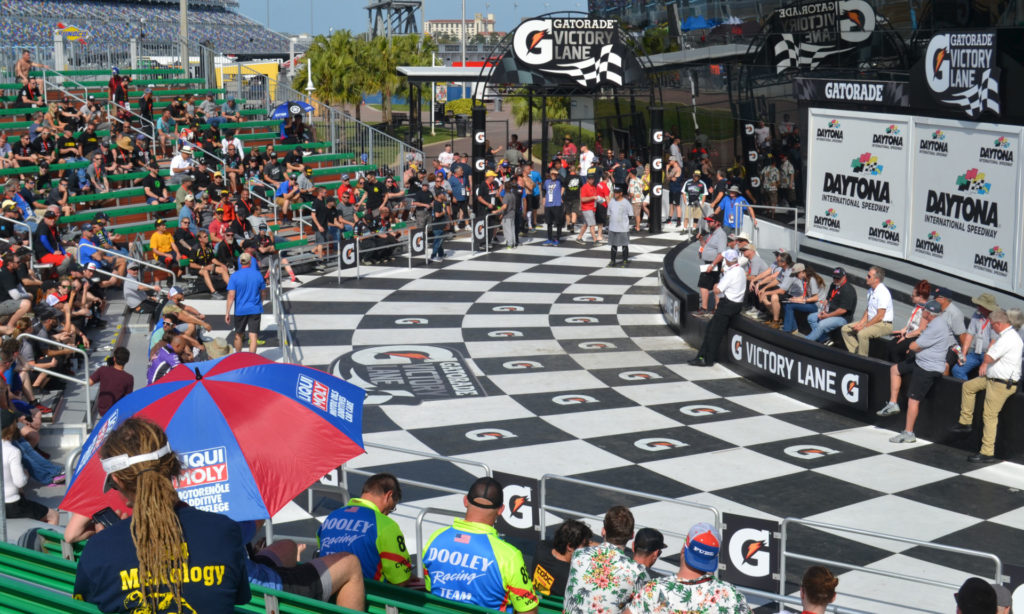 ASRA/CCS Race Director Rick Breuer started by reading the press release issued by American Flat Track (AFT) posted above.
Breuer then added, "This means that this weekend is now complete."
Then, Andrew Gurtis, Senior Vice President, Operations, Daytona International Speedway, took the microphone and said, "If you haven't paid attention, right now President Trump is declaring a national state of emergency that has far-reaching impact across the board. When we woke up this morning and I spoke to you there was still going to be races in Atlanta and St. Petersburg, NASCAR and IndyCar, respectively. We had planned, with AFT, to run the Daytona 200 and the Daytona TT tomorrow as well as the weekend's activities.
"Obviously, things have changed today. This is not a decision we made lightly. It is decided. We do know when the Daytona 200's going to be. It's going to be in October right back here at Biketoberfest.
"We appreciate you all for coming out and doing what you do, for getting on track today. Obviously, it's been a fluid situation. Rick will relay some credential and registration information when I give the mic back to him, but please understand we are as frustrated as you are. This is uncharted waters for us all. I know you're frustrated. We are too. But at the end of the day, we're not going to be racing from now on at Daytona this weekend."
Breuer then continued, saying, "Thanks a lot, Andrew. It's sad news for everybody. Like Andrew said, it's a dynamic situation that is moving forward. We have no choice in this situation.
"All entries for all races this weekend, including the [Daytona] 200, will be directly transferred to the October event this year. If you cannot make that October event, contact CCS and we will work out a refund and/or a situational correction as per needed or [on] a case-by-case basis.
"The credential that you have now in front of you, this is a coupon, this is a gift certificate, this is worth $60 to you in either October or something else that changes. This is your gate pass for October's event. In October, you're going to show up, give them this, and they're going to give you a new one back. So please, please, please hang on to this credential. This is basically worth $60 to you.
"If you're camping in the Rider/Owner lot or on Lake Lloyd, please stay, please enjoy Bike Week. They will need you out at the normal time. If you were supposed to be out on Monday please do so. If you're in regular camping, same thing, stick around and have a good time.
"If you have extra expenses to get here, shipping your bike in from another country, that kind of thing, Kevin [Elliott, ASRA/CCS President] brought it to my attention that he was going to work with you on a case-by-case basis.
"The big thing everyone wants to know, besides every other question you have, is when we have to be out of here. It's been brought to my attention the sooner the better, but they want us out of the yellow garages somewhere around noon tomorrow [Saturday]. If you call noon the drop dead [time], that's fine with me."
Breuer then answered questions that were shouted from the crowd but could not be heard by Roadracingworld.com. Here are Breuer's answers and comments:
"Everything's being pushed back to October. So, the race isn't cancelled. It's being pushed to October.
"No purse money will be distributed. Everything's going to push to October. We apologize for the inconvenience.
"Everything transfers to October, including the garage rental [fees].
"We apologize. This is out of our hands. This is out of our control."
…
If the Daytona 200 race is cancelled after qualifying has run, which two of the three qualifying sessions had been run, ASRA/CCS would be obligated by its rulebook to pay out 25% of the $175,000 purse to the riders who qualified in purse-paying positions.
If the race is started and then cancelled before its completion, ASRA/CCS would be obligated to payout 50% of the purse, according to its rulebook.
But because the race was postponed instead of cancelled, ASRA/CCS is not obligated to pay out any purse money to Daytona 200 competitors.
This is not the first time the Daytona 200 has been cancelled. The race was cancelled from 1942 until 1946 due to World War II.
Roadracingworld.com asked DIS spokesman Andrew Booth why the Daytona 200 was postponed and not cancelled and also asked if there was a specific trigger that led to the postponement, like an order from the government outlawing large gatherings, but Booth said there would be no further comment from the speedway and referred to the statement issued by AFT.
According to the Daytona Beach News Journal online newspaper, there are no current bans on large gatherings of people in the state of Florida.