Two-time and defending MotoAmerica Superbike Champion Jake Gagne was fastest for a second straight day at a two-day private test at Buttonwillow Raceway Park, in California, but the Colorado resident's day Wednesday ended early with a crash and his teammate Cameron Petersen right on his heels in terms of lap times.
"The biggest thing is we have a new swingarm that we just got at the last test, in January," said Gagne, who posted a 1:41.875 Wednesday on his Fresh N Lean Progressive Yamaha YZF-R1. "We did make a lot of progress with the swingarm and some chassis stuff from last test to this test, so it went good. I ended with a little crash, but overall, it went good and I'm happy."
Asked about the crash, an uninjured Gagne explained, "I just got into the long 'Sweeper' down there and made a mistake with a little miss-shift and lost the front. It was pretty easy, but then the bike got off into the grass and tumbled. I got off easy. My bad."
Gagne's day ended prematurely due to the crash, while his teammate Petersen's day Wednesday got off to a slow start while he readjusted from riding a Pirelli-shod Yamaha YZF-R6 (in preparation for the Daytona 200) on Tuesday and getting back on his Dunlop-equipped Yamaha YZF-R1 Superbike today.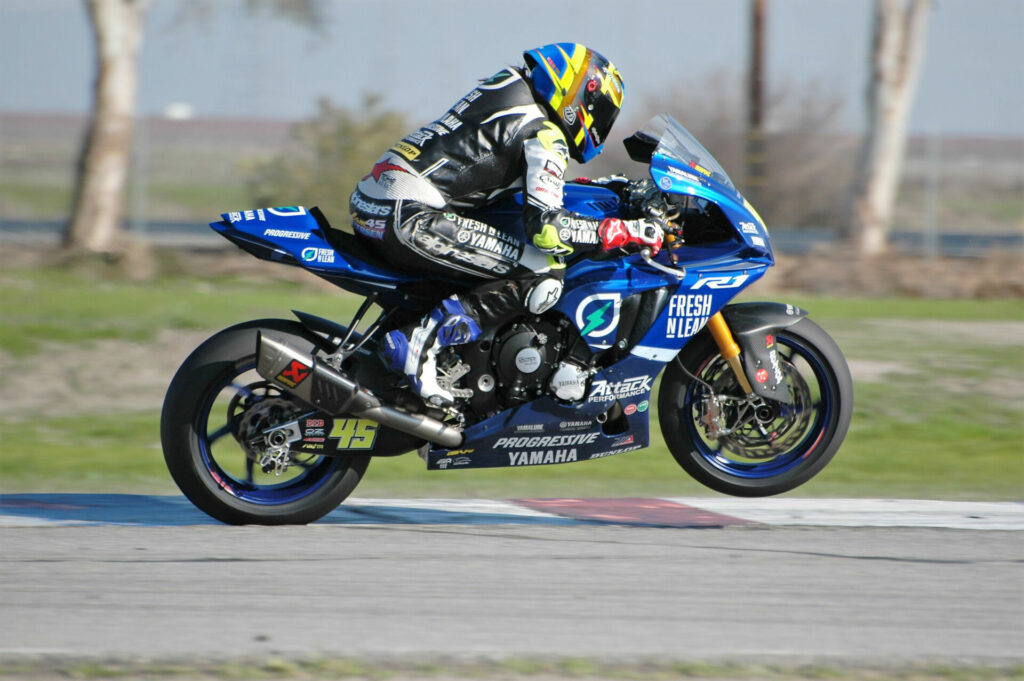 "It definitely took me a session to readjust," said Petersen. "I've been struggling all day, and we threw pretty much Jake's setup on the bike that he finished up yesterday with, went out there, and did a 1:41.9. I came across the line and saw the 1:41.944 and I couldn't believe it. I thought it was going to be mid-1:42s, high-1:42s. The bike is definitely a lot easier to ride. It accelerates off the corner like I've never felt before. The boys have found some good stuff, and I think these Yamahas are going to be weapons in 2023."
Joining the factory Yamaha riders was Westby Racing Yamaha's Mathew Scholtz, who was getting his first ride on his YZF-R1 Superbike – which was fitted with new engine management software — since the end of the 2022 race season.
"The main focus for us was to get back on the bike and ride," Scholtz told Roadracingworld.com. "I was definitely a bit rusty and it was nice to knock the cobwebs off. I didn't go as quick as I would have liked to [1:43.602], but we were working on trying the new components we have. We'll obviously worry about the speed later, but for now I think we have a pretty good pace. Hopefully next time out, I'll find some more pace."
Gagne, Petersen, and Scholtz all used 2022-spec Dunlop slicks.
Another established MotoAmerica star at the two-day test was Kayla Yaakov, who was riding her new MP13 Racing Yamaha YZF-R7 Twins Cup machine. Her best lap time was an impressive 1:49.718.
"The bike feels really good," said 15-year-old Yaakov. "This is my second time on the bike, and I've already got a really good feeling with it. We started where we left off last time and made just some minor adjustments. Now, we're just making the small changes that will make a difference in a race. And we've been putting down some hot laps. I'm really happy with the pace, but at the same time I know there's still more. That's exciting."
Lap times are courtesy of California Roadrace Association (CRA).
More, from a press release issued by MotoAmerica:
Gagne Leads The Way As Buttonwillow Test Concludes
Defending MotoAmerica Superbike Champion On Pace In Two-Day Test
BUTTONWILLOW, CA (February 8, 2023) – Two days of semi-private team testing at Buttonwillow Racetrack Park ended on Wednesday with Fresh N' Lean Progressive Yamaha's Jake Gagne at the top of the heap for a second straight day, this time by just .69 of a second over his teammate Cameron Petersen.
Gagne's day ended prematurely, however, with a tip-over mid-afternoon. Fortunately, the two-time MotoAmerica Medallia Superbike Champion escaped uninjured, but opted to call it a day and start driving to his home in Colorado.
Gagne completed 21 laps on the day with his best lap a 1:41.875, which was .102 of a second faster than his best on day one.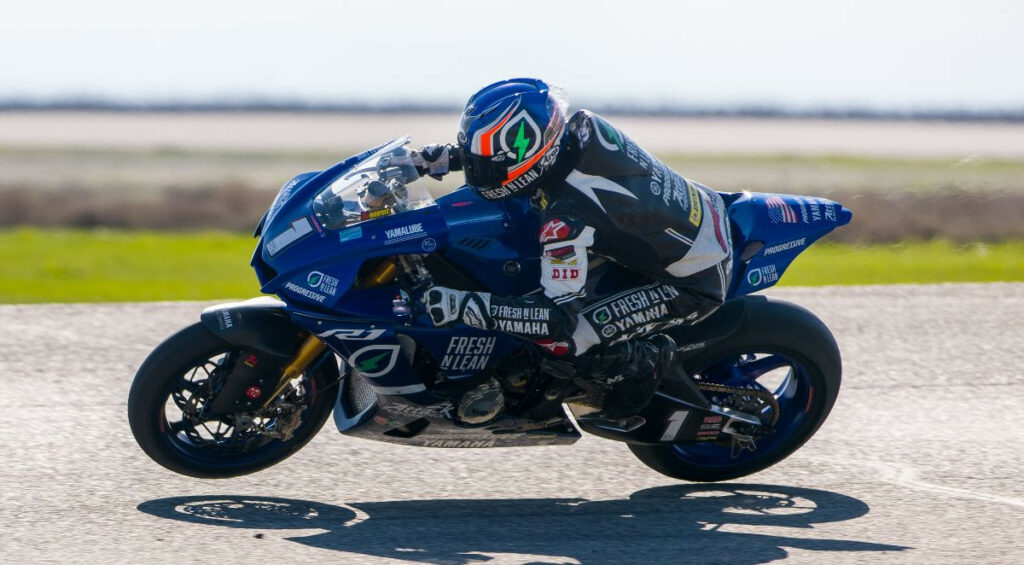 "We made some good progress," Gagne said. "We were here earlier with some new parts, a swingarm and some stuff so where we came from with the last test to this test, I think we made a lot of progress with the bike. I'm a lot happier leaving here then when we left the last one (test). We learned a lot. I just made a mistake and threw it off into the grass. It was my bad. My foot was kind of under the shifter, which they told me not to do, of course. I was already in there and already did my shifts, but my foot was still under the shifter, and I got a little quick shifter blip when I was leaned over and that took weight off the front. It wasn't that fast, but I got off in the soft grass over there and caught an edge. I'm still leaving here happy. We made a lot of progress, and we were going fast easier and that's all that matters."
After spending the first day testing the YZF-R6 that he will race in the Daytona 200 in March, Petersen was back on his Superbike on Wednesday, and he finished just off Gagne's best with his 1:41.944 coming on his 28th of 36 laps.
"Great test," Petersen said. "Yesterday, I was all day on the 600 so today we jumped on the big bike, and it took me a good session and a half to get used to a big bike again. We went through our whole test program, we had a bunch of stuff to test, and we ended up going faster than I've ever been around here other than on a qualifying tire. And it felt relatively easy, so there's some big improvements on the motorcycle and we still have some stuff in the works. I think the bike will be even better two weeks from now when we come back. There's nothing but smiles on my face and it gets me excited to go racing again."
Westby Racing's Mathew Scholtz was third fastest on the day, the South African improving to a 1:43.602 while testing new parts on his YZF-R1.
"It was just getting used to everything really, you know," Scholtz said. "I haven't ridden a proper Superbike since September of last year and I wasn't able to do much motocross this offseason. So, it was really just getting used to the bike again and getting my brain up to speed. Honestly, I wish I would have gone faster but I think for now the main thing and focus is to get all the new parts up to speed and make sure we know what we're doing. We will pick up speed, but for now we have to focus on working to get to the point of getting a good race setup and worrying about lap times then."
MP13's Kayla Yaakov had her second day on her YZF-R7, the youngster turning in an impressive 1:49.718. Yaakov will make her MotoAmerica REV'IT! Twins Cup debut at Daytona in March.
About MotoAmerica
MotoAmerica is North America's premier motorcycle road racing series. Established in 2014, MotoAmerica is home to the AMA Superbike Championship as well as additional classes including Supersport, Stock 1000, Twins Cup, Junior Cup, and King Of The Baggers. MotoAmerica is an affiliate of KRAVE Group LLC, a partnership including three-time 500cc World Champion, two-time AMA Superbike Champion, and AMA Hall of Famer Wayne Rainey; ex-racer and former manager of Team Roberts Chuck Aksland; motorsports marketing executive Terry Karges; and businessman Richard Varner. For more information, please visit www.MotoAmerica.com and follow MotoAmerica on Facebook, Instagram, TikTok, Twitter, and YouTube.