Two-time and defending MotoAmerica Medallia Superbike Champion Jake Gagne was fastest overall during a two-day, multi-team Dunlop tire test at Buttonwillow Raceway Park, in Buttonwillow, California.
Riding his Fresh N Lean Progressive Yamaha YZF-R1 with new electronics, a new engine spec including a World Superbike gearbox, and one of Dunlop's new Superbike qualifying tires, Gagne lapped the 2.68-mile course in 1:40.896. Not only was that quickest of the six Superbike riders present, but it was the fastest that Gagne or any other Yamaha rider had ever gone around the track by half a second.
The unofficial lap record for Buttonwillow's Race 13 clockwise configuration is a 1:41.350, which was done by Cameron Beaubier on an Attack Yamaha in 2020.
"Really good," is how Gagne described his test. "Obviously, we're testing the new tires that Dunlop brought us. I think everybody's really happy. They made a good step. The front tire made a good step for sure. It's good that everything they've been working on is working, and I'm sure that we'll all be breaking the lap records next year."
Dunlop's new Sportmax Slicks, as they are called, are made in new sizes – a 120/75 front and a 200/65 rear – with the front getting a slightly different construction, according to Dunlop's Anthony "Tony" Romo. The compounds will remain the same as in 2022 but their identifiers will change. For instance, the 0129 compound will be called the R3 compound.
"I think one of the big steps they made is how hard you can brake on the front tire," continued Gagne. "Even with the lean angle, you can really throw it into the apex with more brake pressure. I think that's what they wanted, and they did a good job.
"That's pretty much all we did today was going through all the tires and seeing how they affected the bike. Even with the tires being a little different [size] it didn't totally upset the bike or turn it completely upside-down."
Gagne's teammate Cameron Petersen also made the most of the ideal track and weather conditions Wednesday and went under the old unofficial Buttonwillow Superbike lap record with a 1:41.250. And like Gagne, Petersen was happy with how his test went and even happier with the new larger Dunlop slicks.
"I thought the new tires were great," said Petersen. "I still don't think we've really touched the potential of how deep and how late we can trail the brakes going into the corner, which is a nice feeling. I think every single track record is going to be broken [in 2023]."
Third in the lap time rankings at the test was five-time MotoAmerica Superbike Champion Cameron Beaubier, who did a 1:41.685 in his second day of riding a Tytlers Cycle Racing BMW M 1000 RR Superbike.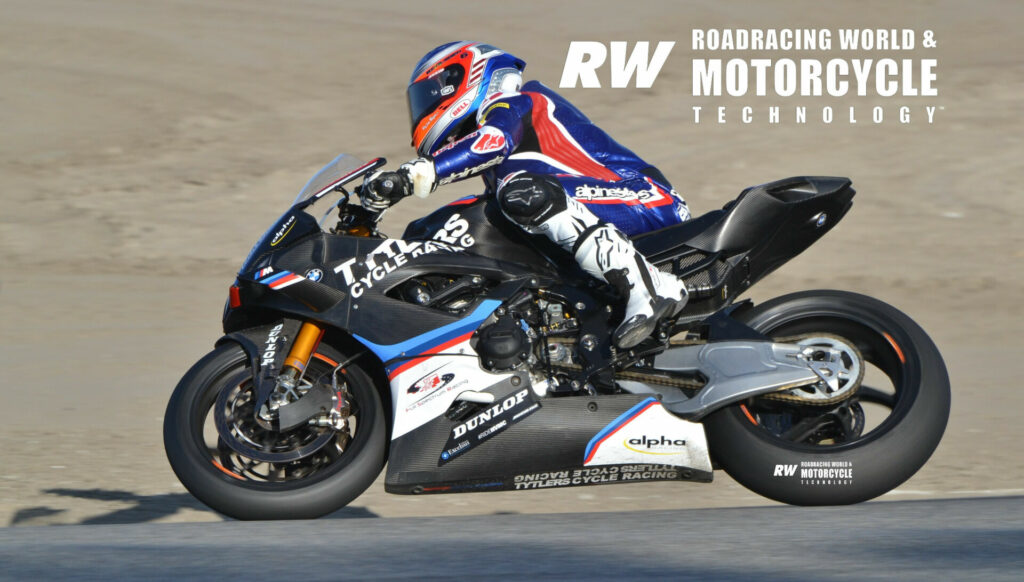 "It was good to have my first experience on the BMW," Beaubier told Roadracingworld.com. "Yesterday, we did 30-35 laps and was just getting used to a Superbike again. I felt like I was riding alright, but I looked at the times and I was like three seconds off what Jake [Gagne] and Cam [Petersen] were doing. (laughs)
"I was a little shocked at how fast they were going. It definitely made me a little nervous, but today I tried not to look at any times, as hard as that is for us racers. It seemed like I was adapting to the bike more and more. The team did an awesome job getting me comfy, and it seemed like we were working well together. It's been a good first test."
In lieu of any official announcement, so far, from Tytlers Cycle Racing about Beaubier joining the team, we asked Beaubier for his status.
"It's definitely going forward, going in that direction," said Beaubier. "There's nothing signed on paper just yet, but it's all looking like it's shaping up like that. We're just getting all the details finalized."
PJ Jacobsen did a best lap of 1:42.685 on his unchanged Tytlers Cycle BMW M 1000 RR early Wednesday, his second day ever riding at Buttonwillow, but the New Yorker's test ended with a crash in the late afternoon. Unhurt, Jacobsen said the setting sun affected his vision and he clipped the inside curb at the Bus Stop corner, causing the crash.
Richie Escalante was the sole rider representing Vision Wheel M4 ECSTAR Suzuki at the test. The Mexican racer racked up the most laps of anyone Wednesday, 51, while trying the new Dunlop tires and new electronics on his GSX-R1000R. Escalante, who did a fifth-fastest 1:43.886 in his first time riding the Race 13 CW configuration at Buttonwillow, was also happy to report that he was fully recovered from injuries he suffered in a crash at Brainerd.
The sixth Superbike rider at the test was 2022 MotoAmerica Stock 1000 Champion Corey Alexander, who together with his crew focused on getting to know their new Tytlers Cycle Racing BMW M 1000 RR Superbike and therefore decided to stick with 2022-spec Dunlop tires during the test. Alexander's best lap time was a 1:45.329.
MotoAmerica/Dunlop Test
Buttonwillow Raceway Park (Race #13 CW configuration)
Buttonwillow, California
November 16, 2022
Best Lap Times (all on Dunlop tires):
Jake Gagne (Yam YZF-R1), 1:40.896
Cameron Petersen (Yam YZF-R1), 1:41.250
Cameron Beaubier (BMW M 1000 RR), 1:41.685
PJ Jacobsen (BMW M 1000 RR), 1:42.685
Richie Escalante (Suz GSX-R1000R), 1:43.886
Corey Alexander (BMW M 1000 RR), 1:45.329