Celtic HSBK Racing left Virginia International Raceway first in points standing
May 7, 2019 – Celtic HSBK Racing left round two of the MotoAmerica SuperSport Championship at Virginia International Raceway leading the points championship. They went into the weekend in third and were able to rise to the top of the standings with a 5 point lead.
The team showed their commitment to helping grow the series by bringing their semi-hauler a big move for the single rider privateer 600 team. "We are excited to be back in the paddock. We feel like MotoAmerica is growing and we want to be a part of that growth," said Bobby Shek, one of the team principals.
This was the first round with the short two day format making for a fast paced weekend. Saturday was busy with multiple track outings, but that didn't stop the team from finding success. They finished practice one with the fastest times in class. In qualifying, rider PJ Jacobsen had the pace to put the Yamaha on pole, but hit curbing damaging the real wheel and was not able to put down faster laps after that. They went to the grid for the first race in P2. The team planned to start the race with the front pack and break for the lead with a few laps to go. However, a red flag after Bobby Fong's crash altered plans a bit. After a regrid for an abbreviated 12 lap race, PJ pushed to the front from the start and opened a gap on the competition. PJ held the lead through the race and finished on top for his first MotoAmerica win.
Sunday the fast and furious schedule was interrupted several times by weather. The team prepared to race in wet or dry conditions. PJ has a lot of rain riding experience and is very comfortable in wet conditions. Unfortunately, a technical problem hindered the bike's performance on track. PJ managed to control the bike and safely complete the race without pushing the bike beyond his new limitations finishing 8th.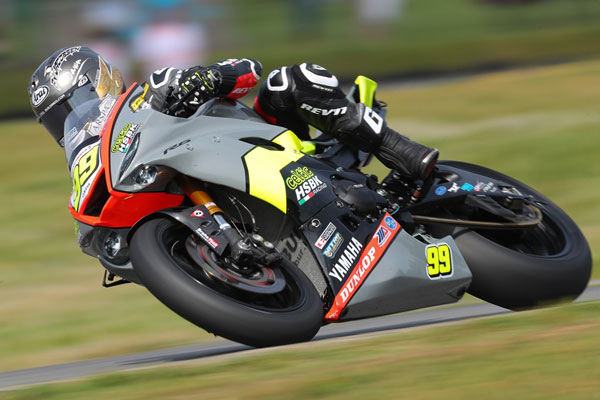 (Above) PJ Jacobsen (99). Photo by Brian J. Nelson.
PJ commented on the weekend, "We had a very strong weekend, I'm thankful for the team, they made some steps and also myself. I feel like we have a very good package now to challenge for wins every race this year. I'm really looking forward to Road America, as I want to do the double there. Thanks to everyone for the support."
To see updates throughout the race weekend, follow HSBKRacing on Facebook and Instagram
Special thank you to Bickle Tire Warmers, BrakeTech, Competition Werkes, Cox Racing, Eazi-Grip, Evol Technology, Fast Frank Racing, Ferodo, Full Spectrum, GB Racing, HVAC Construction, MotionPro, MWR Filters, Nitro Lubricants, RaceSeats, REV'IT, Samco Sport, Spiegler Performance Parts, SunStar Chain & Sprockets, Yamaha USA, and Zero Gravity.
More, from a press release issued by Quarterley Racing On Track Development:
Daniels Gets First Pole, Closes the Points Gap
In a weekend that saw Quarterley Racing On Track Development beset by the weather, rider Dallas Daniels scored his first MotoAmerica pole ever in the Liqui Moly Junior Cup qualifying session. Daniels went on to finish second in race one and fourth in race two, narrowing the points gap behind the Championship point leader from ten to seven going into round three.
Daniels' teammates Teagg Hobbs and Jamie Astudillo had mixed results, with Hobbs running as high as fourth and Astudillo in fifth at the midpoint of race two.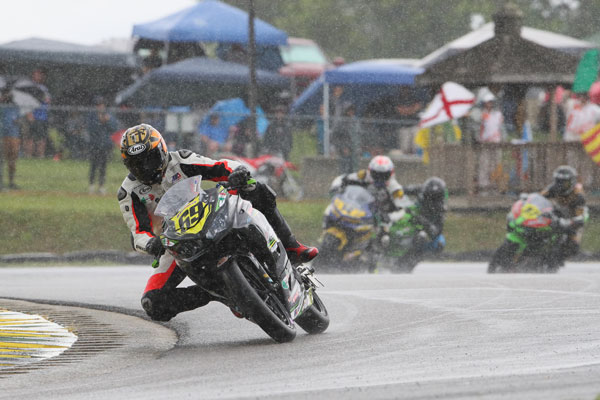 (Above) Dallas Daniels (69) riding on slicks during the wet start of Junior Cup Race Two at VIR.
Dallas Daniels:
"Since Road Atlanta we made a lot of suspension and chassis changes to the bike and we expected it was going to work better at VIR. We made just a couple changes after the first practice but we were a second faster than second place so we didn't want to change things too much. I ended up getting pole position, my first pole ever in MotoAmerica.
"In the first race I got a really good start and led the whole race until the last few laps when (the leader) caught up to me. The first time I saw him was when he came by; I didn't know he was coming through the pack. I got back by him and was trying to lead as much as possible and stay in front of him. Going onto the front straight at the end of the last lap, I thought I had a real good shot at winning but (another rider) got by and I lost by just 0.023 of a second. I was pretty upset about getting passed at the line after leading the whole race.
"In race two I got off to a good start but the officials red-flagged it because of the rain. The team took a gamble and left us on slicks. Unfortunately, it started to rain pretty hard on the restart. I was able to hold onto fourth in the rain, and I was the first rider to finish on slicks. The rear end stepped out a few times, but I was going slowly and I didn't really have any scary moments. On the last two laps a dry line started to develop and the sun came out, but I was already a minute behind the leaders.
"Looking back on the race I can see that everyone was gambling. Some people got lucky, some people didn't. Some guys pitted during the race but it didn't really help.
"I narrowed the lead in the points from ten to seven at VIR. I've only been to Road America once. That was last year. I showed up a day late and didn't finish that well, but I'm confident that I can fight for the win at the next round. I proved that I have the speed this weekend."
Teagg Hobbs:
"It was a pretty rough weekend for me in Virginia for MotoAmerica Round 2. I was having some bike issues early in the weekend and didn't end up with the qualifying position we were shooting for. We had some issues with the quick shifter internal wiring and it was not working. I spent the first practice session just trying to ride through the problems and not trying to go fast. I stayed calm during the whole session and trusted in my team. They got the bike sorted out right before qualifying and I ended up fourteenth on the grid.
"Before race one we made a setup change that just wasn't working for us. I couldn't get the bike turned and all I could do was salvage thirteenth place. Before race two we went back to our standard setup and I was seventh in Sunday morning practice. The race was showing as a dry race, but when we pulled up to the grid the rain started to come down hard. The first lap was insane, riding through a full wet track with slicks and going from fourteenth to fourth. Right after the first lap they red-flagged the race and declared it a wet race. I thought if they gridded us based on the first lap, I'd be in fourth and have a chance at the win, but they went back to the original grid positions.
"Right when we came into the pits after the red flag it started to dry up so 90% of the grid went back out on slicks, including my teammates and me. We went out for the warm up lap and then on the grid once again it started to pour. It was a long race but I knew I needed to stay focused, be smooth and finish the race. My objective was to keep it on two wheels and get as many points as possible. If I would have come in to change to rain tires, I would have been a lap down. It was the sketchiest nine laps of my life riding on slicks in full wet conditions. I ended up finishing eighth in race two and when I came in after the race the entire team congratulated me for bringing home some points."
Jamie Astudillo:
"I was off the pace all weekend. I've been struggling with confidence and it's preventing me from stepping up and running at the front again. It didn't have anything to do with the bike or the track, it's just me. It's definitely affecting my cornering. I've had a lot of crashes starting with Utah last year. I've been tucking the front and low-siding. I don't feel I'm getting into and out of the corner as fast as possible and I don't feel that I can do what I used to do right now.. Once we get that figured out we'll be able to run at the front again.
"In the first race I qualified sixteenth and finished in fourteenth. In the second race the track was wet and Dale made a decision to leave us all, Dallas, Teagg and myself, on slicks. I wouldn't have said any different anyway. We thought it was the right tire choice, and so did most of the field. I don't have very much experience with a situation like that anyway. They did the best they could and it just didn't pan out.
"It was a crazy race. The first time we went off it started to drizzle. Four riders crashed on the first lap so they pulled us off the track because it started raining more. When we went back out, it started to drizzle again and then it started coming down a little more.
"They shortened the race to eight laps and I was in fifth place with four laps to go at the time of the crash. I was having a blast riding on slicks in the rain. I thought it was going to be a lot sketchier that it was. The first three guys were on rain tires and they already pulled away. Coming on to the front straight I could see my teammate Dallas up ahead. Dallas was in fourth, the first rider on slicks, and I figured that was the best anyone was going to do on slicks.
"I thought I might be able to catch Dallas so I started pushing the limits. I had been braking at the number four marker going in to turn one and I decided to try to brake just past that. The front tire slid out, I saved it, but then I went out onto the grass on the outside of the turn. When I tried to get back on track as soon as possible I dropped the bike.
"We looked at the results and decided next time the conditions are so sketchy like this we might gamble the other way and go with rain tires.
Bob Robbins team co-owner:
As a team, we had a positive weekend all things considered. Dallas came into the event with a great sense of momentum and confidence after Atlanta and knowing who he was up against for competitors at the front. He has worked very hard since last season to get himself physically and mentally fit for a chase of the championship and managed to move forward at VIR. To run a race on slicks in the rain was more than commendable for him and his teammates as well, especially with the amount of sealer patches on the VIR course, which one of got the best of Jamie under braking in her fight for fourth place. As she mentioned and we respect that she acknowledges, has struggled a little with confidence, but our confidence in her is still 100% that she will get things sorted to run up front once again. We are a development team and it's our job to do just that so we must do what we can as well for getting Jamie to the top of her game. Teagg unfortunately had some bike issues that hurt his chances to do better at this round after having such a great result in Atlanta but did manage to get through the weekend with some points in the adverse conditions of Sunday's race. He has shown great progress since joining our team and adapts well to changes in his riding in his effort of finding his way towards the front.
As far as tire choices, it was one of those dreaded situations where it not a choice but a guess. Five people glued to the radar map still can't tell you what to do in those conditions. If it had continued to dry and we were on rains, there was not much chance to run at the front. In the situation we created with the slicks being the choice, the result was probably the best we could have hedged on for our riders.
Looking ahead to Road America, we feel we are going into it with great momentum and it is always a large fan base there which makes for a great event. After that we get to say "Happy Birthday" to the youngest member of the team, Ben Gloddy. He must be counting the days until then as he turns 14 on the Friday of the Utah event, just making him eligible to compete. He even went to the extent to ask his Mom what time he was born when they were figuring it out. If that's not enthusiasm, nothing is. He has been keeping busy racing with some wins in the Loudon Road Race Series until the Utah event.
Quarterley Racing On Track Development sponsors for 2019 include Inter-Tech Supplies, Fast By Ferracci, Inc, Yoshimura Research & Development of America, Inc., Wiseco Powersports, Motul USA., Regina Chain, BrakeTech USA, Inc., Ferodo Racing, Matt & Jesse, Scott Powersports, Inc., Defiance Lifestyle, Woodcraft Technologies, Dynojet Research Inc., Beta Tools of Italy – USA, RoadracingWorld.com, Drippinwet.com, MOTO-D Racing, Fast Bike Industries, VAN DYK Recycling Solutions, Earl's Racing Team and Kiwi Classic Moto
More, from a press release issued by Jackson Blackmon Racing:

Strong Weekend for Blackmon at VIR
It was a very successful weekend for the RiderzLaw/Blud Lubricants racer Jackson Blackmon in Alton, Virginia bringing home a 5th in race 1 and a 2nd in race 2. It was the first ever MotoAmerica two day event and it was definitely full of excitement. Saturday started out a little rough finding out there were a few setup issues on his Yamaha R3 resulting in Jackson qualifying 9th for the race, but the team got everything sorted out before the race. Race 1 went quite well for the 17 year old out of Rock Hill, South Carolina. He was in a 5 rider battle for 4th place and ended up finishing a close 5th. Sunday was one of the craziest days at the track for the team and Jackson. Mixed conditions all day made for some tough decisions and a lot of work for the team. On the first lap of Race 2, Jackson was on slicks and it started to rain a little bit, he went from p9 to p2 in turn 1, but unfortunately crashed in the last turn due to it being wet. Somehow the team got the bike together just in time for the restart and made the decision to put on rains. As Jackson was gridding up for the start it starting raining and we knew we had made a good choice. He went straight to 1st and led the whole race start to finish, however Jackson missed the sighting lap of the race and was unaware he had to start last so was penalized 20 seconds and ended up 2nd.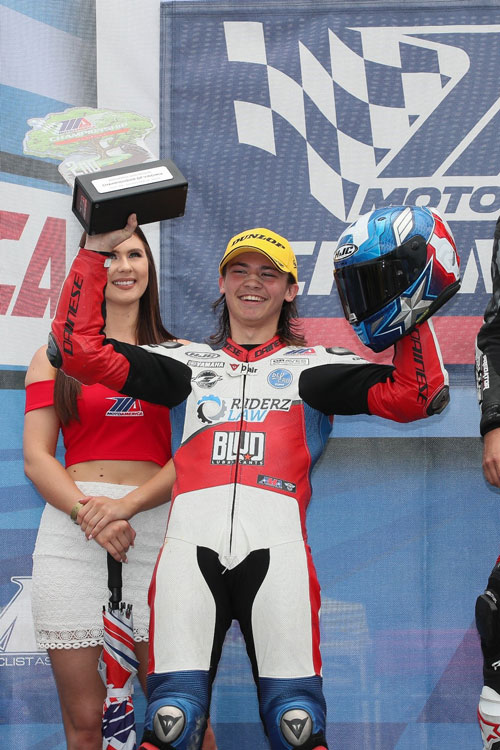 (Above) Jackson Blackmon on the Junior Cup podium at VIR. Photo by Brian J. Nelson.
"This past weekend was one of the craziest and most fun race weekend's I've had. Saturday I got a solid 5th place after a little bit of bike issues that morning. Sunday was gnarly, started race 2 going from 9th to 2nd to on the ground to on the podium. I'm a little disappointed in myself for making an honest mistake and gridding up in the wrong position, but it still felt great to cross the line in 1st! I cannot thank my whole RiderzLaw team enough for all their hard work to get the bike back together and it felt great to put it on the box for them after all the effort in the pits!" says Blackmon.
We would like to thank all of our sponsors for supporting us: RiderzLaw, Blud Lubricants, HJC Helmets, Motion Pro, Finishline Machine, Graves Motorsports, D&D Cycles, MotoD, Rock Hill Powersports, DrippinWet, Fast Frank Racing, Fast Bike Industries, and Dainese.
More, from a press release issued by MESA37 Racing:
Stefano Mesa Sends It To Finish Second
MotoAmerica Stock 1000
Virginia International Raceway, Danville, VA
MESA37 Racing's Stefano Mesa "sent it" in the MotoAmerica 2019 Championship of Virginia's Stock 1000 race at Virginia International Raceway, from a one-wheeled start, and sliding lead into Turn One, all the way to a second-place finish.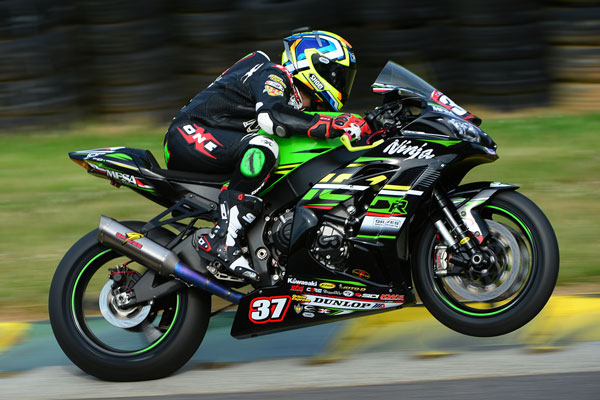 Stefano Mesa (37). Photo by Lisa Theobald.
Mesa's lap times throughout the weekend placed him second in both the class' single practice and qualifying sessions, setting him up front for the race start at the end of the day on Sunday. Staggered in the middle of the front row, he charged towards turn one on his Kawasaki ZX-10R, pulling the front wheel up for a 100 foot plus wheelie that ended in a sliding rear tire to take the lead position through turn one all the way back to the front straight when he was overtaken and settled into second place, where he finished as he qualified.
"It was a great race," exclaimed Mesa. "My hat's off to these guys. We were hauling the mail, I guess. I had no clue these guys were behind me… and I was just hanging on to see what I could do. But it was just a great race My hat's off to everybody my dad my mom, Thermosman, everybody that makes this possible, Graves Motorsports, just everybody."
When asked about his tremendous start, Mesa noted, "I don't really practice my starts because I'm bad on clutches somehow, so I just sent it, you know. And it worked and I stuck it in there in the first corner. So I tried putting my head down, but I knew it wasn't going to be possible because we are all so close I knew it was going to be a good train so, it was good racing."
Mesa noted that he is hoping to compete during the next round at Road America May 31st – June 2nd, which will be the third round for the Stock 1000 class. "I'm trying to make Road America and it's all up to work for now. We'll see if work lets me go up there, hopefully I'll show up there. " His current standing is third in points for the class.
All of the Stock 1000 series' on track action can be viewed both live and on demand via MotoAmerica's Live+ streaming service for either a one event, monthly, or annual fee. The service provides live daily coverage of all classes' practice, qualifying, and race sessions plus interviews and other special features. To sign up visit: motoamericaliveplus.com. Results, points standings, and segment times are available online at motoamerica.com. Additional news, updates, and photos of Stefano Mesa can be viewed on Facebook (facebook.com/stefano.mesa) and Instagram (instagram.com/stefano37).