Editorial Note: No official lap times were released from this test.
KTM get busy as Moto2™, Moto3™ complete Jerez Test
Moto2™ KTM riders were particularly busy on Tuesday as the intermediate and lightweight classes enjoyed some valuable track time in Andalucia
Tuesday, 07 May 2019
After a tougher start to the year than expected for KTM riders in the Moto2™ class, the Austrian factory were stealing headlines on Tuesday at the Circuito de Jerez – Angel Nieto in the one day Official Moto2™ and Moto3™ Test. Red Bull KTM Ajo's Brad Binder had two different bikes to try, and differing swingarms on the Red Bull KTM Ajo bikes of Binder and teammate Jorge Martin indicated the Austrian factory was trying several different options. The Red Bull KTM Tech 3 bike of Marco Bezzecchi was also sporting a different swingarm. In addition, at least one new frame was being used by more than one KTM machine, with American Racing KTM having a third bike in the garage that was undercover.
After the test, both Binder and Martin were especially positive about changes they'd tried in the last session; happy with improvements made when riding in hotter temperatures – a key area in which they'd suffered during the Grand Prix.

(Above) Dominique Aegerter (77) on his MV Agusta. Photo courtesy of Dorna.
In terms of new parts, MV Agusta Idealavoro Forward were also out testing a new chassis and swingarm in Jerez as they got more valuable miles under their belts ahead of a crucial stage of the season. With MV Agusta already having scored points twice in their debut season in Moto2™, even bigger progress is now the name of the game.
After his huge crash at the start of the race in Jerez, Remy Gardner (ONEXOX TKKR SAG Team) wasn't testing due to concussion and it was unfortunate for the Australian, with the SAG team having plenty of small bits and pieces to try – including an anti-chatter device. Gardner's teammate Tetsuta Nagashima was out on track though to get through the work load, as well as suffering a crash at Turn 13 – rider ok. Star replacement rider Mattia Pasini was also back on a Kalex-framed bike, with the veteran Italian now lending his talents to Petronas Sprinta Racing as he replaces the injured Khairul Idham Pawi, and Sam Lowes (Federal Oil Gresini Moto2) was a particularly happy man after the test, solving issues he'd suffered with all weekend.
Alex Marquez (EG 0,0 Marc VDS) was back out after a tough home GP through no fault of his own, and he was one who had some things from chassis manufacturer Kalex to try. Teammate Xavi Vierge (EG 0,0 Marc VDS) avoided the incident on Sunday but crashed, twice, during the test. Dimas Ekky Pratama (Idemitsu Honda Team Asia) bounced back after getting embroiled in the incident off the start on in the race too but crashed once in testing, along with Iker Lecuona (American Racing KTM) and Bezzecchi – riders all ok.
Meanwhile in the Moto3™ class, Albert Arenas (Sama Qatar Angel Nieto Team) was working on bike settings – more specifically clutch settings – and getting more mileage under his belt after a cycling accident put the Spaniard out of the Argentina and Americas GPs. It didn't stop him from taking a top five at his home Grand Prix in Jerez, however, before the Championship returns to the venue at which he won last year.
Championship leader Aron Canet (Sterilgarda Max Racing Team) was another out on track and he had some new front forks parts to test, with Arenas also trying them in the final session of the day. The man now just one point behind Canet in the standings, Jerez winner Niccolo Antonelli (SIC58 Squadra Corse), was another high profile rider and team out on track, back at work and preparing for France. He worked on electronics, the clutch and engine braking.
Reigning Red Bull MotoGP Rookies Cup Champion Can Öncü (Red Bull KTM Ajo) was a key name pushing for more mileage as the youngest ever Grand Prix winner tries to find his feet with the 2019 KTM and struggling with it so far this season. The Turkish rider got plenty track time but did, however, crash twice at Turn 2 – rider ok.
That's it from Jerez and the next official outing for the Moto2™ and Moto3™ field now comes at Le Mans as the SHARK Helmets Grand Prix de France appears on the horizon…although plenty reportedly have some private track time beforehand to get in gear.
More, from a press release issued by Red Bull KTM Tech3:
Busy Tuesday for Öttl and Bezzecchi at Circuito de Jerez-Angel Nieto
With a one day break the Red Bull KTM Tech3 duo of Philipp Öttl and Marco Bezzecchi was back in action today at Jerez following the fourth round of the 2019 season. Both Moto2 rookies used the official test to its fullest, trying plenty of new parts and settings under the Andalusian sun.
While Öttl improved on his Qualifying pace by 0.353 seconds and did a personal best of 1:42.464 minutes after riding the Spanish circuit 70 times, Bezzecchi clocked a 1:42.546 following 44 intense laps in preparation of the French team's home Grand Prix in less than a fortnight.
Philipp Öttl
Time: 1:42.464
Laps: 70
"We have been testing plenty of stuff today. We had a lot to try from KTM and also experimented on our own. It was a quite interesting, but also very intense day. We found some exciting things and I think for Le Mans we can expect some improvements to happen. Overall, I felt better today than during the weekend."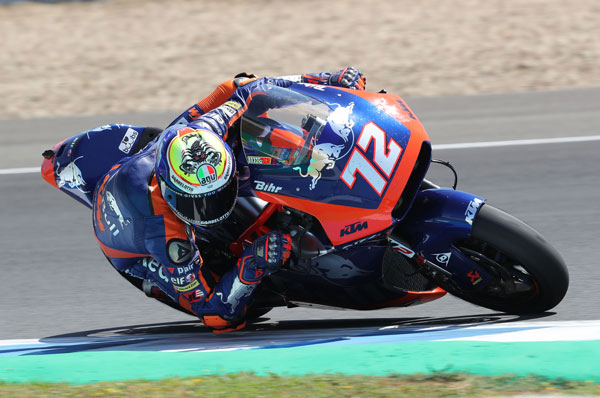 Marco Bezzecchi
Time: 1:42.546
Laps: 44
"It was a difficult test, but we tried a lot of things and had many information, some positive, some less positive. We are still a bit in trouble, but trying to find a way to improve the bike. My riding now is quite consistent, so it's not bad, although I'm still missing something. The team worked very well, also KTM is helping us a lot. I guess we will see the results of our work in Le Mans."
More, from a press release issued by Team Federal Oil Gresini Racing:
IMPORTANT TEST COMPLETED AT JEREZ DE LA FRONTERA BY TEAM FEDERAL OIL GRESINI
After the disappointing #SpanishGP results, for Sam Lowes it was important to return to the track as early as possible in order to get some feeling back with the bike and find the right direction of development and set-up of the Kalex #22 – which were kind of lost in the first European event of the season at Jerez.
Team Federal Oil Gresini Moto2 had the chance to perform a one-day, post-race official test in which Sam Lowes was able to lap consistently around the Jerez circuit in almost perfect weather conditions. The Briton completed 90 laps and logged a 1'41.2secs as quickest time.
The former World Supersport Champion managed to find good feeling and grip by working with the Faenza-based team on the new Dunlop tyres and on the bike geometry, before leaving the Andalusian circuit and get ready for Le Mans in much better mood.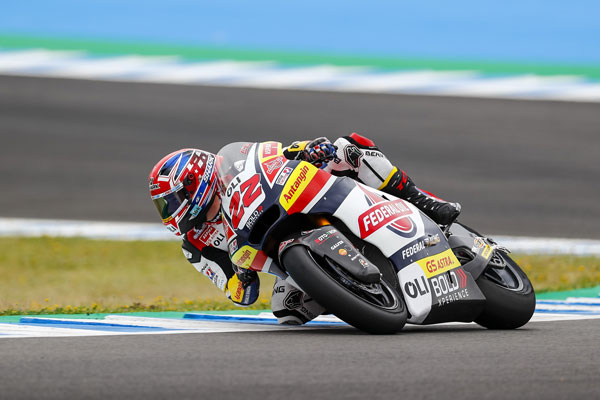 SAM LOWES #22
"Even on the first lap of the test we were faster than during the race weekend. It's obviously frustrating because the weekend was very difficult, but honestly today was fantastic. We were very fast, even in the afternoon with 52 degrees of track temperature our pace was faster than during the whole event. We went back to a more standard set-up and started again, so both pace and feeling improved. I'm happy albeit a little bit frustrated that it didn't happen today before, but the team did an amazing job and so Kalex by bringing new parts. We can look forward to Le Mans."
More, from a press release issued by Team Estrella Galicia 0,0 Marc VDS:
Team Estrella Galicia 0,0 Marc VDS bids farewell to Jerez with fruitful day of testing

(Above) Alex Marquez (73) and teammate Xavi Vierge (97).
Alex Márquez and Xavi Vierge completed an intense day of testing at the Circuito de Jerez-Angel Nieto today. New parts, geometry experiments and adjustments to base settings were the lines of work on both sides of the box.
A little more than 24 hours after crossing the finish line in the Spanish Grand Prix, the Team Estrella Galicia 0,0 Marc VDS riders were back in action to carry out an official test day at the Jerez Angel Nieto circuit.
The test consisted of three sessions of just over an hour each and were carried out in warm conditions.
The next time Márquez and Vierge will be back on track is scheduled for Friday, May 17 at the legendary Le Mans circuit, with the first free practice sessions of the Grand Prix de France.
Despite a fall in Sunday's Jerez race, which caused an injury to the index finger on his left hand, Alex completed his entire work plan set for this test.
Changing the geometry of the bike, assessing new parts for both the front and rear, and working with engine maps was the focus of work in the first two sessions for Alex. In the afternoon, he tried a new rear tyre from Dunlop.
The number 73 completed 70 laps in the three sessions and the work carried out today achieved the objective of confirming a good base set up with his Kalex machine and the conclusions obtained were positive.
Alex Marquez
"We understand more and more details that can make a difference"
"I was really looking forward to getting back on the bike to put Sunday's race behind me. I did it and I enjoyed it. We tried a lot of things and some were positive and some not so positive, but the important thing is that everything was very clear in terms of what worked and what didn't work. Adding laps and adding kilometres we understand more and more details that can make a difference. It's been a productive day so I'm leaving very happy and looking forward to Le Mans."
Xavi completed 59 laps on a test day in which he started working on his position on the bike.
The geometry and balance of the bike have been other aspects that Xavi and his team were developing, with the aim of improving rear feeling with the Kalex chassis.
The intense work carried out allowed the Catalan rider to leave Jerez with good feelings to face the next Grand Prix with high expectations.
Xavi Vierge
"We tried a different base and at the end of the day I was riding very fast"
"I am very happy. Today was a key day to be able to prove things that you can't do during a Grand Prix. The team has worked very hard and very well. We tried a different base and little by little we adapted it. At the end of the day I was riding very fast with a used tyre, which is what counts for the race. Without a doubt, the work and information that has come out of here will be useful for Le Mans."
More, from a press release issued by PETRONAS Sprinta Racing:
Pasini completes first laps as a PETRONAS Sprinta Racing rider
The Italian took part in Tuesday's Moto2 Official Test at the Jerez-Angel Nieto Circuit.
Mattia Pasini undertook his first laps as a PETRONAS Sprinta Racing rider this Tuesday, after a speedy move by the team to find a temporary replacement for the injured Khairul Idham Pawi. The Italian is set to stand in for the team's regular rider whilst he is sidelined with an injury to his right hand and used the Moto2 Official Test at Jerez to acquaint himself with the Kalex machine. Pasini ended the day with a good feeling and plenty of optimism, which he will take to the next round of the series at Le Mans.
Under sunny skies, the experienced Grand Prix campaigner had almost 4 hours of track time, divided into three sessions for the Moto2 class. He focused on completing as many laps as possible, in order to learn the nuances of his Kalex thoroughly and adapt the setup to his riding style. Although there was no official timing at the test, the PETRONAS Sprinta Racing rider was one of the quickest on track from the off. He put in a total of 54 laps, with a pace consistently in the 1min 41s.
Pasini, who was announced as Khairul Idham Pawi's replacement, will debut with the PETRONAS Sprinta Racing team at the French GP from May 17-19th.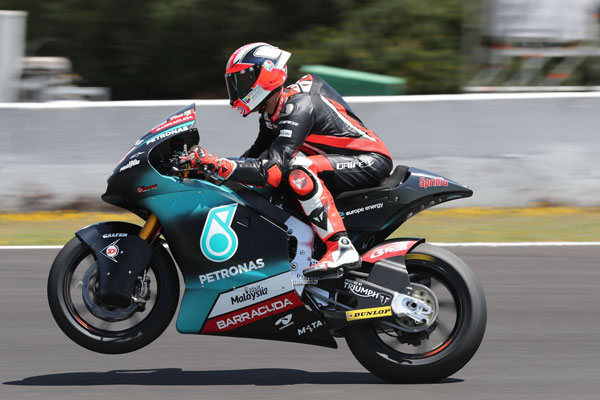 #54 Mattia Pasini
"It was an incredible first day with PETRONAS Sprinta Racing here at Jerez. I'm very happy with the team; this is a family. I felt very comfortable both inside the box and on the bike. We were able to complete quite a few laps, although during the midday session the asphalt temperature was too high. I think we did a great job. We didn't really change the setup much from that with which we started the test and instead we just adapted the bike to my riding style. Although there was no official timing, I felt that we were among the fastest on track. Now it's time to concentrate on Le Mans and give our all to achieve the best possible result."