The prize winner for Roadracing World Reader Survey, Part 6, is Joe Prouse, of Wichita, Kansas.
The Roadracing World Reader Survey, Part 6, was brought to you by DID, Barnett Clutches & Cables, and Motion Pro.
Barnett Clutches & Cables offered the winner a Barnett high-performance Sport Bike Clutch Kit for the bike of the winner's choice. Barnett high-performance sport bike complete clutch kits feature Barnett's race proven Carbon or Kevlar friction plates, tempered-steel drive plates, and a set of heavy duty, high-temp springs. Barnett heavy duty springs are made from chrome silicon, then shot-peened and heat-treated to prevent sag.  All complete clutch kits are pre-measured for exact stack height prior to packaging for optimal performance. American made since 1948. Pricing varies by model. Barnett clutch kits can be purchased from dealers or by visiting www.barnettclutches.com.
DID offered the winner the KM500R Chain Tool, a 3-in-1, compact, forged steel motorcycle chain tool designed for professional mechanics and off-road enthusiasts alike. This unique tool allows you to cut chain, press fit connecting link side plates, and rivet pin heads of the master link for 520, 525, 530, and 532 sized chains. Visit https://didchain.com/did-km500r-chain-tool for more info. The DID Chain Tool is available for $167 MSRP and can be purchased through your local dealers or via online retailers.
Motion Pro offered the winner a Pro Fill™ Air Chuck, a Pro Funnel™, and a Gasket Scraper. Motion Pro's Pro Fill™ Air Chuck provides an innovative swivel head, making it easy to reach any tire valve with tight clearances. The patented pivot head on the Pro Fill™Air Chuck rotates to adjust the angle relative to the handle and obtain the best positioning possible to easily fill your tires.
Motion Pro's Pro Funnel™ measures and easily dispenses your motorcycles fluids with one convenient funnel using an articulating spigot and allows you to access hard-to-reach fill points on modern bikes, while the integrated on/off valve allows you to dispense measurable amounts of fluid using the available graduation marks on the funnel. The Pro Funnel™ can easily be covered with the included lid and storing has never been easier with the nifty magnet located on the backside of the tool.
Motion Pro's Gasket Scraper features an ergonomic billet aluminum handle paired with precision slant cut blades equipped to remove stubborn and hard-to-remove aged gasket material or adhesives without potential damage to mating engine component surfaces. The included brass blade helps eliminate gouging or cutting into precision engine surfaces.
Motion Pro's Pro Fill™Air Chuck has a MSRP of $40.99. The Pro Funnel™ has a MSRP of $39.99. The Gasket Scraper has a MSRP of $29.99. MotionPro products are available at your local powersports store nationwide or by visiting motionpro.com.
Survey results are used to improve content for readers and marketing for our advertisers.  Name and address required for prize drawing. No mailing list or confidential individual information is shared with third parties. Roadracing World's privacy policy can be viewed here. To sign up to receive upcoming, short installments of future Roadracing World reader surveys and other promotional e-mails from Roadracing World, CLICK HERE.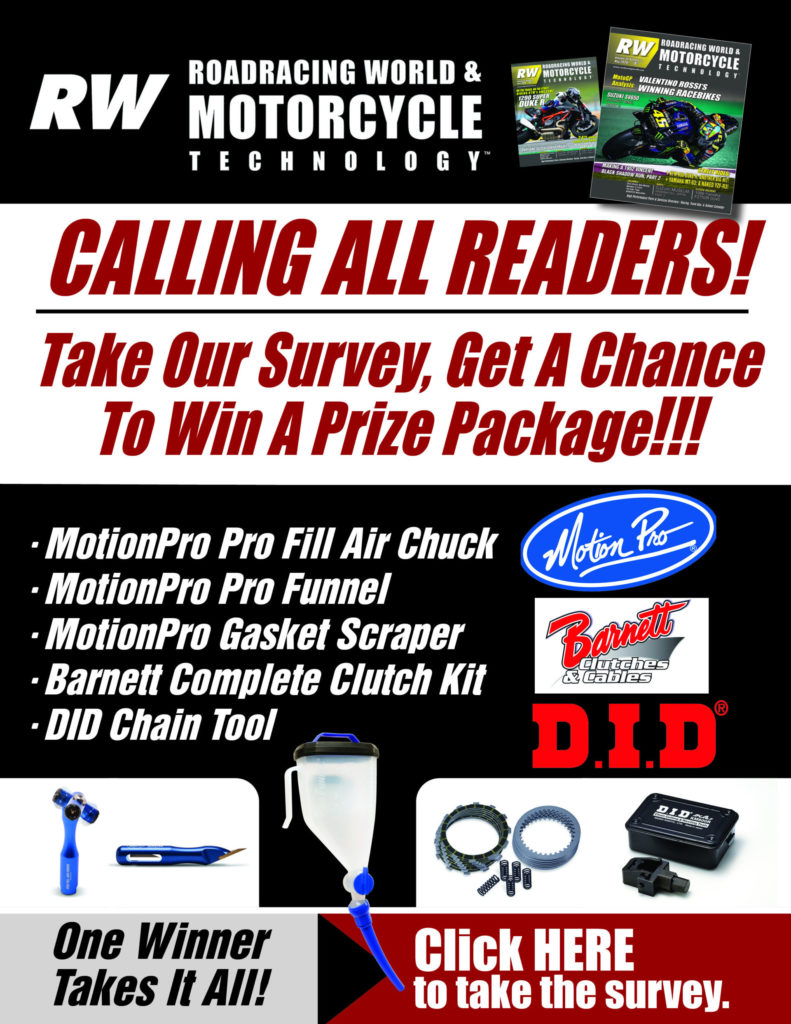 About Barnett

Barnett Tool & Engineering is the industry leader in custom cables made to order. Family owned and operated since 1948, Barnett is dedicated to producing top quality motorcycle components with the best possible product and customer support.
About DID
D.I.D is the World's #1 original parts (OE) supplier for Japanese and European motorcycle manufacturers. D.I.D brand drive chains and aluminum rims are manufactured in Japan, meticulously made by skilled technicians to provide outstanding performance for all riders, and supplied through motorcycle dealers worldwide.
 About Motion Pro
Motion Pro was founded in 1984 by Chris Carter. The company designs and manufactures quality control cables, throttles, levers, tools and accessories for the powersports market. Motion Pro products are available through all major powersports distributors.
For more information on how your product can be the presenting sponsor of an upcoming portion of the Roadracing World Reader Survey, email Natalie Ulrich Heard, [email protected].