UPDATED KTM 690 SMC R AND KTM 690 ENDURO R MODELS COMING TO NORTH AMERICA IN DECEMBER
November 10, 2020
MURRIETA, Calif. – KTM North America Inc. is pleased to announce that the updated 2021 KTM 690 SMC R and KTM 690 ENDURO R are set to arrive at Authorized KTM Dealers this December, with the hardest choice being which of these cutting-edge single-cylinder machines to take and where to point it.
With updated aesthetics for the new year, the corner-carving KTM 690 SMC R offers an addictive torque-filled punch with every turn of the throttle. New looks are also offered with the return of the KTM 690 ENDURO R machine, which is always ready to connect the tarmac with trails with its flexibility to perform excitably on and offroad.
Similar in many aspects but completely different in their execution, both models take full advantage of an intensive development program. The advanced LC4 single-cylinder engine is housed in a lightweight, dynamic frame dripping with top specification chassis components and the very latest electronic rider aids to give an exceptional riding experience.
Both bikes are armed with the most powerful production single-cylinder available – smooth and as sophisticated as they come. Efficient and brimming with engineering excellence, the compact LC4 is a totally modern interpretation of a big single-cylinder engine. Two balancer shafts aligned to a dual-spark cylinder head and Ride by Wire technology leave only good vibrations. The 690 cc engine offers a devastating punch with an incredibly wide delivery of performance at the ready with standard Quickshifter+ for clutchless up and down shifting.
Electronic rider aids include clever ride mode technology and lean angle sensitive ABS and traction control systems to get the most from these potent packages in all situations.
KTM 690 SMC R
All fun and no frown; the unique riding appeal of a Supermoto is something KTM has wildly celebrated over the years and leading the pack is the KTM 690 SMC R. Pure, extreme and high performance – this is a very focused motorcycle that embodies the READY TO RACE approach and takes advantage of refined and unrivaled LC4 drive with advanced electronics in a truly unique package.
The sharp bodywork with fresh graphics and colorway is not just for looks; next-level ergonomics deliver incredible feel and control between rider and machine to get the most from this Supermoto superhero. Adjustable APEX suspension from the experts at WP also helps deliver a charismatic machine capable of conquering the tightest curves and cutting through congested commutes.
Getting the most from the KTM 690 SMC R's performance in all situations is a suite of rider assistance systems. Two ride modes – Street and Sport – cornering ABS, lean angle-sensitive Motorcycle Traction Control and Quickshifter+ are all standard, with the optional Supermoto ABS mode aiding rear slides with front-end confidence. The KTM 690 SMC R is fitted with Bridgestone S21 tires for maximum performance on the street and plenty of grip for race track usage.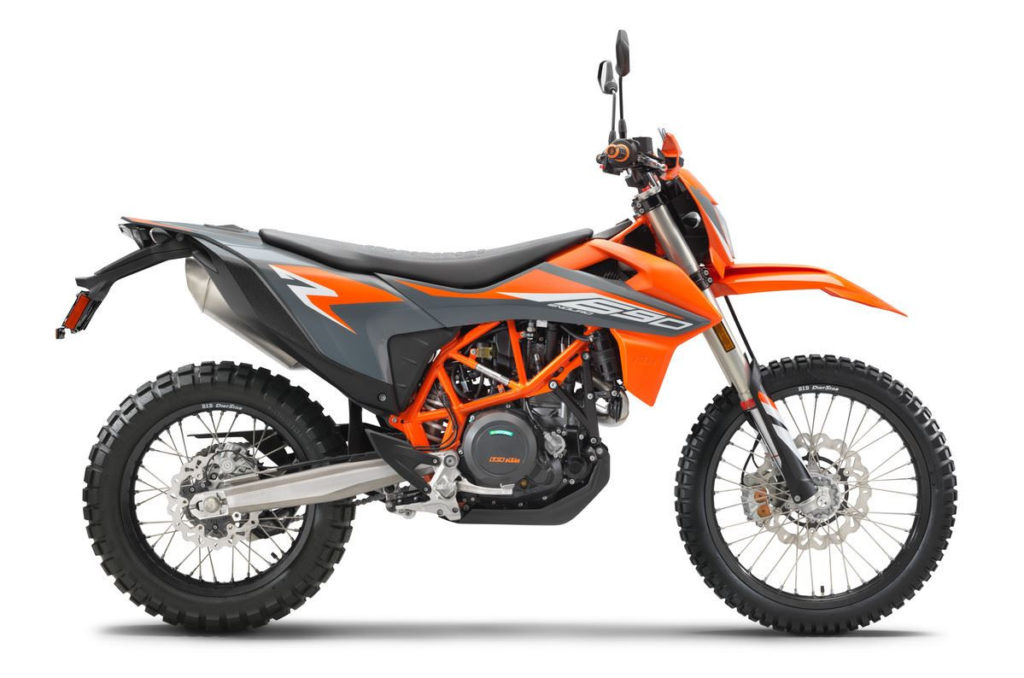 KTM 690 ENDURO R
Making the impassable possible, the KTM 690 ENDURO R unites asphalt and trails. The unmatched KTM LC4 single-cylinder has two balancer shafts for reduced vibrations, Ride by Wire to allow changeable ride modes and traction control, more than enough power to pull clear of the steepest climbs and is still efficient and manageable for trails and daily use.
Sharp and slim, the bodywork with redesigned, eye-catching graphics, enhances aesthetics while the ergonomics provide small-bike feel with large-bike comfort. Underneath, a lightweight and agile chassis coupled with fully-adjustable damping control on the WP XPLOR suspension provide a competent package for experienced riders yet confidence-inspiring for those new to dirt. Better still, the KTM 690 ENDURO R remains sure-footed for street riding – increasing its versatility as a trust-worthy daily ride.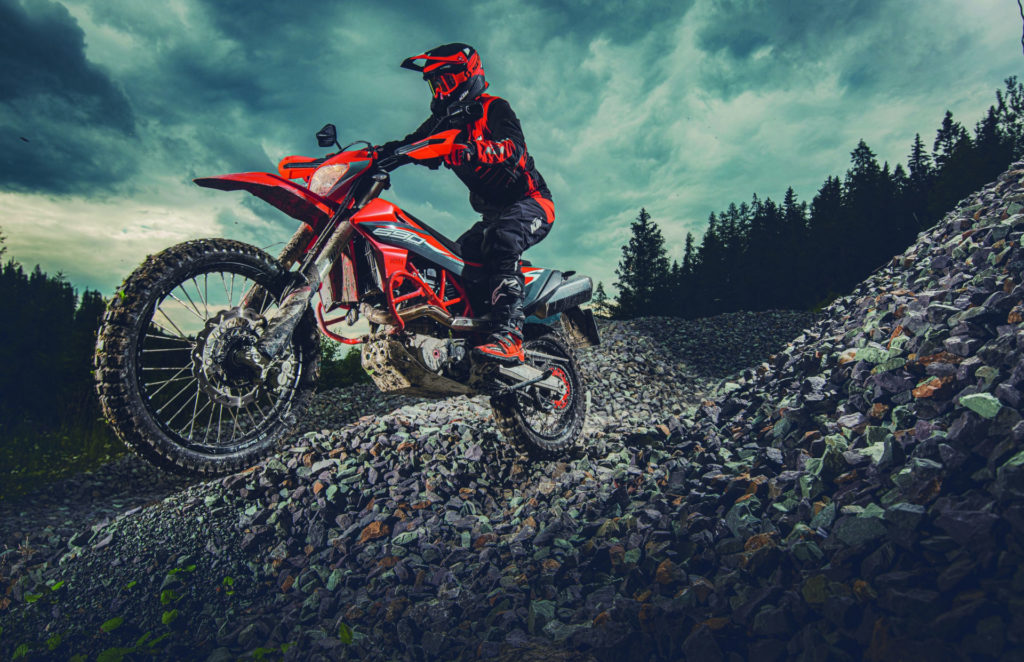 The electronic systems on the KTM 690 ENDURO R get the most from this dynamic machine in all situations. Two ride modes – Offroad and Street – produce different characteristics of the throttle response and Motorcycle Traction Control (MTC), while cornering sensitivity for the ABS with optional Offroad ABS harnesses this offroad weapon when necessary. The KTM 690 ENDURO R is fitted with Continental TKC80s for great performance both in the dirt and on the road.
Both bikes are available from official KTM dealers this December, backed up with a wide range of official KTM PowerParts to intensify them further. Discover more at www.ktm.com and locate a KTM dealer near you.