Fred Schuldt, of Candler, North Carolina, is the winner for Roadracing World Reader Survey, Part 12, brought to you by Continental Motorcycle Tire North America.
Schuldt wins a set of two ContiSportAttack4 Motorcycle Tires!
ContiSportAttack4 provides maximum grip with BlackChili performance, accuracy, and easy handling for the most powerful superbikes. BlackChili Sport-Compound, Continental's premium tire technology, gives our tires more grip and improved traction—in wet or dry conditions—without compromising rolling resistance and mileage.  In addition to the BlackChili Compound, the ContiSportAttack4 also includes the following core technologies:
MultiGrip: Combines a harder compound in the central tread area for maximum mileage, with softer rubber in the shoulder area for better grip.
TractionSkin: The revolutionary micro-rough tread surface and mold-coating technology eliminates the need for tire-release agents, and virtually puts an end to tire break-in.
ZeroDegree: This steel-belt construction provides excellent stability at high speeds, while maintaining a comfortable, but sporty feel.
RainGrip: The optimized compound delivers superior wet grip and higher mileage, made possible by specially activated silica in the compound.
GripLimitFeedback: Increases rider safety during extreme lean angles with timely feedback from the tires for a higher level of control at the limit.
MSRP:  Starting at $209.00
Availability: Continental Motorcycle tires are distributed in the U.S. by Tucker, Parts Unlimited, and Van Leeuwen Distributing. Continental Tires, including the new ContiSportAttack 4, are available at retailers across the U.S. If they are not currently in-stock, they will be soon. Consumers can also find the full range of Continental Tires online via retailers such as Bikebandit.com and ChapMoto.com.  Race tires are distributed in the U.S. through Monkey Works Cycle, Inc, out of Daytona, Florida, and VonHertell Suspension out of San Antonio, Texas. Continental Tires are also distributed in Canada, Mexico, and throughout Latin America.
The prize winner for Roadracing World's Reader Survey, Part 12, was selected at random at 12:00 p.m. Pacific Time on Monday, October 5th.
Survey results are used to improve content for readers and marketing for our advertisers.  Name and address required for prize drawing. Entrants will automatically receive a free three-issue trial subscription to Roadracing World magazine with no obligation.  No mailing list or confidential individual information is shared with third parties. Roadracing World's privacy policy can be viewed here.  To sign up to receive upcoming, short installments of future Roadracing World reader surveys and other promotional e-mails from Roadracing World, CLICK HERE.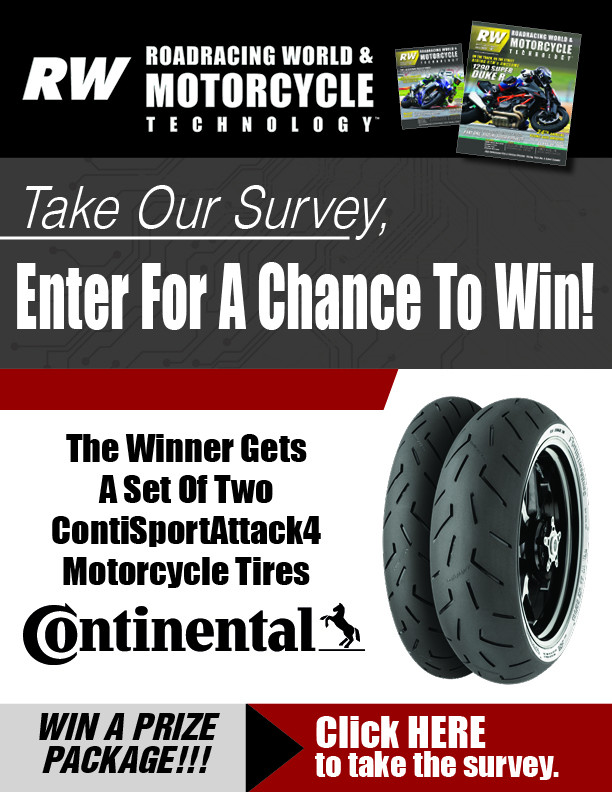 About Continental Motorcycle Tire North America
Continental is among the leading manufacturers of motorcycle tires. Tire development, tire testing, and German production are all based in the town of Korbach in Hesse, Germany. Continental manufactures tires for tourers, sports tourers, sports motorcycles, enduros, cruisers, light motorcycles, and scooters, and supplies original equipment for various brands including BMW, Brammo, Horex, Husqvarna, KTM and Moto Guzzi. Its tires are approved for use with a variety of motorcycles manufactured in Europe, Japan, and the U.S.  Visit www.conti-moto.com.
For more information on how your product can be the presenting sponsor of an upcoming portion of the Roadracing World Reader Survey, email Natalie Ulrich Heard, [email protected].