Kevin Fogg, of Scotia, New York, is the winner of the prizes for Roadracing World Reader Survey, Part 8.
The Roadracing World Reader Survey, Part 8, was brought to you by TiRx Moto, Heroic Racing Apparel, and Motorcycle Xcitement Track Days.
TiRx Moto offered the winner a TiRx Sportbike Tire Changer. Folds flat to a wall and helps you change your own tires. Free up your workspace, riding time, and save money.  Use your cordless drill to break the bead. Static balance on the TiRx axle. The TiRx Sportbike Tire Changer is available for purchase for $495 MSRP by visiting TiRxMoto.com.
Heroic Racing Apparel offered the winner a Kevlar Armored Hoodie. Dirtbike, sport bike, down hill mountain biking, chopper, one-wheel, scooter; invest in this hoodie—it will keep you abrasion free up to 85-ft! The fit is slim; the CE Armor is barely visible; we have glovlets that prevent the sleeve from sliding up, and belt loop holders that prevent the rear from sliding up in crash with SUPER Duty Snaps. Low profile; high quality CE Polyurethane Level 1 elbow and shoulder guards and a CE PU back protector. The exterior is 80% Cotton; 20% Polyester quality fabric. HEROIC Tridavar Anti-Cut Kevlar sub-dermal layer throughout the entire interior shell of the hoodie. The Heroic Racing Apparel Kevlar Armored Hoodie is available for $150+ MSRP and can be purchased by visiting heroicracing.com.
Motorcycle Xcitement offered the winner a Motorcycle Xcitement track day. (Non-transferable; travel and accommodations to track event not included.)The track day with Motorcycle Xcitement starts out with registration and safety inspection of your motorcycle. A brief riders' meeting by Roger Lyle to lay out the rules for the day. Novice riders go into classroom for lessons on riding the track. We start out slow, work on being smooth and safe. The speed comes later. Four riding groups: advanced, intermediate, rookie and novice group. We ride three tracks at Summit Point Motorsports Park, West Virginia and four configurations at NCBIKE in Garysburg, NC. Motorcycle Xcitement Track Days are available starting at $225. For more info or to sign up, visit www.motorcyclexcitement.com.
Survey results are used to improve content for readers and marketing for our advertisers.  Name and address required for prize drawing. No mailing list or confidential individual information is shared with third parties. Roadracing World's privacy policy can be viewed here. To sign up to receive upcoming, short installments of future Roadracing World reader surveys and other promotional e-mails from Roadracing World, CLICK HERE.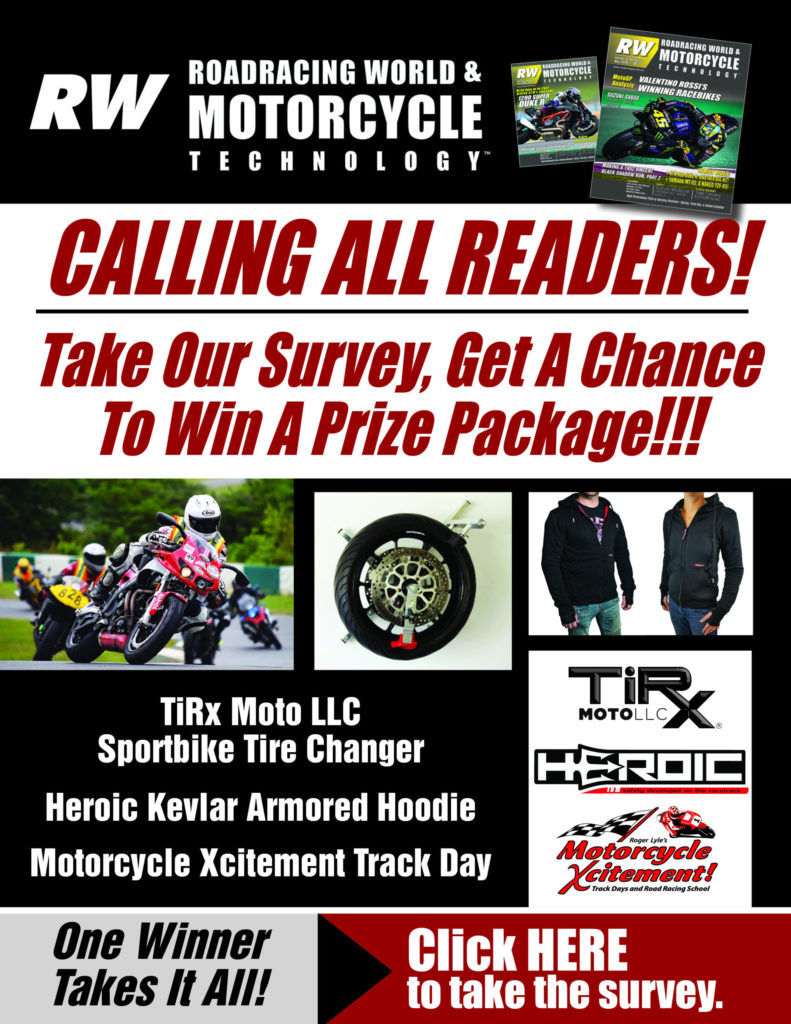 About TiRx Moto LLC
Established in 2013, the TiRx Sportbike Tire Changer has been demonstrated at MotoAmerica and World Superbike venues across the country and can be purchased at our website TiRxMoto.com. Made in the U.S.A.
About HEROIC Racing Apparel
HEROIC Racing Apparel is dedicated to making safe street and racing apparel that fits, and allows you to function and focus at a higher level. You can trust that when you are investing in a HEROIC product that you will receive the ultimate in design, safety, and performance! heroicracing.com
About Motorcycle Xcitement
With 44 years of road racing and track safety experience, Roger Lyle's Motorcycle Xcitement provides a fun and safe environment for the whole family! Learn to ride smooth, safe, and fast with Motorcycle Xcitement. For more information, go to MotorcycleXcitement.com
For more information on how your product can be the presenting sponsor of an upcoming portion of the Roadracing World Reader Survey, email Natalie Ulrich Heard, [email protected].